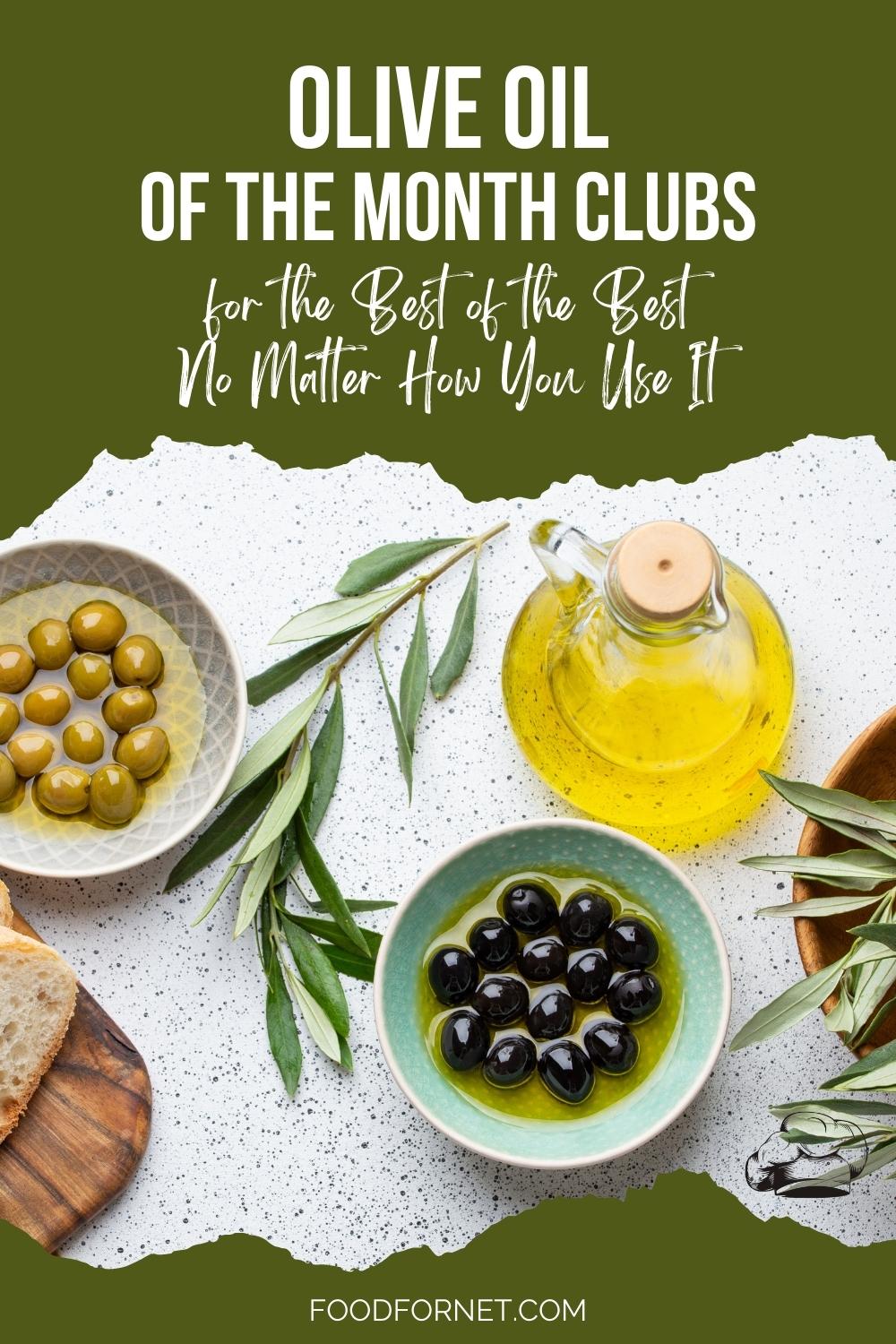 As with wine, good olive oil is a treat that has its own nuances. Subscription clubs are an exceptional way to learn more about the differences between olive oils and experience a selection of high-quality products. This type of club works well for beginners and for seasoned olive oil lovers.
The olive oil of the month clubs in this list all attempt to provide a unique experience. They're also perfect for making sure that you get good olive oil each time. After all, there's concern that many of the grocery store brands have been adulterated and are not pure olive oil at all.
Using a subscription program doesn't just remove the risk of low-quality oil. This type of program means that you don't have to select between the many different products out there. Some of the programs even focus on variety, providing you with the chance to try oils from different producers. This is excellent if you use olive oil regularly.
There are lots of fantastic olive oil of the month clubs to choose from below, but Amazing Clubs Olive Oil of the Month Club is really the one I'd recommend you start with. Why? You get a different olive oil every month of course, but they source them from different producers from around the world, so you don't have to stick with just one company!
Plus, because they don't stick with just one olive oil brand or artisan, they get to pick the best of the best, and select award-winning olive oils to ship to your home!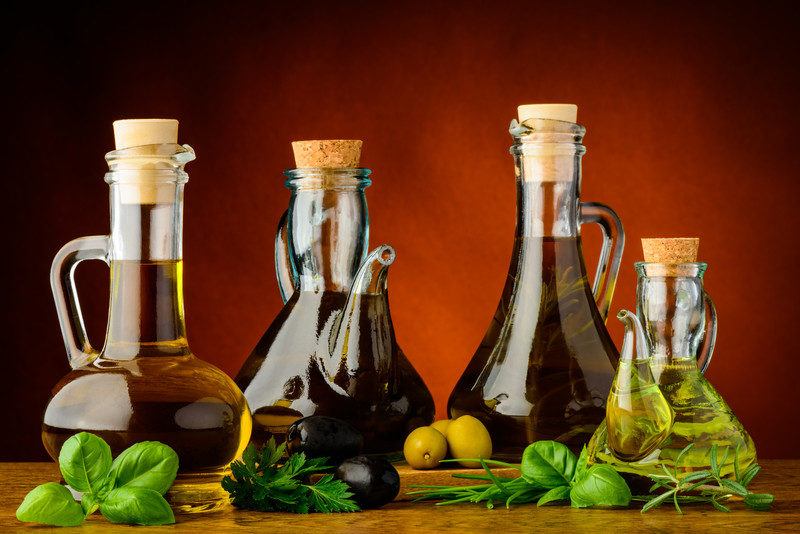 Olive Oil Of The Month Clubs
PS. You know what goes with olive oil? You called it. Balsamic vinegar. Here's the full list of monthly balsamic vinegar clubs.
PPS. While we're at it, here are the cheese clubs and charcuterie clubs. Yeah. We're doing it big.
Amazing Clubs Olive Oil of the Month Club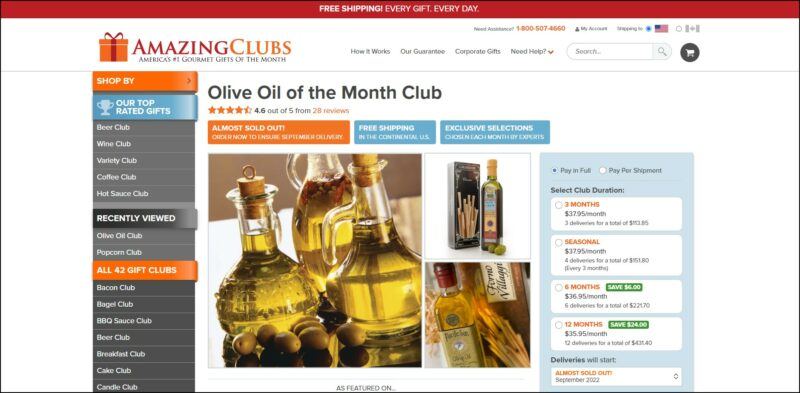 Amazing Clubs is unique in that they source their olive oil from around the world. Many other clubs on this list are from one producer that ships a new oil from their warehouse each month, but Amazing Clubs get to pick just the award-winning ones to ship to you!
You get a 12-20 oz bottle each month, plus some gourmet bread sticks for dipping – great for savoring the full flavor of the oil, instead of getting bogged down with too many other food flavors!
Choose 1 – 12 month subscriptions, and get discounts for longer memberships.
Olive A' Sudden Olive Month Club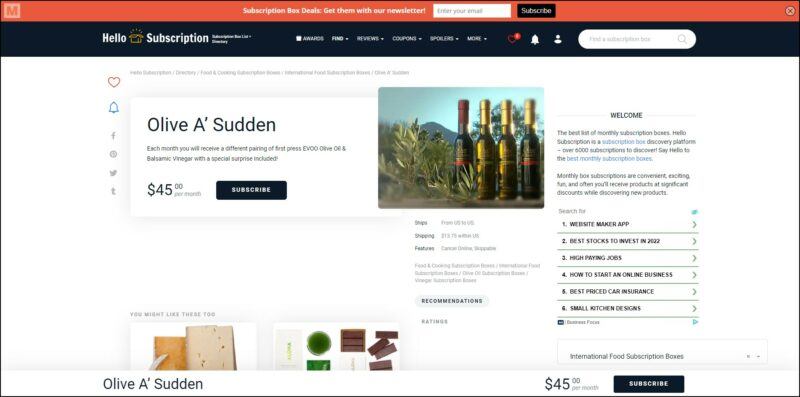 The Olive A' Sudden club is a little different, as you're not just getting olive oil each month. Your monthly subscription is more interesting than that, containing a bottle of extra virgin olive oil, a bottle of balsamic vinegar, and a surprise each month.
The bottles of vinegar and olive oil are sourced from all over the world, so you're always getting a new experience. There is also something very cool about pairing olive oil and balsamic vinegar with one another. These can pair well, especially when they have flavor notes in common. Trying out this subscription allows you to learn more about the process.
There is only one subscription option to choose from, which is $45 per month, as a month-to-month membership. While the club looks appealing, details about what you receive are scarce. The site doesn't even provide information about the size of the bottles.
Frog Hollow Farm California's Finest Olive Oil Club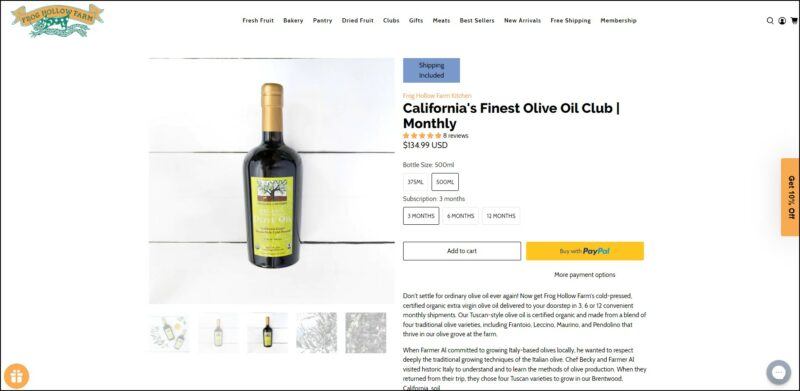 Frog Hollow Farm offers California's Finest Oil Club, which ships out olive oil that they have produced. The oil is certified organic and has been created using a blend of 4 distinct olive oil varieties. The varieties and techniques used in growing the olives are inspired by Tuscany olive oil, giving you an Italian-style olive oil that is produced locally.
The subscription starts at $120 for 3 months, which provides you with a 375 ml bottle of olive oil each month (roughly $40 per bottle). You can also choose a 500 ml bottle instead, which costs $135 for 3 months (roughly $45 per bottle). Both sizes can be ordered for 6 or 12 months too, at a slightly lower price per bottle.
Olive Oil Lovers Olive Oil of the Month Club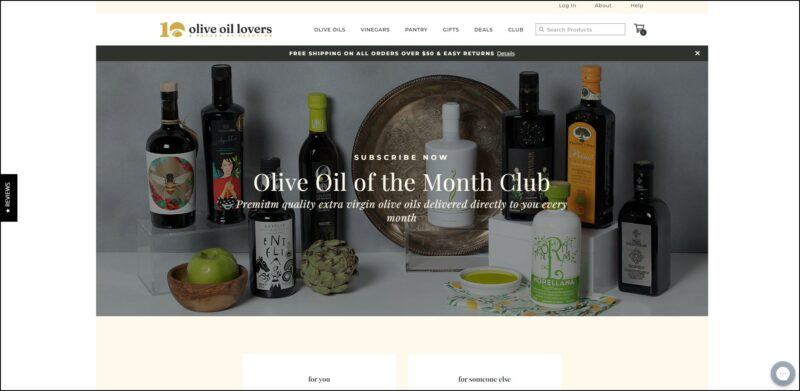 Olive Oil Lovers offers an Olive Oil of the Month Club. With this subscription, you receive a bottle of olive oil each month for 3, 6, or 12 months. The price is $32 per bottle, regardless of the subscription length. You can also contact the company directly if you want to receive oil less frequently.
The olive oils are sourced from 'internationally renowned producers.' There's a strong focus on variation, with the company aiming to feature a different variety or region every month. This helps ensure that you're not getting very similar bottles of oil each time.
The bottles are mostly around 500 ml in size (roughly 17 ounces) and never any smaller. You may get a 750 ml bottle on occasion too, although these are less common.
Zingerman Monthly Rare Olive Oil Club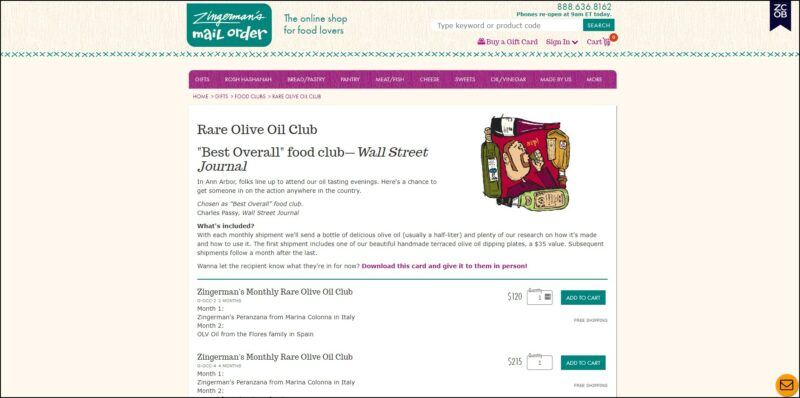 The Rare Olive Oil Club from Zingerman's is promoted as a particularly good olive oil club. Your subscription comes with details about the olive oil that you receive, including the best ways to use it and how the oil is made.
The club is different than most, as the same sequence of olive oils is provided regardless of when you sign up. For example, the first month offers Zingerman's Peranzana in Italy, while the second month offers OLV Oil from the Flores family in Spain.
Knowing which oil you'll get ahead of time is good and bad. It does remove the element of surprise, but you get the chance to look up the oils first and see if the club is worth your time.
Membership costs $120 for 2 months, $215 for 4 months or $300 for 6 months. The price is on the high side, but this is mostly due to the oils that you're getting. These seem to be rarer and more valuable than the ones in the previous club.
Pomora Adopt An Olive Tree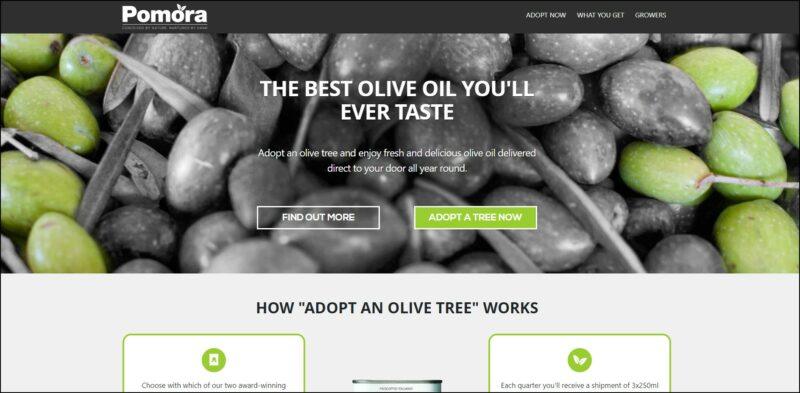 Pomora doesn't really focus on an olive oil subscription program. They simply allow people to 'Adopt an Olive Tree.' You are able to choose between 2 growers for your tree, one in Sicily and another in Campania. Upon signing up, you're sent an Adoption Pack. This contains details about your tree, along with a certificate.
As well as 'adopting' a tree, you receive 3 tins of Italian olive oil per quarter. Each tin contains 250 ml of oil. These alternate between being plain and flavored. The marketing states that the oil comes from your tree specifically, but that's not likely to be the case.
The subscription costs £36 quarterly. You're essentially paying that much for 3x 250 ml tins of olive oil, along with the knowledge that you're supporting fair trading.
Kosterina Olive Oil Subscription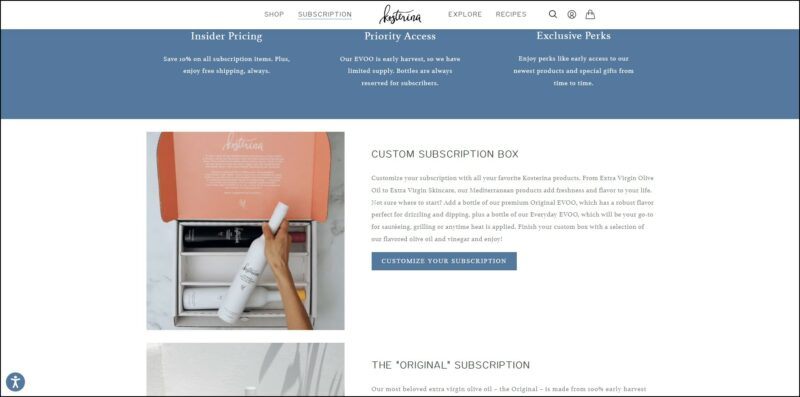 Kosterina offers extra virgin olive that has been grown on Crete and cold pressed there. Olive oil is considered to be rich in polyphenols and is organically produced. Unlike some other companies, this subscription just provides you with olive oil from Kosterina. You're not getting oil from multiple manufacturers.
The difference in style could be useful. It means that you know exactly what you're receiving each month, rather than having to wait and see. The quality should also be consistent, which is always a bonus.
There are 2 subscription options. The Custom Subscription Box where you can choose among the selection of their flavored olive oil and vinegar and the Original Subscription, which contains 3 or 6 bottles of their beloved extra virgin olive oil. You can opt for a 1, 2, or 3-month long subscription. Price ranges from $79 to $149 for the Original Subscription.
The Olive Press Clubs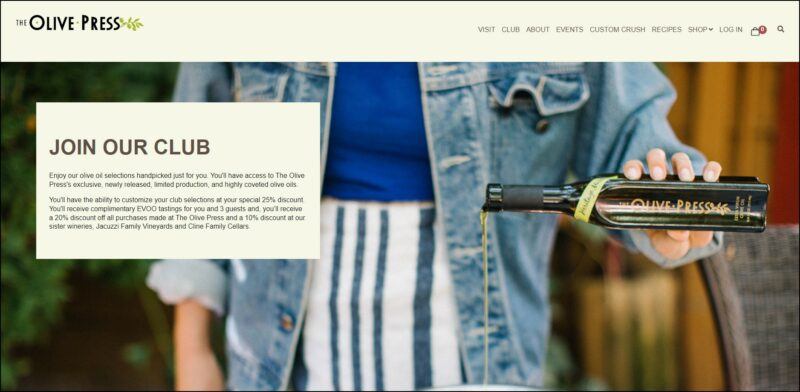 The Olive Press is an exciting company, with a strong emphasis on amazing olive oil. Their first subscription is called The Press Club. It focuses on special olive oils. Unlike most clubs, the pricing is based on the oil that you receive and can vary from month to month. You receive roughly 3 bottles every quarter. These come at a 25% discount from the retail price.
You're normally paying somewhere around $75 per shipment and can opt to receive all olive oil or a combination of olive oil and balsamic vinegar. While you pay for each quarter individually, signing up does commit you to a full year's membership.
There is also The Amphora Club. This one focuses on olive oil and related items. The club just involves 2 shipments. You receive a Spring/Summer shipment in March, then a Fall/Winter shipment in September. The shipments cost roughly $150 each with free shipping.
Especially Puglia Adopt An Olive Oil Gift Box and Subscription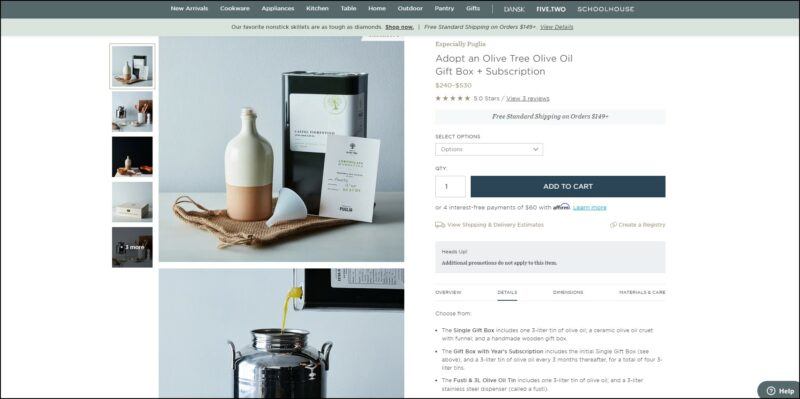 This Adopt an Olive Oil Gift Box and Subscription is a gift promoted on the Food52 website. The olive oil is sourced from the company Especially Puglia. This company is an organic farm run by a family. Your subscription comes with a certificate about your tree and details about where the olive oil comes from.
There are 4 different products to select from, 2 of which involve a subscription. The first subscription option includes a gift box and a 3-liter tin of olive oil. Another 3-liter tin is sent out every 3 months. This version costs $406 for the entire subscription.
The other subscription gift provides a 3-liter olive oil tin and a dispenser known as a fusti. Once again, you are sent out a 3-liter tin every 3 months. You're paying $507 for this version. While the club is more expensive than most other options, you are getting very high-quality olive oil. The subscription also makes for an elegant gift.
Pricing is somewhere between $240 to $530 dollars. There is also free standard shipping on orders over $149.
Gourmet Cooking & Living Italian Olive Oil of the Month Club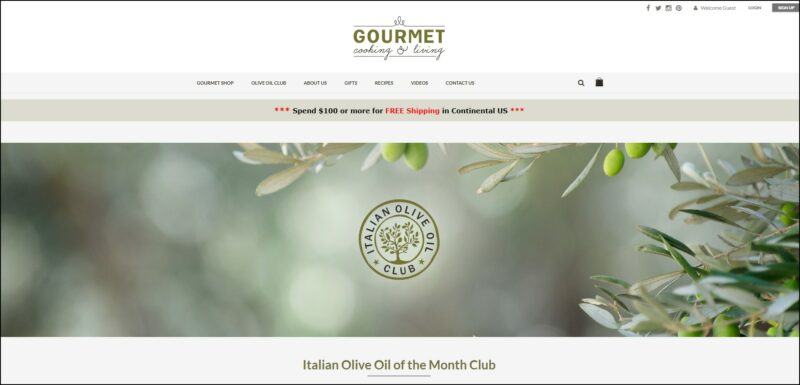 Gourmet Cooking & Living is a family-owned specialty food company located in Brooklyn, New York. Part of its mission is to promote a culture of high-quality food. Aside from olive oils, they also carry a handful of Italian specialties like organic tomato sauce, cured vegetables, balsamic vinegar, raw honey, and more.
Their olive oils are sourced from all over Italy and are specially handpicked to ensure quality. They opt for producers who are committed not only to quality but to traceability and sustainability as well. Each of their olive oils has individual flavor profiles and regional history.
Their Italian Olive Oil of the Month Club offers 12 flavors in 12 months. Membership can be discontinued anytime you change your mind. You can choose whether to receive just one bottle for $34, two bottles for $59, or three bottles for $82. They also have the Product of the Month Club which can be bundled with this one for an additional cost of $14.95 per month.
Olive Oil of the World Olive Oil of the Month Club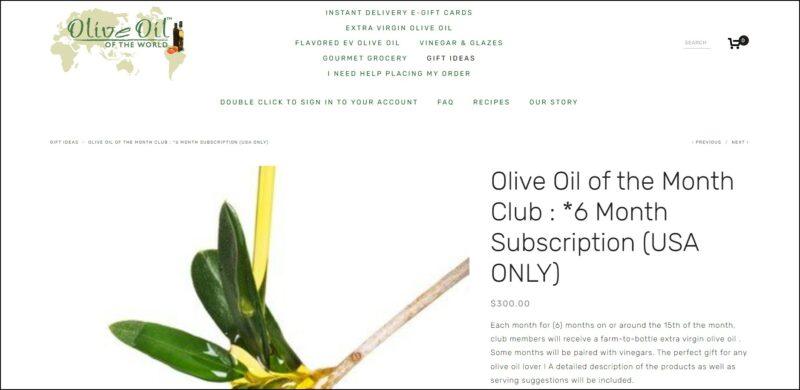 Olive Oil of the World is a family-owned business – Ersilia Moreno and her son Chef Rasheed Shihada. This mother and son team aims to help you choose the best olive oils out there that will best suit your taste. They personally sourced every product they carry – visiting farms and olive mills while forming personal relationships with the suppliers.
They are dedicated to promoting not just farm-to-bottle olive oils but artisan-crafted food products and vinegar as well. Their goal is to provide one extra virgin olive oil sourced from each of the more than 26 countries that produce it.
Olive Oil of the World is currently offering a 6 months subscription costing $300. As of to date, the subscription is for within the USA only. Every 15th day of the month, or around that time, the club members will receive a bottle of extra virgin olive oil. They will also receive a bonus of gourmet or condiment items every third month.
Georgetown Olive Oil Club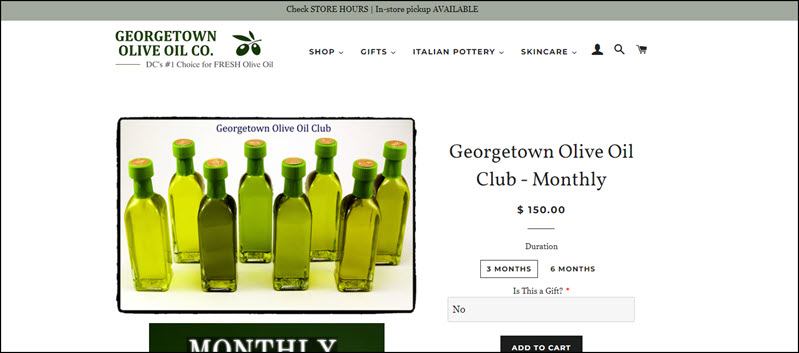 Georgetown Olive Oil Company delivers the freshest olive oils that are available in the market. They aim to promote a healthier lifestyle by introducing olive oils along with other healthy products that will boost your appetite for food and healthy eating.
Aside from extra virgin olive oil, flavored olive oils, and olive oil skin care products, they also carry other specialty foods, seasoning blends, aged Italian balsamic vinegar, loose-leaf tea, and even olive oil and vinegar accessories. These products are from the dedicated labor and passion of individual producers and olive farmers.
Georgetown Olive Oil Club offers you freshly sourced olive oils and aged balsamic vinegar in a 3-month and a 6-month subscription. They are priced at $150 and $280 respectively with free shipping. Monthly, you'll get 12.7oz Olive Oil, 12.7oz Balsamic Vinegar, Infused Sea Salt, and or Seasoning. Cub members will also receive a complimentary variety pack from their best seller after joining. They are also entitled to 10% off on all online and in-store purchases.
Eli Zabar Olive Oil of the Month Club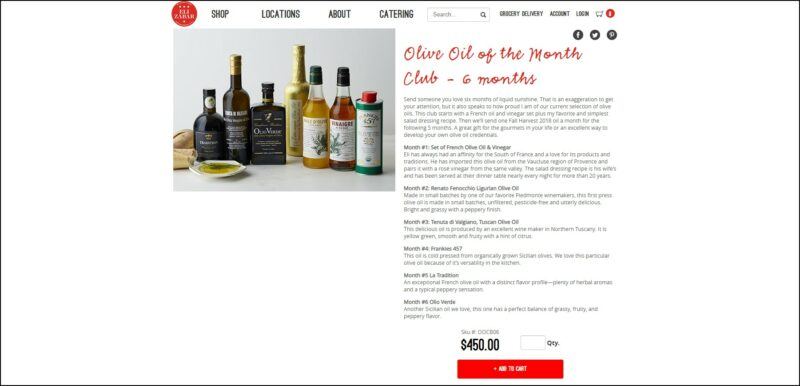 Eli Zabar, is known for pioneering a gourmet food purveyor in New York City. Eli's undoubtedly has become an institution, along with his many flagship markets, restaurants, and now an e-commerce site. Although they carry a number of products on their website – from bread, cheese, meat, snacks, pasta, and others, they want to particularly highlight their collection of olive oils by creating a membership club.
The olive oils to say the least are Eli's personal choices – his love for South of France's products and traditions are quite evident in their olive oil collection. Each with its own distinct flavor profile and character.
Their Olive Oil of the Month Club offers a 6-month subscription that will start you off by sending you a set of French Olive Oil and Vinegar. For the second month, you'll get Renato Fenocchio Ligurian Olive Oil. The third month will include Tenuta di Valgiano, Tuscan Olive Oil. For the fourth month, it's Frankies 457. It's La Tradition for the fifth month. And for the last month, it's Olio Verde. All of these are for a $450 subscription price.
They also offer the bread of the month club and the chocolate of the month club.
Cardenas Olive Oil & Balsamic Club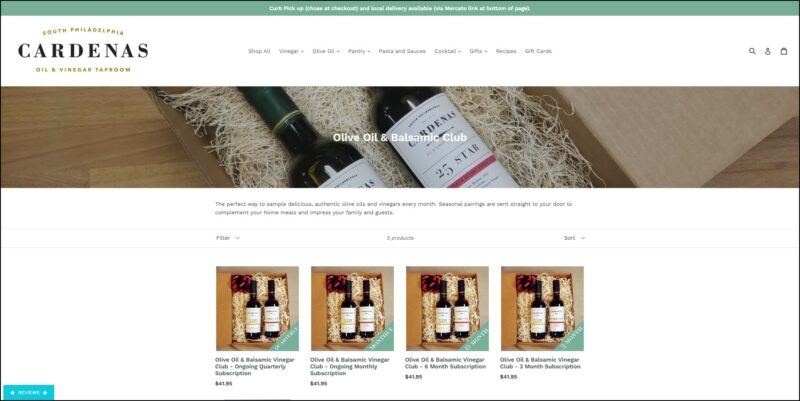 Cardenas Oil & Vinegar Taproom is founded in 2013 by a husband and wife team, Carlos and Laurissa. They aim to share traditions and products from their native countries Spain and Sicily. In addition to olive oils and balsamic vinegar, they also offer pasta and sauces, seasonings, cocktails, and many more.
Their extra virgin olive oils are cold-pressed including most of their infused oils. These oils are sourced from small trusted family farms and estates from all over the world with which they have direct contact. Their balsamic vinegar, on the other hand, is produced in Modena, Italy.
Currently, there are 4 different subscriptions to choose from when signing up for their Olive Oil & Balsamic Club. You can choose from ongoing quarterly, ongoing monthly, 3-month, or 6-month at $41.95 per month. They also have a Fresh Pressed Extra Virgin Olive Oil Subscription Club that costs $35.95.
Dorothy Lane Market Olive Oils of the World Club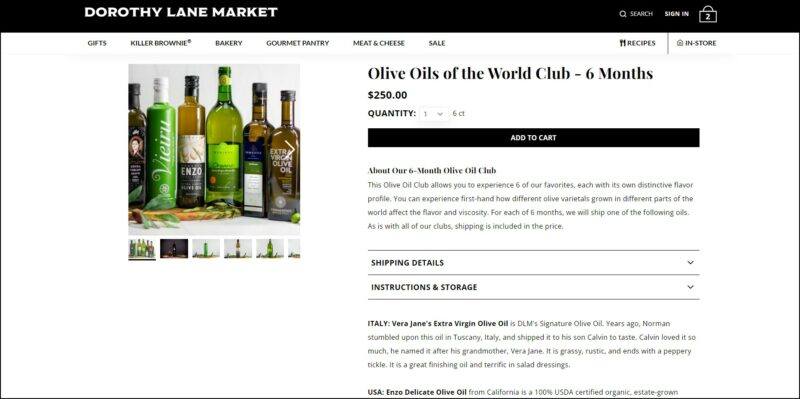 Dorothy Lane Market is a company of gourmet supermarkets originally founded by Calvin Mayne and his partner Frank Sakada in 1948. Today, DLM is still owned and operated by Calvin and wife Vera's descendants. Among their many product offerings are oils and vinegar including Vera Jane's Extra Virgin Olive Oil from Italy which is their signature olive oil.
They also have Enzo Delicate Olive Oil from California, Morgenster Extra Virgin Olive Oil from South Africa, Vieiru Extra Virgin Olive Oil from Spain, Les Moulins Mahjoub Olive Oil from Tunisia, and Cobram Estates EVOO from Australia.
Their Olive Oils of the World Club offers a 6-month subscription that will let you enjoy 6 of their olive oil favorites – each with its own distinct taste as a product of different olive varietals grown from different parts of the world. The subscription cost is $250.
Con' Olio Oil & Vinegar of the Month Club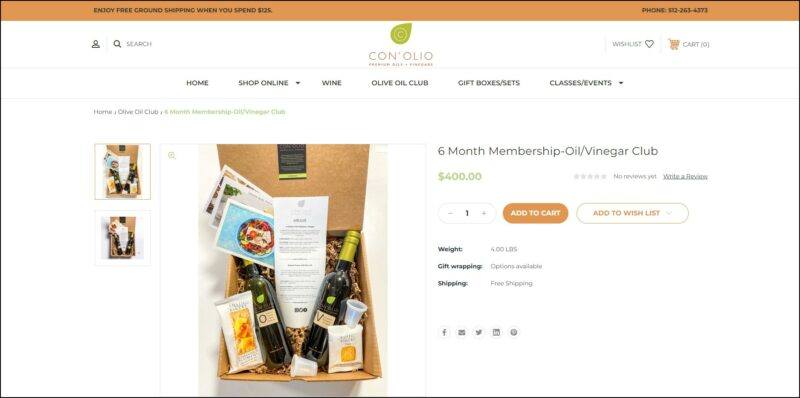 Con' Olio Oils and Vinegars is owned by Tabatha Conarko, the first premium olive oil tasting bar in Austin. They currently have two locations that offer the try-before-you-buy concept. One of their core principles is full transparency when it comes to their products.
Testers can sample their Extra Virgin Olive Oils and Aged Traditional Balsamic Vinegars while getting expert insights from knowledgeable staff. They also provide bread for dipping and encourage customers to sip from tasting cups. This is their way of making sure their customers understand and learn the different taste and flavor profiles of different extra virgin olive oil.
Their Oil & Vinegar of the Month Club offers award-winning olive oils, balsamic vinegar, and gourmet specialty foods. The subscription is for 6 months and costs $400. Every second week of each month, members will receive one 37ml bottle of olive oil and balsamic vinegar from countries like Italy, France, Greece, Spain, Australia, America, and Chile.
Olio2go Olive Oil of the Month Subscription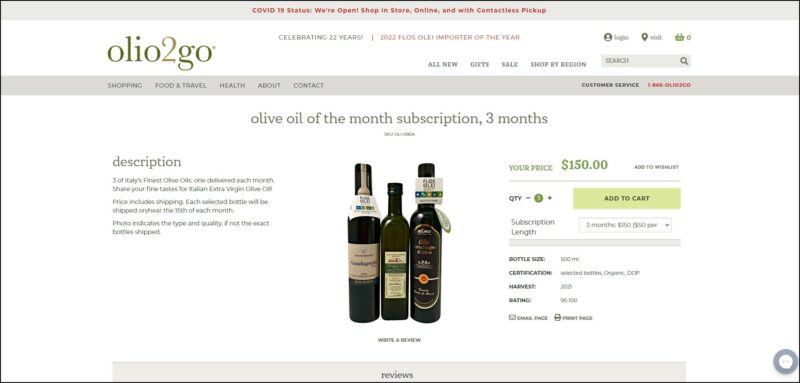 Olio2go is based in Fairfax, Virginia, and is the leading retailer of Italian olive oil. They import, distribute, and then sell directly to consumers and other stores. Their website Olio2go.com provides information about the olive oils that they carry so that consumers will have a better understanding and appreciation of the different flavor profiles each of their olive oil has to offer.
You can shop by region when choosing your olive oil. They also have a handful of gift set ideas that will make your gift shopping a ton easier. Aside from olive oils, they also offer balsamic vinegar and bottled veggies in olive oil.
They have the 3-month, 6-month, and 12-month olive oil of the month subscription where you can enjoy Italy's finest olive oils every single month. Shipments are made on or near the 15th day of each month. The $150 subscription cost already included the shipping fees. For those who opted for the 6 and 12-month options, a bonus gift will be included in your box on the 6th and 12th shipments.
Fortuna's Sausage & Italian Market Olive Oil of the Month Club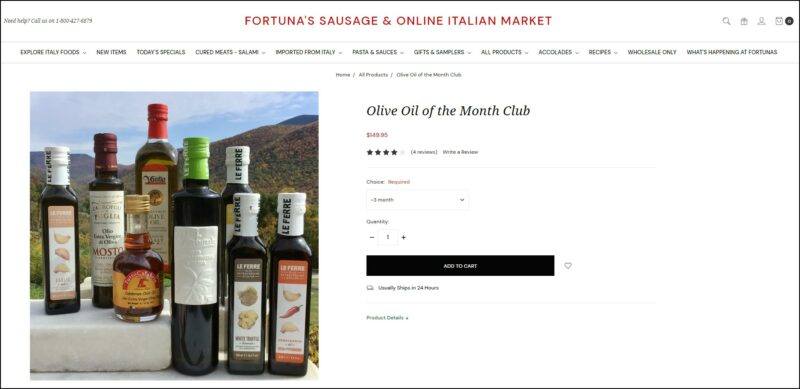 Fortuna's Sausage & Italian Market is known for and offer a large variety of Italian sausages and traditional salamis. They also have imported artisan cheese, specialty foods, and olives from around the world.
Aside from different olives and olive-flavored food like flatbreads, crackers, and spread – they also have extra virgin olive oil for which they particularly have a monthly club offering.
There's a 3 and 6 months subscription choices for their Olive Oil of the Month Club. Different styles and flavors will be sent out each month for which the first order will be shipped immediately unless otherwise requested. The plans cost $149.95 for the 3-month subscription and $218.95 for the 6-month subscription.
Oh Olive's Oil And Vinegar of the Month Clubs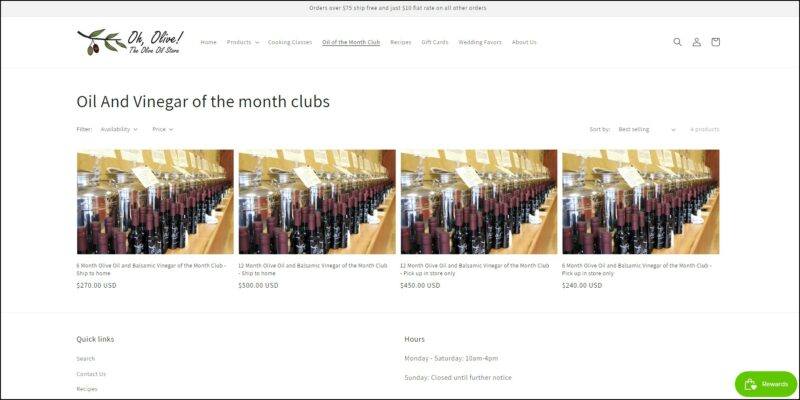 Oh Olive is a family owned business established in 2010 in Libertyville, Illinois. Aside from Olive Oils their store also carries other products like balsamic vinegar, spices & salts, salsas, pasta, soups, and other gift items. They're open every day except Sundays, from 10 am to 4 pm. If you're around the area, you can simply opt to get the subscription that allows for pick up in their store.
Olive oil being their main product, they made sure that they source only the freshest and quality Delizia extra virgin olive oil out there. Only those with exceptional flavor that will not only delight your taste buds but will also benefit you healthwise.
You can choose from their four different subscription plan for their Oil And Vinegar of the Month Club. The 6 and 12-month options which will be shipped right to your home, and the 6 and 12-month options which will be picked up in their store. Pricing starts at $240 to $500. For each subscription, you will receive two 375ml bottles of olive oil which are only available to club members and cannot be purchased in the store. You may also choose one bottle of olive oil and one of their 18-year Traditional Balsamic.
There is also a dipping spice packet included in the monthly package for those who opted for plans that requires shipping, meaning it's not available for the pickup in-store plans.
Grove and Vine Extra Virgin Olive Oil Subscription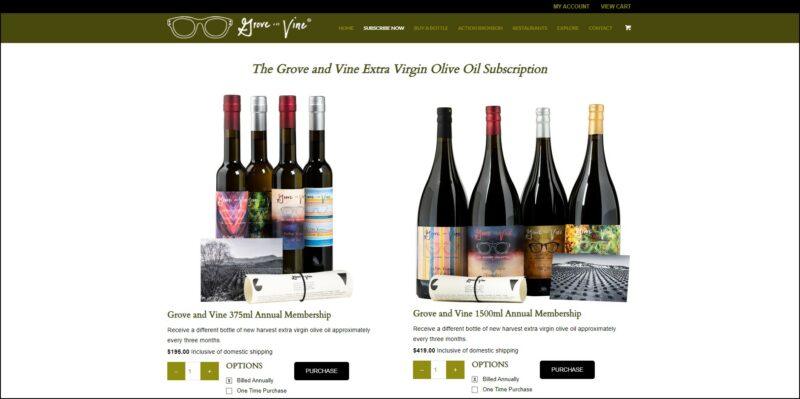 Grove and Vine is a full-service olive oil procurement center founded by Nicholas Coleman and Dan Amatuzzi. Nicholas is an international olive oil expert that has been featured in The New York Times, GQ, Esquire, Food & Wine, and The Los Angeles Times, just to mention a few. Meanwhile, Dan was named as one of New York's rising "30 under 30" culinary stars in 2011, and one of the nation's "30 under 30" to watch in the food and wine industry by Forbes in 2013.
Grove and Vine Olive Oil Subscription offers limited edition custom extra virgin olive oils that are freshly harvested. These limited editions are sourced and artfully blended by Nicholas. Club members are also given discounts on additional bottle purchases (pending availability).
There are two annual membership plans, one for the 375ml and one for the 1500ml option. They are priced at $195 and $419 respectively, inclusive of domestic shipping. Annual members will receive 4 limited premium extra virgin olive oils in total for a year. Approximately every 3 months, you'll receive one olive oil in a dark glass bottle alongside tasting notes, harvest information, wine pairing suggestions, a regional recipe, and a signed original photograph of where they grow the olive cultivars.
Flying Noodle Olive Oil Of The Month Club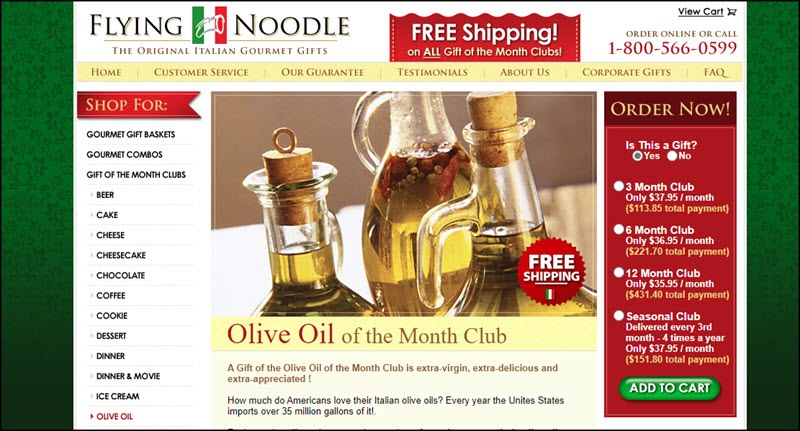 Flying Noodle features on many lists, as this Italian company offers 15 different clubs, plus the chance to build your own custom membership. Their olive oil club is an excellent one, as it only sends out extra virgin olive oil (no virgin or refined oils here).
The oils come from different companies throughout the world, with bottles ranging from 12 to 20 ounces. You don't just receive the oil, either. Each subscription also comes with breadsticks and a newsletter with details about the chosen oils and how to use them.
There's no month-to-month option, but you can order Flying Noodle on a 3-month, 6-month, 12-month, or seasonal subscription, for between $35.95 and $37.95 per month. The seasonal subscription sends out oil just 4 times per year. It's perfect if you go through your olive oil slowly.
Fresh-Pressed Olive Oil Club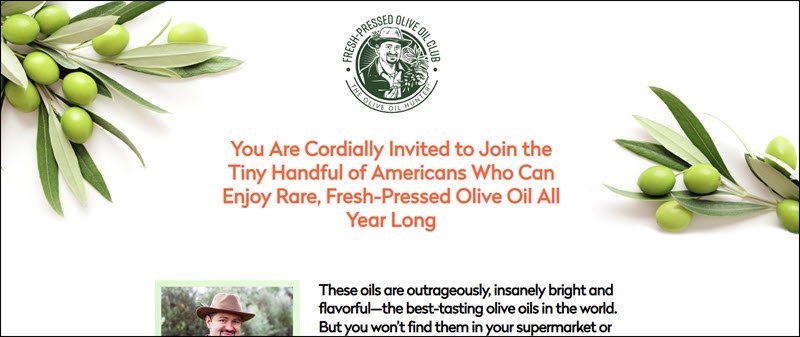 Fresh-Pressed Olive Oil aims to get olive oil to you as quickly as possible. To do this, the oils are sourced from the farm and shipped directly to customers. The process means there's no middleman and your oils aren't sitting on the shelves for months.
The oils are always artisanal and extra virgin as well, so you can be confident in their quality. If all of that wasn't enough, the club also provides a Pressing Report with each bottle. This provides details about the oil, who produced it, and suggestions for maximum enjoyment.
There are two enrollment options. The first sends out three 250 ml bottles of olive oil every quarter for $99 per quarter. The second gives you 500 ml bottles instead for $139 per quarter. Either way, you end up with 3 bottles of olive oil every 3 months.