As with wine, good olive oil is a treat that has its own nuances. Subscription clubs are an exceptional way to learn more about the differences between olive oils and experience a selection of high-quality products. This type of club works well for beginners and for seasoned olive oil lovers.
The olive oil of the month clubs in this list all attempt to provide a unique experience. They're also perfect for making sure that you get good olive oil each time. After all, there's concern that many of the grocery store brands have been adulterated and are not pure olive oil at all.
Using a subscription program doesn't just reduce the risk of low-quality oil. This type of program means that you don't have to select between the many different products out there. Some of the programs even focus on variety, providing you with the chance to try oils from different producers.
There are lots of fantastic olive oil of the month clubs to choose from below, but Amazing Clubs Olive Oil of the Month Club is really the one I'd recommend you start with. Why? You get a different olive oil every month of course, but they source them from different producers from around the world, so you don't have to stick with just one company!
Plus, because they don't stick with just one olive oil brand or artisan, they get to pick the best of the best, and select award-winning olive oils to ship to your home!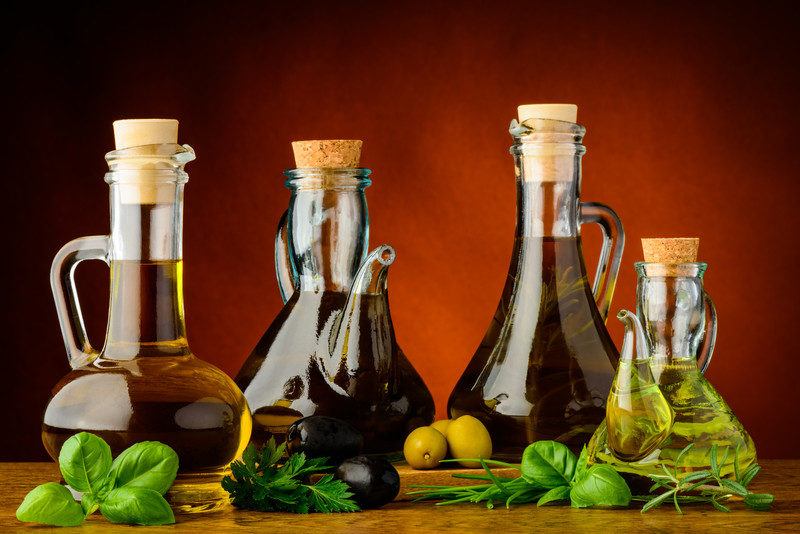 Olive Oil Of The Month Clubs
Amazing Clubs Olive Oil of the Month Club
Olive A' Sudden
Naples Olive Oil Company
California's Finest Olive Oil Club
Olive Oil Lovers
Rare Olive Oil Club
Olive Oil Of The Month Club
Pomora Adopt An Olive Tree
Kosterina Olive Oil
The Olive Press Clubs
Adopt An Olive Oil Gift Box and Subscription
PS. You know what goes with olive oil? You called it. Balsamic vinegar. Here's the full list of monthly balsamic vinegar clubs.
PPS. While we're at it, here's the cheese clubs and charcuterie clubs. Yeah. We're doing it big.
Amazing Clubs Olive Oil of the Month Club

Amazing Clubs is unique in that they source their olive oil from around the world. Many other clubs on this list are from one producer which ships a new oil from their warehouse each month, but Amazing Clubs get to pick just the award winning ones to ship to you!
You get a 12-20 oz bottle each month, plus some gourmet bread sticks for dipping – great for savoring the full flavor of the oil, instead of getting bogged down with too many other food flavors!
Choose 1 – 12 month subscriptions, and get discounts for longer memberships.
Olive A' Sudden

The Olive A' Sudden club is a little different, as you're not just getting olive oil each month. Your monthly subscription is more interesting than that, containing a bottle of extra virgin olive oil, a bottle of balsamic vinegar and a surprise each month.
The bottles of vinegar and olive oil are sourced from all over the world, so you're always getting a new experience. There is also something very cool about pairing olive oil and balsamic vinegar with one another. These can pair well, especially when they have flavor notes in common. Trying out this subscription allows you to learn more about the process.
There is only one subscription option to choose, which is $45 per month, as a month-to-month membership. While the club looks appealing, details about what you receive are scarce. The site doesn't even provide information about the size of the bottles.
Naples Olive Oil Company

The subscription box from Naples Olive Oil Company offers an alternative choice for olive oil and vinegar. The underlying concept is exactly the same, with the company pairing the products based on flavor notes. This time, the emphasis is on using the liquids to cook with. As part of that, the subscription includes 2 recipe cards that take advantage of the olive oil and vinegar.
There are 3 different versions of the club to choose from. These just differ in the amounts that you receive. If you're just beginning, you might consider the 60 ml pairing club, which starts at $18.95 per month. You simply get a 60 ml bottle of olive oil and a similar 60 ml bottle of balsamic vinegar.
The next step up is the 200 ml pairing, which starts at $32.95. Finally, there is a 375 ml pairing, beginning at $37.95 per month. This is the best value for money. In each case, the monthly price is significantly cheaper if you pre-pay for your membership.
California's Finest Olive Oil Club

Frog Hollow Farm offers California's Finest Oil Club, which ships out olive oil that they have produced. The oil is certified organic and has been created using a blend of 4 distinct olive oil varieties. The varieties and techniques used in growing the olives are inspired by Tuscany olive oil, giving you an Italian-style olive oil that is produced locally.
The subscription starts at $120 for 3 months, which provides you with a 375 ml bottle of olive oil each month (roughly $40 per bottle). You can also choose a 500 ml bottle instead, which costs $135 for 3 months (roughly $45 per bottle). Both sizes can be ordered for 6 or 12 months too, at a slightly lower price per bottle.
Olive Oil Lovers

Olive Oil Lovers offers an Olive Oil of the Month Club. With this subscription, you receive a bottle of olive oil each month for 3, 6 or 12 months. The price works out to be between $25 and $30 per bottle, depending on the subscription length. You can also contact the company directly if you want to receive oil less frequently.
The olive oils are sourced from 'internationally renowned producers.' There's a strong focus on variation, with the company aiming to feature a different variety or region every month. This helps ensure that you're not getting very similar bottles of oil each time.
The bottles are mostly around 500 ml in size (roughly 17 ounces) and never any smaller. You may get a 750 ml bottle on occasion too, although these are less common.
Rare Olive Oil Club

The Rare Olive Oil Club from Zingerman's is promoted as a particularly good olive oil club. Your subscription comes with details about the olive oil that you receive, including the best ways to use it and how the oil is made.
The club is different than most, as the same sequence of olive oils is provided regardless of when you sign up. For example, the first month offers Zingerman's Peranzana in Italy, while the second month offers OLV Oil from the Flores family in Spain.
Knowing which oil you'll get ahead of time is good and bad. It does remove the element of surprise, but you get the chance to look up the oils first and see if the club is worth your time.
Membership costs $125 for 2 months, $200 for 4 months or $260 for 6 months. The price is on the high side, but this is mostly due to the oils that you're getting. These seem to be rarer and more valuable than the ones in the previous club.
Olive Oil Of The Month Club

iGourmet is a common choice for subscription plans. This time, we're looking at their Olive Oil of the Month Club. The club costs members $29.99 per month and provides a 500 ml bottle of oil each time.
The company is selective about which olive oils they import and feature. They also try for variety, rather than providing similar oils each month. You'll also get plenty of details about the oil in question, such as serving suggestions, tasting notes and details about the producer.
Pomora Adopt An Olive Tree

Pomora doesn't really focus on an olive oil subscription program. They simply allow people to 'adopt an olive tree'. You are able to choose between 2 growers for your tree, one in Sicily and another in Campania. Upon signing up, you're sent an Adoption Pack. This contains details about your tree, along with a certificate.
As well as 'adopting' a tree, you receive 3 tins of Italian olive oil per quarter. Each tin contains 250 ml of oil. These alternate between being plain and flavored. The marketing states that the oil comes from your tree specifically, but that's not likely to be the case.
The subscription costs $49 quarterly. You're essentially paying that much for 3x 250 ml tins of olive oil, along with the knowledge that you're supporting fair trading.
Kosterina Olive Oil

This subscription could be useful if you want gifts or use olive oil extensively.
Kosterina offers extra virgin olive that has been grown on Crete and cold pressed there. The olive oil is considered to be rich in polyphenols and is organically produced. Unlike some other companies, this subscription just provides you with olive oil from Kosterina. You're not getting oil from multiple manufacturers.
The difference in style could be useful. It means that you know exactly what you're receiving each month, rather than having to wait and see. The quality should also be consistent, which is always a bonus.
There are 2 subscription options. Both are quarterly, sending you multiple bottles every 3 months. The smallest version provides you with 6 bottles each quarter, for $139 (roughly $23 per bottle). The other option gives you 12 bottles instead, for $279 (still roughly $23 per bottle). Shipping is free and you also receive various recipes, tips and tricks from the company every month.
The Olive Press Clubs

The Olive Press is an exciting company, with a strong emphasis on amazing olive oil. Their first subscription is called The Press Club. It focuses on special olive oils. Unlike most clubs, the pricing is based on the oil that you receive and can vary from month-to-month. You receive roughly 3 bottles every quarter. These come at a 25% discount from the retail price.
You're normally paying somewhere around $55 per shipment and can opt to receive all olive oil or a combination of olive oil and balsamic vinegar. While you pay for each quarter individually, signing up does commit you to a full year's membership.
There is also The Amphora Club. This one focuses on olive oil and related items. The club just involves 2 shipments. You receive a Spring/Summer shipment in March, then a Fall/Winter shipment in September. The shipments cost roughly $110 each and contain items from The Olive Press. The specific items that you receive are a surprise, as The Olive Press provides few details.
Adopt An Olive Oil Gift Box and Subscription

This Adopt an Olive Oil Gift Box and Subscription is a gift promoted on the Food52 website. The olive oil is sourced from the company Especially Puglia. This company is an organic farm run by a family. Your subscription comes with a certificate about your tree and details about where the olive oil comes from.
There are 4 different products to select from, 2 of which involve a subscription. The first subscription option includes a gift box and a 3-liter tin of olive oil. Another 3-liter tin is sent out every 3 months. This version costs $406 for the entire subscription.
The other subscription gift provides a 3-liter olive oil tin and a dispenser known as a fusti. Once again, you are sent out a 3-liter tin every 3 months. You're paying $507 for this version. While the club is more expensive than most other options, you are getting very high-quality olive oil. The subscription also makes for an elegant gift.