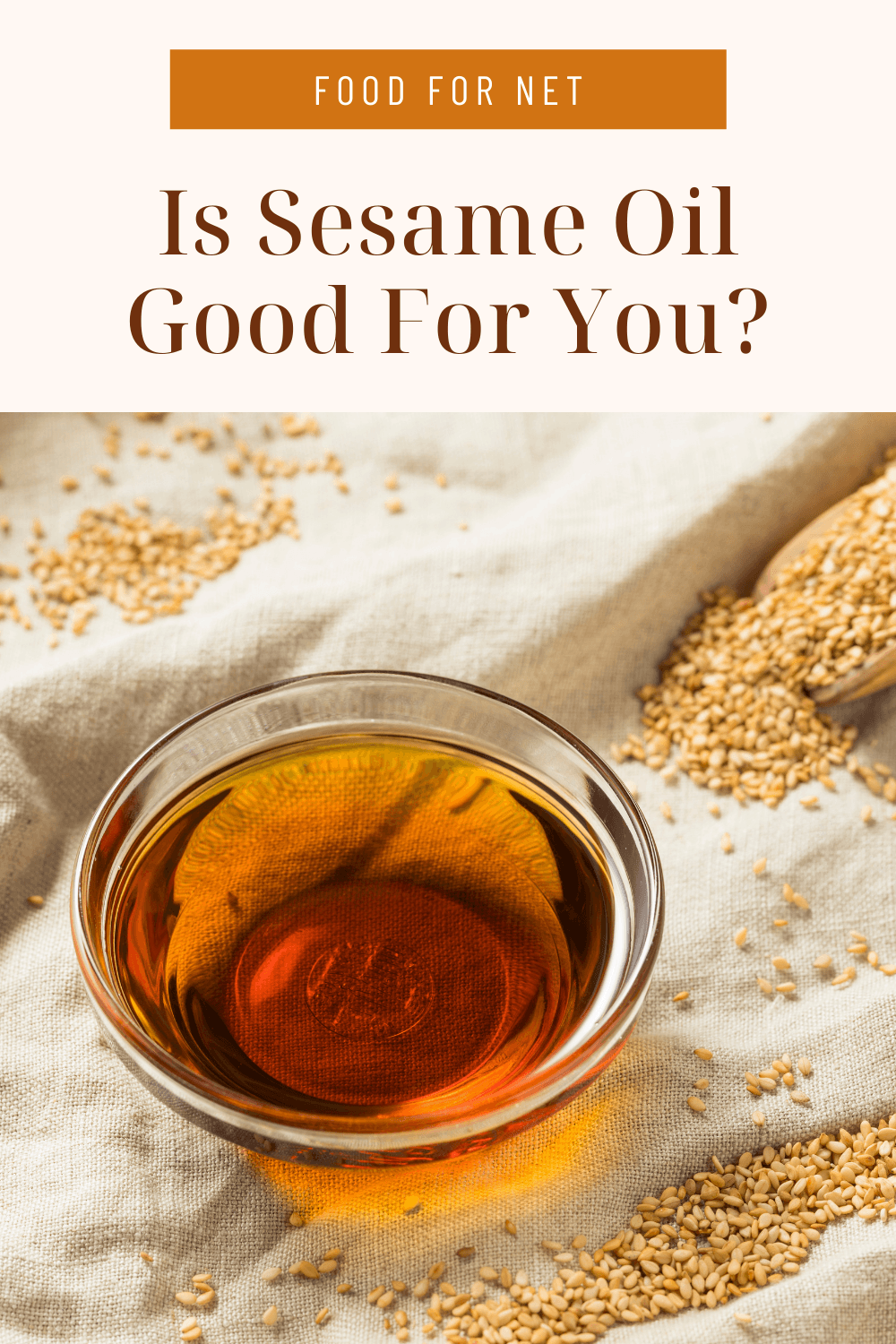 Sesame oil is a popular choice for cooking. It's also a little unusual and confusing, as there are two main types – toasted and regular. The toasted oil has a strong flavor that makes it perfect for finishing dishes, while the regular version is lightly flavored and is more often used in cooking itself. What about health though, is sesame oil good for you? Or, are you better off focusing on an alternative like avocado oil or olive oil instead?
To answer that question, we need to take a look at the fatty acids in sesame oil and what they mean for your health. After all, cooking oil is mostly made up of fat, regardless of the type that you choose. Most of the differences come from the specific types of fat that are present.
Remember too that the amount of oil you use matters. Cooking oils are always calorie dense and it's very easy to use more than you intend to. Even if sesame oil is healthy, using excessive amounts of it won't do you any favors at all.
Is Sesame Oil Good For You?
Regular Sesame Oil Versus Toasted Sesame Oil
Benefits Of Sesame Oil
How Sesame Oil Might Be A Problem
Is Sesame Oil Nutritious?
Can You Use Sesame Oil On Your Skin?
Final Thoughts
Regular Sesame Oil Versus Toasted Sesame Oil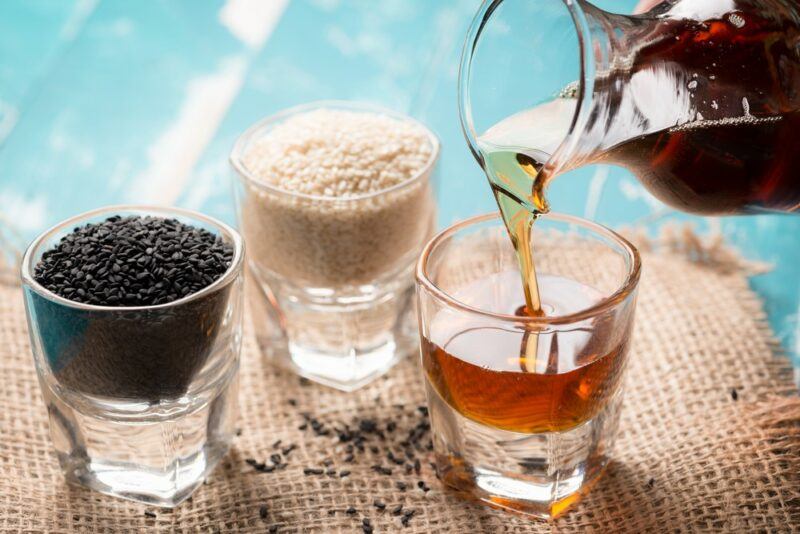 The two types of sesame oil are exactly what their names suggest. The regular version is made from raw sesame seeds that have been pressed, while toasted sesame oil relies on toasted sesame seeds.
The differences in processing have a variety of effects on the oils.
Regular Sesame Oil
Untoasted sesame oil (often just called sesame oil) is similar to other vegetable oils, in that it has very little flavor. It tends to have a light color and a decent smoke point of around 410°F.
You can use this version in high temperature cooking, just like you would for any other neutral cooking oil (such as canola oil).
Toasted Sesame Oil
Roasting seeds and spices tends to bring out their flavor, making them more intense. Not surprisingly, then, toasted sesame oil has a much richer flavor than regular sesame oil.
Many people love this flavor and it goes well with plenty of dishes. However, the flavor is quite distinct and will clash with some meals. You'll need to experiment to see whether the flavor is right for your needs.
In general, the darker the oil is, the richer the flavor. You might start out with lightly colored sesame oil, to give yourself time to adjust to the flavor
Toasted sesame oil doesn't handle high heat well.
After all, the seeds were toasted once already. Bringing the oil to a high heat again intensifies the flavors too much, giving you a somewhat burnt and bitter flavor.
In fact, toasted sesame seed oil is best used as a finishing oil, like on top of pan-fried noodles or as part of your salad dressing. If you want something to cook with, focus on the untoasted version instead.
Benefits Of Sesame Oil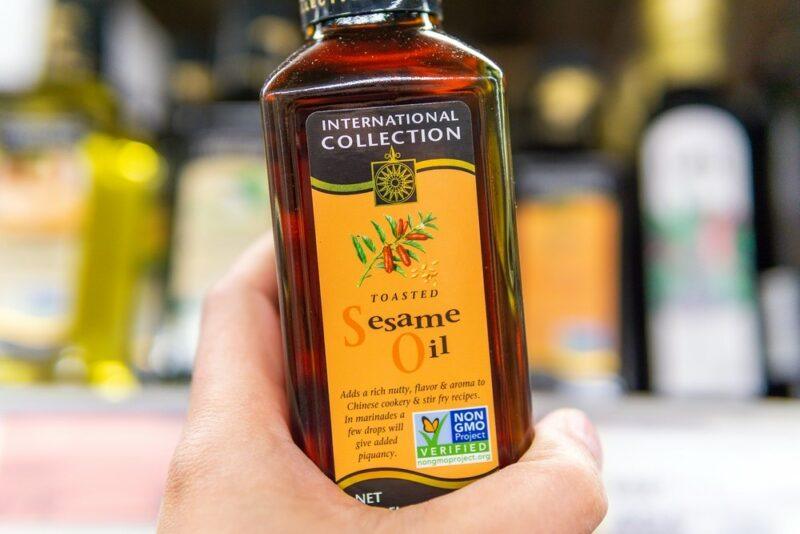 Can Improve Your Nutrient Absorption
While sesame oil is hardly a rich source of nutrients, it can still be powerful in other ways, as it promotes the absorption of some fat-soluble nutrients, including vitamins A, D, E, and K. This effect means that consuming some fat with greens gives you more nutrients than just eating those greens.
As such, contrary to what we've long been taught, including some oil in your salad dressing might actually make your salad much healthier than it would be otherwise.
It's High In Antioxidants
Sesame oil is a fantastic source of antioxidants, including the compounds sesaminol and sesamol. Antioxidants like these can be powerful for health, as they reduce the damage caused by free radicals.
By doing so, antioxidants help to protect you against disease, keeping your body functioning well for longer.
That's not all. Antioxidants have other effects throughout your body too, promoting your health in a wide variety of ways. This includes helping to decrease inflammation, which is an equally important effect. Indeed, keeping your oxidation and inflammation levels in check could reduce your risk of many chronic diseases.
It's A Heart Healthy Oil
Sesame oil can be an easy way to promote heart health, especially if you choose it over options like coconut oil and butter. This is because the oil is high in unsaturated fatty acids, rather than saturated fat.
Even the omega 6s in sesame oil, which are sometimes controversial, are thought to help to protect your heart.
The High Smoke Point
Regular sesame oil (the untoasted type) can have a smoke point of around 410°F, making it perfect for high heat cooking. Smoke point is important, as fat starts to break down when it is heated past its smoke point. When this happens, potentially harmful compounds can be released. The oil's flavor changes as well and your meal won't taste nearly as good.
Most of the time, you'll want the heat of your cooking methods to be well below the smoke point of your oil. So, for high heat cooking (like pan frying), sesame oil might be perfect.
However, the level of refinement influences the smoke point as well.
Not surprisingly, highly refined oils tend to have a higher smoke point than more natural ones. With sesame oil, the unrefined version has a smoke point of 350°F. This is still high enough for many cooking methods, but you might want to be cautious when using it for frying.
How Sesame Oil Might Be A Problem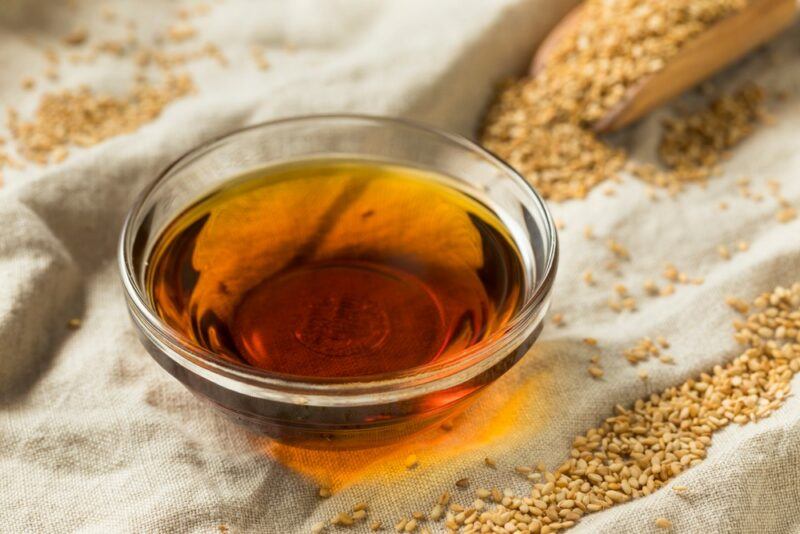 The Omega 6 Content
Most of the fats in sesame oil are omega 6 polyunsaturated fats. While polyunsaturated fats are good for you, there's debate about how much omega 6 you should be including in your diet.
The issue comes down to ratios. Specifically, the ratio of omega 6 to omega 3 in your diet. A heavy skew towards omega 6 can promote inflammation, which is the last thing we need, as chronic inflammation increases the risk of many diseases.
Unfortunately, modern diets are already heavily skewed towards omega 6 fatty acids, often with ratios of 10:1 omega 6 to omega 3, or even worse.
Sesame oil isn't the worst culprit for omega 6, not by a long shot. Still, if you're trying to decrease your omega 6 intake, it's better to focus on a cooking oil with less omega 6, like olive oil.
The Calorie Density
Cooking oils consist almost entirely of fat, so they're always calorie dense. Sesame oil is no exception, giving you roughly 120 calories per tablespoon. This means you always need to be very careful with the amount you use, otherwise you may consume too many calories, which often leads to weight gain.
The calories aren't such an issue if you keep an eye on the amount you're using. However, most of us seriously underestimate our cooking oil use. This is very easy to do if you simply pour some oil into the pan rather than measuring it.
To avoid problems, it's always best to carefully measure out your cooking oil.
Is Sesame Oil Nutritious?
While sesame oil is extracted from sesame seeds, it doesn't contain all the important nutrients that you get with the seeds, including B vitamins and protein. This is true for all oils, as you're mostly just getting fat. To get nutrients, you'd be better to turn to the seeds themselves.
You do, however, still get a decent amount of vitamin E, the various fatty acids in sesame oil, and some antioxidants. So, while there aren't that many nutrients, sesame oil still clearly offers benefits.
Can You Use Sesame Oil On Your Skin?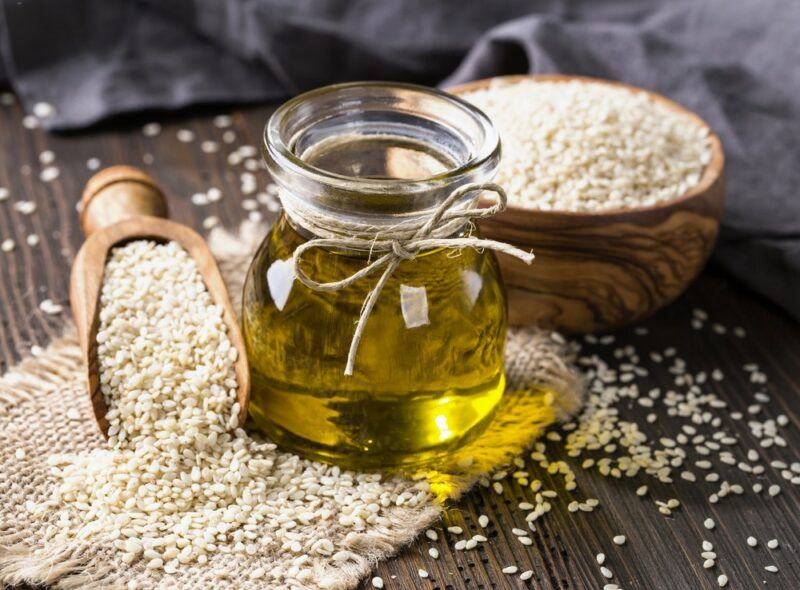 Cooking with sesame oil isn't your only option. Some people choose to use the oil directly on their skin. There's some logic to doing so too, as sesame oil is a decent source of antioxidants and may have anti-inflammatory properties as well.
Another advantage is that sesame oil ranks low on the comedogenic scale. This means that the oil is unlikely to clog your pores and should work well on people who are prone to acne.
There's also anecdotal evidence that massaging with sesame oil may help to reduce muscle pain. This isn't a surprising effect, given the strong anti-inflammatory properties of sesame oil.
The topical benefits of sesame oil haven't been heavily researched, so we don't know how effective the oil is in this area. Still, it is a minimally processed oil that is safe for most people and doesn't need to be diluted before use.
If you're uncertain, try using the oil on a small patch of skin, then wait to see whether there are any reactions. This will show you whether your skin is sensitive to the oil.
Final Thoughts
Sesame oil is a heart healthy cooking oil, one that's high in polyunsaturated fats and antioxidants. The regular version is perfect for cooking with, while the toasted version is used for finishing meals instead and imparts an amazing flavor.
The most serious problem with the oil is the omega 6 content. This isn't a big deal if you're getting plenty of omega 3s in your diet, but it's still something to be aware of.
After all, modern diets are already heavy in omega 3 fatty acids. Perhaps it's better to focus on oils with lower amounts of omega 6 – at least some of the time. Avocado oil and olive oil are both good alternatives, ones that are often minimally processed and contain plenty of powerful antioxidants.
Frequently Asked Questions
Does Sesame Oil Go Bad?
Yes. Once opened, sesame oil will last around 9 months at room temperature. If you keep it in the fridge instead, it often lasts a year. Toasted sesame oil doesn't last as long. You'll often need to use it within 6 months.
Of course, those are just averages. How the oil was made and the amount of refining will influence exactly how long it lasts. Even the bottle size makes a difference, as smaller bottles mean less air exposure, which makes the sesame oil last longer.
Is Sesame Oil Gluten Free?
Sesame seeds themselves are naturally free from gluten, which makes sesame oil gluten free too (regardless of whether it is toasted or not). Still, it's important to check the ingredients label, as companies may occasionally use unexpected additives.
Does Sesame Oil Need To Be Refrigerated?
Sesame oil will be fine at room temperature, but it does last longer in the fridge. So, if you have a large bottle of the oil or aren't using it often, you might want to keep it in the fridge.
Can You Cook With Sesame Oil?
Untoasted sesame oil can easily be used for cooking. It functions much like canola oil, meaning that you can easily fry with it or roast vegetables. On the other hand, toasted sesame oil isn't good for cooking. Trying to cook with it is simply a waste.
Is Sesame Oil Safe During Pregnancy?
Advice about sesame oil during pregnancy is surprisingly mixed. Many people say you can use the oil without issue, as long as you watch your serving size because of the oil's calorie content. However, there are some concerns that it could lead to pregnancy complications.
If you're worried about the oil, it's best to talk to your healthcare provider about what is safe for you. After all, we're all different and some pregnancies are riskier than others.