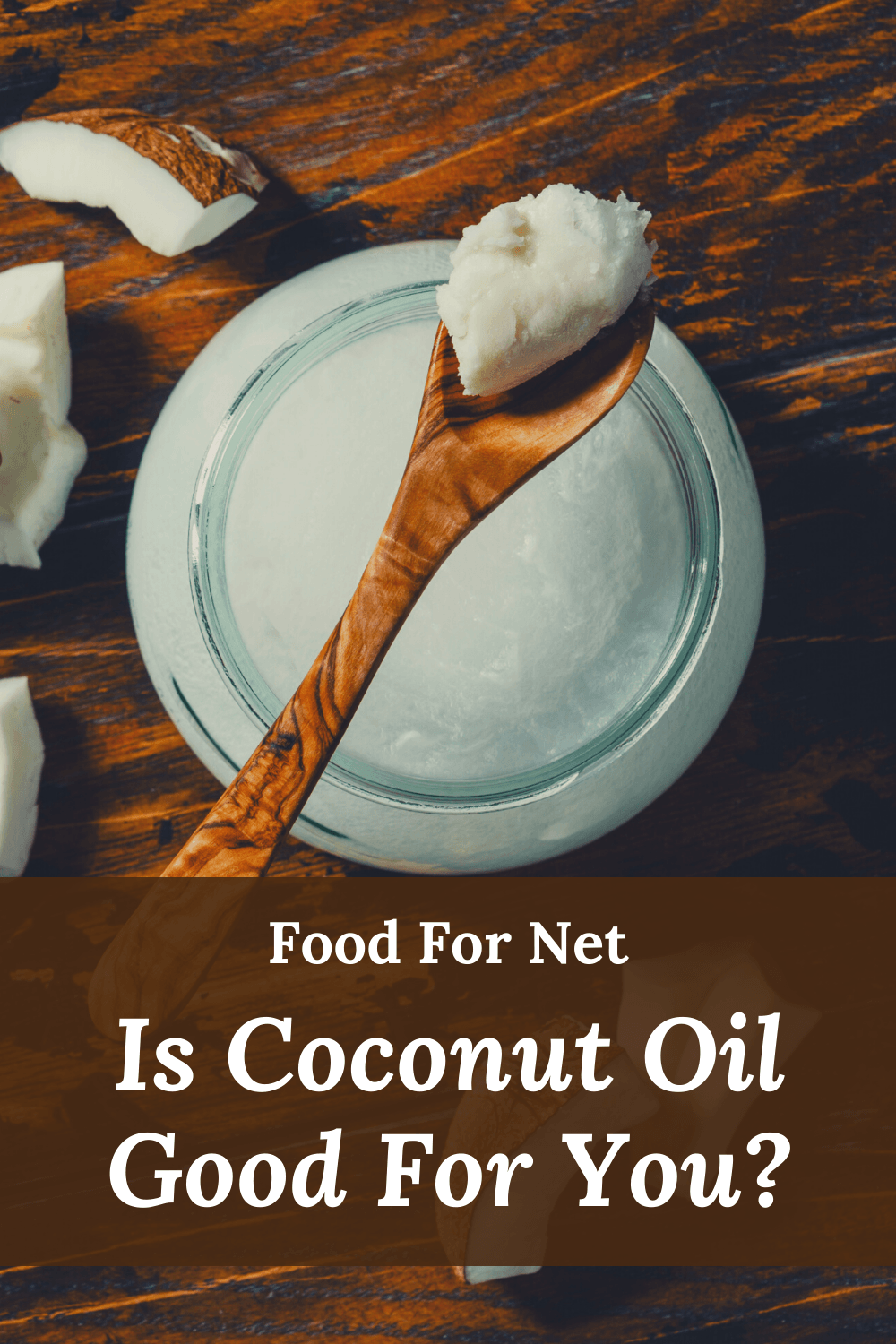 Coconut oil is one of the most controversial 'health foods' that you'll see. While options like eggs, oatmeal, and quinoa are generally seen as fantastic choices, views on coconut oil are more strongly divided. So, is coconut oil good for you? And, is it something you should be eating regularly?
The answer to that question depends on who you ask and their perspectives. This post will dig into both sides of the debate and give you the information to decide for yourself.
First though, let's talk about coconut oil itself. Not surprisingly, this oil comes from the flesh of coconuts. It can be produced traditionally or using chemical processes. You can even make it at home.
Some versions end up being highly refined, but you can find more natural products too. Virgin coconut oil may be the healthiest choice, as it tends to be more natural and avoids using chemicals to refine the oil.
Coconut oil is often used as a cooking oil, instead of options like canola oil and soybean oil. It can also be used as an ingredient in a variety of recipes, including baking, salad dressings, and keto fat bombs.
Is Coconut Oil Good For You?
Coconut Oil and Saturated Fat
Coconut Oil and MCTs
Coconut Oil for Ketosis
Other Benefits of Coconut Oil
Other Risks of Coconut Oil
Should You Use Coconut Oil
Final Thoughts
Coconut Oil And Saturated Fat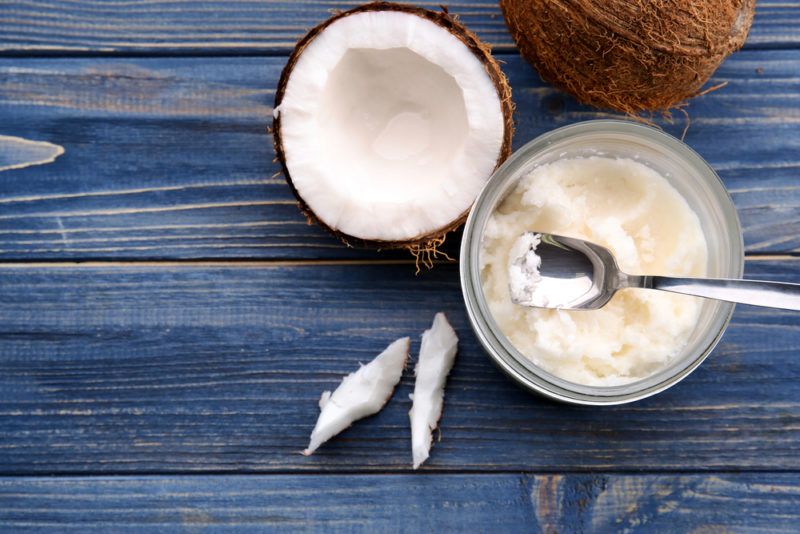 Debate has raged around coconut oil. Marketing and views in the media have promoted the idea that coconut oil is healthy. Some people even see it as a type of superfood, one that offers countless benefits. Yet, nutritionists often say that coconut oil is appalling and could give you a heart attack. So, who's telling the truth?
Much of the debate comes down to the fatty acids in coconut oil. The oil is entirely made up of fat and 80% to 90% of this is saturated fat. This type of fat has long been linked to increased heart disease risk. We're often told to cut down our saturated fat intake and focus on unsaturated fats instead.
But, not everyone agrees.
To understand why we need to talk about heart disease.
The basic theory is that saturated fat increases levels of LDL cholesterol in our bloodstream. This basically clogs the arteries and can increase the risk of heart disease. Simple enough, right? Cut down on saturated fat and cholesterol-based foods, and heart disease risk should decrease.
While that theory is based on scientific research, it also relies on many assumptions – and may not be true. Recent research shows that heart disease may be caused by inflammation instead, suggesting that anti-inflammatory foods may be more powerful than cutting down saturated fat.
There's a decent amount of debate about whether or not saturated fat increases heart disease risk. Some studies still suggest a link in particular situations, while others do not.
Part of the problem is that studies into saturated fat often rely on observational methods. This means that they examine data for a large number of people and look for correlations. Some such studies do show a link between saturated fat intake and higher heart disease risk, but partly because many of the saturated fat eaters also had a variety of risky health behaviors.
Right now, there's a lot we don't know. It's possible that saturated fat is much healthier than we've always assumed. This type of fat might even promote health, rather than putting us at risk, but it's too soon to say for certain.
It's going to take time to do the research and find out more about the links between saturated fat, cholesterol, heart disease, and health. Even then, we may be left with gaps, as nutritional science is rarely ever cut and dry.
Coconut Oil And MCTs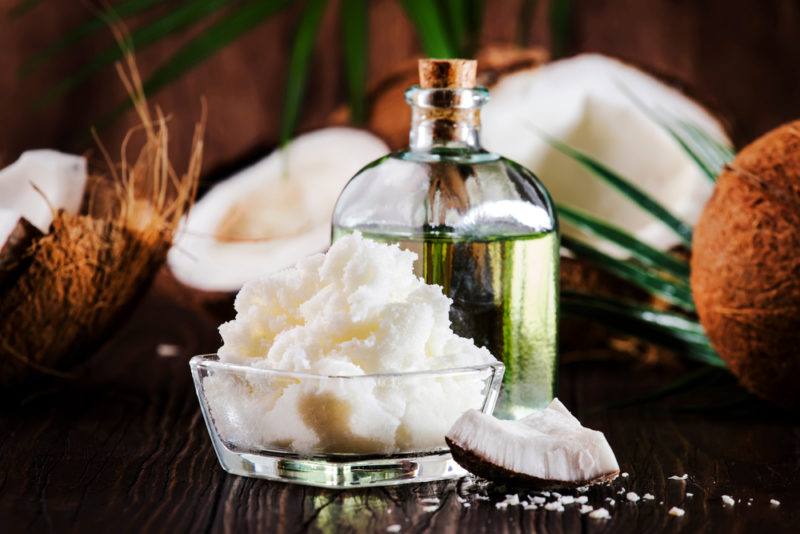 Saturated fat is the main reason that people are wary about coconut oil. MCTs, on the other hand, are why the oil is so interesting.
The term MCTs stands for medium-chain triglycerides. MCTs are a type of fatty acid where, you guessed it, the fatty acids have a medium-length chain. In particular, MCTs range from a chain length of 12 carbons (lauric acid) to 6 carbons (caproic acid).
Because of their short chains, MCTs don't require enzymes for digestion. Instead, they are rapidly digested in the liver and may be stored as fat less often than long-chain fatty acids.
This difference in digestion can mean that MCTs act as a more immediate source of energy, offering some effects that you don't see with other types of fats.
MCTs are also thought to offer many health benefits. For example, they've been linked to improved endurance, better blood sugar control, more balanced cholesterol, neuroprotective effects, and improved cognition. That all sounds pretty amazing, right? It's not surprising then that so many people are passionate about MCTs.
What About MCT Oil?
MCT is an interesting alternative to coconut oil. It offers many of the same benefits and challenges but is a richer source of MCTs.
While MCT oil is more processed than coconut oil, it could be better for weight loss, ketosis, and mental benefits. This isn't just because you're getting pure MCTs, but also because MCT oil often uses different types of MCTs.
With coconut oil, you're mostly getting lauric acid. This is the longest MCT, with a chain length of 12 carbons. This longer chain length means that lauric acid may not be as powerful as the shorter MCTs.
On the other hand, MCT oils often focus on the shorter chain MCTs instead. The exact composition varies from one brand to the next, with some brands including lauric acid in the mix and others focusing only on the 6 and 8 carbon MCTs.
Whether MCT oil or coconut oil is better depends on what you're looking for. Coconut oil has a higher smoke point, which makes it better for cooking. It may be more useful for the skin too, as lauric acid has antibacterial properties. On the other hand, if you're specifically interested in MCTs, then MCT oil is the logical choice.
Coconut Oil For Ketosis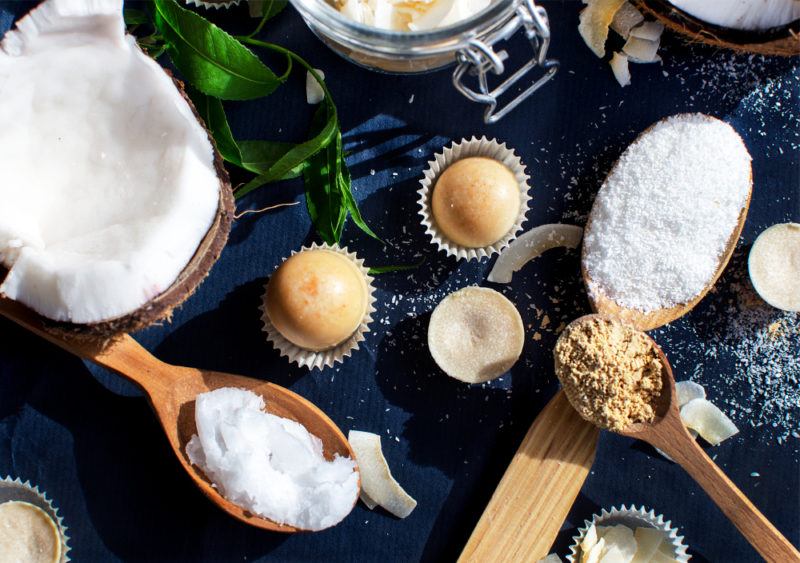 Coconut oil is particularly popular among keto dieters. That eating approach relies on fat as the main source of energy, rather than carbs. Advocates argue that a carb-heavy diet contributes to many health problems, including inflammation and increased disease risk. They suggest that fat is a healthier source of energy and isn't inherently bad for the body.
Ketosis is a key feature of the diet. This is a metabolic state where your body is getting its energy from fat. Doing so increases the levels of ketone bodies in the blood and may offer a variety of benefits for health and weight loss.
Keeping carb intake low is one of the main ways to get into ketosis. To do so, you need to rely heavily on fat-based foods. Fats like coconut oil and butter work well, as these are minimally processed, contain no carbs, and are high in fat.
The MCTs in coconut oil may help with ketosis too, making it easier to get into ketosis. This is why you'll often see coconut oil or MCT oil in ketosis recipes, including fat bombs and smoothies. MCT oil could be even more powerful for ketosis, as it promotes ketone production.
Other Benefits Of Coconut Oil
Coconut oil has a few other good points too. For one thing, the right products are minimally processed. This makes them more natural than all the highly refined cooking oils out there. The lack of processing could be the deciding factor for some people.
Coconut oil is also easy to work with for cooking. It's perfect if you're looking for a coconut flavor.
Plus, coconut oil has countless other uses, including the way it can be made into skin products or even cleaning products. This is perfect if you only plan to use coconut oil in cooking every so often.
Other Risks Of Coconut Oil
Coconut oil is a source of pure fat. So, not surprisingly, it's very high in calories. A single tablespoon gives you around 120 calories. That's more than you get in an entire egg.
The high calorie content is a problem even if you're on a keto diet. After all, you still need to be using more calories than you consume. Relying too heavily on coconut oil would undermine that goal.
Another problem is the nutrients. Or, more accurately, the lack of nutrients. While coconut oil does offer vitamin E, there are few other vitamins or minerals present. This gives you a high calorie ingredient that isn't as powerful as you might expect.
Then there are the omega fats. Coconut oil tends to be low in omega-3 fatty acids but does contain omega-6 fatty acids. Omega-6s are pro-inflammatory and most people need to increase their omega-3 intake while decreasing their omega-6 intake.
Coconut oil doesn't help with that goal at all, as the ratio of omega-6 to omega-3 is strongly skewed in the wrong direction.
Should You Use Coconut Oil?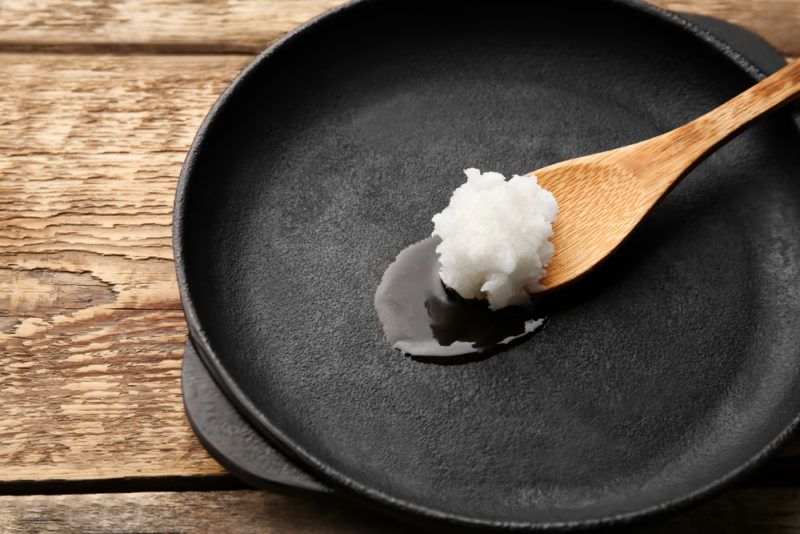 Coconut oil could be healthy in some situations. After all, it is a natural oil and the lauric acid present may have benefits. You could use it instead of more heavily processed oils, particularly those with trans fats.
Coconut oil may even have anti-inflammatory properties. This might even mean that it helps reduce heart disease risk and aids with other inflammatory conditions.
However, let's be clear. The research surrounding saturated fat, cholesterol, and heart disease is ongoing. We know more than we did 10 years ago, but we have many more questions too.
For one thing, we have little idea about the long-term effects of high saturated fat intake. Eating a lot of saturated fat regularly could be fantastic for health. Honestly though, that seems unlikely. At best, saturated fat might not be harmful and even that claim is far from being proven.
This suggests that moderation is your best way forward. Use coconut oil as an ingredient, by all means, but don't treat it like a superfood. After all, it is still high in calories and fat. While the proposed benefits of coconut oil might sound amazing, they're not so good if you compromise your health in other ways.
Besides, there's much more evidence for health benefits from monounsaturated fats, including avocado oil and olive oil. Focusing primarily on that type of fat is the most powerful move for your health.
Coconut Oil For Your Skin
Finally, on a side note. We've been focusing on using coconut oil in your diet, but this isn't your only option. Coconut oil is often used topically instead, like as a type of massage oil or as part of a skincare product.
Coconut oil has a different set of benefits when used in these ways and most of the risks aren't relevant. After all, the effects of applying something to your skin are quite different to the effects you get from eating it.
Final Thoughts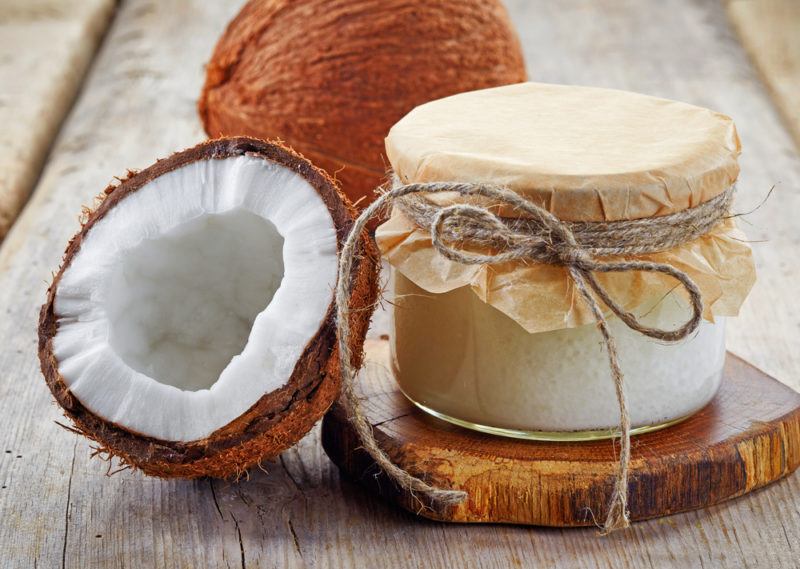 Coconut oil is highly controversial. There's no denying that.
Some people talk about it like a superfood, saying that it can improve brain function, reduce inflammation, and even promote weight loss. Others are concerned about the saturated fat, feeling that this might lead to weight gain and increased heart disease risk.
The topic is a tricky one, as there's evidence for both perspectives.
If you are going to use coconut oil, pay close attention to your calorie intake. This should help you to avoid weight gain, while still giving you the potential benefits that coconut oil offers.
Also, if you're cooking with coconut oil, be aware that it has a slight coconut flavor. The flavor isn't intense, but it's strong enough to clash with some ingredients. You can get around the problem by focusing on refined coconut oil, which lacks that flavor. Of course, that type is more processed, so it mightn't be ideal.
Frequently Asked Questions
Are Coconut Oil Capsules Healthy?
In theory, coconut oil capsules offer an easier way to consume coconut oil. This could be perfect if you don't like the taste or texture of the oil. All the benefits and risks are roughly the same as for coconut oil itself.
Still, there's one big catch with these products – the quality. Supplements are all over the place in this regard. Some are exactly what the labels say and rely on high quality coconut oil. Others cut corners or use inferior ingredients. You could even end up with a dangerous product.
Because of this, it's important to choose products wisely. Companies that go through third-party testing are best, as they can often prove that their products are everything they claim to be.
Is Coconut Oil Low FODMAP?
Most fats and oils are naturally low FODMAP, which includes coconut oil. Other coconut products are fairly low in FODMAPs too, although you need to be more cautious with them.
However, excessive fat intake can worsen irritable bowel symptoms. If you're following a low FODMAP diet for this condition, you may need to closely watch the amount you consume.
Is Coconut Oil Hydrogenated?
Hydrogenation is a refining process that adds hydrogen atoms to unsaturated fats. Doing so creates a fat that's solid at room temperature. It's a concerning process, as hydrogenation creates artificial trans fats that can harm your health.
Hydrogenation is most common for products like margarine, but it is sometimes used with coconut oil as well. Thankfully, the level of hydrogenation is always low, as coconut oil doesn't contain much unsaturated fat anyway.
You can avoid hydrogenation entirely by looking for virgin or extra virgin coconut oil. Because these products haven't been through chemical refinement there shouldn't be any hydrogenation.
Is Coconut Oil Healthier Than Butter?
Coconut oil and butter have plenty of similarities, as they're both high in saturated fat and are often solid at room temperature.
Coconut oil is sometimes seen as healthier, due to the medium chain triglycerides (MCTs) that it contains. The oil could even decrease heart disease risk and inflammation in some situations.
It's not all good news for coconut oil though, as it does contain more saturated fat than butter. There isn't really a clear winner between the two. You'll just need to choose the best for your needs and keep an eye on your intake.
Is Coconut Oil Better Than Olive Oil?
Olive oil is almost always seen as the healthier option here, as it's rich in monounsaturated and polyunsaturated fats, while being low in saturated fat. This is an ideal balance of fats for heart health. Olive oil is also rich in antioxidants, which could offer additional benefits.
Coconut oil has the MCTs, which are the main thing in its favor. But, while these MCTs have potential, research is still in its early phases. We don't fully know how these fats affect long-term health or what the ideal daily intake is. Because of this, olive oil is more reliable for promoting health.