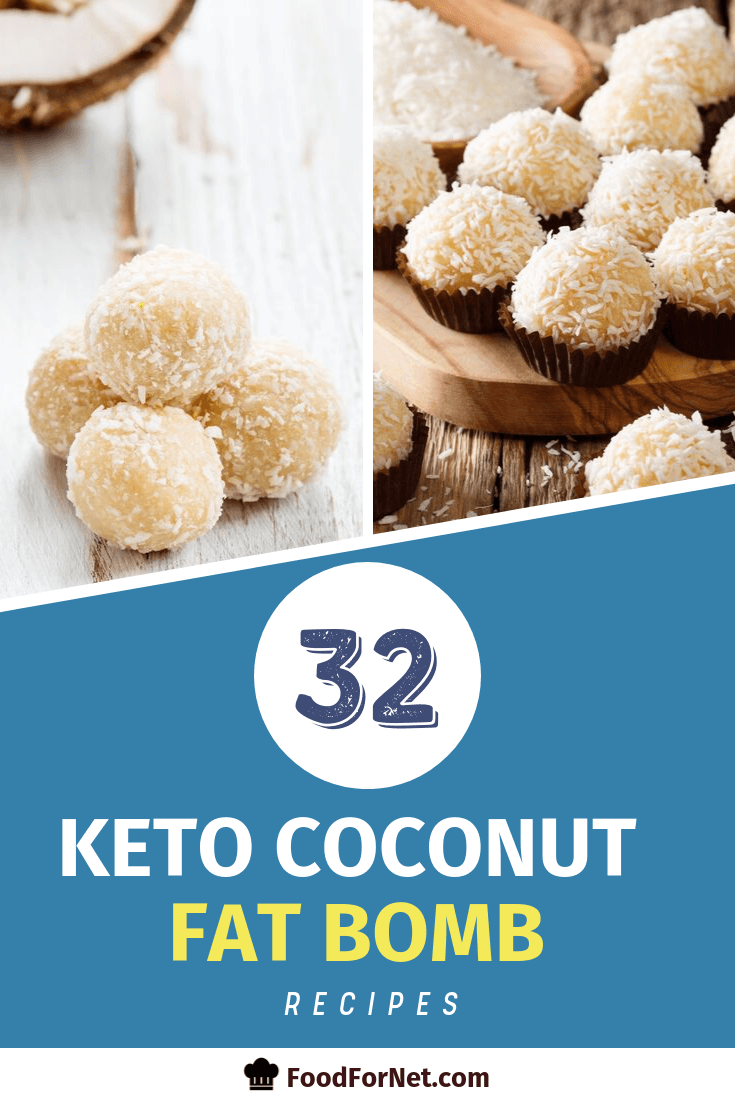 While there are many types of keto snacks, fat bombs are easily the most popular and common. Keto dieters frequently turn to them for an energy boost. The snacks are also a powerful choice of healthy fats, such as those from coconut oil and avocado.
This is one reason why coconut oil is a common addition to fat bombs. You'll find other coconut-based ingredients too, such as coconut butter. It's easy to see why. Coconut is a popular flavor anyway, so why not include it in fat bombs?
These keto coconut fat bomb recipes are all examples of exactly that pattern. They feature at least one coconut-based ingredient, often more. Sometimes coconut is the dominant flavor, while other times it is just one of many different flavors.
Keto Coconut Fat Bomb Recipes
PS. It looks like you're a fan of fat bombs. What about some other flavors like peanut butter, matcha tea or pumpkin?
PPS. Coconut lovers can find the ingredient featured in other recipes too, like keto smoothies.
Coconut Butter Fat Bombs
These fat bombs from theharvestskillet.com are a simple and easy fat bomb to start the list off with. The fat bombs themselves only use three ingredients, which are all easy to find. There are a few optional ingredients if you want sea salt or chocolate to top them. Even then, these are some of the best fat bombs for beginners to make.
Coconut Fat Bombs
If you love the flavor of coconut, then this recipe from ketodietapp.com is a powerful choice. I'm not kidding. There are only five ingredients and two (or three) of them are coconut-based. You can choose whether to use flaked or shredded coconut in the mix, and decide between toasting the coconut and leaving it as-is. The finished fat bombs will taste amazing regardless of the decisions that you make.
Coconut Fat Bomb Sandwiches
These fat bombs come from ketosummit.com and they are simpler than most. There are only three ingredients, as the outside of the sandwiches is simply dark chocolate. This isn't a bad thing, as the fat bombs end up being fast and easy to make. There are also unlimited options for variation. For example, you could add in ingredients like cocoa powder or orange extra to change the flavor profile entirely.
Raspberry Coconut Bark Fat Bombs
Carolyn from alldayidreamaboutfood.com provides another flat fat bomb recipe. This one reminds me a little of sweet bark that you often see around Christmas time. The freeze-dried raspberries are an amazing choice for flavor, creating a refreshing combination of flavors. This type of fat bomb would make a wonderful gift, even for people who aren't on the keto diet.
Coconut Almond Fat Bombs
These fat bombs from hungryforinspiration.com are designed as homemade alternatives to Raffaello Coconut Balls. The relationship is easy to see, as these fat bombs retain the same style and layered approach. They are more complex than most fat bombs, but this isn't a bad thing. The best treats are often those that take a little bit more work.
Bulletproof Fat Bombs
Bulletproof coffee is another very popular part of the keto diet. These fat bombs from ketodietapp.com offer a solid version of that drink. The idea is powerful, as Bulletproof coffee isn't suitable in all situations. Besides, you won't always want a hot drink, especially on a humid day.
Of course, these fat bombs aren't exactly the same as Bulletproof coffee. They do have some extra ingredients to give them an appealing taste and texture. This isn't a bad thing. If nothing else, it's worth giving the recipe a try for yourself and seeing whether you like it.
Coconut Vanilla Keto Fat Bombs
These fat bombs come from besynchro.com and they're an interesting variation on the theme. I love the fact that you have three different layers. Despite this, the fat bombs aren't hard to make. You can also choose whether you fully chocolate dip them or just partially. This is another way to make them look interesting.
Chocolate Coconut Fat Bombs
If you're looking for a simple choice, this recipe from thebigmansworld.com is the answer. It only contains two ingredients, yet the finished fat bombs still look impressive. The recipe is also dairy free and is suitable for keto, paleo and vegan diets.
Triple Coconut Fat Bombs With Collagen
The inclusion of collagen is one of the most interesting aspects of these fat bombs. Collagen has been linked to many different health benefits, making it popular as a dietary supplement. However, it can be difficult to consume collagen regularly. This recipe from stepawayfromthecarbs.com is one easy way to do so. Georgina also offers plenty of details about why collagen is so significant.
Chocolate Coconut Fat Bombs
These fat bombs from homemadefoodjunkie.com have style, that's all there is to it. You're not just looking at a fancy topping either. The fat bombs are layered, giving you an interesting combination of flavors and textures. Honestly, if you're going for a chocolate coconut fat bomb, this would be the recipe to try first.
Chocolate Haystacks Fat Bombs
These fat bombs, from ketosummit.com are simply fun. They're very similar to conventional chocolate haystacks, which are a sweet and unhealthy treat. Of course, this version is different. The fat bombs end up being a source of healthy fats, not to mention the various benefits from coconut oil and dark chocolate. With this recipe, you're getting something that tastes great and is good for you.
Macaron Fat Bombs
As the name suggests, these fat bombs are designed to look at taste like macarons. To achieve this, Vivica uses a slightly different combination of ingredients. The style could make the fat bombs more accessible to people who haven't tried them before. You can find all of the details at thenourishedcaveman.com.
Peanut Butter Coconut Fat Bombs
These fat bombs come from easydayketo.com. They combine two popular flavors, coconut and peanut butter. The choice to use shredded coconut on the outside of the fat bombs is an especially cool one. This creates an appealing variation in texture. The fat bombs look amazing too.
Coconut Butter Cup Fat Bombs
There are many peanut butter cup recipes out there, but what about a coconut butter cup? That's what this recipe from tasteaholics.com offers. It's an extremely good idea because the taste of coconut contrasts so well against the chocolate. The style is also perfect for anyone with a nut allergy and as a way to try something different.
Sugar-Free Mounds Bar – Bounty
If you enjoy Bounty or Mounds bars, this recipe from lowcarbsosimple.com could be a fun one to try. The treats really do look like the commercial bars, but they're entirely keto-friendly and act like a fat bomb. You can also play around with the shape of the bars and the ingredients until you get something that is perfect for you.
Coconut No-Bake Fat Bombs
These coconut fat bombs come from ketovale.com. They have a nice and simple recipe to try – with some almonds on top to make things more interesting. It's easy to ignore simple recipes like this, but they're often some of the best. Relying on fewer ingredients means that there is a greater chance for the flavors to shine through.
Nutty Coconut Fat Bombs
Just when it seems like you've seen all the variations on coconut fat bombs, there are these beauties from bakerita.com. Their color and texture is unusual, especially once the chocolate is drizzled on top. There is also a great balance of ingredients, giving the fat bombs a complex and nuanced flavor profile.
Chocolate Covered Macarons
These fat bombs come from ruled.me. They're the perfect choice for any macaron lover, giving you a similar taste and texture to a normal macaron, without all of the carbs. The inclusion of crushed almonds covering the fat bombs helps to make them very different than other fat bombs. This is perfect if you want some variation.
Chocolate, Almond & Coconut Fat Bombs
Here's another flavor combination to consider. The recipe comes from ketochristina.com. It takes advantage of chocolate, almonds and coconut, which sounds like a winner already. The coconut coating makes them look a little like truffles, although these are still very low in carbs.
Toasted Coconut Keto Bombs
This recipe from holistichollie.com relies on an unusual ingredient – butter-flavored coconut oil. This isn't something that I've seen before, but the appeal is easy to see. This choice leads to a different combination of ingredients and creates fat bombs that are more coconut heavy than many others. That coconut focus is entirely a good thing, especially when you're on a keto diet.
Pina Colada Fat Bombs
Don't these fat bombs look so cool? They remind me of mini Jello desserts. They even have the right surface texture. Pina colada is also an unusual flavor for fat bombs. You don't normally see it because pineapple isn't a good keto choice.
Gerri from myketokitchen.com gets around that problem by relying on natural pineapple essence. This gives you the same vibrant flavor that you'd get from pineapple, without all the carbs.
Four-Ingredient Keto Coconut Fat Bombs
With only a handful of ingredients, these fat bombs from blog.paleohacks.com are well-worth trying out. As the site name suggests, the snack is also suitable for a paleo diet. They're also rich in coconut, as three of the ingredients are coconut-based.
Chocolate Coconut Almond Fat Bombs
Chocolate, coconut and almond are all popular flavors in their own right. Combining them together creates something that is even more amazing. To make things even better, the finished fat bombs have a texture of their own. This makes them much more interesting that fat bombs that are completely smooth.
You can find the recipe at createmindfully.com. The fat bombs are more involved than you might expect, but trust me, they're worth the effort.
Coconut Chocolate Fat Bombs
These fat bombs are fairly similar to the previous example, except they don't rely on almonds. They're also easier to create, using fewer ingredients. They still have the same amazing flavor profile, along with plenty of healthy ingredients. All the details you need can be found at theharvestskillet.com. Check the recipe out for yourself.
White Chocolate Coconut Fat Bombs
White chocolate is an underused flavor, especially for keto recipes. That's why this option from appetiteforenergy.com is such a good idea. The recipe also takes advantage of MCT oil. As such, the fat bombs provide you with some of the benefits of bulletproof coffee. This could make them ideal early in the morning, especially for people who don't drink coffee.
Cinnamon and Coconut Fat Bombs
Caitlin from grassfedgirl.com provides this recipe for you to try. The fat bombs look a little bit like truffles, especially with the coconut around the outside. The style works well, creating a more interesting texture. Including cinnamon is a good idea too. This helps to keep the flavor profile interesting.
Keto Coconut Bars
These coconut keto bars come from sugarfreelondoner.com. They're a little different than normal because they're chewy. This makes them a joy to eat. You might find that they taste similar to a candy bar. The fat bombs also use just five ingredients, making them easy to create.
Creamy Coconut and Cinnamon Fat Bombs
Nicole from 5minutelife.me offers these creamy fat bombs as another version that you can try. This time cinnamon and nutmeg are included to make the fat bombs taste more interesting. The recipe makes enough for 10 fat bombs, which should keep you going for quite a while.
Silky Smooth Coconut-Lime Fat Bombs
It's surprising that lime isn't included in more coconut fat bombs recipes. The flavors do combine together so well. Thankfully, this recipe from healthhomeandhappiness.com is one that does use lime. The fat bombs even have a smattering of green, making them look great. The recipe isn't just for keto dieters either. It's also suitable for anyone on a GAPS or a paleo diet.
Sugar-Free Cinnamon and Coconut Bombs
These fat bombs, from joannafrankham.com, are another choice for people on specialized diets. This time, the recipe is suitable for keto, paleo and AIP diets. Joanna mentions that the fat bombs are very popular among AIP dieters. I don't doubt it. Few fat bombs are designed for that audience.
Vanilla Tahini Fudge Fat Bomb
Tahini is an unusual inclusion in fat bombs, but why not? This time, the recipe comes from thecastawaykitchen.com. Most of the other ingredients will be familiar. Don't let that put you off. The final flavor balance is perfect. The fat bombs look fun too.
Matcha Coconut Fat Bombs
Here's an interesting flavor to finish this list off – matcha. The matcha doesn't just offer an interesting flavor. It's also a beneficial ingredient, one that has been linked to good health. This isn't the only advantage. The finished fat bombs simply look stunning. The seeds on the outside and the bright green inside create such a cool appearance. You can find all the details you need at rootandrevel.com.