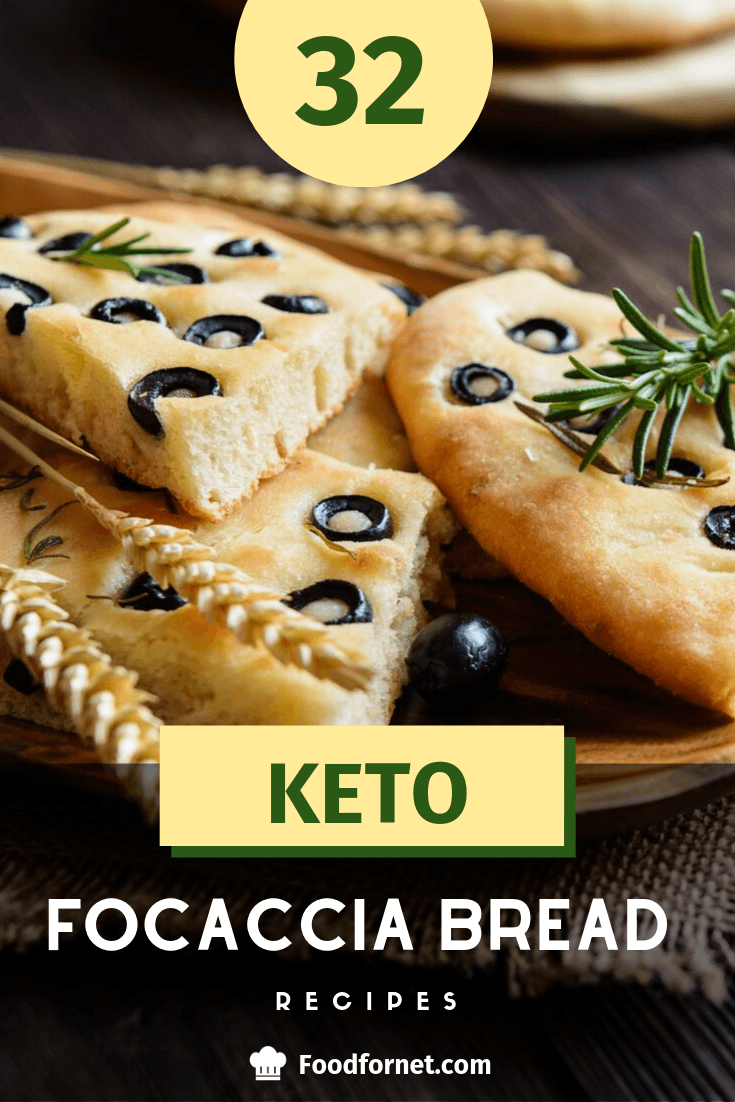 Who doesn't miss bread on a keto diet? It's one of the foods that many people hate to give up. After all, there are so many different styles of bread and it is such a versatile part of our diet.
The Italian focaccia bread is just one of many examples. This relatively flat bread makes an excellent side to dinners, is great for dipping and even works well as sandwich bread.
Focaccia also offers a delightful combination of flavor and texture that is often more appealing than conventional white bread.
While focaccia traditionally relies on white flour, the bread can still be made on a keto diet. It's simply a matter of being a little creative, something that keto recipe creators are very good at doing.
To that end, this list rounds up the best keto bread recipes from bloggers online. Some of these try to get as close to they can as to conventional focaccia bread, while others play around with textures and flavors. Check them out to find a new favorite or five.
Keto Focaccia Bread Recipes
PS. There really are so many amazing keto recipes out there. Another fun bread style that you might consider is keto flatbread, as flatbread can be used in so many different ways.
Rosemary And Olive Focaccia Bread
Rosemary and olive is such a classic combination of flavors, especially for focaccia bread. This particular recipe (from myketokitchen.com) takes full advantage of those ingredients to create a very traditional-looking focaccia bread loaf.
Gerri even mentions that it has the same fluffy and soft texture that you'd expect from a full carb version of the bread.
Rosemary And Sea Salt Focaccia
This recipe skips out the olives, but still ends up with a similar flavor combination to the previous example. It comes from the site gnom-gnom.com, which is home to some pretty amazing keto recipes.
This version of focaccia bread is soft and also has a slightly chewy texture. It doesn't end up tasting eggy either.
Just be aware that this recipe does use yeast. While the yeast helps to make the finished bread so amazing, it does mean a bit more work initially.
Flaxseed Focaccia Bread
For something a little different, what about this recipe from healthfulpursuit.com? It uses flaxseed as the flour of choice, which creates the darker color. The focaccia still ends up with a similar texture to regular bread.
It can also be easily toasted. You make 12 servings at a time, which each contain just one net gram of carbs. The bread might not look exactly like you expect, but you're certain to enjoy it just the same.
Focaccia Bread With Thyme And Onion
I love the visual style of this focaccia bread. It looks like something that you might find at an artisan bakery or at a market. It comes from the site primaledgehealth.com.
The post includes various pieces of information about how you can change the bread to suit your needs and what the finished loaf ends up tasting like.
It is a surprisingly easy loaf of bread to create too, which is another great reason to try it out.
Fluffy Three-Cheese Blackberry Focaccia
Here's a somewhat unusual focaccia bread recipe. It's from the site gnom-gnom.com again and shows you how to make focaccia bread with an amazing combination of toppings.
This style is something I hadn't even imagined doing for focaccia bread, but you'd end up with a seriously impressive bread dish that could make a summer dessert or light lunch.
Keto Cheddar Focaccia
This focaccia bread is topped with cheese and also includes cheddar cheese in the mixture itself. This combination should create a distinct flavor, one that is different than most other versions of focaccia bread.
The bread would be particularly appealing when served alongside a hearty dinner, like beef stew or chili. You can find the full recipe at explorermomma.com, along with some interesting details about keto bread in general.
Fat Burning Paleo Focaccia Bread
This recipe is suitable for paleo and keto diets. The fat burning part of the title is a reference to the protein, fiber and MCTs that the recipe contains. Many of these come in the form of coconut oil.
This is an interesting addition, as you normally see MCTs in hot keto drinks and fat bombs, rather than in bread. Regardless of that aspect, the bread should be similar to traditional focaccia bread.
It even has a classic combination of flavors. You can learn more about it at the site healinggourmet.com.
Fathead Focaccia Style Keto Bread
This bread creates an intermediate between focaccia and flatbread. The style means that your bread is thinner than normal. It's more similar to a pizza base than to focaccia bread.
Even so, you get the flavor of focaccia bread, while the recipe is also very easy to prepare. You make eight servings of the bread at a time and each has just 1.5 net grams of carbs. Full details can be found at fullfatandugly.wordpress.com.
Rosemary Focaccia Flatbread
You might notice something odd when looking at this recipe from fearlessketo.com. Despite only containing three net grams of carbs per serving, the recipe uses sugar as one of the ingredients.
This sometimes happens with keto bread recipes, as some form of sugar is needed to act as a food source for the yeast. The sugar gets consumed during the process, so you don't end up eating it.
Using yeast like this is one of the best ways to get keto bread that tastes much like regular bread – so the style really is worth trying out.
Flaxseed Bread
As the name suggests, this bread recipe uses flaxseed meal as the low carb flour. The ingredient is an ideal choice if you want to increase your fiber consumption.
In fact, each serving contains around eight grams of fiber. That's seriously impressive.
An even better outcome is that there is only one net gram of carb per serving of this bread. The recipe itself comes from lowcarbspark.com. As part of the recipe, Ioana provides details about the ingredients that she has chosen and why they are used.
Whole30 Focaccia Bread
I love the use of sundried tomatoes in this recipe. Sundried tomatoes always add an amazing burst of flavor – making any food taste more interesting. The style is also a nice change from the traditional approach to focaccia bread.
After all, new flavors are always worth trying out. Some of the taste in this recipe comes from using a sundried tomato olive tapenade. Details for this and for the bread itself can be found at mycrashtestlife.com.
Rosemary Focaccia Bread
This focaccia bread is one of many where the author took an existing recipe and tweaked it to create a perfect taste and texture combination. One of the changes was to weigh the ingredients, rather than measure them out.
Weighing ingredients is more accurate for any type of baking and is especially relevant for keto baking. This is the absolute best way to ensure that you get good results. The recipe itself can be found at queenketo.com. There are even details about where you can buy many of the ingredients.
Keto Approved Focaccia Bread
Here's focaccia bread from myheavenlyrecipes.com. It uses a classic combination of rosemary, thyme and olive oil, while choosing almond flour instead of wheat flour.
The recipe is an ideal one for beginners, as the images show you every step of the process. It's hard to go wrong when the directions are so detailed. There is even a printable version of the recipe that you can access.
Sunflower Seed And Chia Focaccia
Fiber offers many benefits, which makes a recipe like this one such a good idea. This particular version of focaccia bread relies on chia seeds and sunflower seeds to create the desired texture.
You can change the number of eggs included to influence the texture slightly. The recipe and a discussion of it can be found at naturalnoshing.com.
One odd aspect that's highlighted is that the focaccia can sometimes have a green tinge. This comes from the combination of sunflower seeds and baking soda. It's not something to worry about.
Low Carb Focaccia Bread
Angela from divaliciousrecipes.com offers this focaccia bread recipe. The bread uses olives and sundried tomatoes to create extra flavor. These are simply included on the top, so you can choose your own toppings if you prefer a different combination of flavors.
Each serving of the bread ends up containing 5.5 grams of net carbs. While this is on the high end for keto bread, the finished bread would be worth the carbs.
Focaccia Bread
This is a particularly simple focaccia bread recipe and it comes from thesugarfreediva.com. The recipe only uses five ingredients.
One of these is a little unusual, as it is a prepackaged baking mix. Mixes like these aren't commonly found in keto baking, but they can be a great way to make the process easier and to cut down on the work that you need to do.
Garlic And Herb Focaccia
I love the way that this focaccia bread turns out. It has a stunning appearance and doesn't look like keto bread at all. The recipe doesn't even use yeast, so there aren't any complex steps to worry about.
The carb content is appealing too. If you cut the finished loaf into eight slices, each slice contains just three grams of net carbs.
You can find out more at inspectorgorgeous.com, along with information about the flaky salt that makes the bread so amazing.
Olive And Rosemary Faux'caccia
Calling this recipe a faux'caccia is a clever idea. After all, low carb focaccia isn't really the same as regular focaccia bread that relies on flour.
This version from thehealthyfoodie.com is different again, as it relies on grated cauliflower as one of the main ingredients. Don't worry, you won't taste the cauliflower, it just offers nutritional and texture benefits.
The main limitation is that the bread is relatively high in carbs, as there are 4.7 net grams of carbs per serving. While this carb content is still low enough for the bread to be considered keto, it does mean that you'll need to pay close attention to your macro intake for the day.
Golden Flax Focaccia With Rosemary And Garlic
The use of golden flax makes this focaccia bread look simply amazing and would impact the finished flavor too. Another advantage is the simplicity. You don't need to worry about yeast or about using any complex ingredients.
Everything in the recipe is simple. You might have most of the ingredients on hand already.
The recipe itself can be found at theprimativepalate.com. While the bread uses the classic combination of rosemary, garlic and olive oil, you could easily change up those flavors if you wanted to.
Keto Focaccia Bread
While this recipe from ketosummit.com looks fairly typical, it does include some interesting ingredient choices. One of these is gelatin. This is used to help create the perfect texture, one that is more similar to regular bread than you might expect.
Don't worry too much about the number of ingredients that are needed for this recipe. It still ends up being easy to create. Besides, recipes like this one often end up tasting better than the simpler ones, so it is worth trying if you have the time.
Olive And Herb Focaccia
This recipe is yet another amazing low carb dish from ketodietapp.com. The most unusual aspect is the inclusion of yogurt as one of the key ingredients.
This isn't a choice that you normally find in flatbread recipes, but it seems to work well. Lauren also includes notes about alternative ingredients, in case you are following a dairy free diet or paleo.
Rosemary And Kalamata Olive Focaccia
Here's another recipe that relies on the classic combination of rosemary and kalamata olives. This time it comes from the site ketocookingchristian.com. The recipe is somewhat unusual as it includes oat fiber.
This ingredient comes from oat husks. It is a type of insoluble fiber, so you don't need to worry about any carbs from the oat fiber. It is also essential to the recipe and creates a great texture.
Focaccia Bread
Amy from pinchmegood.com provides this version of focaccia bread. It ends up being smaller than many of the other breads on this list, making it ideal if you're not cooking for many people.
You end up making six servings and each of these contains one net gram of carbs. Go ahead, try out the recipe for yourself.
Focaccia-Style Almond Bread With Olives, Sundried Tomatoes and Parmesan
While this recipe is considered focaccia-style, rather than being actual focaccia bread, it is still similar to many of the other items on this list. I love the inclusion of sundried tomatoes and olives.
These ingredients make the bread look stunning and create a perfect flavor profile as well. You can find details about the bread itself and the garnish at thefoodbible.com.
Cast Iron Keto Focaccia
If you love using cast iron pans, then here is a recipe for you. It comes from castironketo.com and you can make it with many different flavor combinations. Alex lists a collection of these on his site to provide you with some inspiration.
Each serving of the recipe contains just two net grams of carbs. Just be aware that you'll need to include any toppings in your carb estimate for the recipe.
The Best Keto Bread – Fauxcaccia
This recipe comes from ketochristina.com. It uses both coconut and almond flour, along with various other common ingredients.
The recipe does use yeast, so you can expect the characteristic flavor of yeast, along with the extra work that it involves. There are plenty of instructions to guide you and you're likely to end up with a perfect loaf of focaccia bread once you're done with the baking.
Gluten Free Focaccia Bread
Here's a recipe from familyonketo.com. It looks like most of the other items on this list, but does include some less common ingredients.
One of these is cottage cheese. While cottage cheese is a good keto ingredient, it isn't often included in keto bread. There is a little sesame flour included as well, perhaps for the flavor balance.
Herbed Focaccia
Taryn mentions that this focaccia bread is fantastic when it is dipped in olive oil or when you eat it with your dinner. It's pretty easy to see why, as the bread looks just as good as anything that you might be served at a restaurant.
The recipe is another one that uses an uncommon combination of flours. You're using three distinct types of flour. While this style might seem annoying, it does produce the best possible texture.
You can learn more about the precise steps and ingredients at joyfilledeats.com.
Low Carb Focaccia Bread
Here's a recipe from one of my favorite low carb sites – ruled.me. The recipe uses almond flour and flaxseed meal to create the desired texture. There are also suggestions about how to create a more realistic color for your bread.
You can aerate the bread too, which will make it less dense. Regardless of the combination of approaches, you can be certain that this focaccia bread will end up tasting amazing.
Healthy Focaccia
This healthy focaccia recipe comes from healthyrecipesblogs.com. It uses a variation on the idea of fathead dough, which makes this an easy recipe to prepare.
As the author highlights, the approach does mean your bread doesn't taste quite like focaccia, but it is still very good.
Flavor and texture is a limitation with any keto bread recipe. You're never going to be able to replicate the flavor of conventional bread exactly. Thankfully, with recipes like this, you don't need to either.
Versatile Focaccia Bread
Libby from ditchthecarbs.com has this bread recipe to showcase. It is a fairly simple recipe, with only six ingredients. Libby suggests making sure the bread is flat and that you have made slices through it before cooking.
This helps to make sure the dough cooks evenly. One fantastic feature is that this bread is very high in fiber. As such, the focaccia can help you increase your fiber intake.
Focaccia And Olive Oil Dipping Sauce
This final recipe comes from lowcarbmaven.com. It relies on almond flour and can be made in a lined pan. You don't need any special tools to make it and even the ingredients are easy to find.
You're not just getting a recipe for the bread either. Kim includes details about an amazing olive oil dipping sauce. This dipping sauce would help the recipe to stand out and complements the bread perfectly.