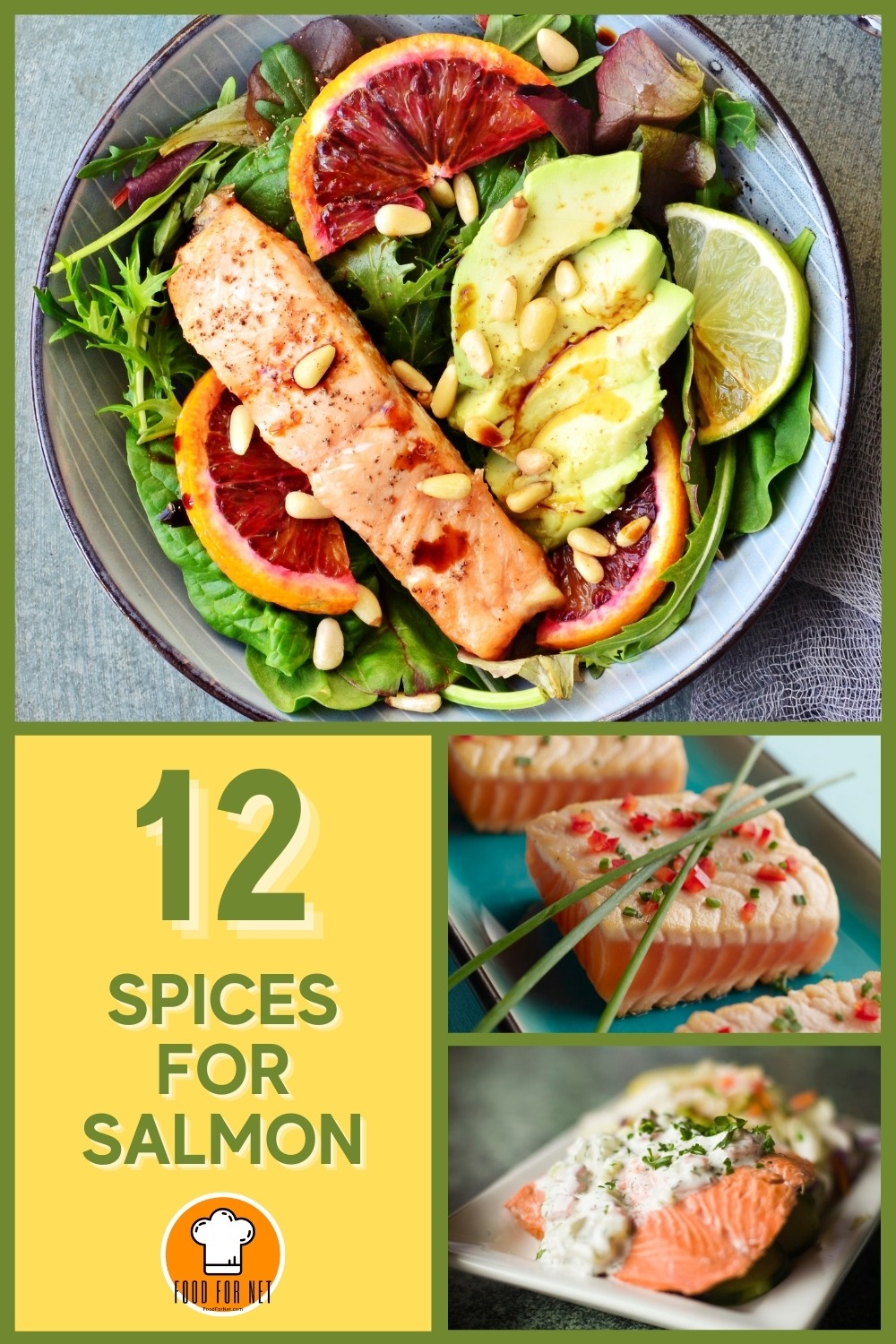 Salmon is rich in omega-3 fatty acids giving it that rich, oily, but refreshing and subtle taste. It's quite versatile and a great fish to experiment with different spices for salmon.
Whether you're dealing with small fillets and steaks which are perfect for quick dinner meals, or a whole side of salmon for that elegant special dinner nights – knowing the right salmon seasoning to use is the key to nailing it.
Here are just 12 spices for salmon that can get you started in freshening up your salmon recipe repertoire. You probably already have most of these spices in your pantry, now see here how you can create a great spice combo that will work wonders with salmon.
Spices for Salmon
Sesame Seeds

Sesame seeds came from the flowering plant Sesame that belongs to the genus Sesamum. It's one of the oldest oilseed crops known in history. Sesame seeds are a common ingredient in many cuisines all over the world.
It has a rich nutty flavor with a hint of sweetness to it. Sesame seeds are a good source of fiber and B vitamins. It's also rich in antioxidants. And since it's high in magnesium, it may also help in lowering your blood pressure.
This super easy but great tasting recipe, Sesame Crusted Salmon, will be a sure hit on your dinner table. Just roll the salmon into the sesame seeds to coat it thoroughly and then bake. Let it rest and then simply serve with soba and greens.
Smoked Paprika

Paprika is a ground spice that comes from the dried fruits of Capsicum annuum plant. This red-colored spice can range from mild to hot. Spanish paprika comes in 3 versions, mild, mildly spicy, and spicy. Pimenton or smoked paprika is the most common Spanish paprika.
Smoked paprika has a distinct smoky flavor and aroma. This is because it's dried via smoking which typically uses oak wood. It's great for adding color to your dishes. Paprika contains Vitamin E and antibacterial properties that speed up wound healing. It's also rich with beneficial compounds including niacin and carotenoid antioxidants.
Try Paprika Salmon and Green Beans and see how the smoked paprika enhanced the vibrant color of the salmon. The great thing about this recipe is you can bake the salmon with the green beans, saving you time and making it even simpler.
Black Pepper

Black pepper is the most traded spice in the world and a native to present-day South India. It came from the unripe drupe of a pepper plant. These drupes are cooked in hot water and then sun or machine dried. The pepper's skin now appears visibly coarse and dark after drying.
Black pepper gets its spicy heat from piperine that comes from the seed itself and is best experienced when it's slightly cracked. It is the outer fruit layer that contains the organic compounds that are giving it that citrusy, floral, and woody flavor. Black pepper is a good source of antioxidants and also contains anti-inflammatory properties.
This very simple dish, Lemon Pepper Salmon, best conveys how black pepper brings out the best in your beautiful salmon. It's easy, fool-proof, and an absolutely delicious dish.
Cumin

Cumin came from the aromatic flowering plant belonging to the family of Apiaceae. These dried seeds are yellow-brown in color, oblong in shape, and longitudinally ridged. It may look somewhat similar to caraway seeds but note that cumin is hotter and is also larger and lighter in color.
Cumin has that earthy flavor with a hint of spiciness. It has a very distinct aroma. Cumin contains anti-oxidants and anti-cancer properties. It also helps in controlling blood sugar and also aid in fighting bacteria and parasites.
See how cumin works its wonders, along with the other spices, in this 5-Ingredient Blackened Salmon recipe. It's super simple yet super tasty – not to mention it's super quick to make, too.
Garlic Powder

Garlic Powder is basically the ground and powdered version of dried garlic. They are both produced from dehydrated garlic. It has many bi-products including powder, oil, and salt which are primarily used to enhance food flavor and nutrients.
Garlic's distinctive aroma comes from its organosulfur compounds. It has a pungent spicy flavor which is gradually reduced with cooking. It even gives off a somewhat sweet flavor. Garlic is not only rich in antioxidants, it's actually very nutritious, too. It has active compounds that are responsible for reducing blood pressure and improving cholesterol levels.
Simplicity when done correctly is always a gem just like this Lemon Garlic Salmon. All you have to do is throw in the ingredients together, bake, and then eat!
Turmeric Powder

Turmeric powder came from the roots of a flowering plant of the ginger family called Zingiberaceae. These roots are boiled in water, dried, and then ground into powder. It has a deep orange-yellow color and is commonly used as a coloring and flavoring agent in many Asian cuisines.
Turmeric powder has an earthy, mustard-like aroma. It has a bitter, warm, and black pepper-like flavor. Turmeric powder also contains a substance called curcumin which has anti-inflammatory and antioxidant properties. It can also help prevent cancer and lower your risk of heart disease.
Try this 5-Spiced Salmon recipe, and see how turmeric completes this amazing 5-spice rub. It sure looks as good as it tastes, definitely a must-try.
Coriander Seeds

Coriander seeds are the seed of coriander which belongs to the Apiaceae family. It's usually found in the whole form although the ground form is also available. It's better if you use the whole ones and then freshly ground it to get the most out of its flavor.
Coriander seeds are a good source of iron, copper, and zinc. It also has other essential minerals that are good for our hearts. Coriander has a warm, nutty, and spicy note. It's also somewhat citrusy in flavor which works best when used with fish including salmon.
Don't forget to dry roast first the spices in a pan to bring out the flavor and aroma when trying this dish, Spiced Crusted Salmon. You won't regret trying this one out. It's simple and quick to make as well, so you'll be enjoying your salmon in no time.
Onion Powder

Onion powder is derived from the dehydrated onion that is then ground into a fine powder. It is considered ten times stronger in flavor than the fresh onion. But it needs to be stored properly since it's prone to caking.
Onion powder has that sweetness with a hint of garlic flavor. It has a less pungent smell than the fresh ones. Onion powder is rich in minerals like calcium, potassium, and magnesium. It also contains nutrients that aid with the treatment and prevention of constipation, osteoporosis, and heart problems.
See how having an onion powder handy in your kitchen helps with this recipe, Oven-Baked Salmon. No peeling and chopping onions for sure. Try it out and let us know what you think.
Red Pepper Flakes

Red pepper flakes or crushed red pepper are crushed dried cayenne pepper. It's a type of Capsicum annuum that is red in color and grows up to 10-15 centimeters long with a curved tip.
It is considered moderately hot and has an earthy and spicy taste. It often comes with a high ratio of seeds which is believed to contain the most spice. Cayenne is a rich source of antioxidants including beta carotene, cryptoxanthin, and vitamin C.
This recipe calls for a ¼ cup of red pepper flakes, but don't worry because it blends perfectly with the other ingredients so you won't be getting just hot, but rather a great flavor combo that works with salmon. Try it, Sweet & Spicy Garlic Ginger Salmon, and see for yourself.
Cinnamon Stick

Cinnamon stick came from the dried inner bark of tree spices belonging to the genus Cinnamomum. These harvested stems are processed by scraping off and beating the outer bark to loosen the inner bark. The dried barks are either ground into powder or used in its stick curled up form.
Cinnamon has an anti-diabetic effect. It lowers blood sugar levels and helps in bacterial and fungal infections. Cinnamon sticks compared to ground cinnamon have a fainter scent. It also has an aromatic smell and a sweet and woody flavor. You can also sense a slight citrusy note and spicy taste to it.
You'd be surprised at how the cinnamon flavor compliments the salmon in this super easy and simple dish, Cinnamon-Apricot Glazed Salmon. Just serve it with your favorite side dish or some salad and you're all set for dinner.
Curry Powder

Curry powder is a mix of different spices including mainly turmeric, ginger, garlic, cayenne, and cumin. It originated from the Indian subcontinent and was used as an ingredient in British recipe books in the 18th century. Crosse & Blackwell and Sharwood's are commercial brands of curry powder since the late 1800s.
Curry powder has a deep, earthy flavor with a hint of sweetness to it. Because it's a mix of different spices, its flavor varies as well depending on the spices used. Curry powder is known to help in reducing inflammation, fighting cancer, aiding digestion, and battling bacteria.
Enjoy the creamy coconut sauce with the curry flavor with this delightful dish, Coconut-Curry Salmon. The salmon's pinkish color is made even more vibrant because of the curry powder. You can adjust the crushed red pepper if you want a hotter dish.
Saffron

Saffron came from the dried stigma and styles of the flower of Saffron crocus. It's called threads and is golden yellow in color. It is the world's most expensive spice and is widely used in Persian, Arab, Indian, and European cuisines.
Saffron contains antioxidants that can help in protecting your cells against oxidative stress. It has a metallic honey with grassy notes aroma. It also tastes hay-like with a hint of sweetness to it. Saffron does not only add flavor but vibrant color as well to your dish.
This vibrant looking dish, Salmon with Coconut-Saffron Sauce, will surely convince you that saffron and tuna is nothing short of a smart idea. Try it out and let us know what you think.