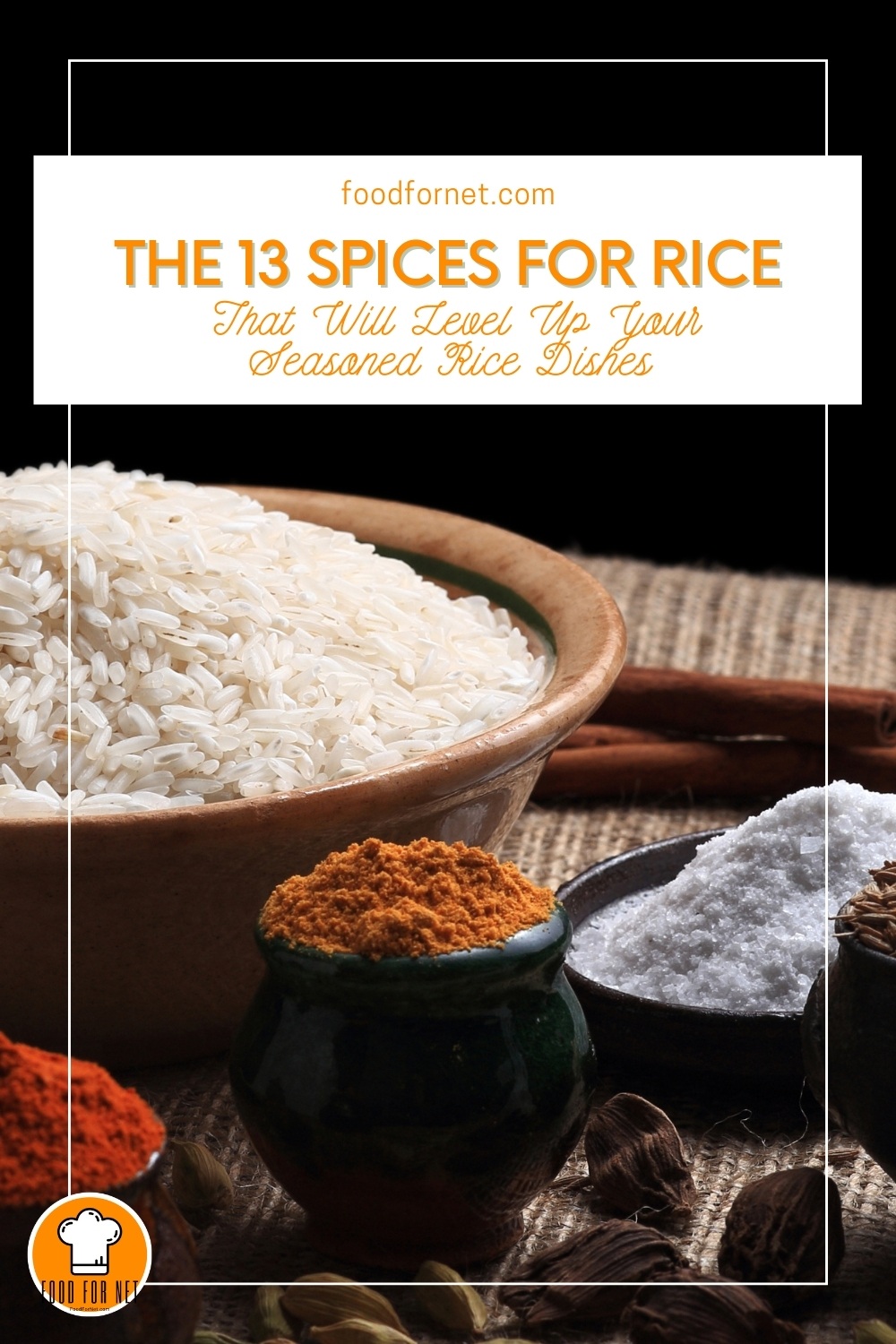 Rice is the seed of a grass species that as a cereal grain is consumed as a staple food by over half of the world's population. White rice tends to have a milder flavor and softer and delicate texture compared to brown rice that has a somewhat nutty flavor and medium to a firm, chewy texture. It is usually served plain alongside another dish or viand. But adding spices for rice can level up your rathe boring boiled rice and make your meal extra special.
If you're going to use rice as an ingredient, you need to consider if your dish calls for long-grained, medium-grained, or short-grained rice. Short-grained rice is normally used in rice pudding, while medium-grained rice is perfect for dishes like risotto or sushi. The long-grained ones tend to retain their shape and remain intact after cooking and are great to use for seasoned rice dishes. Rice is cooked either by boiling or steaming, but of course, you can also count on a good dependable rice cooker to make sure you end up with perfectly cooked rice every time.
This list of spices for rice can get you started on your quest to finding the perfect seasoned rice that you can proudly cook for your family and friends. It doesn't hurt to have a trick or two under your sleeves and having a go-to seasoned rice recipe can be a lifesaver during impromptu dinner nights. See our list here and start scouring your kitchen pantry for spices.
Spices for Rice
Garlic Powder

Garlic powder is rich in antioxidants and has compounds that can reduce blood pressure and improve cholesterol levels. It's basically the powdered form of dehydrated garlic. Known for its distinctive aroma and pungent flavor, it's widely used in many cuisines.
Garlic's versatile flavor makes it a great ingredient in many dishes. Adding garlic powder in rice, for instance, gives it some pungency making the rather mild flavored-rice more savory.
You have to try this Garlic Butter Rice recipe, it's super flavorful and simple to make, no chopping involved! It could easily become your family's favorites.
Crushed Red Pepper Flakes

Crushed red pepper flakes are also a good source of antioxidants that includes beta carotene, cryptoxanthin, and vitamin C. It's derived from crushed dried cayenne pepper but commercial producers oftentimes use a combination of different peppers.
Adding a bit of heat to your seasoned rice is a great idea and using crushed red pepper flakes will not only give heat but awesome flavors as well. Its spiciness is balanced by its earthy taste bringing the almost bland-tasting rice to life.
For this recipe, Brown Rice with Crushed Red Pepper and Garlic, the seasonings are added like a dressing so the rice is cooked as normal and then dressed with olive oil with garlic powder, salt, and crushed red pepper flakes.
Saffron

Saffron's health benefits range from protecting your cells against oxidative stress to providing antioxidants. It's the dried stigma and styles of Saffron crocus called threads. It's considered the world's most expensive spice.
That savory saffron flavor in rice compliments all the sweet and rich flavors you may already have on the table. They simply make a great combination. Remember to soak the spice first in hot water to further open up its flavor.
What's so great about this saffron rice is that it actually tastes buttery. And of course, that beautiful golden color! An absolute must-try.
Cinnamon

Cinnamon not only lowers blood sugar and has an anti-diabetic effect but it also helps in fighting bacterial and fungal infections. It's derived from the dried inner bark of trees belonging to the genus Cinnamomum.
Cinnamon's aromatic flavor will instantly lift any seasoned rice dishes. It's somewhat sweet and citrusy notes will surely add a layer of flavor to your rice. It's worth noting, too, that cinnamon works well with cumin making this spice convo a great addition to your rice recipe.
Although you'll normally use cinnamon and rice when making rice pudding, you can also use it to simply season your rice just like in this recipe, Cinnamon-Spiced Rice. For this dish, it's used alongside cumin and black pepper for that perfect spice convo that makes this dish simply delicious.
Five-Spice

Five-spice is good at lowering blood sugar, it also fights inflammation, relieve nausea, and ease pain. It's actually a mix of 5 spices with sweet, salty, bitter, sour, and pungent flavor – which refers to the five traditional Chinese elements.
Although five-spiced is often used in meat dishes, it also works wonderfully with rice, particularly brown rice. The spice combination that includes start anise and fennel gives rice that warm flavor. And the aroma that it imparts to the dish is absolutely divine.
Not only does this dish, Five-Spice Walnut Fried Rice sounds and looks appetizing but it tastes amazing, too. Although this recipe calls for a couple of extra steps in cooking the rice, it sure does make a difference. So do follow the instructions for cooking the 'perfect house rice' and see for yourself.
Turmeric Powder

Turmeric powder has anti-inflammatory and antioxidant properties, it can also help prevent cancer and lower the risk of heart disease. It's derived from the dried roots of a flowering plant belonging to the ginger family that is ground into powder.
Turmeric's pungent and slightly bitter flavor works very well when combined with garlic powder in rice. Aside from the color that it imparts to the dish, the aroma is pretty distinct as well. Turmeric surely gives a rather plain-tasting rice a boost of flavors.
See how the spice convo works perfectly well in this easy seasoned rice recipe, Turmeric Garlic Rice. Simply combine all ingredients in a pot or in a rice cooker and get ready to enjoy an appetizing bright yellow rice.
Cumin

Cumin contains antioxidants and anti-cancer properties, it also helps in controlling blood sugar and fighting bacteria and parasites. It came from the dried seed of an aromatic flowering plant. Cumin is oftentimes mistaken for caraway seeds, but the former is hotter in taste and larger and lighter in color.
Cumin's earthy nuttiness gives rice that flavor that is very reminiscent of Indian or Middle Eastern dishes. Its hint of peppery taste also works in adding another layer of subtle flavor to your seasoned rice.
This Jeera Pulao or Indian Cumin Rice is very easy and quick to make. What's even great is you can use your rice cooker for this dish. It's a convo of different spices that will surely give you a taste of Indian cuisine.
Cardamom Pods

Cardamom is a rich source of antioxidants and has diuretic properties, aids in digestion, boosts blood circulation, and promotes oral health. Cardamom pods are derived from the seeds of plants belonging to the genera Elettaria and Amomum.
Cardamom's aromatic fragrance is great for seasoned rice, it's citrusy, spicy, and the somewhat minty flavor works perfectly with rice's delicate and light flavor. And because it's a very pungent spice some people opt to leave the seeds in the pods to keep it relatively milder.
For a quick and easy rice pilaf here's Cardamom Rice Pilaf. Okay, maybe reserve it for more special occasions given that cardamom can get pretty pricy. Nonetheless, this recipe is simple yet heavenly. It can be served along with some grilled chicken, meat, or fish.
Curry Powder

Curry powder's health benefits range from reducing inflammation, aiding digestion, battling bacteria, to fighting cancer. It is a blend of different spices that normally consists of turmeric, cumin, ginger, cayenne, and garlic.
Curry powder in itself is already flavorful but use together with spices like cumin, coriander, or paprika – it's quite divine. This spice convo works amazingly with rice dishes. Even before you have a taste, your eyes will already feast with its vibrant color, and the aroma of course.
This pilaf-style basmati rice recipe, Curried Rice, is a must-try. The punch of flavor brought by curry powder and other spices is something you don't want to miss. Can be served simply with just a dollop of plain yogurt but can also be accompanied by your favorite protein like grilled chicken, beef kebabs, or what have you.
Paprika

Paprika powder is rich in antioxidants, has a good amount of vitamin E, antibacterial properties, and other beneficial compounds. It is made from the dried sweeter and milder varieties of Capsicum annuum plant which are ground into powdered form.
Although paprika can be spicy, it does have notes of sweetness and fruitiness as well. And one of the spices that go really well with it is the cumin. This convo compliments rice and the perfect spices to use for Mexican-inspired dishes.
For your Mexican-themed dinner (or any dinner for that matter), this fried rice will be a sure hit. What's great even great about it is it's super simple and quick to make, in just 15 minutes (assuming you already have your pre-cooked rice) you can be serving dinner already!
Allspice

Allspice has anti-inflammatory properties and also rich in antioxidants. It is the dried fruit of the Pimenta dioica plant. Its flavor profile resembles a combination of different spices including nutmeg, cinnamon, black pepper, and cloves.
Allspice alone is already packed with flavors making it a great addition to rice dishes. Its complex flavor profile works perfectly with rice's delicate, mild, and almost bland taste. It's sure a great way to liven up a rather boring rise side dish.
If you're after a seasoned rice dish that is also a complete meal in itself, Hashweh Lebanese Rice is for you. It's packed with amazing flavors of Middle Eastern spices and loaded with meat, raisins, and toasted nuts.
Star Anise

Star Anise is a good source of antioxidants and also contains anti-inflammatory and antibacterial capabilities. It is the star-shaped pericarps of the fruit of illicium verum tree. These fruits are harvested before ripening.
Star Anise is a strong aromatic spice with a sweet and licorice-life flavor and can be likened to cinnamon. A single star anise can work wonders for your seasoned rice. Its warming and earthy flavor will give your rice a subtle but noticeable flavor profile. It can be used solely or paired with other spices to infuse your rice with flavors.
This Spiced Rice with Cumin & Star Anise, is a great example of how this spice can work wonders for your seasoned rice. It's paired with cumin and chili flakes in this recipe and this spice mix absolutely works together harmoniously.
Bay Leaf

Bay leaf, sometimes called laurel, is rich in vitamins A and C, iron, magnesium, potassium, and calcium. It is the leaves of a tree that belongs to the family Lauraceae. This aromatic leaf can be used whole, dried, or in ground form.
Bay leaf's aroma which is slightly floral and herbal at the same time leaves your rice dish tasting light and refreshing. It's pungent and sharp bitter taste results in a pleasant flavor profile when mixed with the rice's delicate taste. A lone leaf or two may appear too simple to flavor a dish but it really does the job of infusing amazing flavors.
For a rather simple seasoned rice dish try Bay Leaf Rice Pilaf. It's easy to make and tastes quite refreshing. A perfect side dish to a rich and savory main dish, or even a simple grilled pork chops or balsamic fried chicken.