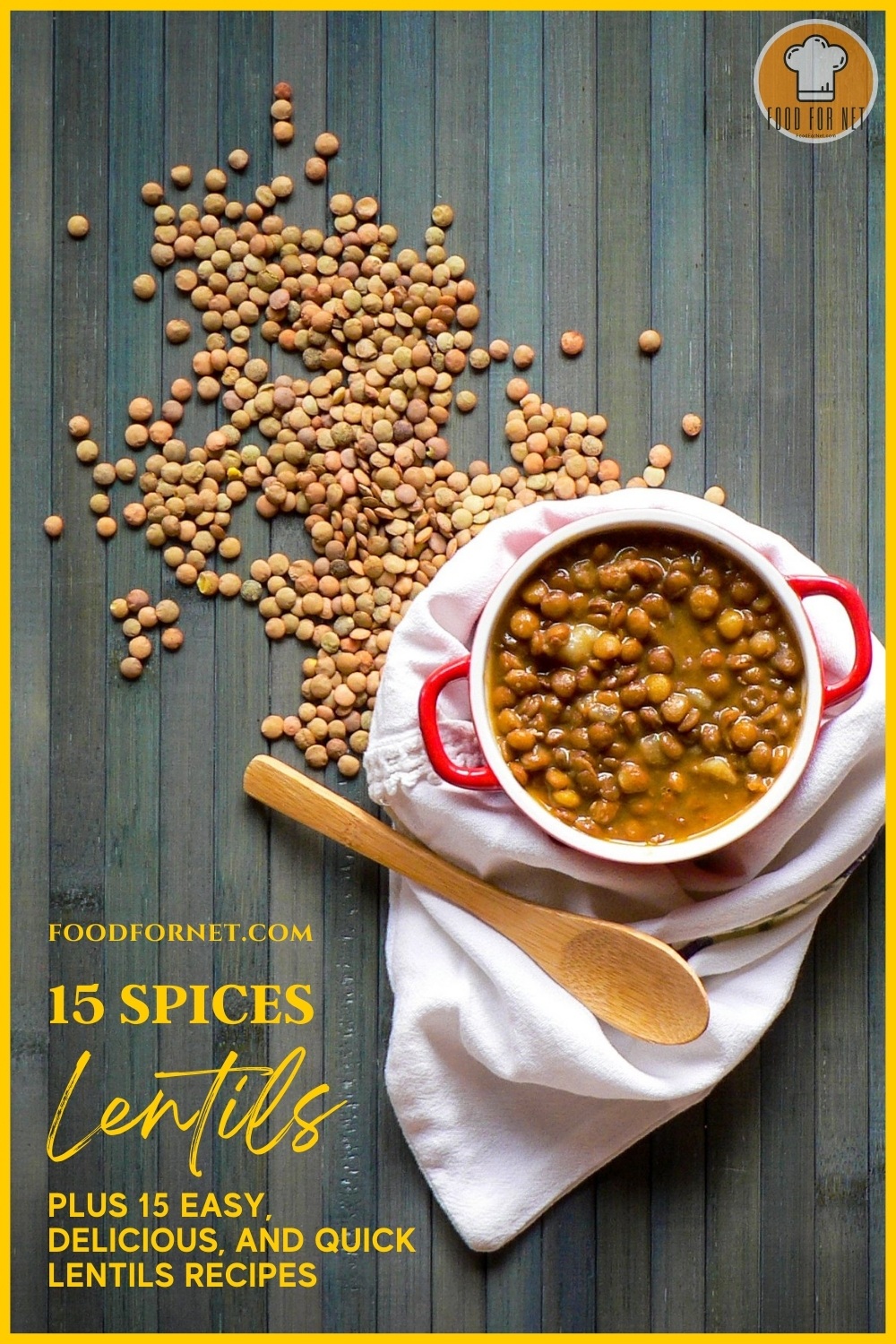 Lentils are part of the legume family that is one of the staple foods in Middle Eastern and Indian diets. Its popularity in different cuisines all over the world basically stems from its nutrient content and ease of cooking. In fact, with the most basic spices for lentils, you can easily whip up a delicious lentils dish in minutes!
Lentils, with the scientific name Lens culinaris, are curved lens-shaped seeds that are native to Western Asia and North America. It has an earthy, mild, and nutty flavor that can easily adapt with any lentils recipe you may have in mind. It's also one of the oldest domesticated crops seen in diets during ancient Rome and Egypt.
Lentils are just one of the many types of legumes that are powerful sources of protein and fiber. Legumes are simply food found in shells or pods like beans, peas, peanuts, and alfalfa. And aside from protein and fiber, it also contains vitamins and minerals like folate, zinc, iron, calcium, and magnesium.
Lentils are not only easy to prepare but they're quite inexpensive and store very well, too. And while lentils along with other legumes can be quite controversial – because of the presence of anti-nutrients, it's also undeniable that it does have its own share of health benefits that is good for you.
One might say that lentils are nutrient neutral at best. Even if that's the case, having a lentils recipe on hand can be really helpful for when you feel like serving something new to the dinner table. If you know how to make use of the best spices for lentils, you're pretty much halfway to serving a delicious lentil dish. And also, it doesn't hurt either that lentils are of those foods that are actually good for gut health.
There are four main varieties of lentils – brown, green, red/yellow, and specialty lentils. The brown ones are the most common variety, it holds its shape very well during cooking. Green lentils although very similar to brown lentils have a more robust and slightly peppery flavor. It can also hold its shape well. Red and yellow lentils, on the other hand, has a color that ranges from golden yellow to orange and red. They're also sold in smaller lentil bits called split. The specialty lentils – the most common being black beluga and Puy, are about 1/3 of the size of brown or green lentils.
What is even great about this particular legume is that it's so easy to add to your diet. Aside from the usual stews, casseroles, salads, and soups, you can also add lentils to granola bars, sauces, in place of meat, fillings for tacos or fajitas, a base for curries, and even pureed to add in baked goods. So, have we piqued your interest yet? Before you get started, just give this list of the best spices for lentils a quick run-through. See also the accompanying lentils recipe that can very well spark ideas or inspiration for your next lentil dish.
Spices for Lentils
Vanilla

Vanilla extract has a sugary almost caramelly taste. It also has a floral component similar to jasmine. It actually has high levels of antioxidants that protect the body from free radicals and toxins. It also contains trace amounts of vitamins and minerals. Vanilla may benefit brain health, may reduce added sugar intake, and may also have anti-inflammatory properties.
Here's an absolutely tasty and nutritious chocolate chip lentil granola bars recipe. These bad boys freeze really well so feel free to make a big batch – saves you time and also ensures that you always have enough for everybody. The vanilla and cinnamon combo once again simply works!
Dried basil

Basil has a somewhat sweet and savory flavor with a slightly minty, anise-y, and peppery taste. This aromatic herb adds a hint of sweetness to dishes. It also contains antioxidants as well as some micronutrients like calcium and vitamin K. It can help in protecting against infection, lowering blood sugar and blood cholesterol levels, easing joint pain, and protecting the stomach.
Enjoy this filling and comforting lentil soup with Italian flavors. It's not only super easy to make but also cooks in one hour. This soup is beautifully seasoned and packed with fresh veggies, so seriously it's a complete meal.
Garam masala

Garam masala is a blend of different spices that has a warm flavor and fragrant aroma. The flavor slightly varies depending on the amount and what spices are used in the blend. It's basically rich in phytonutrients along with some minerals and vitamins. Since it's a blend of different spices its health benefits also range from stimulating digestion to controlling blood sugar levels.
Craving for Indian food? Here's an easy yet delicious spinach lentil dal recipe. It's best when served with rice or naan bread. This flavorful sauce will surely leave a good impression. Perhaps on your second try, you can double up the jalapeno or serrano for a more noticeable heat.
Curry leaves

Curry leaves are very aromatic with a quite unique flavor. It has a herbal and slightly basil and kaffir lime taste to it. It's rich in vitamins A, B, and C. It's also a good source of calcium and iron. It helps in treating diarrhea, morning sickness, diabetes, and nausea.
Try some khichari, a blend of rice and lentils flavored with Indian spices, and completed with some form of vegetables. This particular recipe used cauliflower florets and quinoa in addition to rice and lentils.
Chili powder

Chili powder can be mild to moderately spicy. Its heat level basically depends on how much cayenne pepper is used in the mix. Its flavor profile known as Tex-Mex is created with the addition of other aromatic and savory spices. Chili powder is known for its capsaicin content that is linked to many health benefits.
Make taco Tuesdays a little extra interesting with these tasty roasted cauliflower and lentil tacos. The brown lentils are simply seasoned with chili powder and cumin but it simply works. And its pairing with roasted cauliflower is quite a combination that is simply a must-try.
Dried oregano

Oregano has a somewhat sweet and spicy flavor with hints of bitterness. Aside from antioxidants, it also contains thymol and carvacrol, these are phytonutrients that are natural compounds found in plant foods. These phytonutrients basically fight infections like staph.
There are of course a lot of delicious lentils recipe for salad, but this particular recipe – Mediterranean Lentil Salad, is quite one to beat. Perhaps it's the combination of green lentils with cucumbers, tomatoes, onion, olives, parsley, and feta. And of course, the quite simple but absolutely awesome vinaigrette.
Paprika

Paprika is usually made from bell pepper, hence the mildly sweet flavor. There is however a version of paprika that has a strong spicy taste called hot paprika. Smoked paprika on the other hand has an additional outdoorsy flavor because the peppers used were smoked typically with oak.
Get your pita bread ready for this pureed red lentil soup. You'll be surprised at how perfectly mint and paprika flavors pair in this dish. And did we mention it's super easy to make? Yep, and it can easily be adapted into a vegan soup as well! Simply substitute vegetable broth in place of chicken broth.
Dried thyme

Thyme has a very herbal flavor with sharp grass, wood, and floral notes similar to rosemary. It's rich in vitamin C, potassium, and manganese which boost the immune system, healthy cells, bone development, and blood clotting.
Enjoy some hearty red lentil sauce with pasta of your own choosing. It's super quick to make and will literally be ready in 30 minutes! You can simply refrigerate any leftovers if there's going to be any and simply reheat in the microwave or on the stovetop.
Cumin

Cumin has a rich, earthy, and warm flavor with hints of citrus and bitter taste. It's rich in iron, potassium, and zinc. It also contains vitamins A, B6, C, E, and K. It can help in improving digestion, boosting memory, preventing cancer cells from multiplying, and reducing pain.
Try these red lentil patties flavored with paprika, cumin, and some herbs. It's packed with savory flavors and a hearty texture that can be eaten as is or with pita bread or burger buns! The garlic-herb tahini sauce pretty much sealed the deal here.
Bay leaves

Bay leaves have a pungent, sharp, and bitter taste. Its aroma is actually more noticeable than its taste. The dried ones have a herbal aroma that is slightly floral similar to oregano and thyme. It contains vitamins A and C, iron, potassium, magnesium, and calcium. Bay leaves contain antibacterial properties.
Here's another lentil soup recipe. The spice flavorings along with bay leaves and a spritz of lemon and zest before serving really elevate this soup dish. The crusty bread for dunking is not optional, and I absolutely agree!
Turmeric powder

Turmeric has an earthy and bitter taste with notes of pepperiness. Aside from flavor it also imparts a wonderful color to dishes. Aside from other antioxidants, it's also rich in vitamins C and B6. Turmeric is good for reducing the risk of certain health conditions like heart disease and diabetes.
Try masoor dal, a spiced Indian lentil dish best served with rice or naan bread. This gently flavored, authentic masoor dal recipe is absolutely satisfying. What's even better is that this affordable plant-based and vegan dish is quite easy and fast to make.
Coriander seeds

Coriander seeds have a citrusy, light, and sweet flavor. It's also quite floral similar to cardamom. It contains beta carotene, vitamins A and C, and folic acid. It's great for curing flu and cold, lowering blood sugar, fighting infections, and promoting healthy digestion, skin, heart, and brain.
Complete your veggie platter with this delicious and easy spiced lentil dip. This vegan dip is both refreshing and creamy at the same time, that is thanks of course to coriander seeds, cilantro leaves, lime zest, and coconut milk. Aside from vegetables, this dip will be perfect with your naan bread as well.
Anise seeds

Anise seeds have a sweet and licorice-like flavor. Its aroma and taste are actually quite similar to licorice root, star anise, fennel, and caraway. It contains a good amount of iron, magnesium, and calcium. It may help in reducing symptoms of depression, protecting against stomach ulcers, preventing the growth of fungi and bacteria, and relieving menopause symptoms.
This red lentil chocolate dessert lasagna is no-bake and will only take 30 minutes to put together. After just one hour of resting, you're pretty much ready to serve it with some chocolate shavings or fresh raspberries as garnish. There's no denying that the anise and fennel seeds combo gave this dessert lasagna a hint of licorice flavor.
Dried Rosemary

Rosemary is very aromatic with a woodsy flavor and hints of citrus, lavender, pine, pepper, sage, and mint. It's a good source of vitamins A, B6, C, iron, and calcium. It has antioxidants and anti-inflammatory compounds which aid in boosting the immune system and improving blood circulation.
Enjoy a medley of lentils, vegetables, and herbs with this vegan winter lentil stew. This hearty dish is best enjoyed with crusty bread for dipping. An absolutely delish, easy, and quick stew recipe that is perfect for the cold weather.
Curry powder

Curry powder's flavor may slightly vary because it's a spice blend. But generally, it has an earthy, sweet, and bright taste. Depending on the amounts of specific spices used in the mix, it may also come with a slightly spicy or hot taste. Curry powder contains a lot of antioxidants. Its health benefits can range from reducing inflammation to aiding digestion.
See if you'll agree with the 5-star rating of this vegan red lentil curry recipe. Find out for yourself why this one is a fan favorite. Quite understandable really considering how quick, easy, and flavorful this lentil dish is!