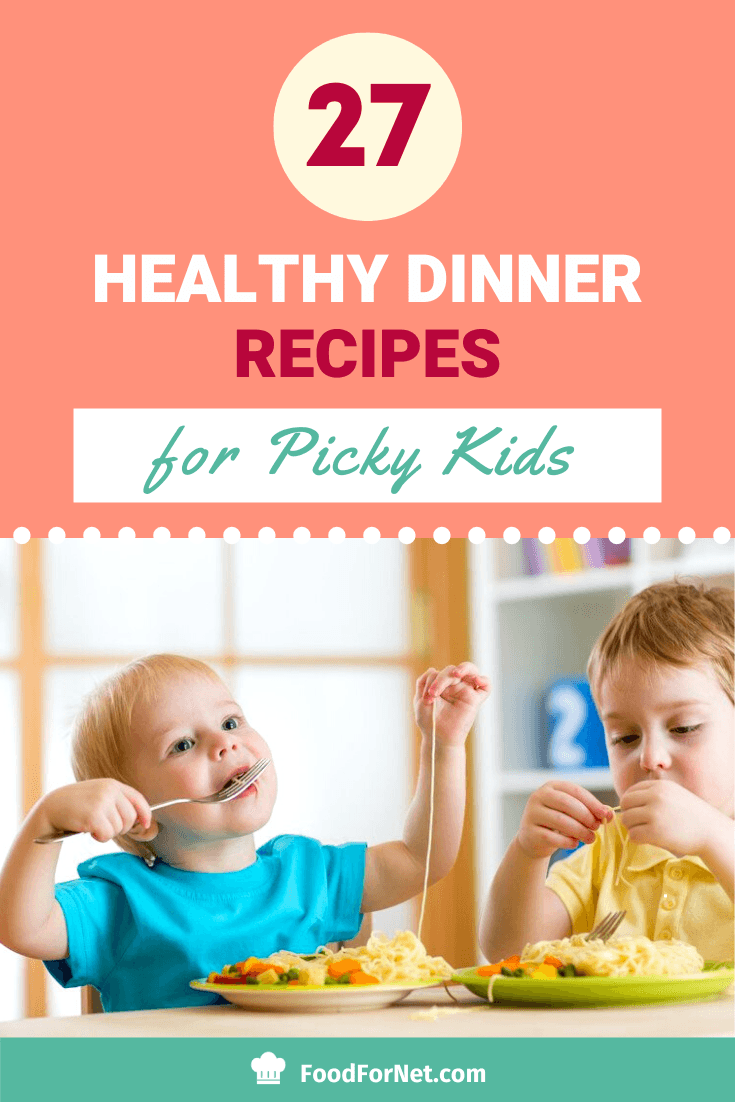 Cooking dinner for kids often presents a challenge. Creating healthy dinner recipes for picky kids is a huge challenge for many parents. Kids often have flavors that they love and may be resistant to try anything new. This can be frustrating for adults, as meals like spaghetti, mac & cheese and pizza get old fast. They're also not particularly healthy, unless you make careful choices with the ingredients.
The best solution is healthy dinner recipes that kids will eat and adults will enjoy too. This means that you don't need to worry about cooking a separate dinner for the adults and the kids. Healthy meals (done right) are also a great way to broaden young palates – getting your kids to try and appreciate new combinations of flavors and textures.
The recipes on this list have all been chosen with families in mind. They are packed full of healthy nutrients, while still being entirely kid-friendly. We've included plenty of different styles and flavor combinations too, so you can be sure that some of the options are perfect for your family.
After all, kids are all individuals, with their own distinct preferences and needs. This means that the best dinner solutions are going to vary as well.
PS. Don't forget we've got a list of breakfast recipes for picky kids and healthy lunch recipes with the same audience in mind 🙂
PPS. You could also experiment with meal kits for kids, as these are normally designed with picky kids in mind.
Healthy Dinner Recipes For Picky Kids
Instant Pot Healthy Chicken Pot Pie Soup
Chicken soup is one of those comfort foods that everyone seems to love. It's always a popular choice among kids, who enjoy the richness and creaminess that comes with it. Cheryl from 40aprons.com offers this chicken pot pie soup recipe.
The finished dish isn't just a comforting dish of soup, it is also healthy. The soup is even suitable for many diet types, including dairy free, gluten free, paleo and Whole30 diets. There are some vegetables included too and all of the ingredients are good for you. When you combine these aspects with a soup that tastes amazing – it's clear that you're onto a winner.
Middle Eastern Roast Chicken With Vegetables
Here's another fantastic chicken recipe. This time, it comes from abeautifulplate.com. The meal manages to be very familiar and traditional, making it ideal for the fussiest of eaters. Despite this, the flavor choice is unusual. You're ending up with a roast chicken that tastes amazing and is going to stand out.
The recipe does call for a specific combination of vegetables. You could easily change these based on what you have at hand, along with the preferences of your family.
Better For You Barbecue Gluten Free Meatloaf
Meatloaf is one of the classic choices for kids. Choosing a recipe like this one, from cottercrunch.com, is an essential way to ensure that everyone enjoys the meal. This recipe is also versatile and can be made with ground beef, turkey or chicken. The gluten free focus means that more people can enjoy the meal.
Even if you're not a gluten free diet, this recipe is worth trying out. Seriously. Lindsay does an amazing job of creating a dish that is packed full of flavor and isn't dry. This is an impressive achievement. After all, some meatloaf recipes turn out well, while others simply don't.
Crispy Smashed Potatoes with Miso Butter
Focusing on simple food is another common pattern for kids, so why not try this recipe from floatingkitchen.net? While these are best considered a side dish, rather than a dinner in their own right, they could easily be served next to a protein-based recipe (like the meatloaf from above).
The featured potatoes might seem like a relatively simple recipe, but don't let that put you off. The dish is much more interesting than potatoes that have simply been boiled. The recipe helps ensure you get the potatoes exactly right – with a crisp outside and soft fluffy potato in the middle.
Chicken Shawarma Rice Bowls
Julia from acedarspoon.com has the right idea with these rice bowls. The meal provides a simple and amazing way to combine different flavors. The bowl style is also an ideal choice, allowing each family member to choose what parts of the dinner they want. For example, many kids would love the cucumber, tomatoes and chicken, but may not be as interested in the raw red onion.
There's also something fun about eating meals like this. Diners can choose whether to eat each part separately or combine multiple ones on a fork or in pita bread. It's even possible to eat with your fingers (a great way to get kids excited!).
Instant Pot Cuban-Style Shredded Beef
If you want an easy dinner recipe, this meal from ameessavorydish.com is too good to ignore. You're simply making shredded beef using an Instant Pot. That kitchen tool helps to speed up the cooking process. The entire meal takes around 2 hours from start to finish (with cooking time included). That's a seriously impressive outcome.
The combination of herbs and spices also means that this shredded beef is going to taste amazing. By using a Cuban flavor profile, Amee helps make sure that the beef is different than most other pulled beef options. You could serve the beef with rice for a hassle-free dinner. There are plenty of other ways to serve it too. Let your imagination go wild.
Healthy Turkey Chili
Who can say no to a hearty bowl of chili, especially in cold winter evenings? This chili recipe comes from apinchofhealthy.com and is an amazing recipe for adults and kids alike. The use of veggies and ground turkey makes this chili much healthier than most other chili recipes, but you're not sacrificing any of the flavor.
The chili can also be easily frozen. This allows you to make extra and keep some for days when you just don't want to make the effort. One final advantage is versatility. This dish can be prepared in a slow cooker, an Instant Pot or on a stovetop.
Creamy Mac and Cheese with Greek Yogurt
This recipe from acoupleofcooks.com is a powerful reminder that comfort food can be healthy too. You might even find that you prefer this version of macaroni cheese compared to more traditional recipes. As the title suggests, the key feature of this recipe is the Greek yogurt.
Don't worry if the idea sounds a little strange. Greek yogurt actually works very well in pasta dishes. It adds a creaminess that is much healthier and more refreshing than regular additions to macaroni and cheese. Besides, doesn't the meal just look delicious?
Celery Root Tortillas & Shredded Chicken Tacos
I know. The idea of celery root tortillas doesn't sound like the best choice for kids. Even so, the recipe is a good one. Carmen from everylastbite.com has managed to create an unusual alternative to taco shells that tastes very similar to regular tacos. You might not even be able to tell the difference.
You could just skip this aspect and make the rest of the recipe using traditional taco shells. Doing so might be better for kids that are extremely picky. You still end up with a healthy dinner – regardless of the approach that you take.
Grilled Taco Turkey Burgers
Burgers are another family-friendly recipe that kids can't get enough of. This recipe, from everydaymaven.com, is a healthy burger approach that also tastes a little bit different. Including taco flavors in a burger is a clever move, giving kids the best of both worlds.
The recipe is also easy and fast to create. Alyssa estimates that the burgers just take 20 minutes, from start to finish. You're not using a large number of ingredients either.
Easy Baked Apple Chicken
Here's a slightly unusual flavor combination to try. It comes from mommyhatescooking.com and can be considered a healthy comfort meal. While chicken and apple aren't often combined in the same dish, it's clear that the flavors work together well. The finished dish is unthreatening, making it ideal for even the pickiest of eaters. In fact, this is one of the few times where it should be easy to get children to try out a new meal.
Oven Roasted Chicken Shawarma
Here's a fantastic meal choice if you want something that looks stunning on the plate – and tastes just as good as it looks. The recipe comes from cookingclassy.com and it focuses on the oven roasted chicken itself. This dish uses a collection of Middle Eastern inspired spices to create something truly remarkable.
The pictured wrap is just one example of how you could serve the finished chicken. It features some appealing flavors, with the cherry tomatoes, feta and dressing offering a sharp contrast to the chicken itself. Jaclyn highlights other possible approaches too, like serving the chicken with rice or with roast vegetables.
Easy Instant Pot Vegetarian Chili Mac
This recipe comes from the site karalydon.com. It is a particularly comforting meal choice, one that is bound to keep your family satisfied for a long time. The combination of macaroni plus chili seems like a winner for kids, while the meal is also much more filling than simply macaroni and cheese.
As Kara points out, it would be easy to have negative opinions about the health implications of this recipe, as chili and pasta might seem a little overboard. Even so, the ingredients are highly nutritious and there is no processed junk. It's the perfect meal for keeping kids satisfied. It'll give them plenty of energy too.
Paleo Sweet and Sour Chicken
Who needs Chinese takeout when you can make your own healthier version at home? This dontmesswithmama.com recipe allows you to do precisely that. The recipe is free from artificial ingredients and additives. It relies on real food ingredients instead. It's even a paleo recipe, which makes it particularly good for your family.
The recipe might seem a little complex to begin with, as you are creating sauce, nuggets and slurry. You'll also want something to serve alongside the chicken, like rice or cauliflower rice. Still, the recipe is much simpler than it looks. You can also get it on the table in well under an hour. Not too bad for a dish that looks this good.
Mongolian Pork Stir Fry
The site avocadopesto.com offers another recipe that looks like something from a fast food store. This time, the flavor profile is Mongolian and the meat of choice is pork. You could make something similar with a different type of meat, such as beef. Regardless of the meat, the meal is bound to be popular among kids (and adults!).
Vegan Garlic Alfredo Pasta
Simple pasta recipes like this one are exceptional choices for lunch or for dinner. The recipe comes from jessicainthekitchen.com. It could easily be eaten as a dish on its own or paired with a meat-based side. In either case, the meal is bound to be popular.
Because this is a vegan pasta dish, it uses some less common ingredients to create the sauce. Don't let this stop you from trying the recipe out. The end result does taste amazing. While it may not be quite the same as a non-vegan version, the differences simply make the recipe more interesting. You can be sure that kids will love the dish, especially if they don't know that it is vegan-friendly.
Fresh Tomato Mozzarella Pesto Pasta Recipe
Here's another pasta recipe to consider. It comes from jeanetteshealthyliving.com and is a great example of eating that is both simple and healthy. I particularly like the fresh appearance and flavors. The inclusion of basil and fresh tomatoes works exceptionally well.
This would be the perfect dinner recipe if you wanted something light. You might also rely on it in the summer months – although honestly, the dish would be good all year round.
Famous Crispy Potato Casserole
As Joy herself mentions (on buildyourbite.com), calling this recipe a potato casserole may be a little controversial. That doesn't stop the meal from being a great choice, one that would work well for many situations. This would be the ideal recipe to take to a large family occasion. You could also serve it as a meal in its own right – or perhaps add some protein on the side.
However you serve it, you can expect this meal to be gobbled up fast. It's also an especially good choice for kids, as there aren't any ingredients they would want to avoid. The bulk of the recipe is simply the potatoes, along with a selection of different seasonings.
Bruschetta Chicken Pasta
Pasta for dinner. It never fails. Recipes like this one from iowagirleats.com are powerful ways to get kids to the table without any problem. The combination of flavors helps to make the dish particularly good. The chopped tomatoes and basil provide a sharpness that contrasts nicely with the other ingredients. You also have a dish that looks amazing in the bowl.
You could also leave off the green garnish for kids that are especially picky. There are still some greens in the dish, ones that are much less noticeable.
Asian Glazed Orange Chicken
If you wanted another international-themed recipe, then you're in luck. This dish from foodiecrush.com will meet your needs. As the name suggests, the dish relies on Asian flavors. This includes an engaging combination of sweet and spicy. Just as importantly, the meal looks good. There's nothing that will discourage kids from eating it.
Paleo Meatloaf with Bacon & Balsamic Onions
Meatloaf is such a popular dish that including only one version in this list simply wasn't an option. This recipe from eatdrinkpaleo.com is another type of meatloaf that you can try. As the name suggests, this is a paleo recipe. That also makes it gluten free – perfect for many diet types.
Wrapping the meatloaf in bacon is a neat trick. It helps to make the dish taste better. Bacon is also a good way to get your kids to try the meatloaf. Of course, they probably won't need the motivation.
Deconstructed Pizza Casserole
Pizza is one of those amazing dishes that will always be popular among kids. This recipe takes those flavors and uses them in a different way. The style makes it easy to create a large dinner for everyone. There's no pizza base to worry about either.
The health aspect of this recipe is also worth mentioning. Like other dishes from kalynskitchen.com, this casserole is considered healthy because it is low in carbs. It is also keto-friendly and gluten free. There is one other advantage – the dish relies on whole food ingredients
Plus, leftovers will make a great healthy snack for picky kids too.
Fast & Easy Chicken Enchiladas
Here's another fun recipe that works perfectly for any family. It is featured on kimscravings.com and is an easy version of chicken enchiladas. A key advantage is that the dish will feed your whole family in one go. You can also make it using rotisserie chicken, which is a nice shortcut.
Not only will kids love the flavors of the enchiladas, but the presentation is certain to be popular too. After all, the entire meal looks fantastic in the dish. It relies on healthy ingredients too, so you can be sure that you're feeding your family well.
Steak & Potato Kebabs
Most kebab recipes don't work well for kids, as the skewer typically includes too many vegetables and not enough meat. This recipe from julieseatsandtreats.com is an exception to that rule. As you can see, these kebabs are much simpler – featuring steak and potatoes.
You mightn't think a recipe is needed for such a simple meal, but the marinade for the meat is a critical part. It's worth visiting Julie's site for the marinade recipe alone. While there are mushrooms included too, you could easily skip these for especially picky children.
Coca-Cola Braised Pork Loin
Just the fact that this pork is braised in Coca-Cola should be enough to get kids excited. The recipe comes from missinthekitchen.com and it takes advantage of a slow cooker. Slow cookers provide an exceptional way to keep pork loin moist. The process also helps to maximize the flavors.
While the recipe is just for the pork loin itself, the site does also provide plenty of simple ideas about meals that you can make using it. For example, the pork loin could be used to create pulled pork, which might then be used in tacos, burrito bowls or in sandwiches.
Skinny Chicken Alfredo Lasagna
Marie, from notenoughcinnamon.com, provides this interesting alternative to regular lasagna. It uses alfredo sauce. This mightn't be the flavor that you'd normally expect, but it works well within the dish.
That being said, it's important to keep an open mind. Some of the ingredients in this recipe mightn't be what you expect from a kid-friendly dish. Despite this, the meal does taste amazing and kids are still going to love it.
One Pot Mac & Cheese With Hidden Veg
As the title suggests, the health advantages of this recipe are related to the hidden vegetable. Ciara from myfussyeater.com wisely points out that fussy eaters often don't get enough vegetables. Recipes like this can be the perfect way to provide extra nutrition. After all, macaroni and cheese is a popular recipe for kids. Why not take full advantage of it?