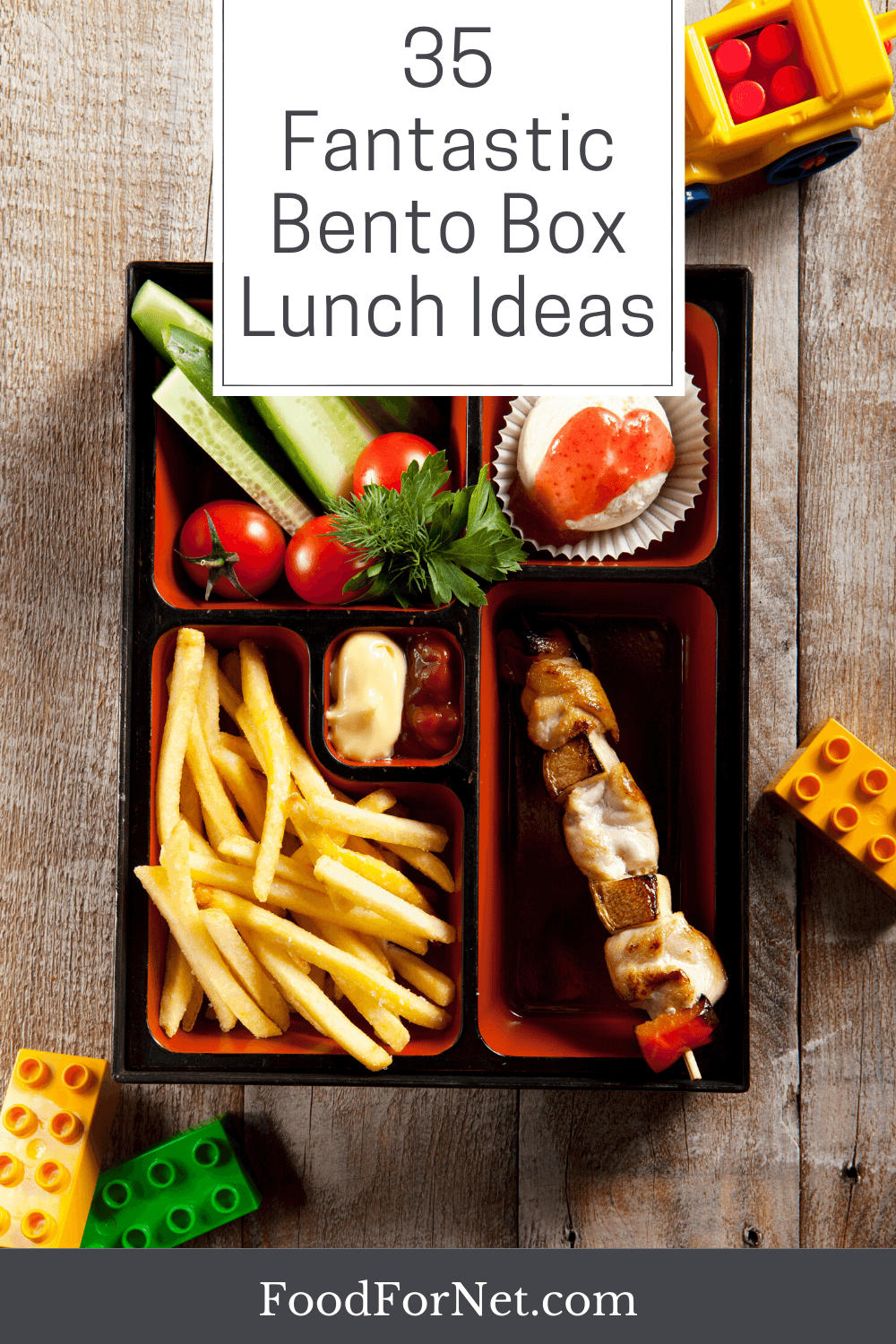 Bento boxes are a traditional Japanese way of eating, but they've also become popular for Western audiences. The style is a little bit like a lunch box, except that you have many more individual sections to fill. These bento box lunch ideas can help you to take advantage of a bento box even more.
First though, let's talk about the concept. There are two general goals with a bento box lunch.
One is to make the lunch box interesting. This makes them more enjoyable and helps to make sure that the food actually gets eaten. It's easier to do this with a bento box than with a traditional lunch box, which is one reason that bento boxes are so popular.
The other is to ensure that the box is healthy. To do so, you'll need a good balance of nutrients, including fat, protein and carbs.
To help you along the way, this list focuses on a wide variety of different bento box ideas. While we're including many different types of snacks, we're focusing on ones that aren't processed.
Sure, you can easily buy snacks that will easily fill in the various sections of a box, but unprocessed options tend to be healthier (they're often cheaper too!). Besides, filling a bento box with healthy food isn't as difficult as you might think. You could use these ingredients in other ways too, like during a brunch picnic.
Bento Box Lunch Ideas
Rice Balls
Edamame
White Rice
Carrot Sticks
Sandwiches
Fresh Fruit
Cherry Tomatoes
Rice Crackers
Sliced Chicken Breast
Hard Boiled Eggs
Leftovers
Sliced Peppers
Cheese Cubes
Shredded Chicken
Wraps
Sliced Sausages
Quinoa Or Couscous Salad
Egg Muffins
Greek Yogurt
Whole Grain Crackers
Hummus
Meatballs
Pulled Pork
Olives
Caprese Salad
Pasta Salad
Fruit, Meat And Cheese Kebab
Quesadilla
Chicken Nuggets
Deconstructed Tacos
Zucchini Noodles
Meat Rollups
String Cheese
Sushi
Smoked Salmon
Rice Balls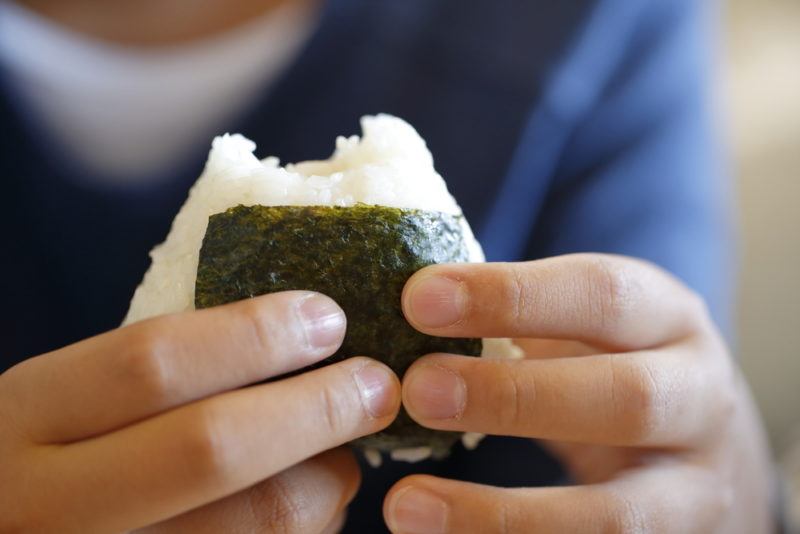 Rice balls are popular in Japanese bento boxes and can work well for other audiences too. They can be made with many different fillings and can be easily picked up and eaten.
Chicken rice balls are a good choice for fussy eaters. These don't require much effort to prepare either.
The fillings aren't the only thing that you can change with rice balls either. The snack is sometimes fried, which creates an interesting texture on the outside. You can also skip the frying altogether. The end result will taste good either way.
Edamame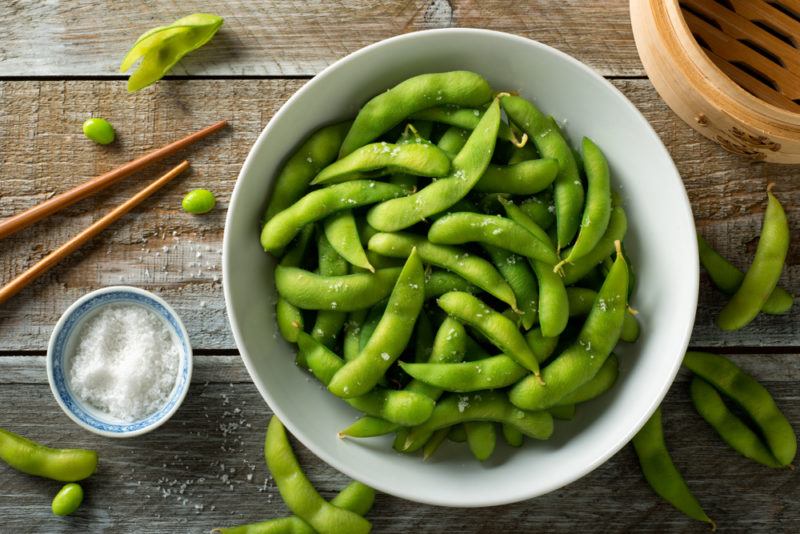 Edamame is a Japanese appetizer and it's one of the simplest appetizers that you'll find (you're basically just boiling or steaming soy beans). These can be served salted, plain or with a little spice. While the snack is nice warm, it is often even better cold in a bento box.
Having access to fresh edamame from a farmer's market or your own garden makes this a very easy bento box addition.
Don't stress if this isn't the case. Asian supermarkets and some other stores will often sell frozen edamame. You can cook the edamame from frozen without any problem.
White Rice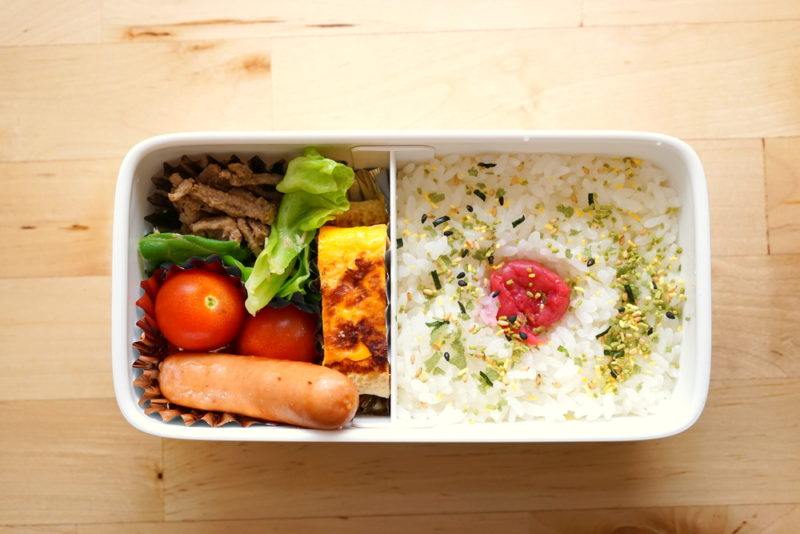 White rice is a classic part of a Japanese bento box. It is often used as the base ingredient in one compartment, with other ingredients packed on the top or to the side. This can work well because rice combines well with many other foods.
You can take your pick of proteins or vegetables to top your rice with. One popular example is chicken in some type of sauce. Topping this with sesame seeds works well.
Carrot Sticks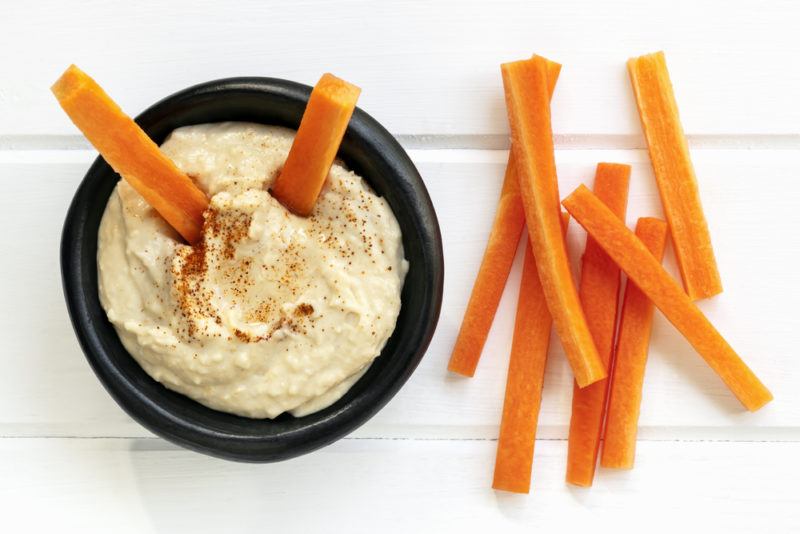 Carrot sticks are simple, healthy and tasty. They make an easy addition to any bento box, while adding in a splash of color.
If carrot sticks aren't appealing on their own, adding in some dip can make all of the difference.
You can also buy baby carrots. These involve less preparation than carrot sticks and can be fun to eat. The catch is that you're paying much more for baby carrots.
And, if we're honest, baby carrots aren't what most people think anyway. They are often just made from shaving down larger carrots. This means that there is a lot of waste – making carrot sticks a much better choice all around.
Sandwiches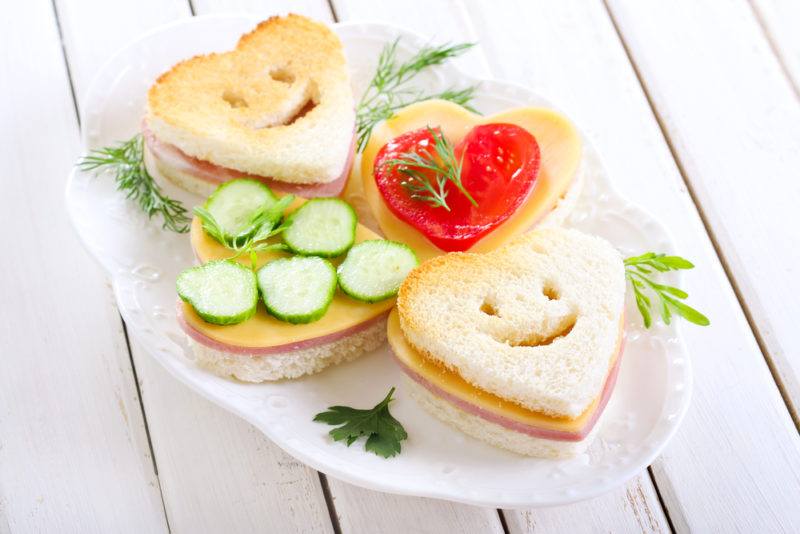 Sandwiches are a classic lunchtime staple and they work well in a bento box environment too. Many bento boxes won't give you enough space for a full sandwich, but you can easily get creative with smaller sandwiches.
One trick is to make a large sandwich and then use cookie cutters to create smaller sandwiches in interesting shapes. This style works very well for kids.
You could do something similar for adults too. For example, a love heart sandwich would be perfect for someone you care about. You might enjoy shaped sandwiches yourself, as they're a nice size and generally don't have any crusts.
Fresh Fruit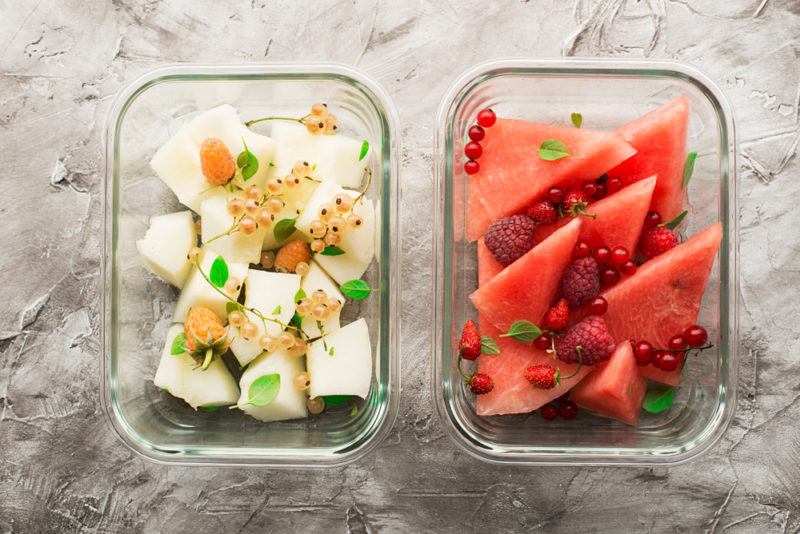 Any type of fruit will work well in a bento box. The trick is to make the fruit look good, while also making sure that it can be easily eaten. For example, sliced oranges work better than whole ones.
You can also use a combination of fruits. This gives you a variety of flavors and textures.
For example, grapes and mandarin pieces work well together. You could even throw in some cubes of cheese for extra protein.
Blueberries are an easy addition too. You could have a small container of these on their own or perhaps include some yogurt to mix them with.
Cherry Tomatoes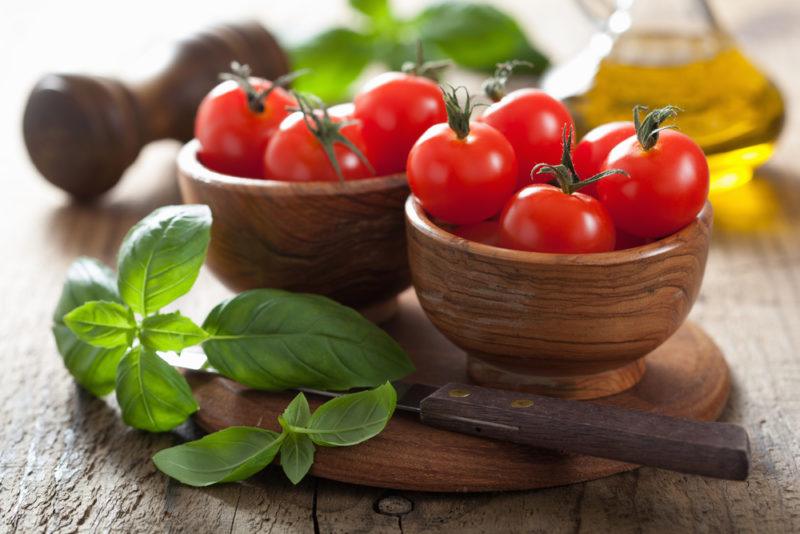 Cherry tomatoes deserve a special mention. They're amazing in bento boxes, as they offer a perfect burst of flavor that can't be beaten.
Plus, cherry tomatoes are incredibly easy to eat.
Rice Crackers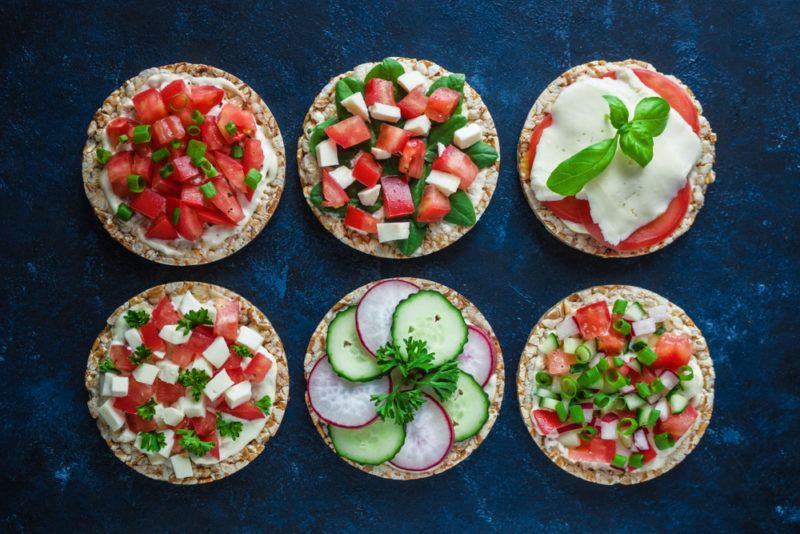 If you want a low calorie option, rice crackers or rice cakes are perfect. They also combine well with many other bento box additions, like sliced meats, cheese, and peppers.
You're not short on flavors to choose from either. You can easily look for flavors that complement the other items in your box. Or, just buy plain rice crackers, and rely on hummus or something similar for flavor.
Sliced Chicken Breast With Dip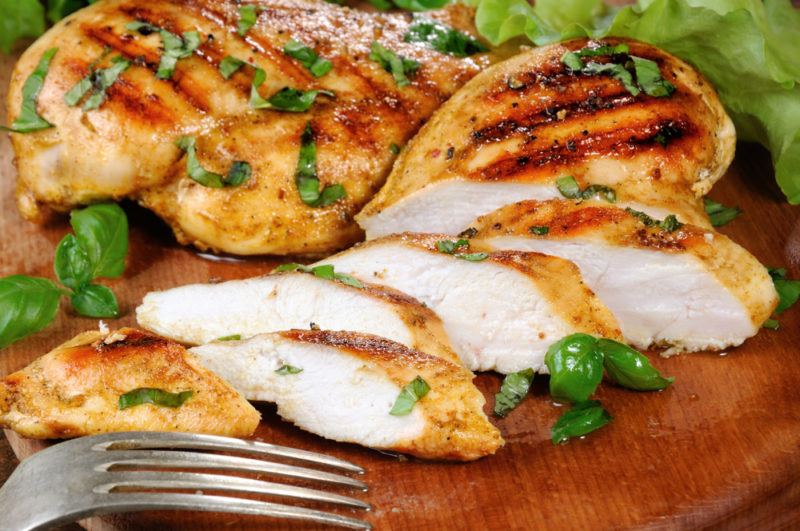 Chicken breast is a popular choice for dieters, as it is a lean source of protein. The biggest problem is that the chicken can be a bit dry. You can get around this by cooking carefully, especially if you marinate it first.
Sliced chicken breast works perfectly in a bento box. Adding a little container of dip helps to get around any problems of dryness.
Don't just focus on plain chicken either. Use some herbs and spices when you cook it to give the meat a little extra kick.
Hard Boiled Eggs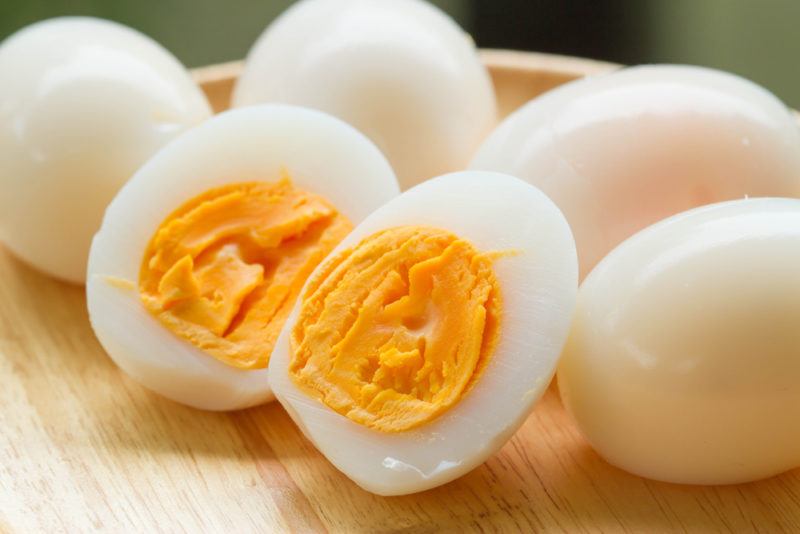 Eggs offer plenty of nutrition in a small package. They're also a perfect way to fill up space in a bento box. You can include the egg as is or slice it up.
An interesting variation is shoyu tamago, which you'll often find in Japanese bento boxes. This dish simply involves marinating hard boiled eggs in soy sauce and often some extra spices.
The flavor combination of shoyu tamago won't suit everyone, but many people do love the eggs. If nothing else, they're more interesting than regular hard boiled eggs.
Leftovers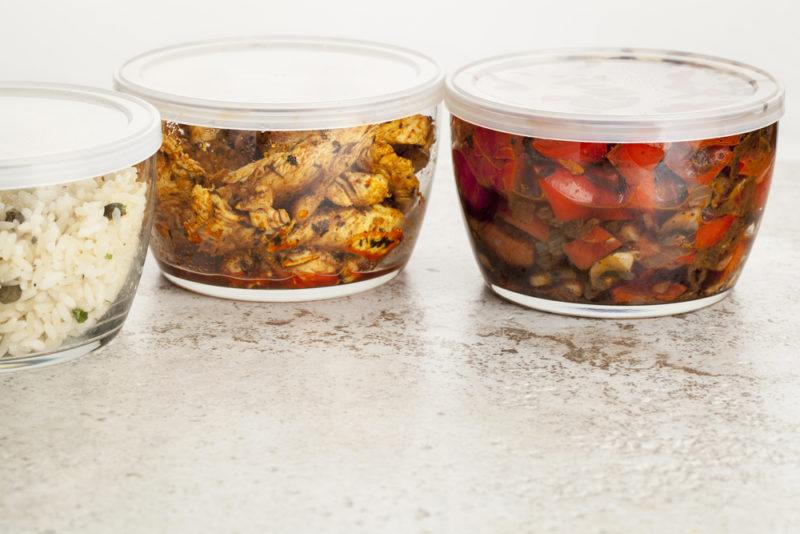 If you're stuck for ideas, what about including leftovers in a bento box? Many different types of leftovers will work well, especially if you have something that can be eaten cold.
This is something that you can plan for too. You might even get involved in meal prep approaches.
As you use bento boxes more, you'll start to get a sense of which meals work very well in a bento box and which ones don't. You can start to prepare extra portions for the meals that would be perfect in a bento box.
A classic example is cold pasta salad. This dish is always a perfect bento box addition.
Sliced Peppers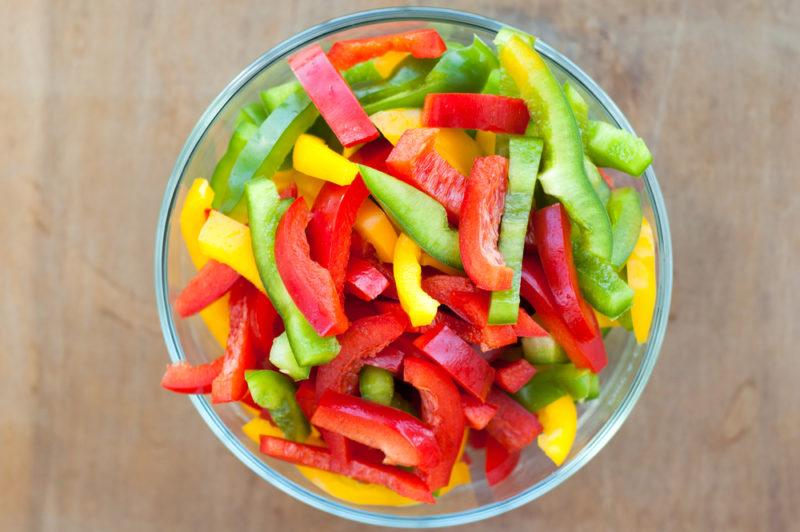 Slices of red, green or yellow pepper also work well in bento boxes. These have a nice and vibrant bite to them, which helps to keep everything nice and fresh.
As with carrots, you can easily include a dip to make things more interesting. However, you might not need to, as peppers have an enjoyable flavor of their own.
Cheese Cubes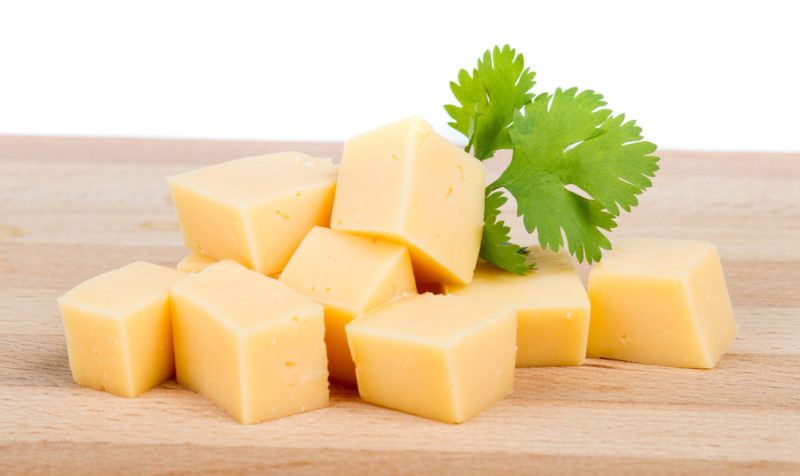 Cheese is another stunning addition to a bento box. It offers a fantastic source of protein and calcium.
Creating cubes is a simple way to include cheese in a bento box. The small pieces of cheese can be easily eaten with fingers or a toothpick.
There are other options too. For example, you might include slices of brie or camembert, salami, rice crackers, sliced peppers, and similar items. Brie and camembert can be a little difficult to eat, as they get melty in warmer temperatures (this also makes them taste amazing, so the outcome isn't all bad).
Shredded Chicken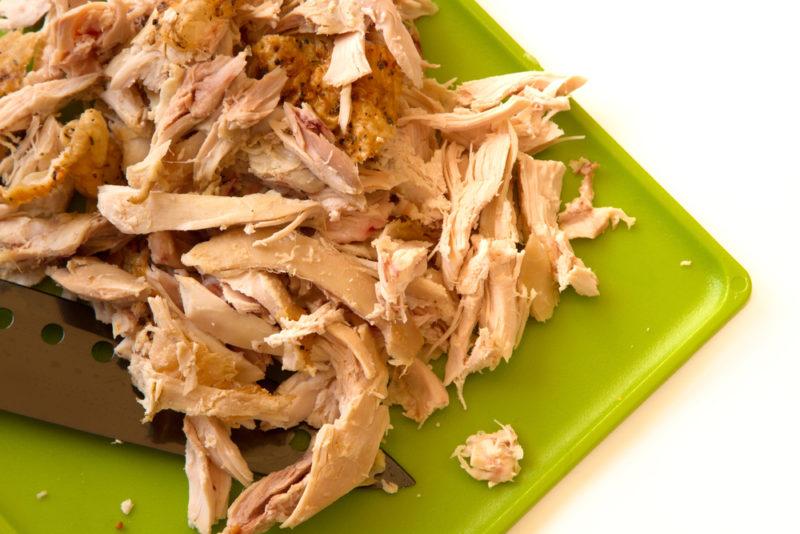 We mentioned sliced chicken breast earlier, but shredded chicken can be a good bento box addition too. Shredded chicken can be easier in some senses, as many recipes focus on keeping the chicken moist and tasty.
Shredded chicken can be easily eaten with other bento box additions too. The options are endless.
Wraps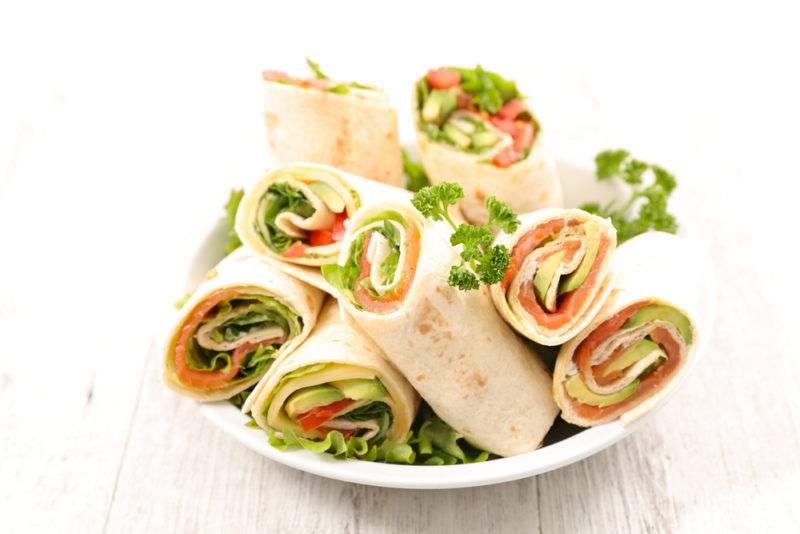 Wraps are another popular bento box choice.
One style is to make the wraps ahead of time and include them in the box. Most of the time, you won't be creating large wraps, as there won't be enough space. However, tiny wraps can work well, as they make fantastic finger food.
Your choices for fillings are almost endless. You can focus on classic combinations or get more adventurous.
The other style is to put the ingredients for the wrap in the bento box, allowing the recipient to make their wrap up for themselves. This style can be a lot of fun at lunchtime. It also stops the wrap itself from getting soggy and the flavors mixing with one another too much.
Sliced Sausages

Cooking and slicing sausages is an easy way to get more protein into your bento box. There's nothing fancy about the idea, but cold sausages do often go down a treat.
You could also consider alternatives like chorizos or small salami rolls. These options provide a hit of protein too and taste fantastic.
Quinoa Or Couscous Salad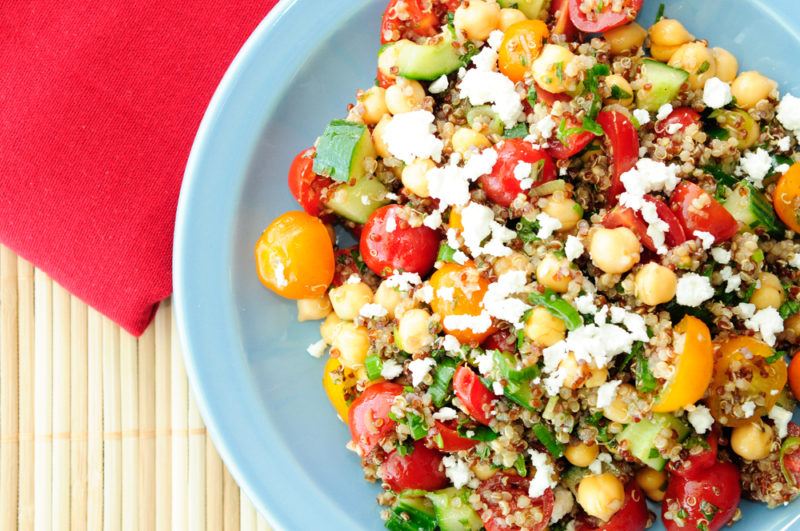 Quinoa and couscous are both grain alternatives that can work well in many meals. Quinoa is the more popular of the two, as it does not come from wheat and contains a large number of nutrients.
In fact, quinoa is often considered to be a superfood, which is reason enough to fit it into your diet regularly. Of the two, couscous tends to be softer and doesn't have much flavor of its own. Quinoa has more crunch and a nutty flavor.
Both ingredients work well in cold salads, along with items like fresh tomatoes, diced avocado, shredded chicken and the like. You could include some salad dressing too, but even just tossing through extra virgin olive oil tends to work well.
Egg Muffins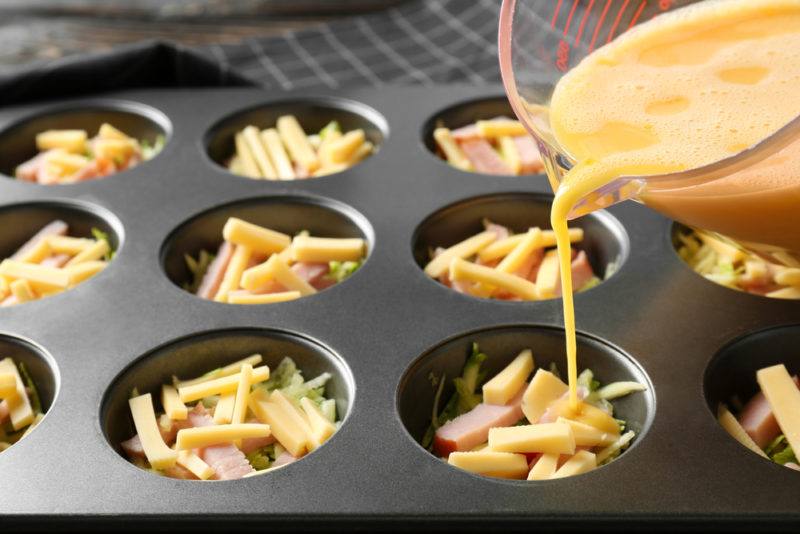 Egg muffins are powerful as a go-to source of protein. You can easily bake them in the oven with just a few other ingredients, like milk, cheese, and chives.
The end result is a tasty snack that can be simply picked up and eaten hot or cold. While egg muffins do look similar to regular muffins, they have a recognizable texture of their own.
The fact that you're relying on egg rather than flour is appealing too. This approach means that the muffins end up being fairly low in carbs and will be a sustainable source of energy.
Greek Yogurt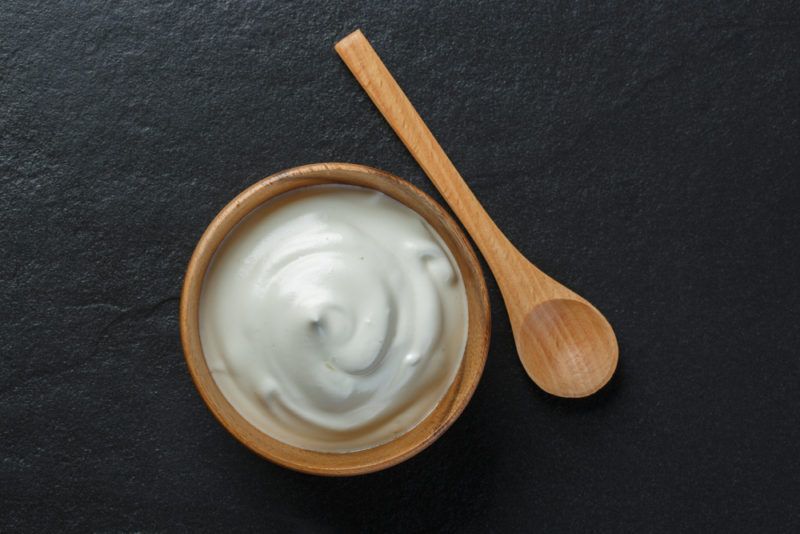 Any type of yogurt can work well in a bento box, but Greek yogurt is a particularly good choice. This is a type of strained yogurt that ends up being thicker and creamier than other types of yogurt, with higher protein content too.
The combination of features makes Greek yogurt very satisfying.
Plain Greek yogurt is the healthiest option, as the flavored varieties are often high in sugar and full of additives. This doesn't mean that the yogurt needs to be boring. You can easily include other ingredients in the bento box to mix with the yogurt, such as blueberries or cocoa nibs.
Just make sure that you're putting the yogurt in a leak-proof container. Yogurt is more liquidy than many other bento box ingredients, so it can easily leak. The last thing that you want is a mess all the way through your box.
Whole Grain Crackers

Whole grain crackers combine well with many of the items on this list. They can be used to dip into ingredients like hummus. You might also stack other foods onto the cracker, like cheese and ham, creating a sandwich-like snack.
We're highlighting whole grain crackers because whole grain tends to be healthier and rich in nutrients. However, you can use other types of crackers just as easily.
Hummus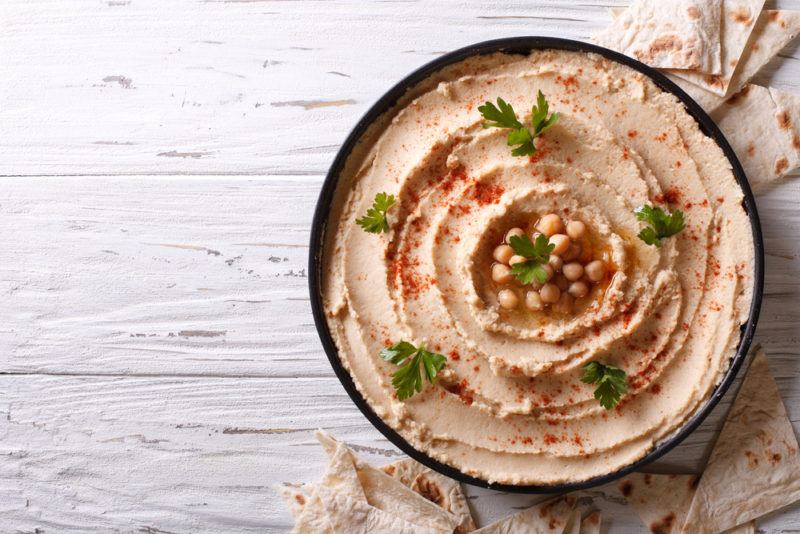 As you probably know, hummus is made from chickpeas. It makes a delicious dip or spread, one that works perfectly in a bento box.
A great thing about hummus is that you have plenty of options. You can purchase decent hummus from local stores, often with minimal processing, or make the hummus for yourself.
Meatballs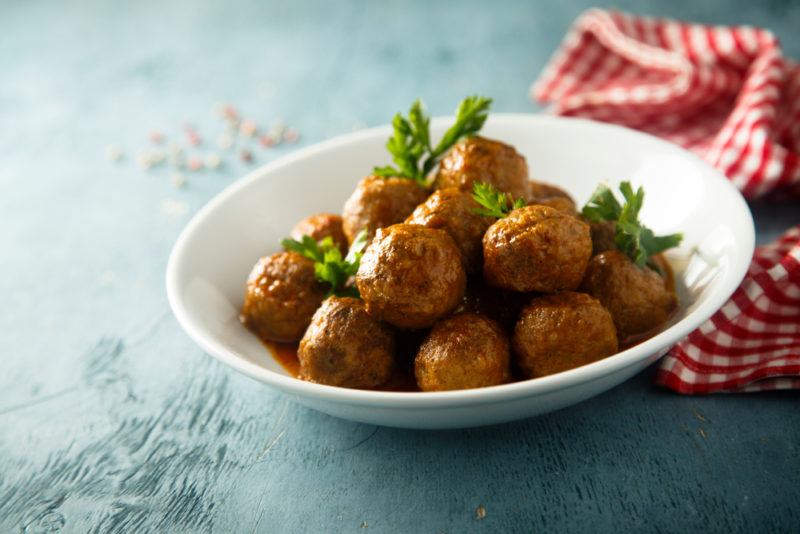 Protein is a must in any bento box and cold meatballs work perfectly in this role. You don't need to make meatballs specifically for the occasion either. Leftover meatballs will do just fine.
Don't worry if the meatballs are too big for your bento box compartment. Slicing them into halves or quarters works just as well. You can add in some barbecue sauce or something similar to act as a dip, if you want to.
Pulled Pork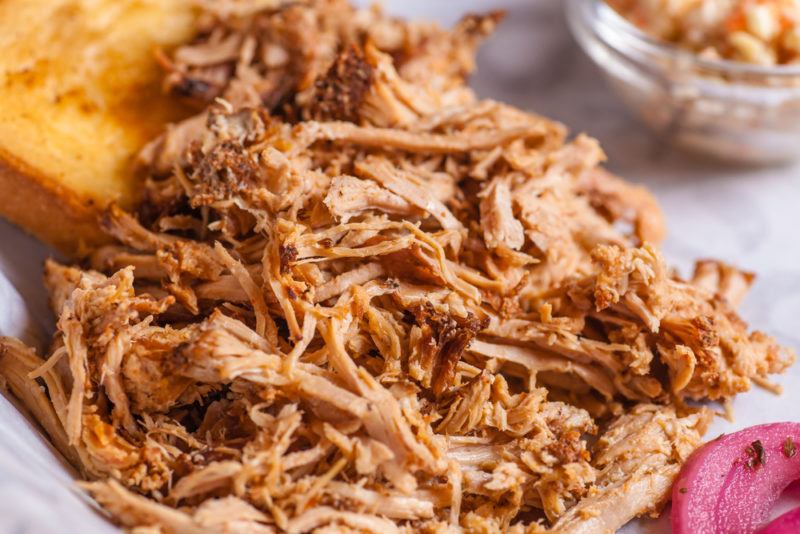 Pulled pork is incredibly popular. It is often cooked in sauce too, so it ends up being naturally moist. This makes it perfect for bento boxes.
Once again, the meat will pair well with other ingredients in your box. This is the great thing about bento boxes. You can just include little portions of various meats, vegetables, cheeses and the like. The person eating the lunch can choose how to combine the various elements.
Olives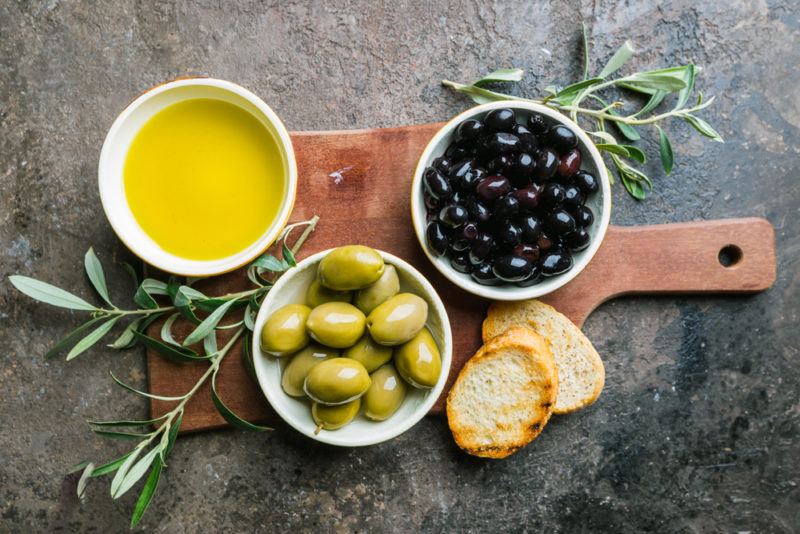 How can you go wrong with olives? They're a healthy addition to any lunch and take up barely any space.
The flavor of olives makes them particularly interesting and helps to kick the rest of your meal up a notch or two.
Caprese Salad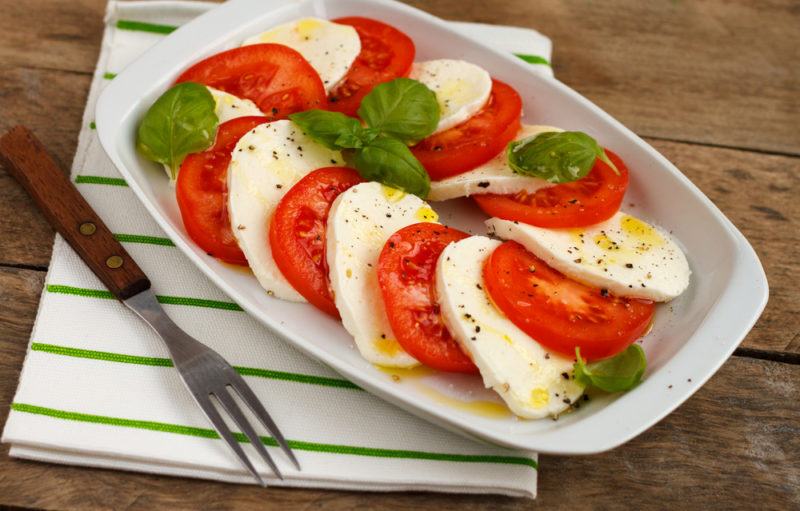 Caprese salad isn't just delicious, it is also easy to make. The key ingredients are mozzarella, basil, tomato, and olive oil. You don't need to prepare the dish as a salad either.
A great alternative is to create Caprese salad skewers. These are easy to eat and still have all of the flavors that feature in Caprese salad.
Pasta Salad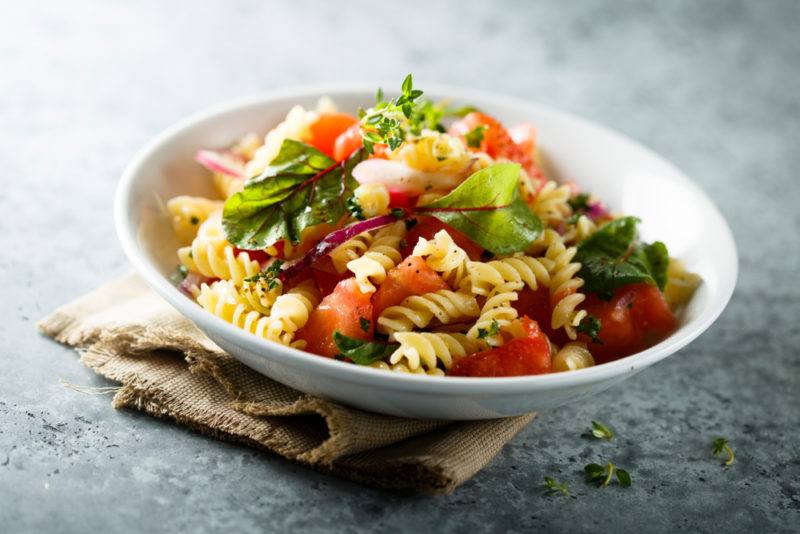 Making a pasta salad for a bento box might sound complicated, but it doesn't have to be. Many pasta salads are easy to throw together. Plus, you're making multiple servings at a time.
Pasta salads are especially good because they can be eaten hot, warm or cold. This makes them especially relevant for bento boxes. After all, reheating food isn't always an option, so it's best to focus on items that taste very good cold (or at room temperature).
Fruit, Meat And Cheese Kebabs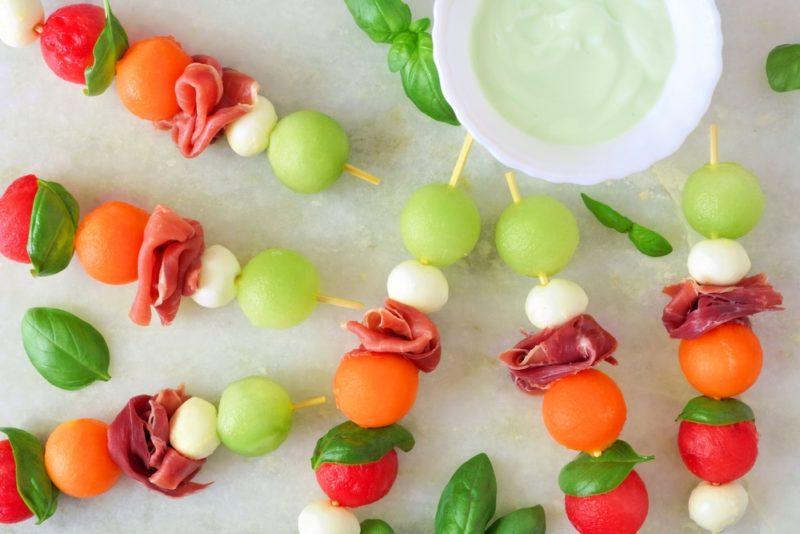 We mentioned Caprese salad kebabs before, but there are many other types of kebabs that you can make too. Fruit and cheese or fruit, meat and cheese are common combinations that never go out of style.
These don't need to be complicated either. Even something as simple as cubes of cheese, grapes, and ham can be a popular bento box addition. You can decide the length of the skewers based on the size of the compartments in your box.
Quesadilla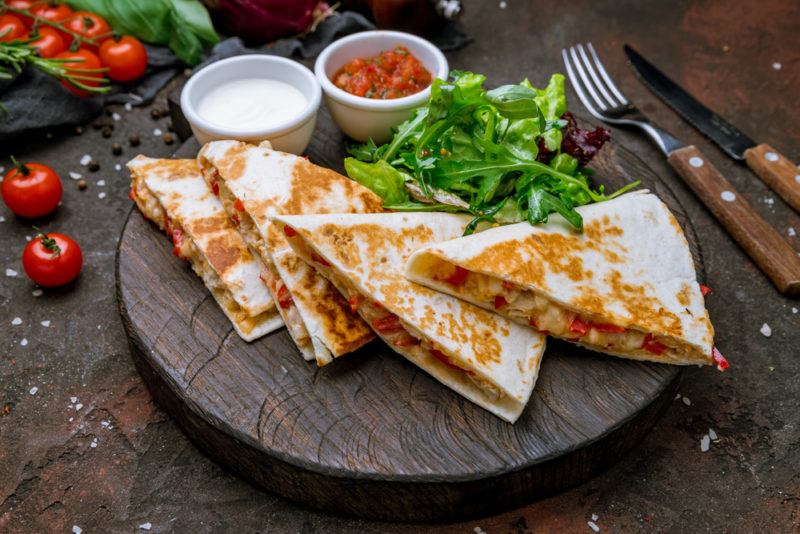 While quesadillas are normally eaten hot, they can taste good cold too. You can easily cut the quesadilla up into small pieces to make it fit into compartments.
This is another option that perfectly complements a small container of dip or spread. What about including some salsa in the box that the quesadilla can be dipped into?
Chicken Nuggets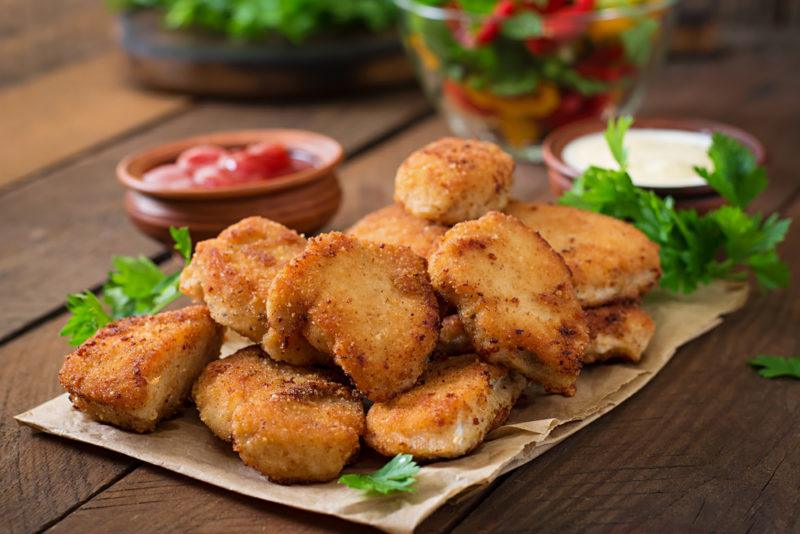 Chicken nuggets are another easy addition to think about, especially if you plan on including some type of dip in your box.
The simplest option is to use processed chicken nuggets that you can buy fresh or frozen from the grocery store. If you don't mind a little extra work, then you can make chicken nuggets at home.
Homemade chicken nuggets aren't as difficult as you might expect. They're worth the effort too, as they are healthier than anything you can buy in the store. They taste much better too.
Deconstructed Tacos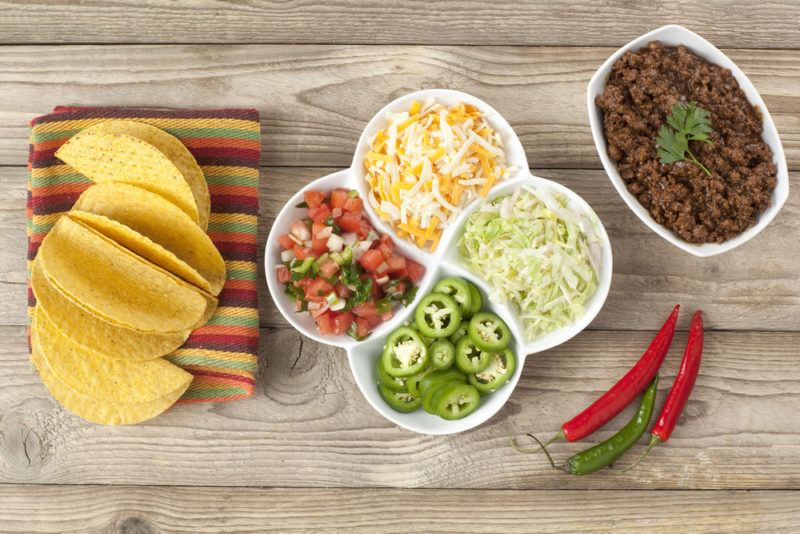 With deconstructed tacos, you're including all of the ingredients for tacos in their own little sections, where the person eating lunch ends up putting the taco together themselves. This style can be quite fun and means that the taco ends up tasting fresh and delicious.
You can take a similar approach with pita pockets or anything similar.
You have plenty of flexibility about the ingredients to include. Shredded cheese, cut up tomatoes, sour cream, lettuce, and fried onions are all options that you could consider.
Zucchini Noodles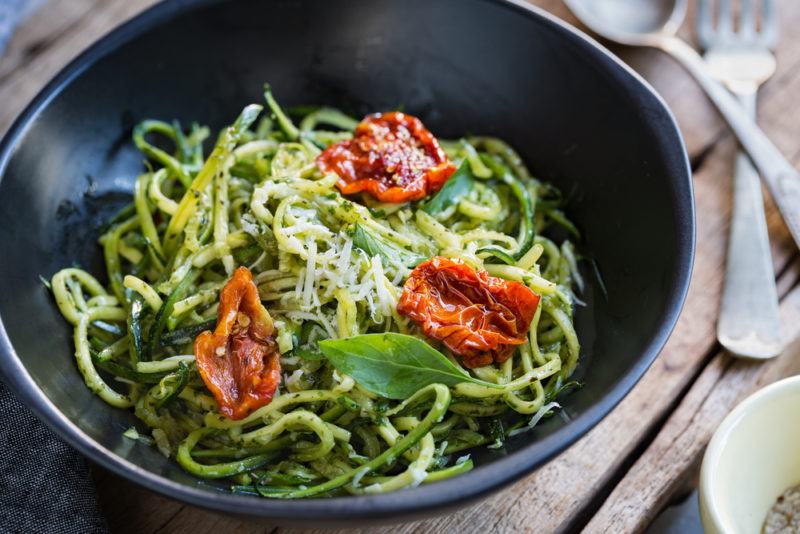 Zucchini noodles (also called zoodles) are often used as a pasta alternative, as they are low in carbs. They also make the meal taste fresher and less heavy than anything made with pasta.
A small zucchini noodle dish would be perfect in a bento box, especially as most of them don't need to be heated.
Meat Rollups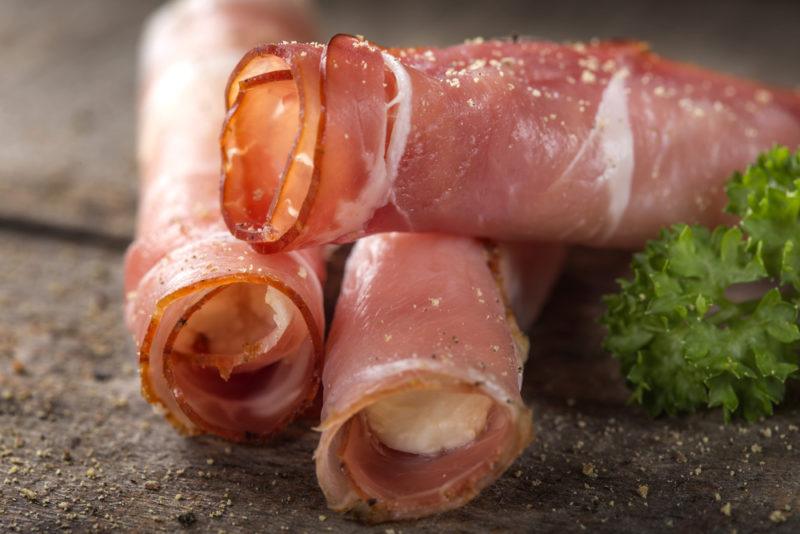 A meat rollup basically just involves a slice of meat or two and some cheese – all rolled up together. You end up with a simple protein snack that can be picked up and eaten.
There are other approaches too, like rolling a piece of string cheese up in ham.
String Cheese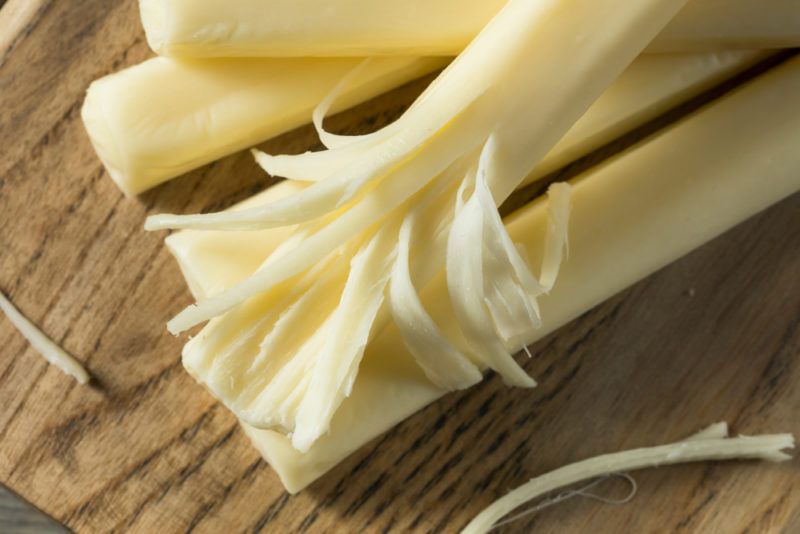 String cheese is an easy addition if you want some extra protein. While the cheese might seem processed, it is simply a type of mozzarella cheese. There are some differences in processing, which is why string cheese breaks up into little strands while mozzarella cheese.
You could use other types of cheese sticks or cheese pieces too, if string cheese isn't your preference.
Sushi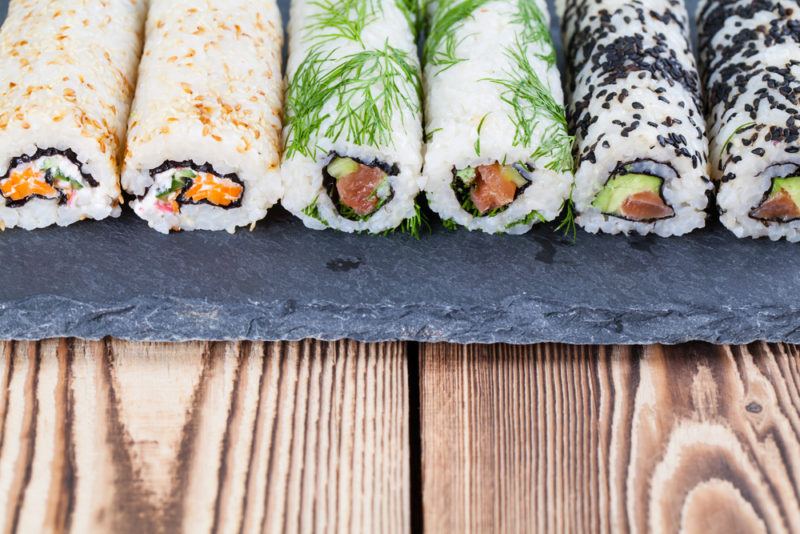 Sushi is a classic addition to a bento box, especially if you're making a Japanese-style box. You have various options at your fingertips too.
The simplest approach would be to buy sushi and include it in the box. Of course, this is an expensive idea and won't suit many situations.
You can also make sushi yourself, which isn't as hard as it seems. Making sushi gives you the chance to choose the flavors and ingredients that you are most interested in. For example, if you're compiling the bento box for a child, you might make chicken sushi, rather than using salmon.
Smoked Salmon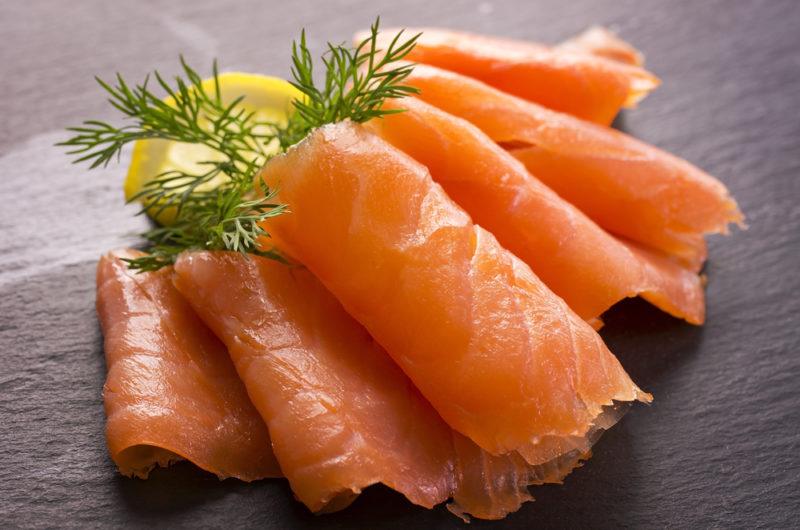 Smoked salmon is an easy way to get extra protein in your bento box. It probably isn't enough on its own, but smoked salmon will complement many other bento box additions.
A classic example would be to include smoked salmon in a box that has a bed of rice in it. Alternatively, what about smoked salmon, whole grain crackers and a small container of cream cheese?