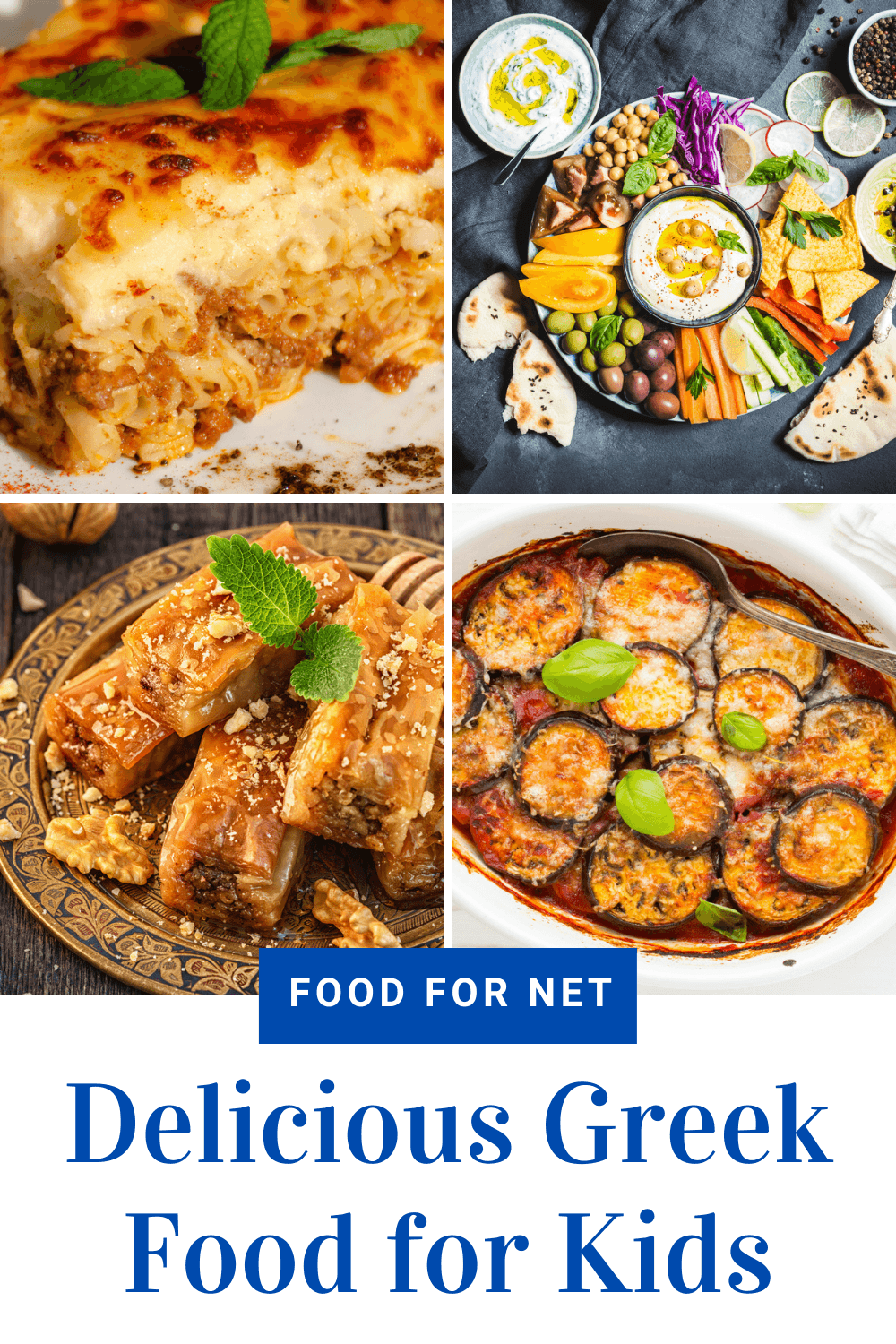 Feeding kids can be a nightmare at the best of times. Finding food they'll eat when in a foreign country takes that issue and makes it so much worse, Not only are their favorites hard to find, but they're also faced with unfamiliar foods that look strange and have confusing names. Thankfully, finding good Greek food for kids isn't as tough as you might think.
There are plenty of delicious menu items to choose from, not to mention all of the delicious desserts.
If you get really stuck, you'll still find some typical fast food restaurants in the touristy areas of Greece. Honestly, you can't go anywhere without running across some of these. Still, it's much better to get your kids into Greek food and broaden their horizons. You might be surprised at just how many Greek dishes they love.
Greek Food For Kids
Baklava

Are there any dessert lovers in the audience? If so, baklava is a perfect treat for you. It's a classic dessert that appeals just as much to adults as it is to kids.
The classic baklava uses just a few ingredients. There's filo pastry, honey, and chopped nuts. You might find it served with cream or some chocolate sauce too, although baklava is delicious even without those additions.
I love how this dessert is different enough to be exotic, yet remains easy to enjoy. After all, kids will already be familiar with pastry and seem to crave sweet treats at every turn.
Greek Salad

Greek salad is a slightly hit-or-miss dish. It's one that some kids will love, while others won't enjoy it at all. Then there are the kids that just pick out the ingredient they like, such as the fresh tomatoes and feta cheese.
Part of the appeal is that all the ingredients are all fresh and vibrant. Your kids have plenty of stunning flavors to choose from. They can even eat the salad with their hands. Doing so is a little messy, true, but that's half of the fun.
Besides, Greek salad often doesn't look like the salads that kids have back at home. Many versions don't use any leafy greens at all and, when they do, there's typically fewer leafy greens than normal. Cucumber becomes one of the main ingredients and kids often prefer cucumber over lettuce or spinach.
While some kids will still avoid Greek salad, you should have a higher hit rate than with most other types of salad.
Moussaka

Think of moussaka as being similar to Greek lasagna. It has all the same delicious layers, including a tomato-based sauce, ground meat, and bechamel sauce.
The main difference is that moussaka includes eggplant as a layer too. Don't worry too much about this layer. Most kids dive right into the dish without even noticing the eggplant. And honestly, when moussaka is made well, the eggplant just brings the dish up a level.
You might find other variations too, like versions that use zucchini and others that have potato layers instead of the eggplant. However the dish is prepared, there's no denying that moussaka is delicious.
It's also ideal for kids, as it's a hearty meal that will keep them going for hours. Using eggplant or zucchini means that there are even some hidden veggies in there.
Gyros

First things first, despite the spelling, gyros are pronounced YEE-ros. Getting that pronunciation helps you avoid embarrassment, especially if you're ordering gyros in Greece. Even if you're ordering them in the United States, pronouncing the word correctly is simply respectful.
Second, the word gyros actually refers to the cones of meat that you see street vendors and local stores cooking on a rotating skewer.
The meat isn't normally served on its own. Sometimes it will be wrapped in pita bread with sauce, veggies, and other ingredients. You might also find it on a salad or in a boxed meal. Many of those meals will be called gyros as well.
Souvlaki

Souvlakis aren't the same as gyros (even though the two words are often mixed up). The difference here is the meat. While gyros are made using pressed meat cooked on a rotating skewer, souvlaki meat is cooked on individual skewers, much like we do on the grill at home.
Souvlaki meat is often served in a similar way to gyros, so you still get the same delicious wraps filled with meat, sauce, and veggies. Some even use hot chips as an ingredient, making them even more perfect for kids.
Gyros and souvlakis have something else in their favor too – they're already familiar. You can now find gyros and souvlakis throughout the world, so many kids will have already tried them at home.
Tzatziki

Okay, this is a sauce, rather than a type of food – but it's still important. The sauce is made from strained yogurt, along with cucumbers, lemon, olive oil, and a handful of other ingredients. It has a sharp and distinct flavor that brings any meal up to a new level.
The flavor of tzatziki makes it a fantastic addition to salads and gyros. You can also simply use it as a dip for raw vegetables (which is a great way to get kids eating more veggies!).
Try spreading some tzatziki on toasted pita bread as well. That simple combination is surprisingly delicious.
Greek Yogurt And Honey

Greek yogurt and honey is a simple breakfast that you can enjoy in Greece or back at home. It's exactly as the name suggests – strained Greek yogurt topped with honey (ideally raw honey).
It's easy to see why this one works for kids, as they're eating food that's familiar and comforting. The snack is surprisingly satisfying too, as strained yogurt tends to be higher in sugar than regular non-strained yogurt.
Just be aware that there will be differences if you're having the yogurt and honey in Greece versus having it at home. The yogurt that we have at home is more aptly called Greek-style yogurt, so there are some differences in flavor and texture.
Spanakopita

Spanakopita might seem like a slightly strange choice for kids, given that the dish is basically a warm spinach pie (and getting kids to eat their greens is hard enough at the best of times).
Still, there's something about the combination of spinach, feta cheese, egg, and filo pastry that makes spanakopita simply delicious. It's one of the best ways to enjoy spinach – one that even your kids can get in on.
Keftedes

Here's one for picky eaters. Keftedes are simply a type of Greek meatball. They often use a combination of ground beef and ground lamb. But, if you're making them at home, you could experiment with other types of ground meat as well.
You'll often find mint and perhaps oregano used to flavor the meat, ingredients that make the meatballs even more delicious. Of course, everyone has their own recipe, so there's plenty of room to tweak things.
If you're ordering food in Greece, you'll mostly see keftedes served as part of a platter, often with pita bread, tzatziki sauce for dipping, and a variety of other ingredients.
Besides, what kids can resist meatballs? They're such a classic anyway and are certain to go down a treat.
Mezze Platters

Mezze platters are often small plates that serve as appetizers, but you can find more complex versions too, especially when you're in Greece. Sometimes they're even large and diverse enough to serve as the full meal.
Think of the platters as being a little like a charcuterie board, except that they rely on Mediterranean ingredients. You'll often see additions like hummus, keftedes, eggplant, cucumber, olives, and pita bread, along with many more.
Platter meals are excellent for kids, as they get to eat with their hands and choose exactly which things to eat and which ones to ignore. Most platters will have at least some items that your kids will love, even if they're very picky.
Saganaki

Saganaki is literally just fried cheese, so your kids should love it right from the beginning. The cheese tends to be crisp on the outside, with a melty and delicious interior – everything that a kid could ask for.
Lemon and pepper are often used on top of the cheese, adding just enough of a kick to make the dish interesting.
Calamari

Calamari doesn't sound like a great meal for kids, as it's basically fried squid. The dish is even one that plenty of adults steer clear of.
Yet, surprising as it may seem, calamari ends up being a popular dish for kids. Part of the appeal is that they can pick up and eat the pieces of calamari. There are often delicious dipping sauces that make it taste even better.
Then there's the novelty factor. Some kids love the idea that they're basically eating tentacles. It feels like something out of a sci-fi movie. Why not play to that novelty factor? Doing so could be a fun way to get your kid trying some new dishes.
Tiganita

Tiganita is a fun choice for kids who love deep fried food. The word simply refers to vegetables like zucchini or peppers that have been battered and then deep fried in oil.
Doing so creates a crispy and delicious treat that can be dipped in tzatziki or some other type of sauce.
Tiganita is a great way to get kids eating more vegetables. Still, let's be honest here. Vegetables or not, we're still talking about deep fried food, so tiganita will never be an incredibly healthy meal.
Biftekia

If you're looking for something safe and familiar, biftekia is an easy choice. This dish simply consists of burger patties that have been cooked on the grill. That's it. Nothing complicated at all.
French fries or potatoes are often served with the patties, giving your kids some carbs to balance out the meat.
The dish is a fantastic first choice for kids in Greece, as it's already so familiar. There often aren't even any greens for picky kids to complain about.
Bougatsa

What child can say no to bougatsa? This delicious treat is a sweet pastry that's filled with custard and topped with powdered sugar.
It's not healthy whatsoever, but we are talking about holiday food after all. There's nothing wrong with having a treat now and then.
Tiropita

Tiropita is a variation on the more well-known spanakopita. Both dishes are pies made with flaky filo pastry. But, while spanakopita uses spinach as the main ingredient, a tiropita is basically a cheese pie instead.
As such, cheese, egg, and filo pastry are the stand out ingredients in this dish, giving it a fantastic balance of flavor and texture. What child could refuse?
Kolokythokeftedes

While this dish has an unwieldy name, it's surprisingly simple. You're just looking at fried zucchini fritters. These can be very healthy, as they often just rely on zucchini and herbs. Plus, they're lightly pan fried, rather than being deep fried.
Kolokythokeftedes can be excellent for kids because the zucchini balls don't taste like they're healthy. They even taste a little like hash browns.
Some versions of the recipe add feta, meat, or other ingredients too, which make the fritters even more delicious. Don't forget about dipping the kolokythokeftedes in tzatziki either. This takes them to the next level.
Mezedes

Mezedes aren't so much a type of food, but a way of eating. The idea is similar to tapas, where you have a small plate of food that's often served as an appetizer or a snack.
The small plates can be perfect for kids, as there isn't too much food. Plus, most versions rely on a variety of ingredients, including bread, cheese, fresh vegetables, olives, stuffed grape leaves, and tzatziki.
The variety of food on these plates gives kids a chance to try out different foods and flavors. This is much better than ordering a large meal, just to find out that your child won't touch most of it. Of course, the ingredients won't always be all together on a single plate. Sometimes you'll see them spread out instead, like in the image.
Vegetables And Sauce

Vegetables play a significant role in Greek meals and often even end up being the main course. A stand out feature is that the vegetables are often cooked with tomato, olive oil, and perhaps some feta.
This combination of ingredients is a fantastic way to make vegetables taste better. And, let's be honest, anything that makes vegetables taste good is worth trying – as so many kids resist eating their vegetables.
Don't worry too much about the extra calories from the feta and olive oil. Serving vegetables with a source of fat like this isn't bad at all. The fat can increase the absorption of fat-soluble nutrients, making the dish more nutritious than it would be otherwise.
Hummus

Hummus is a classic dip that's now found throughout the world. The flavor is often mild, making it an easy choice for kids. It's also a very healthy option, as it's made from chickpeas and a handful of other ingredients.
Hummus combines well with countless foods, including vegetables, pita bread, and meat. One of the simplest approaches is to spread hummus on pita bread. That creates a surprisingly nutritious snack.
Because hummus is so common, it's an easy choice if you want to serve Greek food at home. Combine this with some fresh vegetables, pita bread, and feta, and you have a Greek-style meal that most kids will adore.
Tabouli

Tabouli relies on bulgur wheat, which is then mixed with ingredients like tomatoes, cucumber, mint, olive oil, and lemon juice. The combination of ingredients gives you a healthy dish, one that also has a mild flavor.
Plus, tabouli has small pieces and can be eaten with one's fingers. It's easy to see why kids love that idea so much.
Pastitsio

This final entry tastes as delicious as it looks. Pastitsio is basically a Greek variation on lasagna, one that's made using ziti noodles, rather than sheets of pasta.
Some versions of the dish mix the various ingredients together, then top the dish with cheese. Others create distinct layers, starting with pasta, then meat in red sauce, and finishing off with a bechamel layer. It's easy to see why kids love this meal so much. How could they not when all the ingredients and flavors are so familiar?
Related Content