Pancreatitis is a condition caused by inflammation of the pancreas. It causes upper abdominal pain and sometimes nausea and vomiting, as well. It's often associated with gall stones, but it can have many causes. Most of them are related to food intake, so one of the best things you can do for an inflamed pancreas is watched what you eat.
A pancreatitis diet is rich in whole grains, legumes, fruits, and vegetables that contain antioxidants and anti-inflammatory compounds. In moderation, healthy fats can be a part of a pancreatitis diet, but most fats, animal products, and high-carb foods are too rich to help reduce inflammation and pain.
If you're interested in learning more, read through this list of the 15 best foods for pancreatitis diet success. At the end of this article, I'll share three strategies for managing flare-ups.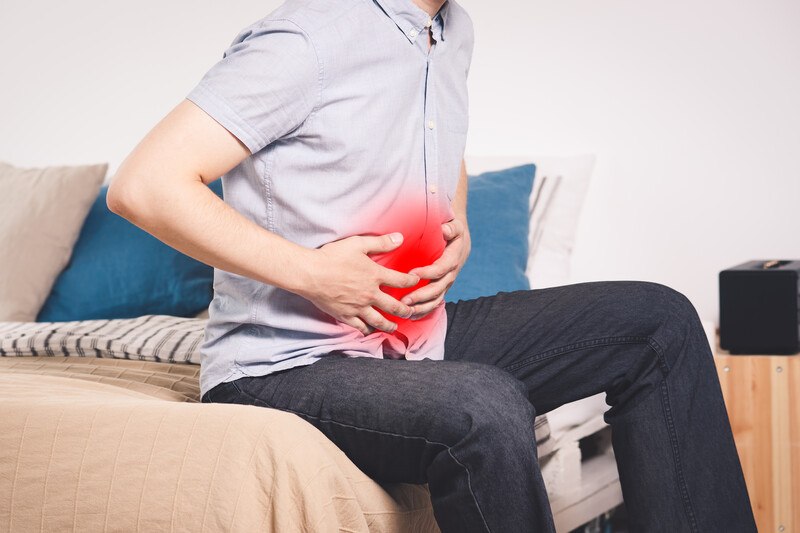 15 Pancreatitis Diet Foods
Bananas
Green Tea
Dark Green Leafy Vegetables
Walnuts
Sweet Potatoes
Rolled Oats
MCT Oil
Blueberries
Pineapple
Celery
Almond Milk
Cruciferous Vegetables
Red Grapes
Legumes
Nonfat Yogurt
Bananas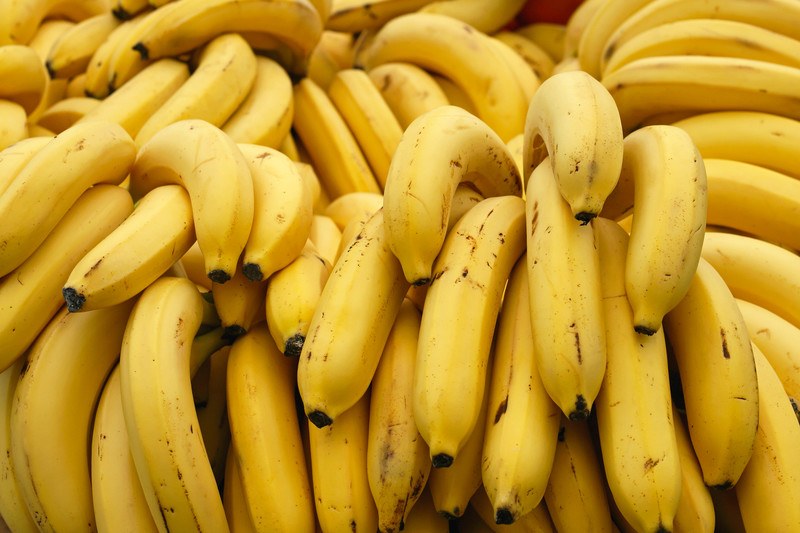 Bananas are a great food for pancreatitis because they're easy on the digestive system. They're anti-inflammatory, and they're high in fiber—particularly soluble fiber—that helps promote gut health. A ripe banana contains around 3 grams of soluble fiber.
Bananas are relatively rich in potassium, it actually topped our list of potassium-rich foods. This could be important during pancreatitis because potassium can help flush sodium out of the body and help reduce inflammation. One banana provides around 422 mg of potassium.
One thing to note is that bananas have a high glycemic index. Currently, many experts recommend limiting the intake of bananas to one per day.
Green Tea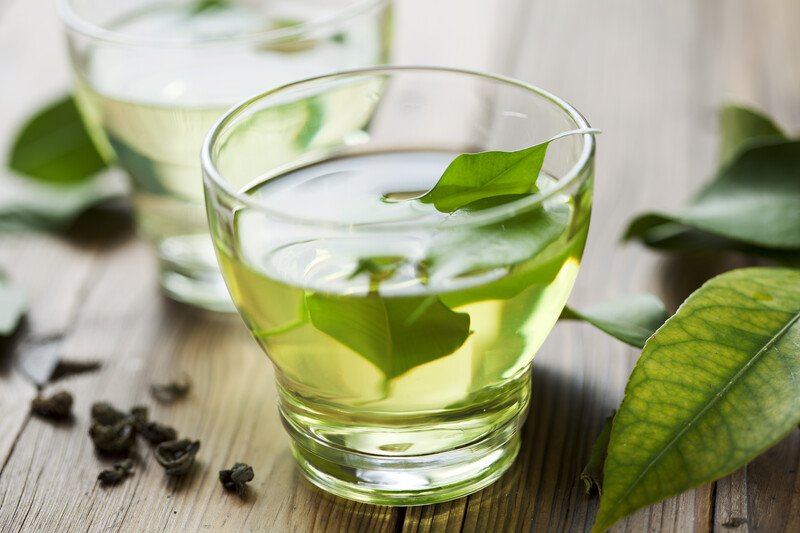 Drinking green tea could be helpful for pancreatitis because of its strong anti-inflammatory capabilities. Green tea includes compounds called catechins, including specific catechin called epigallocatechin-3 gallate (EGCG). While EGCG is found in berries and some other foods, it is concentrated in green tea.
EGCG levels drop about two hours after consuming the tea, so some experts recommend taking 7-8 cups of green tea a day to keep inflammation under control. You might also opt for 1-2 cups of matcha, which is more concentrated than traditional green tea.
Dark Green Leafy Vegetables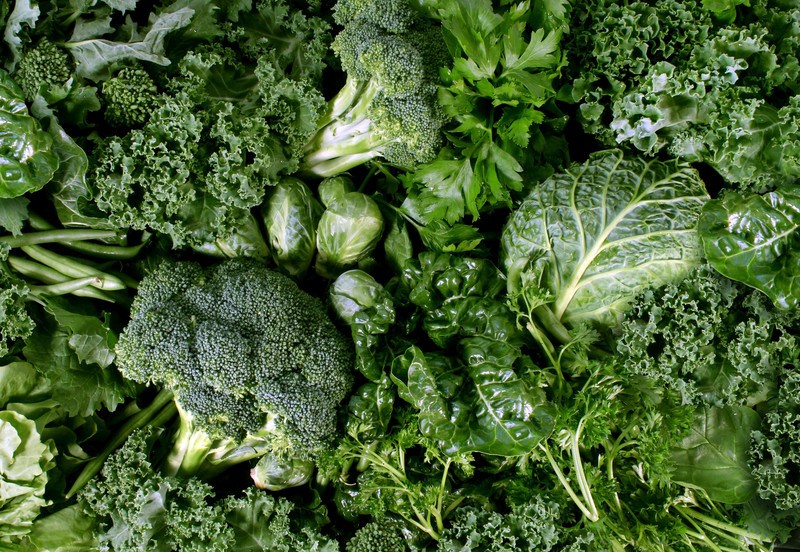 Dark green leafy vegetables are generally rich in several compounds that experts recommend people with pancreatitis to take. These include vitamins and minerals such as potassium and vitamins K, D, E, and K. There are several leafy greens to choose from with varying nutritional profiles that provide these supportive compounds.
For example, one cup of frozen spinach contains around 540 mg of potassium, while a cup of fresh kale provides around 329 mg. These foods are also generally rich in folate and cobalamin, which could promote a healthy metabolism overall. Dark green leafy vegetables are in fact one of those foods packed with natural folate.
Walnuts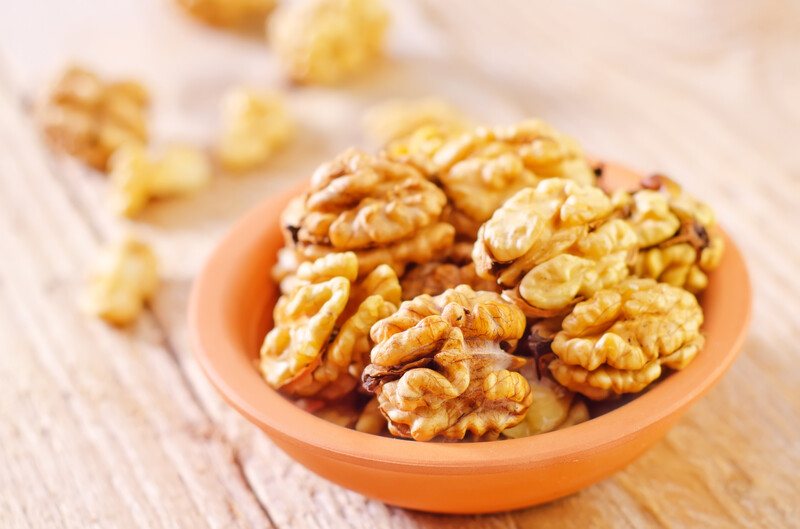 When it comes to nuts, walnuts may be a great choice for people struggling with pancreatitis. Walnuts contain a moderate level of fat, but most of the fats are healthy fats. For example, a one-ounce serving of English walnuts contains 2.75 mg of omega-3 fatty acids.
Walnuts are also rich in folate, several minerals, B vitamins, and fiber. One interesting mineral that walnuts are rich in is manganese. Manganese could help with pancreatitis because it helps with fat and carbohydrate metabolism and blood sugar regulation. Manganese has also been associated with the slower growth of pancreatic cancer. One ounce of English walnuts provides around 42% of the daily recommended intake for manganese.
Sweet Potatoes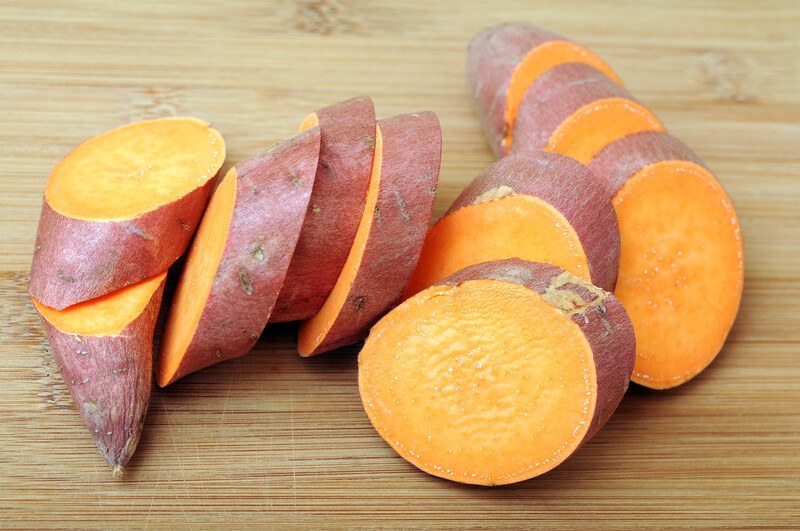 Sweet Potatoes have a lower glycemic index than white potatoes, so they won't turn to sugar as quickly. This means they could be less stressful for the pancreas. Sweet potatoes are also rich in antioxidants and anti-inflammatory compounds.
This includes a relatively high level of vitamin A. Vitamin A has the potential to improve beta cell functioning in the pancreas, helping it to provide enough insulin to meet the body's needs. One medium sweet potato contains 438% of the daily recommendation for vitamin A. It also provides 15% of the daily recommendation for fiber, 15% for potassium, and 37% for vitamin C. For more food rich in vitamin A, see our post here.
Rolled Oats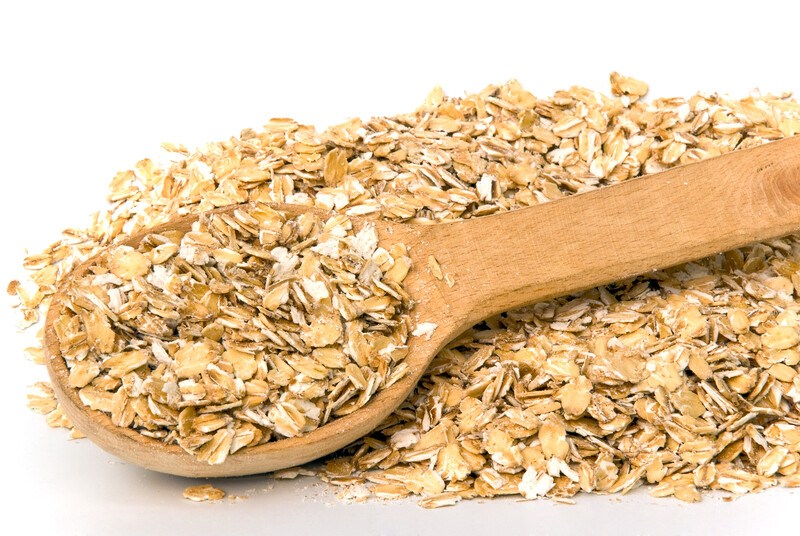 Rolled oats or steel-cut oats are a whole-grain food option. Whole grains like these provide enough fiber to help move foods through the digestive system, easing the burden placed on the pancreas. This could be due to the fact that oats contain a type of soluble fiber called beta-glucan, which has an anti-inflammatory effect as well as the ability to help regulate blood sugar levels and promote heart health.
Serving size of around ¾ cup of dried rolled oats contains around 3 grams of soluble fiber, with a total fiber level of about 16% of the daily recommendation. Rolled oats are also a good source of iron and calcium.
MCT Oil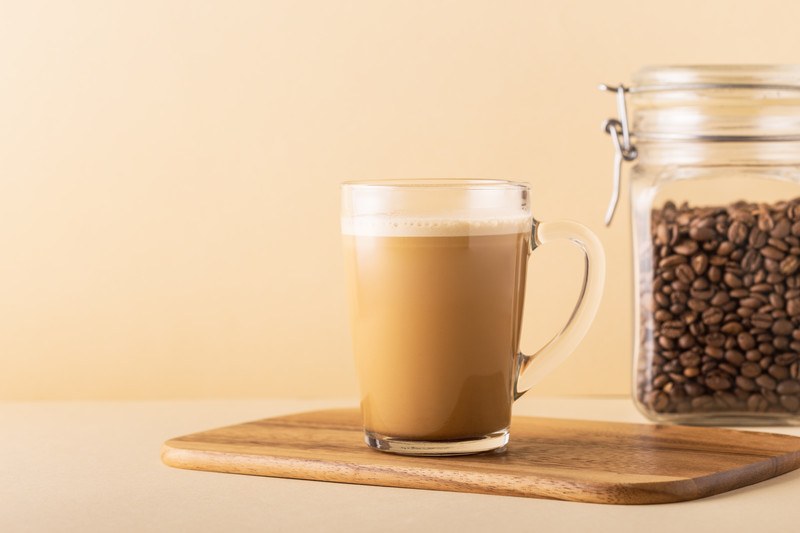 MCT Oil, or medium-chain triglyceride oil, could help increase the absorption of nutrients in the pancreas. This could help give the pancreas the support it needs to heal.
These medium-chain triglycerides are often found in butter and healthy fats such as olive oil and coconut oil, but they're concentrated in MCT oil. They're often used to help people on a ketogenic diet to shift into ketosis more easily. They're associated with reduced blood sugar levels, which could ease some of the stress on the pancreas, too.
Blueberries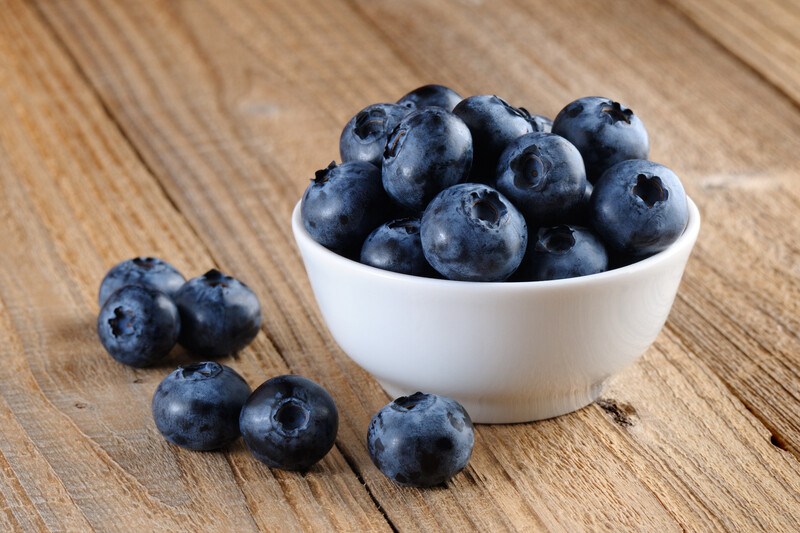 Blueberries are nutrient-dense foods that provide several antioxidants, healthy fats, fiber, and other helpful vitamins and minerals. A cup of blueberries provides 13% of the daily recommendation for fiber. It also provides 16% of the daily recommendation for vitamin C—which could act as an anti-inflammatory agent—as well as 24% for vitamin K and 22% for manganese.
Blueberries are surprisingly rich in healthy fats, too. One cup of blueberries contains 85.8 mg of omega-3 fatty acids, which are known to promote heart health and help reduce inflammation throughout the body.
Pineapple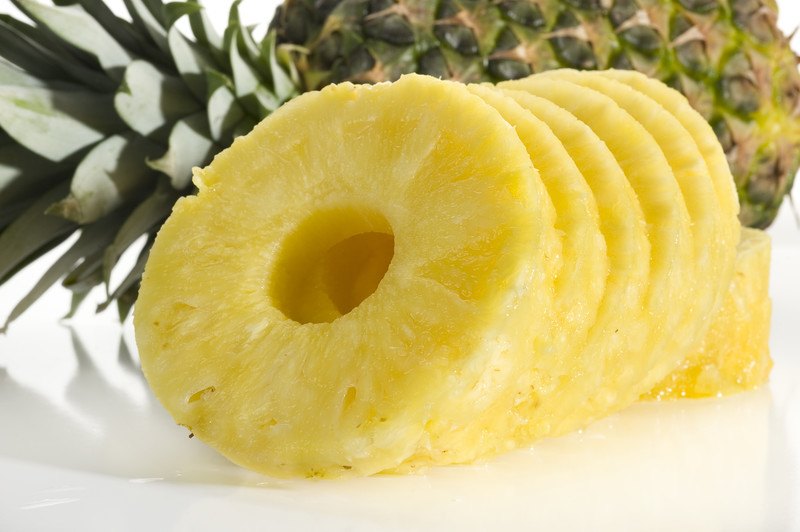 Pineapple is a tropical fruit that's rich in both vitamin C and manganese, which both help fight inflammation. A one-cup serving provides 131% of the daily recommendation for vitamin C and 76% for manganese. This fruit is also a good source of folate, potassium, and magnesium.
Pineapple contains several antioxidant compounds and some enzymes that aid in digestion. One of those enzymes, called bromelain, breaks down protein molecules into a form that could support the pancreas when it can't make enough digestive enzymes. Bromelain may also help suppress some cancers, and the compounds in pineapple have an overall anti-inflammatory effect.
Celery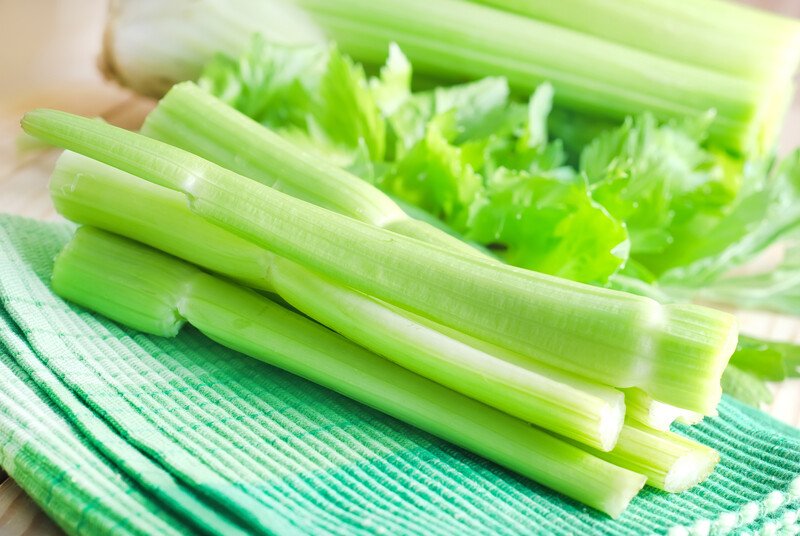 Celery is a powerful anti-inflammatory food. It contains around 25 compounds that fight inflammation-causing substances like viruses, bacteria, fungus, yeast, and molds. It also has other digestive benefits such as alkalizing the gut and increasing the level of hydrochloric acid in the stomach.
Celery is rich in some pancreas-supporting nutrients, as well. A cup-sized serving of chopped celery provides 9% of the daily recommendation for folate, 6% for fiber, and 25% for vitamin K.
Almond Milk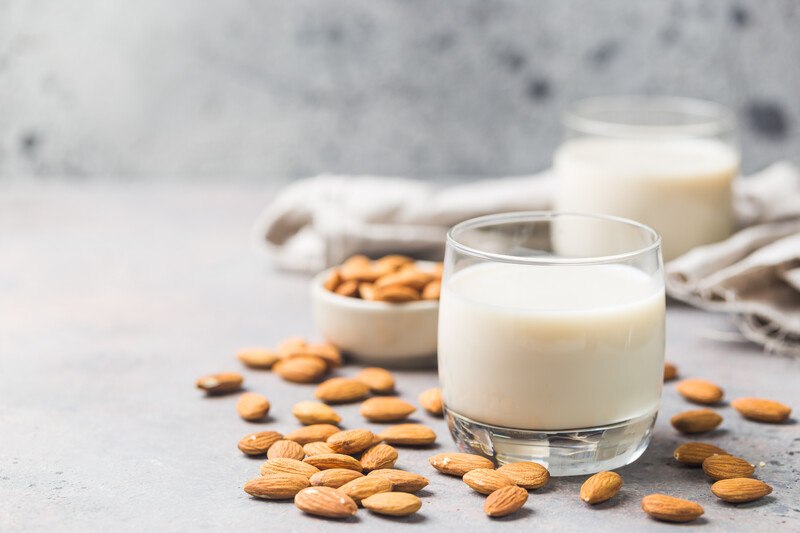 When milk and other dairy products are too rich for people with pancreatitis, almond milk can make a nice substitute. One cup of almond milk provides 56 calories, and it's a good source of calcium and iron. Unlike cow's milk, almond milk also provides fiber. One serving contains 3% of the daily recommended intake for fiber.
In cases where people with pancreatitis can still drink milk and eat dairy foods, it's wise to go with low-fat or nonfat options so that they don't overload their digestive system. Other non-dairy options include soy milk, oat milk, rice milk, coconut milk, hemp milk, and other milky products made from plants.
Cruciferous Vegetables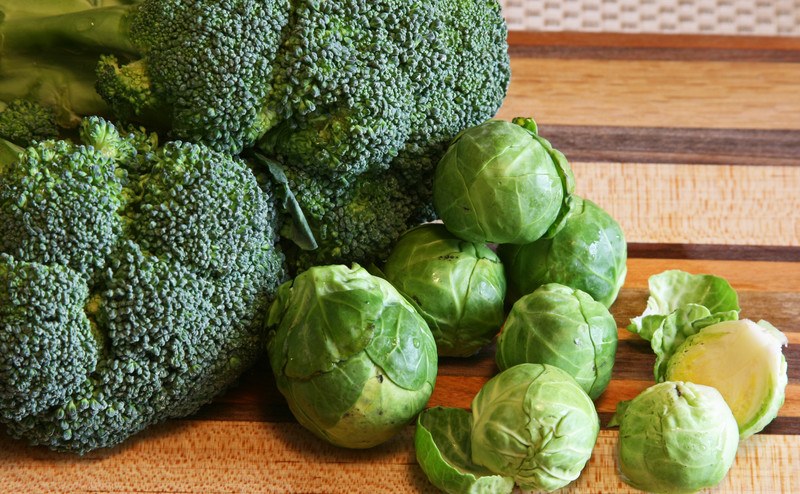 Cruciferous vegetables such as cabbage, broccoli, brussels sprouts, cauliflower, bok choy, and kale are packed with nutrients while being low in calories and high in fiber. For example, one cup of kale provides 22% of the daily recommendation for vitamin C, which acts as both an antioxidant and anti-inflammatory compound. It also supplies 3% of the daily recommendation for fiber, 68% for vitamin K, and 8% for manganese.
Besides the vitamin and mineral content, cruciferous vegetables contain a compound called sulforaphane provides strong anti-inflammatory effects. It's known to slow tumor growth and is associated with a reduced risk of pancreatic cancer.
Red Grapes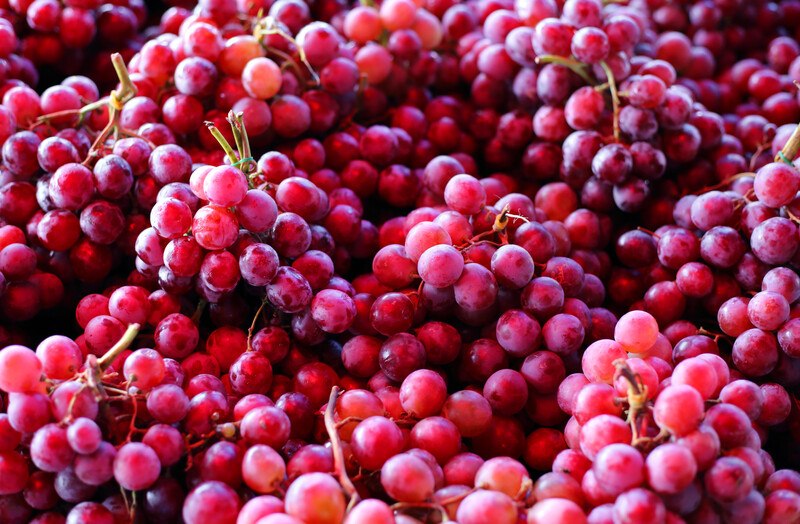 Red grapes contain a compound called resveratrol. Resveratrol is a strong antioxidant that has been shown to help fight pancreatic cancer. This includes both suppressing tumor growth and causing the death of unhealthy cells.
Grapes also contain several antioxidants and other supportive substances. A serving size of about 17 grapes provides 5% of the daily recommendation for potassium, 3% for fiber, and 4.4% for vitamin C.
Legumes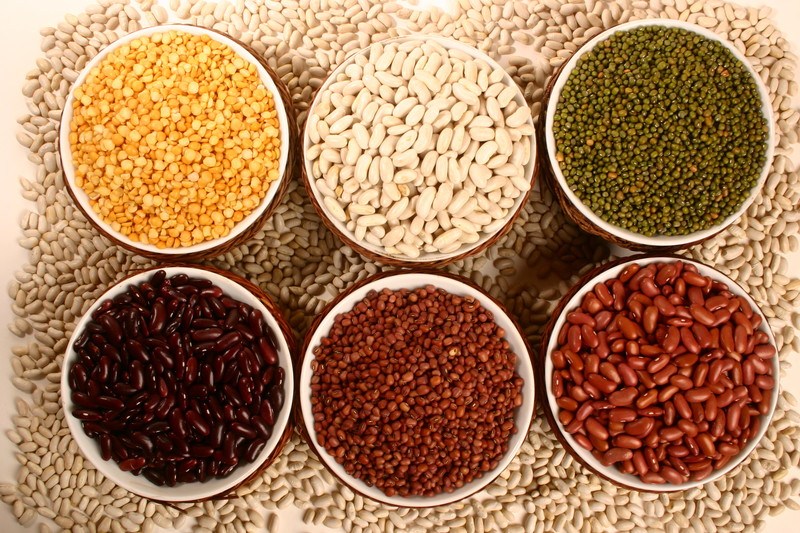 Legumes like beans and lentils are high in fiber while being low in fat. Much of the fiber found in legumes is soluble, so it helps promote heart health, burn belly fat, and control blood sugar levels. A one-cup serving of black beans contains 4.8 grams of soluble fiber, while a cup of light red kidney beans provides around 4 grams.
Beans are also relatively high in protein and in other nutrients such as potassium. Protein is important because low-fat, high-protein diets have been shown to help ease the pain of pancreatitis, as well as reduce the risk of further attacks.
Nonfat Yogurt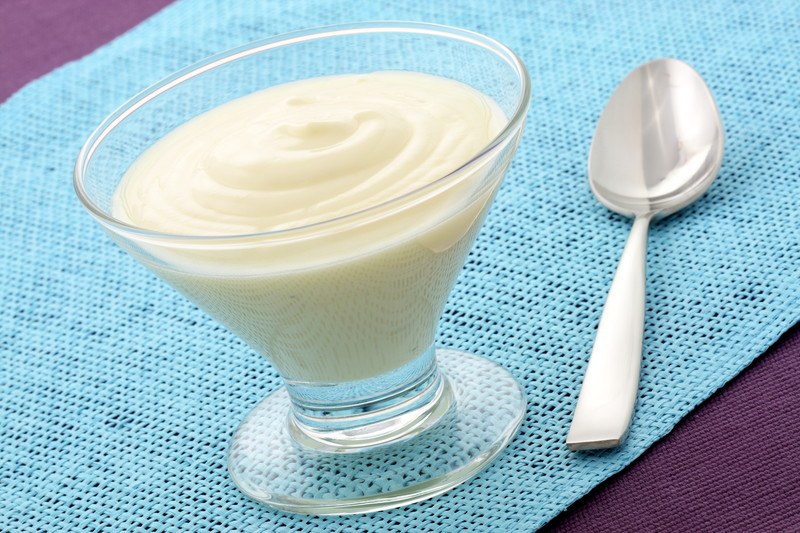 Nonfat yogurt could provide several benefits during bouts of pancreatitis. Because it's a fermented food, it contains good bacteria like lactobacillus acidophilus that help develop a healthy gut microbiome. The toxins released by leaky gut syndrome can cause acute pancreatitis. At the same time, people with chronic pancreatitis often experience an overgrowth of unsupportive bacteria in the small intestine.
Nonfat yogurt also provides some protein without overloading the digestive system with too much fat. An 8-ounce serving of fat-free yogurt contains 14 grams of protein.
Three Flare-Up Strategies
Now that you've read through the list of the 15 best foods for pancreatitis diet success, let's discuss a few tips for managing flare-ups when they occur.
Tip #1: Eat Smaller Meals
Rather than eating 2-3 large meals every day, shift to eating 6-8 smaller meals. This slow, steady stream of nutrients can help protect your pancreas from overworking.
Tip #2: Take Supplements
People with pancreatitis often suffer from nutrition deficiencies, especially for fat-soluble vitamins like A, D, K, and E. The 15 pancreatic diet foods listed above should help, but if you're unsure, take quality nutritional supplements that can easily be absorbed.
Tip #3: Refrain From Everything That Causes Flare-Ups
Alcohol and smoking can cause pancreatitis flare-ups. So can eating foods that are too rich in fats, animal products, or sugar. Make it easy on your digestive system by eating as clean as you can.