We know that beer is delicious and a great way to relax, but what does it mean for health? Most of us would say that beer is an unhealthy habit, one can easily lead to a beer gut and provides few nutrients. Still, is beer good for you? Could it be? Could your habit actually improve your health?
The idea isn't as absurd as it might seem. Most foods and drinks do have at least some positive features. Plus, beer is made from natural plant-based ingredients and tends to relax people.
Beer is also incredibly popular. There are even beer of the month clubs and beer delivery services to help you experiment with different types of beer and find some new favorites. You can brew beer yourself too.
Is Beer Good For You?
What Are The Benefits Of Beer?
What About The Risks Of Beer?
Is Beer Actually Healthy?
Should You Drink Beer?
How Much Beer Should You Have?
How Can You Protect Yourself?
What Are The Benefits Of Beer?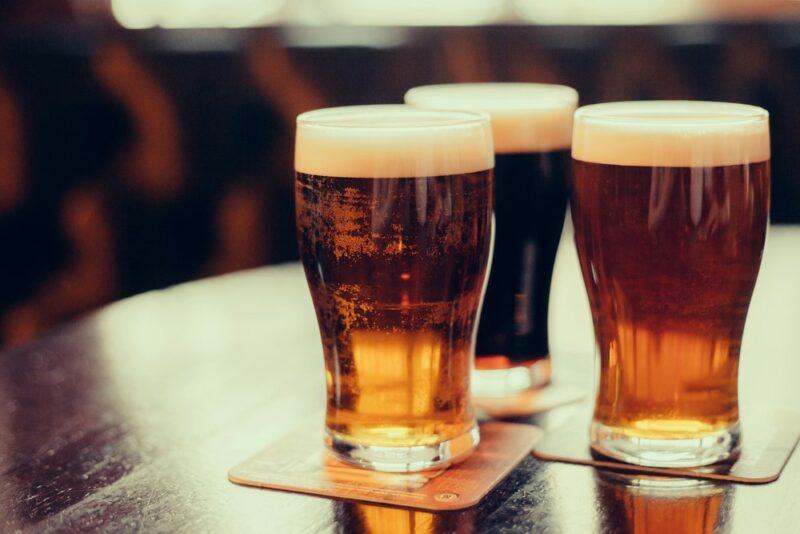 You're Getting Antioxidants
Beer is made from plants, so you're still getting interesting plant-based compounds in your drink, including a variety of antioxidants. You probably already know some of the benefits of antioxidants, like how they decrease oxidative stress and may decrease disease risk.
In fact, antioxidants are one reason that brightly colored fruits and vegetables are so important for health.
The antioxidant content of beer isn't amazing. You'll still get many more antioxidants in whole foods. Even so, the antioxidants in beer might help and certainly won't cause harm.
Makes Social Situations Easier
Alcohol, including beer, helps to take the edge off social situations. Many people find that a drink or two is enough to ease any anxiety and give them a slight confidence boost.
This effect can be powerful, as social interaction is an important part of mental health. Having regular social connections, particularly meaningful ones, can help people to feel better in themselves and to grow. Social isolation, on the other hand, can contribute to depression.
We've all seen this one at play.
In fact, alcohol is often served at parties and events for precisely this reason. Guests often enjoy themselves much more once their inhibitions have dropped down a bit.
Can Reduce Stress
Beer is often used as a way to relax. That approach isn't just in our heads either. Alcohol does have a relaxing and de-stressing effect. This can be particularly important at the end of a busy day.
However, alcohol should never be the only way that you decrease stress. It's too easy to become dependent when that's the case.
It Could Decrease Heart Disease Risk
Here's a surprising outcome. While alcohol consumption is often linked to increased disease risk, some studies have found the opposite effect – that alcohol could help to protect your heart.
This protective effect is only seen with low-to-moderate drinking, meaning that a beer per day might promote heart health, but three to four beers daily aren't likely to.
When you consider the antioxidants in beer and the way alcohol can help to calm you, the decrease in heart disease risk isn't as strange as it first seems.
However, there isn't much research on the topic yet, so there are big gaps in our knowledge. The effects may also be different from person to person (which is why it's always important to be honest with your doctor about your drinking habits).
You Might Live Longer
Some research suggests that light to moderate drinking can decrease the risk of death, particularly for women.
As such, having a beer per day could actually help you to live longer. How's that for incredible?
What About The Risks Of Beer?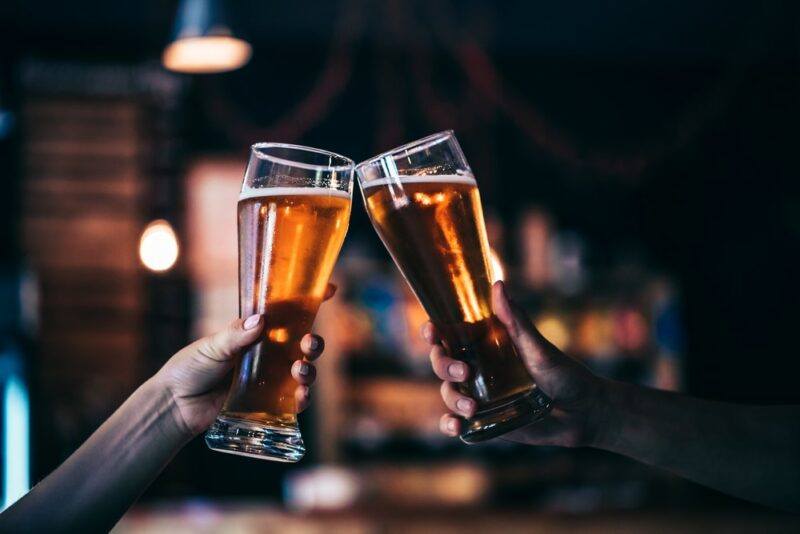 While there are some clear benefits to beer, there are significant risks too, particularly if you're drinking a large amount.
It's Easy To Start Relying On Beer
Beer does have notable social and emotional benefits, but those benefits come with risk too. One problem is your alcohol tolerance. Drinking alcohol regularly leads to an increase in your tolerance which, among other things, means you need more alcohol to see the same effects.
This could mean that you need two beers rather than one to see your social anxiety lift. Similarly, it might take two beers to help you destress after a hard day of work.
The pattern doesn't stop there. As time goes on, you'll need to keep increasing your intake to see the same benefits. You might also find it more difficult to be social or destress without alcohol.
It's surprisingly easy to go from enjoying alcohol, to depending on it, to being addicted. The gradual nature of the shift makes it difficult to spot too.
Alcohol Increases Disease Risk
While low to moderate alcohol consumption is linked to some health benefits, high amounts of alcohol have the opposite effects. Indeed, high alcohol intake is linked to an increased risk of cancer and liver disease, along with obesity, diabetes, and countless other problems.
High alcohol consumption quickly turns into a dangerous cycle too, as your tolerance increases, so you need to keep increasing your intake to get the same buzz.
Don't forget about the short-term side effects of drinking too, like slurred speech, decreased reaction time, and hangovers. These aren't necessarily dangerous, but they can be frustrating.
It Often Contains Gluten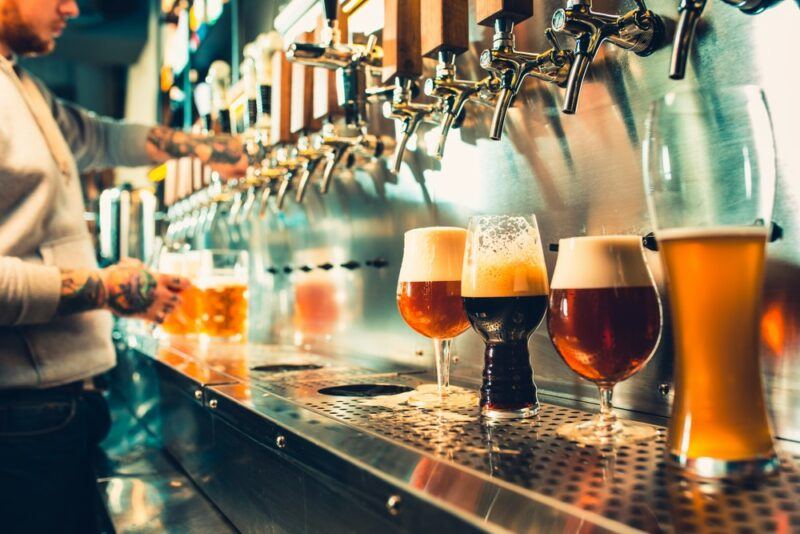 Traditional beer ingredients include barley, yeast, hops, and occasionally wheat. The wheat and barley both contain gluten, so you're getting gluten in most types of beer too (although, there are some gluten free beers).
The gluten content is significant for anyone with celiac disease or who is sensitive to gluten. If you fall into either group, beer could give you side effects like stomach pain and diarrhea.
Thankfully, some brands focus on making gluten-free beer. These products should be clearly labeled and can be safe even for people with strong gluten sensitivities.
If you can still have some gluten, lager beers may be the best choice, as this type of beer is naturally low in gluten.
It's Rich In Carbs
Most beer contains a decent amount of carbs too. You might even get more than 30 grams of carbs per serving. There isn't much fiber either, so beer can easily spike your blood sugar levels.
Carbs are also controversial. They're thought to promote inflammation and may even help explain why disease prevalence is so high in modern society.
Thankfully, there are low carb beers too. Light beers are a good choice here, as they are naturally lower in calories and carbs. You'll also find some beers marketed as being low carb or keto friendly.
Can Promote Weight Gain
Beer promotes weight gain in two ways. The first is the calorie content – as a single can of beer often has more than 150 calories. That's a decent amount. It's even more significant if you're having two beers in a sitting.
The alcohol content is relevant too. Alcohol tends to compromise our decision-making skills, increasing the odds that we'll have unhealthy snacks.
Low calorie beer reduces the risk of weight gain, but you'll still need to pay attention to your snacking.
There Are Still Gaps In Our Knowledge
Nutrition science is always complex – and things are even more complicated when it comes to alcohol. For example, some studies suggest that you might be healthier and live longer if you have a drink most nights, while others suggest that doing so increases your risk of disease and could make you dependent.
This is why it's always important to pay attention to your body.
Is Beer Actually Healthy?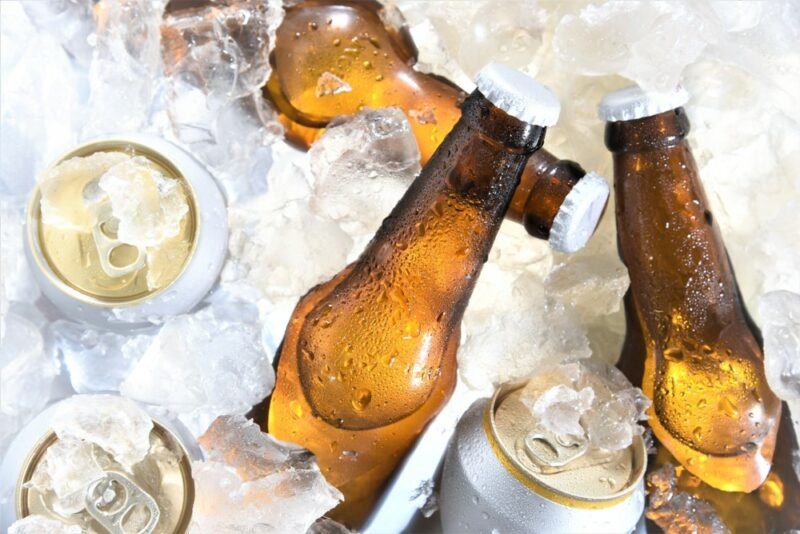 Beer has some benefits, that's true. Still, calling it healthy is a stretch.
After all, the various benefits all apply to plenty of other foods too. Whole grains, leafy greens, fresh fruit, and legumes are all likely to improve your heart health and protect you against disease much more than beer ever will. Those foods also come with fewer risks and side effects.
Rather than calling beer a healthy drink then, it's best to see it as a treat, one that may offer some benefits if you drink it occasionally. Seeing beer this way makes it easier to get your diet and lifestyle in balance, especially as it is so easy to overdo it with alcohol.
Should You Drink Beer?
There are plenty of strong opinions about beer. For some people, the drink is a passion and part of their lifestyle. Others think that you shouldn't drink beer under any circumstances.
In the end, we're simply talking about different opinions. There's no right and wrong here. Even if beer offered no benefits at all, you could still drink it if you wanted to.
The main question is, where do your values lie?
Do you enjoy beer? If so, that might be reason enough to drink it regularly. Beer isn't a health tonic, not by any means. Still, most of us don't drink beer for the health benefits.
If you're indifferent about beer, then perhaps give it a pass. Why not find a treat that you really love instead?
How Much Beer Should You Have?
Studies often show benefits from one or two standard drinks per day. Having more than two drinks is linked to increased risk, along with other health problems.
Many people find it best to stick to just a single drink or to have alcohol three to four times a week, rather than every day.
Reactions to alcohol are very person-specific, so you'll need to experiment to find the right quantity for you.
How Can You Protect Yourself?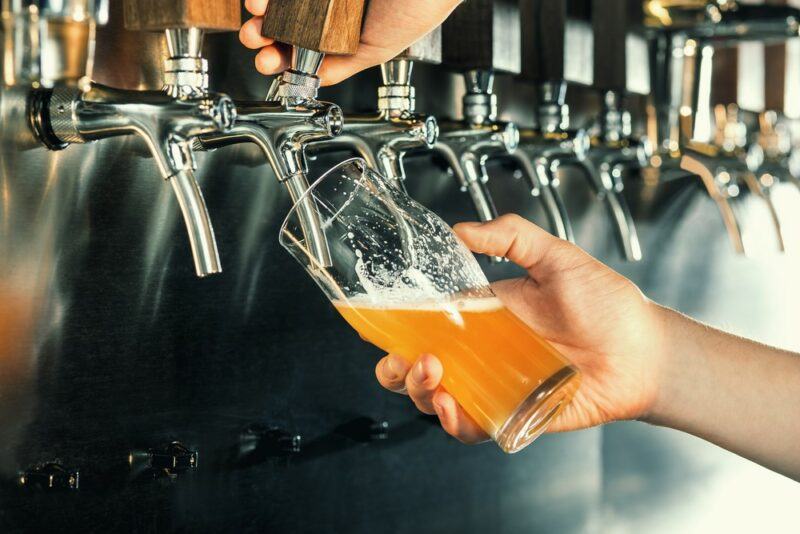 The risks of beer mostly come from overconsumption. Because your beer consumption can creep up slowly, it's important to have some protections in place.
Purchase Sensibly
One approach is to watch the amount of beer that you buy. You could even have a rule that you only buy a certain number of cans at a time and only once a week. If you blow through all of those cans in a few days, then you need to wait until you can have more.
Don't Drink Because You Need To
Another is to drink beer when you want it, but not when you think you need it.
For example, if you feel like you need beer to get through a certain social situation, that feeling is a good indication that you should skip the beer. Sure, the situation will be more difficult without the booze, but sometimes that's a good thing. Pushing through challenges is often what helps you grow, while always looking for the easy way out has the opposite effect.
Pay Attention To Those You Trust
Don't forget about your friends and family either.
If someone you love is worried about your drinking, use that as a chance to take a hard look at things and reflect. They might not be right, as people have their own biases and opinions. Even so, being open to listening and to considering their opinion can help you to keep your drinking at a reasonable level.
Stay Hydrated
Also make sure that you stay hydrated when you drink beer and don't skip the food either. This way your body has all it needs to function well. In fact, having some food and a glass of water between beers can help to slow your drinking down and reduce any negative effects.
Listen To Your Body
We all respond differently to alcohol. Our biological sex, weight, body chemistry, genetics, and tolerance levels all influence how our bodies react. As a result, the same amount of alcohol can affect two people very differently.
To maximize your benefits and reduce your risks, you need to pay attention to yourself. This includes watching how often you crave beer and how you feel the next day. For example, if you're often waking up groggy and find it difficult to get into the work day, it could be time to cut back on your beers.
Think Before You Drink
Finally, don't simply reach for another glass, bottle, or can of beer once you've finished the first. Always take a moment to think about whether you really want more beer or not.
Frequently Asked Questions
How Much Alcohol Is In Beer?
Beer generally falls at around 5% ABV, with some light beers averaging around 4.2%. However, there's a huge amount of variation. Some companies drop the alcohol content even lower, sometimes to 2% or 3.5% ABV. Others raise the alcohol content to 6%, 7%, or even higher.
In fact, some beers manage to hit an ABV of more than 10%. The strength of these could catch you off guard, but the beers are easy to spot, as they tend to be more expensive than the low alcohol content options.
Does Beer Expire?
In one sense, no, beer doesn't expire at all and remains safe to drink even years past its expiration date. However, beer does change as it ages. The flavor often changes dramatically and it can be flat as well.
This means that it's best to drink beer before its expiry date. If you're drinking after this point, it might not taste very good at all.
Is Beer Gluten Free?
As a general rule, no, beer isn't gluten free. Most products are made using some type of grain, such as rye, wheat, or barley. These grains mean that there is normally some gluten in the finished product.
Still, some companies make their beer using grains that don't contain gluten, giving you a gluten free product. Other companies use a gluten removing process and market their beers as either gluten removed or gluten reduced.
If you're concerned about gluten, it's best to find beers that never included gluten to begin with. This is important, as the gluten removal process hasn't been well researched and its effectiveness isn't fully understood.
Is Beer Vegan?
The basic ingredients for beer include a grain (like wheat or barley), hops, yeast, and water, which are all completely vegan friendly. However, it's still important to be cautious, as some companies use animal-derived products in the clarifying step. This changes things and can make the beer non vegan friendly.
Is Beer Carbonated?
Beer does tend to be carbonated. Sometimes this is natural carbonation from fermentation. Other times forced carbonation is used instead.
Some companies do produce non carbonated or minimally carbonated beers in a variety of styles. So, if you have a favorite style, you can probably find a non carbonated version of it somewhere.