Vietnamese food is well-known for being delicious, vibrant, and packed with flavor. Vietnamese drinks, on the other hand, are much less well-known. This difference is a shame, as there are many delicious drinks to choose from.
Some of these drinks can be found in other parts of the world, like tea, which is one of the most popular global drinks. Even then, the versions that you find in Vietnam have their own special characteristics and flavors.
Interestingly, drinks aren't often enjoyed during a meal in Vietnamese culture. They tend to be consumed after a meal or on their own instead, often as part of a social occasion. This isn't too surprising, as Vietnamese cuisine relies heavily on soups, so there's often no need for extra liquid.
If you want to learn more about Vietnamese foods and drinks, why not check out a Vietnamese cookbook? These books teach you all you need to know about preparing delicious Vietnamese foods, regardless of where you live. We also have a list of some of the best Vietnamese food that is certain to inspire you.
Drinks From Vietnam
Tea
Artichoke Tea
Kumquat Tea
Tra Chanh
Coffee
Beer
Rice Wine
Cocktails
Smoothies and Fruit Juice
Mineral Water
Sugar Cane Juice
Coconut Water
Egg Soda
Tea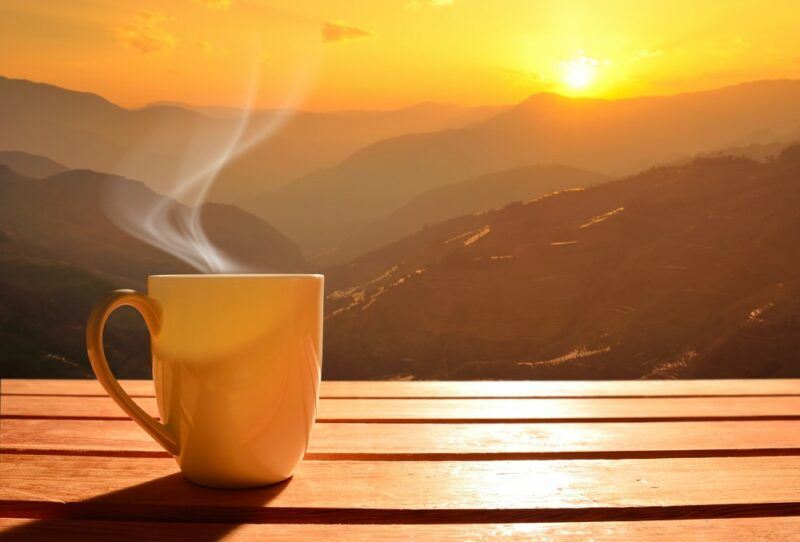 Tea seems to be a classic drink wherever you go. In Vietnam, it's been consumed for thousands of years, so it's rich in culture and tradition. You'll find tea served during most occasions and events, including family gatherings, meetings, and large festivals.
Both hot tea and iced tea are common, purchasable at street vendors, as well as at restaurants and served in homes.
Green tea is one of the most popular styles, although the less familiar lotus tea is common throughout Vietnam too. Creating high-quality lotus tea is quite a process, which may be one reason why the tea holds such a special place in Vietnamese culture.
While you'll find tea served in many places, any tea shops in Vietnam mightn't be what you expect. Many of these now follow modern styles, where tea is one ingredient in your drink. Here, you'll find drinks like tea cocktails and milk tea, which are still quite delicious.
Artichoke Tea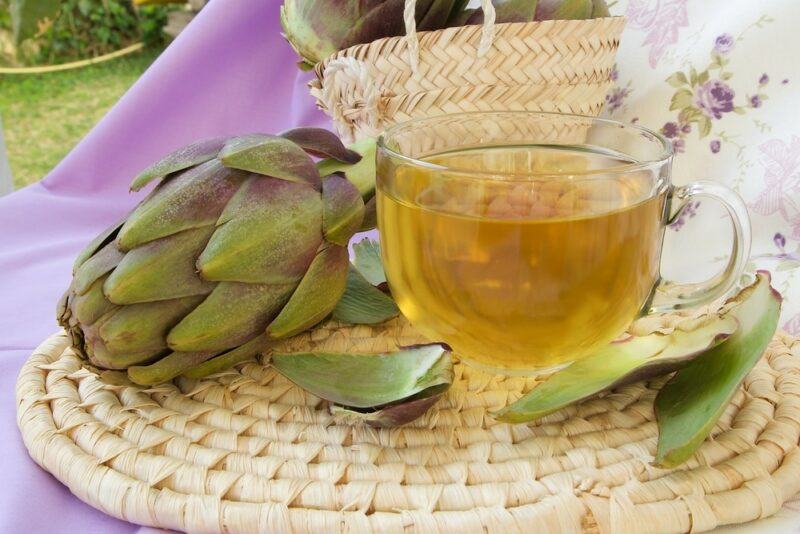 Artichoke tea deserves a special mention, simply because it sounds so strange. The drink is an herbal tea and, you guessed it, is made from various parts of the artichoke plant.
One version of the tea is made from the artichoke flower. This tends to have a yellow color, a nutty flavor, and is often sweetened,
Another version relies on artichoke stems instead. This one has a black color and can be very bitter. While this flavor mightn't be appealing, artichoke tea is often thought to have detoxifying properties and these could be stronger with the black artichoke stem version of the tea.
You can even find commercial artichoke tea products, giving you the chance to brew the tea yourself.
Kumquat Tea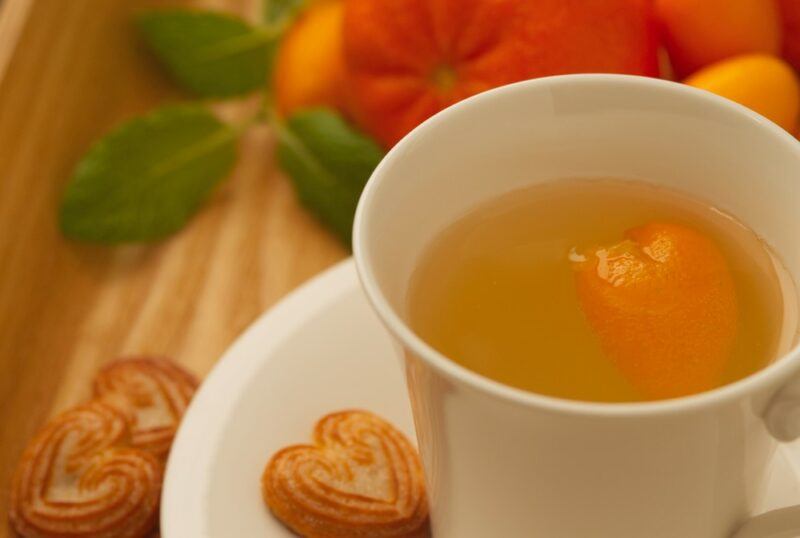 Kumquat tea is another interesting version. It tends to have a tangy and delicious flavor. The taste can be even richer if honey and lime are added.
You may see more complex versions of this tea too that include various herbs. Each type of herb provides its own flavor, along with potential health benefits.
Tra Chanh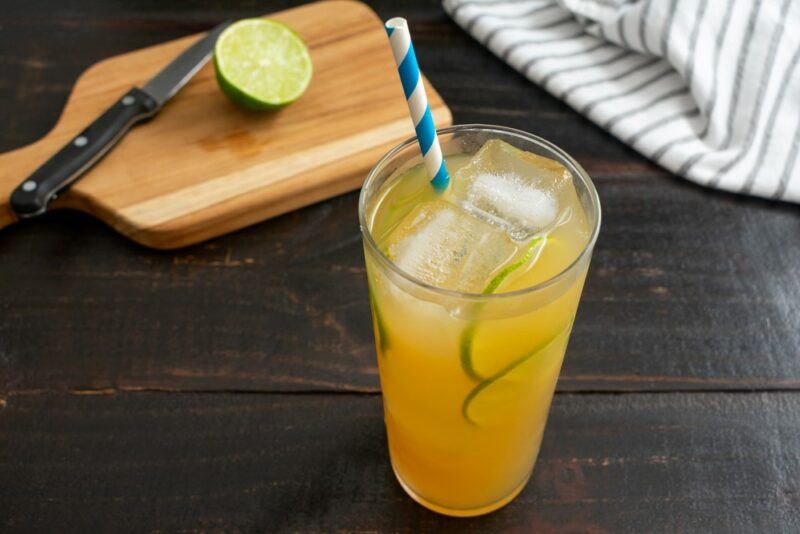 This drink is an interesting modern Vietnamese variation on iced tea, which is served with lemon, sugar, and ice. Tra chanh is more popular among young people, although its popularity is quickly spreading.
Other types of iced tea are common too, especially in hot weather. The iced tea in Vietnam is normally unsweetened and is often served in large pitches.
Tourists should be careful here, as ice can sometimes be contaminated and lead to a stomach upset. Sometimes this is because it is made from unfiltered water, while other times the issue comes from unhygienic practices.
Thankfully, there are plenty of sanitary facilities that produce ice throughout Vietnam, so ice is often safe. Look for pieces of ice with holes in them. These have been made by ice machines and shouldn't have been handled much.
Crushed ice is riskier, as this often comes in large blocks and needs to be crushed by hand. If you have a sensitive stomach or haven't been traveling long, it's often best to avoid crushed ice entirely.
Coffee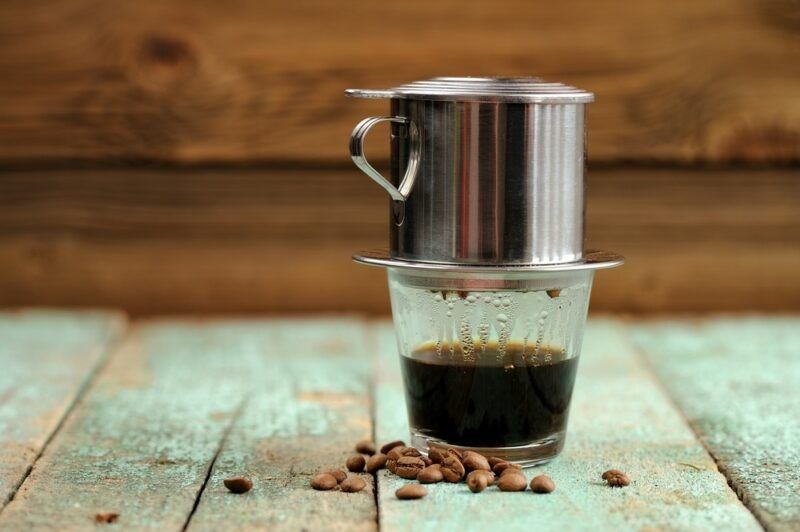 We can't forget coffee either. While this drink is hardly unique to Vietnam, it is incredibly popular. This isn't surprising either, as Vietnam's climate makes it one of the top countries for producing and exporting coffee. Much of the coffee that you can purchase at home would have been grown in Vietnam.
Just like in other countries, Vietnamese coffee is a strongly social drink. Whether ordered at a cafe, from a street vendor, or enjoyed at home, drinking coffee offers a chance to catch up with friends and family.
While Vietnam's coffee is similar to the drink we're all familiar with, they do also serve egg coffee. This interesting drink tops regular coffee with a light foam made from condensed milk and egg yolk. The drink can be served hot or cold and makes coffee a little more interesting.
Condensed milk can also be used in coffee, as a way to sweeten it and make it creamier.
You'll find filter coffee too. Here, you get a small cup that has its own stainless steel coffee filter on top. You pour the water and wait for the coffee to filter through before you're able to drink it.
If you're used to ordering coffee in America, the Vietnamese approach might feel slow and frustrating. Still, there's something pleasurable about slowing right down. Doing so sometimes helps us to enjoy the little things much more.
Beer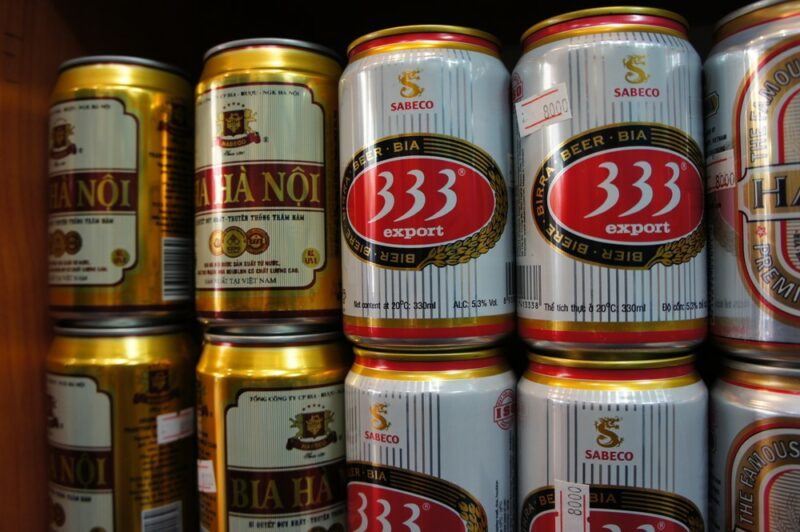 Beer is another familiar drink, one that is prominent in Vietnamese culture. Many people go out for beer 'meetings', which may go on for hours and only includes a few snacks.
Beer is consumed on other occasions too, like at the end of the workday, alongside a meal, or at a restaurant. Indeed, beer is even a common part of business culture in Vietnam and makes its way into most celebrations.
The beer comes in familiar styles, either draft beer, craft beer, or beer sold in cans and bottles. Draft beer is the least expensive and is sold fresh, with no added preservatives. If you prefer canned beer instead, there are plenty of options, including local brand names and imported ones, like Heineken and Budweiser.
Rice Wine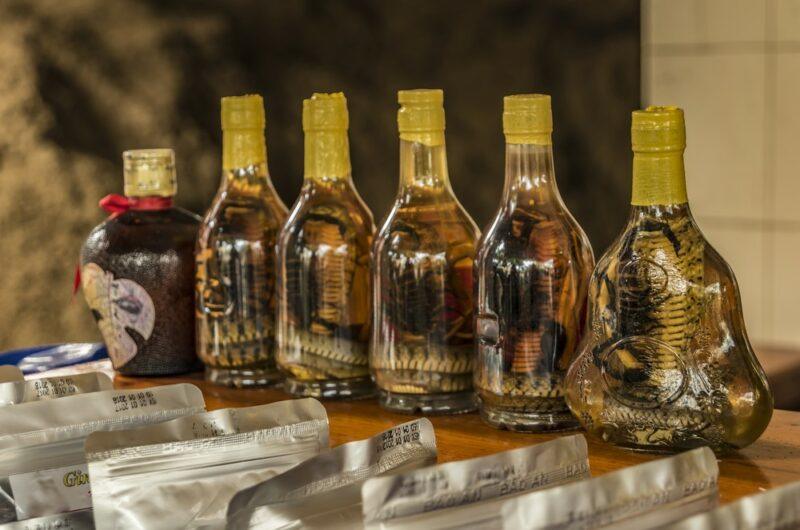 If you're looking for something alcoholic in Vietnam, rice wine is a popular go-to choice. The wine is a type of liquor made from fermenting rice. The most basic type is made from fresh rice that has been cooked, then mashed. The rice is left with water and yeast for a few days so that it ferments – creating an alcoholic liquid that can be consumed immediately.
Rice wine can also be brewed in ceramic jars. Here, a variety of ingredients are used that provide extra flavoring. The final type is sometimes called herbal wine, as it is distilled rice wine that is then infused with herbs or other ingredients (including animals!). This can go by the name medicine wine as well, as it is thought to help improve health problems.
Of course, as with other types of wine, there's plenty of room for variety. Some producers may use different ingredients to create an interesting flavor profile.
Cocktails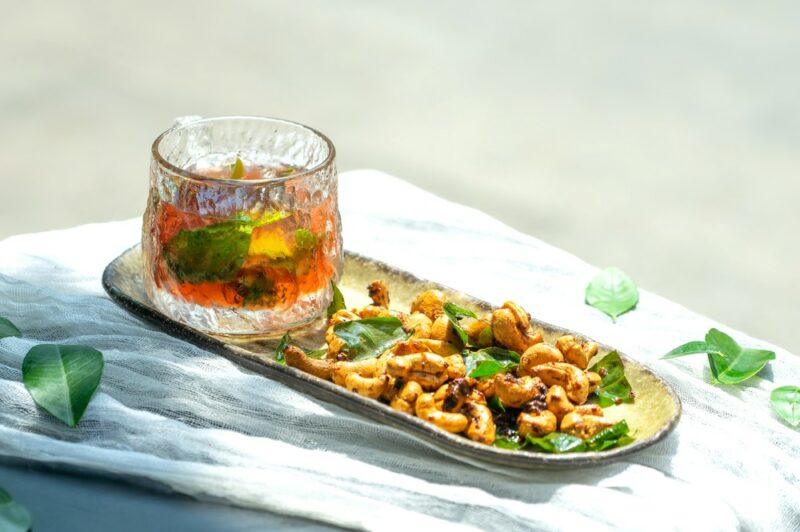 You'll find cocktails served in Vietnam too. Some of these are the classics that you'll see at home, while there are plenty of local favorites as well.
There's even an interesting drink called the pho cocktail that can now even be found outside of Vietnam. The cocktail is designed to mimic the flavor of pho, so it uses many of the same spices, like cinnamon and star anise, along with gin and Cointreau as the spirits of choice.
By relying on spices like this, the cocktail is reminiscent of pho, even though it doesn't use any type of meat or broth in the final drink.
Smoothies and Fruit Juice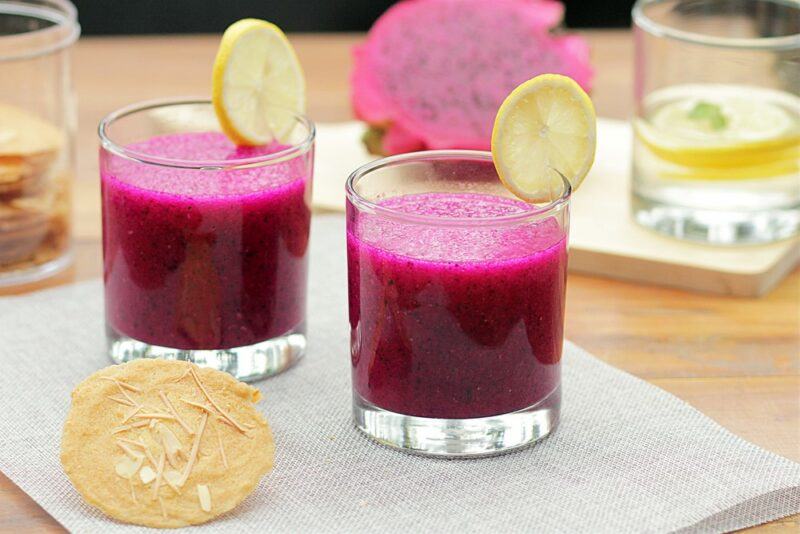 Vietnam's tropical climate and location make it an ideal place for tropical fruit. Rather than eating the fruit on its own, why not try a smoothie or some chilled fruit juice? Both options are perfect when the weather is hot.
Plus, fruit juices and smoothies are easy to find. They're often sold by street vendors, who often have a variety of fresh fruits and vegetables on hand that they slice and prepare once you have ordered.
Because everything is fresh, you know that you're getting something delicious every time. Don't worry if the number of choices is overwhelming. Most vendors will be pleased to give you advice about what to order.
Interestingly, many vendors also add condensed milk or sugar to their smoothies. This extra sweetness might seem like overkill, but many Vietnamese people love the sweet flavor. The slight creaminess from the condensed milk also makes the whole drink better.
Mineral Water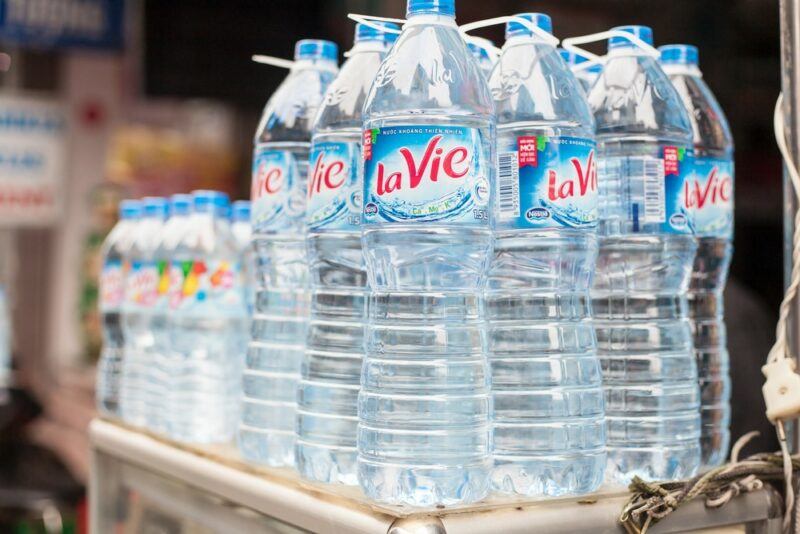 Drinking water is always important and if you're in Vietnam, you'll normally rely on bottled water. Tap water isn't safe on its own, so all drinking water should be boiled or filtered before it is used.
Buying bottled water is the easiest way to make sure your water is safe. There are plenty of brands to choose from too, including some familiar companies and plenty of local ones.
Sugar Cane Juice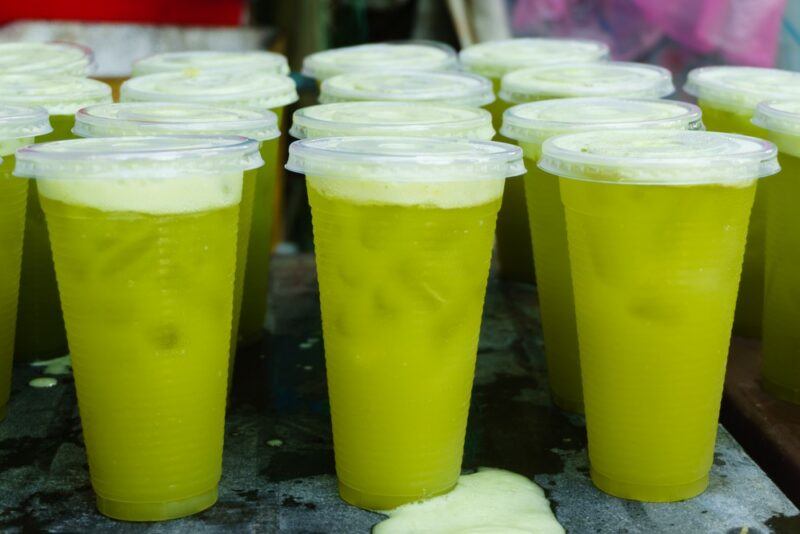 This sweet drink is excellent when the weather is hot. While sugar cane juice is made from sugar cane, it isn't as overwhelmingly sweet as you might expect. This is partly because the sugar cane juice is mixed with calamansi juice. Calamansi is a small sour type of citrus fruit that helps to balance out the sweetness of sugar cane.
Sugar cane juice can be fun to order, as street vendors make it by hand, often right in front of you. They have an electric wringer tool that squashes the stalks to give you juice that couldn't possibly be fresher.
Coconut Water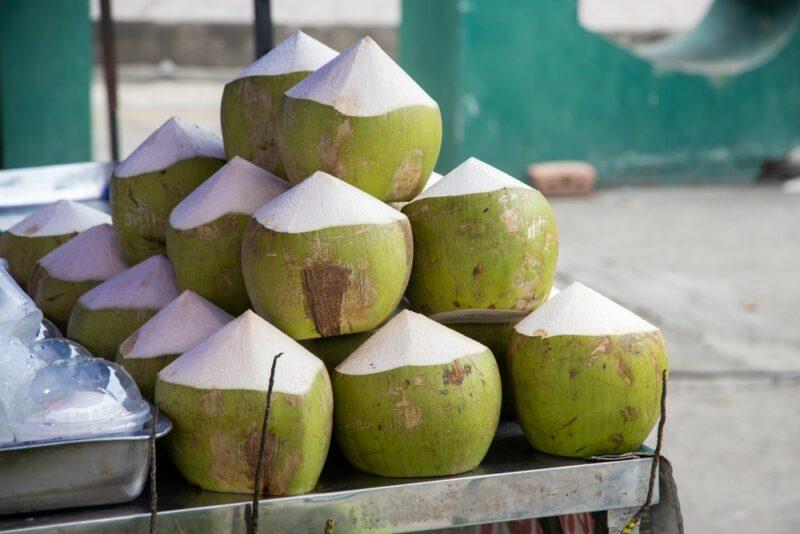 Coconut water was popular in Vietnam long before American stores started to sell packaged coconut water. Of course, in Vietnam, coconut water tends to be sold straight from the coconut. The flavor may be unfamiliar too, as fresh coconut water tends to be sweeter and richer than the packaged version, with a distinct grassy flavor.
Most vendors cut off the coconut's green husk to create a smaller fruit that is easier to store. They'll only cut off the top when you order, which gives you the freshest possible coconut water.
Just like here, coconut water is an easy and refreshing drink, one that's perfect for keeping you hydrated.
Egg Soda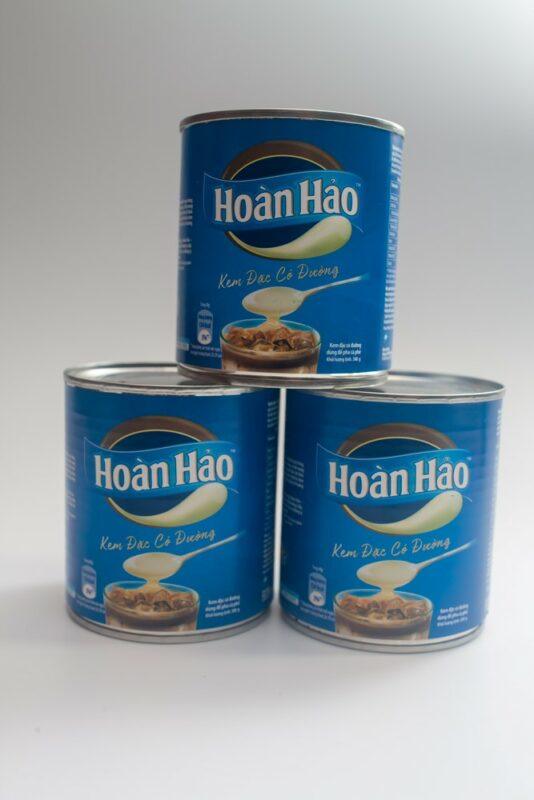 Here's an unexpected choice. This drink goes by the name soda sộa hột gà and combines an egg yolk, club soda, and sweetened condensed milk. Most of the time you'll find the soda made using quail eggs, although other types of eggs can be used too.
Despite the surprising ingredient combination, the drink remains popular, particularly in south Vietnam and Cambodia.