Coffee is often seen as a bad habit, one that we should probably give up, even if we don't much want to. Yet, the question 'is coffee good for you?' isn't as strange as it might seem. Recent evidence suggests that coffee has some surprising advantages, as long as you're not going overboard with it.
This should be good news for coffee lovers. After all, coffee remains exceptionally popular. Around 500 billion cups of the stuff are consumed across the world – every single year. Few other drinks are this popular.
For many of us, a cup of coffee first thing in the morning has become a ritual. The day just doesn't feel right without it. If you fall into this camp, then you'll be pleased that you don't need to give up your cup of joe just yet.
Of course, coffee has its limitations too. It's important to weigh these up when you think about your coffee habit.
Is Coffee Good For You?
The Benefits Of Coffee
Why Some People Say You Should Cut Down On Coffee
Coffee And Anxiety
What About Decaf Coffee?
How Should You Brew Your Coffee?
Which Types Of Coffee Are Healthiest?
How Much Coffee Should You Have?
What Should You Add To Coffee?
Final Thoughts
The Benefits Of Coffee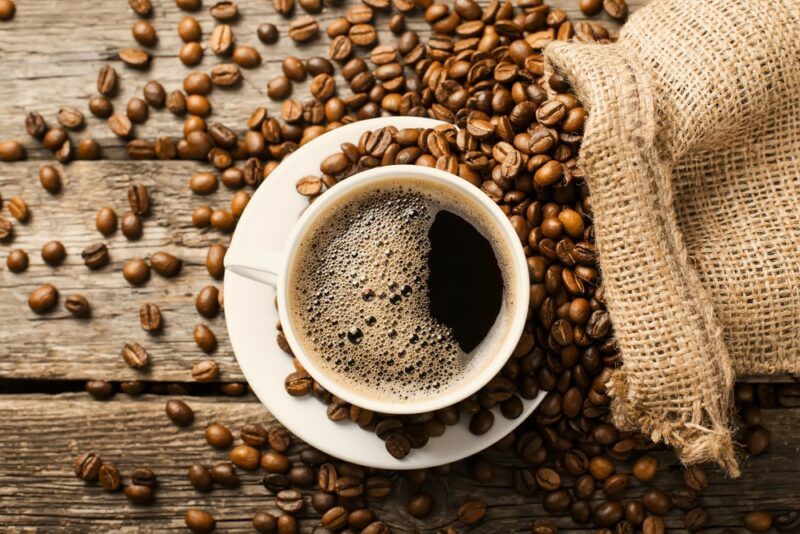 A Source Of Antioxidants
Let's start our discussion with an interesting area. Antioxidants are all the rage right now. They've been linked to countless health benefits, including lower oxidative stress, the decreased risk of some diseases, and better health all around.
When you think of antioxidants, you probably think about brightly colored fruits and vegetables, including berries and dark leafy greens. These are just some of the many antioxidant rich foods.
However, coffee is a notable source of antioxidants too. This isn't too surprising, as coffee is created from a bean. The amount of antioxidants present isn't extremely high, that's true. You'll get more antioxidants per serving from many other foods.
Even so, many of us are drinking multiple cups of coffee per day, so the antioxidant content adds up quickly. For many people, coffee is even their main source of antioxidants. Is this so surprising? After all, most of us don't eat berries or other antioxidant-rich foods every day.
It Contains Nutrients Too
Coffee isn't a nutrient powerhouse, not by any means, but you are still getting some vitamins and minerals in every cup. The B vitamins stand out the most, including vitamins B2, B5, and B3.
Even though the nutrient content is fairly low, these nutrients add up fast when you're having a few cups of coffee per day. Those B vitamins are particularly appealing, they could be one more reason why coffee gives you that ever-desired boost of energy.
Coffee May Decrease Disease Risk
Many observational studies have found links between coffee consumption and decreased risk of disease.
For example, people with high coffee consumption have a lower risk of type 2 diabetes than those who don't drink coffee. The number of cups of coffee you drink per day could even directly reduce type 2 diabetes risk. A similar effect is true for type 1 diabetes.
There are many other examples too. Regularly drinking coffee has also been linked to decreased risk of liver cirrhosis, heart disease, stroke, liver cancer, and much more.
As always, research is ongoing. Some of the proposed health benefits from coffee have been shown through research, while others are only theoretical.
For that matter, research has famously linked coffee consumption with decreased risk of death. One study found that people who consumed 3 to 5 cups of coffee per day were around 15% less likely to die early than those who didn't drink coffee. Another study found similar effects for people drinking 6 to 7 cups per day.
Coffee Helps The Brain Too
The benefits of coffee aren't limited to physical health. Indeed, caffeine is often seen as a nootropic, a chemical that's able to improve brain function.
We all know this one. Coffee often makes it easier to think clearly, to concentrate, and to be alert.
You'll often get a mood boost from coffee too. This is one reason why our mornings often feel better if we have coffee compared to when we skip it.
It Gives You An Energy Boost
The energy boost that comes with coffee is often the reason that we drink it. This energy largely comes from the stimulating effect of caffeine. You'll often feel more awake and energized after a cup of coffee, even if you were groggy beforehand.
We get this energy boost because caffeine is similar to the chemical adenosine in our brains. Adenosine builds up over the day and is responsible for the physical sensation of feeling tired.
The similarity between caffeine and adenosine means that caffeine can block adenosine receptors, preventing the chemical from binding. When this happens, we feel more energized.
However, the energy boost becomes weaker as we build up a caffeine tolerance. This is an area to be cautious with, as it's easy to simply increase your coffee intake to offset the tolerance. As we'll discuss later, doing so isn't a good plan, as excessive coffee consumption has more risks than benefits.
Coffee May Help With Weight Loss
Coffee could help with weight loss in a few ways. First, the caffeine in coffee has stimulating effects. It may help to kick your metabolism up a notch and increase fat burning, which is just what you need when losing weight.
Black coffee is also very low in calories. This is an area to be careful with, as many of us add other ingredients to coffee, like sugar, milk, or creamer. These additions increase the calorie content of coffee and make it less powerful for weight loss.
Additionally, coffee may help to suppress your appetite. This effect hasn't been strongly proven, but it's one that many dieters attest to. Drinking coffee could be particularly useful on an intermittent fasting style weight loss approach, helping you to get through to your next eating window.
Finally, coffee can help to keep your blood sugar in check and reduce any cravings for snacks.
None of these effects are very strong. You won't see a dramatic shift in your weight loss simply because you drink a few cups of coffee each day. Still, the benefits do add up, especially when combined with a healthy diet.
Why Some People Say You Should Cut Down On Coffee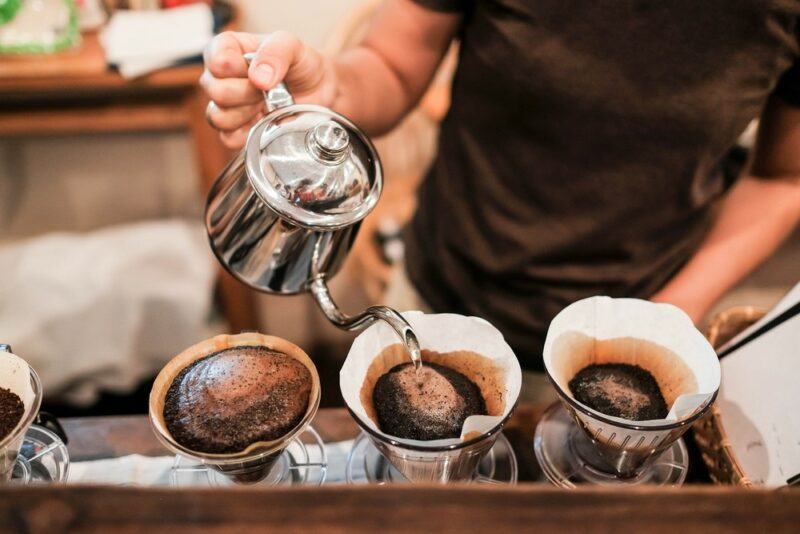 It Has Addictive Qualities
Coffee addiction isn't an official disorder, nor is caffeine addiction. This might seem surprising, as it's easy to get dependent on coffee and there are some strong withdrawal effects.
Skipping your coffee for even a day can be enough to leave you with brain fog, tiredness, and mood swings. You need to leave coffee alone for quite a while before your body adjusts to being without it again.
But, dependency isn't the same as addiction and doesn't come with the same physical and psychological impacts that you find with a true addition.
While you can't technically be addicted to coffee, coffee cravings and withdrawal symptoms are common. It's also easy to depend on coffee, to the point that you feel like you can't function without it.
These concerning features don't mean that you need to give up coffee entirely, but it's important to be careful. Most of the benefits we discussed earlier come from moderate coffee intake. This often means 3 or 4 cups of coffee a day. If you're drinking upwards of 5 cups a day, then it's probably time to cut back.
May Increase The Risk Of Some Conditions
While coffee tends to promote health, there are some cases where it may have the opposite effect. For example, coffee consumption might be linked to an increased risk of endometriosis, anxiety, and bone fractures.
However, the evidence for such effects is minimal and the risks vary across populations.
It Can Keep You Awake
Caffeine is great for keeping you alert. Sometimes it's better at doing so than you might want. If you have too much coffee or drink it too late in the day, you may find it hard to sleep at night.
For some people, this means avoiding coffee after 2pm in the afternoon. While that might seem extreme, it can take that long for the caffeine to fully work its way out of your system.
Some Coffee Contains Toxic Ingredients
There's strong concern about mycotoxins in commercial coffee. Mycotoxins are a type of fungi or mold that often grows in warm temperatures where there is a high moisture content.
Mycotoxins can grow on coffee beans during several stages of the coffee production process. There are two main types – aflatoxin B1 and ochratoxin A. The first has been linked to negative health effects, but only in large doses.
While mycotoxins sound scary, there is some good news.
First, many coffee producers actively regulate mycotoxins in their coffee. This includes most of the top producers, Then there's the roasting. The process may destroy as much as 90% of the mycotoxins that are present.
The end result is that when mycotoxins do make their way into your coffee, the levels are too low to worry about. You'll probably be exposed to them from other sources anyway, so they're really not a big deal.
If you're still concerned about mycotoxins, focus on reputable coffee producers, ones that regularly test for mycotoxin levels. Try to avoid coffee blends too, as these sometimes have a lower focus on quality and it's harder to see where the beans came from.
Coffee can also contain acrylamide. This compound can be harmful in high doses and might even increase cancer risk. Even so, the amounts in coffee are very low, and we already know that long-term coffee consumption is tends to promote health rather than increase risk.
Coffee And Anxiety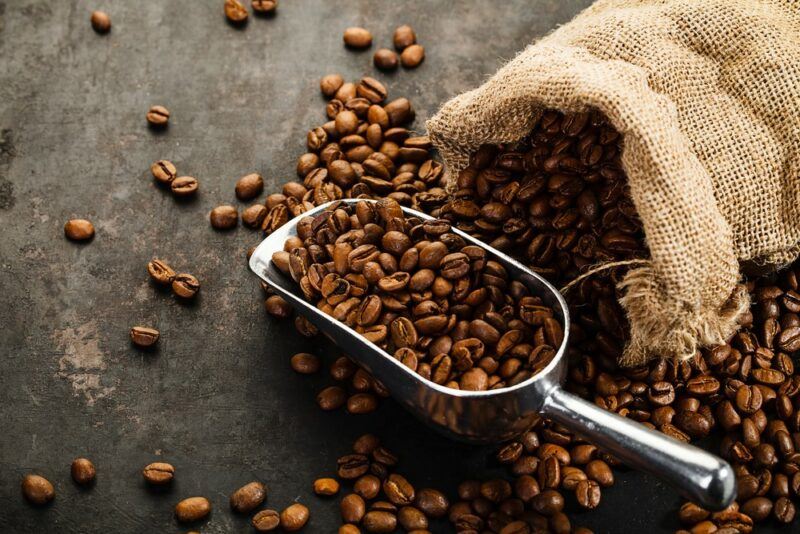 It's easy to imagine that coffee contributes to anxiety and panic attacks. After all, the symptoms of too much caffeine are often very similar to serious anxiety.
People with anxiety conditions may be particularly sensitive to these effects. Decreasing coffee consumption is often recommended as a way to treat anxiety conditions.
Yet, the relationship between coffee and anxiety might not be what you expect. Studies haven't found a strong connection between coffee intake and anxiety.
There's even the chance that coffee could help with anxiety rather than making things worse. After all, coffee can help improve stress responses and is a mood improver.
Even the coffee-related anxiety symptoms could be beneficial, as these are often anxiety-like symptoms in a safe environment. For people with anxiety, such symptoms could help them to be less afraid of being anxious and make their condition easier to live with.
The relationship between coffee and anxiety is clearly complex and is strongly influenced by the individual drinking the coffee. This means you'll need to decide for yourself.
Once again, it's important to pay attention to how your body responds. You could also try cutting coffee out for a while and see whether your anxiety symptoms improve.
What About Decaf Coffee?
Decaf coffee is an interesting middle ground. Most of the caffeine has been removed (but not all of it), so you're not getting the caffeine-related side effects from coffee. Of course, many of the benefits of coffee are related to caffeine as well and you're also missing out on these.
Interestingly though, some of the benefits of coffee are still present even for decaf. For example, we talked earlier about two studies that showed a link between coffee consumption and decreased risk of death. Both studies found similar effects for caffeinated and decaffeinated coffee.
How Should You Brew Your Coffee?
How you brew your coffee doesn't just influence the aroma and flavor profile. It can also affect the health impacts of your drink.
Some research suggests that filtered coffee may be the healthiest type. This may be because filtering helps to remove some less healthy compounds, including kahweol and cafestol. Using a drip coffee machine with an unbleached paper filter can be especially appealing, as this catches most of the particulates.
However, there's always a tradeoff with risks versus benefits. With the French press technique, for example, you end up with more caffeine and a greater amount of chlorogenic acid, as there is no filter.
Regardless of the technique, you shouldn't overheat your coffee. Leaving it at high temperatures for too long can destroy some of the beneficial compounds.
Which Types Of Coffee Are Healthiest?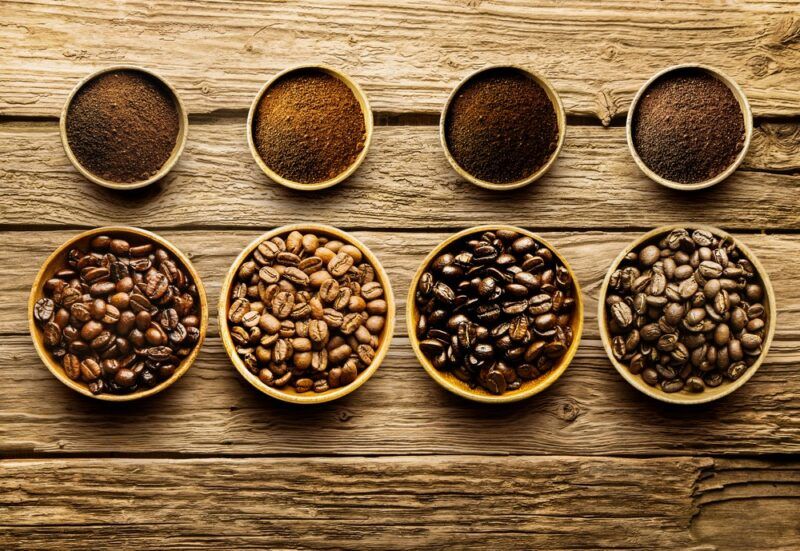 The type of coffee you choose can influence the health benefits too. Once again, some types may be healthier in one way and not in another.
The type of coffee beans. The antioxidant content can vary depending on the coffee bean and the roasting level. For example, one study found that light roasted Robusta beans had more antioxidants than light roasted Arabica ones. When dark roasted instead, the Robusta beans won for antioxidants.
The amount of roasting. Light roasted beans often contain more antioxidants and more caffeine. But, dark roasted coffee contains less of the concerning compound acrylamide.
Blended coffee. You can find single-bean coffees and blends. Neither type is inherently better for you, but it's easier to be confident of quality with single-origin coffee.
Organic or not. Chemical fertilizers and pesticides are often heavily used for coffee production. Focusing on organic coffee instead should mean fewer chemicals and healthier coffee.
Shade-grown coffee. Shade-grown coffee is meant to be better for the environment, as chemicals don't leach into the water system and trees aren't cleared. This approach could create healthier coffee beans too, if the soil is rich in nutrients. Even if that isn't the case, the benefits to the environment could make this type worth the effort.
Fair Trade. Like shade-grown coffee, Fair Trade certification may not affect the nutrients in your coffee. Still, the approach means that farmers are fairly compensated for their work, which is more socially responsible.
As you can see, finding the best type of coffee is a complex task. It's often best to focus on the type of coffee you like and look for reliable producers. This way you're protecting yourself without spending all day weighing up the pros and cons of each product.
How Much Coffee Should You Have?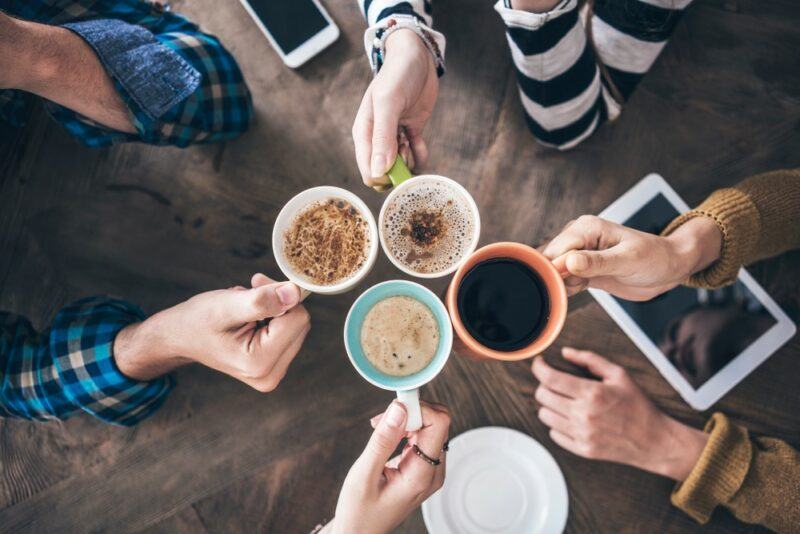 Coffee might have many benefits, but this doesn't mean that every cup is a good idea. Most research suggests that moderate intakes of coffee are best for your health.
The exact amount of coffee depends on the study that you're looking at. But, for most people, no more than 3 or 4 cups per day seems like a good level.
You should also pay close attention to how your body responds. Some people are more sensitive to caffeine than others and may need to keep their coffee intake on the low side.
Look at how you feel after a cup of coffee and whether coffee seems to affect your sleep at all. If you're struggling with sleep, you might need to stop drinking coffee earlier in the day.
Don't forget that the caffeine in a cup of coffee can vary dramatically. You might see anywhere from around 50 mg of caffeine in a cup to 400 mg or more. The caffeine content is influenced by the serving size, brewing method, type of coffee, and other factors.
This variation makes it difficult to know how much caffeine you're having each day. You might be consuming much more caffeine than you expect.
What Should You Add To Coffee?
Coffee itself isn't the whole story. After all, black coffee has a distinctive bitter taste that many of us don't enjoy. To get around this, we add various other ingredients, like sugar, milk, cream, or creamer (sometimes we get even more extravagant and try different coffee flavor combinations).
These additions all add to the calorie content – and make coffee a less healthy drink. They're particularly problematic if you're having multiple cups of coffee per day.
Sticking to black coffee is the healthiest choice. This gives you all the benefits without any extra calories. If black coffee is too intense, you could try adding low fat milk or plant-based milk instead.
You could also consider low-calorie sweeteners, including stevia, erythritol, or xylitol – if these work well for you.
High-calorie additions like cream and sugar should be occasional treats, rather than something you use in every cup of coffee. Even then, make sure they fit into your calorie goals.
You'll need to pay attention when you're ordering coffee too. Many store-bought coffees are excessively high in sugar and fat. We're not just talking about Starbucks either. Plenty of other companies also sell unhealthy cups of coffee.
Here's a tip. If you're trying to cut down your sugar and creamer intake, start slow. Try decreasing the amount of that you use over a few weeks or longer. This gives you time to adjust to the bitter flavor of the coffee.
What About Bulletproof Coffee?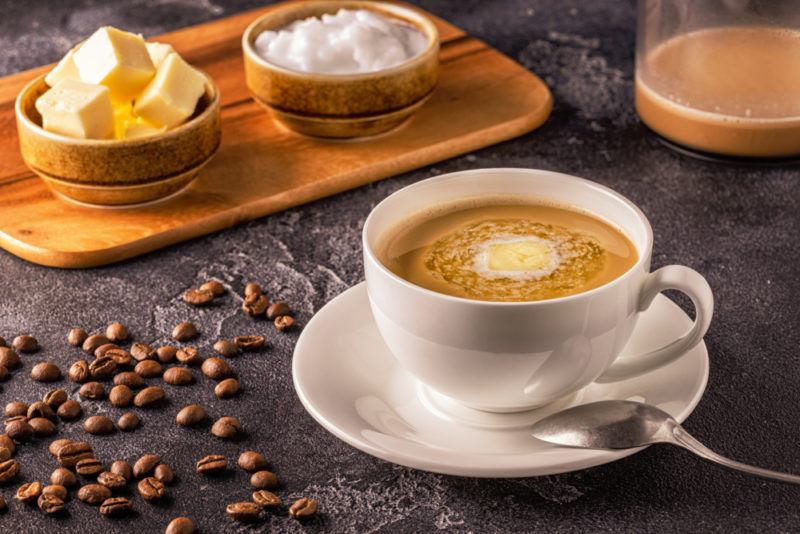 Bulletproof coffee is interesting enough to write a full post on, but we'll just skim the idea here. The coffee is a popular keto diet addition. It's a way to increase fat intake and help keto dieters to skip breakfast.
The official version of the coffee uses Bulletproof-branded coffee beans, although most people just use whatever coffee they have at home. What makes the drink interesting is the addition of either butter or ghee and coconut oil or MCT oil.
You need to carefully blend the coffee to get everything to mix together and even then, the drink has a very unusual texture. It takes some time to get used to.
Whether the coffee is healthy or not depends on your view of saturated fat and health. As we discussed when talking about coconut oil, saturated fat might not be as unhealthy as we often assume. Plus, butter and coconut oil both contain some interesting compounds that could promote your health.
Still, there isn't much research that focuses on including high levels of saturated fat in a healthy diet, so there is a lot that we don't know. This issue suggests that if you're going to drink bulletproof coffee, try to have it only occasionally.
Finally, bulletproof coffee is even higher in calories than a regular cup of joe with creamer and sugar. It could easily lead to weight gain, unless you're very careful with your calorie intake.
Final Thoughts
Coffee clearly isn't the risky habit that we've been taught. Instead, it ends up being a healthy drink, one that's low in calories, a good source of antioxidants, and can even decrease disease risk.
However, the risks of coffee are notable too. Let's not forget that the caffeine in coffee can make it hard to sleep and leaves some people very shaky.
It's also easy to become dependent on coffee, drinking it every time we feel an energy dip and simply not feeling okay without it. Such patterns aren't healthy, especially in the long term.
This balance of benefits and risks means that you should think carefully about your coffee intake. Pay attention to how your body responds to each cup of coffee, along with the amount you're drinking per day.
Also, we must mention the topic of coffee versus energy drinks. Energy drinks contain caffeine too, so they certainly give you an energy boost. However, they have some concerning features as well.
Frequently Asked Questions
Should I Add Milk To Coffee?
Milk and creamers cut down some of the bitterness of coffee. This can be powerful, as black coffee is intense and is too much for many of us. Adding milk does also improve the mouthfeel of the coffee and provides a few nutrients.
However, there's plenty of debate about the idea. Some coffee connoisseurs swear that coffee shouldn't be adulterated like this – that adding milk ruins the flavor profile.
It's ultimately up to you. If you need the creaminess of milk, then there's no reason to avoid it. This is particularly true if you don't pay much for your coffee, as lower quality coffee often needs milk to make it palatable.
Don't forget that you can use dairy free milk as well. These products need to be used carefully, as they can curdle. However, when used well, they complement the texture and flavor of your coffee.
Is It Better To Drink Coffee Slow Or Fast?
Some theories suggest that drinking coffee slowly means that the caffeine is released more slowly and consistently into your body. Doing so may give you an energy boost for longer and decrease the risk of a crash.
Gulping your coffee fast could give you a caffeine hit sooner, although there's some debate on this point. In the end, the best approach is the one that works best for you. Why not experiment with different drinking styles and see what gives you the most energy with fewest side effects?
That said, drinking your coffee too slowly increases the risk of staining your teeth. Thankfully, this mostly just occurs if you're taking more than 15 minutes to drink your cup of coffee, which probably isn't the case for most people. Rinsing your mouth out after the coffee should reduce the risk of staining.
Is Coffee Okay On An Empty Stomach?
We're sometimes told not to drink coffee on an empty stomach, as it is acidic and may stimulate stomach acid production. Some people also experience more side effects when drinking coffee on an empty stomach, like jitters and mood changes.
However, the increased stomach acid doesn't actually cause digestive issues for most people. Because of this, having a cup of coffee on an empty stomach is often completely safe. It's simply a matter of paying attention to your body.
If you don't get any anxiety-related side effects from a cup of coffee on an empty stomach, then you should be fine to drink it this way. If you do get side effects, it's probably best to have something to eat first.
Is Coffee Good For You Long Term?
It easily could be. Many studies highlight the potential benefits of coffee, including decreased heart disease risk, a lower risk of diabetes, and even longer life.
Such studies often take a longitudinal approach, which means that they look at a large data set from an extended time and look for patterns. Doing so means that the studies automatically take a long-term approach. They're not small-scale studies looking at the effects of coffee over a few weeks.
Is Six Cups Of Coffee A Day Too Much?
Most experts agree that we should keep coffee consumption to around three or four cups per day. Consuming too much could have negative effects, perhaps even decreasing your brain volume. Plus, there's a lot of caffeine in six cups of coffee. That caffeine comes with a whole host of side effects, especially if you're sensitive to it.
A few studies suggest that drinking more than six cups per day could decrease your risk of death. However, the difference between six cups and lower doses isn't that dramatic. There's also plenty of evidence for increased risk as you go beyond six cups per day, so for most people, doing so just isn't worth the risk.