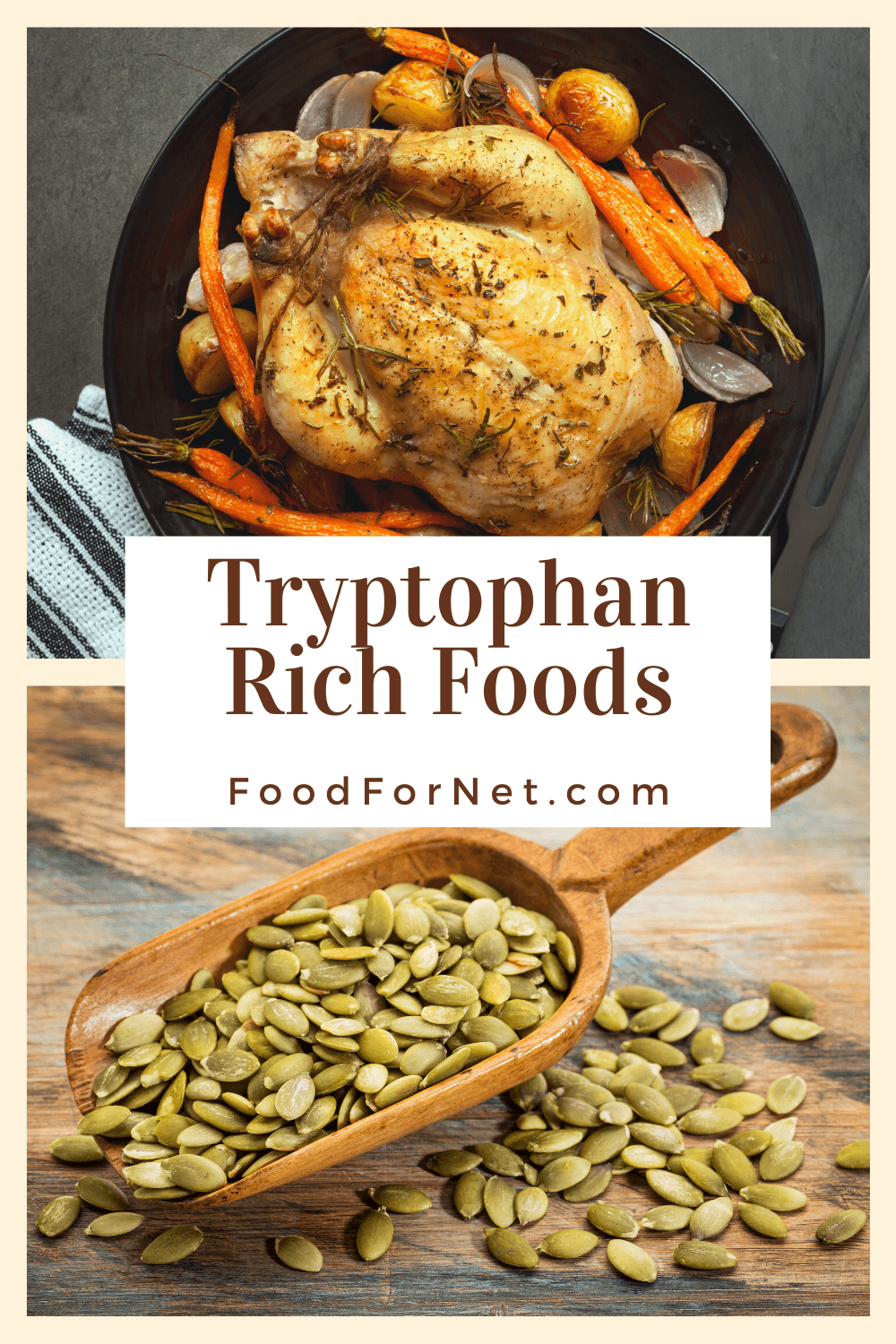 Tryptophan is an amino acid, one that is essential for human health. Our bodies can't make tryptophan themselves, so we need to turn to tryptophan rich foods instead. While there are tryptophan supplements out there too, it's always best to get your nutrients in food form.
As you'll notice from this list, many tryptophan foods are high in protein. Some of them come from animals, like chicken, milk, and eggs. But, vegetarians shouldn't despair, there are plant-based sources of tryptophan too.
Tryptophan is linked to a variety of mental health benefits. This is largely because the amino acid ends up being indirectly converted into serotonin. As a result, tryptophan may decrease symptoms of depression and anxiety, while improving a person's overall emotional state.
There's also a link between tryptophan and improved sleep. Some people focus on tryptophan rich foods right before bed, a practice that may help them to get to sleep faster and sleep deeper. Evidence for these benefits is mixed, but there's no harm in trying out the idea for yourself.
Tryptophan Rich Foods
Chicken
Turkey
Other Types Of Poultry
Beef
Pork
Other Meat
Tofu
Beans
Lentils
Pumpkin Seeds
Sunflower Seeds
Chia Seeds
Nuts
Oats
Buckwheat
Roasted Soybeans
Spirulina
Caviar
Cheese
Fish
Some Shellfish
Eggs
Chicken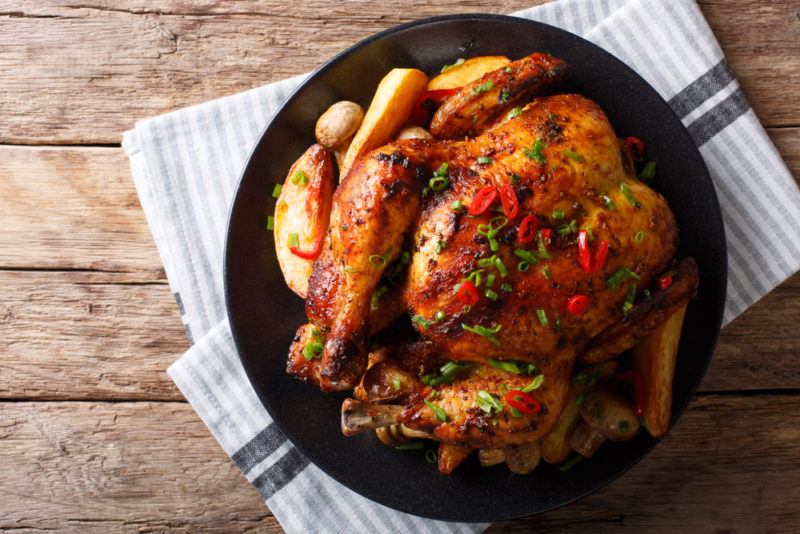 Chicken is a powerful choice for tryptophan. You'll get plenty of tryptophan from any part of the chicken, but some cuts contain more of the compound than others.
For example, an entire roast chicken leg contains close to 250% of the daily recommended tryptophan intake. This includes the drumstick and the thigh, along with the skin for both. A 6-ounce serving of chicken breast (no skin) has close to the same amount of tryptophan.
Turkey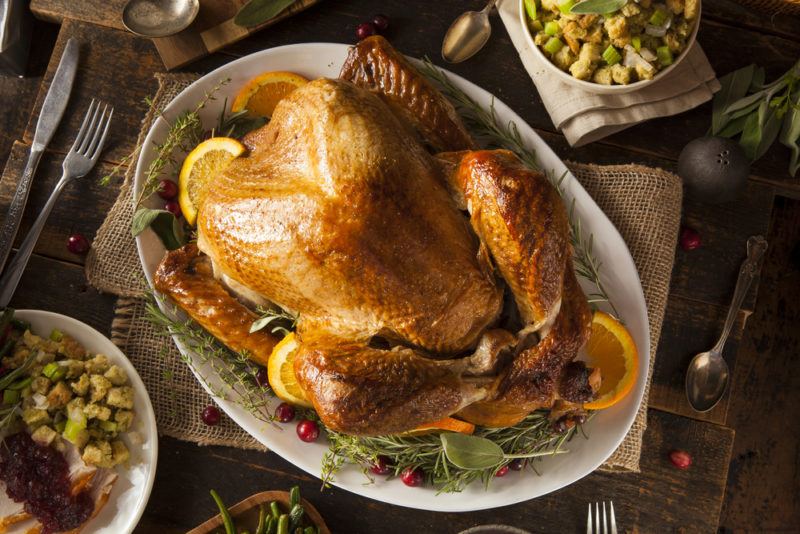 The inclusion of turkey on this list shouldn't be much of a surprise. Sliced turkey breast is often suggested as a good snack before bed and the tryptophan content is a key reason for the recommendation.
Ground turkey ends up being one of the best choices for tryptophan. Roast turkey breast contains much less tryptophan. However, we're still talking about more than 170% of your daily tryptophan intake in a 6-ounce serving, so don't feel too bad if you want to use turkey breast instead of ground turkey.
Other Types Of Poultry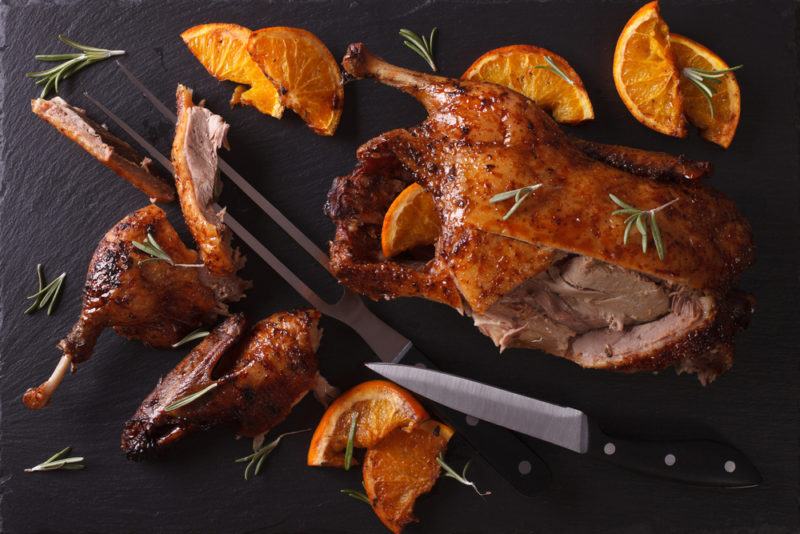 Chicken and turkey might be the most common types of poultry, but they're not your only options. You can also turn to less common choices of poultry, including duck, goose, and even wild meat.
The amount of tryptophan varies depending on the meat that you choose. Still, you'll generally be getting at least 100% of your daily intake from a 100 gram serving. So, in the end, the type of bird you choose doesn't matter all that much.
Beef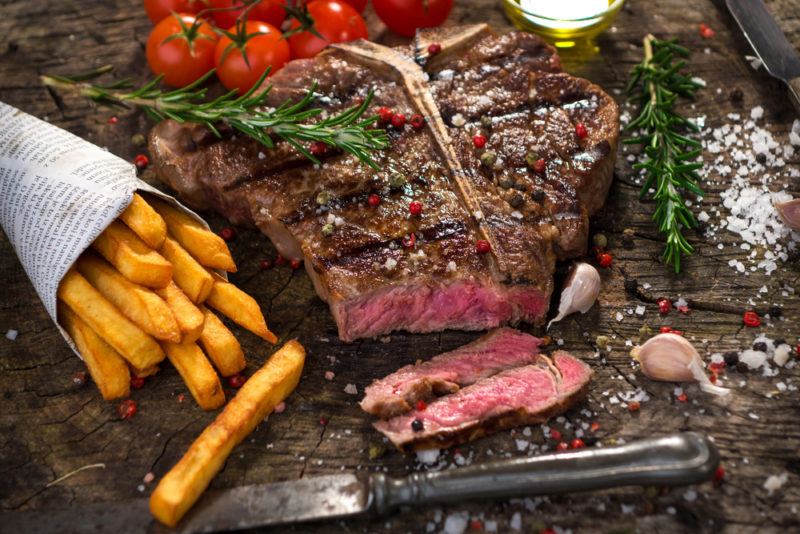 Poultry is often associated with tryptophan, but you can still get more than your daily intake of tryptophan from a 3-ounce serving of most types of meat – including beef.
This gives you plenty of options for the food that you enjoy.
Red meat is, of course, controversial. There are concerns that too much red meat could increase the risk of death or disease. Even so, eating moderate amounts of red meat may be good for you, as the meat is high in nutrients and contains plenty of protein.
Pork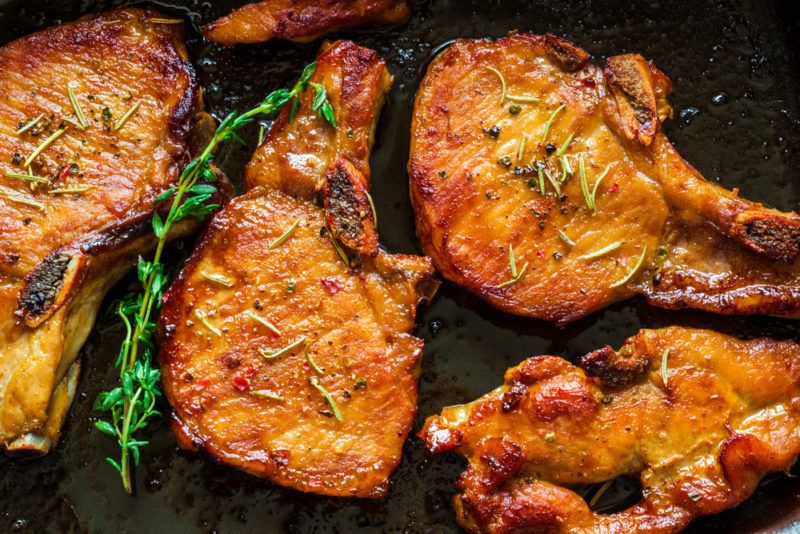 Pork is significant too, with pork chops being one of your best choices. A single chop provides more than 220% of your daily tryptophan.
Pork chops with fat tend to contain a little more tryptophan than lean pork chops. Still, the difference isn't dramatic and you're getting well over your daily requirements either way.
Other Meat

Realistically, any type of meat will be a rich source of tryptophan. Just like with poultry, you'll normally be getting more than your daily tryptophan intake from a 3-ounce serving.
This is true for veal, wild boar, rabbit, goat, and many other types of meat. Interestingly enough lamb contains less tryptophan than most other meats. Even then, you're still getting more than 80% of your daily tryptophan intake in a single serving.
Tofu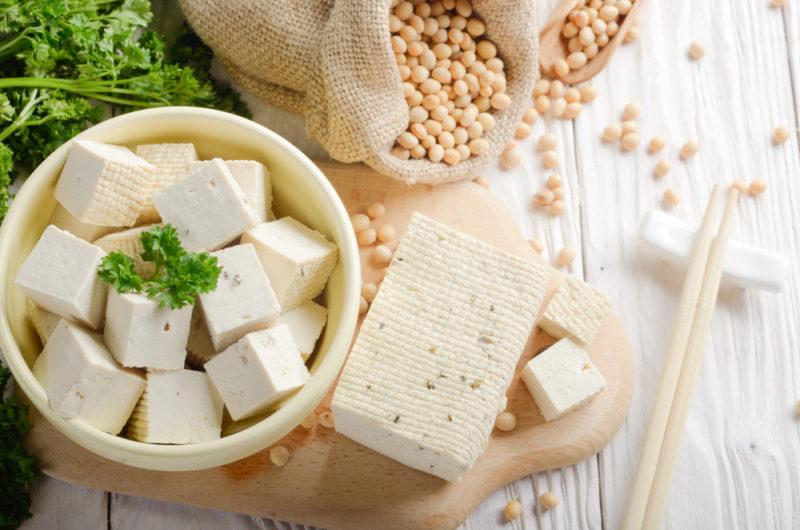 For vegetarians and vegans, tofu will be one of the easiest ways to get tryptophan. In fact, a single cup of firm tofu contains more than 200% of your recommended daily intake for the nutrient.
Tofu is a powerful choice, as you can use it as a meat substitute in countless meals. There's no shortage of recipes out there to choose from. Even people who don't like the idea of tofu are likely to find some appealing recipes.
Beans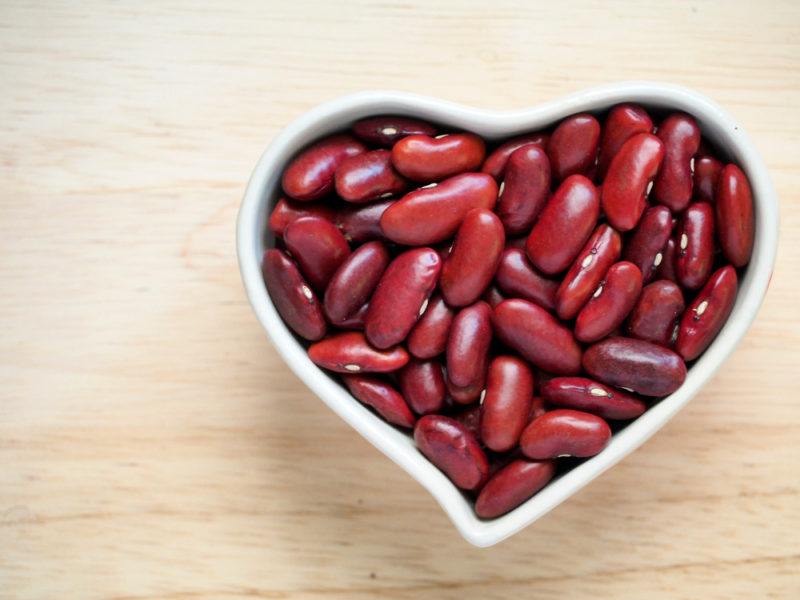 Like tofu, beans are a perfect vegan source of fiber and protein. This means them a satisfying ingredient. You can use them in many different ways.
You're generally looking at between 60% and 75% of your daily tryptophan intake from a cup of cooked beans. White beans tend to be the most powerful choice, followed by cranberry beans.
Beans are legumes, so they're a little controversial. Some people are concerned about the antinutrients present. You can decrease the antinutrients by soaking the beans before you use them. Besides, beans are such a rich source of nutrients that you are still getting many benefits from them.
Lentils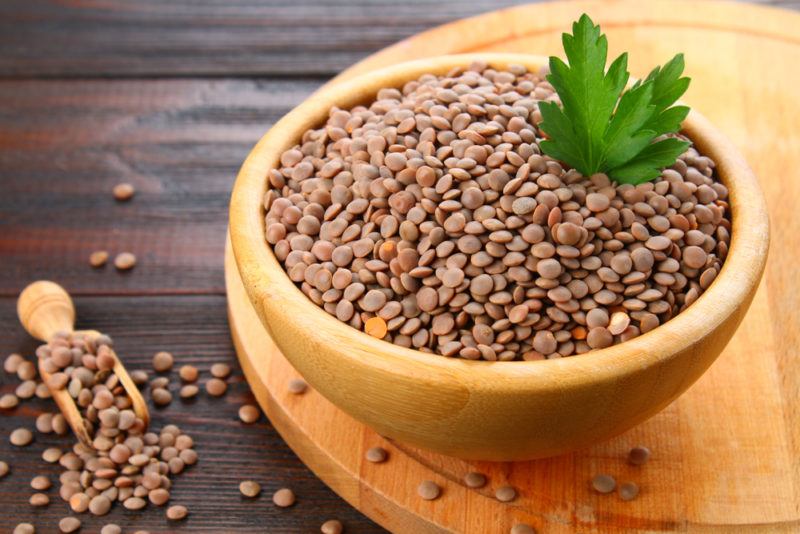 You can use lentils too. Lentils are often easier to use than beans, as they don't take long to cook and you can even just mix them into another meal. The texture and flavor are different too, so some people who don't like beans may still enjoy lentils.
You do get less tryptophan per serving with lentils compared to beans, but the amount is still high enough to make lentils worth using.
Pumpkin Seeds

Pumpkin seeds are another easy tryptophan choice, as they can be eaten on almost any diet. They're also perfect as a snacking food. Simply grab a handful or two and you're good to go.
The amount of tryptophan per serving is fairly impressive too. You end up with close to 60% of your daily intake in a single ounce of the seeds.
And, as we'll highlight shortly, many other nuts and seeds offer tryptophan too. So, if you're looking for variety, try homemade trail mix. This would give you a wide variety of nutrients, along with an interesting combination of flavors and textures.
Sunflower Seeds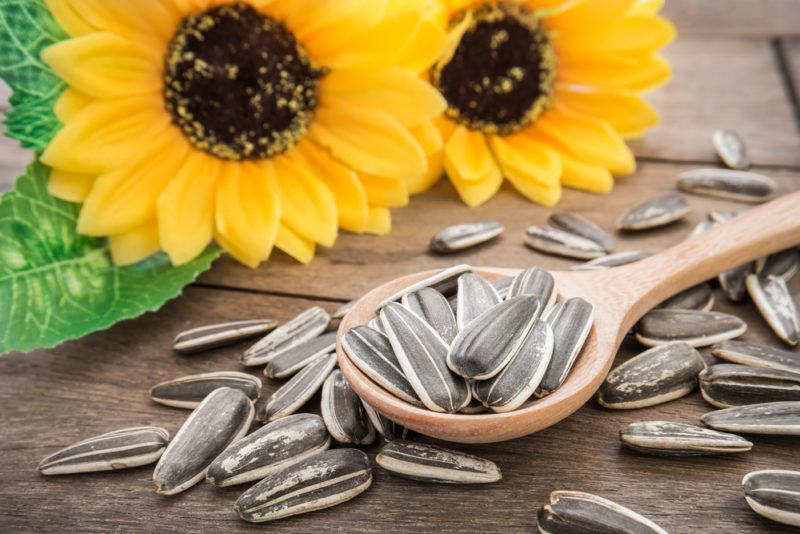 Sunflower seeds and pumpkin seeds are both good snacking choices. Some people prefer one of the two, while others might enjoy both types of seed at the same time.
The tryptophan content of sunflower seeds isn't as high as with pumpkin seeds, but you still get more than 30% of your daily intake in a single ounce.
Chia Seeds

Chia seeds are fascinating. These seeds are tiny and don't have much flavor at all. They're also nutrient dense. This combination of features makes chia seeds an easy way to increase your nutrient intake. You can scatter them on top of most meals, use them as a smoothie ingredient, or try something completely different.
The seeds have another unusual characteristic too – they become gelatinous when they have been soaked on water. The texture is odd and might be unappealing if you're not expecting it.
But, many recipes take advantage of this feature. For example, chia seeds are often used to thicken overnight oats or combined with water to create a vegan egg alternative.
Nuts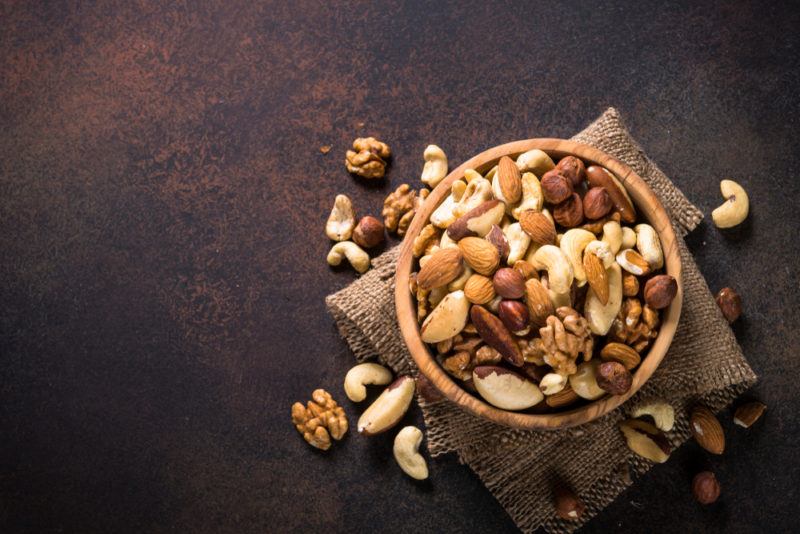 Nuts tend to provide tryptophan too. This includes the common nuts that you can buy in the store, along with more unusual ones that you may need to forage for or purchase online.
Pistachios are one of the best choices, providing close to 30% of your tryptophan intake per ounce. Cashews are the next-best choices, followed by almonds and then hazelnuts.
Oats

The benefits of oats are well-known, but did you know that this whole grain is a good source of tryptophan too? You end up with around 130% of your daily intake from a cup of uncooked oats and 53% from a cup of cooked oats.
Oats are appealing for the fiber that they contain. They're also an easy and satisfying breakfast choice. Don't want oats for breakfast? No problem. Oats are common in a variety of recipes, such as if you're making homemade protein bars or energy balls.
Buckwheat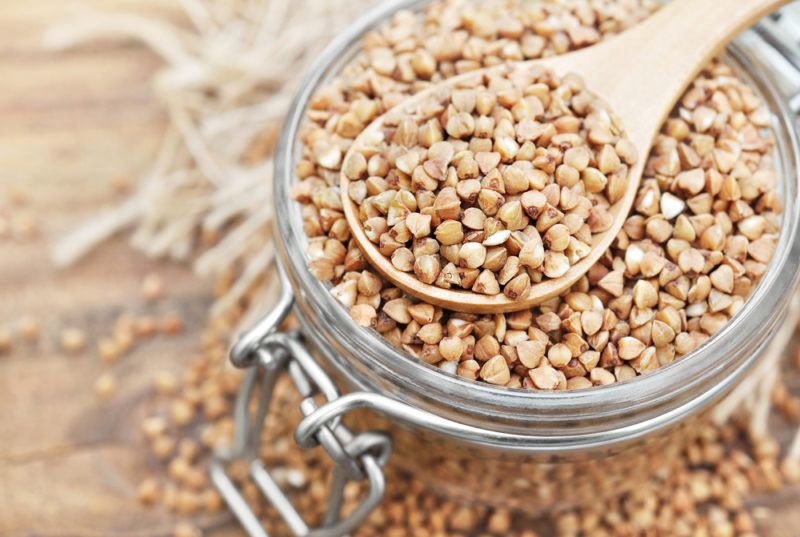 Buckwheat is more obscure than many of the other entries on this list. This is a gluten free pseudocereal (despite the use of wheat in the name). Like other pseudocereals, buckwheat can be a good way to add variety to your diet.
It is commonly used in the form of buckwheat groats, which are cooked in much the same way as rice and quinoa. You can also find buckwheat flour, which is used as an ingredient in various recipes.
Roasted Soybeans

The tryptophan content of tofu comes from soybeans, meaning that other soy products can be decent sources of tryptophan too. Roasted soybeans are an easy choice, offering more than 50% of your daily tryptophan intake in a single ounce.
The tryptophan content is much lower when the soybeans are boiled instead, but you're still getting more than 20% of your daily intake.
Spirulina

While spirulina might be a less expected choice for tryptophan, it is also a very good one. A 100 gram serving of the powder will give you more than 300% of your daily tryptophan intake. Of course, you're probably not consuming that much spirulina at one time.
You might be using a tablespoon or perhaps two, maybe as an ingredient in a smoothie. With a tablespoon-sized serving you still end up with more than 20% of your daily tryptophan intake.
Caviar

Caviar tends to be eaten for its taste and extravagance, but it does have interesting nutrients too. The tryptophan content is one example of this. You end up with around 115% of your tryptophan content in a 100 gram serving of caviar.
Or, to look at it another way, a tablespoon of the fish eggs contain almost 20% of your daily intake.
Cheese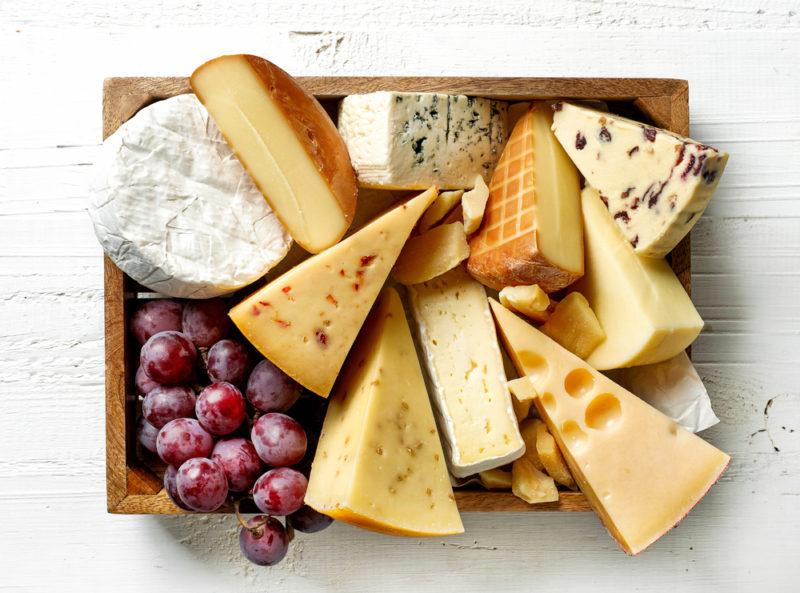 Most types of cheese will provide some tryptophan. As always, the amount varies depending on the type of cheese that you choose.
Low fat mozzarella is one of the best choices, giving you an exceptional 57% of your daily tryptophan intake in a one-ounce serving. Parmesan and cheddar offer similar levels of tryptophan, suggesting that a little cheddar cheese in the evening could help you sleep.
Other types of tryptophan rich cheese include gruyere, swiss, edam, and gouda. None of these are as impressive as mozzarella, parmesan, or cheddar, but you're still getting more than 30% of your daily intake in a serving.
Fish

We can't forget about fish as a source of tryptophan. Just like with meat, you're getting a decent amount of tryptophan regardless of the type of fish that you choose. But, the different types of fish do have their own nutrient balances.
Tuna and halibut are the best choices for tryptophan. They both offer just over 100% of your daily tryptophan intake in a 3-ounce serving.
Salmon is next on the list and contains close to the same amount. Salmon has other advantages too. Not only is the fish rich in tryptophan and omega-3 fatty acids, but it is also more 'meaty' than other types of fish. This makes it popular even for some people who don't normally enjoy fish.
Some Shellfish

The nutrient composition of shellfish varies dramatically. So, while some shellfish are rich in tryptophan, others contain much less.
Crab, octopus, and spiny lobster are your best choices here. When cooked, each of these provides more than your daily tryptophan intake in that classic 3-ounce serving.
Other good choices include clams, shrimp, oysters, and crayfish. You won't get all of your tryptophan from a serving of these shellfish, but that scarcely matters. There are plenty of tryptophan foods to choose from and you'll probably eat a few of these most days.
Eggs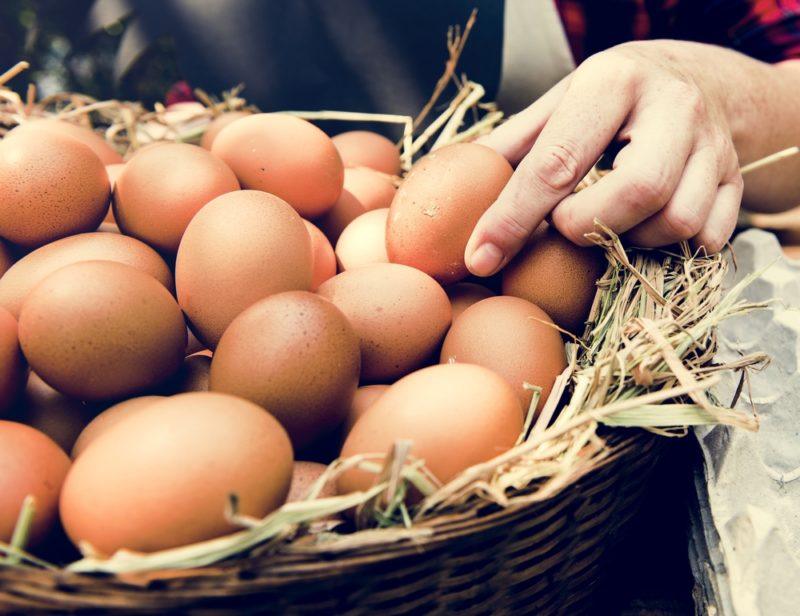 Eggs are often recommended for their tryptophan content and they are a good choice. Eggs contain many important nutrients, along with plenty of protein.
The protein content means that eggs tend to be very filling. They're ideal additions to breakfast, helping to give you enough energy to enjoy the day.
Despite this, eggs aren't as powerful as the other entries on this list. You're looking at around 30% of your daily tryptophan content for a single egg. This remains roughly the same regardless of how the egg is cooked.