It's easy to see why Buddha bowls have become so popular. They're a fun and delicious way to enjoy many powerful ingredients. Finding in a regular meal with so many nutrient-dense ingredients would be incredibly difficult.
In case you're unfamiliar, Buddha bowls go by various names. They're also called power bowls or protein bowls. You might see them called a dinner bowl or a breakfast bowl too, depending on the situation. The underlying idea is roughly the same regardless of the name that is chosen.
We've previously talked about the individual ingredients that can go in a Buddha bowl, including different types of grains, greens, and sources of protein. This time, we're taking an entirely different angle and showcasing a variety of complete bowls that you can make.
These bowls don't come with recipes, as honestly, you're not going to need them. The idea is instead to inspire you. To show you just how delicious power bowls can be and the types of ingredient combinations that you can use.
We're not just focusing on one type of meal either. Some of the options on this list heavily rely on superfoods and high protein ingredients. Others are more down-to-earth and use ingredients that you probably already have around the home.
There are some breakfast-themed bowls in the mix too. Although let's be honest, you could easily eat any of these bowls at any time of the day. There's no rule that says you can't have breakfast for dinner or vice versa. In fact, many of us do.
Inspirational Buddha Bowls
Vegan Green Power Bowl
Quinoa, Tuna, And Habanero Salad
Southwestern Grilled Chicken
Salad Breakfast Bowl
Pasta Chicken Salad
Colorful Beef Bowl
Classic Chicken Bowl
Salmon Poke Bowl
Sliced Beef, Rice, And Veggies
Purple Buddha Bowl
Mediterranean Buddha Bowl
Vibrant And Vegan
Greens For Detox
Fruit And Veggies
Middle Eastern Flavors
Bring In The Hummus
Warming And Delicious
Tofu And Dragonfruit, With Bright Colors
Bring In The Falafel And Hummus
Meatloaf With Bulgar
Breakfast Power Bowl
Asian Style Buddha Bowl
Vegan Bowl With Seaweed
Why Not Add Some Figs?
Sundried Tomatoes, Courgette, And Chickpeas Combine Well
Adding Baked Potatoes To The Bowl
Plenty Of Fiber And Protein
Shrimp Burrito Bowl
Granola Breakfast Bowl
Grill And Stuff Your Avocados
Acai Smoothie Bowl
Savory Oatmeal Breakfast Bowl
Teriyaki Chicken Skewers
Topping Off With Blueberries
Grilled Tuna For Protein
Brown Rice Buddha Bowl
Low Carb With Shrimp
Can't Pass Up The Grapefruit And Pomegranate
Octopus As An Interesting Addition
Chicken Croquette Protein Bowl
All The Classic Breakfast Flavors
Bulgar Porridge And Chicken
Matcha Smoothie Bowl
Silken Tofu, Seaweed, And Rice
Chia Pudding Breakfast Bowl
Chocolate Smoothie Bowl
Buckwheat Noodles And Fried Banana
More Buckwheat Noodles
Gnocchi Dinner Bowl
A Hearty Choice
Mediterranean Flavors With Pasta
Unicorn Buddha Bowl
Pasta Salad
Salmon Poke Bowl
Vegan Green Power Bowl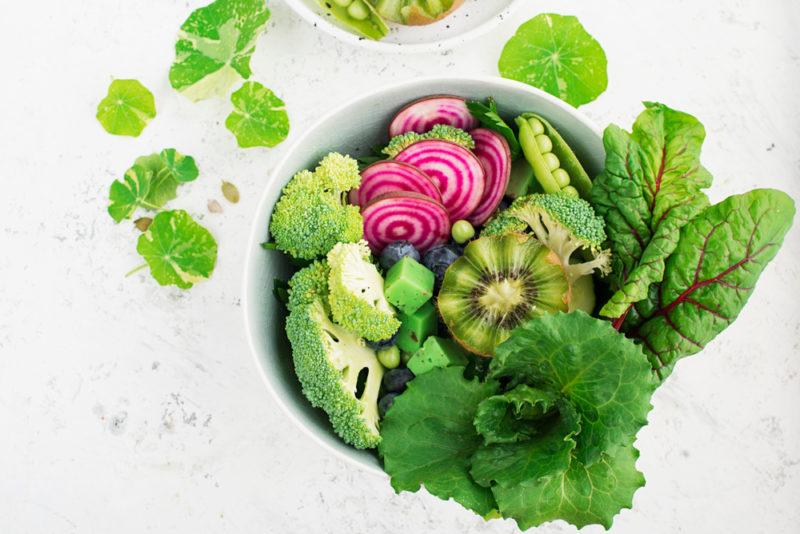 This power bowl would be best as a snack rather than a full meal, as the protein content isn't all that high. Still, as snacks go, the bowl is pretty amazing. The pink and white circles on the radish really make the whole thing stand out.
Some of the preparation approaches are interesting too, like the way that the kiwi has been cut or the little cubes of other ingredients. Little tricks like this make the bowl stand out so much more.
Quinoa, Tuna, And Habanero Salad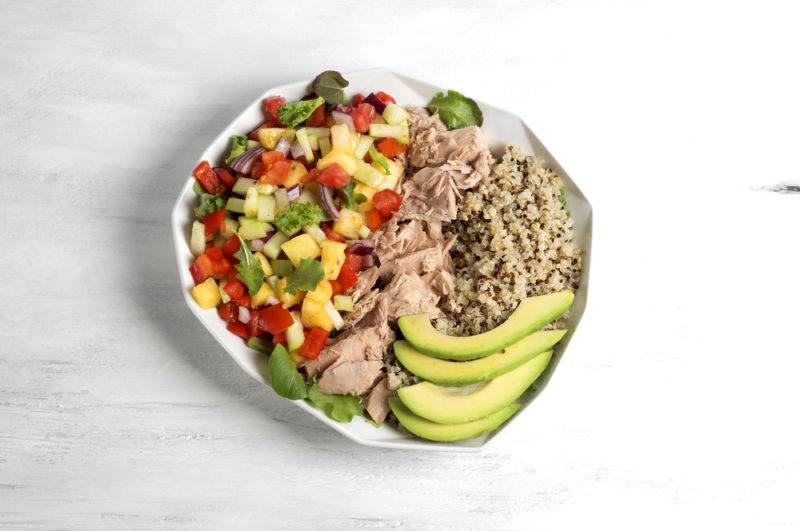 This bowl has a few unusual features going on. One is the use of tuna, which you don't often see. This is a good idea though, as you can simply rely on canned tuna – making the protein portion of the bowl very easy to prepare.
The habanero salad, on the other hand, will take a bit more work. There's some chopping to do here, along with piecing the salad together. The vibrant flavor combination that you end up with would make the choice well-worth it.
Southwestern Grilled Chicken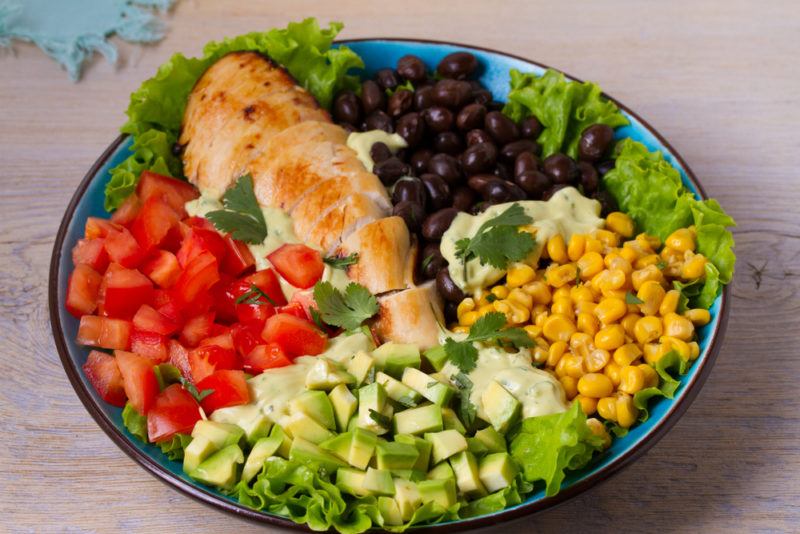 This bowl uses a fairly classic combination of ingredients, including tomatoes, avocado, corn, beans, chicken, and lettuce. The presentation makes the whole thing stand out and the nutrient balance would keep you full for hours.
The cilantro dressing helps to tie the whole meal together well. Of course, you could just as easily switch this out for another type of dressing if you're not a fan of cilantro.
Salad Breakfast Bowl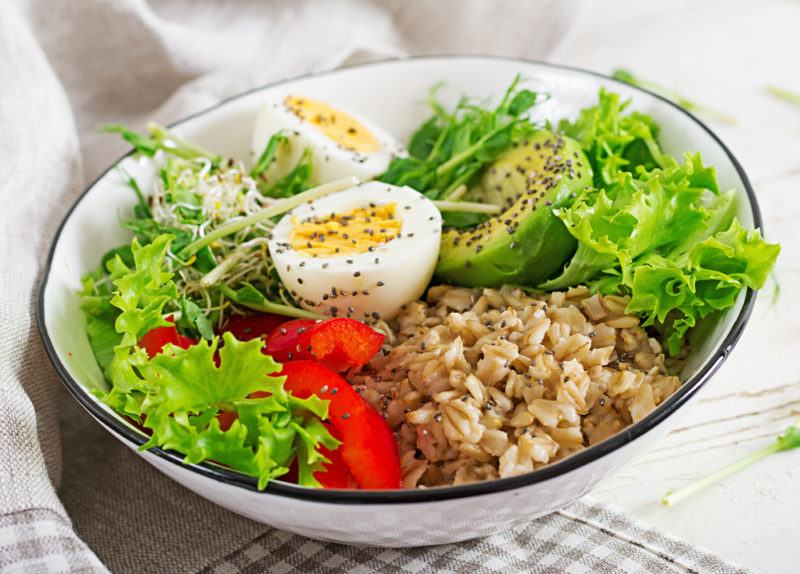 The most unusual aspect of this bowl has to be the oatmeal. Pairing oatmeal with savory toppings is becoming a more popular idea, but it's still one that many people haven't heard of.
Still, why not? Oatmeal has a mild flavor profile that pairs just as well with savory ingredients as it does with sweet ones.
The approach is also a nice variation on traditional breakfast flavors. It could be a great choice for anyone who is getting a little sick of the same old breakfast food day after day.
Pasta Chicken Salad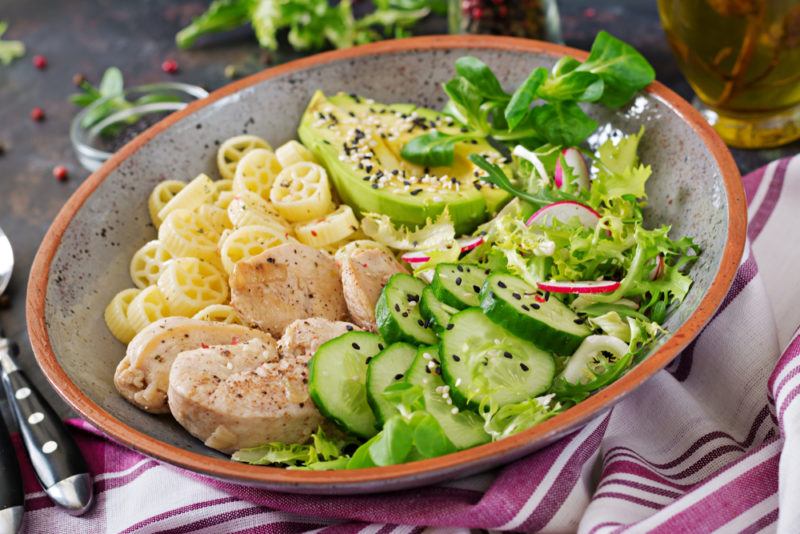 Many aspects of this bowl are fairly classic. You have sliced seasoned chicken breast, lettuce, cucumbers, avocado, and some seasoning to bring it all up a notch.
The most interesting part is the pasta. Pasta tends to have a poor reputation these days, especially if it isn't whole grain. Plus, Buddha bowls tend to focus on nutritionally superior ingredients, so pasta tends to be avoided.
But, why not include a little pasta if you enjoy it? Even with the pasta, the meal contains plenty of nutrients, so it still ends up being a healthy meal. Pasta could be particularly relevant if you're serving this to a picky eater.
Colorful Beef Bowl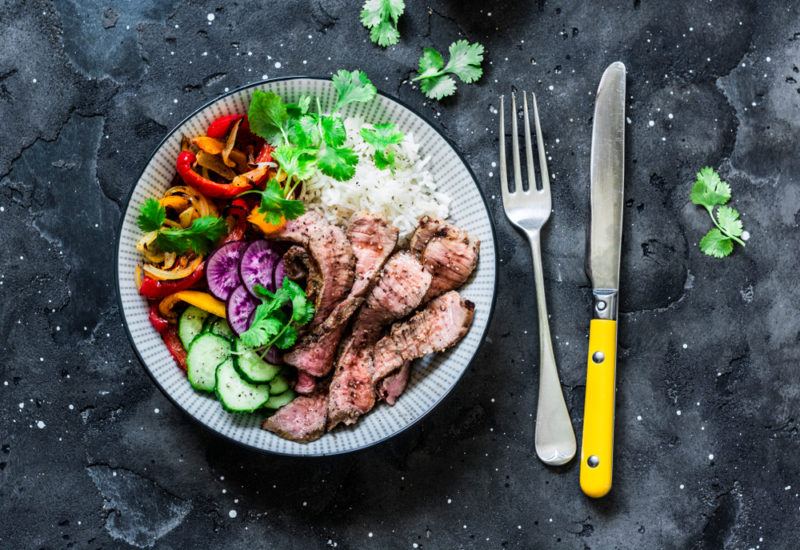 This bowl could be made with any type of meat, but the slightly rare sliced steak works particularly well. Not only does the color contrast well against the other ingredients, but the flavors would work well too.
The bowl has some other cool things going for it too, including grilled onions and red peppers. These are a wonderful way to add extra flavor, without requiring too much work.
Rice is the carb of choice for this bowl, which works well with the other entries. You could swap this out for quinoa if you wanted some extra nutrients or a more interesting flavor profile.
Classic Chicken Bowl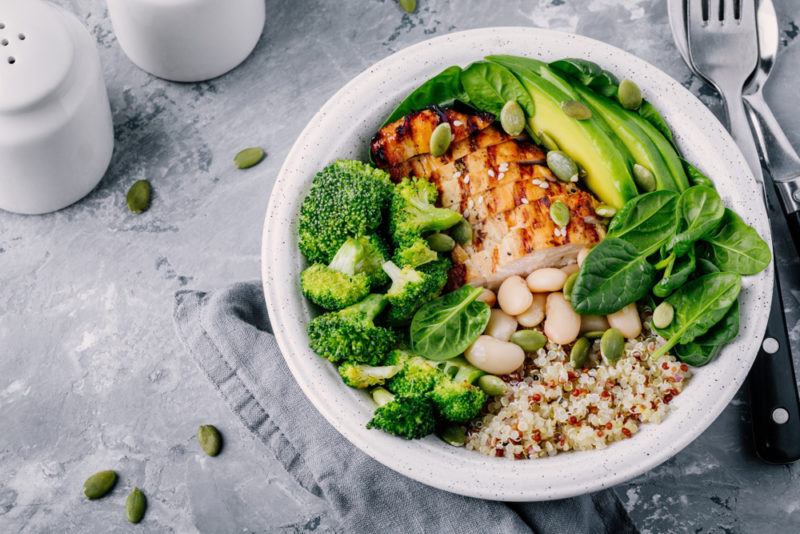 The seasoned grilled chicken is the focal point of this bowl and the main source of flavors. There are, however, plenty of fresh ingredients to complement the chicken, including avocado, spinach, and broccoli.
White beans add some protein and fiber to the mix. These could be subbed out for a different type of bean if you wanted a little more color. The same is true for the quinoa. You could try a different grain or pseudograin here, or even just a different color of quinoa.
Salmon Poke Bowl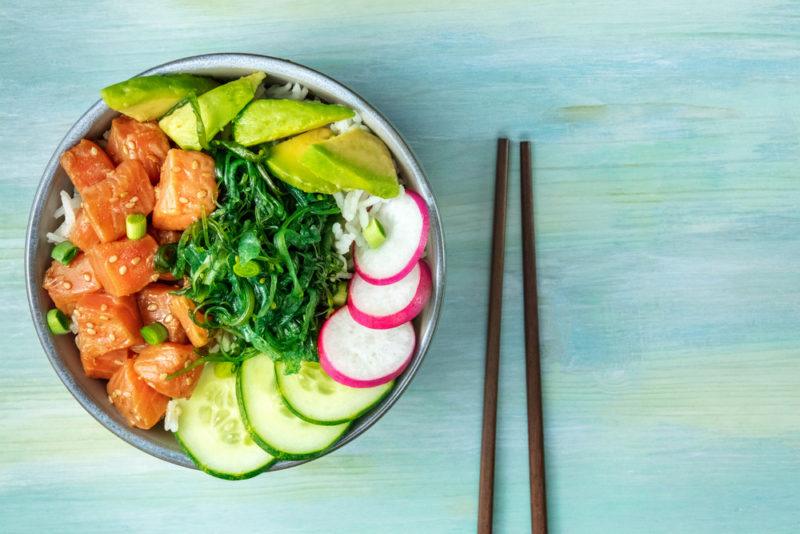 Poke bowls are Asian-style meals that follow a similar idea to Buddha bowls. The main differences are in the ingredients chosen and the flavor profile.
As with many poke bowls, this meal uses rice as the base ingredient. Sliced cucumber, radishes, avocado, and seaweed feature as well.
A bowl like this can be very easy to prepare, as there are only a few components to worry about.
Sliced Beef, Rice, And Veggies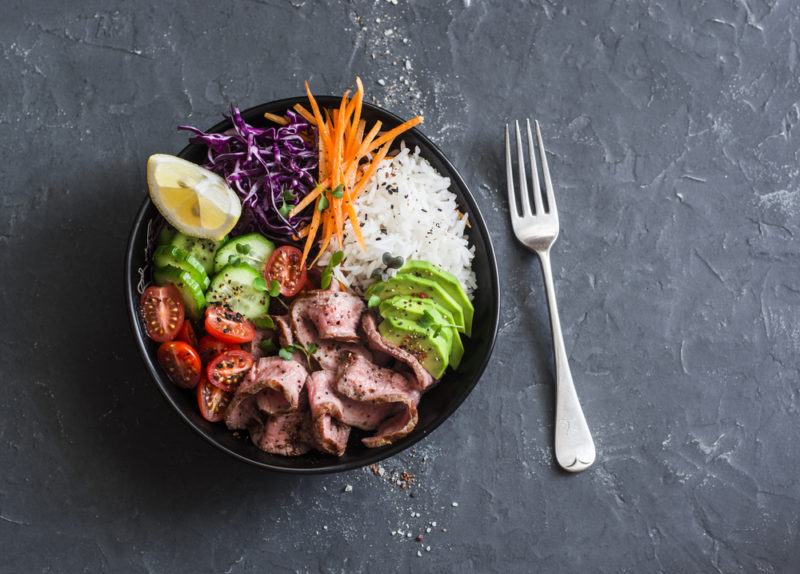 We showcased one beef bowl earlier. This version has some similarities, including the use of rice as the main source of carbs.
There are differences too, like how this version mostly relies on fresh veggies and keeps the sections distinct from one another. It's easy to see how you could simply replace one of the sections with something else if you didn't have the right ingredients on hand.
That being said, the items in this bowl do work well together. The meal would be a joy to eat.
Purple Buddha Bowl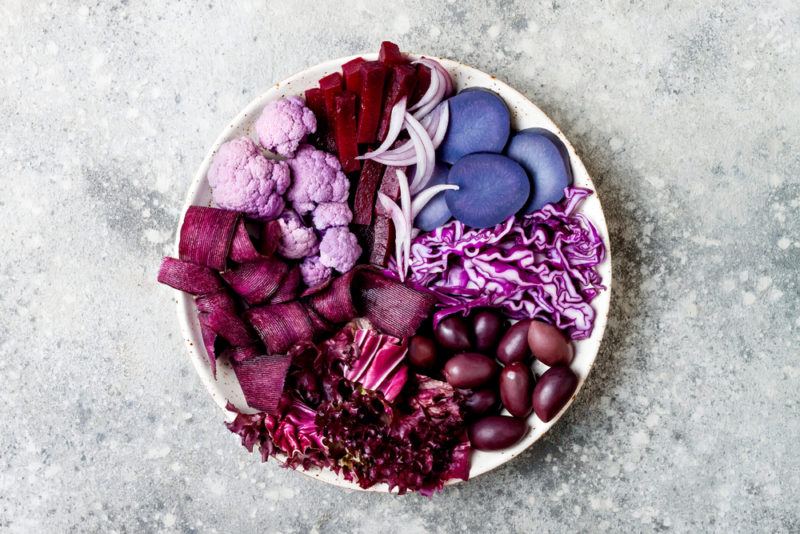 While most power bowls use contrasting colors, this one takes a different approach. It only relies on purple ingredients. There are some unusual ones featured in the mix too, like purple carrots and purple broccoli.
The health benefits of the bowl would be similar to other options, with one difference – phytonutrients. Purple fruits and vegetables do contain some important plant-based compounds that may be very relevant to health. Of course, you could get those compounds from one or two purple ingredients, rather than relying on an entire bowl full.
There's another interesting characteristic here too – the bowl doesn't have any significant source of protein. So, while the bowl would work well enough as a side salad, it isn't filling enough to be a meal in its own right.
Mediterranean Buddha Bowl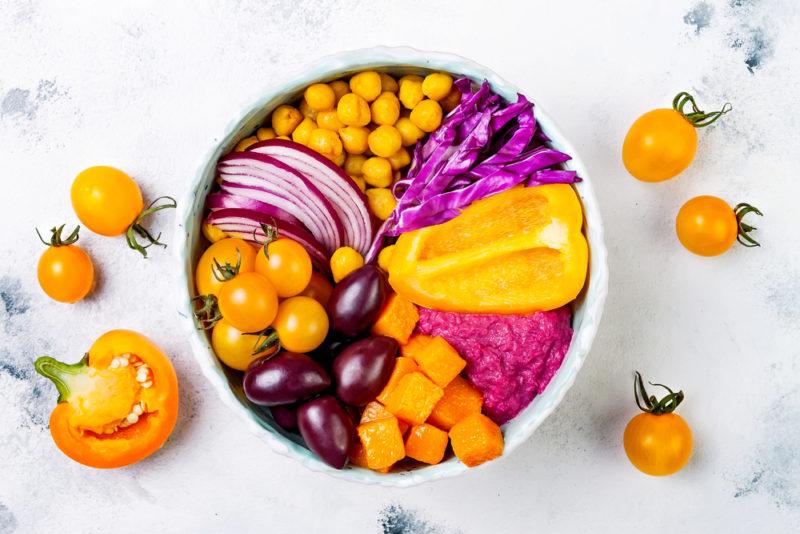 Here's another colorful choice. This time the bowl relies on orange and purple ingredients. The contrast between the colors makes this bowl look even better than the previous entry.
You're not relying on as many unusual ingredients either, which is a bonus. The ingredients have been carefully chosen to focus on vibrant winter vegetables. This way you still get some amazing flavors, even when the weather is cold and unappealing.
Vibrant And Vegan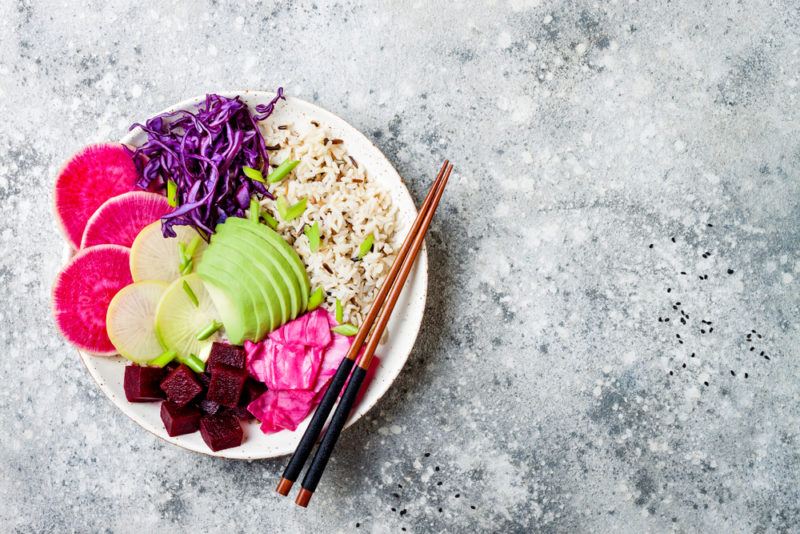 Speaking of vibrant food, what do you think of this bowl? The pink rounds are a type of radish and they contrast the other ingredients well. There are various purple and red ingredients sneaking their way in too, like the beet cubes and pickled cabbage.
There is no meat or dairy present, making this a vegan-friendly bowl. But, once again, the protein content is on the low side. You might need to add some tofu or beans to the meal if you wanted something to last you through the day.
Greens For Detox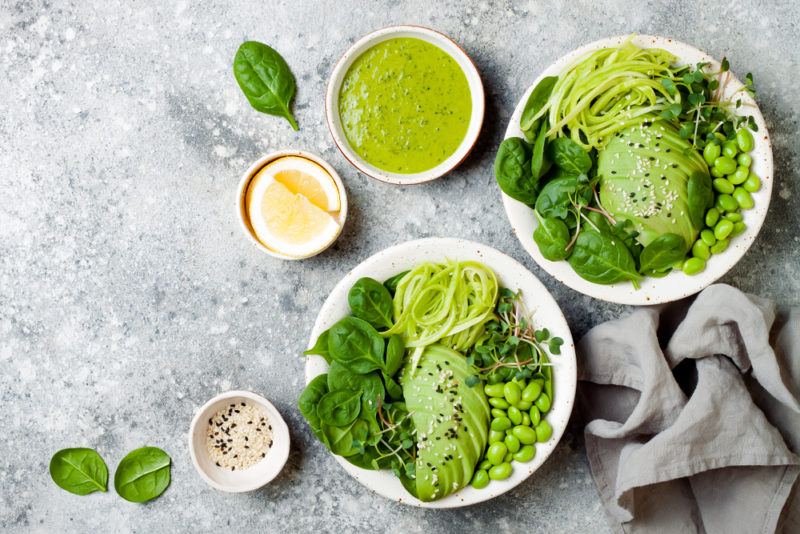 Here's another vegan option. This one focuses on the idea of detoxing and has a fun green color theme. Spiralizing the zucchini is a fun trick that helps everything to look that much better.
While there's no meat or tofu present, this bowl does rely on edamame beans. These beans, like other legumes, do offer some protein. You're also getting healthy fats from the avocado, which are filling as well.
Fruit And Veggies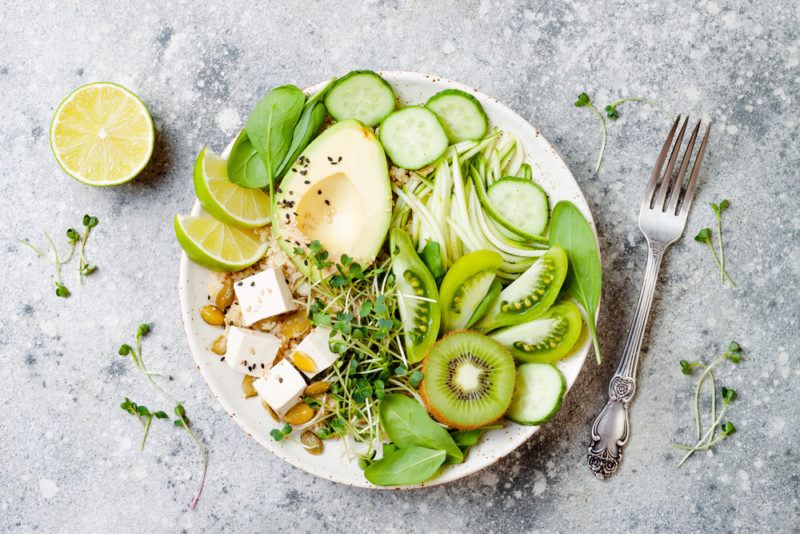 The use of kiwis and lime in this meal is a fun way to make the flavors much more interesting. Both ingredients have a bit of zing to them.
The white squares in the image are tofu, so you do get some protein with the recipe. If you wanted something different, you could switch these for feta instead, which would make the meal into a refreshing salad.
Middle Eastern Flavors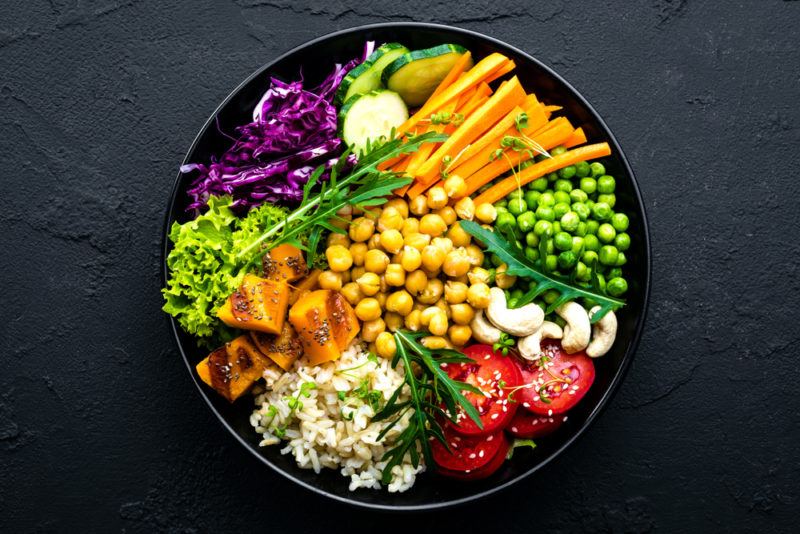 This image shows how amazing a black bowl can be when you're making this type of meal. The black background makes the colors of the ingredients stand out brightly (there is also some excellent food photography going on, which is part of the reason for how amazing the dish looks).
Most of the ingredients chosen are typical for a Buddha bowl, although the cashews and green peas are somewhat unusual. There are also more ingredients than you might expect.
Using this many ingredients would make the bowl a little more frustrating to prepare. But, the flavor profile is more complex than many other power bowls, which could be a good thing.
Bring In The Hummus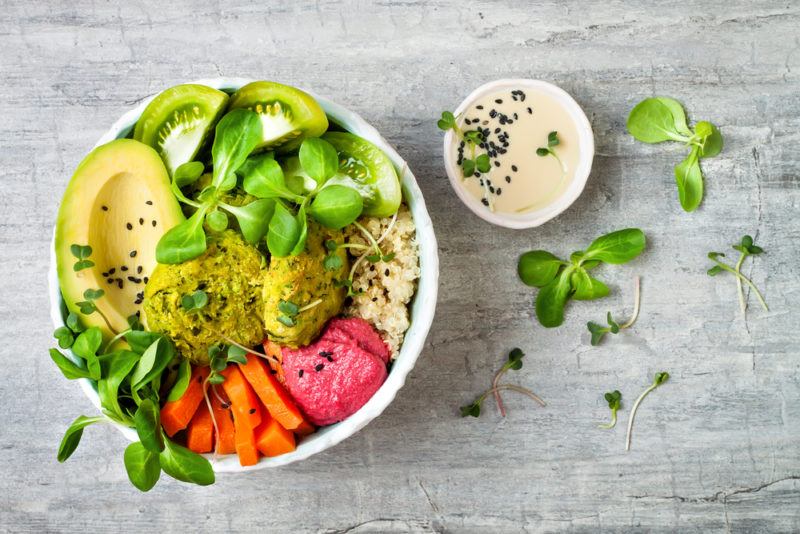 Including a moist ingredient like hummus or a dressing often works exceptionally well in this type of meal. Without at least one moist ingredient, there's a risk that the meal will taste dry and perhaps a bit bland.
This particular bowl is more impressive than most, as it includes two types of hummus, along with tahini sauce. The green part in the middle of the bowl is falafel, so this would be a filling meal.
Warming And Delicious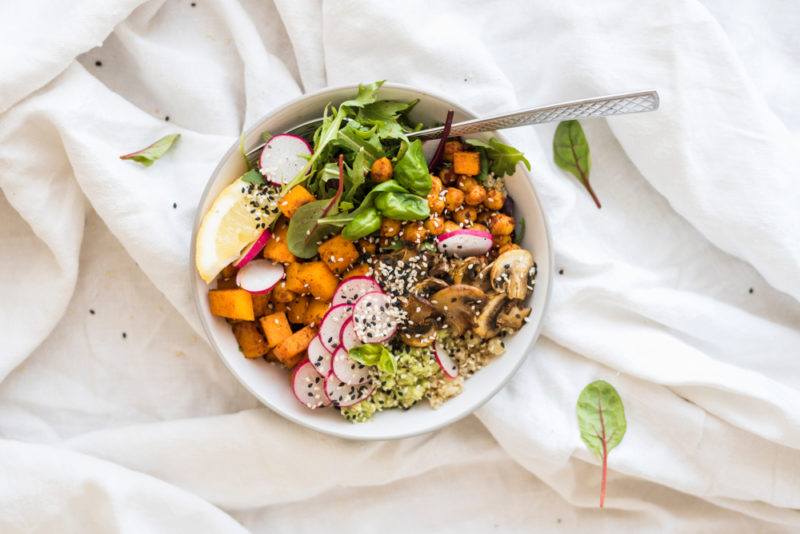 This bowl would almost certainly taste best warm, as it includes mushrooms and roasted sweet potatoes. The use of sesame seeds over the top is a nice addition that makes the whole thing more interesting.
You could use Everything Bagel Seasoning in place of sesame seeds for some extra flavor.
Tofu And Dragonfruit, With Bright Colors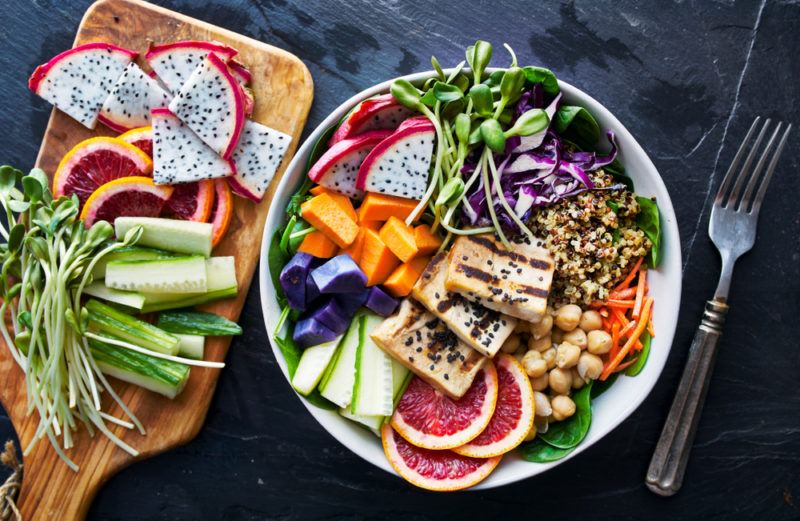 You probably wouldn't make this Buddha bowl every day, as blood oranges and dragon fruit are fairly uncommon ingredients to have in your cupboard. Still, these additions do make a fairly ordinary bowl meal look like something from a lifestyle magazine.
There's also no doubt that this would be a healthy meal. Just look at all the ingredients. They're all full of healthy nutrients and some are well-known to contain important plant-based compounds.
Bring In The Falafel And Hummus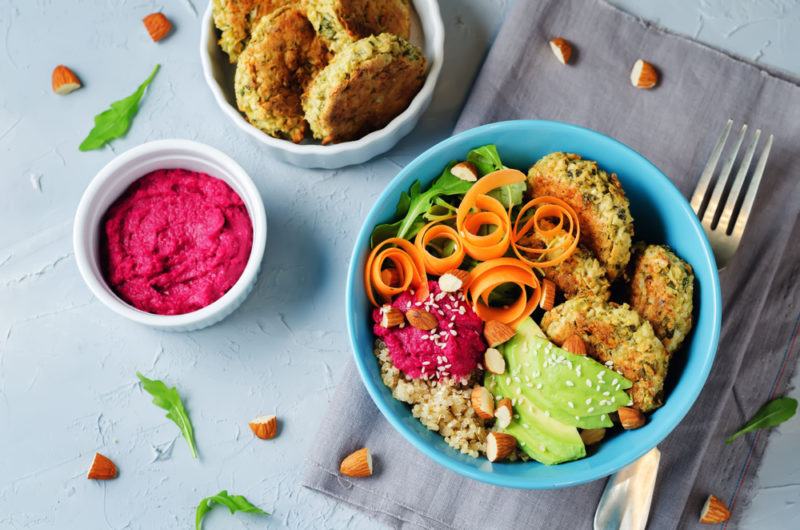 Here's another bowl that uses falafel and hummus (beetroot hummus, that is). The shaved carrot swirls are a nice touch too. They make the meal look much more interesting visually. They might be more enjoyable to eat than boring old carrot sticks too.
Meatloaf With Bulgar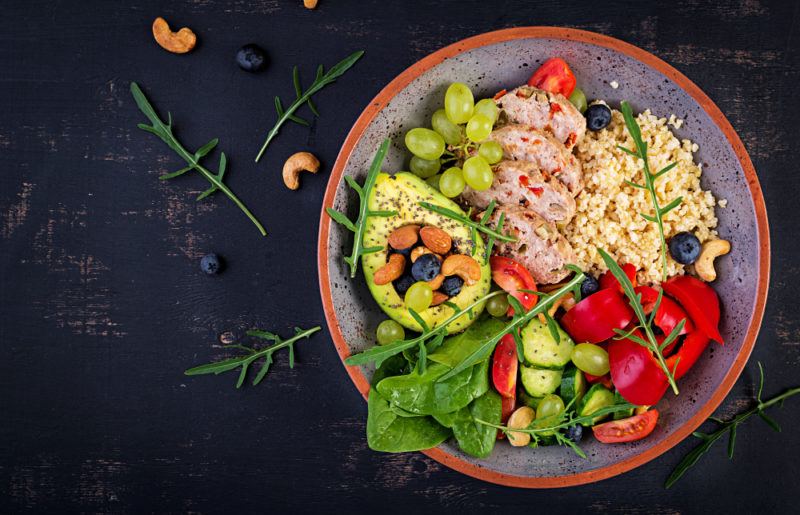 Meatloaf isn't a common Buddha bowl addition, perhaps because meatloaf does take a bit of work to make. Still, if you have leftover meatloaf, adding this to a protein bowl just makes sense.
This bowl also uses bulgar as the source of carbs, which is fairly unusual. Still, there's no reason why you need to stick to the common choices like quinoa, rice, and couscous. Using something more unusual is a great way to vary your meal up and enjoy some different flavors.
Breakfast Power Bowl

Here's something entirely different – a bowl that focuses on breakfast flavors. There are multiple protein-packed ingredients here, including chia seeds, Greek yogurt, and flax seeds.
This combination creates a delightful breakfast, one that is a nice change from cereal or eggs. However, you might choose to cut back on the raisins a little. Dried fruit does contain some beneficial nutrients, but it also tends to be a concentrated source of sugar, which isn't ideal first thing in the morning.
Asian Style Buddha Bowl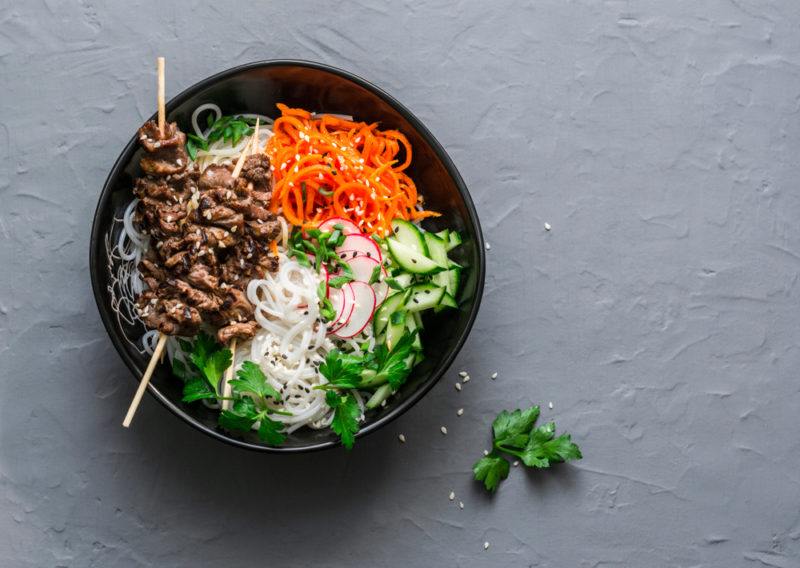 This meal changes things up by using rice noodles as the carb source. Doing so creates a meal that is fun to eat and looks good in the bowl too. Spiralizing the carrots adds to this effect.
It isn't obvious from the image, but the meal uses pickled carrots, rather than just spiralized raw carrots. Pickling does take a little time, but the process helps the meal to taste much more interesting.
Vegan Bowl With Seaweed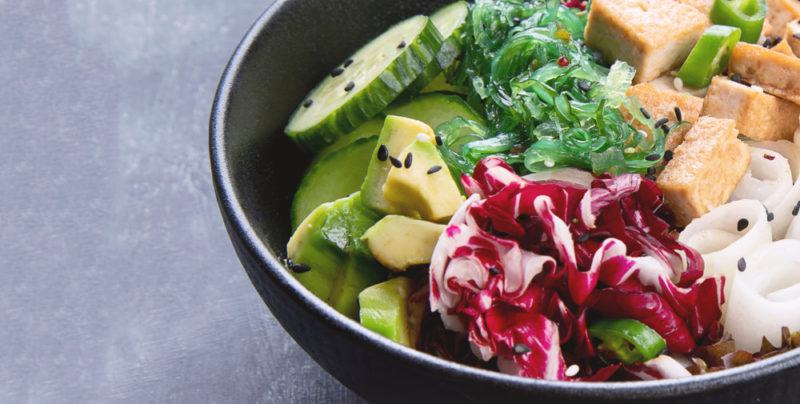 Tofu is the main source of protein here, making this a vegan-friendly protein bowl. Seaweed is included as an ingredient too, which might be a little unexpected. Still, seaweed is nutritious and it can taste surprisingly good too.
If nothing else, it's nice to see a meal that uses a different balance of flavors. You could also add in some type of dressing to kick the whole thing up a notch.
Why Not Add Some Figs?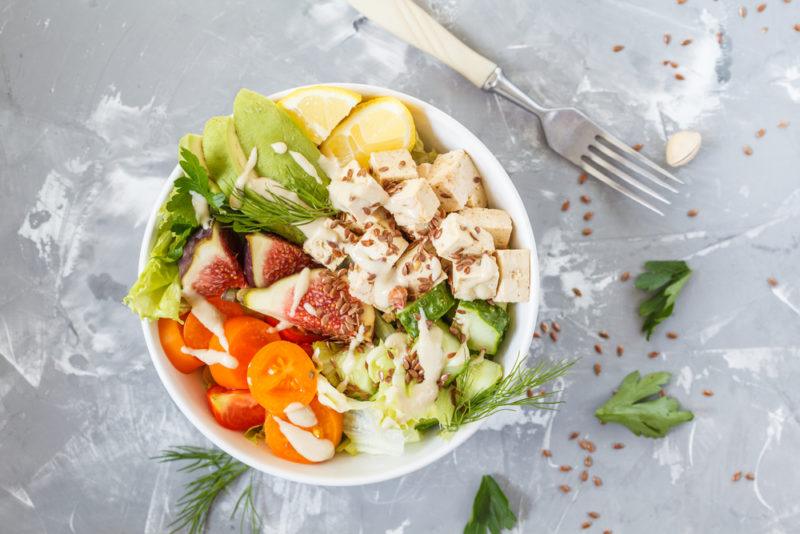 While this bowl looks light and vibrant, it would be surprisingly filling, as there is a decent amount of tofu present. However, the most unusual ingredient has to be the figs. While figs aren't often used in a savory bowl like this, they do add an interesting flavor and texture.
The tahini dressing is a good addition too. This helps to bring the flavors together and prevents the meal from seeming too dry.
Sundried Tomatoes, Courgette, And Chickpeas Combine Well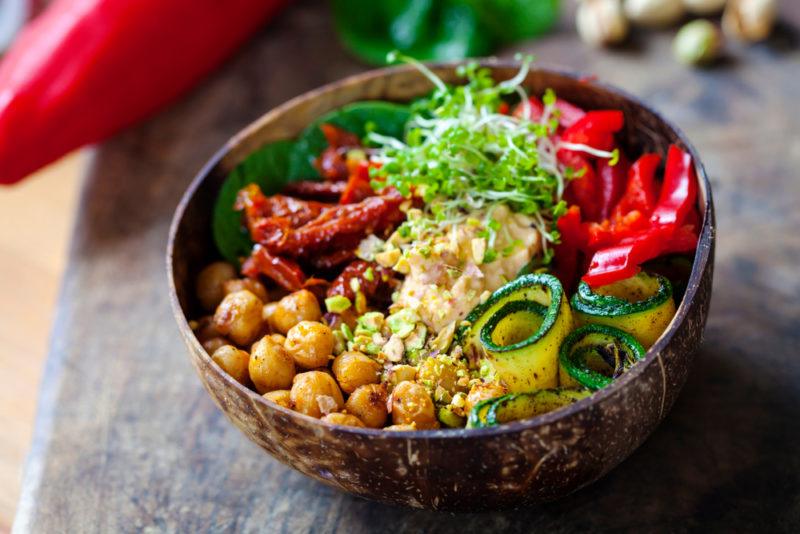 A few interesting things are going on in this bowl. One is the use of sundried tomatoes. The ingredient is a fantastic choice, as sundried tomatoes have an intense flavor that would make the entire meal pop.
There is also zucchini that has been cooked a little and rolled. This is a nice alternative to cucumber, which can get boring after a while. The other ingredients work well too. Finally, it's pretty cool to see chickpeas and hummus in the same bowl. Most recipes use one or the other.
Adding Baked Potatoes To The Bowl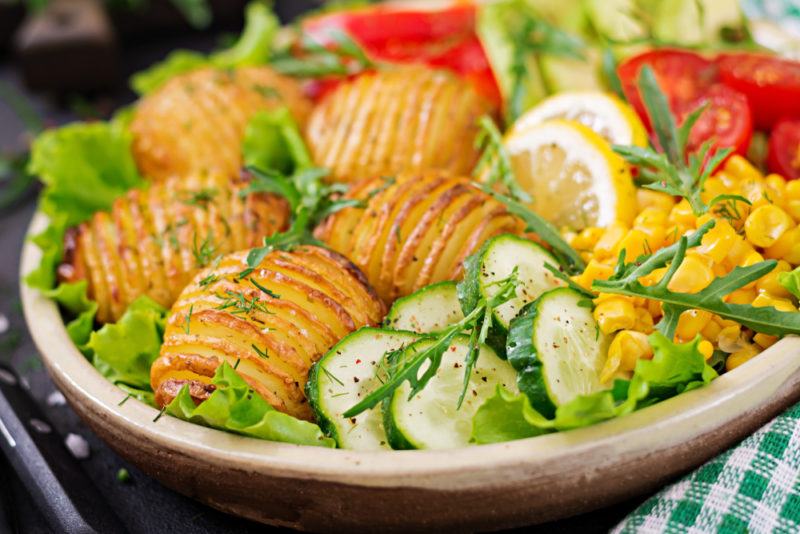 Here's another interesting addition – potatoes. This is a fantastic idea because potatoes are comforting and popular. Besides, they're much healthier than most of us imagine. Potatoes end up being a good source of many nutrients, including fiber, magnesium, and potassium.
The potatoes are the main protein source in this bowl too, so it's not as filling as some other choices. Still, don't let that deter you. It would be easy enough to add a protein-rich ingredient or two.
Plenty Of Fiber And Protein

If you're wanting a bowl with lots of protein off the bat, then this one could be just what you need. It includes chickpeas, groats, lentils, and chicken. The veggies stop the meal from getting too overwhelming and provide even more nutrients.
The use of chicken means that this isn't a vegetarian or vegan meal. If this is a problem, you could easily sub the chicken out for some tofu or tempeh. You could even skip the ingredient entirely, as the meal would still be very filling without it.
Shrimp Burrito Bowl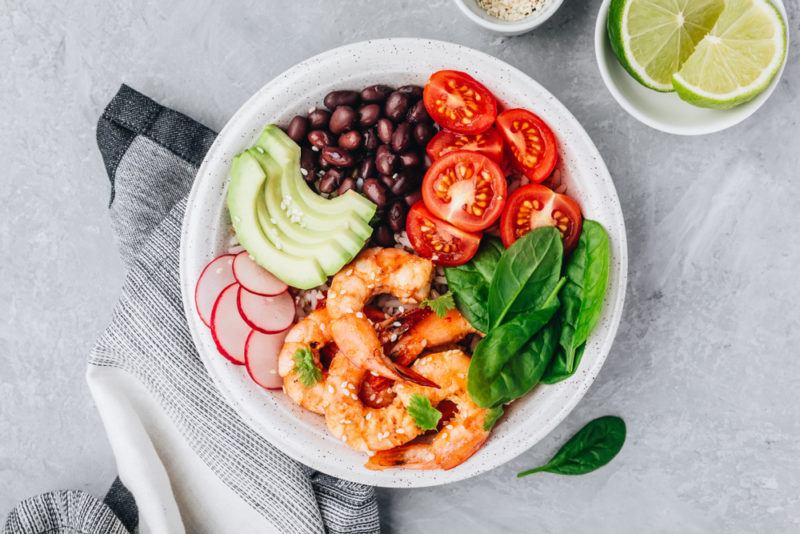 Shrimp is a surprisingly rare addition in Buddha bowls. This is a shame, as shrimp is such an easy source of protein. It also provides omega-3 fatty acids, which is always a good sign.
The rest of this bowl is on the simple side. Just some veggies, beans, and avocado. There isn't a lot of flavoring, but you could get around that by using an interesting dressing on top of it all.
Granola Breakfast Bowl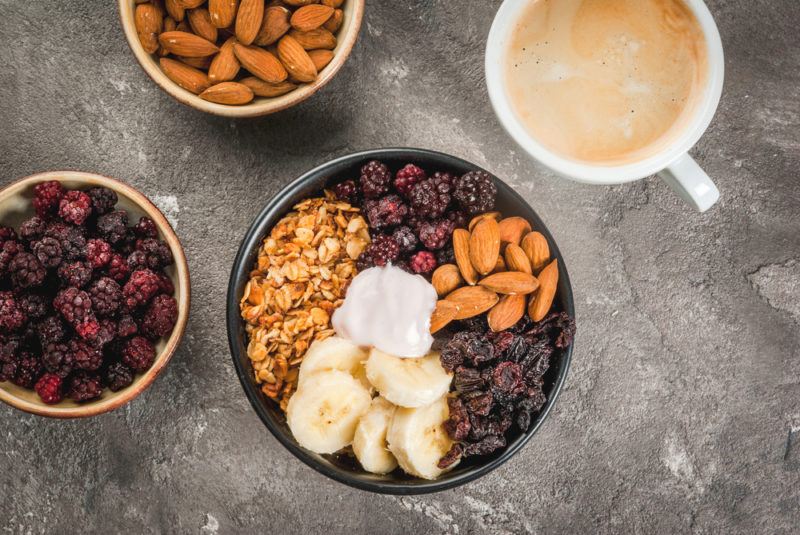 This meal puts a spin on the idea of granola for breakfast. The biggest difference is the proportions. You're not dealing with a decent bowl of granola with a few toppings.
Instead, granola is just one of six ingredients. This approach creates a more satisfying meal that has many different flavors. You could also play around with the flavors by varying which ingredients you pick up when you grab a spoonful.
Just be wary of the sugar content of this meal. It uses berries, dried fruit, and bananas. Sugar from fruit is, arguably, better than just adding sugar to your food. But, sugar is still sugar and it isn't great for your health.
Grill And Stuff Your Avocados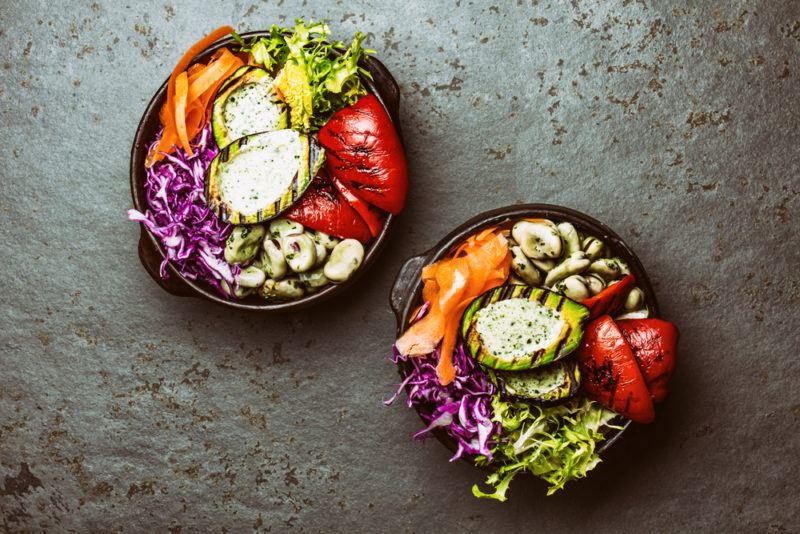 This bowl might use some of the same ingredients as the other options on the list, but the idea of grilling the avocados and red peppers makes the whole thing much more interesting. Then there's the idea of stuffing your avocados with salad dressing. This adds even more flavor and could make the meal quite fun to eat.
And, on a side note, just look at the colors. The color contrasts make this meal stand out. It would be a good choice if you wanted to impress someone.
Acai Smoothie Bowl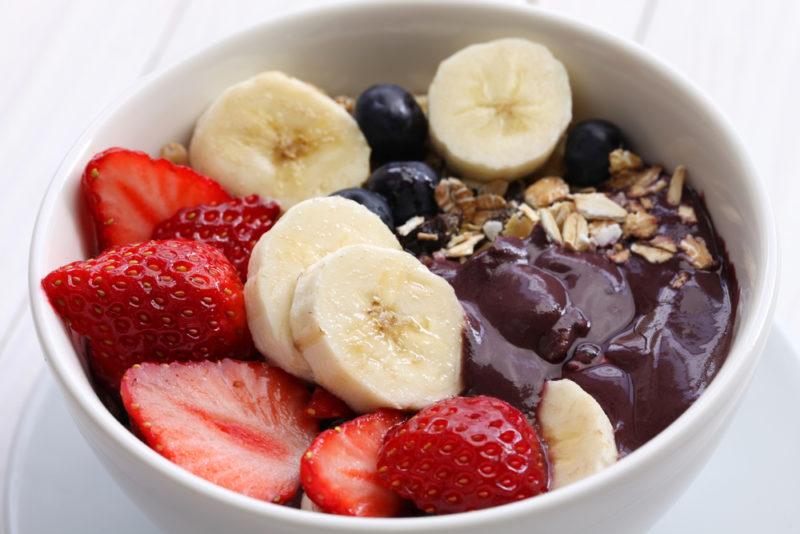 Smoothie bowls use a thick smoothie as the base and then include various toppings. In this case, the smoothie uses acai puree as one of the main ingredients. This puree provides the deep purple color of the smoothie. Acai berries are often called a superfood, which is a good reason to try them for yourself.
The smoothie bowl itself is pretty typical. Most of the additions are fresh fruits, although there are some oats scattered on top too. Personally, I'd focus on more nutritionally dense ingredients, like nuts and chia seeds, as there is already enough sugar from the smoothie.
Savory Oatmeal Breakfast Bowl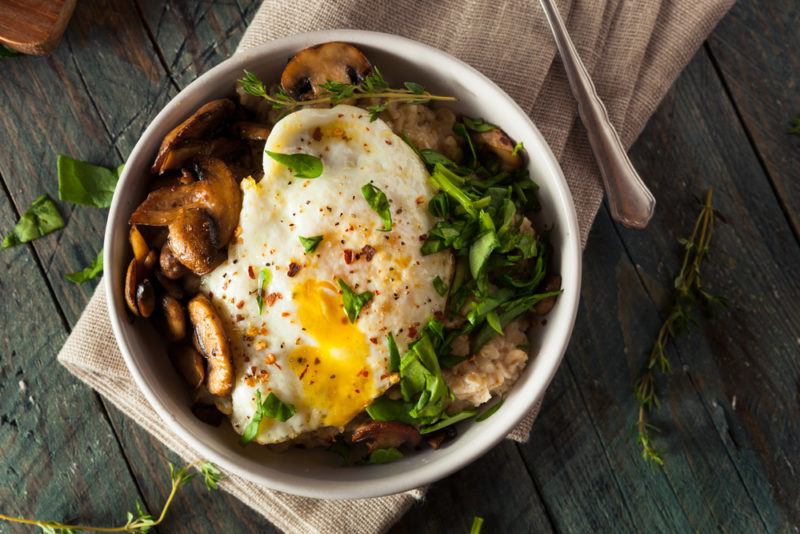 Here's a completely different take on breakfast. This bowl uses oatmeal as the base ingredient, then relies on savory toppings rather than the traditional sweet ones.
The mild nature of oatmeal means that this approach works very well indeed. You might even enjoy this meal much more than a traditional bowl of oatmeal with sugar. There's no meat in this particular dish, but you could easily add some in. Bacon or sausages would work well and keep within the breakfast theme.
Teriyaki Chicken Skewers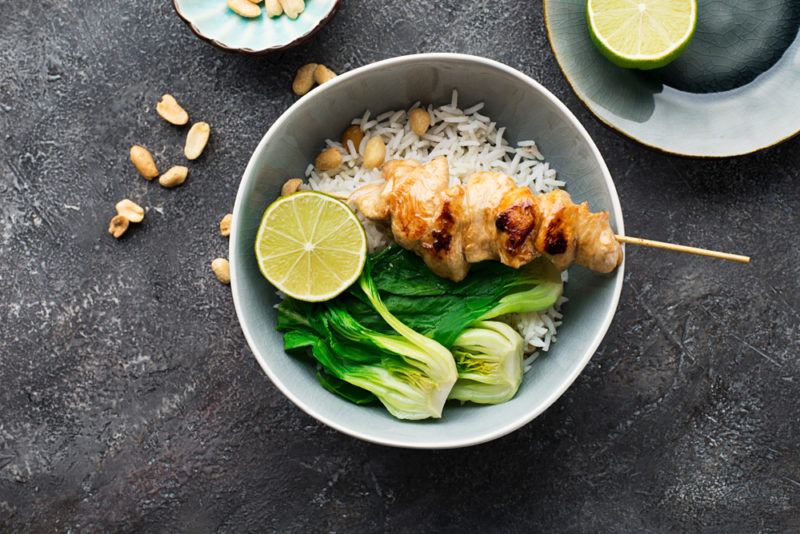 This simple bowl only uses a few ingredients and is a good choice for times where you don't want to go to too much effort. The most unusual part is the bok choy, as the vegetable doesn't often feature in Buddha bowls. But, there's no reason not to use it and the flavors would be perfect here.
Serving the chicken on a skewer makes the meal look cool, but doing so isn't at all essential. You could even try a different type of meat. Marinated sliced steak seems like it would go especially well in this dish.
Topping Off With Blueberries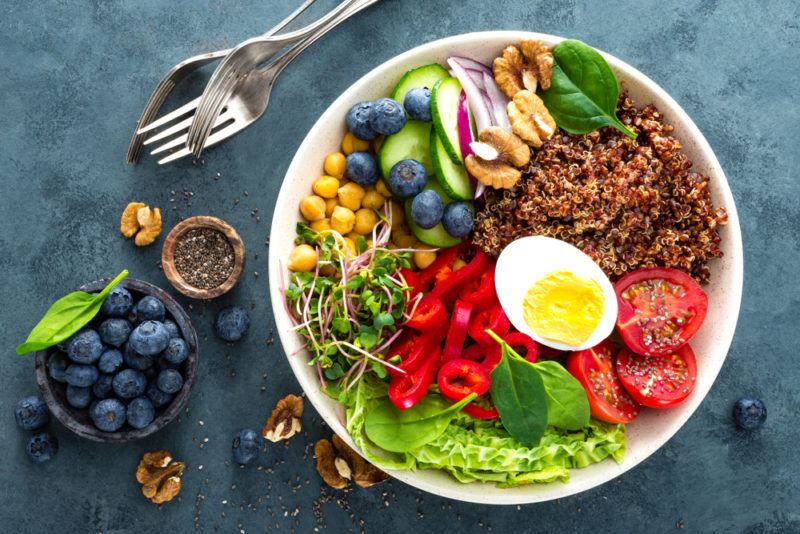 Including blueberries in this bowl is a nice touch. The sweetness of the berries is exactly what the meal needs.
While most of the ingredients in this bowl are typical, it's unusual to see this many different ingredients included in the same bowl. Having so many would increase the amount of prep work required, but thankfully most of the ingredients just require chopping. There isn't much cooking or marinating to be done for this meal.
Grilled Tuna For Protein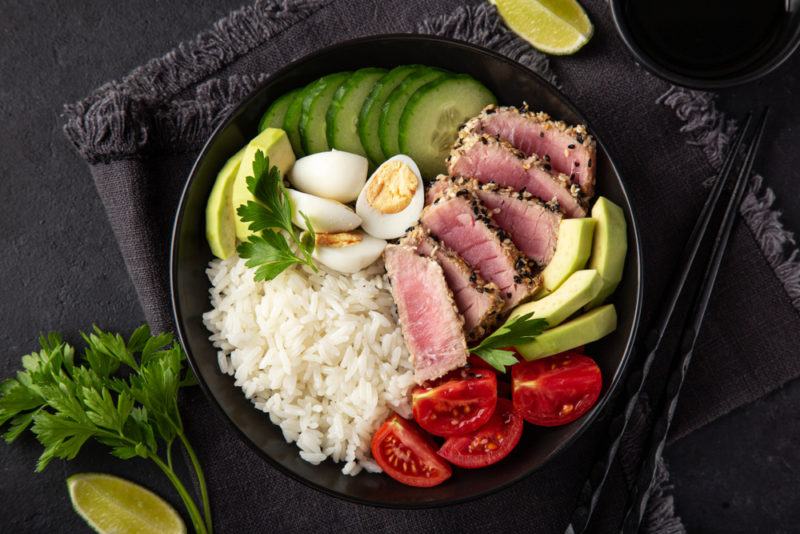 This bowl takes the slightly unusual step of using grilled tuna. This gives it a distinctly Asian flavor profile and also makes this a very satisfying meal. It's not surprising that rice has been chosen as the main grain. Of course, you could easily change this for something else if rice feels a little boring.
Brown Rice Buddha Bowl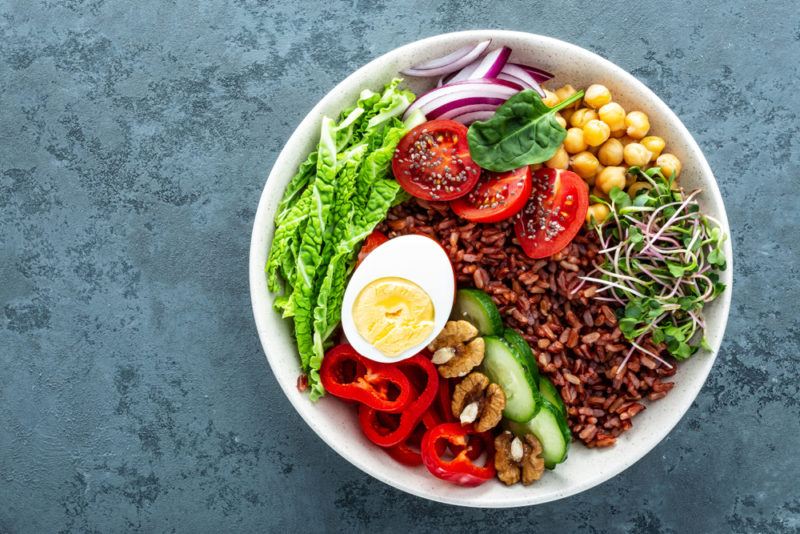 The biggest difference between this bowl and some of the previous entries is the use of brown rice. Brown rice is a whole grain, so it has more nutrients than white rice. There are differences in the flavor profile too, so brown rice makes the meal taste more interesting than white rice would.
The use of sprouts in the bowl is a nice choice too.
Once again, the number of ingredients means that the bowl would take a little effort to prepare. Still, the process should become second nature before too long.
Low Carb With Shrimp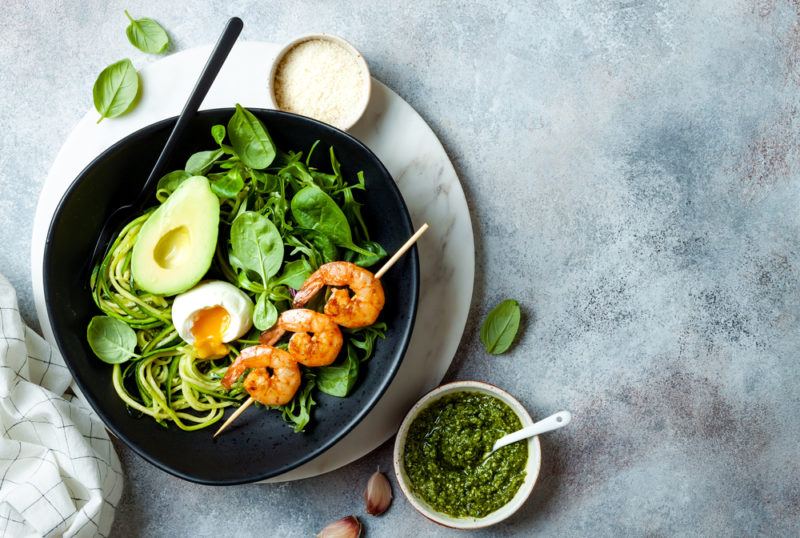 This entry is a low carb choice, so it would be perfect for keto dieters. It skips out the grain aspect entirely, relying on spinach and zucchini noodles as the base ingredients instead.
Shrimp and eggs become the main sources of protein, while the avocado adds in some healthy fats. Including a couple of dressings on the side is a nice touch too (one at the top, one on the bottom right). These would help to keep the flavors interesting.
Can't Pass Up The Grapefruit And Pomegranate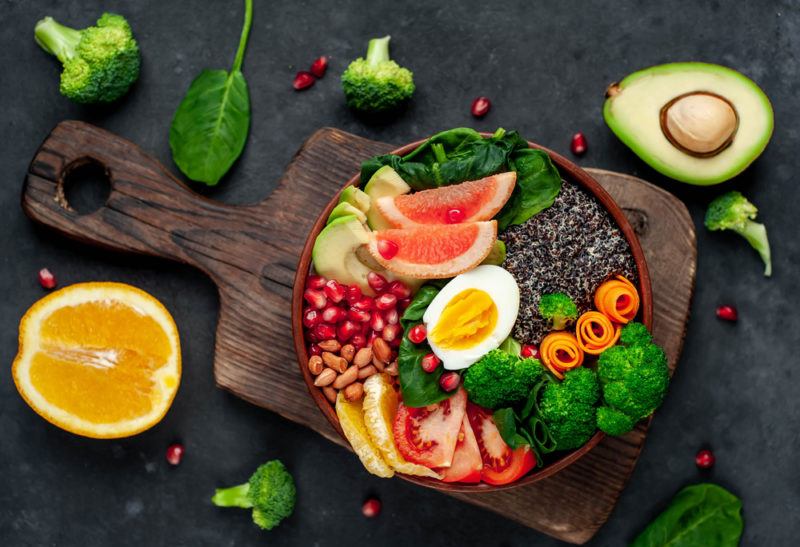 Speaking of fun flavors, check this bowl out for size. It still offers some of the classic ingredients, but there are some interesting additions too, such as grapefruit, oranges, and pomegranate.
This choice creates a bowl that is much more vibrant than most. It is very nutritious too, especially as pomegranates have been linked to various health benefits. Adding an egg on top works well as a finishing touch. It seems to bring the dish together somehow.
Octopus As An Interesting Addition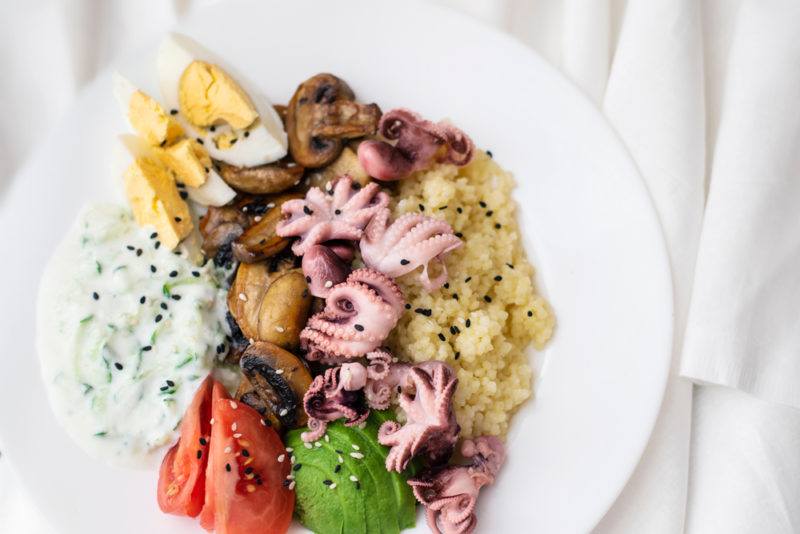 Here's a choice that you won't see every day – octopus. I've honestly never seen octopus in a Buddha bowl before this one. I don't imagine many people would want such an unusual ingredient in their meal. Still, if you do enjoy octopus, then why not eat it in this way?
The bowl uses couscous as the grain, which is fairly unusual too. Couscous doesn't have the same glowing reputation as many grain-like ingredients, as it is made from wheat. This makes it high in carbs and means that it contains gluten.
Couscous isn't all bad though. It has a mild flavor, so it can take on whatever flavors you want. It is also incredibly fast to cook. This aspect alone is powerful for nights where you don't have much time or energy.
Chicken Croquette Protein Bowl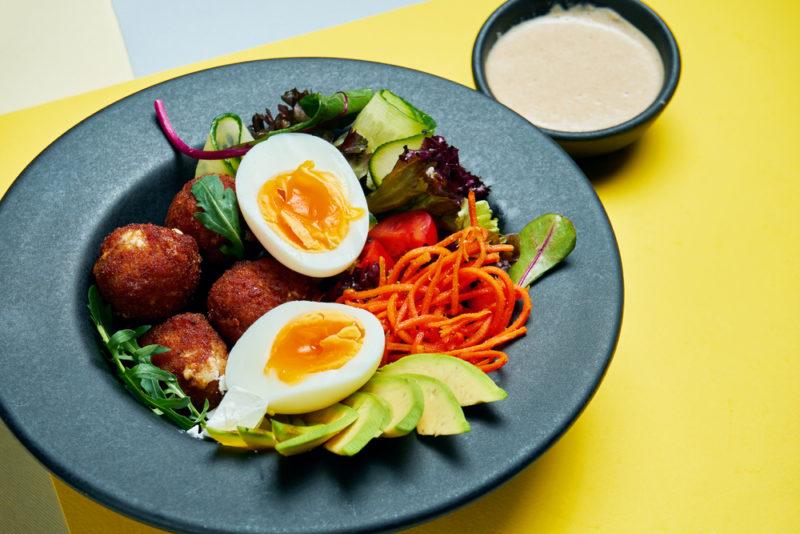 This is another bowl that has an unusual protein choice – chicken croquettes. Croquettes are normally fried or even deep fried, so they're less healthy than some other choices. Still, the rest of the meal is healthy for you, so it isn't all bad.
Actually, this bowl mostly relies on common ingredients. This could be useful if you're feeding a picky eater or if you like keeping things straightforward.
All The Classic Breakfast Flavors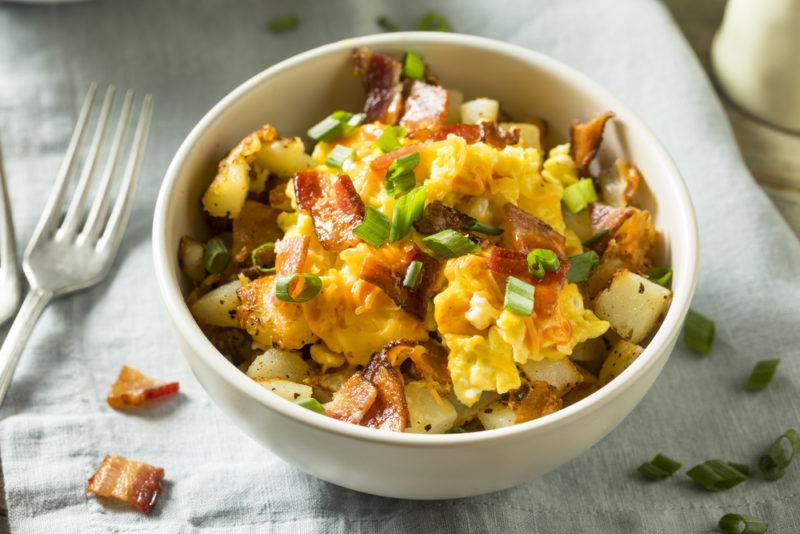 Potato hash is a common breakfast choice and this bowl is just a basic variation on the theme. To be honest, it barely counts as a Buddha bowl, as it largely consists of fried potatoes, topped with scrambled eggs and bacon.
Even so, it's good to remember that bowl meals don't need to be complicated – and there's no set formula to follow. The main goal is just to have a hearty and nutritious meal in an easy-to-eat format. This version achieves all of these goals.
Bulgar Porridge And Chicken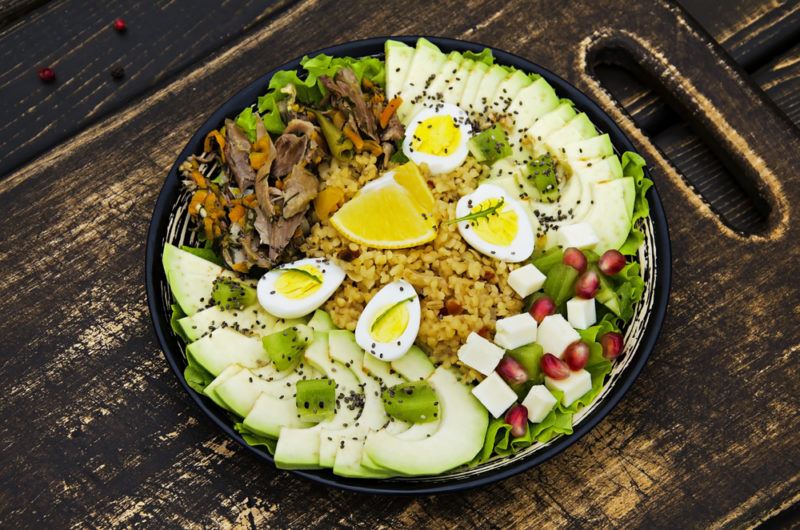 Who said that Buddha bowls need to just serve one person? This version is much larger, giving you the chance to feed a crowd (or have leftovers for later).
The ingredient choice is slightly unusual too, as the bowl uses bulgar as the base grain. There is also a refreshing salad as part of it, which includes feta, kiwis, lettuce, and pomegranate seeds. Avocados add in healthy fats, while roast beef and eggs provide protein.
All-in-all, the bowl looks delicious, even if the combination of ingredients is somewhat eclectic. Then again, Buddha bowls are the perfect place to experiment with flavors.
Matcha Smoothie Bowl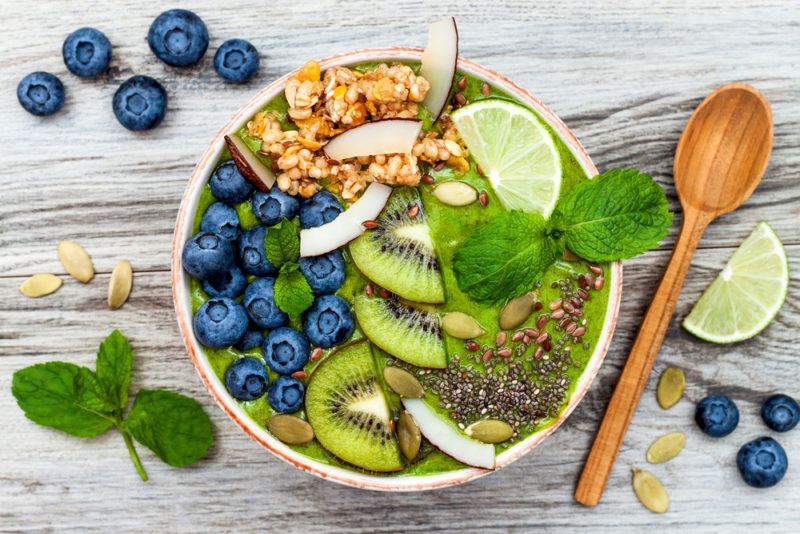 This smoothie bowl uses matcha green tea as a key ingredient. It's an interesting way to get the health benefits of green tea without having to drink the hot beverage at all. It's good to see that there are some nuts, seeds, and granola on the top for fiber, rather than all fruit.
There are advantages to the fruit that has been chosen too, as kiwis are good sources of fiber, while blueberries are well-known for their antioxidant content.
Silken Tofu, Seaweed, And Rice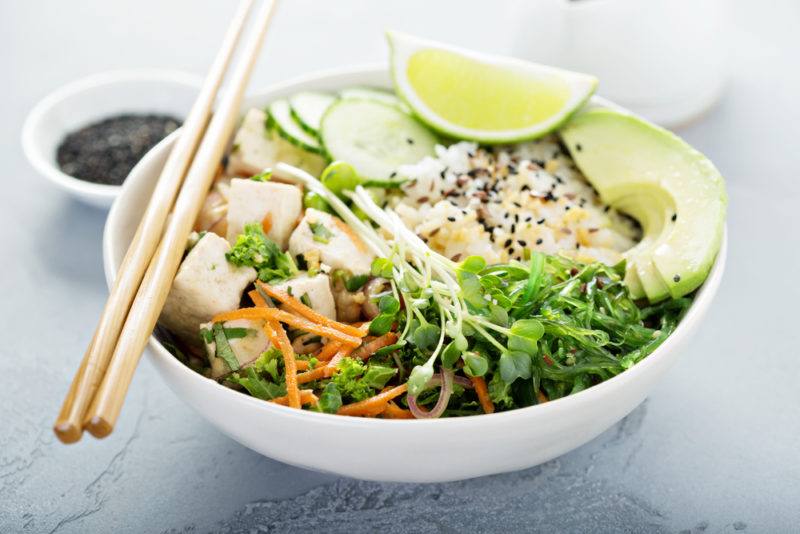 This vegan bowl is packed with just as many nutrients and flavors as any meat-based bowl. It uses silken tofu that has been marinated to give it a ginger flavor. The veggies provide much of the nutrition and there's even a bit of seaweed in there for an extra boost.
The dish would be considered a poke bowl, so it's not surprising to see that rice is featured as well. Chopsticks would be a fun way to eat the bowl, but these aren't essential. If you're not confident with chopsticks, a fork or even a spoon would do just fine.
Chia Pudding Breakfast Bowl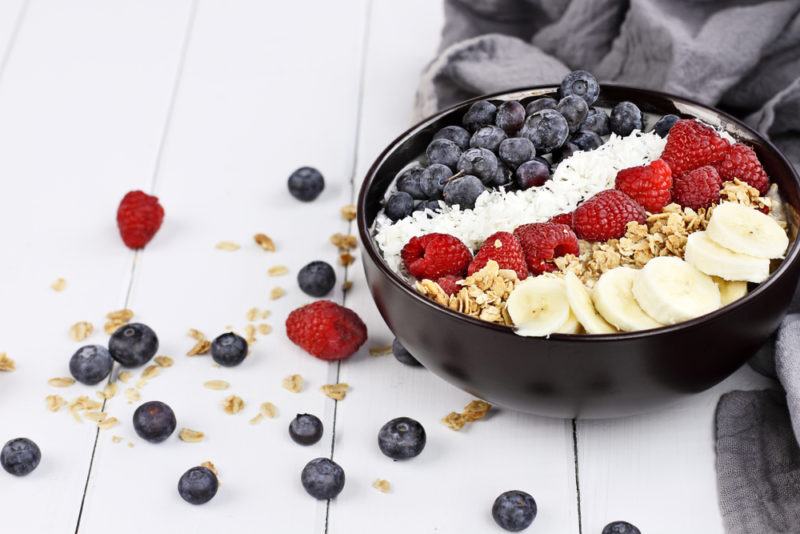 The image doesn't do this particular bowl justice, as you can only see the toppings. There is also a layer underneath that is essentially a chia pudding.
Chia puddings are quite cool and are much healthier than the name suggests. They're made by soaking chia seeds in liquid (often plant-based milk), along with some other ingredients for flavor and nutrition.
Using a chia pudding as the base of a Buddha bowl is a clever idea. You end up with something nutritious and tasty that is a little different than classic breakfast flavors.
Chocolate Smoothie Bowl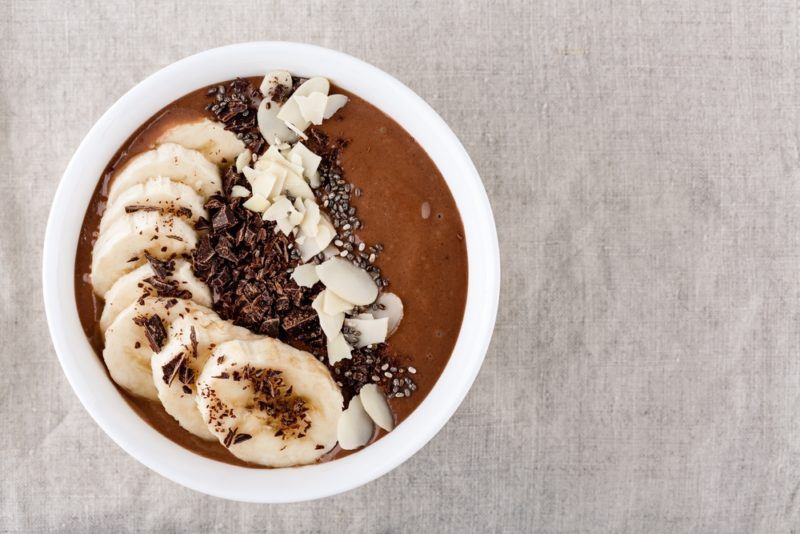 We've highlighted a couple of smoothie bowls now, so you should start to see some familiar features. This one is a chocolate option that uses chocolate as a topping as well as an ingredient. It would be a rich way to start the day, but if you love chocolate, why not?
A decent chocolate smoothie doesn't need to be excessively sweet anyway. The first step is to look for high quality cocoa powder, ideally a brand that doesn't have any added sugar. This way you have complete control over the sweetness of your breakfast.
Buckwheat Noodles And Fried Banana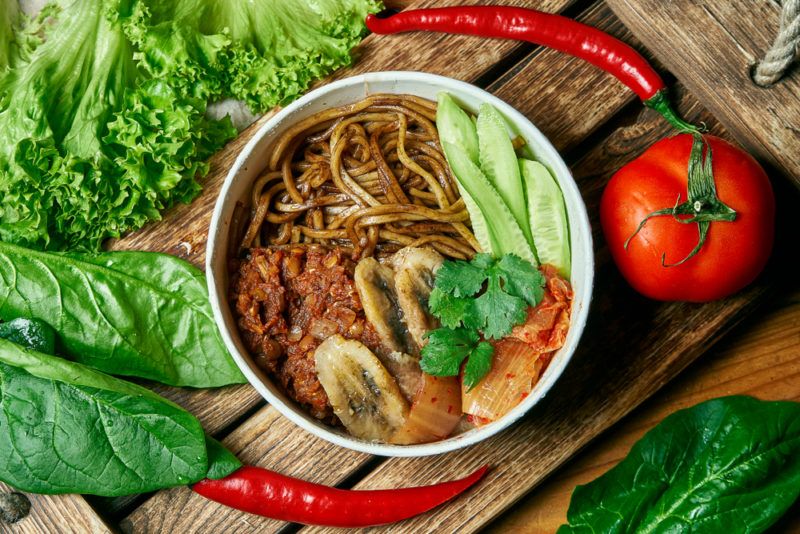 Buckwheat noodles, fried bananas, and kimchi make this a very unusual Buddha bowl indeed.
Kimchi, in case you're unfamiliar, is a side dish made of fermented vegetables. One of the most common styles relies on napa cabbage along with spices, which creates a spicy and flavorful treat. Other vegetables can be used instead – and there are literally hundreds of different combinations.
The fried bananas in the bowl would offset the flavor of the kimchi nicely, while the noodles work well as an alternative to grains. Besides, noodles can be quite fun to each, which is a major advantage of this particular Buddha bowl.
More Buckwheat Noodles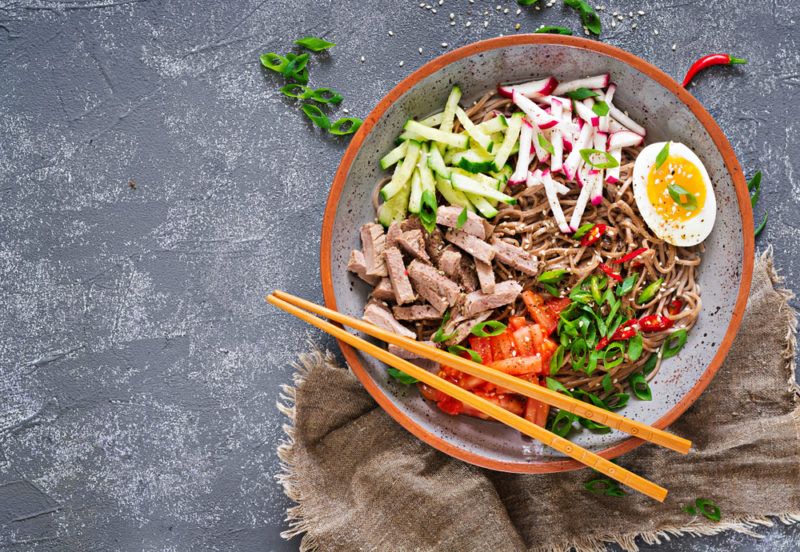 While we're talking about noodles, here's a completely different bowl to try. This one relies on more classic ingredients, including tomato, cucumber, radish, an egg, and beef.
Unusually, most of the ingredients are cut into strips rather than cubes. The style makes the dish look different and could make it a little easier to eat too. You could easily cut the ingredients in your own style if you wanted to change the appearance of the dish.
Gnocchi Dinner Bowl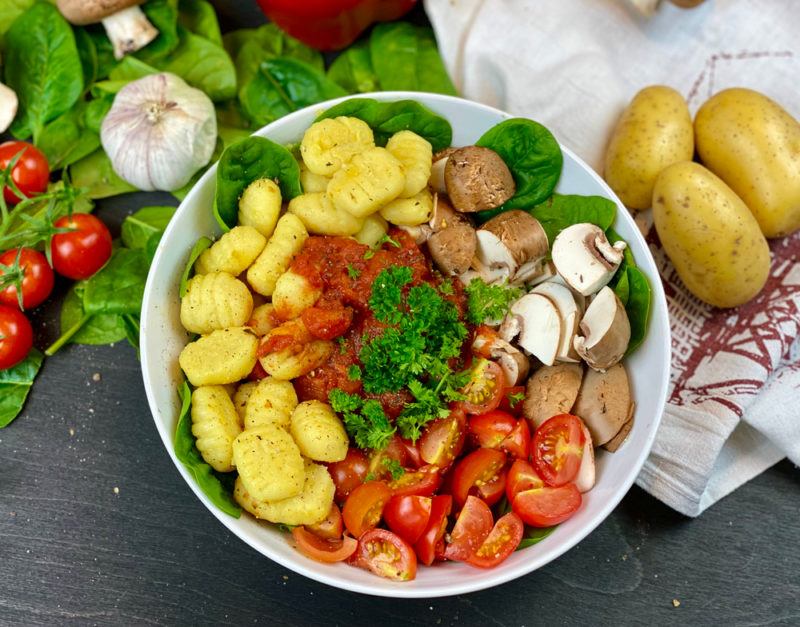 Gnocchi might be an uncommon Buddha bowl feature, but it isn't an unappealing one. Gnocchi tends to be easy to find and to prepare. It is hearty too, making it a useful choice if you want a satisfying meal that doesn't rely on meat.
The sauce and fresh tomatoes help to stop the meal from getting too heavy. And, if nothing else, the whole thing looks much more interesting than a traditionally prepared bowl of gnocchi.
A Hearty Choice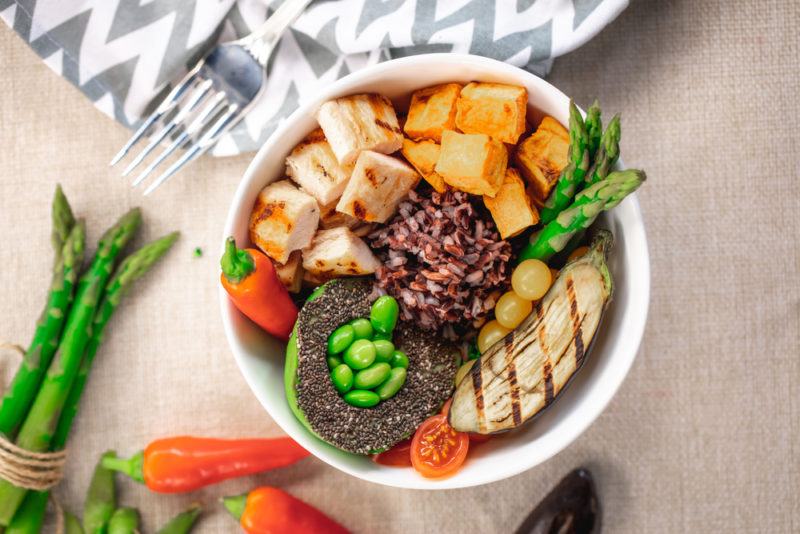 This bowl caught my eye because of the way that avocado has been covered in chia seeds, then filled with edamame beans. While those ingredients aren't unusual in a Buddha bowl, the presentation style isn't one that you see every day. It's a fun way to enjoy your food and could taste pretty good too.
There are some interesting ingredient choices in the bowl too, like chili pepper, asparagus, and brown rice. The meal could probably use some type of dressing, but there's little doubt that it would taste delicious, even as-is.
Mediterranean Flavors With Pasta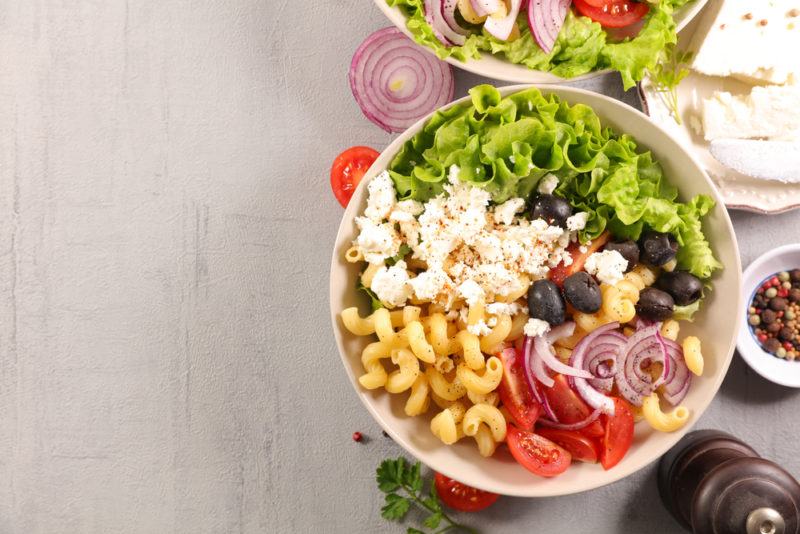 Pasta lovers can be pleased with this bowl. You get to enjoy your pasta along with some delicious Mediterranean flavors. There's feta, olives, and tomatoes – how can you go wrong?
In a sense, the bowl is like a deconstructed Mediterranean salad, which isn't a bad thing at all. Deconstructed meals are often fun to eat and make mealtimes a little different.
Unicorn Buddha Bowl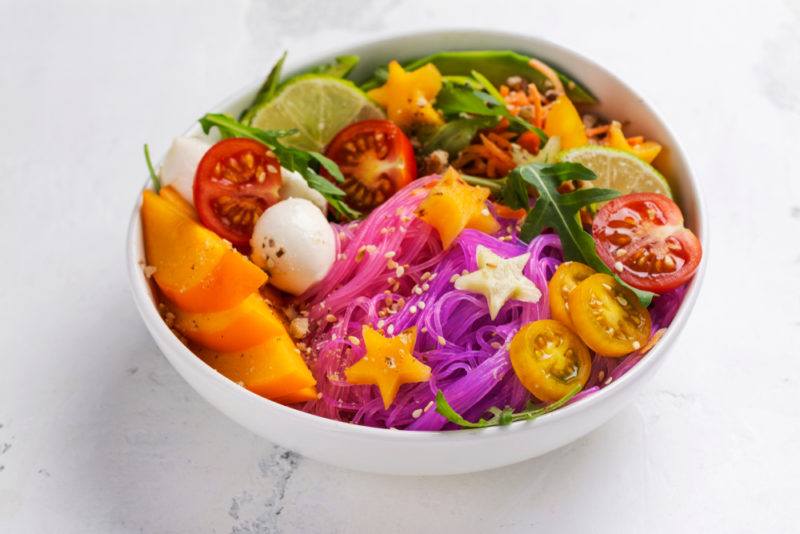 This bowl seems to have been designed for appearance more than anything else (although it would be quite nutritious too). There are some fun colors in there and the start shapes are a nice touch.
There are even some mozzarella balls in the mix. I haven't seen many Buddha bowls that use mozzarella, but this one makes me wonder why not. The cheese is an easy way to add some protein and richness into the meal, and you don't need to prep it at all.
Pasta Salad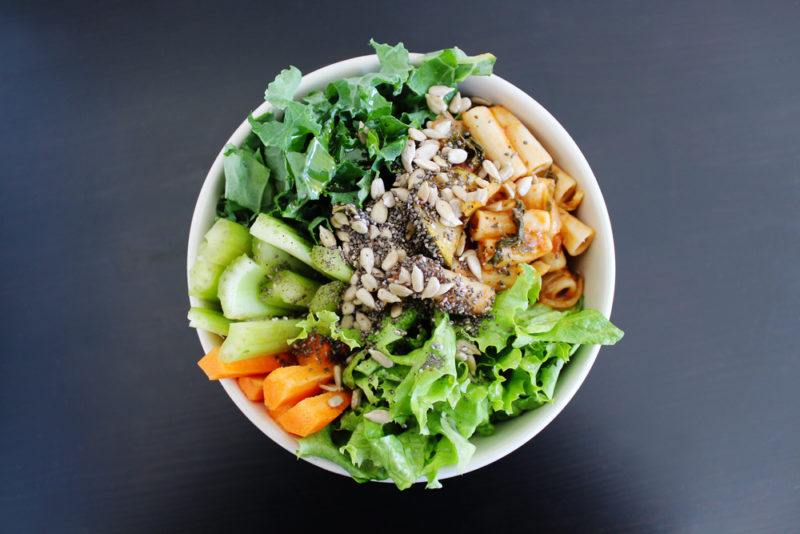 This bowl has an attractive visual style and some interesting ingredients to boot, starting with pasta and sauce. Most of the pasta bowls we've looked at so far use plain pasta instead. Honestly though, the use of sauce just makes sense, especially if you plan to eat the meal while it is hot.
Carrot sticks, celery sticks, and leafy greens mean that you're getting plenty of nutrients. The same is true for the chia seeds and pumpkin seeds scattered on the top. Honestly, who says that pasta meals are low in nutrients?
Salmon Poke Bowl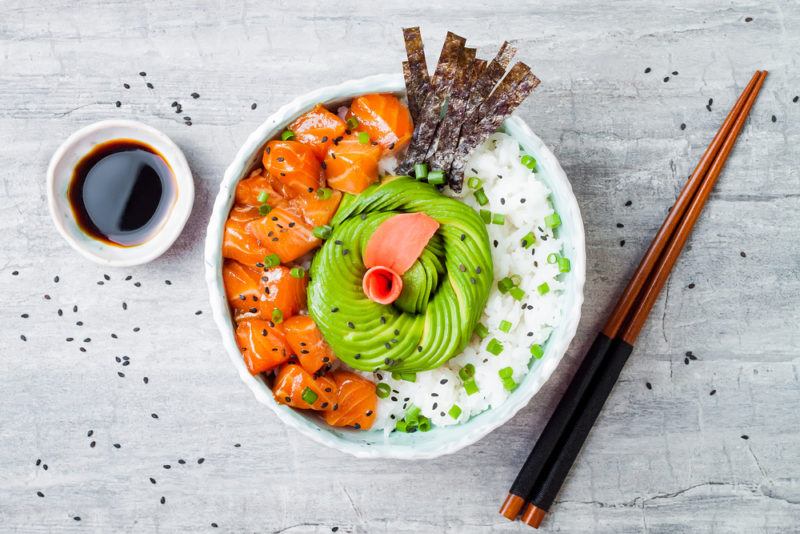 This final bowl might not be too special in terms of ingredients, but the presentation is just stunning. The avocado rose in the middle sets the whole dish off well. It's also fun to see how the bowl has been divided into two halves, one of rice and one of salmon.
The little bowl of soy sauce on the side is perfect for dipping the ingredients into. This approach gives you complete control over the amount of flavor in your meal.