When it comes to food, there are two important characteristics to think about – flavor and nutrition. You want meals that you enjoy eating, ones that are packed full of good flavors and textures. But, the food needs to be good for you too. Thankfully, many foods are delicious and nutritious, including the phosphorus rich foods that we're featuring on this list.
You probably already know that phosphorous is important, but did you know that it is essential for creating ATP, which is the main energy molecule in our bodies? Not getting enough phosphorus hampers energy production. That's never a good thing.
However, getting the right balance of phosphorous can be tricky.
If you're consuming too little phosphorous, then you're at risk for deficiency. This can cause symptoms like a weaker immune system, muscle pain, and anemia. Too much phosphorous, on the other hand, can make the body try to rebalance by pulling calcium from your bones.
Phosphorous absorption makes matters more complex still, as people vary in their ability to absorb phosphorous. Absorption also tends to be higher for animal foods than for plant-based foods.
We're including both types of phosphorus rich foods in this list, despite the lower phosphorus absorption for plant-based foods. After all, plant-based foods have other advantages, including the way that they're often low in calories, contain important plant-based compounds, and are key sources of fiber.
Phosphorus Rich Foods
Pork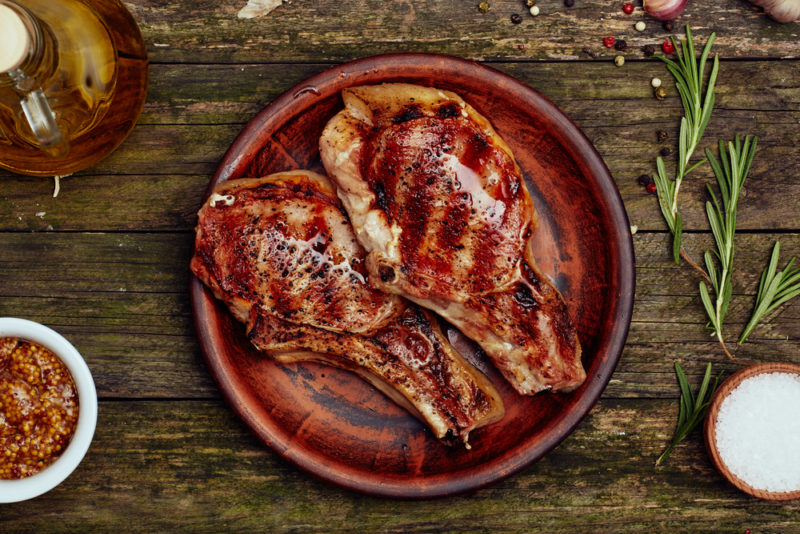 Meat tends to be powerful for phosphorus, which is why we're beginning this list with pork. The amount that you get varies depending on the cut, but you're often consuming between 130 mg and 221 mg of phosphorus in a 2.5-ounce serving.
As a reference point, the recommended phosphorus intake for an adult is around 1,250 mg.
The amount of phosphorous per serving for pork might sound low in that context, but remember that you're often eating more than 2.5 ounces in a single serving. For example, in a typical 6-ounce pork chop, you end up with around 40% of your daily phosphorous intake.
That's not too bad. After all, you don't need all of your phosphorous from a single source.
You'll get more phosphorous from a 6-ounce lean pork chop than a 6-ounce pork chop with fat, as most of the phosphorous is in the meat, not the fat. Still, the differences aren't dramatic. In the end, you can go with whatever cut you enjoy the most.
Poultry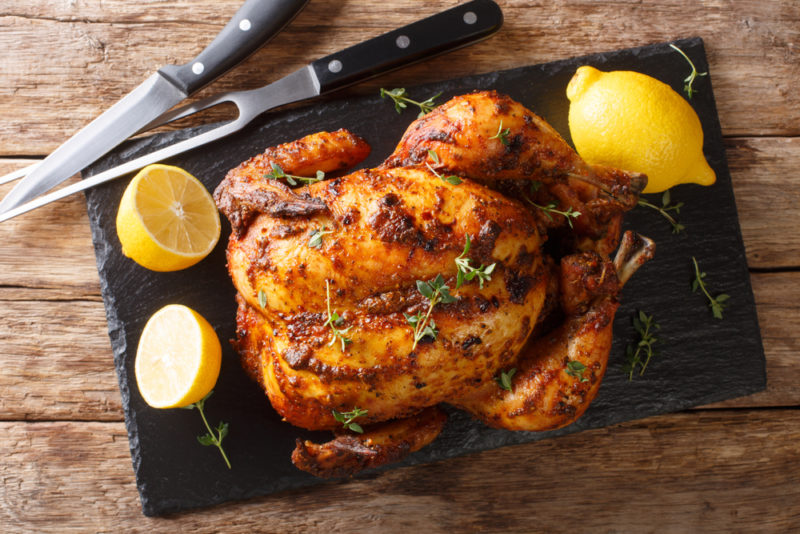 Poultry can be an excellent choice for phosphorous too. For example, a full chicken leg (including the skin, drumstick, and thigh) offers more than 40% of your daily phosphorous intake.
Don't worry too much if you prefer the white meat – the amount of phosphorous is still notable regardless of which parts of the chicken you eat.
The same is true for other types of poultry too. Turkey is the leading choice here, but you can look for less common options and even game birds.
Other Types of Meat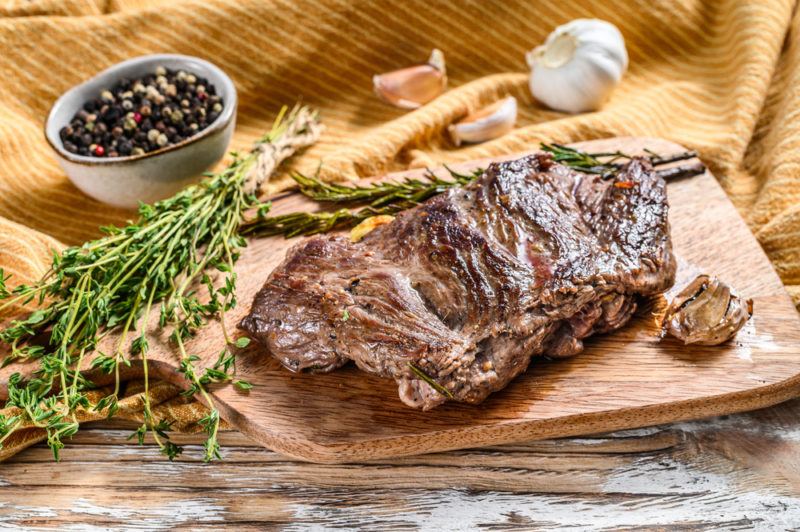 Red meat might be packed with nutrients, but it contains less phosphorous per serving than pork and many types of poultry.
Still, red meat isn't a bad choice. You still end up getting around a quarter of your daily phosphorous from a ribeye steak or a piece of skirt steak.
Other types of red meat offer some phosphorous too. However, the amount does vary depending on the type of animal and the cut of meat. Other factors might influence the amount of phosphorous too, like what the animal was eating and how it was raised.
In the end, you don't need to focus on the absolute best type of meat or poultry to get phosphorous. It's enough to eat meat regularly, along with other phosphorous containing foods. Phosphorus isn't uncommon, so it should be easy to hit your daily targets.
Liver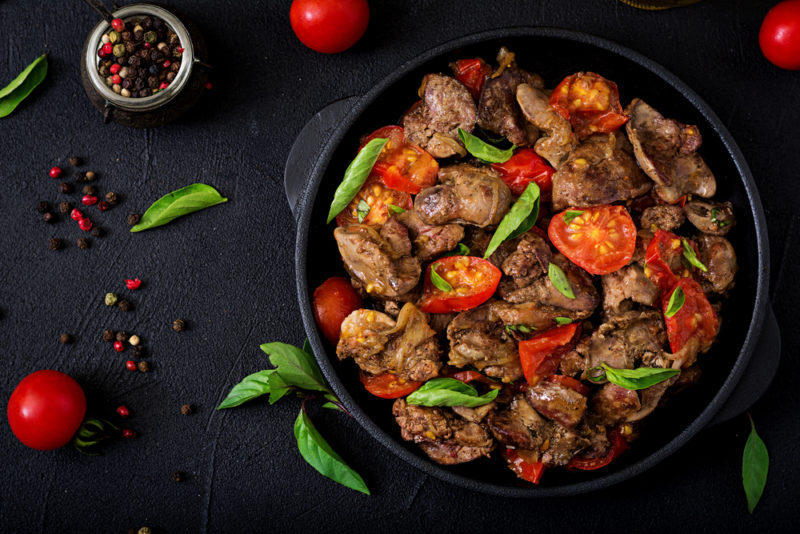 Organ meats can seem unappealing, but their nutrient density makes them incredibly popular. Even a tiny serving can be powerful. For example, a 1-ounce serving of fried beef liver contains more than 200% of your daily vitamin A intake, more than 900% of your vitamin B12, and more than 450% of your copper intake.
The amount of phosphorus pales in comparison, as you're getting around 11% in the same serving size. Still, an ounce of liver isn't much at all. You could easily have a larger serving or include the liver in with other ingredients.
Tuna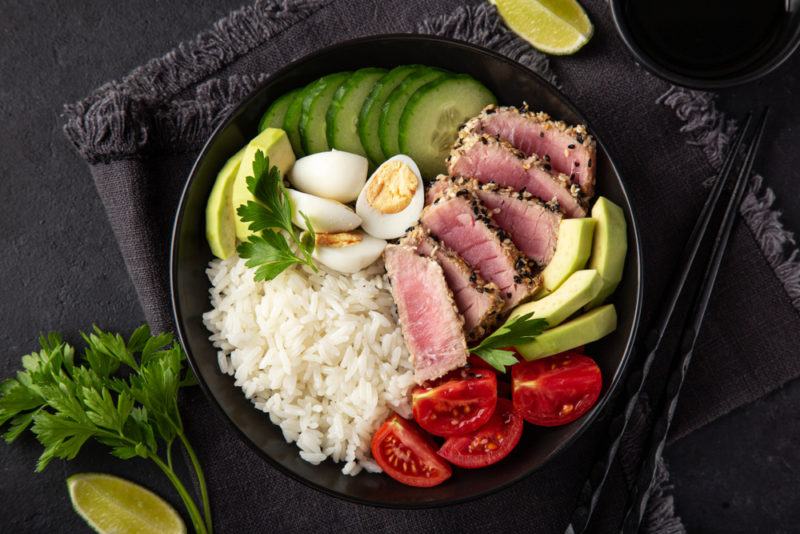 Tuna tops the list for fish that is rich in phosphorous. You're generally getting more than 40% of your daily copper intake from a single 6-ounce fillet. As with all fish, the nutrient balance will change depending on the species, where the fish is caught, whether it is farmed or wild, and other factors.
Fresh tuna isn't your only option either. You can also turn to canned tuna, which is often inexpensive and has a decent shelf life.
However, tuna does have one serious limitation, its mercury content. Tuna has more mercury than many other types of fish, so you need to be careful about your portions. It's often best to have no more than two servings of tuna per week. Many people stick to one instead.
Pregnant women need to be especially careful with their mercury intake and may need to avoid tuna altogether.
Salmon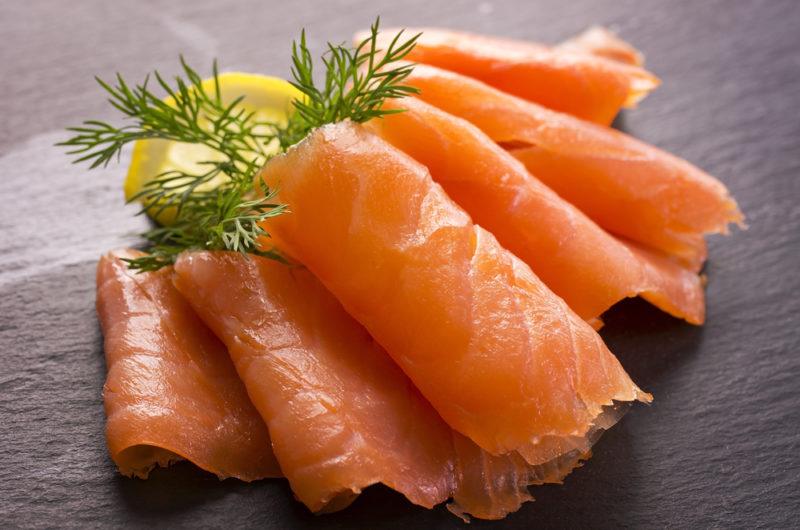 Salmon is another good fish for phosphorous. There are multiple types of salmon to choose from including coho salmon, sockeye salmon, and Atlantic salmon. Interestingly, the phosphorous levels tend to be lower for Atlantic salmon than other types, but the differences aren't large.
Wild-caught salmon is generally recommended, as the process is much more natural than farming salmon. You can end up with a better balance of nutrients too, as the farmed fish tend to be given a high-fat and high-protein type of feed that helps fish to grow larger.
The differences in food and the way that salmon live means that wild and farmed salmon tend to vary nutritionally. Wild salmon is often lower in calories and in fat. It contains fewer omega-3 fatty acids, along with dramatically lower levels of omega-6 fatty acids.
The lower omega-3 levels in wild salmon might seem like a bad thing, but wild salmon ends up having a much better balance of omega-3 fatty acids to omega-6 fatty acids, which is very important indeed.
While the phosphorous levels can be a little lower in wild salmon compared to farmed salmon, you're still getting enough to make either type of fish a good choice.
Sardines and Herrings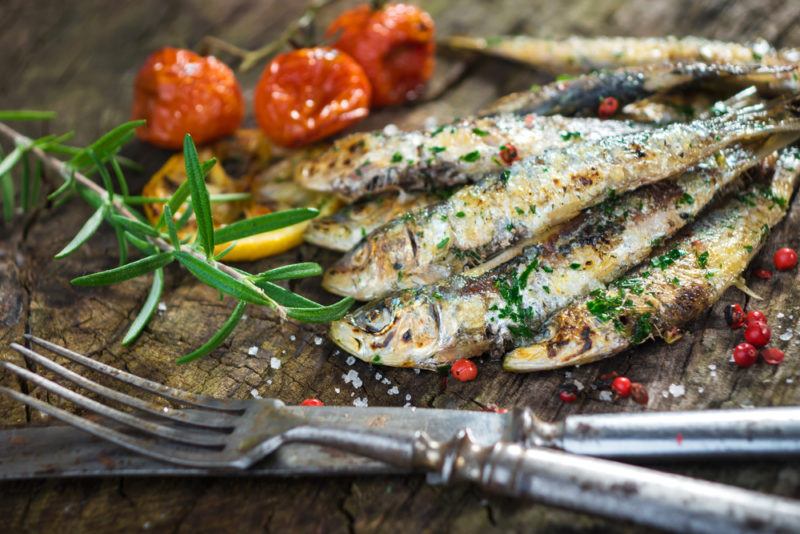 Sardines and herrings are very similar to one another. The fish come from the same family. The name difference simply refers to size, as the fish are called sardines when they are small and herrings once they have grown somewhat.
You're getting a similar amount of phosphorous from herrings as you do from salmon and tuna. Sardines are a good source of phosphorous too, although you'll need to eat a few of them to get your phosphorous. In particular, a cup of drained sardines provides around 58% of your daily phosphorous intake.
Sardines and herrings have some advantages too.
One is that the fish are near the bottom of the food chain and don't accumulate mercury in the way that larger fish do. Because of this, you don't need to be as wary when eating sardines or herrings as you do with tuna.
The bones of these fish tend to be soft too, especially for sardines, which are so tiny. It's easy to eat the entire fish, rather than just the flesh, which gives you more nutrients than you'd get otherwise.
Other Types Of Fish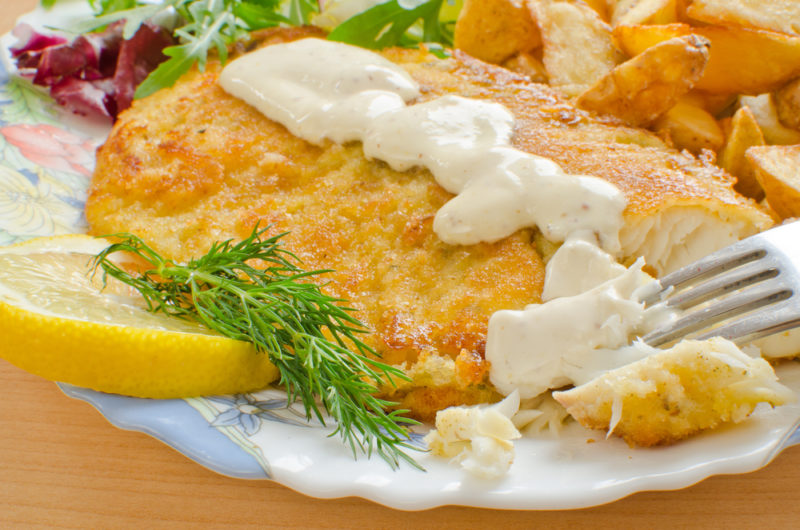 You don't just need to stick with tuna, salmon, sardines, and herrings. Other types of fish provide you with some phosphorus too. Cuttlefish, pike, and catfish are all good options.
Many white fish, like tilapia, contain a little less phosphorus, but you'll often still get more than 25% of your phosphorous intake in a single serving.
White fish tends to be lower in fat than options like salmon, so you're getting less omega-3 fatty acids. This doesn't make white fish inferior. The lower fat content means fewer calories in the fish, which can be important.
The best approach may be to include some types of fatty fish in your diet, along with some lower fat options. This way you're getting the best of both worlds.
Some Types Of Shellfish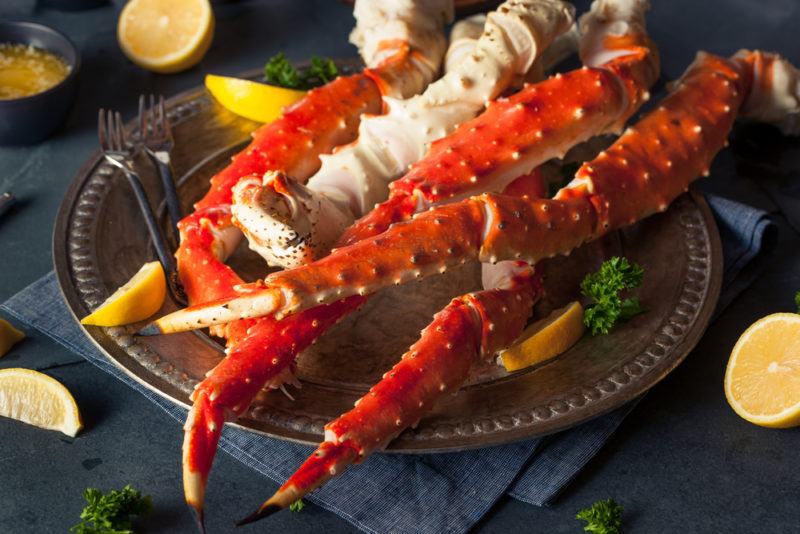 Shellfish doesn't offer as much phosphorous as fish, but there are still some good options. One of these is Alaskan king crab, where you get around 30% of your daily intake from one leg of the crab. Alaskan king crab is a powerful choice for nutrients anyway, providing plenty of protein, zinc, copper, selenium, and vitamin B12.
Scallops are another option to try. You get a similar amount of phosphorous from a 3-ounce serving of scallops or a little less from a cup of canned blue crab.
Other types of shellfish aren't as impressive, but you're still often getting around 20% of your phosphorous intake from a 3-ounce serving of the shellfish.
Tofu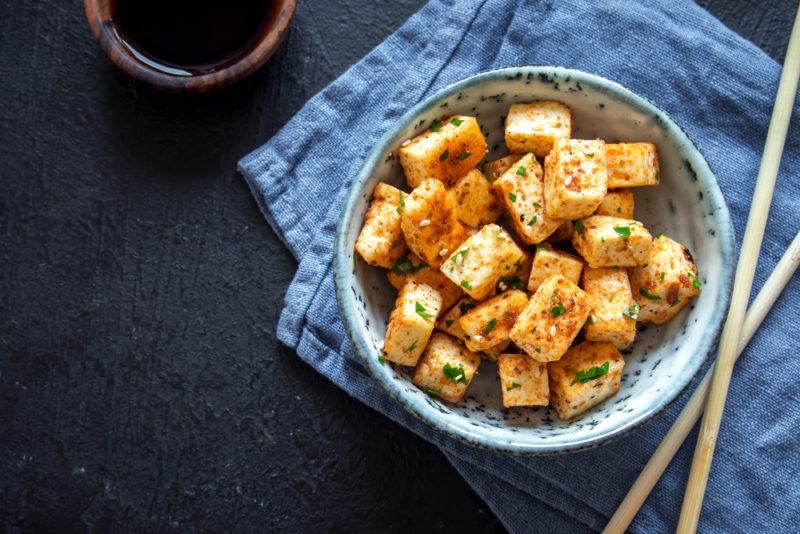 We've talked about many marine and animal-based sources of phosphorous, but these aren't your only options. There are some decent vegetarian friendly phosphorus foods too, starting with tofu.
Tofu is made using coagulated soy milk that is pressed to create blocks. Tofu tends to be creamy, but it doesn't have much taste of its own. Thankfully, tofu will readily take on the flavor of other ingredients, so with a little planning, you can create delicious meals using tofu.
Tofu tends to be popular, as it is rich in nutrients, a decent plant-based source of protein, and is low in fat. As for phosphorous, a cup of firm tofu will provide a little under 40% of your daily intake. Not too bad, right?
Popular as it is though, tofu is also controversial. The problem is that the product is made from soybeans. Many people are concerned about the isoflavones in soybeans, which are a type of plant-based estrogen. Then there are the potential antinutrients and the way that some soy is genetically modified.
If you're concerned about these effects, then you can easily avoid soy-containing products. However, there is little evidence that soy has negative effects on human health, so including a moderate amount in your diet should offer many more benefits than problems.
Edamame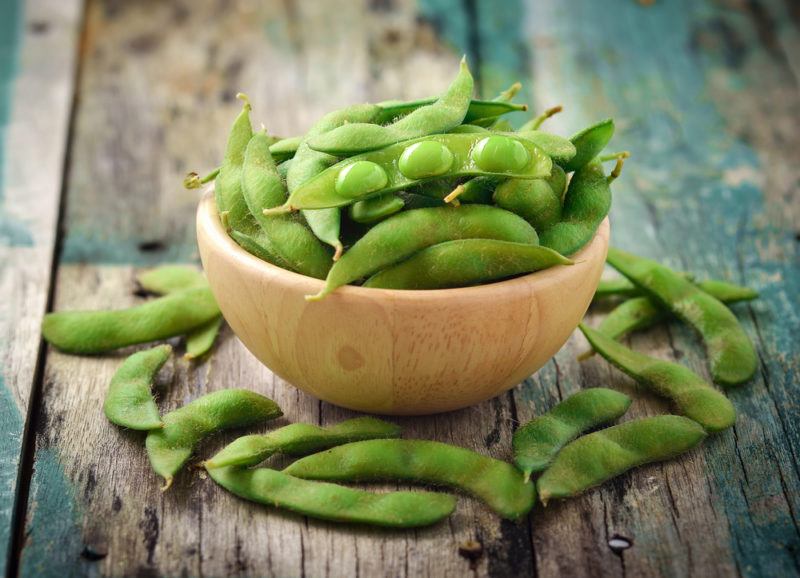 Soybeans themselves work well for phosphorus too. An easy way is to boil immature soybeans in their pods, which gives you a snack called edamame. Edamame can be served as-is, with salt, or with condiments.
This is a snack that you can enjoy warm or cold, which makes edamame fantastic for many situations. A cup of edamame is almost as good as a cup of tofu for phosphorous. You might find that you prefer edamame anyway, as the snack is less processed than tofu.
Beans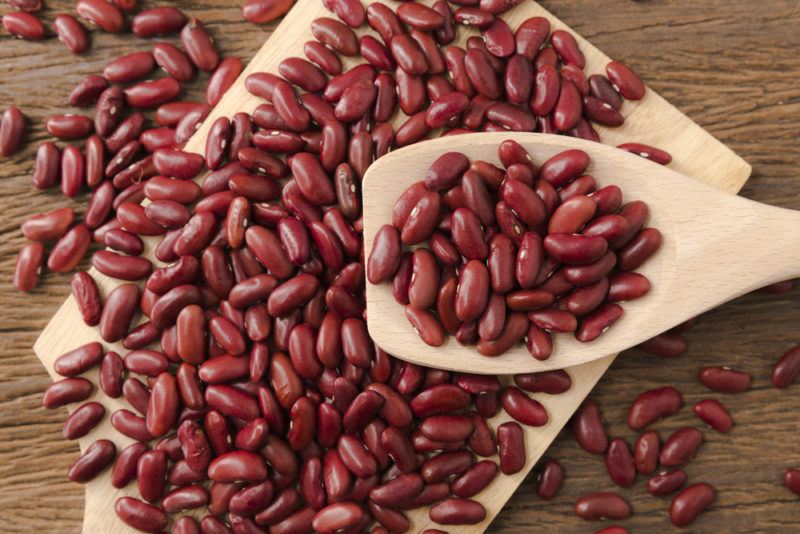 Soybeans contain more phosphorus than most other legumes, but other options can be relevant too. For example, canned navy beans can provide around 28% of your daily phosphorous intake in a cup, while small white means only contains a little less.
As is always the case, the amount of phosphorous varies depending on the type of bean that you choose. Growing conditions and cultivar can influence the phosphorous levels too.
But, even if you could, you don't need to choose the absolute best type of bean for phosphorous. You'll get more benefits by focusing on a wide variety of beans instead. After all, the beans all have a different balance of nutrients and plant-based compounds – and having diversity in your diet is always a good thing.
Lentils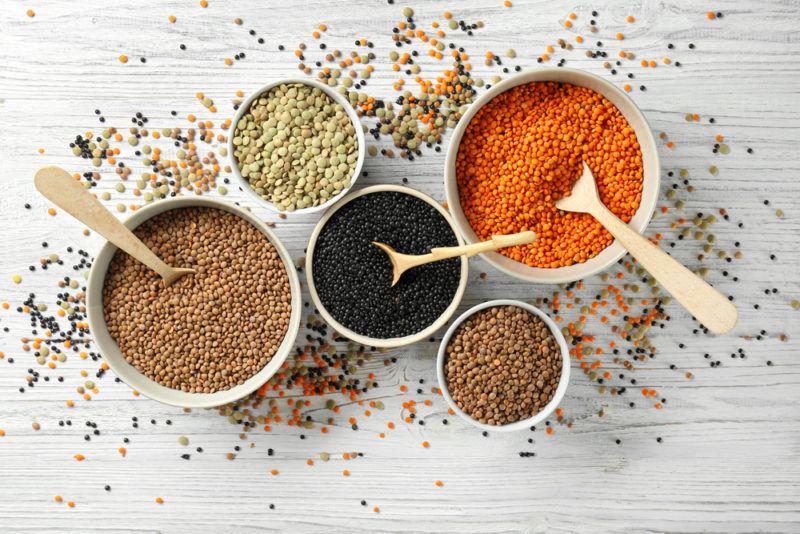 Lentils can be a great alternative to beans. They still offer plenty of protein and fiber, along with nutrients like iron, phosphorous, zinc, and magnesium, but they're also easier to cook.
With dry beans, you're looking at somewhere between 45 minutes and 2 hours of cooking time. Lentils, on the other hand, are often done in less than 20 minutes. Split lentils are faster still, cooking in under 10 minutes.
You can soak lentils too, which cuts the cooking time in half. As with beans, soaking lentils helps your body to absorb the nutrients. But, while 12-24 hours of soaking is often recommended for beans, lentils only need a few hours. They are much smaller, after all.
Lentils aren't difficult to use either. Many delicious recipes rely on them. We're not just talking about soup either. Lentils can be used in countless different ways. Why not get creative and try some new recipes for yourself?
Hemp Seeds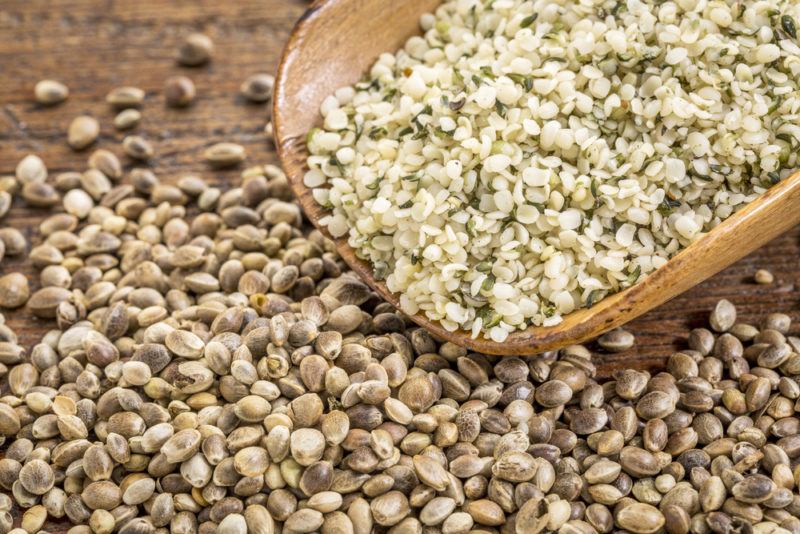 Hemp seeds are fascinating. They are, quite simply, the seeds from the hemp plant. Hemp belongs to the same species as cannabis, but only has trace amounts of THC. This makes hemp a powerful way to legally get the nutrients and plant-based compounds that cannabis offers, without any psychoactive effects.
The seeds contain more protein than many other options. You'll even find hemp seed powder in some places. There are other nutrients present too, like vitamin E, magnesium, and phosphorous.
You'll often hear the term hemp hearts, which refers to the inside of a hemp seeds. Other terms include hulled hemp seeds, shelled hemp seed, or occasionally hemp nuts. Hemp hearts tend to be soft and have a nutty flavor. They're easy to use, as you can sprinkle them on top of meals.
Hemp hearts can also be cooked or toasted. This can make them even more nutritious.
You can eat hemp seeds whole as well. Whole hemp seeds are crunchier than hemp hearts. This can create a delightful texture contrast in some meals.
Pumpkin Seeds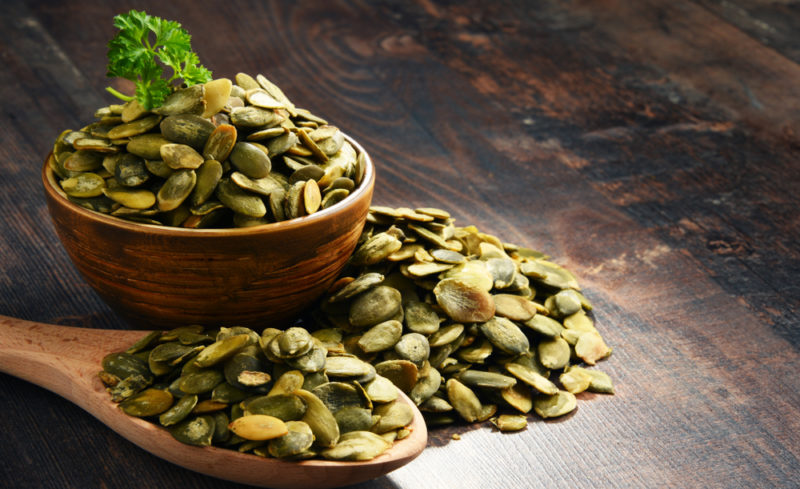 If you want something more familiar, pumpkin seeds are a good choice. You're getting somewhere between 25% and 30% of your phosphorous intake in a 1-ounce serving of the seeds (depending on how they're prepared).
That's a lot of phosphorous for a small serving size.
Besides, pumpkin seeds are very easy to snack on. This makes them one of the simpliest ways to increase your phosphorous levels.
Other Seeds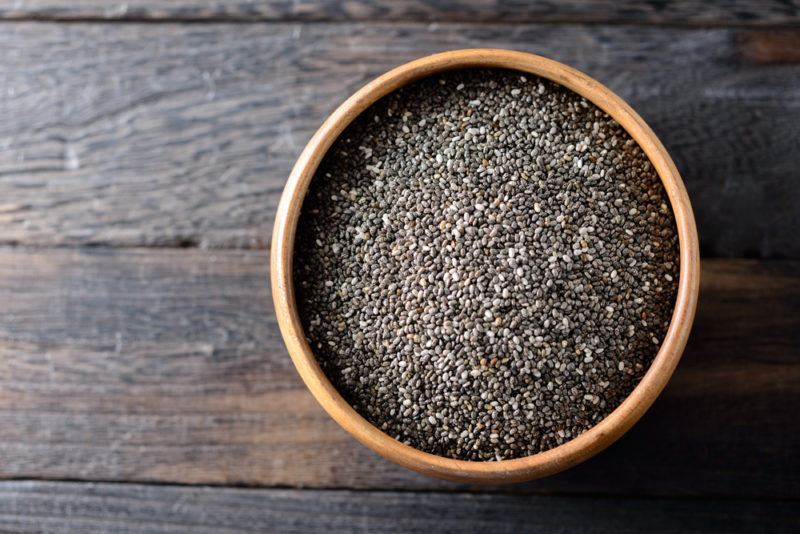 While hemp seeds and pumpkin seeds might be your most powerful choices, there are plenty of other nuts and seeds that you can turn to as well. In fact, you'll get some phosphorous with whatever nut or seed that you choose, even though the amount of phosphorous varies.
Sunflower seeds, for example, are almost as good as pumpkin seeds for phosphorous. They're also another popular snack choice.
You could look at chia seeds too. The phosphorous content of these seeds isn't as high, but they do have other advantages. In particular, chia seeds are small and packed with nutrients. They're also very easy to use. You can scatter them on top of meals or use them to create chia seed pudding, overnight oats, or some other type of treat.
Nuts generally aren't as powerful as seeds for phosphorous. Brazil nuts are one of the best types of nuts and you get around 16% of your daily intake from a 1-ounce serving of the nuts. Other nuts contain less again. Still, the phosphorous does add up.
Passion Fruit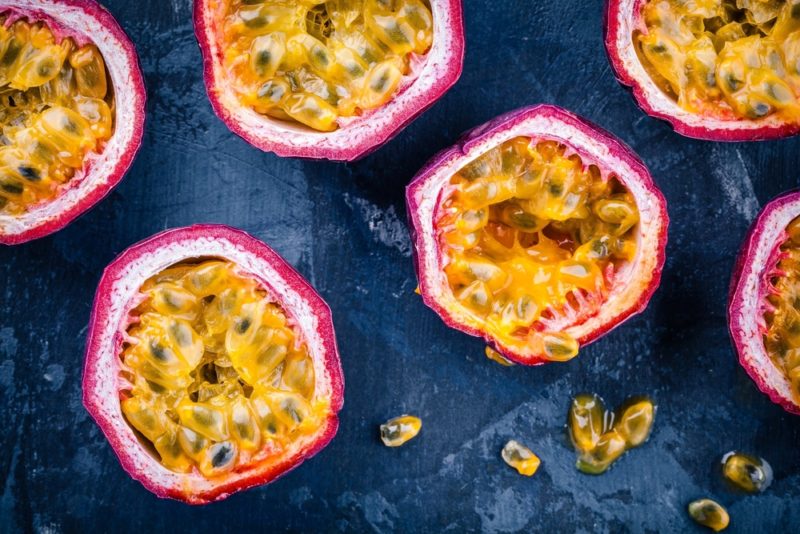 While fruit isn't a potent source of phosphorous, you can still get some of the nutrient this way. And honestly, every little bit counts. The best way to stay healthy is to focus on many different types of food, as each offers its own balance of nutrients, macronutrients, and plant-based compounds.
Passion fruit ends up being one of the best fruits for phosphorous, providing you with around 13% of your daily intake in a cup of the fruit pulp. Of course, a whole cup might be too large as a serving size, so you might end up with less than 13% of your phosphorous intake.
You'll get some phosphorous if you focus on passion fruit juice rather than the fruit, but the amount is likely to vary.
Regardless, passion fruit has an amazing flavor. It's a common choice for desserts. Or, you can simply cut a passion fruit in half and eat the flesh with a spoon (seeds and all).
Avocados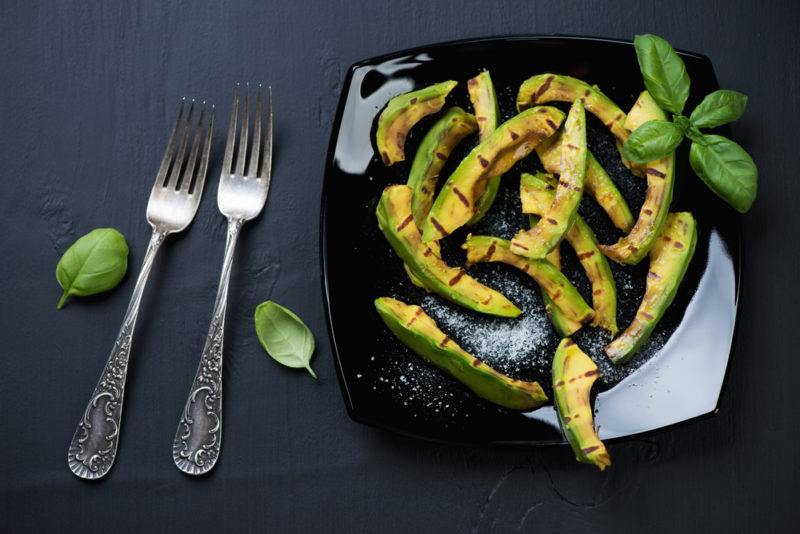 You'll find phosphorous in avocados too, although once again the amount isn't amazing. This time a cup of pureed avocado flesh provides just 10% of your daily phosphorous intake.
That might not sound like much, but avocado is delicious and is exceptionally easy to use. You can simply slice it up and use it as a side dish or on top of many different meals. Or, how about using it as an ingredient? You can even use avocados to make chocolate mousse and other delicious desserts.
Milk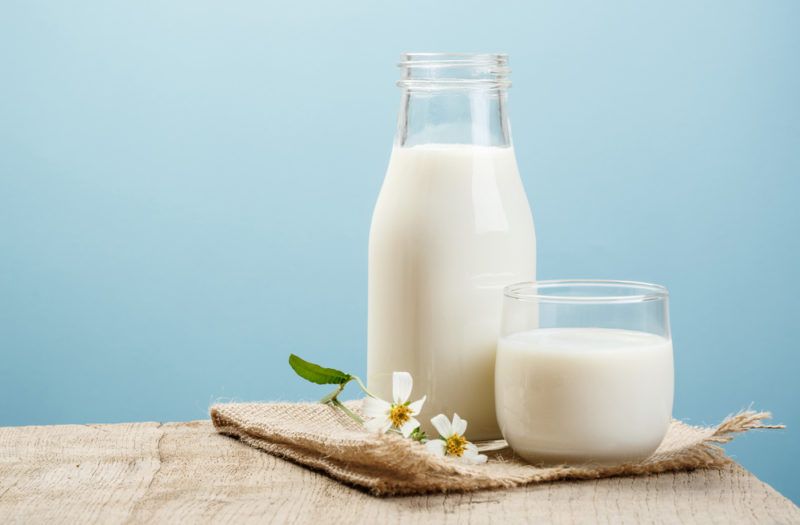 Did you know that phosphorous is present in milk too? You'll find it in many other dairy products as well, but milk remains one of the best choices.
The type of milk you choose matters. A 16 ounce glass of whole milk, for example, offers around 33% of your daily phosphorous intake, while the same serving size of skim milk offers around 40% instead.
This should mean that lower fat milk contains more phosphorous. But, as always, don't get too hung up on the details, as other things will impact the phosphorous levels too, like the way that the animals are raised.
Besides, you get a decent amount of phosphorous regardless of the type of milk that you choose.
And, don't forget, a glass of milk isn't your only option. You can use milk as an ingredient too. Any dish that heavily relies on milk, including ice cream, will end up being a source of phosphorous too.
Yogurt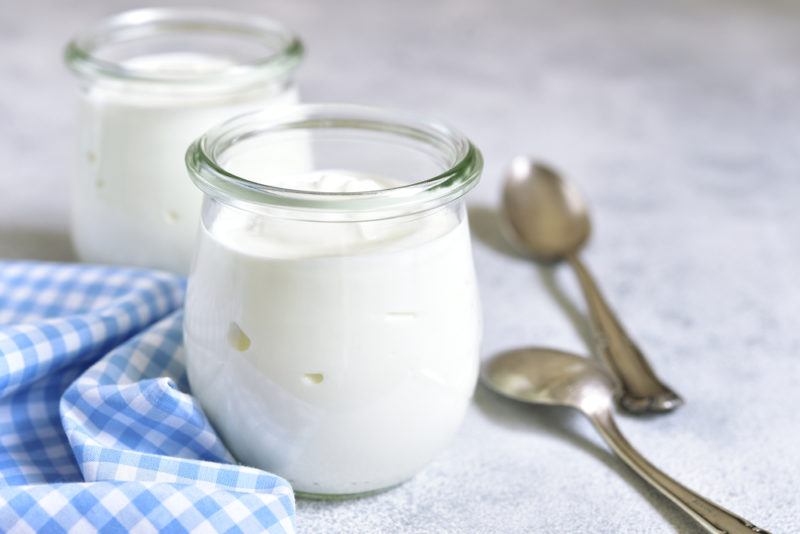 Speaking of foods that use dairy, yogurt is an obvious choice. It is an even more concentrated phosphorous source, as you're getting around 30% of your daily intake from an 8 fluid ounce serving.
However, the phosphorous amount is much less predictable here, as there are so many differences between one yogurt product and the next. Your best choice will be to focus on plain yogurts, ones that don't heavily rely on additives. This way you're getting the healthiest product.
Greek yogurt can be a powerful option too. This type of yogurt is strained, which changes the consistency and nutrient density. Greek yogurt often contains more protein too, which makes it powerful for health and weight loss.
While Greek yogurt and regular yogurt contain similar amounts of phosphorous, you may get a little more from Greek yogurt.
Parmesan Cheese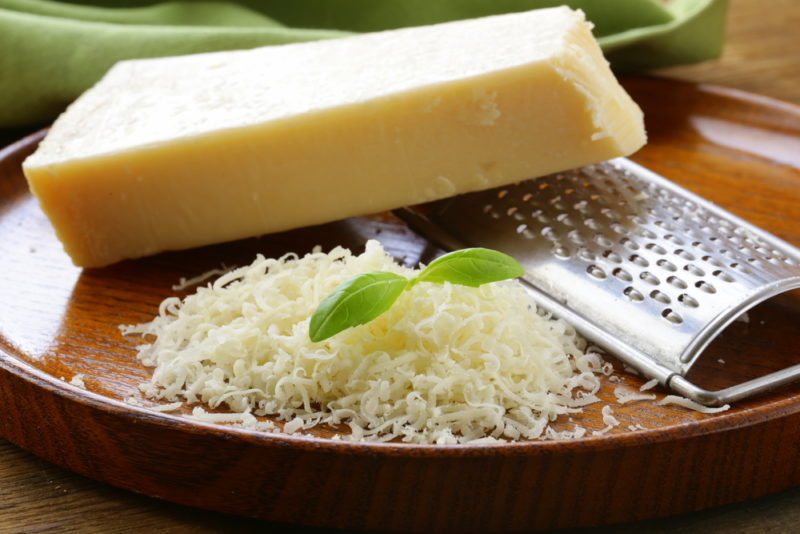 Cheese often isn't a great source of phosphorous, but parmesan cheese is an exception. Parmesan is an Italian hard cheese that's made from cow's milk and is aged for at least 12 months.
Parmesan has a sharp and distinctive flavor, so you probably won't use a large amount at a time. Still, parmesan can easily bring a meal up to the next level.
It also has some key advantages, including the high amount of phosphorous in the cheese. Parmesan is also very low in lactose. This makes it ideal for those who are sensitive to lactose and even for some who are lactose intolerant.
Ricotta and Cottage Cheese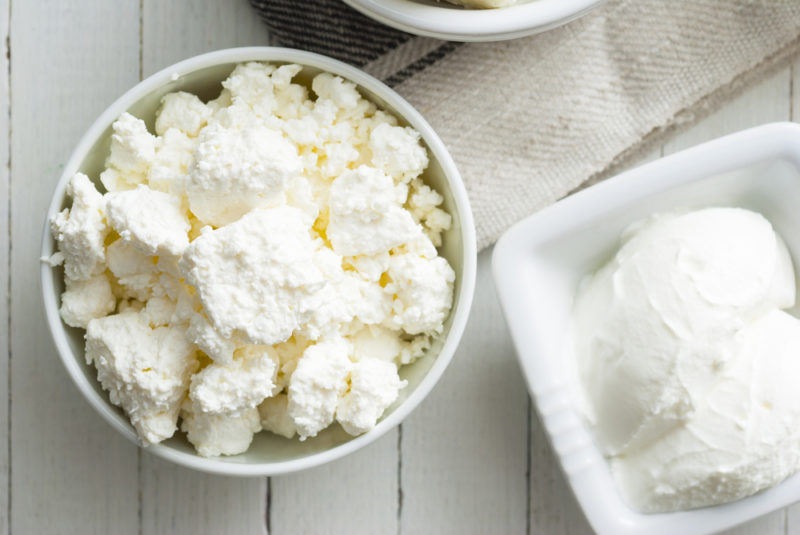 Ricotta and cottage cheese look similar and can often be used in the same recipes. They're both good sources of protein, are nutrient rich, and contain plenty of phosphorous.
Still, there are some differences. Ricotta tends to be the softer of the two and is also much higher in fat. This is why cottage cheese is the preferred option for a weight loss food.
The differences mean that you might choose one type of cheese over the other. But, regardless of your preference, ricotta and cottage cheese are some of the best types of cheese for phosphorous.
Related Content