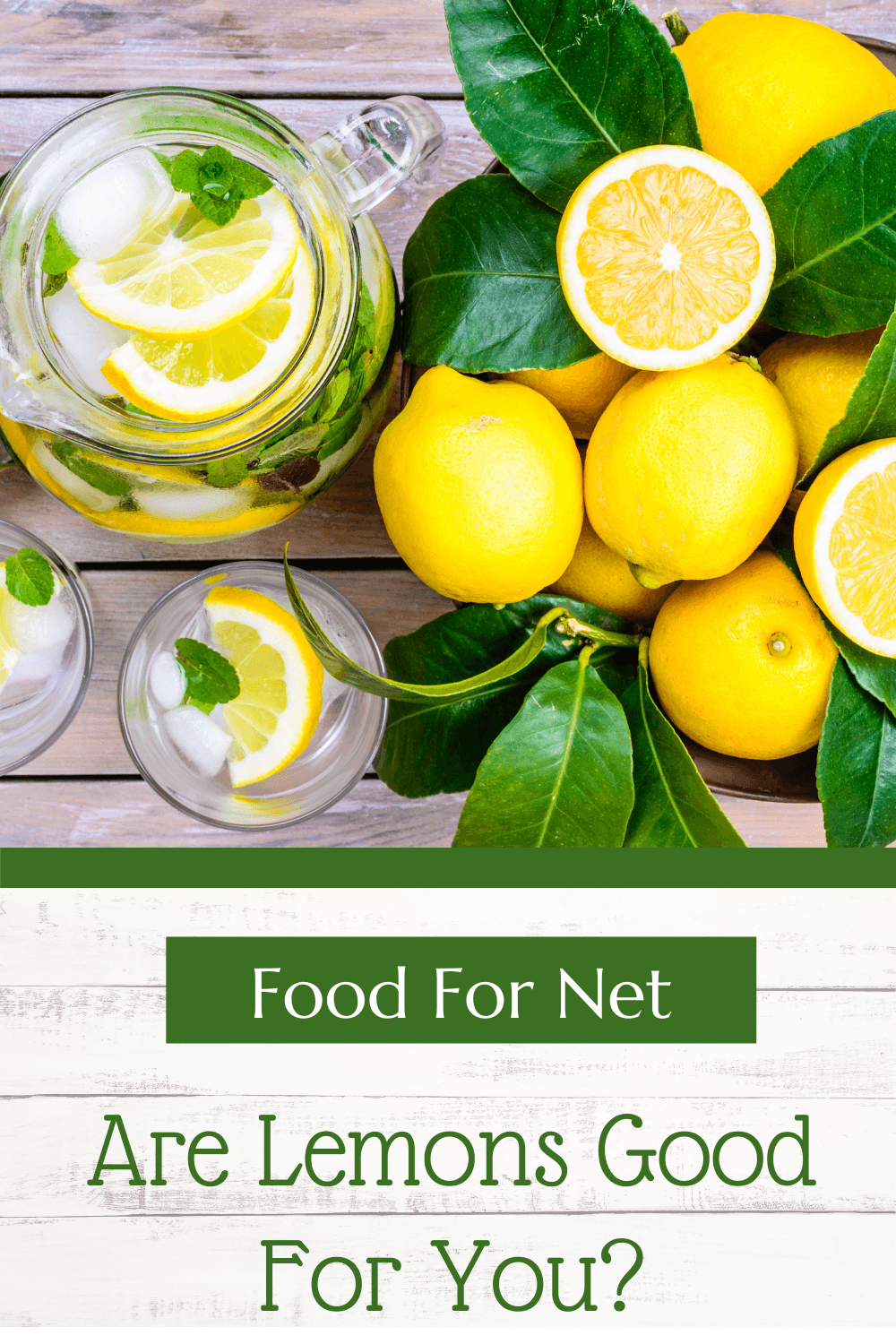 Lemons are certainly well-known. We use the bright yellow fruit all the time to add tartness and flavor to meals. Lemons are unusual though, as the low sugar content and tartness means few people eat lemons as-is. We have to ask then, are lemons good for you?
There are plenty of reasons to think they might be, as lemons are low in calories and contain plenty of interesting plant-based compounds. Lemons are also famous as ingredients in lemon water and various detox drinks.
Still, as you're doubtlessly aware, most foods have some positive features and some negative ones. The best way to stay healthy is to be aware of both perspectives, then decide the best foods for your diet and lifestyle.
With that in mind, let's check out what lemons have to offer.
Are Lemons Good For You?
Benefits Of Lemons
The Problems With Lemons
Is Lemon Water Healthy?
Should You Eat Lemon Peel?
What About Meyer Lemons?
Can Lemons Help You Lose Weight?
Lemons And Detoxing
Final Thoughts
Benefits Of Lemons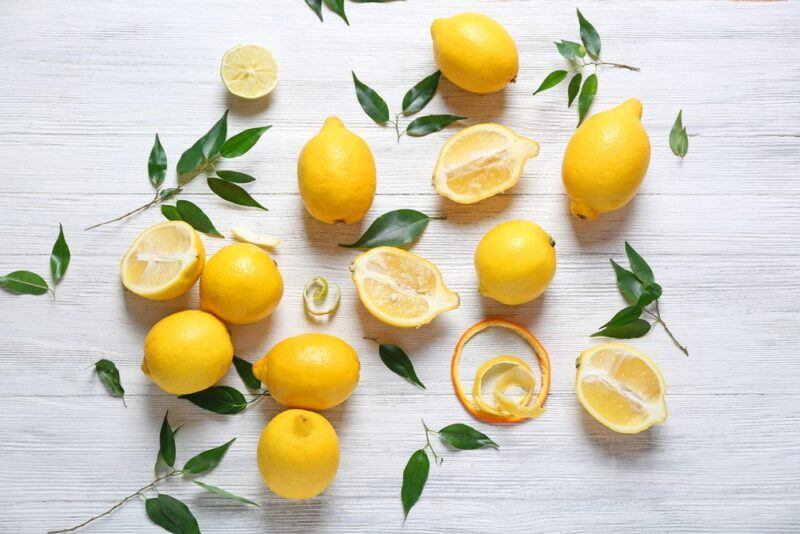 They Contain Interesting Plant-Based Compounds
Fruit is a fantastic source of plant-based compounds. These compounds have various structures and their own functions in their host plants. We're interested in them because they can influence human health in various ways too.
Many of the compounds present are antioxidants. They act just like the name suggests – helping to cut down oxidation throughout your body. Doing so is an important way to decrease your disease risk and keep you healthy (as excessive oxidation can be dangerous).
The compounds hesperidin, diosmin, and eriocitrin are particularly important here. They all act as antioxidants. Hesperidin and diosmin can protect your heart health as well.
Then there's citric acid. This is found in all citrus fruits and gives them their characteristic sharpness. Citric acid is particularly powerful for its ability to decrease kidney stone risk, but it may have many other benefits as well.
There are plenty of other compounds as well. While we don't know all the effects of every single compound, we know that many are helpful. Plus, diets rich in fresh fruits and vegetables are consistently linked to improved health outcomes, so there's no reason not to eat them regularly.
Their Low Carb Content
Not surprisingly, lemons are incredibly low in carbs, containing fewer carbs than most other types of fruit. In fact, a small lemon just contains around 5.4 grams of carbs. Only 1.5 grams of these carbs come from sugar.
The low carb content allows you to easily use lemons on a keto diet. This is fantastic, as fruits are always somewhat difficult on a keto diet.
And, while it's tempting to cut to cut out fruit entirely and avoid the hassle, doing so would mean you miss out on all the important plant-based compounds. Relying on low carb fruits like lemons and berries is a much more powerful idea.
Have Alkalizing Properties
Lemons are interesting because they're highly acidic, yet once they have been fully digested, they have alkaline properties instead. This means that lemons could theoretically help to balance out your pH, making your body more alkaline.
There's huge debate around this area.
Some people claim that we consume far too many acidic foods and not enough alkaline ones, which might increase disease risk. Foods like lemon may help to remedy this problem.
However, our bodies do balance their pH naturally, so alkalizing food won't actually change the pH level of your blood.
There may still be some benefits, especially as there are plenty of gaps in our knowledge. If nothing else, many acidic foods are highly processed, while whole foods are more likely to be alkaline or alkalizing.
In the end, the alkalizing properties of lemons aren't as amazing as they often sound, but they won't hurt you and might offer some benefits.
Their Vitamin C Content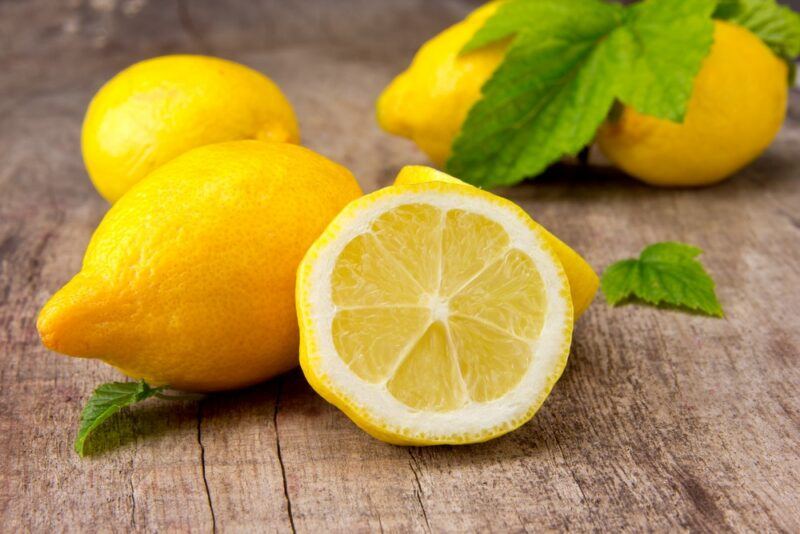 We often think of oranges as the main vitamin C rich fruit, but lemons offer a decent amount of the vitamin as well. In fact, a large lemon contains 74% of your daily vitamin C intake. Not too bad at all, especially as lemons are lower in sugar than oranges.
While most of us are already meeting our daily vitamin C targets, many theories suggest that increasing vitamin C intake could improve your health even more, like by promoting a better immune system response, decreasing blood pressure, and lowering your risk of heart disease.
Some of these benefits could be found with vitamin C supplements or foods like lemon. Honestly though, whole foods are always the best option. They contain many more important compounds and you know exactly what you're consuming (something that's not at all true for supplements).
Could Improve Heart Health
Vitamin C isn't the only feature of lemons that help your heart health. Some of the flavonoids in citrus fruit are also powerful, helping to decrease the risk of stroke.
Research has also linked lemons to decreased blood pressure, although the mechanism behind this effect isn't clear. Knowing the mechanism isn't essential though, as we already know that diets rich in fruits and vegetables are powerful for health, helping to decrease the risk of heart disease, obesity, type 2 diabetes, and many other health issues.
Lemons can be an important part of any plant-heavy diet.
Helps To Increase Iron Absorption
Iron deficiency remains surprisingly common in the United States, with many people not reaching the ideal daily intakes. One reason for this is that iron from plants is harder to absorb than iron from animal-based foods.
Lemons can help here because they're decent sources of vitamin C and vitamin C significantly increases iron absorption. Simply squeeze some lemon juice over a salad and you'll end up getting more iron from it. You could also look at a lemon-based salad dressing. There are plenty of recipes to choose from.
Might Decrease Kidney Stone Risk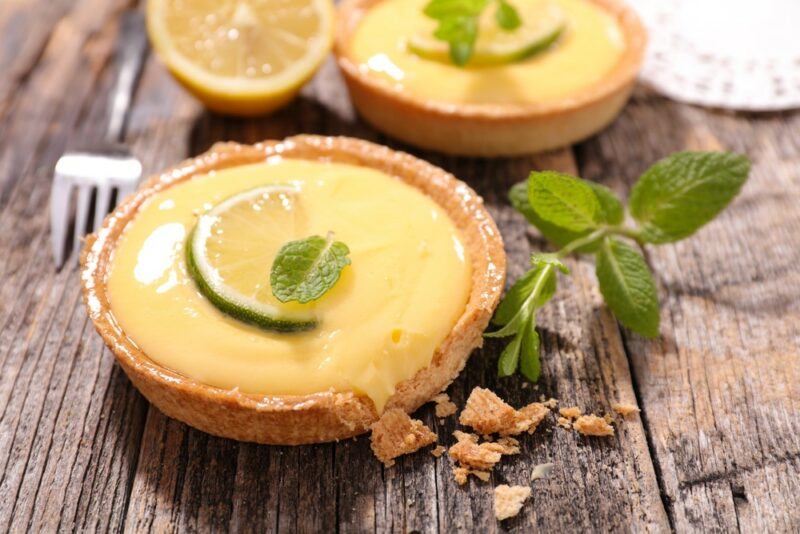 Kidney stones are created from the crystallization of waste products. While the stones are small and often cause no permanent damage, they can be painful to pass, so it's important to find ways to avoid them.
The citric acid in lemons reduces the risk of kidney stones, partly because the citric acid increases the pH of your urine. This change makes it more difficult for kidney stones to form.
Even around half a cup of lemon juice may be enough to prevent kidney stone formation (other citrus fruits and juices may be relevant as well).
You might even see benefits from drinking lemonade, although only some studies support that conclusion. On the other hand, lemon water probably won't help influence your kidney stone risk, as it often contains much less than half a cup of lemon juice.
Can Improve Your Digestion
Lemons are interesting for digestion too, due to their fiber content. The pectin in lemons is particularly important here, as it is a type of soluble fiber that helps to you to feel full for longer.
Soluble fiber also helps with your gut health, by acting as food for the microbes in your gut. This effect is important for your digestion too. Of course, you'll only see these digestive benefits if you are using whole lemons rather than just lemon juice.
Their Flavor
We can't forget about the flavor of lemons either. This is the reason that lemons are so popular in drinks like lemonade and even lemon vodka. Few other ingredients provide such a strong punch of flavor.
The Problems With Lemons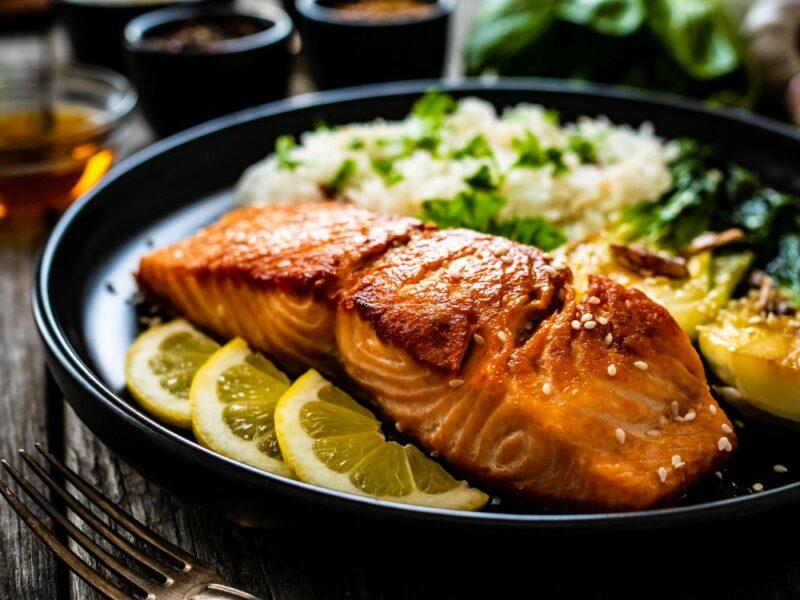 Can Damage Your Teeth
While lemons have an alkalizing effect, this is only true after they've been digested. When you're eating them, they're highly acidic, which isn't great news for your teeth.
Thankfully, most of us don't eat lemons directly and we're more likely to drink lemon water than straight lemon juice. Even so, you'll still need to be careful.
If you're having lemons or lemon water regularly, try rinsing your mouth out with water afterward. But, don't brush your teeth immediately, as doing so risks damaging your enamel.
Can Increase Reflux Symptoms
Acidic fruits, like lemons, oranges, and pineapple, all cause some stomach lining irritation. This effect isn't highly significant for most people, but can be a problem if you already experience acid reflux regularly.
People with other gastric disorders might experience side effects from acidic fruits as well. If this is the case for you, then lemons and lemon juice may not be a wise addition to your diet.
Still, it's always important to experiment for yourself. People vary in their sensitivity to acidic foods. You might even find that you can eat lemons some of the time, as long as you keep your portions small.
Their Strong Flavor
The taste of lemon is appealing enough if you keep your doses small. However, lemons are far too tart to eat on their own.
So, while you can eat a whole orange without too many problems at all, eating a whole lemon won't work well at all.
Is Lemon Water Healthy?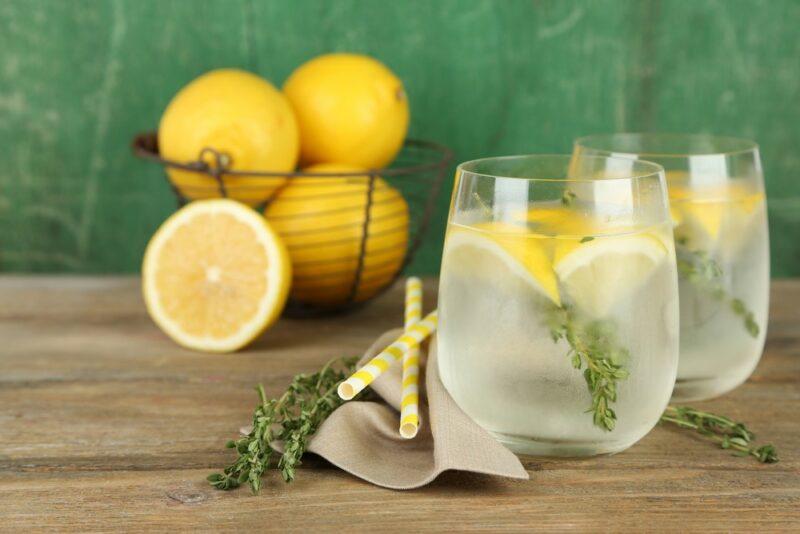 We've talked about lemon water in another post, so we're only going to touch on it here. The short answer is that lemon water can be very good for you, largely because it keeps you hydrated and tastes better than plain water.
That said, lemon water won't give you the same benefits as lemons, not by a long shot. This is because most of the time, lemon water is mostly just water, with a tiny amount of lemon juice.
You're not getting enough juice to see many benefits at all.
You could increase the amount of lemon juice to give yourself more benefits, but this will increase the tartness of your lemon water, making it more difficult to drink.
Remember too that many of the benefits of lemons are related to their fiber content. Lemon juice doesn't contain this fiber, so lemon juice and lemon water could never be as powerful as eating lemons themselves.
Should You Eat Lemon Peel?
Lemon peel is entirely edible and is often used in baking for its bright burst of flavor. You'll see it start as a cocktail garnish as well.
However, it's not just the flavor that makes lemon peel special. The peel also contains some pretty important compounds, including powerful antioxidants and antibacterial substances.
Limonene is particularly important here. This compound is mostly found in the peel of citrus fruit, rather than the flesh of the fruit, and it's significant enough that you can even find limonene supplements.
Adding lemon peel to your diet isn't difficult. You can use a small grater or zester to get the peel without much white pith, then sprinkle this on top of meals. Some people also cut lemon peel into strips then dehydrate those strips.
You can also find candied lemon peel. The added sweetness makes the candied peels easier to eat than straight lemon peel, but there is the added sugar to worry about. Let's face it, most of us don't need extra sugar in our diets.
What About Meyer Lemons?
Meyer lemons are an interesting case. They're a hybrid fruit from China, with lemon and orange parentage.
The most obvious difference between these and regular lemons is that Meyer lemons aren't nearly as acidic as regular lemons. They're even somewhat sweet, making them an easy addition to salads and desserts (that said, they're still pretty tart, so you probably wouldn't eat them on their own).
The milder flavor of Meyer lemons makes them popular in recipes, especially for cases where regular lemons are just too intense.
Despite the flavor differences, Meyer lemons should still offer most of the same benefits as regular lemons. The biggest difference is that Meyer lemons may be higher in sugar. Even so, they'll contain less sugar than oranges and may still work well on low carb diets.
Can Lemons Help You Lose Weight?
Lemons are sometimes promoted as a weight loss food too – partly because of their detox reputation.
Indeed, if you follow a lemon detox diet or something similar, you probably will lose weight. However, that effect is mostly because detox diets are also low in calories.
Such diets aren't great for weight loss anyway, as they're not sustainable. Many people end up losing weight, then putting most of it back on when they stop the diet.
Whether lemons themselves help with weight loss is much more debatable.
The pectin in lemons is relevant, helping you to feel full and improving your digestion. However, that's only helpful if you are eating lemons themselves rather than drinking lemon juice.
There's the chance that some plant-based compounds in lemons are relevant as well, but there's little evidence right now.
In the end, lemons aren't going to hurt your weight loss efforts, but they're not a powerful weight loss aid either. They're simply a delicious and healthy ingredient.
Lemons And Detoxing
There's one more area to talk about, whether lemons can help you detox.
Detox diets, foods, and drinks have become incredibly popular. They're all based on the idea that modern diets are filled with toxins that our bodies can't get rid of on their own.
The idea isn't completely outlandish, as some studies suggest that detox diets can improve liver effectiveness, resulting in increased toxin removal. Even so, studies into this topic are extremely limited, so there are many gaps in our knowledge.
Even if some detox ingredients, including lemons, do increase the effectiveness of our liver, the effects are likely to be small (and may not happen all the time). Our bodies are well-adapted to getting rid of toxins and a detox diet isn't going to dramatically change this.
Rather than trying detox drinks, it's much better to focus on a healthy diet, one that's rich in fruits, vegetables, legumes, and other powerful ingredients. This way you get plenty of nutrients and plant-based compounds, which can all help with your health.
Final Thoughts
Lemons provide many benefits, including the ability to improve heart health, increase iron absorption, improve your digestion, and decrease the risk of kidney stones.
The biggest problem is their acidity, which can damage your teeth and trigger acid reflux symptoms. Thankfully, the acid reflux effect won't apply to everyone. Rinsing your mouth out after eating some lemon or drinking lemon juice can lower the risk of any enamel damage.
Still, remember that lemons are just one type of healthy fruit. If you find them too acidic or simply don't like the flavor, that's all good. Many of the same benefits can be found with other types of fruit too, particularly citrus fruits like oranges and limes.
Frequently Asked Questions
Are Lemons Man Made?
In a sense, yes. Lemons can be called man-made, as they are a hybrid species, made from a type of bitter orange and citron. Estimates even suggest that lemons have only been around for a few thousand years.
How Much Lemon Juice Is In One Lemon?
On average you get around 3 tablespoons of lemon juice from a medium lemon and 4 tablespoons from a large lemon. However, the amount of juice varies from one lemon to the next, so sometimes you'll need more lemons than you expect.
How Long Does Lemon Juice Last?
Lemon juice is always best when it's been freshly squeezed. But, you can store it in the fridge for around 4 days without much loss of quality.
If you want to keep it longer than that, try freezing the lemon juice in ice cube trays. It will last for several months this way and will maintain its quality better than if you kept it in the fridge.
How Long Are Lemons Good For?
If you keep them in the fridge, lemons last for a surprisingly long time – anywhere from 4 to 6 weeks. They can be kept at room temperature too, but will only last a week or so if stored this way.
Cut lemons don't last nearly as long. However, if you keep them in an airtight container in the fridge, they may keep for up to a week.
Are Lemons Acidic?
Yes, lemons and lemon juice are highly acidic with a pH of 2 to 3. Because of this, they can damage the enamel on your teeth and may trigger heartburn symptoms.
However, things change once they're digested and lemons actually become alkaline instead. This is why alkaline dieters often drink lemon water.