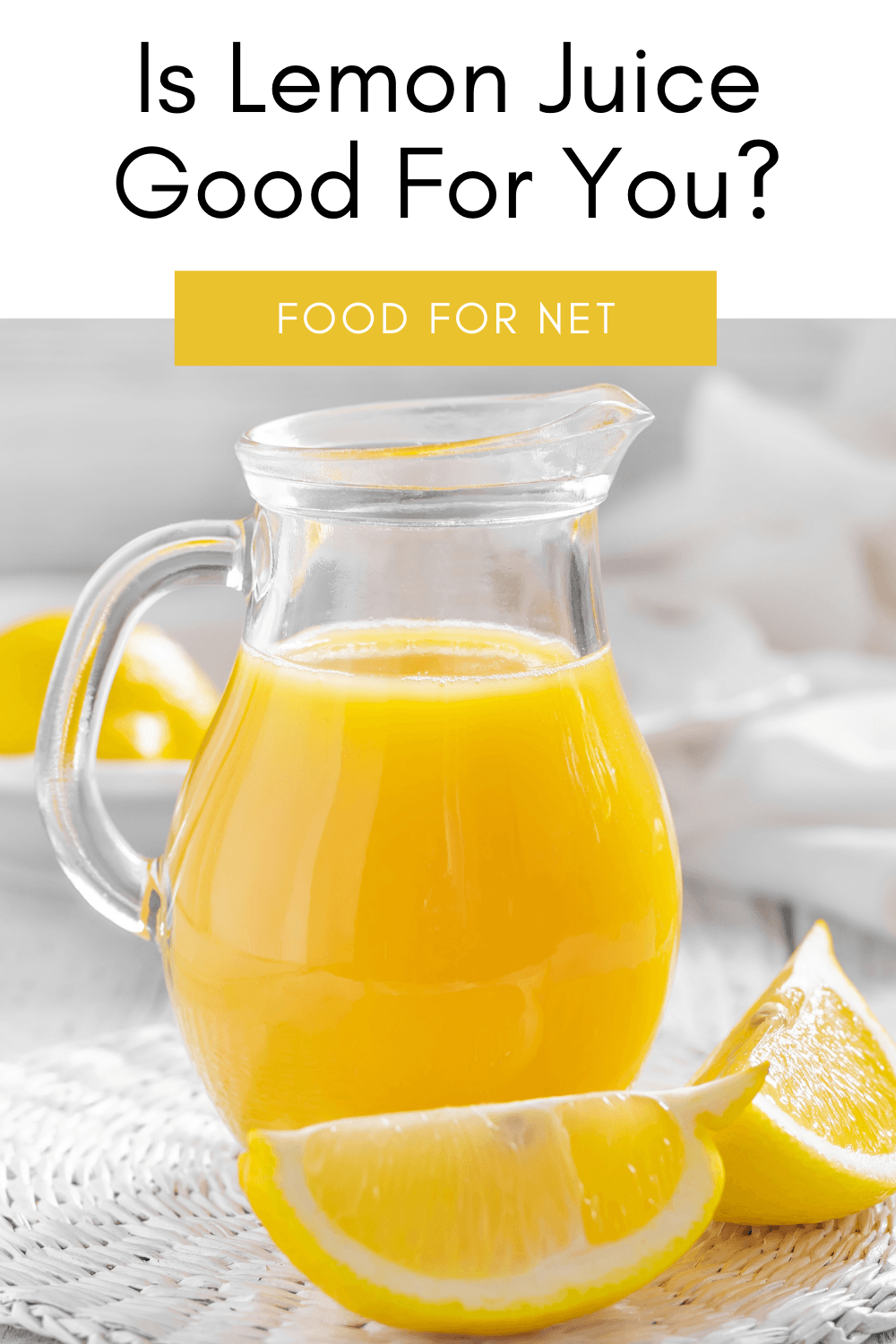 Lemons are fascinating. While most fruits are sweet and delicious, lemons are incredibly tart instead, so much so that eating a fresh lemon on its own is very difficult indeed. This doesn't stop them from being popular though, as lemons work well for adding a sour flavor to food and drink. But is lemon juice good for you?
The flavor is why there are so many different lemon recipes, including lemon-based desserts, health tonics with lemon, cocktails with lemon juice, lemon smoothies, and many more options.
These days, it's not just the flavor of lemon we're interested in. It's also the health benefits. Just look at how popular lemon water is for promoting health. But, what about lemon juice itself? Is lemon juice good for you?
Is Lemon Juice Good For You?
The Benefits Of Lemon Juice
The Risks Of Lemon Juice
Lemon Juice Versus Lemon Water
Lemon Juice Versus Lemonade
Should You Drink Lemon Juice?
Final Thoughts
The Benefits Of Lemon Juice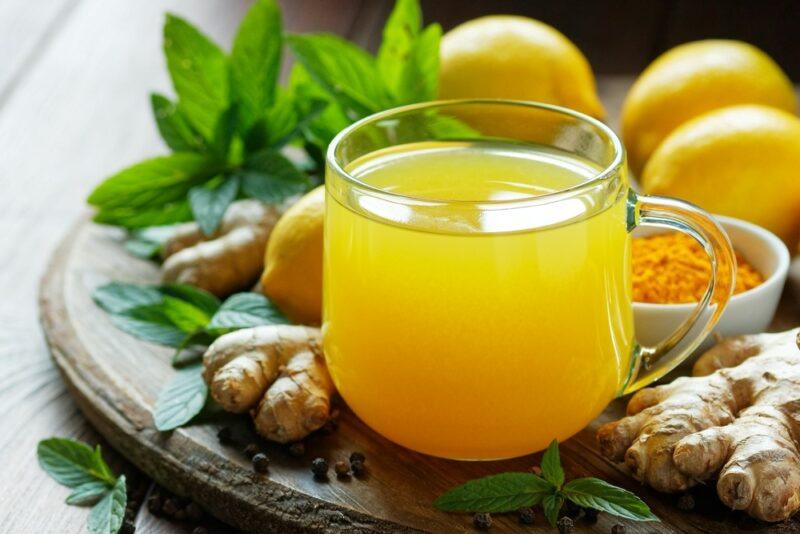 Helps To Relieve Sore Throats
You'll often see lemon juice feature in health tonics, like a hot drink with lemon juice and honey for when you have a sore throat. The idea isn't just an old wives' tale either. The lemon in such remedies really can be helpful, as the citric acid in the lemon juice helps to break down mucus, relieving some of your congestion.
The vitamin C in lemon juice is relevant too, as this can help with your immune system. It may give your body some extra help in fighting off the bug.
Reduces Kidney Stone Risk
The citric acid in lemon juice can help to protect you against kidney stones, reducing the risk that they'll form. This is important, as kidney stones can be incredibly painful.
Most studies on this topic have focused on lemonade, particularly low sugar or sugar free lemonade. Surprising as it seems, drinking lemonade really can protect you from kidney stones. The effect isn't as strong as taking medication, but it's still a decent effect. Besides, do you really want to be taking yet another type of medication?
Excellent Source Of Vitamin C
Lemon juice provides you with plenty of vitamin C. In fact, a cup of the juice gives you more than 180% of your daily vitamin C needs. Impressive, right? There are other nutrients present too, but none are nearly as prevalent as vitamin C.
We know that vitamin C is important. It plays many roles in our immune system and it's also an antioxidant, so it can help to reduce oxidative stress and free radical damage. Vitamin C also helps our body to grow and repair, making it highly relevant when we're not feeling our best.
While vitamin C deficiency isn't common in developed countries, you may still see benefits from increasing your vitamin C intake.
Could Decrease Blood Pressure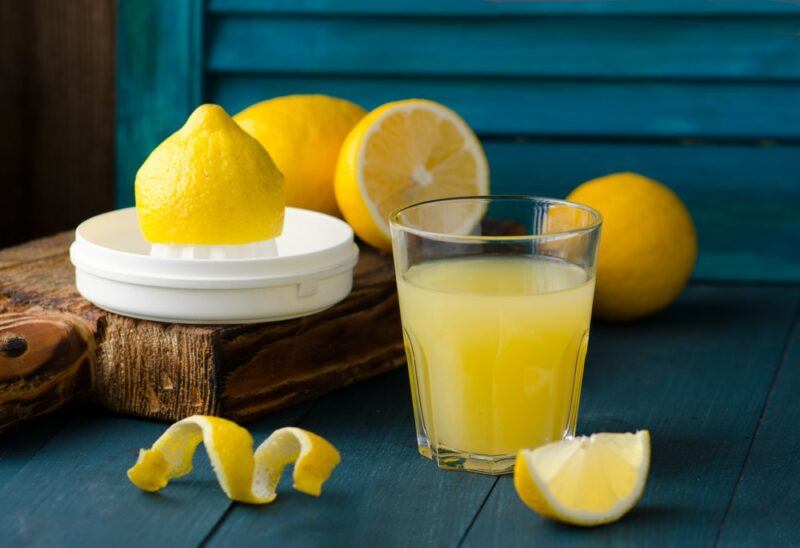 Lemon juice might even be relevant for your heart, helping to decrease blood pressure levels. There isn't a lot of research for this effect yet, but it is still one more reason to give lemon juice a try.
Improves Iron Absorption
Iron is an incredibly important nutrient, but it's easy to be deficient in it. One problem is that iron from plants is difficult for our bodies to absorb. Because of this, iron rich vegetables like spinach aren't nearly as powerful as they first seem.
Low In Calories And Sugar
Fruit juice tends to be a poor alternative to fresh fruit, as you get much more sugar per serving and lose all the fiber from the fresh fruit. Lemon juice is a little different, as the sugar content is still very low. For example, a full cup of lemon juice contains just under 6 grams of sugar – and most of us won't consume nearly that much lemon juice at a time.
The calorie content is low too, with that serving size giving you just 61 calories. Impressive, right?
Healthier Than Other Types Of Fruit Juice
Fruit juice generally isn't all that healthy. Take orange juice as an example. You get some nutrients and antioxidants from the fruit, but you still end up with a high sugar and calorie dense drink.
Even if you choose orange juice with pulp, the sugar from the juice will quickly spike your blood sugar levels. It's easy to drink too much as well, given that orange juice is much more calorie dense than fresh oranges. The same pattern is true for most types of fruit juice.
Lemon juice is one of the exceptions.
As we've seen, the juice doesn't contain a large amount of sugar at all. The strong sour flavor also makes it hard to overdo it on lemon juice.
Plus, unlike regular fruit, the comparison between fresh lemons and lemon juice isn't really fair. Few people ever eat lemons directly. They're too sour for that. You might use some lemon slices in a recipe or as a garnish, but that's about it.
May Be Relevant For Cancer
Some theories also suggest that lemon juice can help to prevent and perhaps even treat cancer. Some of these effects come from the flavonoids in lemons, which act as antioxidants and influence your health in other ways as well.
Just don't expect lemon juice to suddenly cure cancer. Cancer is a difficult and nuanced disease, one that we're still trying to understand. Most cancer research is conducted in animals or in test tubes, so it doesn't tell us much about what happens in the human body.
The Risks Of Lemon Juice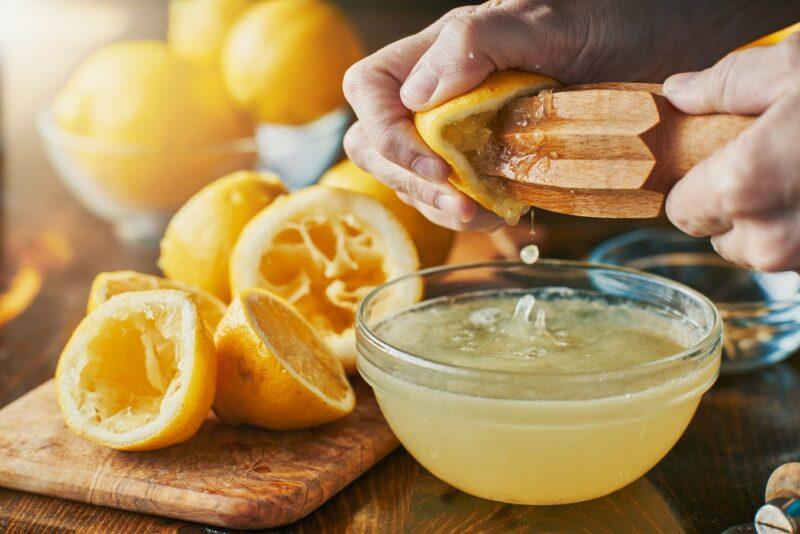 Can Damage Your Tooth Enamel
Lemon juice is highly acidic, so it can easily damage the enamel on your teeth, leading to cavities. This means you should always be cautious when drinking lemon juice.
Thankfully, some tricks can help you to still drink lemon juice (or lemon water), while protecting your teeth.
Rinse your mouth out with water after finishing your lemon juice.
Drink the juice quickly, rather than sipping it over time.
Try using a straw and placing it so that the lemon juice doesn't come in contact with your teeth.
Brush your teeth before drinking lemon juice, but NOT immediately afterward. You need to wait around two hours before brushing your teeth so your teeth can re-mineralize. Brushing your teeth earlier than this risks removing enamel.
Also think about how often you're drinking lemon juice. While the juice offers some benefits, none of these are amazing or unique to lemon juice. You'll see many of the same benefits from other fruits and vegetables, ones that are less likely to cause cavities.
Can Trigger Migraines
Lemon juice contains a decent amount of tyramine. This is a natural compound that can help with blood pressure levels and isn't an issue for most people.
However, if you're sensitive to tyramine, you might find that it acts as a trigger for migraines. If this is the case for you, drinking lemon juice may not be a wise idea.
Lemon Juice Versus Lemon Water
You've probably heard of lemon water by now. It's all the rage as a detox drink that might offer incredible benefits. Lemon water is exactly what the name suggests – you're taking water and adding a little lemon juice to it. A common recipe is to squeeze the juice of half a lemon into 9 ounces of water.
Doing so is meant to give you some of the benefits of lemon juice, in an easy-to-drink form.
Lemon water does offer some benefits, that's true, but most of these come from the water. This isn't too surprising, right? As you're not getting that much lemon juice per serving.
Still, the lemon juice adds an interesting flavor to your water, making it more enjoyable. For many people, lemon water ends up being easier to drink than water. That effect alone makes it powerful, given that many of us don't drink enough water each day.
While lemon water isn't as acidic as lemon juice, it is still acidic. So, some of the same concerns with lemon juice apply to lemon water too. Be especially careful when it comes to your teeth. Drinking lemon water through a straw can help, along with rinsing your mouth out with water when you've finished the drink.
Lemon Juice Versus Lemonade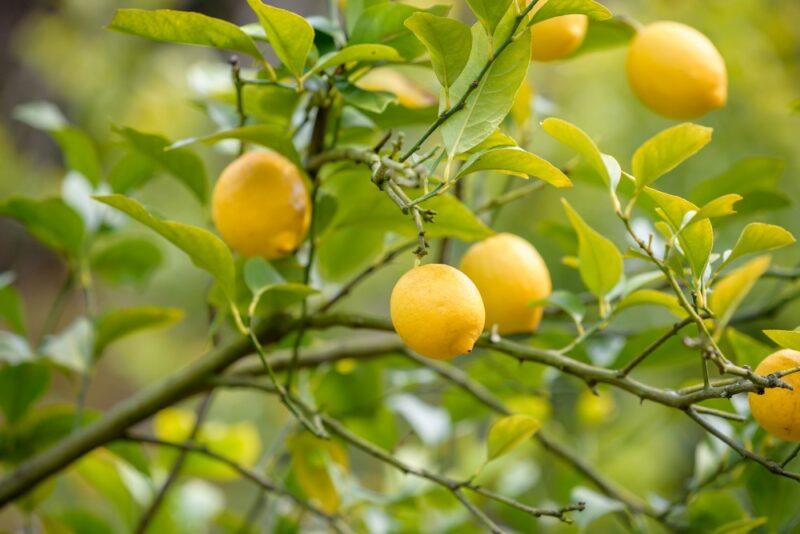 Lemonade is the other popular drink that relies on lemon juice. It often contains more lemon juice than lemon water, but this doesn't necessarily make it healthier.
Lemonade has one giant weakness, the sugar content. The sugar is used to offset the tartness of the lemons, giving you a sweet-tart drink that's simply delicious.
However, sugar doesn't help your health at all. It puts you at risk instead, as sugar can increase your risk of various health problems, including weight gain, heart disease, depression, type 2 diabetes, and even cancer.
While a little sugar isn't a big deal, our modern diets are loaded with the stuff. Most of us need to cut back on the sweet stuff and lemonade doesn't help matters one bit.
If you're hoping to use lemonade to get benefits from lemon juice, you'll need to find a version that uses minimal sugar. Doing so often involves making the lemonade at home.
You can also look for low carb lemonade recipes, as these will typically rely on natural sweeteners rather than sugar. Such drinks provide plenty of lemon juice and don't have much sugar. They could be the healthiest choice all around, as long as you're comfortable with sweeteners like stevia.
Should You Drink Lemon Juice?
Drinking lemon juice, either on its own, in lemon water, or as part of a health tonic, has become the most popular way to access all the benefits of the juice. After all, it's easy to down a shot first thing in the morning. Doing so is much simpler than using lemon juice in a recipe.
The biggest problem is the acidity. Lemon juice is still acidic even when it's diluted and can easily harm your teeth. Adding sugar only makes matters worse, as sugar isn't great for your teeth either.
If you're going to drink lemon juice, in any form, it's important to do all you can to protect your health. Even then, the benefits mightn't be worth the risk.
Think about it this way. While lemon juice provides plenty of benefits, none of them are particularly unusual. You'll get many of the same benefits from other types of fruits and vegetables – ones that aren't likely to harm your teeth.
The main exception is if you have a sore throat or a cold. In that situation, hot lemon drinks can do wonders, reducing your congestion and even relieving pain.
Final Thoughts
Lemon juice does have many positive features and could easily promote your health. However, whether it's helpful or harmful depends on how you're using it.
For example, there's nothing wrong with having lemon juice in a hot drink to combat a cold or every so often in a cold drink because you enjoy the flavor. You can also use lemon juice as an ingredient in many recipes, as part of a salad dressing, or squeezed over the top of a meal.
The biggest problem is when you start treating lemon juice like a health tonic. Even if you dilute the juice and mix it with other ingredients, like honey and ginger, you could easily damage the enamel on your teeth or give yourself digestive side effects. Plus, while such drinks seem amazingly healthy, they don't give you any advantages over simply following a healthy diet to begin with.
Frequently Asked Questions
Is Lemon Juice An Acid Or A Base?
Lemon juice is highly acidic, with a pH of around 2. However, it's only acidic in its natural state. Once the juice has been digested, it starts to have an alkaline effect instead. This difference is why lemon juice and lemon water are often included on an alkaline diet.
Remember though, lemon juice is only alkaline after digestion – so it can still damage your tooth enamel.
Is Lemon Juice A Diuretic?
The citric acid in lemon juice does function as a natural diuretic.
The catch is that you probably won't be drinking much lemon juice at a time. Because of this, lemon water might be a better choice. It still contains citric acid from the lemon juice, plus plenty of water, which helps as well.
Is Lemon Juice Good For Your Hair?
Lemon juice is sometimes promoted as an excellent choice for your hair. The idea is to use the juice directly on your hair before you apply shampoo.
Lemon juice could be useful in this way, as the acidity could help to balance the pH of your scalp, while the nutrients in lemon juice are relevant too. The effectiveness of lemon juice will vary based on your scalp's current conditions and your needs, but the idea is certainly worth trying out.
What Are The Best Uses For Lemon Juice?
Mixing lemon juice with water is a popular approach, as this gives you the nutrients of lemon juice in an easy-to-drink form. However, you can do plenty of other things with lemon juice too, like using it in recipes, making lemonade, or even making household cleaners.
The household cleaner approach is particularly powerful, as regular household cleaners are often packed with concerning chemicals. You can often make something just as effective with lemon juice and a few other natural ingredients.
Is Lemon Juice Good For Diabetics?
Lemons themselves are excellent for diabetics, as they're low in sugar and provide plenty of fiber, antioxidants, vitamins, and minerals. Lemon juice has most of the same features, although it is much lower in fiber.
Some research also suggests that lemon juice can decrease your blood sugar response. This makes them more powerful than most other fruits.