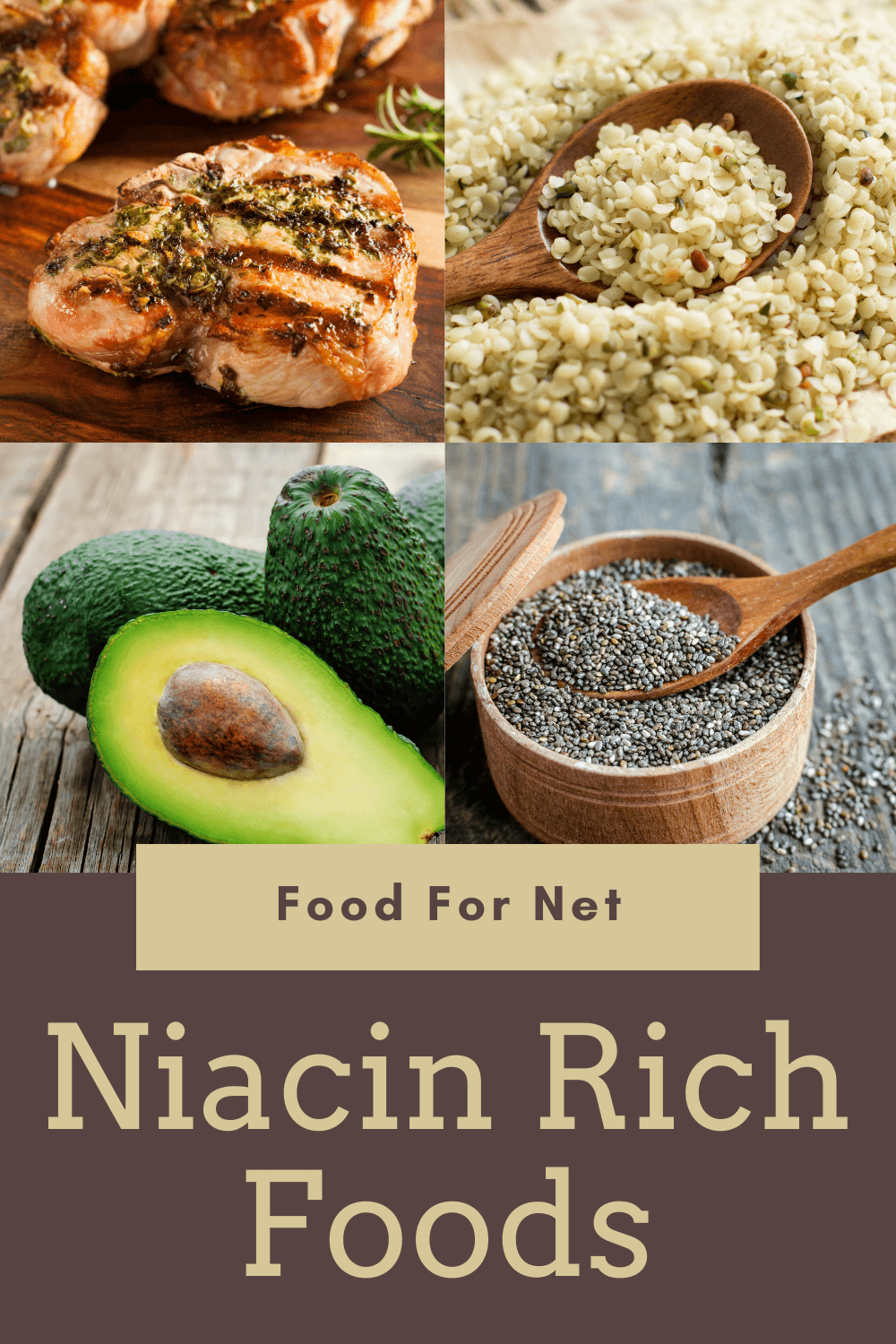 Niacin also goes by the name vitamin B3 and, like other vitamins, has many important implications for human health. Many people also choose to take niacin as a supplement or as a form of treatment for high cholesterol. However, turning to niacin rich foods is the best place to begin.
After all, your diet has many different effects on your health and wellbeing. A good diet can help to keep your body functioning well, while ensuring that you're not overweight and that you're getting all the nutrients that you need.
And honestly, you shouldn't need supplements to get the niacin that your body needs. There are more than enough niacin foods to choose from.
To maintain normal functioning, adult men need around 16 mg of niacin per day, while women need 14 mg of niacin per day (17 mg if they're breastfeeding and 18 mg if they're pregnant). The maximum daily intake is 35 mg of niacin per day, so most adults will need to keep their intake somewhere between 14/16 mg and 35 mg per day.
Niacin Rich Foods
Yellowfin Tuna
Salmon
Other Types Of Fish
Chicken Breast
Turkey
Pork Chops
Red Meat
Avocados
Mushrooms
Peanuts
Chia Seeds
Hemp Seeds
Sunflower Seeds
Brown Rice
Green Peas
Sweet Potatoes
Baked Potato
Guavas
Yellowfin Tuna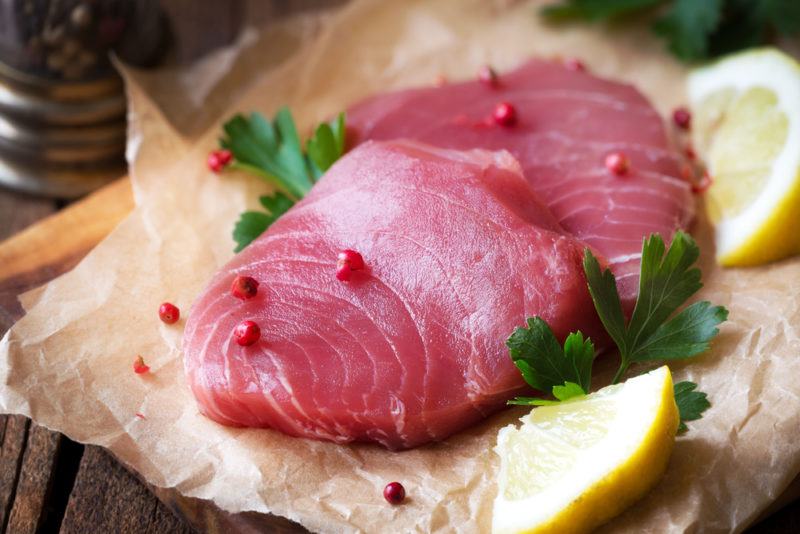 Fish is one of the best sources of niacin and yellowfin tuna tops the list, giving you more than 200% of your daily intake in a single fillet. In fact, a 6-ounce fillet contains around 37 mg of niacin, so the niacin content could be a little high in some situations.
You should also be careful with how much tuna you eat each week. While tuna is nutritious, the fish also has a moderate amount of mercury. Eating tuna every so often isn't likely to cause harm, but try to avoid having more than two servings or so each week.
You can also find niacin in canned tuna. The amount of niacin does tend to be lower. But, on the plus side, canned tuna is easy to find and is inexpensive. It can be absolutely perfect in some situations, especially if you live in an area where fresh fish is expensive.
Salmon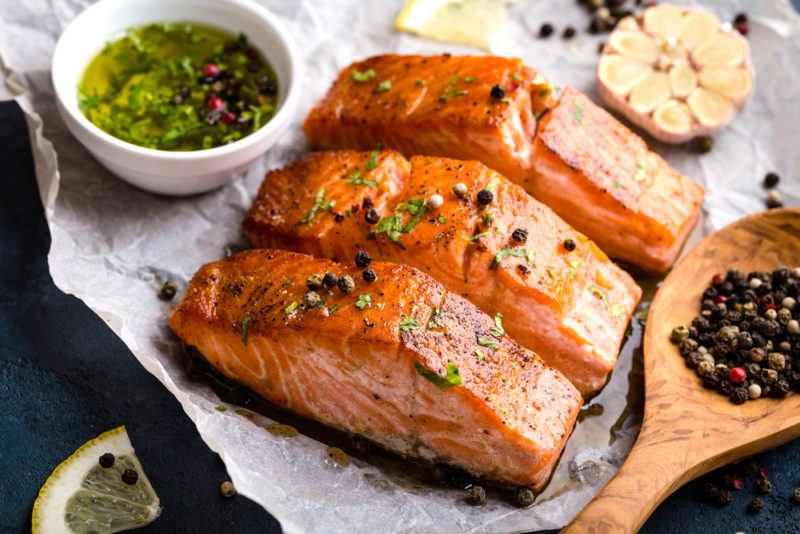 If you're looking for healthy fish, salmon is one of the most widely recommended choices. This isn't surprising either, as the fish tends to be rich in healthy fats and contains many important nutrients. It can also seem more appealing than many of the other omega 3 rich fish, which might be another reason for eating salmon regularly.
You'll often get more niacin from wild caught fish than farmed fish. For example, a fillet of wild Atlantic salmon may provide a little over 100% of your daily niacin intake, while a similar serving of farmed Atlantic salmon may only contain around 85% instead.
Wild caught salmon is often preferred for health anyway, as it contains a better balance of nutrients and more omega 3 fatty acids than farmed salmon.
However, there are multiple types of salmon out there and the nutrient profile will vary from one to the next. There can be other differences too, such as variation depending on when and where the fish was caught.
These differences aren't something to stress about too much. In the end, any type of salmon will provide plenty of niacin and other nutrients.
Other Types Of Fish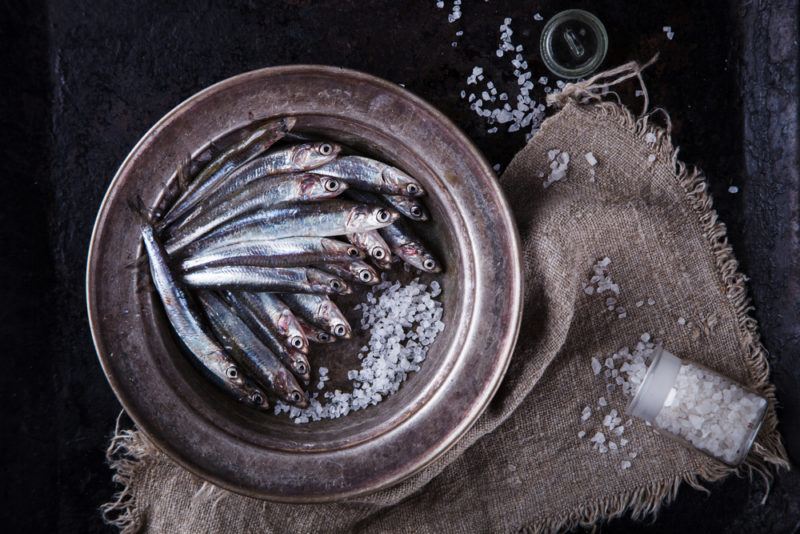 Yellowfin tuna and salmon are the best marine sources of niacin. There's no denying that. However, other types of fish can be significant too. Other notable examples include mackerel, sturgeon, anchovies, trout, and tilapia. You could even turn to canned sardines.
Most of these aren't nearly as powerful for niacin as the best types of salmon, but they're still worth relying on. After all, eating fish regularly is a key part of staying healthy. The omega 3 fatty acids alone make fish an almost essential part of your diet.
Chicken Breast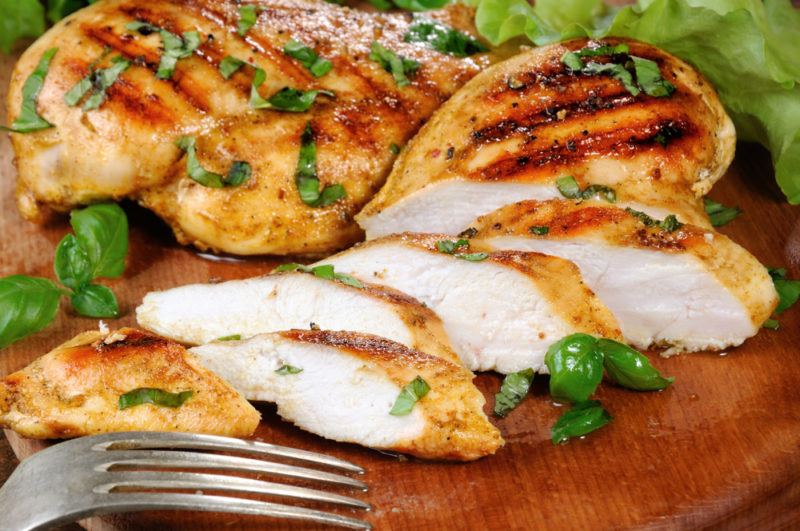 Chicken breast isn't just a good source of niacin, it's also a versatile and healthy ingredient. So many different recipes use chicken breast, partly because it is a healthy source of protein and has a fairly subtle flavor.
The taste of chicken means that it combines well with many ingredients. You can also easily use sauces and spices to flavor the chicken – creating a delicious meal in the process.
Plus, a 6-ounce serving of chicken breast gives you roughly 100% of your daily intake for niacin. Getting all your niacin from one ingredient makes things nice and easy.
You can turn to other cuts of chicken too. However, dark meats tend to contain less niacin than chicken breast. For example, you get around 50% of your daily intake in a chicken thigh and 35% in a drumstick.
Turkey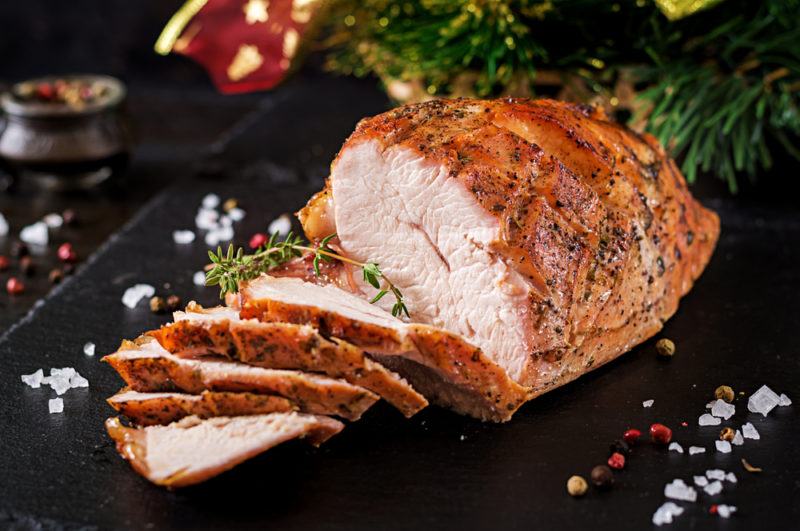 Chicken and turkey tend to be similar in terms of niacin content, although you'll often find a little more niacin in turkey. For example, a 6-ounce serving of turkey breast contains around 125% of your daily niacin intake.
Still, the amounts are similar enough that you could choose whichever type of poultry you prefer. This is useful, as chicken will often be less expensive and perhaps easier to find than turkey. There are more recipes for chicken too, which could be helpful if you're just getting started in the kitchen.
Pork Chops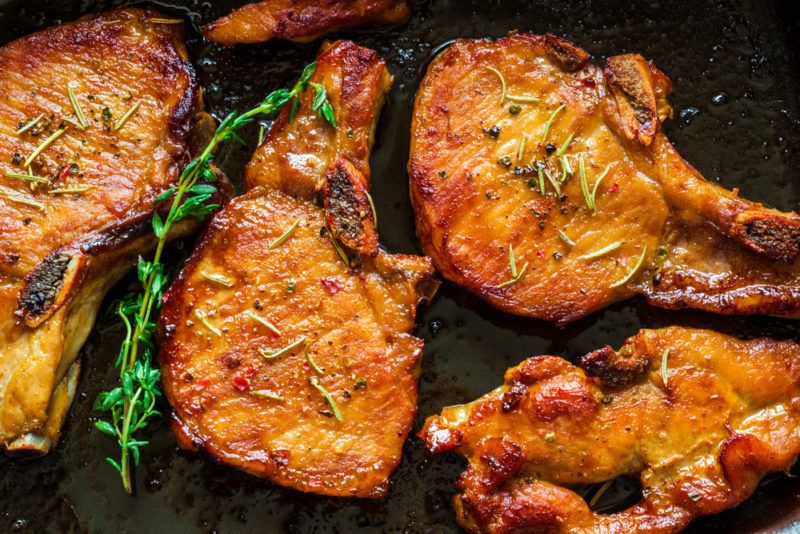 Pork is another useful choice for niacin. This time, lean pork chops are a good choice, giving you around 85% of your niacin intake for a single pork chop.
Once again, the amount of niacin varies depending on the cut of pork that you choose. Pork tenderloin, for example, ends up being similar to pork chops, while ham and bacon contain less niacin.
Still, lower niacin content or not, ham is often more convenient than pork. After all, ham tends to be ready to eat as-is. You can easily use it in sandwiches, in salads, or in many other ways. Plus, sliced ham is often inexpensive, which makes it an appealing choice too.
Red Meat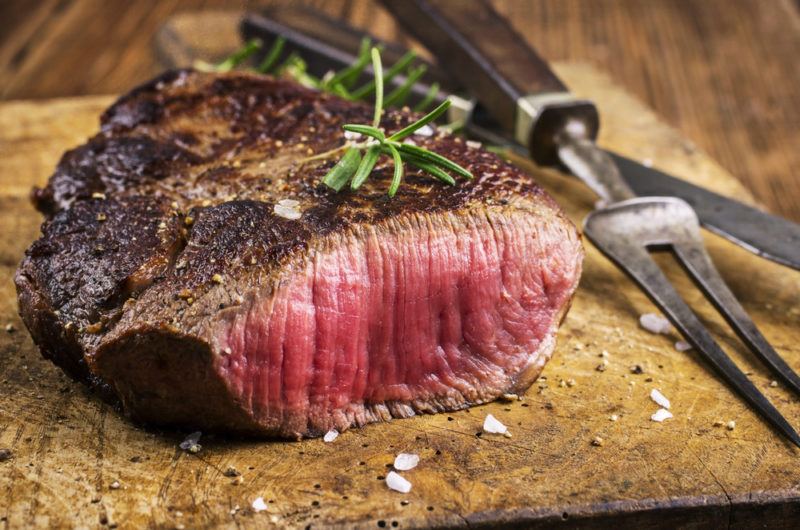 While we're on the topic, let's talk about beef and other types of red meat. Most types of meat provide you with some niacin, but the amounts do vary. For example, a 6-ounce piece of steak provides 60% of your daily intake for niacin. This isn't too bad, but it is less than you'll get with poultry or even pork.
Lamb tends to have even less niacin than beef, with a 3-ounce lamb shank only containing around a third of your daily niacin intake.
This means that for niacin, you'll tend to get more of the vitamin from poultry and fish than from red meat. The main exception is liver, as beef liver and lamb liver both contain around 90% of your daily niacin intake in a 3-ounce serving. Of course, organ meats have their limitations. While some people love organ meats, others choose to avoid them entirely.
Avocados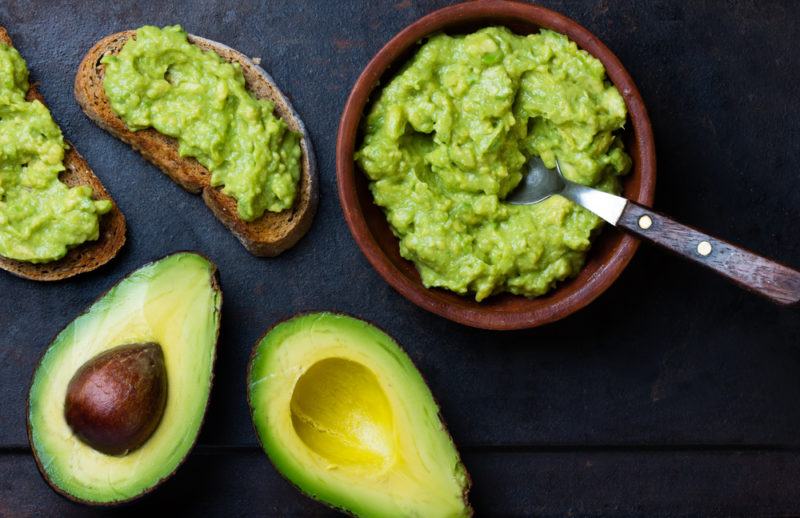 Avocados remain incredibly popular. This isn't too surprising either, as they're rich and creamy, and happy to be a source of healthy fats. And, as a bonus, the flavor and texture of avocados combines well with many different foods.
Avocados are particularly popular for anyone who follows a low carb or a keto diet. They are naturally low in carbs, after all. Avocados can be used in many ways too, so you're not likely to get bored quickly.
Mushrooms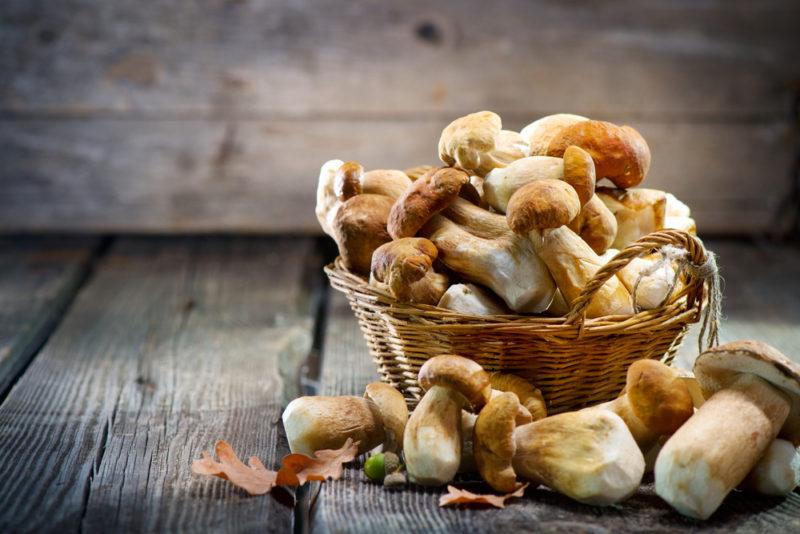 If you're looking for a plant-based choice, then mushrooms are a good way to go. Portabella mushrooms are the best type to focus on, as a cup of these mushrooms sliced will provide you with almost half of your daily niacin intake.
However, you'll need to look for portabella mushrooms that are grown in UV or in sunlight. Ones grown in darkness may have a different balance of nutrients.
You can also look to white button mushrooms. These aren't quite as powerful, but you are still getting more than 40% of your daily intake from a cup of the mushrooms. Besides, white button mushrooms are easy to find, so they're a natural choice in many situations.
Other types of mushrooms provide less niacin, such as around 30% of your daily intake for the same amount of maitake mushrooms and a similar niacin content for oyster mushrooms.
Peanuts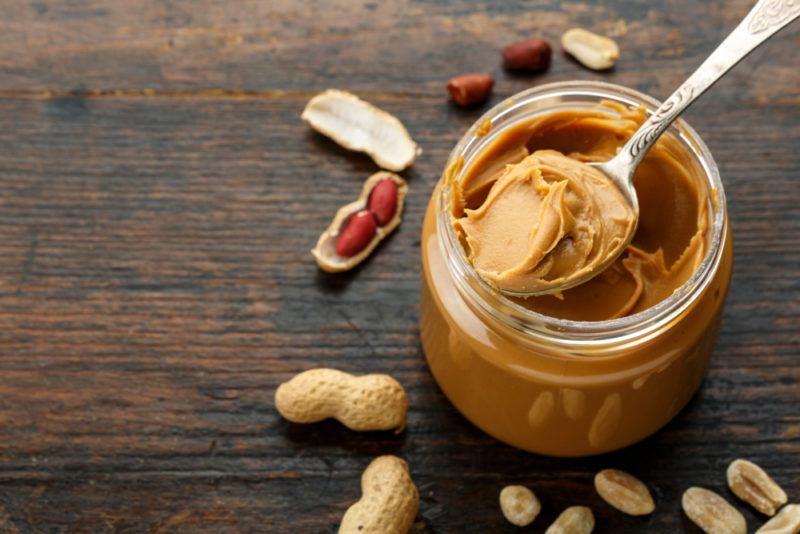 Here's something interesting. Out of all the nuts and seeds that we eat regularly, peanuts are by far the best choice for niacin. This is unusual, as we tend to think of peanuts as being a less healthy type of nut.
Still, you're getting 25% of your daily niacin intake from a 1-ounce serving of peanuts. Almonds, on the other hand, only contain 6% of your niacin intake in that same serving size. This also means that you'll get niacin from peanut butter.
As you're probably aware, peanuts aren't technically nuts in the botanical sense. They're classed as legumes instead, which is also a reason that some people avoid them entirely. However, peanuts do have their advantages and, if nothing else, they're inexpensive compared to other nuts.
Chia Seeds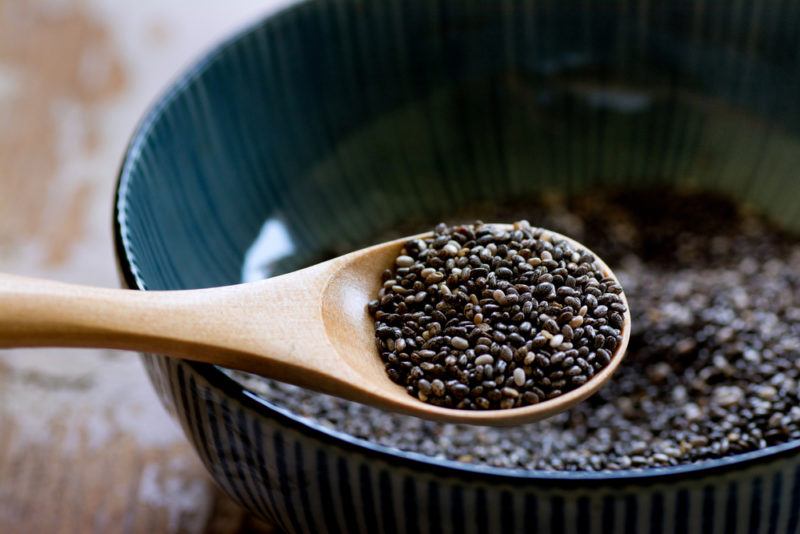 Chia seeds are tiny little black or white seeds that have almost no flavor. Despite this, they are packed with nutrients, to the point that we often call them a superfood.
The lack of flavor in chia seeds is an advantage too. This means that you can easily add chia seeds into a recipe or perhaps scatter them on top of a meal – without changing the flavor at all.
Another interesting thing is that chia seeds absorb water, a lot of water. This makes them gelatinous. The unusual gelatinous texture takes some getting used to, but can work well in some recipes. Chia pudding relies on this property of chia seeds, as do meals that use chia seeds as a type of thickener.
Hemp Seeds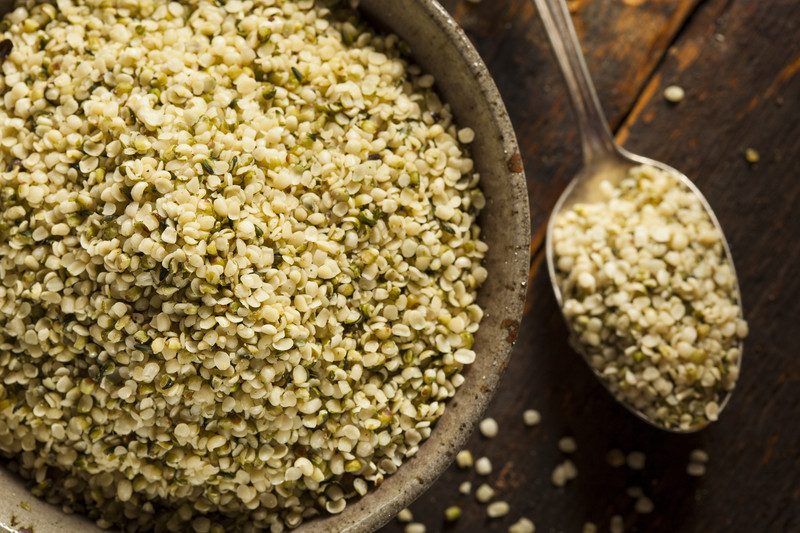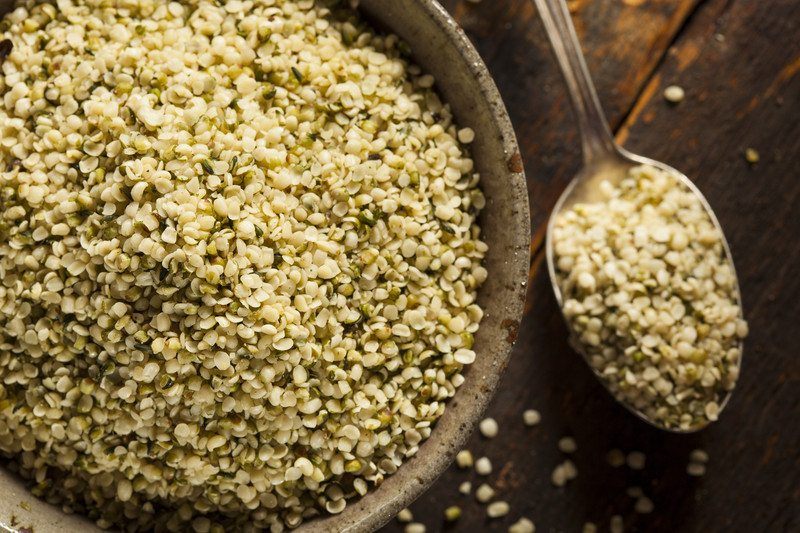 Hemp seeds are another interesting choice. As the name suggests, these come from the hemp plant. They have many of the same compounds that are found in cannabis, although hemp seeds aren't psychoactive at all.
Hemp seeds and chia seeds both contain roughly 16% of your daily niacin intake in a 1-ounce serving. Hemp seeds do have a nutty flavor, but you can still easily scatter them on top of meals.
The nutty flavor may make hemp seeds particularly good for anyone with a nut allergy. With hemp seeds, you get to enjoy the taste, without setting off your allergy at all.
Sunflower Seeds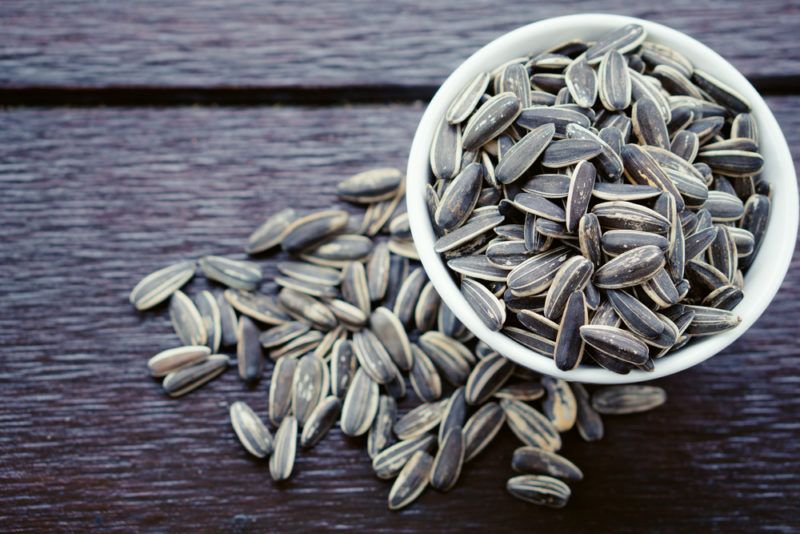 Sunflower seeds are the final type of seed that we'll mention. This time you get around 15% of your daily intake of niacin for a 1-ounce serving on the dried seeds. The niacin content decreases somewhat when you roast the seeds instead, as you end up with around 13% of your daily intake instead.
The slightly lower niacin content of sunflower seeds doesn't make them a poor choice. After all, sunflower seeds are very easy choices for snacking, which isn't the case for hemp seeds or chia seeds.
You could turn to pumpkin seeds for niacin too, but the amount of niacin is quite a bit lower. Regardless of whether you have them dried or roasted, you'll generally end up with less than 10% of your daily intake in a 1-ounce serving.
Brown Rice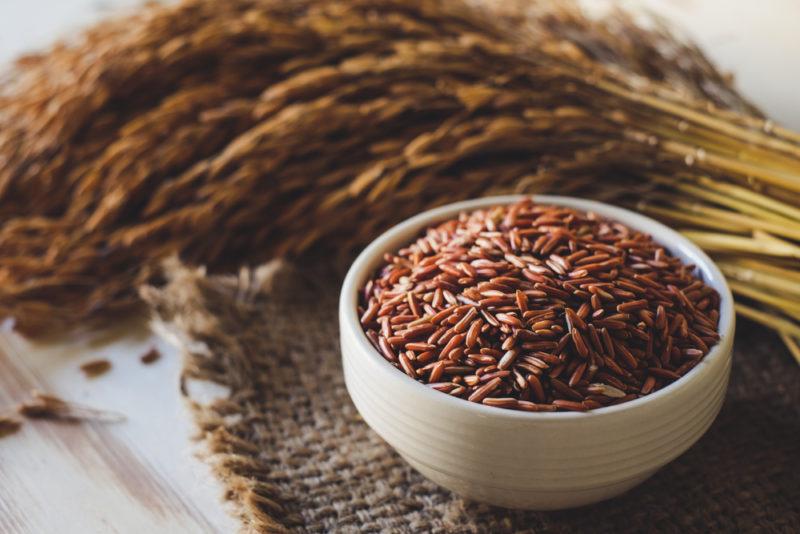 The popularity of rice has waned in recent years, partly because rice is relatively high in carbs and also because many other pseudocereals can be enjoyed instead.
Nevertheless, rice does have advantages, especially as it is easy to use and complements many meals. Brown rice is also a good choice for niacin, offering you roughly a third of your niacin intake in a cup of the rice.
This amount does vary dramatically depending on the type of rice that you choose. Wild rice, for example, contains much less niacin. You only get around 13% of your daily intake from that same serving size and less than that for white rice.
Green Peas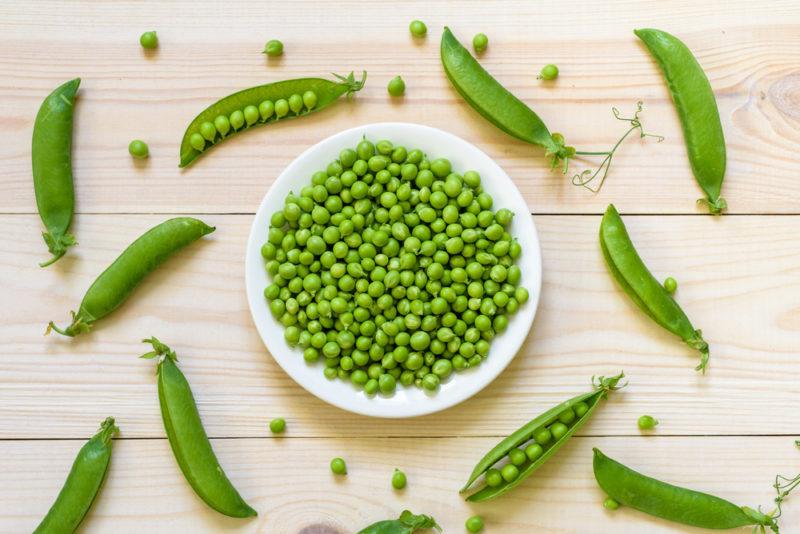 It's interesting to see that green peas are rich in niacin too. After all, green peas have been a dinnertime staple for a long time and can feel quite boring. While they do offer important nutrients, green peas rarely do well enough to feature on nutrient rich food lists.
Despite this, a 1-cup serving of green peas does offer around 20% of your daily intake for niacin. This makes peas an easy way to increase niacin intake, as you can simply cook them and serve them alongside a meal.
Sweet Potatoes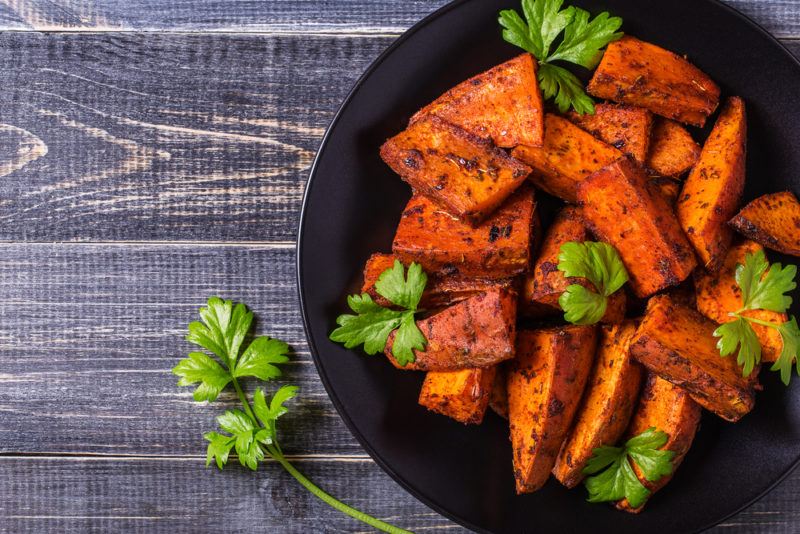 With sweet potatoes, you get roughly 15% of your daily niacin intake in a cup of the mashed potato. This might not sound like a lot but, once again, all of these sources do add up.
Sweet potatoes have other advantages too. For one thing, they're a fantastic source of beta-carotene. This is an antioxidant that is also a precursor to vitamin A. Few other foods are as powerful for beta-carotene.
Sweet potatoes are easy to use too. You can often use them in place of a white potato without much difference at all. Then there are all the meals that rely on sweet potatoes specifically.
Baked Potato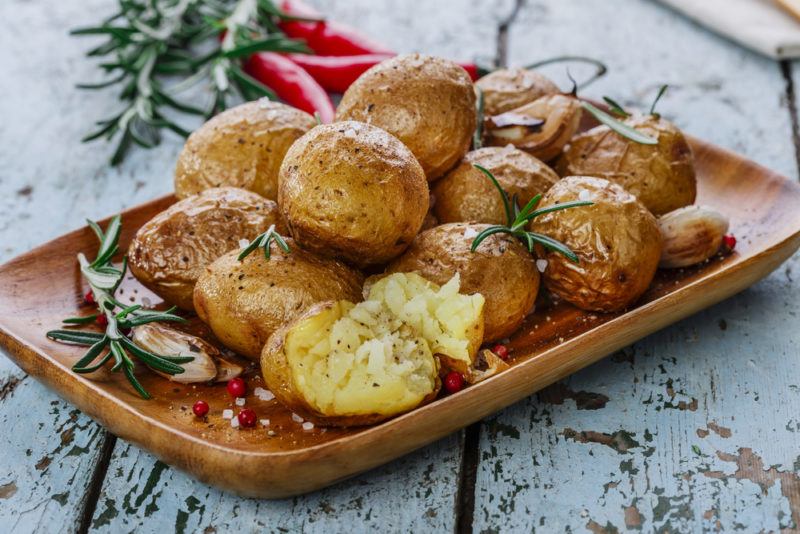 You can also find some niacin in regular potatoes. A baked potato, for example, contains around 14% of your daily niacin intake – and that's if you're eating it without the nutrient-packed skin.
For that matter, potatoes are more nutritious than many people assume. They even end up being a good source of vitamin C and work well for people with IBS symptoms.
Besides, potatoes are one of those ingredients that you can use pretty much anywhere and most people enjoy potatoes. These aspects are helpful, especially if you're serving food to picky eaters.
Guavas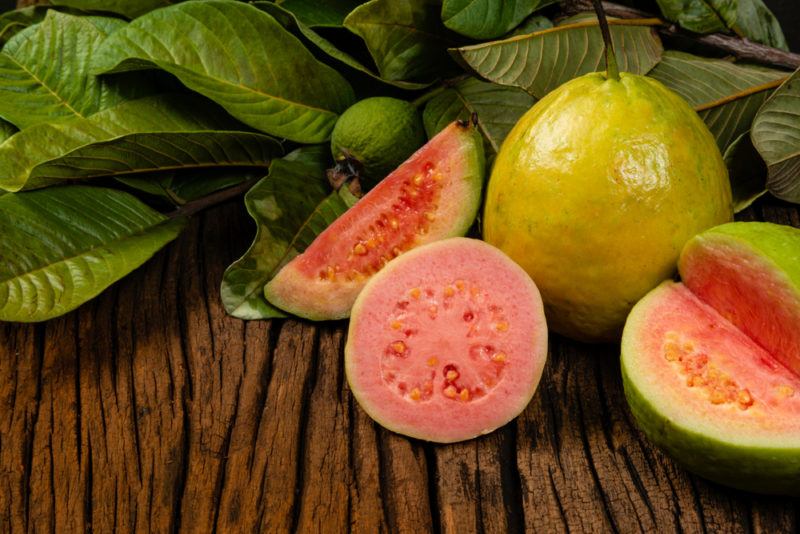 Fruit doesn't tend to be rich in niacin but guavas are one type that you might turn to. This tropical fruit has an appealing flavor and can be easily used in a fruit salad or eaten on its own.
If you struggle to find fresh guava, then you could also try the canned version. Just watch out for times where the fruit is packed in syrup, as this can raise the sugar content dramatically.
As for the amount of niacin, you get around 11% of your daily intake from a cup of guava. This is a decent amount to get in fruit, but you'll still need to be getting most of your niacin from other sources, including vegetables, seeds, fish, and meat.