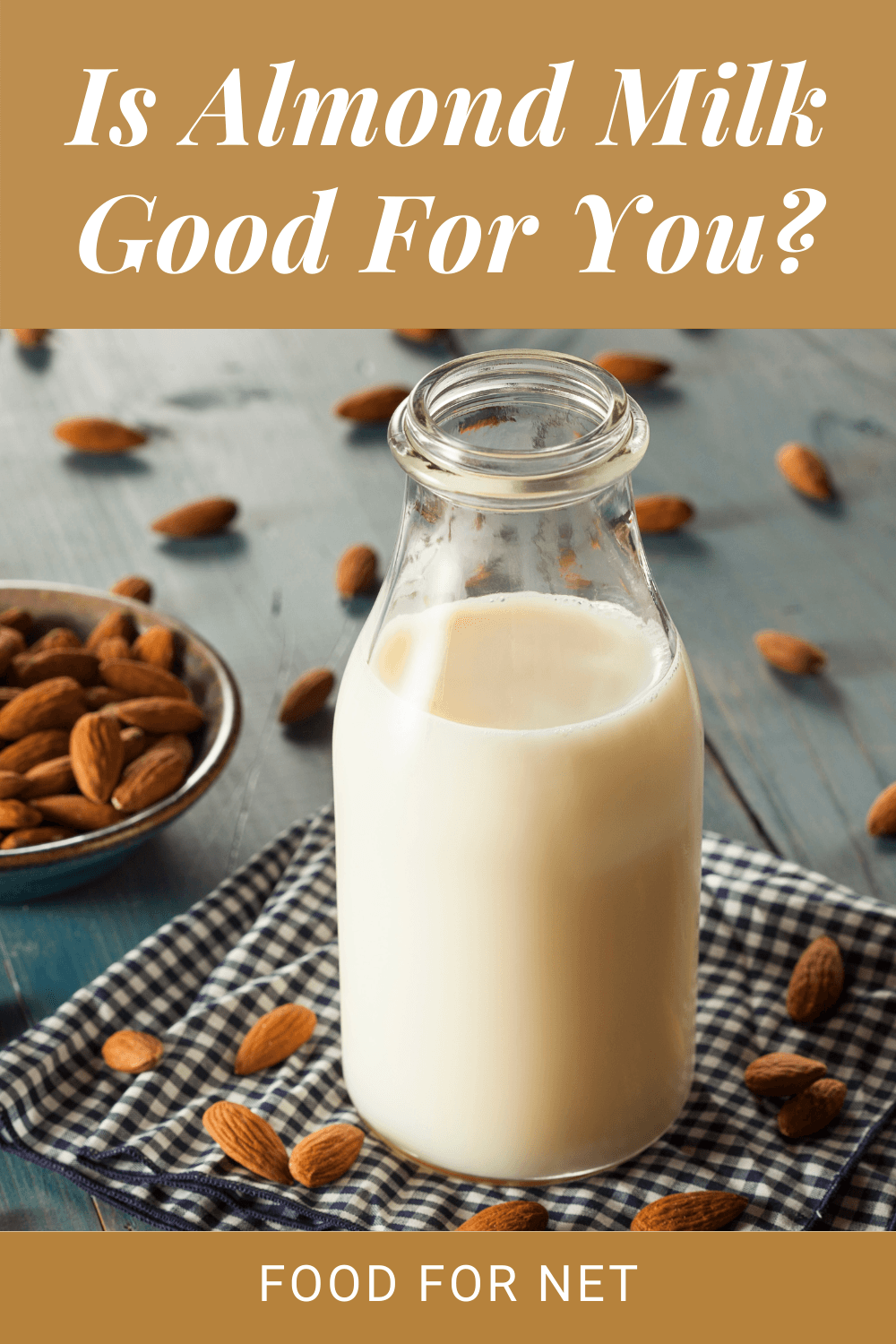 Almond milk seems like it should be fantastic, right? Almonds are nutrient-dense and delicious, while almond milk is a natural product that's doesn't harm any animals and is entirely lactose free. But, is almond milk good for you?
To begin with, let's dispel one myth – almond milk is not an easy way to get all the benefits that almonds offer. If you want the nutrients from almonds, you'll need to rely on the nuts themselves or perhaps on almond butter.
Homemade almond milk is less diluted than the store version, giving you more nutrients from the nuts. Even then, the drink is mostly water.
Still, there are some nutrients present and almond milk has some other interesting benefits too. Almond milk is also versatile. You can use it with your cereal, make smoothies with it, or even prepare almond milk cocktails.
Read on to see the positive features of almond milk and the negative ones. Then you can decide for yourself. If you end up deciding that almond milk isn't quite right for you, don't worry, there are plenty of other options, like coconut milk, soy milk, and other milk substitutes.
Is Almond Milk Good For You?
Benefits Of Almond Milk
Why Almond Milk Isn't As Good As It Sounds
How Do You Use Almond Milk?
Alternatives To Almond Milk
Almond Milk Versus Other Nut Milks
Final Thoughts
Benefits Of Almond Milk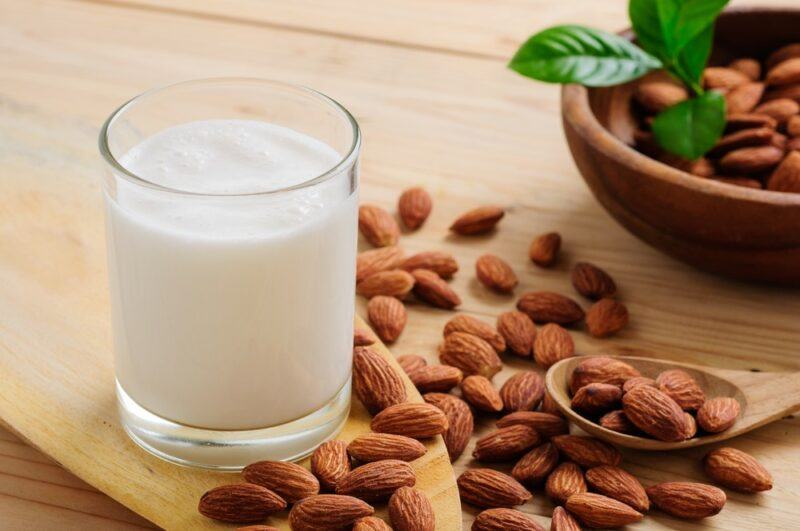 It Will Hydrate You
Almond milk is mostly water. You get some nutrients from almonds but, honestly, not all that many. Still, the water content is helpful, as it helps to keep you hydrated.
This hydration effect will be strongest if you're drinking a decent amount of almond milk – like having a glass of the milk or using it as an ingredient in your shakes or smoothies.
Adding almond milk to coffee, on the other hand, isn't that powerful. Coffee is mostly water anyway.
The Texture And Flavor
Almond milk is mild. It has a slightly nutty flavor, but this is subtle. You might not even notice the nuttiness in some products. This mildness is a serious advantage, as it means that almond milk won't clash with other flavors. Plus, the milk is smooth, making it easy to drink.
The flavor and texture make it easy to enjoy almond milk. Almond milk might even be the perfect place to begin if you're switching from dairy milk to plant-based milk, as there's nothing threatening about it.
There Are Some Nutrients
Some brands of almond milk have significant amounts of vitamin A and D, and perhaps some calcium too. These nutrients might be a little surprising, as you don't find much vitamin D or A in almonds.
The reason is that almond milk is often fortified. Doing so makes it seem more like cow's milk. The effect might be useful if you're drinking almond milk instead of dairy milk, which is true for many people.
Still, fortifying food with nutrients isn't the same as eating naturally occurring nutrients. In fact, the calcium in plant-based foods like almond milk isn't absorbed nearly as well as calcium from dairy. You'll need to take this into account when planning your diet.
Cholesterol And Saturated Fat Free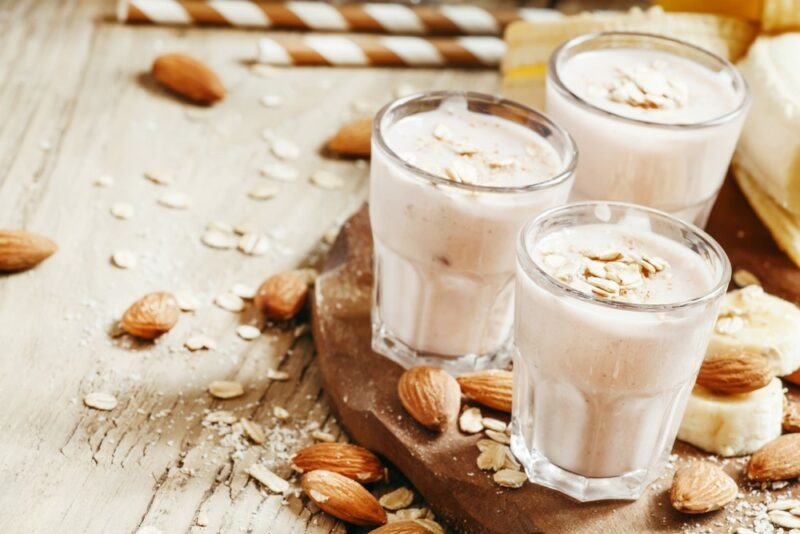 Here's one serious advantage – almond milk is free from saturated fat and cholesterol. These effects are important if you're worried about your heart health or are trying to lose weight.
In contrast, full fat dairy milk and coconut milk both contain a decent amount of fat, including saturated fat. How these change your heart disease risk is difficult to say, as it's a complex field. Still, a low fat product like almond milk is a safer bet.
Works Well In Many Diets
While you can't drink almond milk if you have a nut allergy, the milk is still more versatile than many other types. You can have it on low carb, keto, and paleo diets, as long as you focus on unsweetened versions.
Similarly, almond milk is perfect for anyone avoiding dairy, including vegans.
It's Low In Calories, Sugar, And Carbs
Almond milk contains is very low in calories as well. This isn't too surprising, as the milk is mostly water. The low calorie content makes almond milk excellent for anyone trying to lose weight.
Similarly, unsweetened almond milk is naturally low in both sugars and carbs. These features are both relevant to weight loss too. Plus, the low carb content means that you can have almond milk on a keto diet.
You'll need to choose your product carefully here, as some almond milk brands are sweetened. Others are flavored too. The addition of sugar and flavoring will give you a higher calorie drink that simply isn't as good for you.
Why Almond Milk Isn't As Good As It Sounds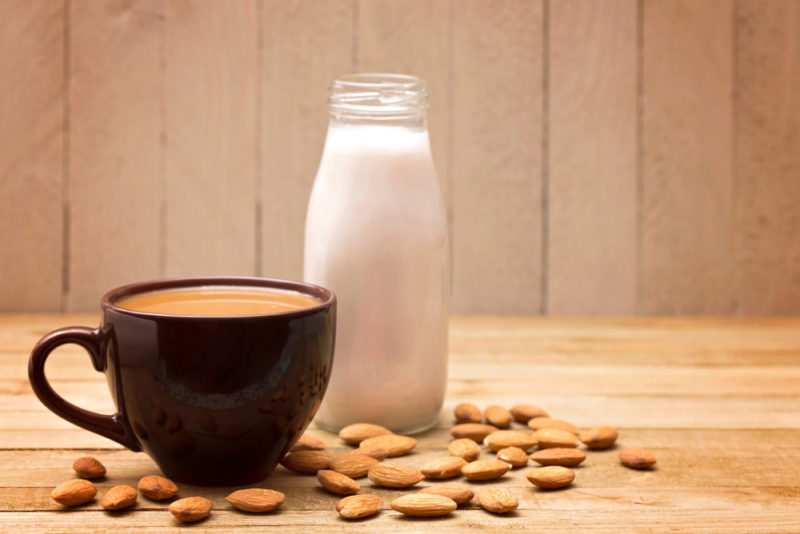 The Nutrient Profile
Almond milk has a kind of health halo because it's made from almonds. While almonds themselves are nutritious, almond milk is a completely different story.
Commercial almond milk often ends up being less than 2% almonds. The rest is mostly water. In fact, some brands list almond as the third ingredient – after water and sweeteners. That's not a good sign.
Most of the nutrients you do find have been added in, to make the milk seem like a healthy choice. This is a shame, as it's always best to get your nutrients directly from foods, rather than from fortified products or multivitamins.
Homemade almond milk is often better, as you're able to maximize the nutrients from your almonds. Even here, the nutrient profile won't be amazing. You still end up with a drink that's mostly water.
The Additives
Almond milk tends to be highly processed too and we're not just talking about those added nutrients. Companies often use products like carrageenan to thicken the drink and give it a more milk-like texture.
Ingredients like these aren't as benign as they sound. Carrageenan, for example, has been linked to issues like inflammation, bloating, and allergies. While such ingredients might be okay in small doses, it's safest to keep your intake as low as possible.
Thankfully, companies vary in their approaches. So, while some brands use additives and concerning ingredients, others take a more natural approach. The ingredients labels can help you to work out which products are best for you.
It's Made From Tree Nuts
While almonds don't feature all that heavily in almond milk, there are still enough compounds from almonds to set off tree nut allergies. So, if you experience an allergic reaction to almonds, almond milk is off the table too.
Almonds Take A Lot Of Water To Grow
Despite their health benefits, almonds are controversial because they take so much water to grow. Seriously, growing a single almond takes roughly 12 liters of water. That's insane.
This is a serious issue, as water shortages are a huge problem in some parts of the world. Plus, most almonds are grown in California, which already faces problems with water.
While farmers are taking steps to reduce their water use, the amount of water used will remain high.
Still, there's one important point we can't miss – almonds still require much less water than the dairy industry. So, replacing dairy milk with almond milk is still an environmentally-friendly choice.
How Do You Use Almond Milk?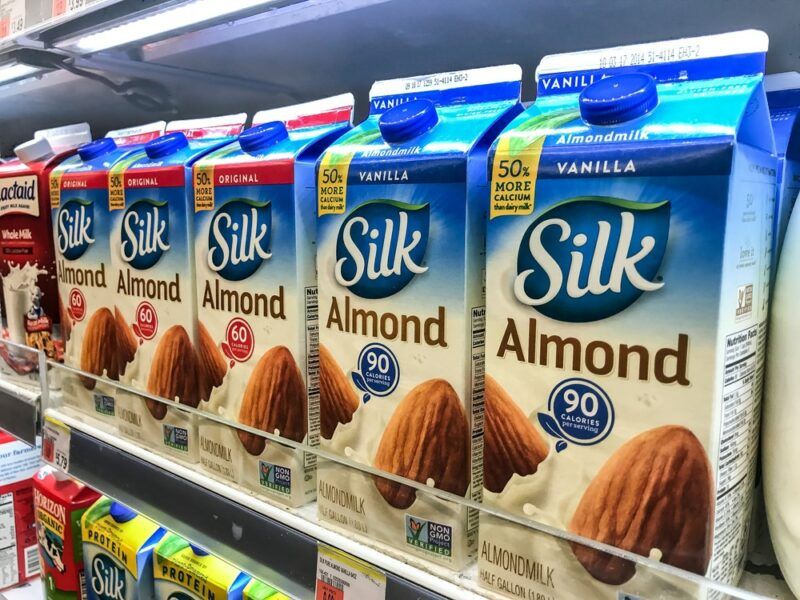 Almond milk is mostly used instead of cow's milk. You might add it into your coffee, serve it over your cereal, use it in oatmeal, or even cook with it. There are plenty of amazing almond smoothies to try too, as the flavor of almond milk should complement the flavors of your other ingredients perfectly.
If you want to use almond milk in cooking, look for a recipe that can guide you. After all, almond milk has a different consistency from dairy milk and often won't behave the same.
Alternatives To Almond Milk
Almond milk is just one of many plant-based milks. Other options include coconut milk, soy milk, oat milk, rice milk, and hemp milk. The best choice is going to depend on what you're looking for:
Low Carb: Almond milk, coconut milk, and hemp milk are all options (just make sure you choose unsweetened versions).
Low Calories. Almond milk easily wins here, although hemp milk is a good choice too.
Protein: Soy milk and oat milk contain a decent amount of protein, most other options don't.
Low Fat: Oat milk and almond milk are both low fat choices. Coconut milk certainly isn't, plus it contains a decent amount of saturated fat.
For Coffee. Plant-based milk blends can be an interesting alternative for coffee. Some companies are trying to perfect products that combine multiple types of plant-based milk to give a milk-like balance of flavor and texture.
For most of us, flavor and texture may influence the milk we choose more than the nutritional value. After all, the health benefits of any food or drink are only relevant if we actually consume the food or drink regularly.
Almond Milk Versus Other Nut Milks
You'll find other types of nut milk too, including hazelnut, walnut, peanut, and cashew nut ones. These are made in roughly the same way as almond milk, giving you a product that's mostly water each time.
Still, there are some differences in flavor and nutrients.
Almond Milk. Often fortified with vitamin D, vitamin E, and calcium, but there are concerns about the environmental impact.
Cashew Milk. Even lower in protein.
Macadamia Nut Milk. Contains more fat than other types.
Walnut Milk. Relatively high in fat and low in calcium, but contains some omega 3 fatty acids.
Hazelnut Milk. High in fat with little calcium.
Peanut Milk. This milk often isn't fortified and can be more allergenic than the other options, making it one to be cautious with.
Some companies combine multiple nuts in the same product. This can be a good way to balance the flavor and benefits of each type of nut.
Once again, you'll need to keep an eye on the ingredients label. Some products will be much more processed than others.
Final Thoughts
Almond milk is an easy alternative to dairy milk. While it isn't highly nutritious and doesn't offer that many benefits, it doesn't need to either.
After all, you should have plenty of nutrient dense foods in your diet already. It's okay if some foods are used simply for practical reasons.
However, there are two important things to remember. The first is to pay attention to the product that you choose. Additives and sweeteners are far too common in almond milk, giving you a less healthy product. The second is that almond milk is generally low in calcium and protein. So, if you're drinking almond milk instead of regular milk, you'll need to get that calcium and protein elsewhere.
Frequently Asked Questions
Is Almond Milk Good For Diabetics?
Unsweetened almond milk has plenty of benefits. It's low in both carbs and calories, so it won't spike your blood sugar and shouldn't lead to weight gain.
Whole almonds can help to improve blood sugar control and help with weight management. They also provide plenty of calcium. However, those features don't apply to almond milk – as almond milk is mostly water anyway.
Is Almond Milk Keto Friendly?
If it's unsweetened, almond milk is great for keto – often containing between 1 and 2 net grams of carbs per cup. However, the carb content strongly depends on the product you choose. Some brands are much higher in carbs than others and mightn't be a good fit on a keto diet.
How Long Does Almond Milk Last?
If the products are unopened, shelf-stable almond milk will last around a month or two. Once it's opened, the almond milk must be kept in the fridge and lasts no longer than 10 days.
Almond milk that's sold from the fridge has a shorter shelf life, as it contains fewer stabilizers. Even if you don't open it, it will only last between 7 and 10 days.
It's always important to trust your senses though, as there is always variation between products. Sometimes your milk mightn't last as long as you expect. Other times, it might last far beyond the anticipated date.
Is Almond Milk Low FODMAP?
Almonds themselves tend to be low FODMAP, as long as you stick with a portion of 10 or so. This makes almond milk a decent choice too, especially as there aren't actually that many almonds in a cup of almond milk.
As such, a cup of almond milk is an easy low FODMAP choice. However, that classification just applies to unsweetened almond milk. The sweetened versions can be higher in FODMAPs, particularly if they rely on additives.
Is Almond Milk Dairy Free?
Yes. The simplest version of almond milk just relies on grinding almonds with water and then straining the resulting liquid. This gives you a milk substitute that's completely free from dairy, lactose, and gluten.
That said, some brands of almond milk may not be vegan-friendly, as companies occasionally use honey as a sweetener or turn to animal-derived additives. If you are vegan, look for companies that explicitly state their products are vegan friendly.