Soy milk remains one of the most popular alternatives to dairy milk. It's easy to see why too, as the plant-based milk avoids many of the problems that come with dairy. Still, we have to ask, is soy milk good for you? After all, there's plenty of debate surrounding soy.
Soy milk is simple enough. It's made from either ground soybeans or soy protein powder, along with additions like water and vegetable oil.
Some companies fortify their soy milk to give it a better nutritional profile. Others include sweeteners, flavors, or thickening agents to help with the taste and texture of the milk. Thankfully, there are more natural options too, as long as you shop around carefully.
As we take a close look at what soy milk offers, remember that it's one of many plant-based milks. Other options include oat milk, coconut milk, and almond milk, each of which has plenty of dedicated users.
Is Soy Milk Good For You?
Benefits Of Soy Milk
The Problems With Soy Milk
Types Of Soy Milk
How Do You Use Soy Milk?
Soy Milk Alternatives
Final Thoughts
Benefits Of Soy Milk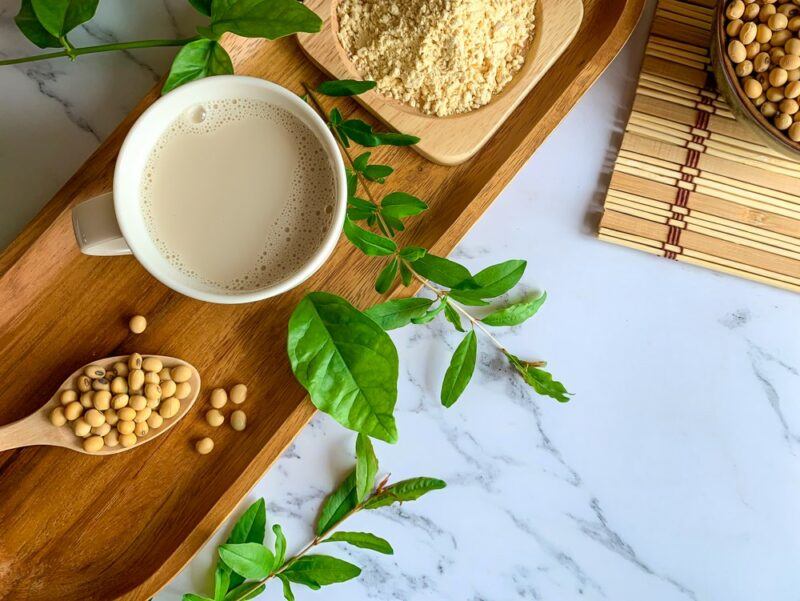 Nutrients
While soy doesn't have the same nutrients as dairy milk, it's a surprisingly good alternative. The plant-based milk contains a decent amount of protein, while also containing fiber and unsaturated fats.
In fact, soy milk is your go-to choice for protein in plant-based milks. The other options don't even get close.
You'll get even more nutrients if you choose a fortified version of soy milk. Soy milk is often fortified extensively. This and the protein content of the milk brings it close to cow's milk in terms of nutrients. Fortified products are never as powerful as getting the nutrients you need from real food. Still, the calcium in soy milk is surprisingly bioavailable, so the milk may offer more benefits than you expect.
Behaves Much Like Dairy Milk
Interestingly, soy milk works excellently as a replacement for dairy milk. It often gives you a similar texture when you're cooking with it (even if the flavor is a bit different). You can even froth soy milk for your coffees without too many problems.
This is also why soy milk is so common in cafés, while other types of plant-based milk may be harder to find.
The fact that soy milk acts like dairy milk is excellent if you're just switching to plant-based milk. Who wants to try and figure out how to use a product when they're still adjusting to the taste?
It's Easy To Find
There's no need to hunt for soy milk. You'll find multiple brands in most grocery stores. There are even different types to choose from, like sweetened versus unsweetened, and various flavors.
Low In Fat
Most plant-based milks are low in fat and soy milk is no exception. That's not all, some of the compounds in soy might even help to decrease your cholesterol levels. Both effects mean that soy milk is good for your heart.
Plus, because soy milk is low in fat and carbs, it's naturally low in calories too – making it useful for weight loss. Besides, if you're drinking coffee regularly, a low calorie milk is much better than a high calorie one.
The Problems With Soy Milk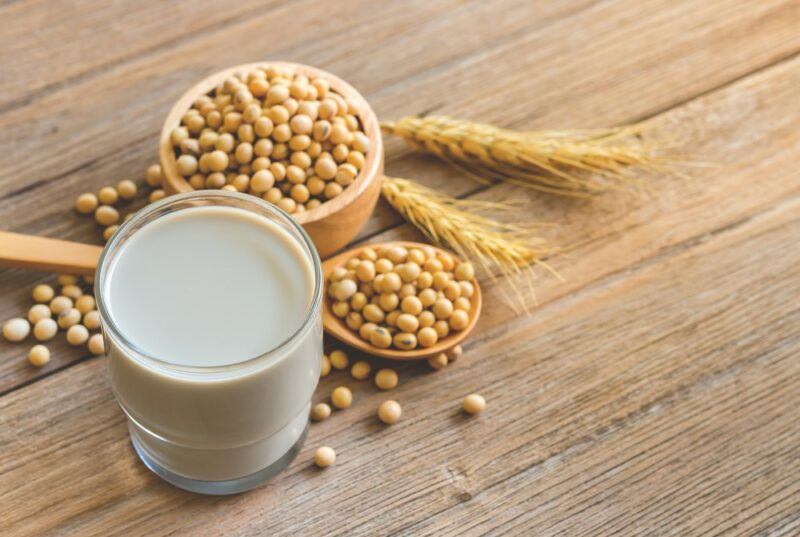 The Flavor
Soy milk has a distinct flavor. This isn't easily masked by other ingredients, making soy milk less versatile than alternatives like oat milk.
The flavor can also be an issue if you don't like it. Some people struggle with this and even find that the flavor makes them feel sick. Others didn't like soy milk at first but found that it grew on them over time.
Starting with a flavored version, like vanilla, can work well, as you're introducing yourself to the flavor of soy slowly. You may need to experiment with brands too, as you'll probably like the taste of some more than others.
Phytoestrogens And Their Health Impacts
Soy contains phytoestrogens. These natural compounds have a similar structure to estrogen. They don't behave in exactly the same way, but could have estrogen-like effects in some situations.
Most research into phytoestrogens has failed to find negative effects. Indeed, the compounds in soy might end up being more helpful than harmful.
Still, nutrition science is a complex field. There's a lot we don't know about soy's impacts, particularly for people with chronic health conditions or those who eat a large amount of soy.
Because of this, it may be safer to be cautious with soy. While you probably don't need to avoid soy entirely, limiting your intake could help to protect you from any negative effects.
Additives And Sugar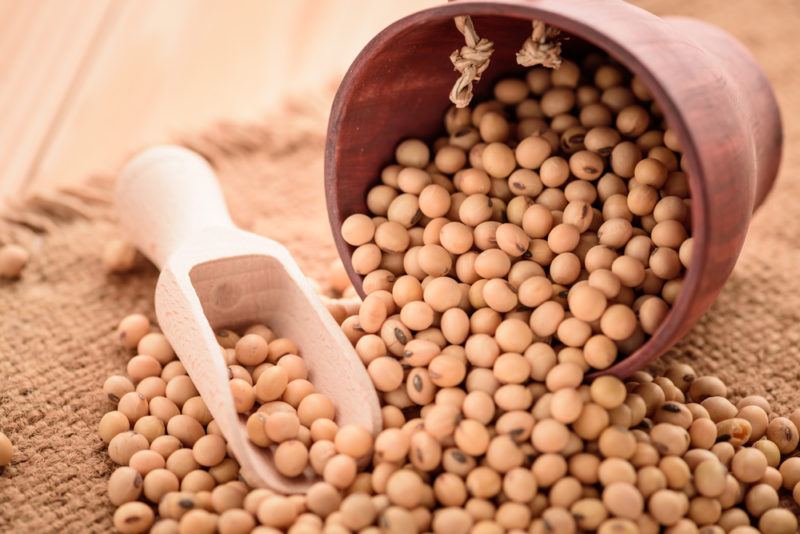 Soy milk manufacturers often use additives, stabilizers, sugar, and sometimes flavors too. These ingredients can help change the texture, flavor, and nutrition of soy milk, but they're far from ideal.
Our modern diets are packed with processed foods, additives, and sugar. While we don't know the impact of each individual chemical, we know that this overall pattern can't be good for us.
Whenever possible, it's best to cut down your processed food intake. Focus on whole foods instead. And, if you do need to eat processed foods, like soy milk, choose ones with as few additives as possible.
Contains Antinutrients
Another issue is compounds like phytate and lectins, which are considered to be antinutrients. They're thought to influence your absorption of nutrients, irritate your gut, and cause other problems.
These compounds are one reason that many people avoid legumes entirely.
There isn't much evidence proving that these compounds cause an issue. After all, soybeans are a staple food crop and many people eat large amounts of soybeans while remaining healthy.
Still, most of us aren't eating soybeans directly. We're eating soy-containing products instead, including soy milk, tofu, meat alternatives made with soy, and soy protein powder. These foods could easily have different health effects than soybeans themselves.
Carb Content
Soy milk isn't excessively high in carbs, but there are carbs enough to be a problem. With unsweetened milk, you're looking at around 3 grams of carbs per cup, while sweetened soy milk will have much more.
You might still be able to have soy milk on a keto diet, or another low carb approach, if you carefully watch your portion size. However, there are plenty of debates about this, with some keto experts claiming that you should avoid soy milk entirely.
Types Of Soy Milk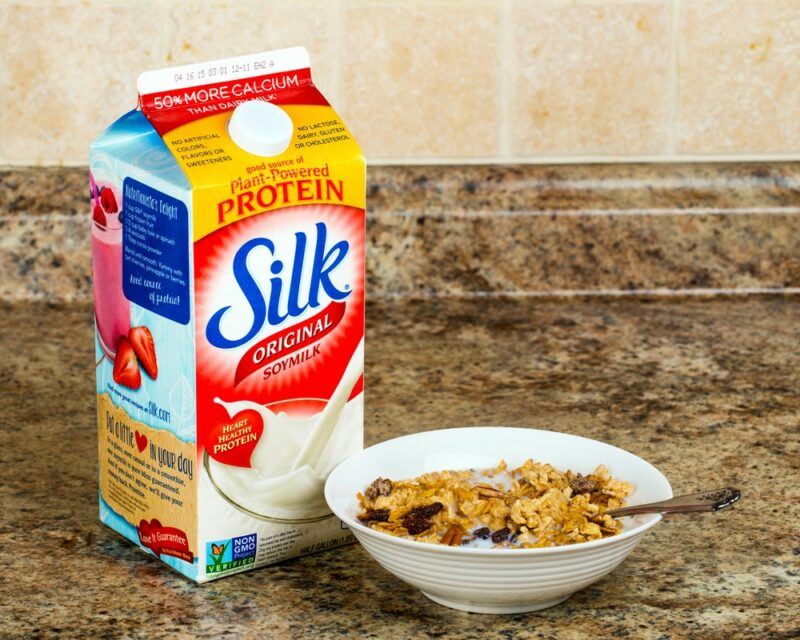 Soy milk is popular, so it's not surprising that there are many different brands and versions to choose from. These all rely on water and soybeans. However, the other ingredients can vary considerably.
Silk is one of the forerunners of the field, famous for being thick bodied and delicious. They offer some unsweetened versions, along with regular soy milk. Their flavored versions include vanilla, very vanilla, and chocolate.
Flavored products help to hide some of the taste of soy. They can be perfect for anyone whose never tried soy before.
Silk also highlights why checking the ingredients label is so important. Their very vanilla version includes 15 grams of added sugar per cup. That's a lot. There are also additives to help with the texture and flavor.
In contrast, there are companies like Edensoy. The unsweetened product from this brand just uses two ingredients – water and soybeans. Their other versions have extra ingredients, but the company still has a shorter ingredients list than most other soy milk manufacturers.
There's a tradeoff though. Products with additives are often creamier and may taste better, while those that mostly rely on soybeans might not be as appealing. You may need to experiment with multiple products before you work out which is right for you.
How Do You Use Soy Milk?
Soy milk is often used in coffee. It's one of the most popular options in cafés, as it's possible to create decent foam with soy milk. The taste of soy milk, while it doesn't appeal to everyone, does complement the flavor of your coffee.
However, you do need to be careful. Adding soy milk straight to hot coffee often doesn't work well, as the milk ends up curdling. To get around this, you need to let the coffee cool a little first.
Soy milk can also be used in smoothies, mixed in with granola, or used as an ingredient.
You can even directly replace regular milk with soy milk using a 1:1 ratio. Doing so often gives you a similar texture.
Just don't forget about the flavor of soy milk. This isn't a big deal if your recipe is complex. But, if milk is the main ingredient, then the flavor of your soy milk is likely to stand out.
Soy Milk Alternatives
While the protein and fiber content of soy milk is appealing, many people aren't convinced by the flavor of the milk or the controversy surrounding soy. Thankfully, there are plenty of other plant-based milks.
Almond milk and coconut milk are two classic options. They're also quite different from each other.
Almond milk is mostly made from water, so it's not very creamy and doesn't offer many nutrients. Still, the milk has a subtle flavor and is low in both calories and carbs. Those features are perfect for weight loss.
On the other hand, coconut milk is rich and creamy, with a distinct coconut flavor. The milk's balance of low carbs and high fat makes it ideal for anyone on a high fat diet.
You can experiment with other options too, like hemp milk, rice milk, oat milk, and the various other nut milks. These products vary in their nutrients, protein, and carb content, along with texture and flavor. It might take a little trial and error to find the perfect fit for you.
Final Thoughts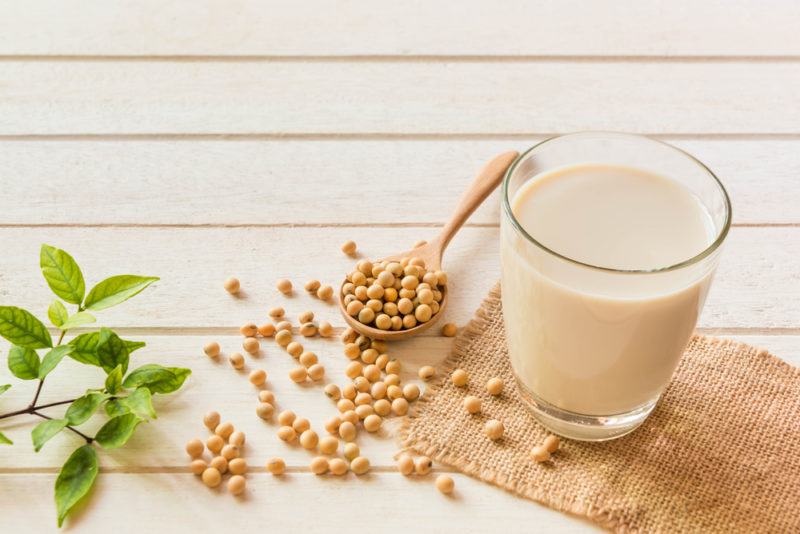 Soy milk has an interesting balance of features. On one hand, the milk is easy to find, comes in many varieties, isn't too expensive, and many people enjoy it. On the other hand, there's plenty of debate about whether soy is healthy and the strong flavor of soy milk makes it less versatile than most.
Should you drink it?
The answer to that question comes down to your preferences. No single milk alternative is better than all the rest. Instead, they shine in different areas.
Most people find that taste and texture matter far more than the potential health benefits. Why not experiment with different types of plant-based milks, perhaps a few products from each type? This would help you to work out which type of milk suits your needs the best. You might even find that you like using one type of milk in coffee and another type in your cooking. Why not? You don't need to stick to a single option.
Frequently Asked Questions
What Does Soy Milk Taste Like?
Soy milk is often described as mild, creamy, and sweet. The flavor varies a little between brands, although soy is almost always sweeter than other plant-based milks.
Some plain versions of soy milk also have a bean-like flavor. However, this isn't noticeable in many products, either due to pasteurization or because additives and sugar hide the taste.
Is Soy Milk Good For Diabetics?
Unsweetened soy milk can work well for diabetics. While it does contain more carbs than some other options, like almond milk or soy milk, the total carb content is still very low.
But, we are specifically talking about unsweetened soy milk. The sweetened version is an entirely different story, as it is often much higher in carbs and might spike your blood sugar levels.
Does Soy Milk Go Bad?
Soy milk does indeed go bad. Interestingly, the signs are roughly the same as regular milk, including a sour smell.
How long you get depends on the type of product. If it's shelf-stable soy milk, then it often lasts a few months after the date printed on it (as long as it's unopened). Refrigerated products have a much shorter shelf life, just a week or so past the printed date.
In both cases, an opened container of soy milk will last you ten days at the most. Sometimes you might only get five or six days from it.
Does Soy Milk Need To Be Refrigerated?
If the milk is sold on the shelf, then it should be shelf stable. You can safely keep it out of the fridge, but only until you open it. As soon as the container is opened, you need to store it in the fridge instead.
Is Soy Milk Gluten Free?
Soy itself is gluten free, which generally means soy milk is as well. However, some additives may contain gluten or be contaminated with gluten, so it's still important to look at the ingredients label.