You've heard about the benefits of beets and beet juice, right? Beet juice is sometimes even called a superfood and can be seen as a way to boost your health. What about pickling then? Are pickled beets good for you or do the beets lose most of their benefits in the process?
To begin with, let's talk about the underlying idea. Pickling food involves preserving them in an acidic solution, often one that includes vinegar, sugar, and salt. Pickling helps ingredients to last much longer, while also giving them a more intense flavor profile.
Some versions skip the vinegar and just use sugar and salt. This approach allows the food to ferment, providing it with probiotics and a different flavor profile. When prepared like this, food is often said to be fermented rather than pickled. However, the term pickled beets is often used for both types, so we're going to discuss them both in this post as well.
Regardless of how they're made, pickled beets can be delicious and are versatile. You can even use pickled beets in place of cooked beets and they're a fantastic way to brighten up any meal.
Don't forget that there are other types of fermented and pickled food out there as well, like sauerkraut, kimchi, and pickled onions. Each type has its own interesting features. Why not try them all?
Are Pickled Beets Good For Your Health?
What Do Pickled Beets Taste Like?
Benefits Of Pickled Bets
How Pickled Beets Could Be Harmful
The Pickling Process Makes A Difference
Do Pickled Beets Contain Antioxidants?
What About Yellow Beets?
Final Thoughts
What Do Pickled Beets Taste Like?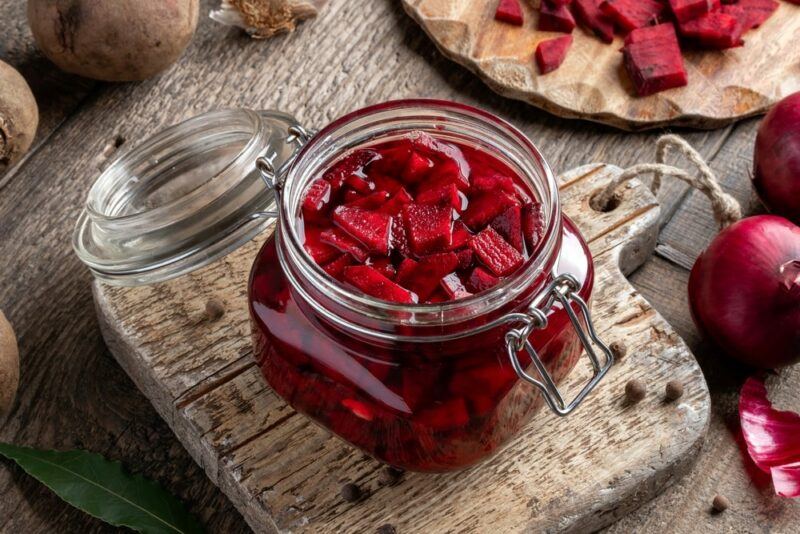 Pickled beets tend to have an earthy flavor, often with a balance of sweetness and tanginess.
As expected, this flavor profile varies depending on the other ingredients. Some recipes, for example, use added sugar. Doing so enhances the sweetness of the beets, leaving only a mild tangy flavor.
Other recipes add extra ingredients to change the flavor profile, like recipes that use cloves or a combination of dill and garlic. In those cases, the added ingredients dominate the flavor profile
If you're pickling beets yourself, you can easily play around with the ingredients to get a perfect balance of flavors. Why not add some spicy peppers into the mix and give your beets a kick?
Benefits Of Pickled Beets
Pickled beets themselves haven't been studied in-depth. However, there is plenty of information about the benefits of beets themselves and of fermented food, so many potential benefits are obvious.
A Source Of Probiotics
First of all, pickled beets can be a source of probiotics (depending on how they are made). For those unfamiliar, the term probiotics refers to helpful live microbes, ones that can improve the balance of bacteria in our guts.
Probiotics can sound weird at first. Who wants to be eating live bacteria? For that matter, aren't bacteria dangerous?
However, countless studies now show the importance of our gut bacteria in promoting health, fighting off infection, improving mood, helping with digestion, and many more functions. Probiotic foods are one way to help, as they can increase the amount of good bacteria in our guts.
Pickled beets are one easy and delicious way to increase your probiotic intake. But, as we'll discuss later, you will need to choose the type of pickled beets carefully, as some types may not contain probiotics at all.
You're Getting Plenty Of Nutrients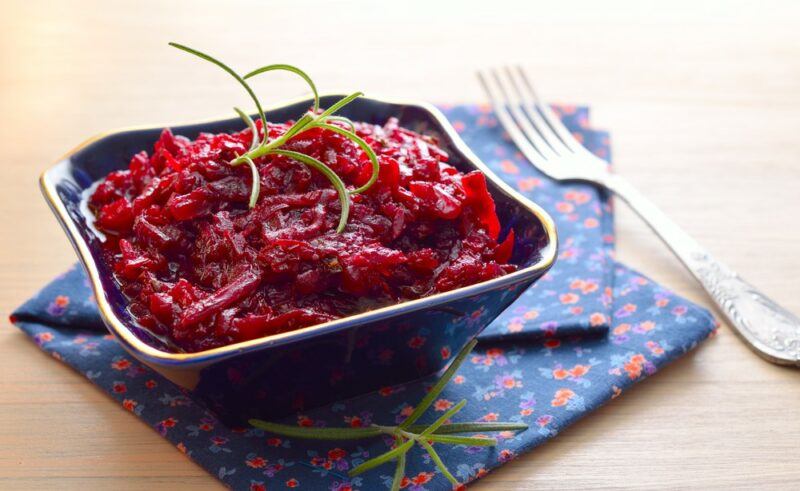 The probiotic benefits come from the pickling process, while the remaining benefits are associated with the beets instead.
For one thing, beets provide a variety of nutrients, including vitamin C, potassium, and folate. These nutrients remain even after beets have been cooked, so you get them with pickled beets too.
The importance of nutrients can't be understated. Each one of them plays a variety of roles in our bodies, keeping us healthy and functioning well.
The iron in beets might be particularly important, simply because it's so easy to be iron deficient. Having access to more plant-based sources of iron is always useful and can help keep your iron levels where they need to be.
Can Have Anti-Inflammatory And Antioxidant Effects
Beets contain many important plant-based compounds, including antioxidants, nitrates, and betalains. The concentration of these compounds may decrease during cooking or fermentation, but some are likely to remain.
Compounds like these can be powerful.
For one thing, they decrease the risk of oxidative damage – protecting you in the process. They can also improve health in other areas, like reducing inflammation.
In fact, the betalains in beets appear to inhibit some inflammatory disease pathways, providing you with even more protection.
The probiotics in pickled beets may be helpful for inflammation too, while also improving your gut health. We now know that the bacteria in our gut can influence health throughout our body. As such, probiotic foods may have more widespread benefits than we expect.
May Help With Your Heart
Beets have also been linked to improved heart health – an effect that extends to pickled beets as well.
The effect is partly related to compounds called oxalates. Our bodies convert oxalates to nitric acid, which then helps in blood vessel dilation and lowering blood pressure levels.
High blood pressure is a key risk factor for heart disease. So, decreasing blood pressure should also lower your risk of heart disease.
The effect on blood pressure tends to be short-lived. You'll need to regularly eat nitrate-rich foods to see consistent benefits.
How Pickled Beets Could Be Harmful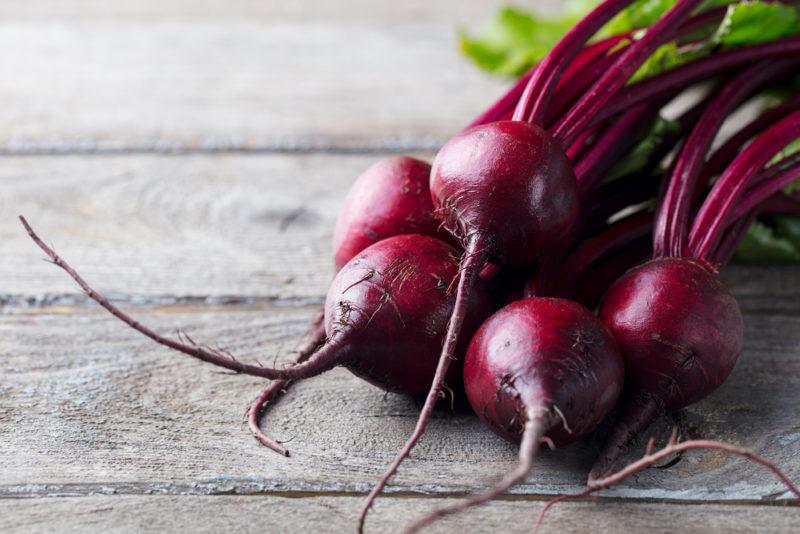 They're High In Oxalates
Beets are a high oxalate vegetable. While oxalates are a naturally occurring compound, they can increase your risk of kidney stones – especially if your fluid intake is low or if you've had a kidney stone in the past.
Some theories suggest that the fermentation process decreases the oxalates in beets. This could mean you're getting fewer oxalates with pickled beets than with other types of beets. But, even then, the oxalate content may be too high for many people.
Besides, there's no way to be certain. You can't work out the oxalate content of your food simply from how it tastes. If you're sensitive to oxalates, the fact that pickled beets might contain fewer oxalates mightn't be enough to make them safe for you.
Your Blood Pressure Might Drop Too Low
Beets contain nitrates, which can help to decrease your blood pressure and lower heart disease risk. That effect is useful most of the time.
Still… if your blood pressure is already low or if you're taking blood pressure medications, foods that decrease blood pressure can be risky.
Their Carb Content
Pickled beets are considered moderate in terms of carbs, giving you around 19 grams of carbs in a half cup serving. Some of those carbs come from fiber, but you're still looking at around 12 grams or so of sugar per serving.
While all vegetables contain some digestible carbs, the amount is higher for beets than you might expect. You even get more sugar per serving than fiber. That's not what you want from vegetables at all.
Anyone watching their carb intake might need to keep beet portions low or skip the beets altogether.
That said, the carbs in beets do provide energy, so pickled beets could still be helpful sometimes.
There's The Risk Of Food Poisoning
When you pickle beets in salt, you promote fermentation. That process helps to increase levels of healthy bacteria, providing the probiotics that your body needs.
However, you need to be careful when preparing beets for pickling, as there's the risk of contamination. If this happens, you might end up promoting the growth of dangerous bacteria along with the good types, and the beets could end up making you sick.
To avoid this, it's important to make sure surfaces are clean and that any jars you use are sterilized. Pickles made in vinegar instead could be safer, as the vinegar inhibits the growth of bacteria. Even then, it's still important to always pay attention to food safety.
The Pickling Approach Makes A Difference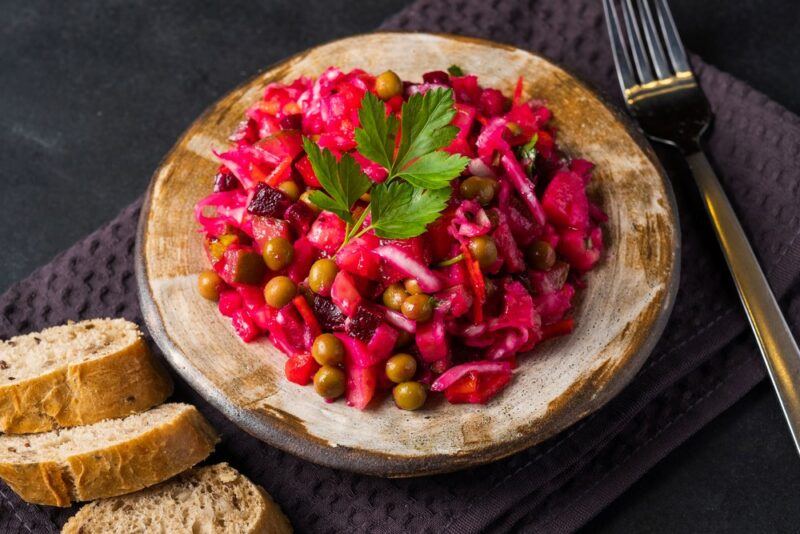 Pickled beets are always a nutritious food, giving you many of the same nutrients and antioxidants that you find with regular beets. However, some benefits depend on the way that your beets are pickled.
Vinegar Pickled Beets
Using vinegar is a useful way to pickle vegetables, as the process is faster and allows you to skip the salt. Indeed, vinegar pickled beets can have a similar sodium content to regular beets (ideal for anyone on a low sodium diet).
Of course, the sodium content will depend on the recipe. Some will keep the salt low, while others include salt, sugar, and vinegar to create an ideal flavor.
There's a catch though.
Vinegar pickled vegetables aren't a good source of probiotics. As such, they may not offer all the same gut and digestive benefits that you see with probiotic foods.
Salt Pickled Beets
If you're looking for probiotic benefits, your beets will need to be pickled in salt. The process takes longer, as the beets need to ferment. Still, probiotics are powerful, so this method of pickling is well worth the effort.
The biggest issue here is the sodium content, which is often the case for fermented foods. After all, high sodium intake has been linked to many health problems, like increasing your blood pressure and raising your risk of stroke.
This is an important area to think about, as many of us are already consuming more than the recommended daily amount of sodium. If you're worried about sodium intake, try balancing your pickled beets out with low sodium fermented foods, like yogurt, kefir, and kombucha.
Do Pickled Beets Contain Antioxidants?
Antioxidants have become famous as a way to fight aging, promote health, and lower disease risk. They do so by reducing excessive oxidation in the body, which should then lead to less oxidative damage.
Brightly colored fruits and vegetables are often powerful sources of antioxidants. Beets are powerful here too, which is partly beet juice has become popular.
While pickled beets do still contain some antioxidants, they're not nearly as powerful as fresh beets, as some of the antioxidants get lost in the process.
What About Yellow Beets?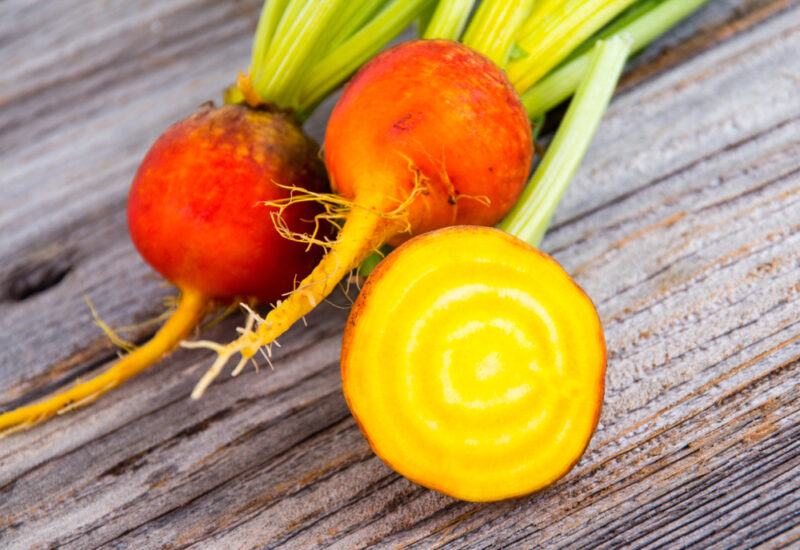 When we talk about beets, most of us think about the bright red vegetable with the somewhat earthy flavor. Yet, red beets aren't the only type. There are also yellow or golden beets.
While yellow beets are less common, they're popular among those that eat them. These beets are even better in some ways, as they have a milder flavor and are easier to work with (and they don't stain everything they touch!).
You can pickle yellow beets too. The technique is exactly the same as for red beets, which makes things simple. You could even get creative and use a mixture of yellow beets and red beets.
Final Thoughts
Beets are a healthy ingredient on their own. Pickling may make them even more powerful, as you're getting probiotics and potentially decreasing the oxalate content.
Pickled beets also have a good shelf life, while adding a fantastic color and flavor to your meals. This makes them a useful ingredient, one that also happens to be good for you.
Still, pickled beets can contain a decent amount of salt, along with some oxalates, so you can't use them excessively. Anyone at risk of kidney stones or on a low sodium diet may need to skip pickled beets entirely. After all, you can find nutrients and probiotics in plenty of other places too.