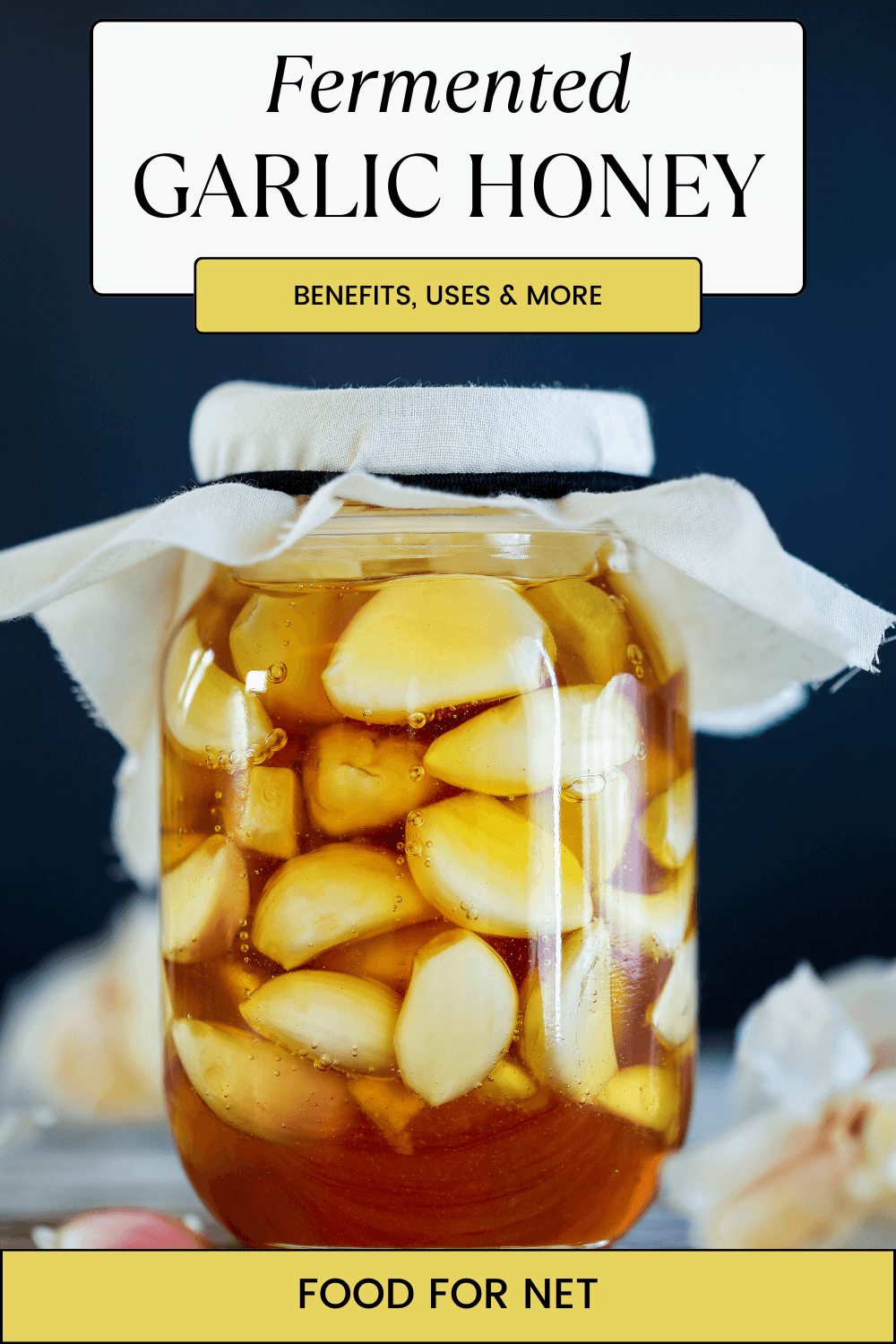 Fermented garlic honey is one of the simplest recipes you'll ever see. All you're doing is placing garlic cloves and honey in a jar, then leaving them to ferment. It's best to leave the mixture fermenting for a month, but even a week or so should work well enough.
The approach works because honey contains yeast anyway and garlic has lactobacillus bacteria on its surface. These microbes plus the microbes found in the air are enough to create a healthy mix that is fast to ferment.
There are plenty of benefits to be had too. Some of these come from the garlic, some from the honey, and the rest from the healthy microbes that are promoted during fermentation.
In this post, we're showing you how to make fermented garlic honey yourself. We'll also talk about the various benefits and how you can use the mixture. Who knows? This might be a recipe you make time and time again.
How To Make Fermented Garlic Honey
There are only two ingredients in this recipe – garlic and honey. However, there are a few things to think about with them.
First, you need to choose raw unpasteurized honey (perhaps from a honey of the month club or a local market). The use of raw honey is critical, as pasteurization kills the microbes that are needed for fermentation. No microbes, no fermented honey.
You have more flexibility with your garlic, but fresh garlic tends to be best.
Prepare Your Garlic
Once you have your ingredients, it's time to get cracking. You'll need to get the garlic cloves out of their papery shells, using whatever method works best for you (the video below offers a particularly easy technique).
If you want to leave the cloves whole, it's best to slightly crush them to release some of their juices. Chopping the cloves in half is even better.
Add The Honey
Once the garlic is prepared, you simply add the cloves to a clean empty jar. The best jars have a wide opening and are easy to seal. Glass mason jars are a common choice, although there are plenty of other options.
After placing the garlic in the jar, you simply pour in the honey. You want the cloves to be completely covered with honey. Keep at least quarter of an inch of clear space at the top of the jar – as the fermentation will produce gases.
The garlic cloves will tend to float in the honey and some might poke up above the surface of the honey. This should be fine as long as most of your garlic cloves are fully covered. You'll be rotating and stirring the jar anyway.
Once the jar is filled and sealed, you can then store it in a cool dark place.
Check And Rotate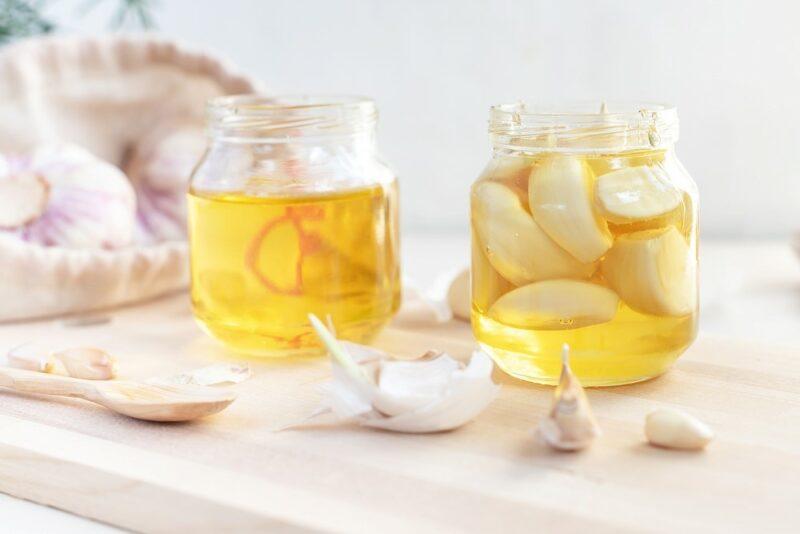 You'll need to keep an eye on your honey as it ferments, particularly in the first week. This often includes checking it daily and opening the jar to release any gases.
Turning the jar over once or twice a week is helpful too (so make sure the jar has an excellent seal). You may also want to stir once or twice to keep the fermentation progressing nicely.
How Long Will It Ferment For?
The honey and garlic mixture will continue to ferment for about a month, but you don't need to wait that long before eating it. Waiting two weeks often works well, as this gives the flavor and probiotic content enough time to develop.
The antibacterial properties of honey mean that the mixture won't keep fermenting indefinitely. It doesn't turn alcoholic either (so you're not making mead!).
Interestingly, the garlic sometimes ends up turning green or even blue during fermentation. This is simply the result of some of the chemical processes, rather than contamination and the garlic remains safe to eat.
What Does Fermented Honey Taste Like?
The honey in your mixture ends up with a subtle garlic flavor, while its texture is similar to simple syrup.
The garlic changes too. The cloves lose some of their pungency and become mellower. They become a little chewy too. You can even eat them on their own.
Many people love the flavor changes, while others tolerate them to get the health benefits of the garlic and honey. Others find it better to turn to other fermented foods. After all, flavor preferences can vary dramatically between people.
Ways To Vary The Recipe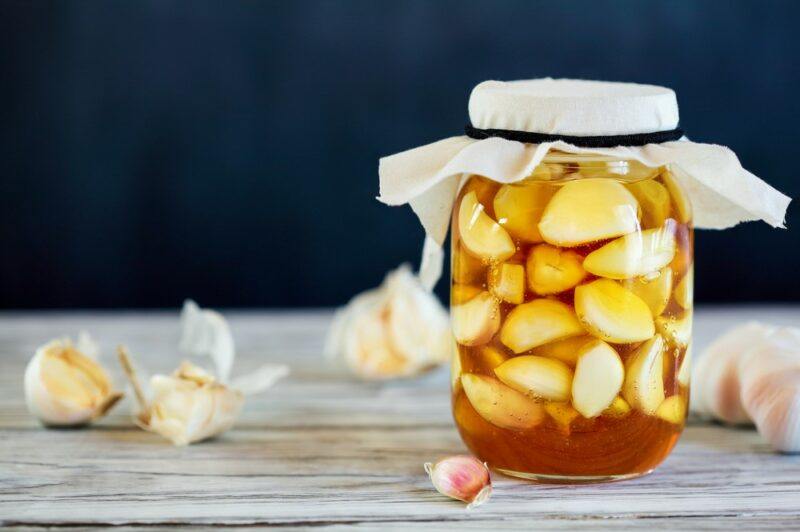 Rather than simply fermenting garlic in honey, why not add a few extra flavoring ingredients? These are particularly good if you hope to use the garlic and honey in recipes.
Add Herbs or Spices
You can use fresh or dried herbs and spices in your garlic honey, both types will taste fantastic. Rosemary, thyme, cloves, cardamom, or ginger are all great places to begin. You could even turn to chili flakes.
Use Some Citrus
Adding citrus zest or even whole slices of citrus fruit is a great way to change up the flavor of your fermented garlic honey. You can go with whatever fruits you have on hand.
Add A Splash Of Apple Cider Vinegar
A little apple cider vinegar helps make your honey a little safer. It also balances out some of the sweetness of honey and makes the finished mixture taste even better.
Use Vegetables
This approach is much less common, but some people add vegetables to the fermentation mixture as well. Chopped onions are an obvious starting point and there's no limit to the types of vegetables that you could include.
You'd need to experiment with fermentation times and quantities to make this work.
Is Fermented Garlic Honey Safe?
Fermented garlic honey is a low risk fermented food because honey itself is acidic and naturally antibacterial. The antibacterial nature stops the fermentation process from going too far and protects against the growth of harmful microbes.
If you're worried, you can add a little apple cider vinegar to the mix. This increases the acidity still further and reduces the risk of any problems.
You can also use a pH strip to make sure the pH is always below 4.5. If the pH is too high, simply add some more apple cider vinegar. Doing so is rarely needed, as honey typically has a pH of less than 4 anyway.
That said, you'll still need to keep an eye out for contamination. Any signs of mold or bacteria mean that it's time to ditch your garlic and honey, as the mixture may now be unsafe.
Ways To Use Your Honey And Garlic
So, you have delicious fermented garlic honey, but what do you do with it? There are plenty of options, including the following:
Eat a spoonful of honey or a clove of garlic directly. Both ingredients taste excellent on their own and provide plenty of health benefits.
Use the honey as a glaze. The sweetness and mild garlic flavor would make the honey taste excellent on meat or roasted vegetables.
Drizzle the honey. You can drizzle the honey over any meal where some sweetness is called for, including pizza, fried chicken, or bread.
Add it to a hot tonic. Honey features in many healthy drinks, often as a tonic for a cold or flu. Using your garlic-infused honey simply makes your drink even more powerful.
Try it in a honey cocktail. There's a surprising number of honey cocktails out there and some could benefit from the addition of garlic honey. You'll need to experiment here, as the garlic flavor will work well in some cocktails and not in others.
The Benefits Of Fermented Garlic Honey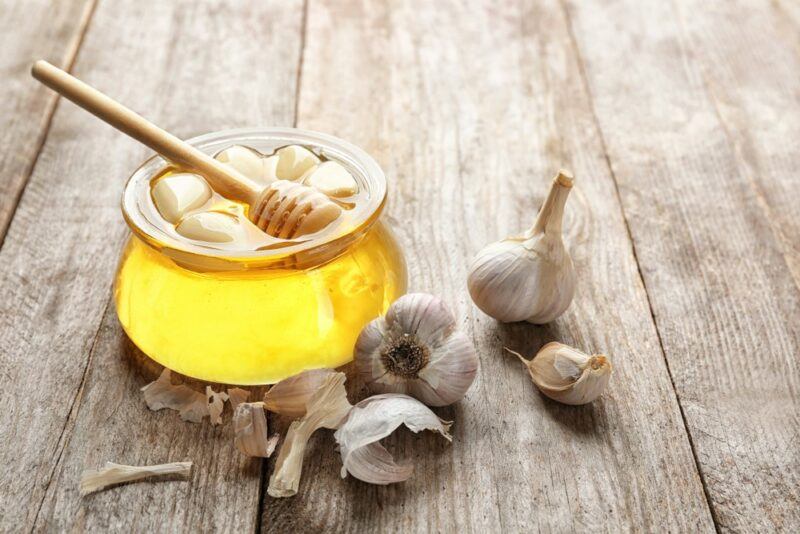 Fermented garlic honey is easy to make and tastes fantastic, but those aren't the only reasons for making this treat. There are also some interesting health benefits, including the following.
High In Antioxidants
Honey and garlic are both decent sources of antioxidants. There are powerful compounds that help to lower oxidative stress and inflammation throughout your body.
A diet rich in antioxidants could decrease the risk of some diseases, promote better health, support your immune system, and simply make you feel better.
Soothes Your Throat
Honey is fantastic for soothing your throat, especially when you have a cold. Garlic fermented honey is even better, as it also contains some plant-based compounds from the garlic, plus healthy microbes.
Can Help With Your Immune System
Garlic and honey are both commonly often used to fight cold and flu symptoms, partly because they may strengthen your immune system. The antioxidants play a role in this effect too.
Fermented garlic honey is even more relevant because of the probiotics. Here's a quick and dirty version of the science.
Our bodies are host to an extreme number of microorganisms, including bacteria, viruses, and fungi. We don't even really know how many of these there are, but there could easily be around 30 trillion microbes (or perhaps many many more).
These microbes, particularly those in our guts, tend to be good for us. They can help to improve digestion, help with mental health, increase immunity, and lower information. Unfortunately, our gut microbiome (that is, all the microbes in our gut) isn't always as balanced as it could be. Modern diets and lifestyles easily throw the microbiome out of balance.
Enter fermented foods and probiotics. These provide a variety of healthy microbes, some of which may join the microbes in our guts and help to restore balance. By doing so, foods like fermented garlic honey can promote health and improve our immune systems.
Could Help Your Heart
Some compounds in garlic have been linked to improved heart health, including decreases in LDL cholesterol, total cholesterol, and blood pressure. These are all powerful effects, given that modern diets often aren't great for our hearts.
However, you'd need to be eating the garlic to get this effect. Just consuming the garlic-infused honey wouldn't be enough.
It's A Way To Eat Raw Garlic
Finally, the fermentation process mellows garlic and makes it easier to eat on its own. This is valuable, as cooking garlic destroys some of the allicin present (allicin is one of the most powerful compounds in garlic).
Frequently Asked Questions
Do You Need To Heat The Honey?
Raw honey is often liquid at room temperature, so it shouldn't need to be heated to make your fermented garlic honey. However, if it has become crystalline, try placing the jar in a warm water bath and stirring regularly. This slow and gentle technique takes 40 minutes or so, but doesn't harm the microbes in the honey and gives you the best possible texture.
Is Fermented Garlic Healthier Than Raw Garlic?
Yes, because fermentation provides probiotics and increases the nutrient availability of the garlic. You're also getting extra benefits from the honey.
Who Should Avoid Fermented Garlic Honey?
While probiotics offer many benefits, they're not a good choice for everyone. People with a compromised immune system, notable bloating, or a histamine intolerance should be cautious with fermented foods. Babies under the age of 1 shouldn't eat honey either, as their immune systems cannot cope with it.
Most other people should be able to enjoy fermented garlic honey. Just pay attention to the amount you consume, as honey is still high in sugar and calories.
Does Fermented Garlic Honey Need To Be Refrigerated?
No. The honey and garlic can be kept out of the fridge in a cool and dry place.
How Long Does Fermented Garlic Honey Last?
The honey should last around 12 months if you keep it in a cool and dark environment. However, you should still regularly check for signs of contamination or any other concerning features.