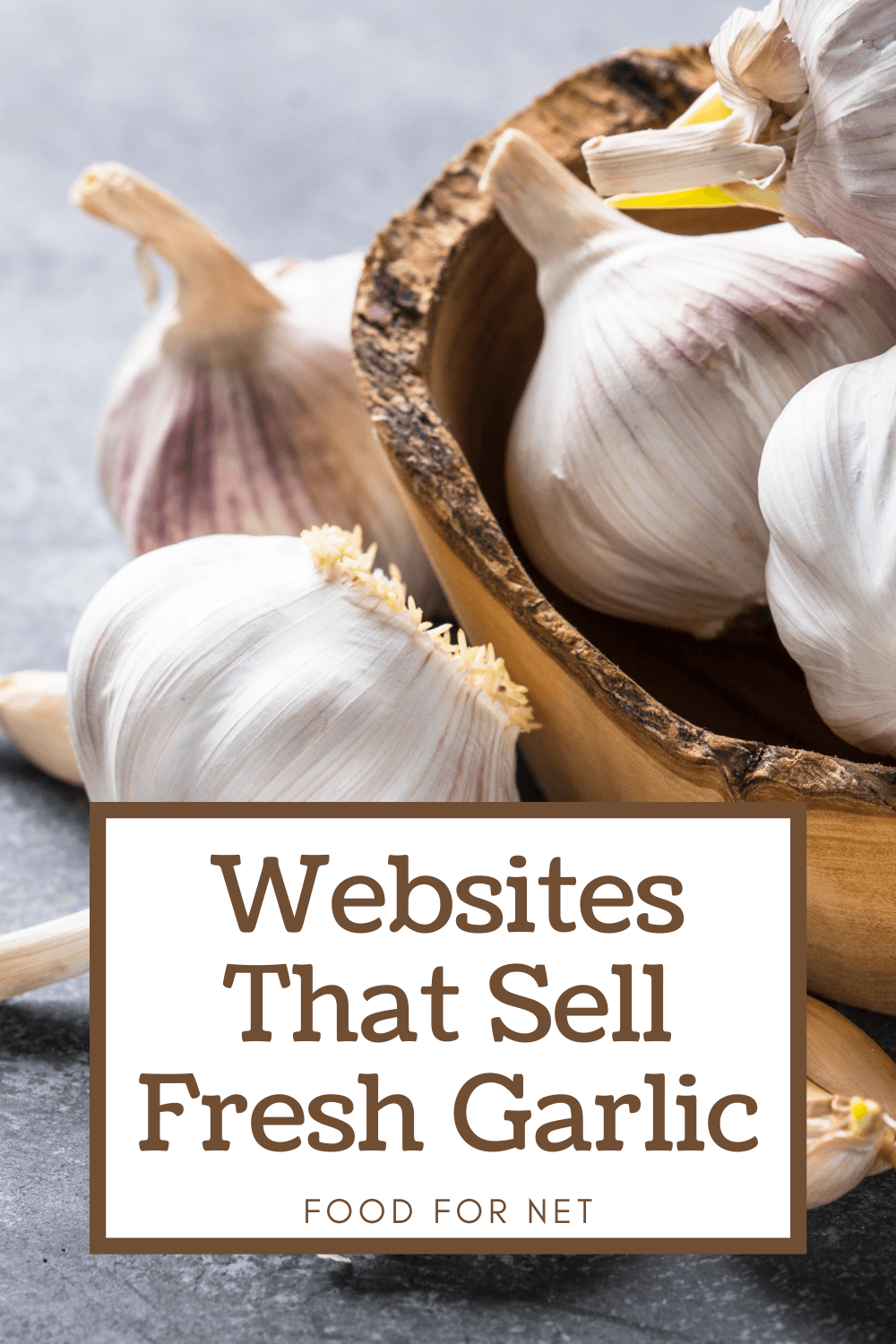 While not a great snack on its own, garlic is extremely versatile and present in so many recipes to add flavor. What many don't realize, though, is that there are many different types of garlic with different flavor profiles.
While it's easy enough to get some garlic at the grocery store, you can never be sure how long it's been there or exactly where it came from. Knowing where to buy fresh garlic online gives you access to much fresher products and a wider variety of flavors to choose from.
Even if you're not picky on the type, you'll notice a difference in flavor and intensity when you buy farm fresh garlic instead of old stuff from the grocery store. The same is true when you buy other fresh herbs and spices online, including turmeric and even horseradish root.
P.S. Why not use your garlic to make fermented garlic honey? This is a delicious home ferment that gives you extra health benefits from the fermentation.
Where to Buy Fresh Garlic Online
Groeat
Filaree Garlic Farm
Orie's Farm Fresh
Creekside Garlic Farm
Black Garlic North America
Bear Creek Organic Farm
Mad River Garlic Growers
1. Groeat

Groeat is proud to offer some of the most beautiful, highest-quality garlic that is sought-after by many year after year. The family-owned and operated farm is based in Montana, where some of the best garlic in the world is grown. They all work hard on the farm, harvesting the garlic by hand to ensure quality and consistency.
Their garlic is happily used by many chefs as well as home-cooks who enjoy high-quality garlic. Their fresh, organic garlic is perfect to eat as soon as it's delivered, or you can use some to replant and grow your own if you wish.
They offer a wide variety of garlic, including rosewood, German porcelain, Georgian crystal, chesnok red, purple glazer, and more. Their entire selection is vast, giving you plenty of options to choose from and many different flavors to enjoy. If you're only interested in growing, they also have a growers starter kit that comes with sufficient bulbs for planting and a set of instructions.
Due to the popularity of their garlic, it does sell out most of the time, so if you're interested in giving them a try you'll need to be proactive.
2. Filaree Garlic Farm

Filaree Garlic Farm has been a leader in the garlic industry for more than 30 years. They have extensive experience and offer a huge variety of garlic seed in addition to their fresh garlic made for eating. In fact, they currently hold the largest privately held garlic collection in North America.
Their seeds, fresh garlic, and all other products are certified organic, always. In terms of seeds, they offer many varieties but some of their best sellers include porcelain, silverskin, Asiatic, rocambole, and creole. Their availability in terms of fresh garlic varies depending on the harvest and how many bulbs are suitable for planting.
In addition to garlic, they also sell shallots, potatoes, asparagus, and sweet potatoes – all available in a combination of seeds and fresh.
They can ship both seeds and their fresh products throughout the continental United States.
3. Orie's Farm Fresh

Orie's Farm Fresh is a fairly new company, having opened in 2015 by a couple who are both very passionate about fresh, healthy food. Their focus is garlic but they do offer a variety of other produce and products.
They love getting involved and contributing to the health of their local community, though they will ship orders throughout the entire United States. Local delivery is free of charge and can include anything from their website. Beyond a certain point, they will only offer non-perishable items which do include garlic powders as well as garlic itself. What they can't ship long distances is their fresh meat, plants, or most vegetables.
In terms of garlic, they offer about 30 different kinds, including black garlic, smoked garlic, and garlic powders. They also offer a number of artisan salt blends, herb medleys, and more.
In addition to garlic, they also offer various fresh vegetables including leeks, kale, onions, arugula, potatoes, turnips, okra, peppers, zucchini, and more.
4. Creekside Garlic Farm

Creekside Garlic Farm is located in New York and despite not being in the "garlic capital" of the United States, they are proud of their efforts and the high-quality garlic they yield every year. The farm began with a passion for garlic and grew with dedication research and constant improvement of their naturally grown garlic.
They have been in the industry for several years now and they are proud to offer a wide variety of fresh garlic to customers all over. This includes elephant, artichoke, Asiatic, porcelain, and purple stripe.
If you're local, they attend many markets and garlic events where you can buy fresh garlic directly from them. If not, they deliver anywhere in the United States.
5. Black Garlic North America

Black Garlic North America is passionate about garlic, striving to offer the highest quality garlic in North America, placing an emphasis on health, safety, and sustainable methods. They ensure all products are produced in socially responsible ways so that both retail and professional customers can buy with confidence and peace of mind.
As their name suggests, they focus on black garlic in particular. In addition to offering fresh bulbs, they have created many other products that allow you to get black garlic in several forms.
This includes black garlic powder, granulated powder, peeled black garlic, black garlic puree, dehydrated garlic scrapes, and dried cloves. All of these products come in a variety of sizes, and many are available either organic or traditional.
They also have a sample set and a couple of gift sets available if you want to try a few different things at once. They ship their products throughout the United States.
6. Bear Creek Organic Farm

Bear Creek Organic Farm is owned and operated by a couple in Michigan who are passionate about high-quality, fresh, and healthy food. They hope to enrich their community by offering healthy and authentic food choices that are responsibly and sustainably sourced and grown.
It all started with a passion for honey but has grown to include various other things as well. Among the additional products offered is fresh traditional garlic, black garlic, and lavender. Their lavender is available fresh or as buds. From their lavender, they also create an aromatherapy solution that is sold on the website.
If you're local and want to save money they do offer pickup directly on the farm, but they do deliver nationwide if you can't be there in person.
7. Mad River Garlic Growers

Mad River Garlic Growers offers an impressive selection of garlic seed, including 40 varieties available for customers to purchase and grow themselves. They are proud to say that all of their products are USDA certified, having never once used pesticides or unnatural fertilizers on their crops.
In terms of fresh, food-ready garlic they offer both hard neck and soft neck available for order on their website. However, due to their focus on garlic seed rather than fresh, this stock often sells out pretty fast.
The farm is family owned and operated and they are dedicated to maintaining sustainable growing and harvesting practices. They live on the farm and work hard each and every day to ensure a quality harvest every time – harvesting about 80,000 bulbs each year. They do absolutely everything by hand, therefore eliminating any need for artificial substances to help or enhance the harvest.
If you're new to garlic their website also contains a great deal of information, including storage and growing tips, fun facts, and health information. They ship both fresh garlic and their seeds anywhere in the United States.
Things to Consider When Buying Fresh Garlic Online

Garlic is a versatile food that's useful in many forms and has a fairly long shelf life when stored properly. Fresh garlic can be shipped easily as it won't go bad during transit, but there are many varieties of garlic to choose from and a few things you should consider before making a purchase:
Availability
Due to its versatility, garlic is a popular purchase. Many farms that produce high-quality garlic will sell out quickly once their harvest is in, so it's important to stay vigilant if there's a particular place you want to buy from. Pay attention to their harvest season and be ready when the stock goes on sale.
The Variety
With so many kinds of garlic to choose from it can be hard to know exactly what you want. Garlic enthusiasts may know the subtle differences between the varieties but an untrained eye might not know how to go about it.
If you're unsure, look for a company that offers some information on each of their varieties including health facts and flavor profiles. If you aren't picky, hard neck varieties tend to be more common as they're more flavorful. These are often easier to find.
Other Forms
Garlic is great fresh but it's also beneficial in many other forms. This includes powders, salts, dried, and more. Some companies sell both fresh and powdered garlic while others focus only on a fresh harvest. Consider how exactly you want to purchase your garlic when looking for a supplier.