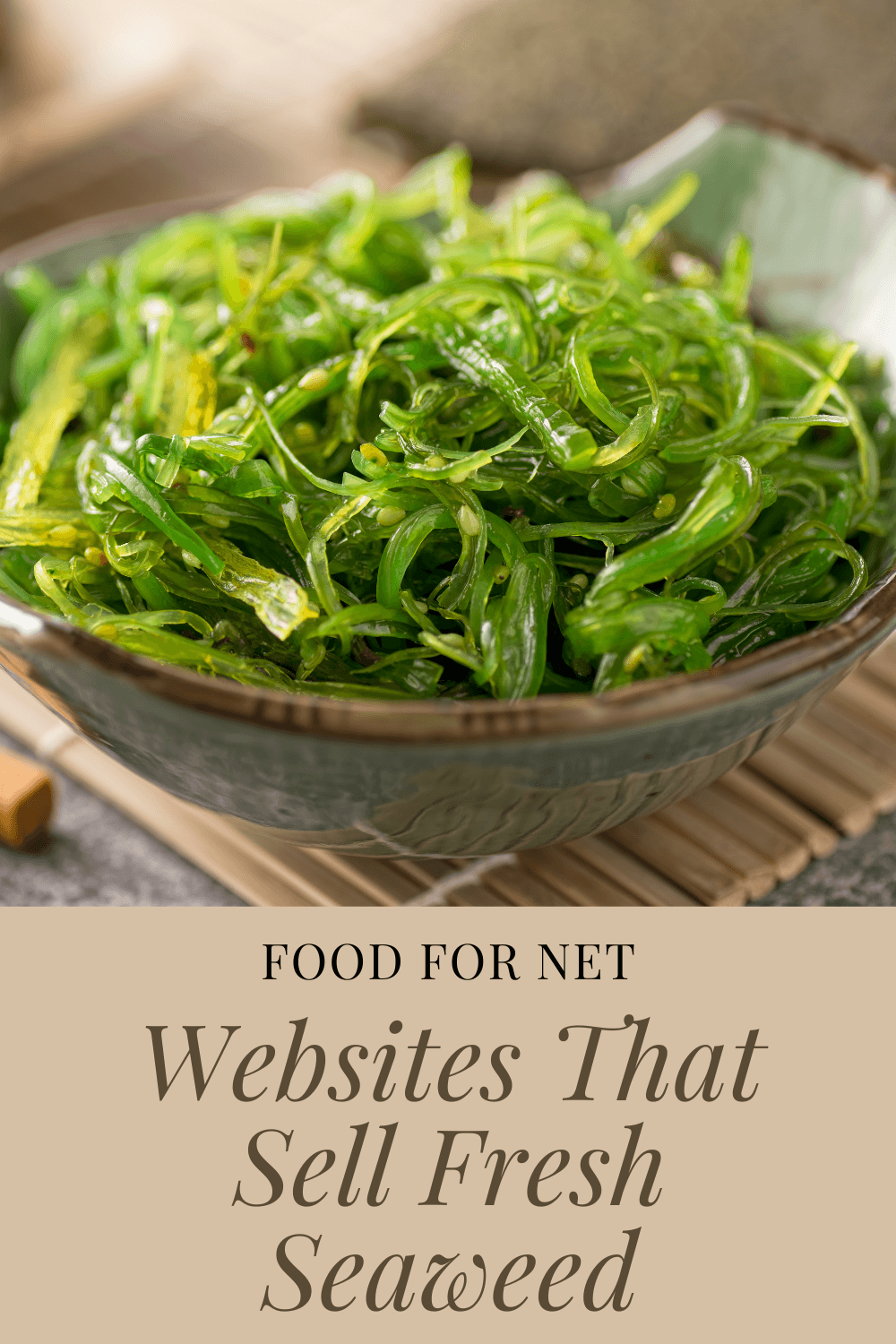 To most, seaweed is the annoying thing at the beach that you dread getting caught on your foot. Not many would immediately think of eating it, though it's a concept that is slowly becoming more common.
A popular delicacy in some countries, seaweed does contain a long list of nutrients that provide numerous health benefits. It also has a unique flavor that can be used in many dishes, if eating straight seaweed isn't your thing.
For starters, seaweed is packed with vitamins and minerals while being low in calories. It also contains lots of antioxidants, supports gut health, and proper thyroid function.
The fiber in seaweed can also help reduce and suppress your appetite, making it a great addition to any weight loss effort.
Although it's a healthy addition to any diet, it should be noted that seaweed should not be consumed in excess. Seaweed does contain high levels of iodine which can become dangerous in very large amounts. If you're worried about this – consider learning to cook your seaweed regularly instead of eating it fresh and raw. Cooking reduces iodine content by up to 90%.
Because so few domestic companies are harvesting and distributing seaweed, it may be difficult to find any that hasn't been imported at your local grocery store. For this reason, it's likely best to buy fresh seaweed online. This ensures you're getting the best quality and you're supporting domestic companies rather than sending your money overseas.
While you're at it, you might consider ordering other marine products online, like caviar, herrings, shrimp, and seafood.
Where to Buy Fresh Seaweed Online
Atlantic Sea Farms
Maine Seaweed
Ironbound Island Seaweed
Monterey Bay Seaweeds
1. Atlantic Sea Farms

Atlantic Sea Farms was founded in 2009 and was officially the first commercially viable seaweed farm in America. Their ultimate goal has been to diversify how the waters around them are used while providing a fresher, healthier alternative to imported seaweed. Before they began their mission, more than 98% of edible seaweed came from Asia, where it was often grown in compromised waters with no attention paid to the environment or seaweed quality.
They intend to provide better options for domestic customers, but also be kinder to the environment by finding a more sustainable way to get fresh seaweed in the hands of those who want it. A large part of this comes from working closely with local fishermen who use sustainable and ethical fishing and harvesting practices.
They are careful and deliberate about who they choose, and all their partners are listed on their website with photos and information. This gives customers a chance to see exactly where their seaweed is coming from and who specifically is doing the work. Atlantic Sea Farms even works with the farmers and provides them with resources and education to expand their farming practice.
They have many kelp products available, but they promise that their fresh kelp is never dried, never dyed, and is grown in clean waters. Their fresh kelp is sold in several local stores which may be convenient if you're local, but you can also order online and they'll ship anywhere in the United States.
In addition to fresh kelp, they also offer kelp cubes, ready cut kelp, fermented kelp seaweed, and raw kelp sauerkraut. The kelp cubes are great for easily adding to smoothies for a quick nutrient boost!
2. Maine Seaweed

Maine Seaweed is a family-owned business located on the coast of Maine. The founder has been in the business for four decades and counting, so you can be confident in his knowledge and experience in providing only the best-quality seaweed. Not only does the company provide amazing products but they have many resources and plenty of information on their website for anyone wanting to learn more about edible seaweed and sea vegetables.
This includes an informational blog and a series of videos detailing their processes that allow you to see them in action. They also have a section with a ton of detailed recipes if you're looking for new and interesting ways to eat and prepare your seaweed. These include everything from the basics of cooking and preparing seaweed to delicious salads and pasta dishes.
They harvest both seaweed and sea vegetables from their little piece of the Atlantic Ocean. They do offer several different varieties of seaweed including kelp, dulse, and alaria. All are available fresh, or you can buy some pre-made soups, variety packs, as well as a physical cookbook if you want to have a proper reference in the kitchen.
They can ship their products easily throughout the United States and Canada, allowing customers to order directly from the website by entering their address. International customers can get in touch by email and discuss placing an order that way.
3. Ironbound Island Seaweed

Ironbound Island Seaweed harvests several varieties of wild seaweed from the cold, clean waters of the Schoodic Peninsula and the islands surrounding Eastern Maine. Their dedication to both sustainable practices and tracking down the best seaweed is evident. Once harvest season begins, they make an hour-long boat trip every day to reach the place where seaweed thrives the most.
Once they reach their destination they climb straight into the waist-high waters and harvest the seaweed through the waves – big or small. They pay close attention to what they're doing, always making sure to leave enough plants behind for proper regeneration. Once harvested they hang the seaweed to dry before packaging the whole leaves right up and shipping them to customers entirely fresh and untouched.
They harvest five varieties of seaweed: dulse, kelp, kombu, nori, and wakame. Their seaweed is available at some retail locations, but it's also available online and can be shipped internationally. It's available by the pound and they encourage customers to buy in bulk to reduce both packaging and costs for everyone involved. Because they are so focused on providing the best possible fresh, uncut seaweed to their customers, they don't currently offer any other seaweed-related products or pre-made meals.
If you're interested in learning more about the company and their stories and practices, they have a few interesting stories posted to the website. They've also recently launched a video journal series where they'll be showing you some behind the scenes action.
4. Monterey Bay Seaweeds

Monterey Bay Seaweeds is a family-owned and operated seaweed business that began in 2012 when the founding couple and their oldest son started harvesting seaweed together. They were soon joined by a friend who was equally passionate about sustainability and climate action. Together, they grew a local seaweed empire, producing fresh, great-tasting seaweed loved by their customers and served by some of the best chefs around.
Unlike other companies that harvest straight from the ocean, Monterey Bay Seaweeds grows their seaweed right on their farm in large, swirling, jacuzzi-like tanks of seawater. Everyone takes turns throughout the day closely monitoring the plants to ensure they are staying strong, healthy, and growing properly.
This method has it's pros and cons compared to harvesting wild from the ocean, but one of the biggest advantages of growing it this way is that it can be harvested to order. This means it's as fresh as possible when it arrives at your door. It also means that the seaweed in the ocean isn't being touched, so they don't have to worry about monitoring how much is harvested to avoid taking too much.
If you're local, you can visit the farm itself and purchase your seaweed there. It's also available from several wholesale distributors, the names and locations of which are listed on the website. Failing that, you can order it by the pound directly from the website, available to ship anywhere in the United States. Currently, they have three varieties of seaweed available for sale: dulse, sea lettuce, and ogo.
Things to Consider When Buying Fresh Seaweed Online

Seaweed is a relatively new thing to the Western world, having been imported from overseas for so long. As such, sources are limited, but it's still a good idea to buy fresh seaweed online from a domestic company as what you get will likely be much fresher, healthier, and more sustainably harvested. Before choosing where to order from, consider a few things:
Harvesting Practices
While many domestic seaweed companies do pay some level of attention to the climate and sustainability, they will inevitably have different harvesting practices. Some harvest from the wild, some plant in the ocean, and harvest from that, while others grow in right on their farm.
Each method has it's own benefits and drawbacks, so look into how the company does it if this is something that matters to you.
Varieties Available
"Seaweed" is a broad term that covers many different varieties with an assortment of different tastes and uses. Kelp and dulse tend to be among the most popular, but several others do exist. Some companies choose to focus on one or two varieties while others strive to produce multiple.
It's something to note as you're weighing your options, as some types are much harder to find than others.
Other Products
Because growing and/or harvesting seaweed is such an involved process, not all companies offer anything else. But, seaweed is great in salads, soups, sauces, and other things that you can find pre-made and ready to ship to you if you look hard enough.
Considering the companies use their own freshly harvested seaweed to produce these things, what you're getting will be much fresher and likely healthier than similar products you could buy at the local grocery store.