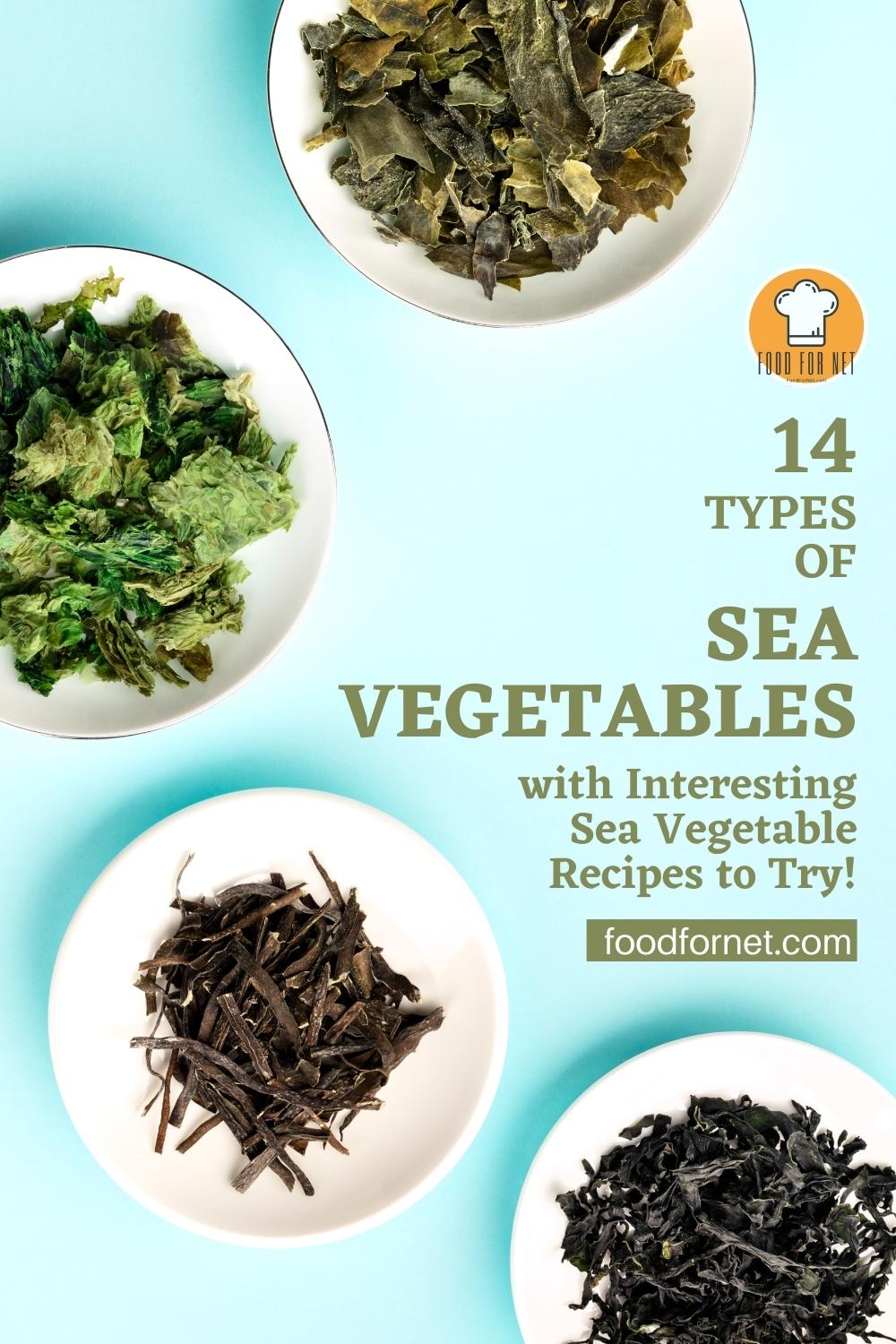 Whenever you hear seafood, you instantly think of shrimps, lobsters, crabs, and all sorts of fish, right? But what about sea vegetables? Are you familiar with sea vegetables? Or better yet do you know what sea vegetables are, and do you know there are many different types of sea vegetables you can eat?
Okay, let's start by defining sea vegetables – it basically refers to plant and algae foods that grow in or near the ocean. Simply put, seaweed. The macroalgae referred to as sea vegetables here are kelps or plant-like organisms that grow in abundance on rocks and other hard surfaces in coastal areas.
Still puzzled? Perhaps nori rings a bell, right? Well, these black-colored thin sheets (wrapped around your favorite sushi) are actually shredded edible seaweed. These seaweeds are usually found in grocery stores in dried or dehydrated form – unless, of course, you live within the coastal area. One option you can try, if you really want to get your hands on fresh seaweed, is to buy them online.
Sea vegetables are commonly featured in many Asian dishes, in fact, aside from Japan's seaweed-wrapped fish, China is also known for its algae-based broths. Although these sea vegetables are only recently getting traction in Western cooking, there's no doubt that they're making quite a statement.
Sea vegetables are one of the best natural sources of iodine. And its iodine content may help support thyroid health and may also play a vital role in supporting pregnancy and postpartum recovery. There are some seaweed types that also have compounds like porphyrin, carrageenan, terpenes, polyphenols which may offer anti-cancer benefits, inhibit viral replication, and reduce the occurrence of chronic diseases.
These sea vegetables are really packed with nutrients. In addition to those previously mentioned, they're also rich in dietary fiber, omega 3 fatty acids, essential amino acids, and vitamins A, B, C, and E.
So, if you're not into sea vegetables yet, perhaps it's worth giving a try considering its nutritional content – not to mention its interesting flavor as well. Best described as tasting like the ocean with strong salty and mineral flavor.
Find out which of these sea vegetables interest you the most and which ones you can possibly get your hands on if ever you want to try them out. See also some really interesting sea vegetable dishes at the end of the list.
Types of Sea Vegetables
Arame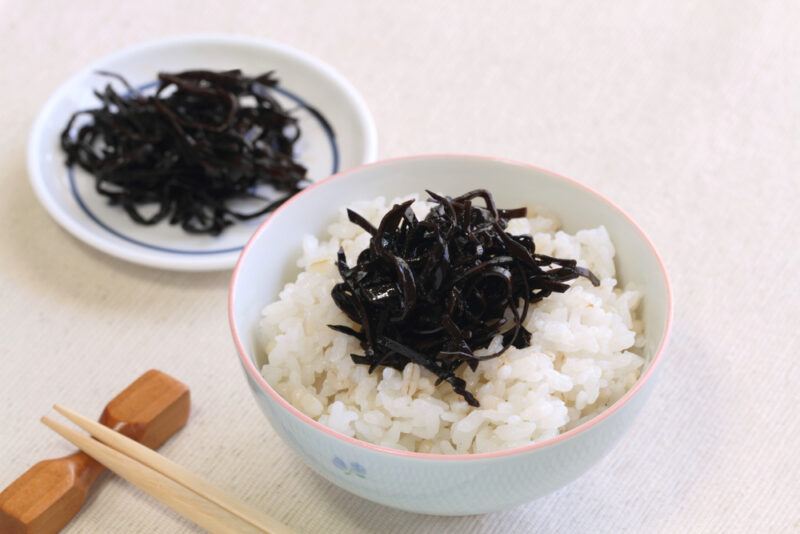 Arame, also called sea oak, is a brown alga that is common in Japanese cuisine. It has dark brown strands or leaves that when dried or dehydrated appear like black vermicelli because of its thin wiry strands. It can be added to appetizers, casseroles, pilafs, soups, salads, and even muffins.
Dulse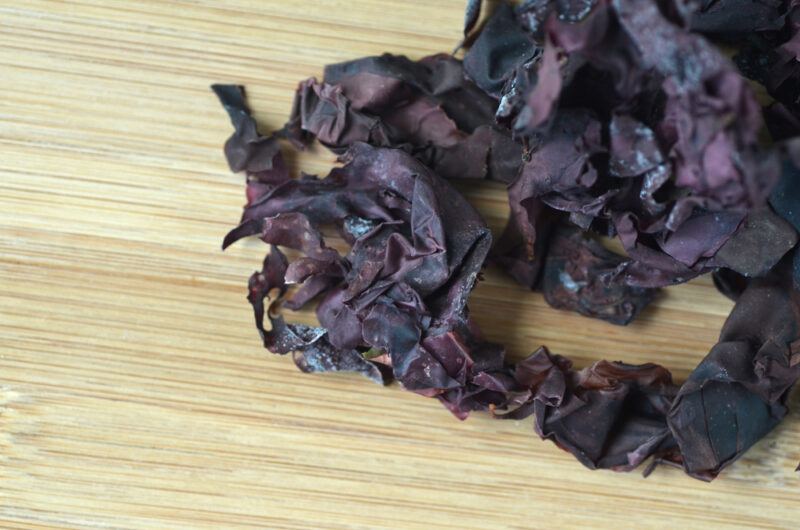 Dulse, also called dillisk, red dulse, sea lettuce flakes, or creathnach, is a type of seaweed that grows on the northern coast of the Atlantic and Pacific oceans. This red alga actually resembles a leafy, red lettuce. Dulse is actually a well-known snack food. It can also be added to sandwiches, salads, scrambled eggs, or pickled veggies. You can even steep dulse leaves in water for a restorative and savory tea-like drink.
Eucheuma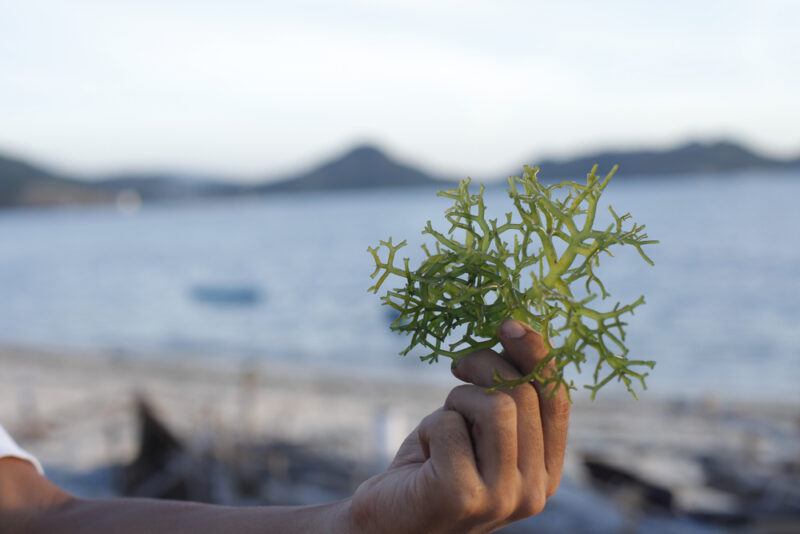 Eucheuma, also called guso, is a seaweed alga that comes in red, brown, or green color. It's best eaten fresh like a salad with vinegar and spices. It'll make for a great side dish for fried fish, roast pork, or other grilled meat. Aside from food consumption, it's also used as an ingredient in cosmetics, food processing, and industrial manufacturing.
Gracilaria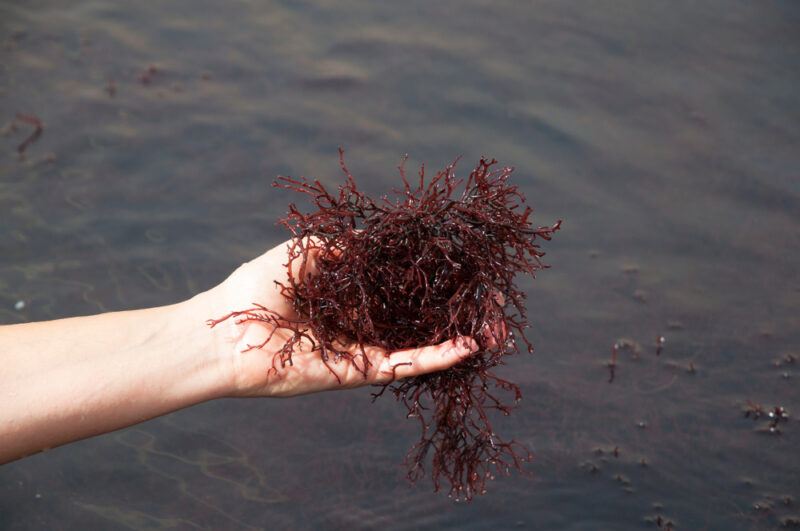 Gracilaria, known as ogonori in Japan, gulaman in the Philippines, and kkosiraegi in Korea, is a type of red algae that is cultivated in Asia, Africa, Oceania, and South America. It has cylindrical, compressed, and irregular branches which give it a bushy appearance. It can be eaten fresh in salad, sun-bleached as a thickener, or dried in vegetable-based gelatin.
Green Laver

Green laver, known as aonori in Japan, sea cabbage in China, and parae in Korea, is a type of edible green seaweed. Its dried and powdered form works perfectly with many Japanese dishes like okonomiyaki, yakisoba, and Takoyaki. It's also used in powdered condiments like furikake, rice seasoning, and shichimi togarashi, a Japanese spice blend.
Hijiki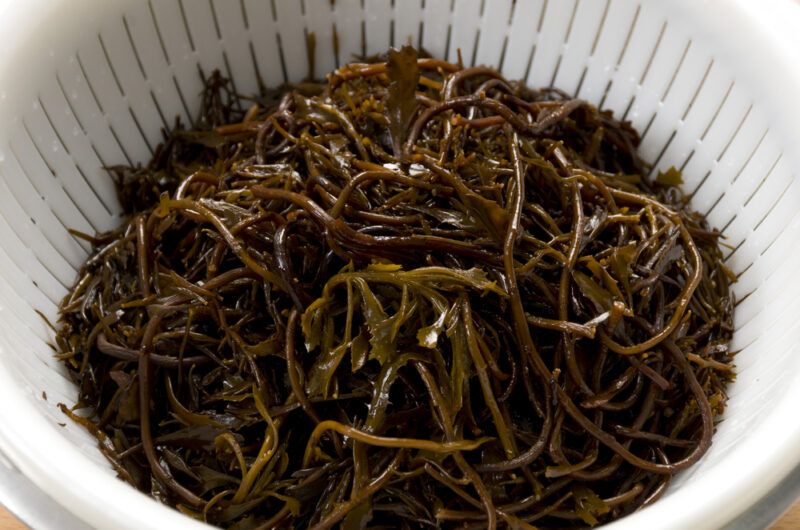 Hijiki, also called hiziki, is a brown alga that grows on the rocky coastlines of East Asia. This dark brown seaweed is usually sold dried looking like tiny black twigs. Hijiki is commonly served as a starter or appetizer in Japanese and Korean cuisines. It's great for salads, soups, and other vegetarian dishes.
Irish Moss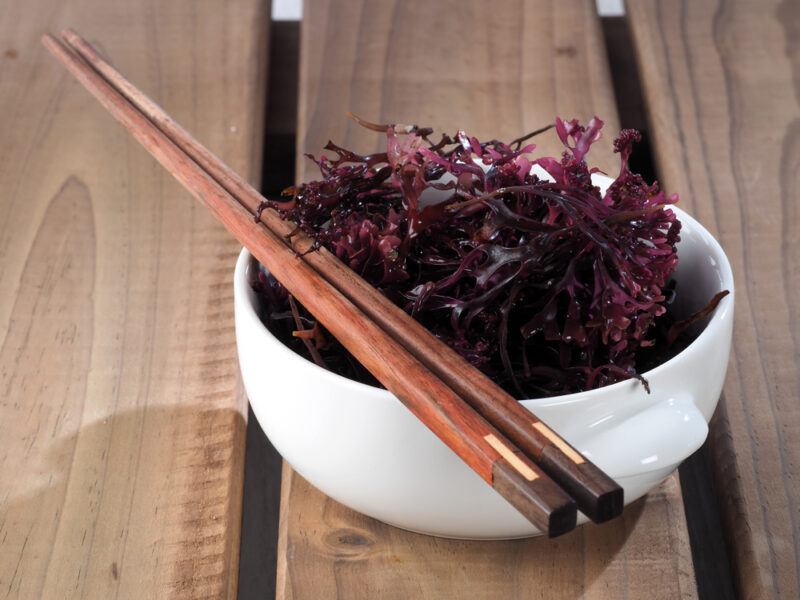 Irish moss, or carrageen moss, is a red alga that is commonly found in Europe and North America's Atlantic coast. Its color varies from greenish-yellow to purplish-brown. Irish moss has thin branching fanlike fronds. It can be used raw to make a gel for smoothies, soups, stews, or oatmeal. It can be used as a substitute for eggs or as a thickening agent.
Kombu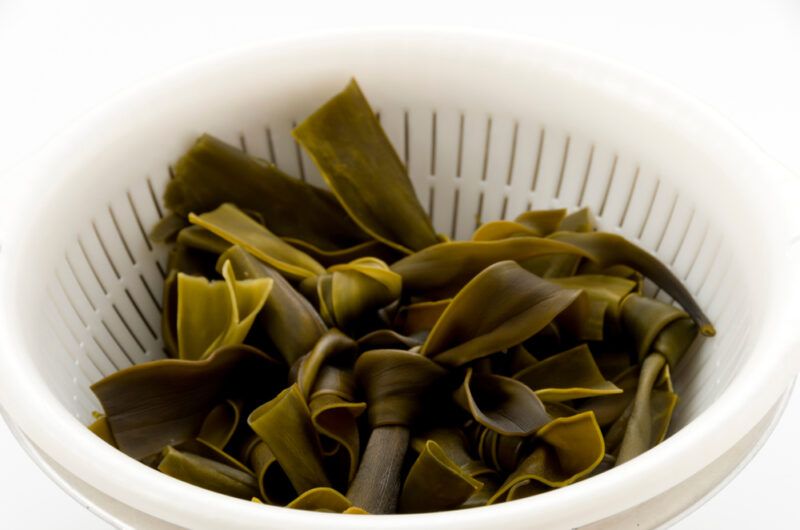 Kombu, or dasima in Korean or haidai In Chinese, is an edible kelp that is widely consumed as food in East Asia. In Japan, kombu can be eaten fresh in sashimi, and are commonly sold dried, pickled in vinegar, or dried shred. It can be used in making tea called kobucha and in seasoning rice for sushi.
Oarweed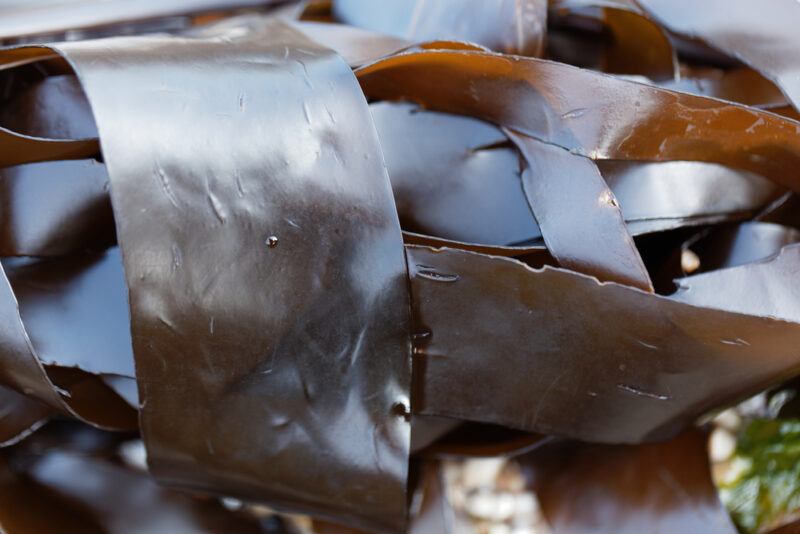 Oarweed, also called tangleweed or sea tangle, is a brown alga commonly found on rocks and rocky sea bottoms in the western part of the Atlantic Ocean. This brown-green seaweed has long fronds with finger-like blades. Oarweed is not traditionally eaten raw. It's used in its dried form which is added to soups or stocks. It is also used in manufacturing papers and textiles and as food stabilizers.
Salicornia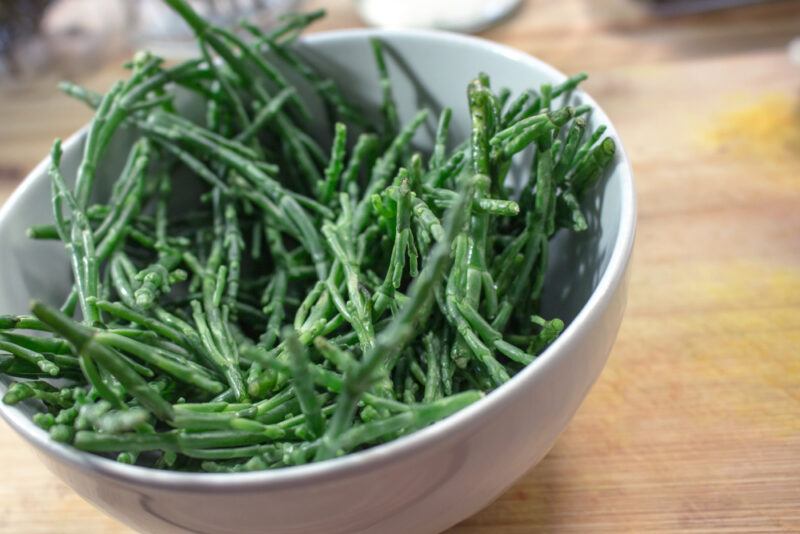 Salicornia, also called sea asparagus, sea beans, sea pickle, or marsh samphire, is a leafless salt-marsh plant indigenous to the Arabian Sea and Pakistan and Indian coasts. It has bright green branches that look like small asparagus. It can be eaten blanched and used as salad toppings or sides for fish. It's also great for pickling.
Sea grapes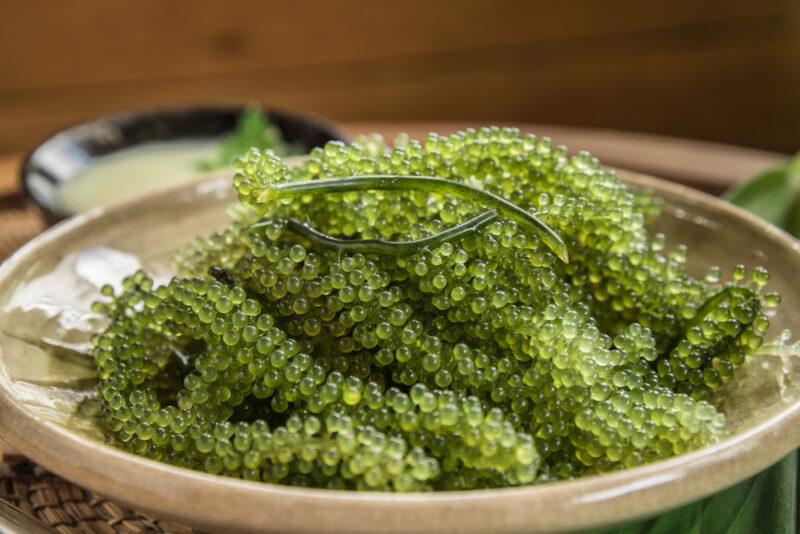 Sea grapes, also called green caviar, are green algae that are from the coastal regions in the Indo-Pacific. The name green caviar is due to its appearance that resembles fish roe. It also has that soft and succulent texture. It can be eaten raw with a dipping sauce of soy and vinegar as a side dish or snack. It can be made into a salad as well, mixed with chopped shallots and tomatoes and then dressed with fish sauce or fish paste.
Sea lettuce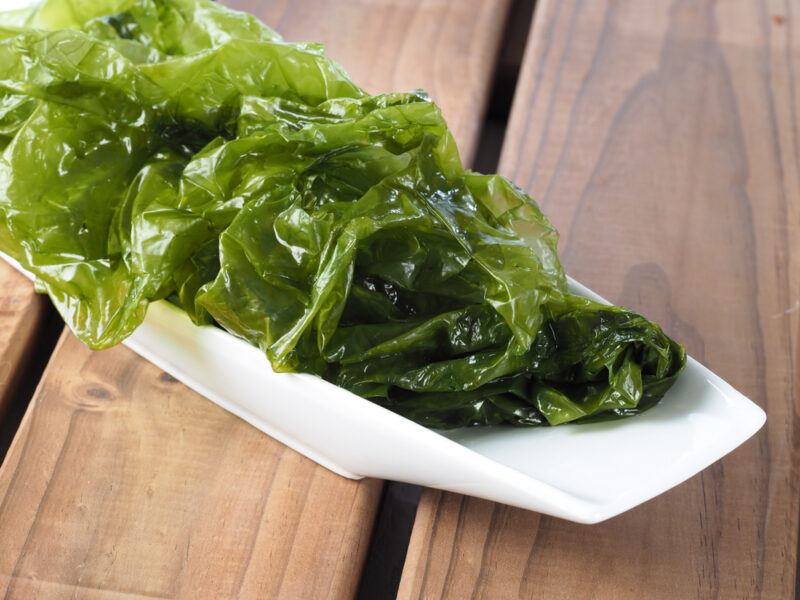 Sea lettuce includes the group of green algae found along ocean coasts. These green seaweeds have lobed, ruffled-edged leaves that are coarse with sheetlike appearance and range in sizes from six inches to two feet. It can be used as a wrap for cooking. Sea lettuce can also be eaten crisps or crumbled over stews, soups, salads, sushi, or fish.
Sea Purslane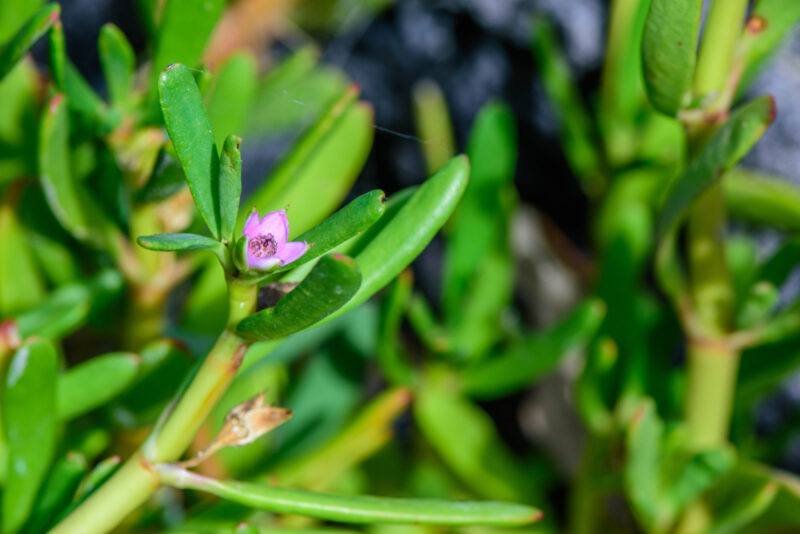 Sea purslane, also called shoreline purslane or dampalit, is a sprawling perennial herb that grows in coastal areas. It has thick and smooth stems with smooth, fleshy, and glossy green leaves, and pink or purple flowers. It can be sauteed in butter or oil or used as a crunchy topping to salads. Known in the Philippines as dampalit, it's eaten as a sweet traditional pickle called achara.
Wakame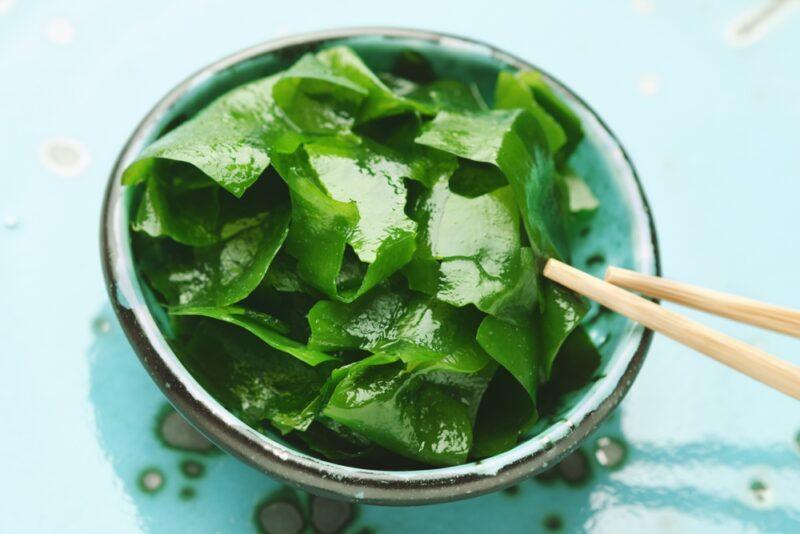 Wakame, occasionally called sea mustard, is an edible seaweed native to cold and temperate coasts of the Northwest Pacific Ocean. When cooked, wakame actually resembles mustard greens. It's commonly sold in dried form. Once it's rehydrated after a good soaking, it can be used as you would leafy greens like spinach, arugula, or lettuce.
Easy Sea Vegetable Recipes to Try
If you're up for some Asian cuisine and have a liking for anything seafood, then perhaps giving sea vegetables a try is also well worth it. Check out these easy and interesting sea vegetable recipes that you can absolutely put together in a jiffy!
Hijiki Seaweed Salad
Simply saute julienned carrots, lotus roots, fried tofu, konjac, and rehydrated hijiki seaweed. Let the veggies cook in dashi broth seasoned with sugar, mirin, and soy sauce. After simmering it for about 30 minutes, add edamame and simply wait for the sauce to cook down.
Kombu Tsukudani
In a large pot simply boil water with thinly sliced rehydrated kombu in it. Then season with mirin, soy sauce, sake, and sugar. Let it simmer until the water evaporated and the sugars start to coat the kombu. Once the kombu is cooked and seasoned to your taste, take it off the heat and add some sesame seeds to finish the dish.
Ensaladang Lato
Thoroughly wash lato or sea grapes in water, drain them, and set them aside. Mix together vinegar, sugar, salt, and pepper. Now, toss in the sea grapes along with diced red tomatoes and red onion. Let the flavors marinate for a few minutes before serving. Perfect with fried or grilled fish.
Wakame Seaweed Salad
Soak wakame in water to rehydrate. Meanwhile, in a bowl whisk together rice vinegar, soy sauce, mirin, sesame oil, ginger, garlic, red pepper flakes, and sugar together. Set it aside. Once the wakame seaweed has rehydrated, rinse it thoroughly and remove as much moisture as possible. Then simply toss it the bowl of dressing with some sliced cucumber and toasted sesame seeds.
Asian Stir-fried Salicornia
In a food processor, blend together ginger, garlic, spring onions, and red chili pepper (you want them roughly chopped and not mushed). Then heat some sesame oil in a pan and add the blended spices. Let it cook for a minute before adding the Salicornia. Give it a good tossing. Season with coconut aminos and fish sauce.