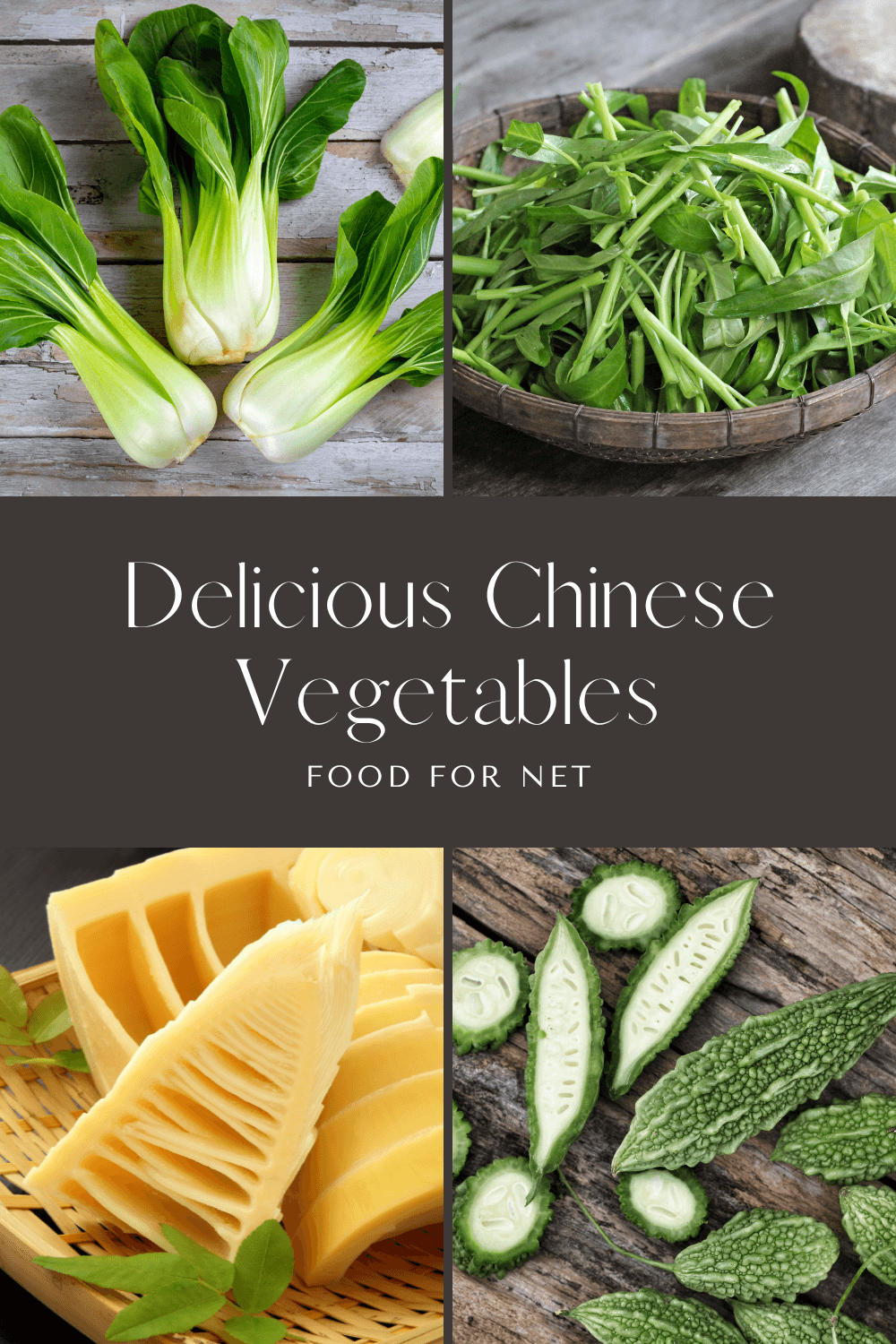 It's easy to get stuck in a rut with food and focus on a small selection of ingredients year after year. Why not mix things up with vegetables from other parts of the world? There are many to choose from, including plenty of genuinely delicious ingredients. Today, we're looking at Chinese vegetables, partly because these are so unexpected.
Now… some of these vegetables will already be familiar, like bean sprouts. These are easily found in grocery stores in the United States. Even bok choy has become more familiar and popular recently.
Other vegetables are much less recognizable. For example, did you know that the fruit used to make sponges (luffa gourds) is actually edible? Don't worry about the strange ones; there are plenty of recipes online to help you take full advantage of them. You might even find some new favorites in the mix.
While you're at it, why not check out other interesting types of vegetables, like Korean vegetables and Italian vegetables? Again, some of these will be instantly recognizable, while others might take you by surprise.
Chinese Vegetables
Sweet Potato Leaves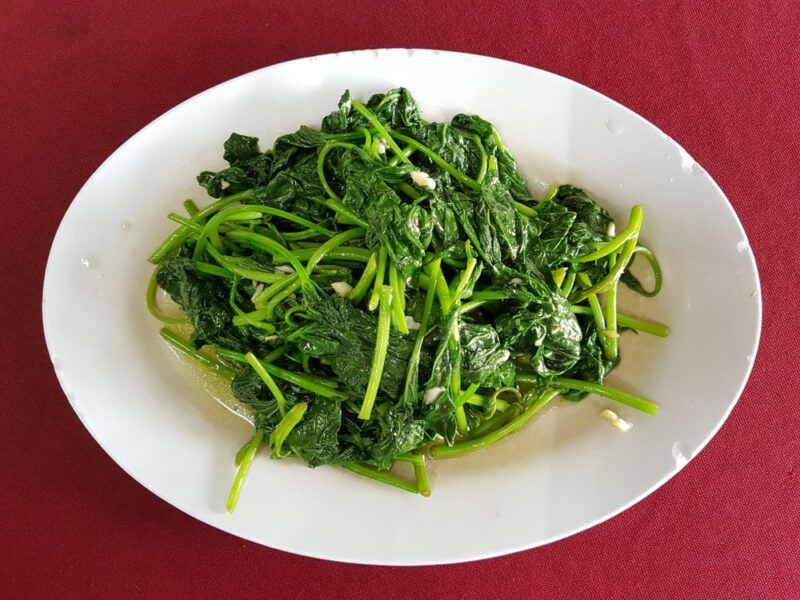 Sweet potatoes are often grown for their starchy tubers, but their bright green leaves and stems are edible as well. Not only that, but these greens are popular in many parts of Africa and Asia.
If harvesting these leaves yourself, it's best to stick with the top four inches or so, as this is where the leaves and stalks are the most tender. As for cooking, you can treat these leaves much like spinach. This means you can eat them raw, perhaps as part of a salad or a smoothie. Alternatively, you can blanch or sauté the leaves to make a delicious side dish.
You could even use these leaves instead of spinach in many recipes. The flavor is similar to spinach, except that the leaves are more bitter when they're raw. Chinese recipes often involve stir frying the leaves, with some using fermented bean curd for extra flavor.
Malabar Spinach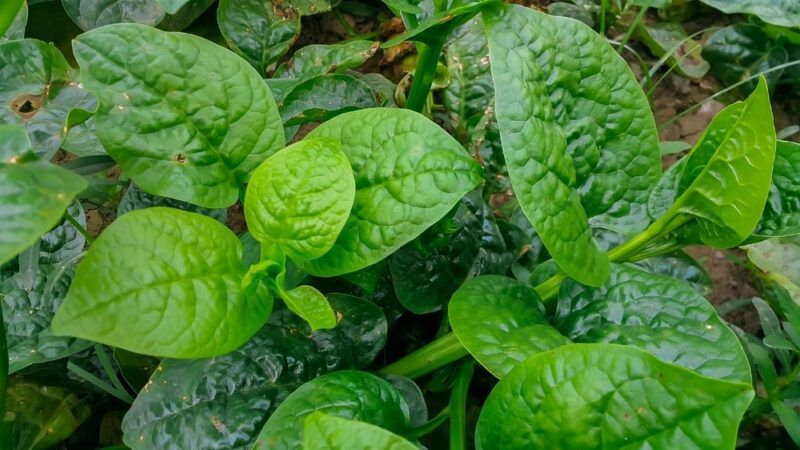 Despite the name, malabar spinach isn't actually a type of spinach. It has the scientific name Basella alba, while true spinach is called Spinacea oleracea, making the two unrelated.
Despite being a different type of plant, malabar spinach is a versatile ingredient that can be used just like regular spinach. It's even more useful than regular spinach, as it does well in hot weather, while regular spinach struggles. This temperature tolerance allows malabar spinach to thrive in many environments, making it a popular ingredient.
Still, there is one oddity. Unlike spinach, malabar spinach can be somewhat gelatinous when cooked, a little like okra. While this texture can be unappealing, it won't be obvious in all recipes.
Bean Sprouts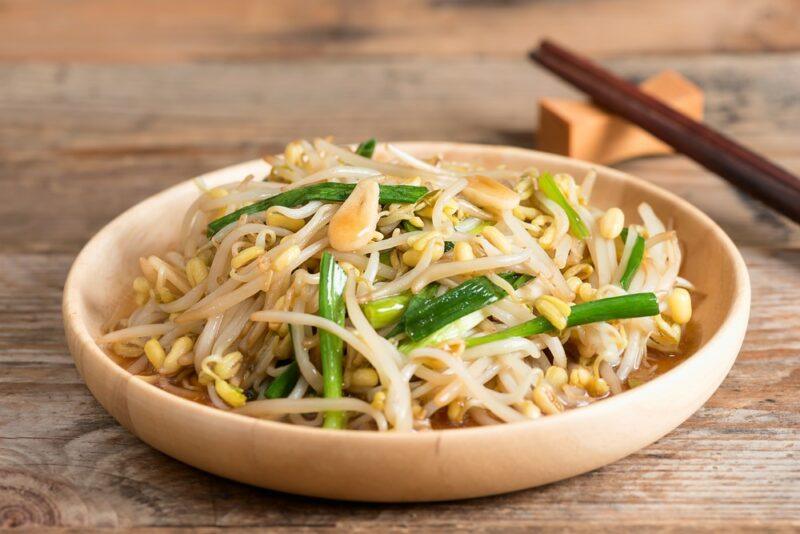 You should recognize bean sprouts instantly, as you can now find them in many local stores. Sprouts are particularly common in Chinese stir fries, along with a host of other Asian dishes and salads.
Mung bean sprouts are the most popular type. They're exactly as the name suggests – sprouts from mung beans. You can even create these sprouts yourself by soaking the beans, draining them, then keeping them in a wam place until they sprout.
The sprouts have a mild flavor, which makes them useful in many recipes. The sprouting process may also improve the nutrient profile of your beans and make them more digestible. A similar approach can be followed with other legumes as well, including lentils, chickpeas, and soybeans.
Garlic Chives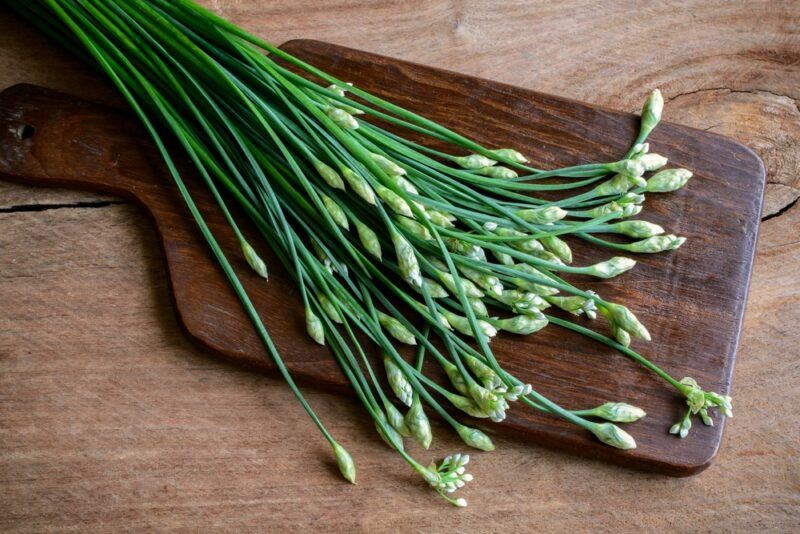 While chives themselves are a familiar ingredient, garlic chives are something quite different again. Notably, they have a strong garlic flavor that works well in many Chinese dishes, particularly soups and stir fries.
These chives aren't limited to Chinese meals either. You'll see them turn up in other ethnic dishes. Or, why not use them in your own meals instead of regular chives? They may make your dish taste so much better.
Bok Choy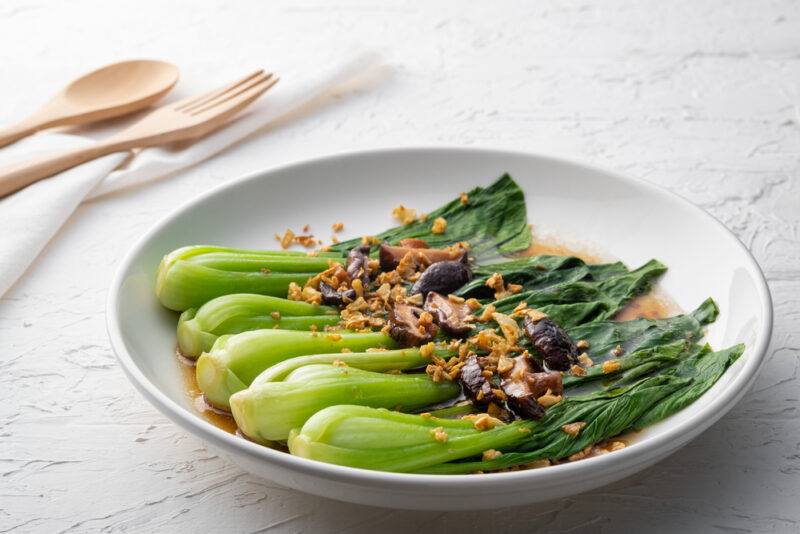 Bok choy goes by a few names, including pok choi and pak choy. It's basically a type of Chinese cabbage, and you can eat the stalks and leaves.
You'll see bok choy feature in many Asian recipes, partly because it's surprisingly easy to work with. The leaves can even be eaten raw, making them useful in salads. That said, cooking bok choy noticeably improves the flavor profile, making the vegetable even tastier.
Bok choy can be purchased as a baby vegetable or as a fully mature one. Both versions are delicious, although you might need to chop the mature version more finely for it to be useful in recipes.
Jessica from jessicagavin.com offers some fantastic directions for preparing and cooking both versions of bok choy. You can also check out this recipe for steamed bok choy with ma po style pork.
Celtuce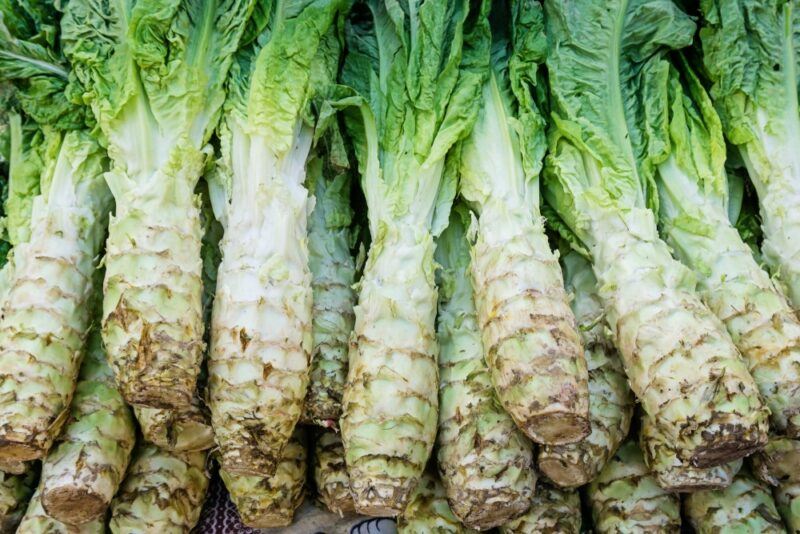 Celtuce also goes by the name stem lettuce, which is apt, as it is a type of lettuce that is typically grown for its stem rather than its leaves. Yet, while the vegetable looks bizzare, it is actually easy to use and is surprisingly delicious.
The first step is simply removing the outer skin. This isn't as tough as it looks and can even be removed simply with a potato peeler. Once the skin is removed, you're left with the delicate interior. This can be eaten raw or cooked.
The vegetable is best eaten raw, giving you the chance to enjoy its subtle taste and crunchiness. The vegetable isn't limited to Chinese cooking either. You can just as easily use it in your recipes or some Mediterranean dishes.
Chinese Broccoli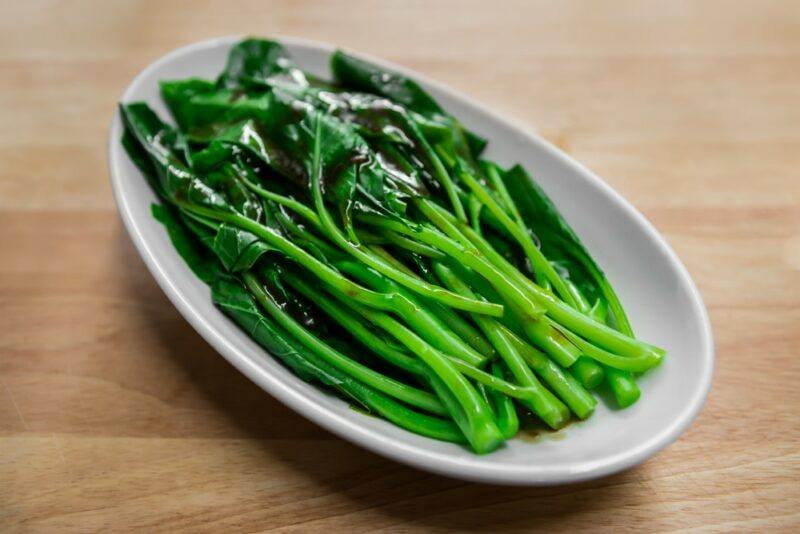 Chinese broccoli goes by plenty of names, including gai lan and Chinese kale. Those names make sense, as Chinese broccoli is indeed part of the same family as regular broccoli and kale. This means it's classified as a cruciferous vegetable and is extremely good for you.
The vegetable is easy to work with. You simply need to wash the greens, get rid of any damaged portions, and then cut off any dry ends from the stalks. After this, the vegetable is ready to cook.
While you can eat Chinese broccoli raw, it's more often cooked instead. Lightly stir frying it is one of the best approaches, as this allows the flavor of the broccoli to truly shine. The woksoflife.com offers a fantastic recipe to get you started. That link also provides extra details about washing Chinese broccoli.
Bitter Melon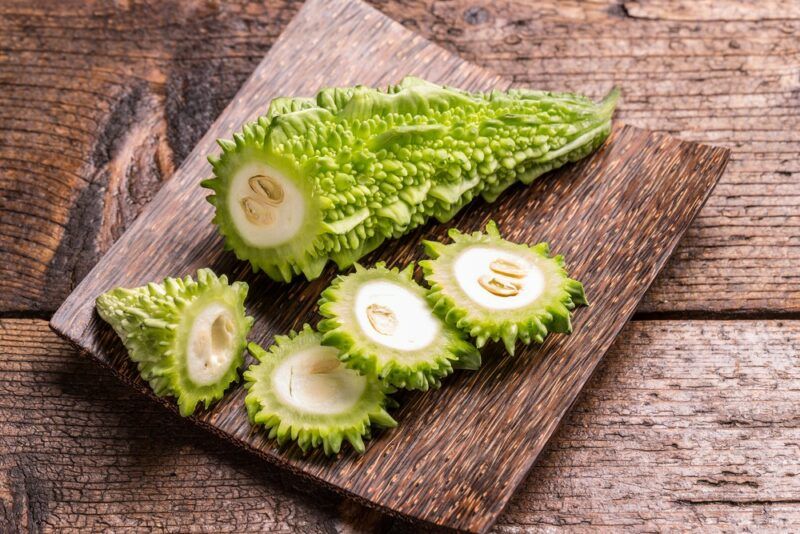 Bitter melon looks completely bizarre, partly because of the ridges along the melon. There are actually multiple varieties, including an Indian version with a dark green color and an insane number of ridges. The Chinese version is lighter and doesn't have as many ridges (although, it still looks weird).
The appearance isn't even the main feature. Notably, the vegetable lives up to its name, as it is extremely bitter. While bitterness isn't usually an attractive feature, it does make this vegetable very memorable.
The trick is using the melon well. It's often used with strong flavors that help to contrast the bitterness and give you a complex dish.
Napa Cabbage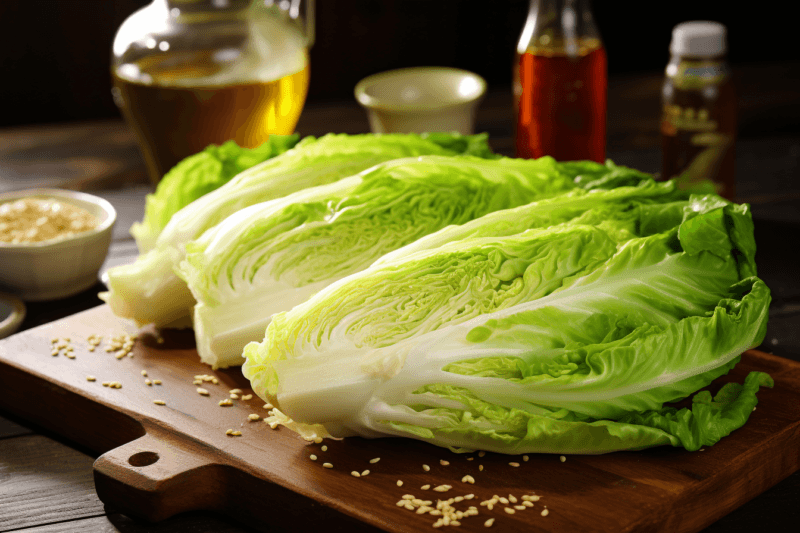 Napa cabbage originated in China, although the vegetable has now become popular not just in Asian dishes, but in many other recipes. It's easy to see why, as napa cabbage is very easy to work with.
The cabbage also has a mild flavor, so there's no need to worry about it clashing with other ingredients. This is a great starting ingredient for Chinese cooking, as you can easily find in the United States. You might even see it in your local grocery store.
Daikon Radish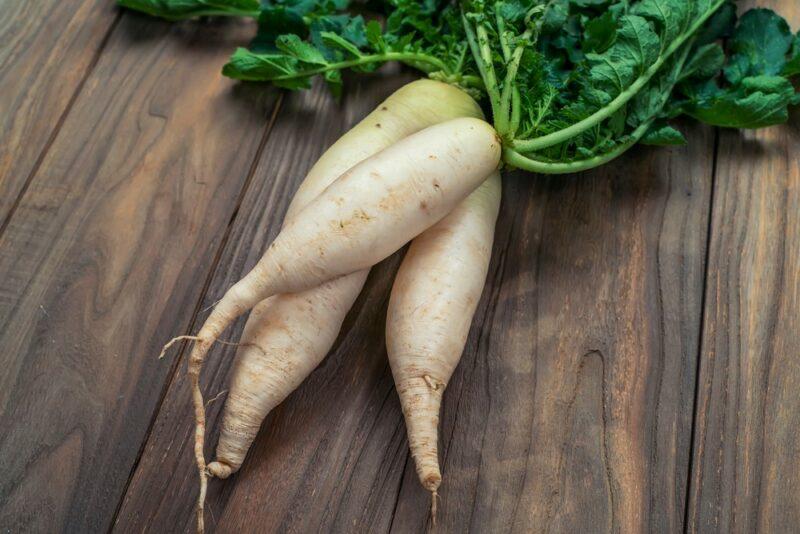 Daikon radish is another vegetable that probably looks familiar. This winter radish has a milder flavor than the red radishes that we often eat, but can be used in the same way.
Daikon radishes are famous for having a crunchy texture when raw, although this softens as they cook. Their mild sweet flavor works well in many recipes. The radishes are also an excellent side dish ingredient, providing a refreshing contrast to heavy main courses.
You may also see pickled daikon on its own or with other vegetables. The daikon itself is white when pickled, however some recipes add turmeric to create bright yellow slices of radish.
Snow Peas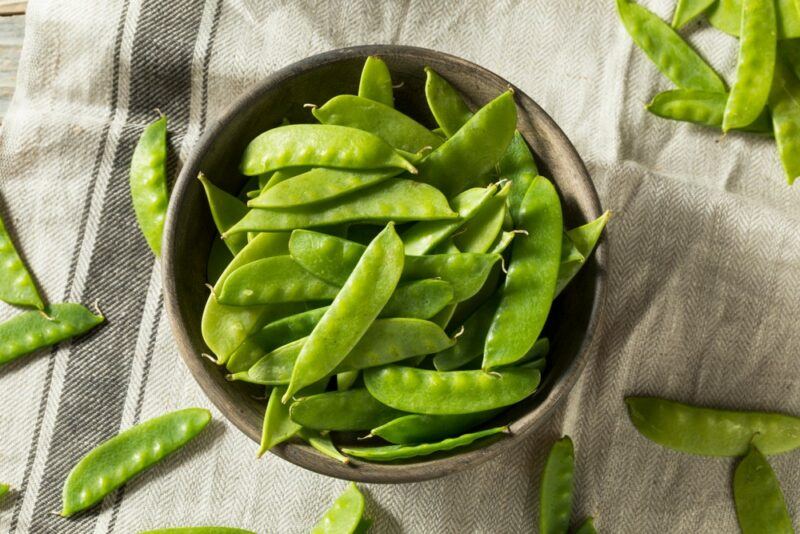 Snow peas are popular legumes, partly because the pods can be eaten whole. This means there's no need to shell them first, saving you time and energy.
These peas often turn up in Chinese dishes, particularly stir fries. This is partly because they add a fantastic crunch to the meal. They're also easy to work with and can even be eaten raw.
Snow peas are also very similar to sugar snap peas. However, sugar snap peas have a slightly sweet flavor and the peas within them are more distinct. The similarities mean that you can easily use sugar snap peas instead of snow peas in a Chinese recipe.
Pea Shoots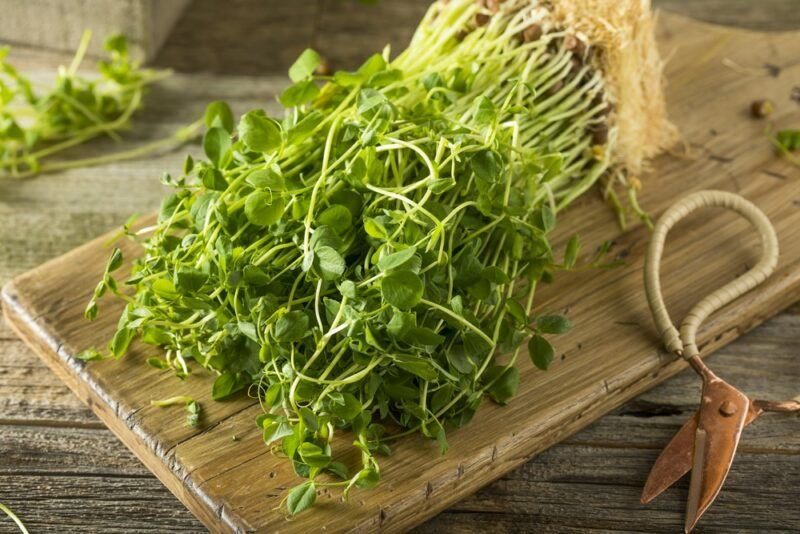 Pea shoots are exactly what you'd expect them to be – the green parts of the pea plant. This includes the stems, leaves, and even tendrils. These shoots are tender, so much so that you can eat them raw.
Cooked pea shoots are also delicious, with a fragrant quality reminiscent of spring. Because they're so tender, barely any cooking is needed. Consider lightly stir frying them with garlic and a few other ingredients, like in this recipe from omnivorescookbook.com.
Chinese Spinach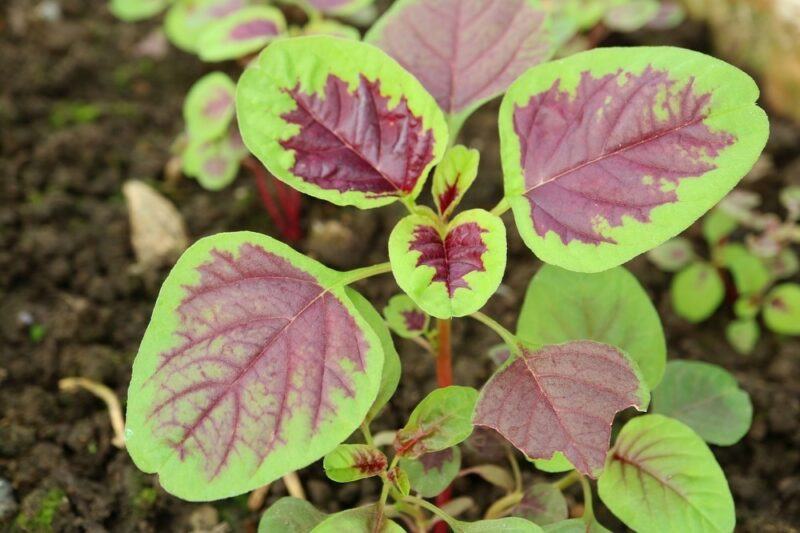 Chinese spinach has a misleading name, as it isn't really spinach at all. The plant is actually a type of aramarth instead and features beautiful multi-colored leaves.
When the leaves are small, they're tender enough to be eaten raw and can be treated just like raw spinach. They're a great way to make salads look even more exciting.
The larger leaves aren't as tender, so it's better to cook them instead. However, these leaves are still delicious once cooked and worth trying. This plant also grows surprisingly well in the summer, at a time where most other leafy greens have withered away. So, if you have it in your garden, you'll always have some greens for your meals.
Lotus Root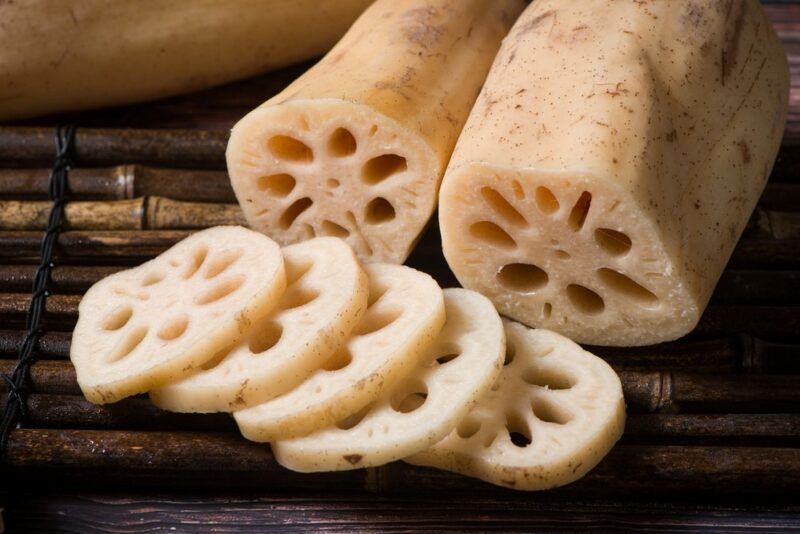 Lotus root is an odd ingredient for the uninitiated. It doesn't look much like other ingredients we use, yet it is actually easy to use and surprisingly delicious.
The root itself is mild, with a slight sweetness in its flavor profile. It's crunchy when raw, which makes it excellent in salads. The root becomes softer once it has been cooked, yet still retains some of that desirable crunch.
Flavor isn't the only reason to turn to lotus roots. Their unusual shape adds interest to any dish, making it much more exciting. Try making a stir fry with lotus root and you'll quickly see what we mean.
Yu Choy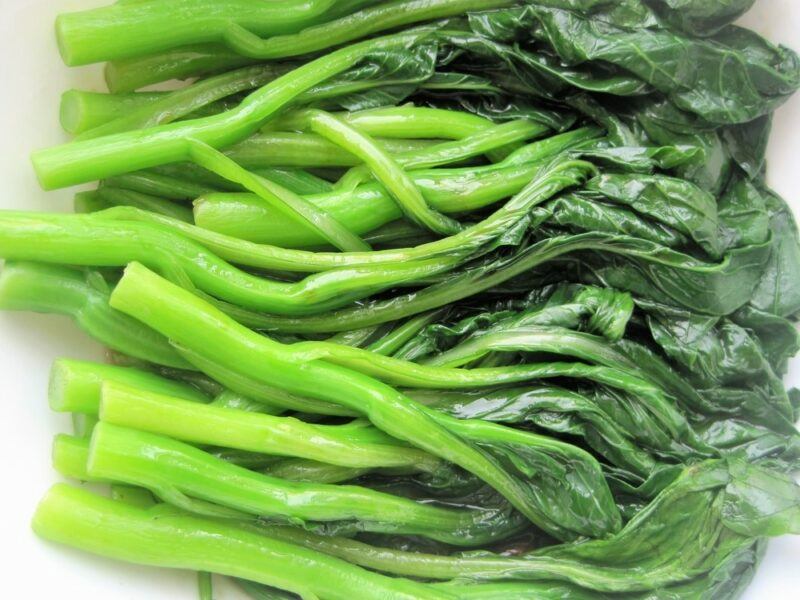 Yu choy, also known as choy sum, looks similar to bok choy. Yet, the two are different vegetables. Yu choy is typically smaller and has green stalks compared the generally white stalks of bok choy.
Because the two vegetables are similar, you can easily use one in the place of the other. However, yu choy has a slight mustardy flavor that isn't found with bok choy, so swapping one for the other will mess with the flavor of some dishes.
Winter Melon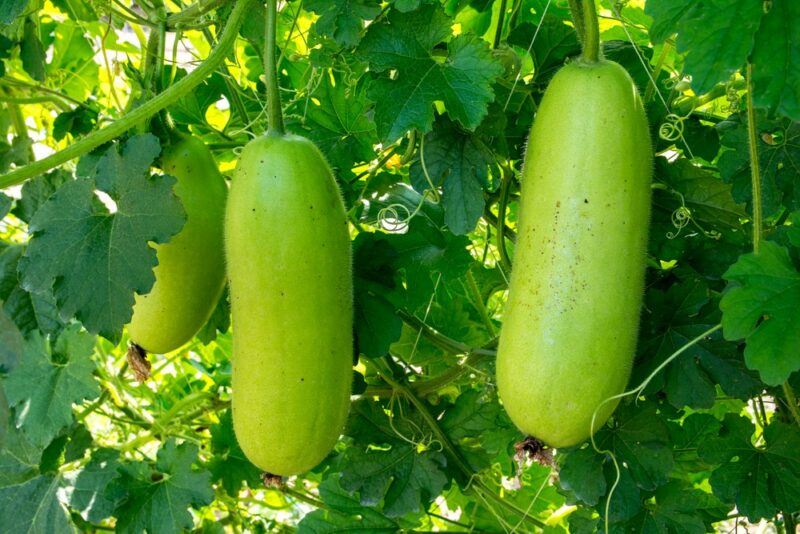 Winter melon is often categorized as a wax gourd and is also related to the cucumber. However, unlike cucumbers, winter melons are typically cooked before they're eaten.
After cooking, the white flesh of the melon becomes softer with a mild flavor. This mildness is ideal for many recipes, as it means the winter melon will simply take on the flavors of other ingredients. You'll often see this melon feature in stir fries, although it can also be used in soups and plenty of other dishes.
Watercress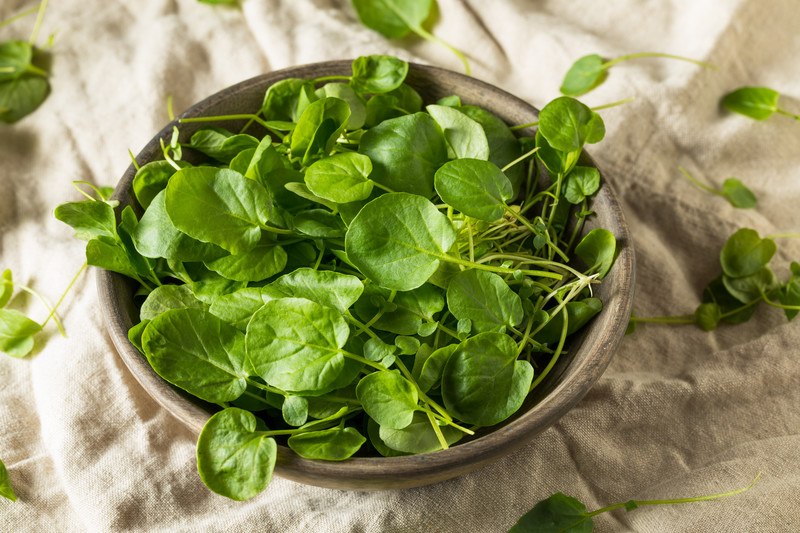 Have you ever used watercress in a meal? It's a surprisingly versatile little vegetable that's exceptional in stir fries or soups. The stir fry version is particularly good as a side dish, as it is light and provides plenty of nutrients.
Watercress is also an easy choice if you live in the United States, as you'll normally be able to find it in your local store. It's typically kept in the fruit and vegetable aisle and should be easy to spot.
Shepherd's Purse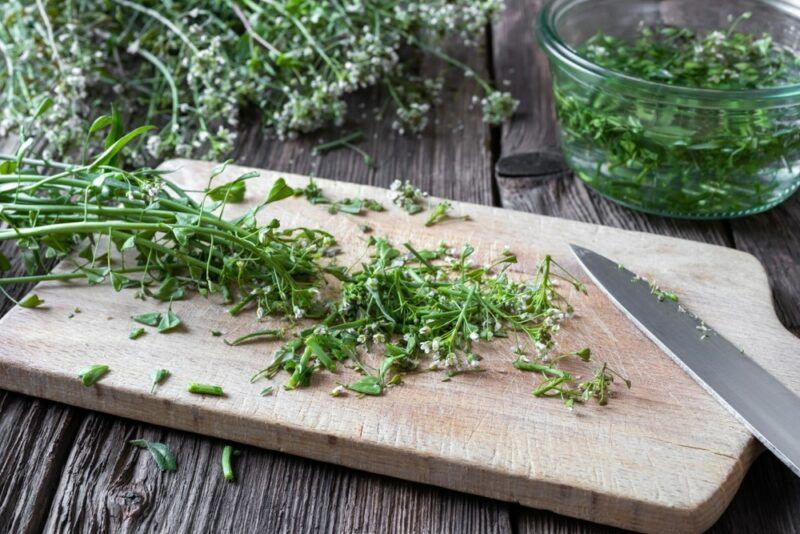 Shepherd's purse is sometimes called an herb and other times a weed, but most of us don't think to cook with it. Despite this, Chinese recipes often call for shepherd's purse – such as this shepherd's purse tofu soup from thewoksoflife.com.
The herb itself is a little like watercress, with a similar peppery flavor. This flavor makes shepherd's purse an excellent addition to salads. You could also use it as part of a greens-based side dish.
Chinese Celery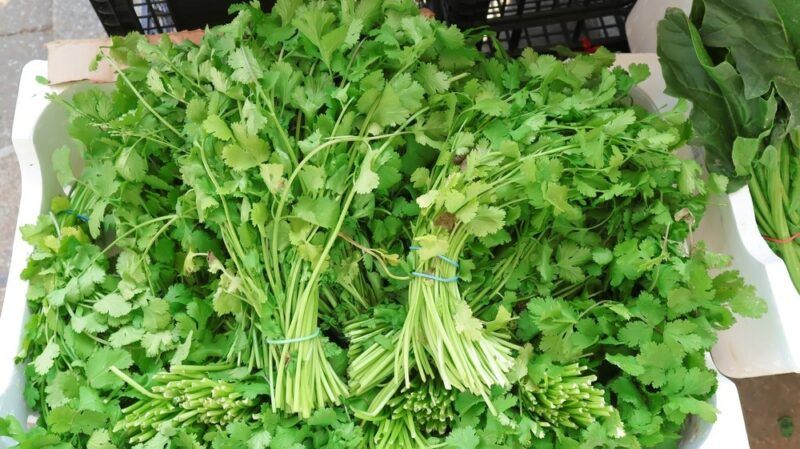 Chinese celery should look familiar and unusual at the same time. The plant is a form of celery, just not the version you may be familiar with. It has longer and thinner stalks than regular celery and is also packed with more flavor.
As expected, both the leaves and the stalks of this plant are edible. They're also used in a variety of recipes, particularly stir-fries. You could also use this as a replacement for regular celery in recipes, although the substitution would affect the flavor of the finished dish.
Bamboo Shoots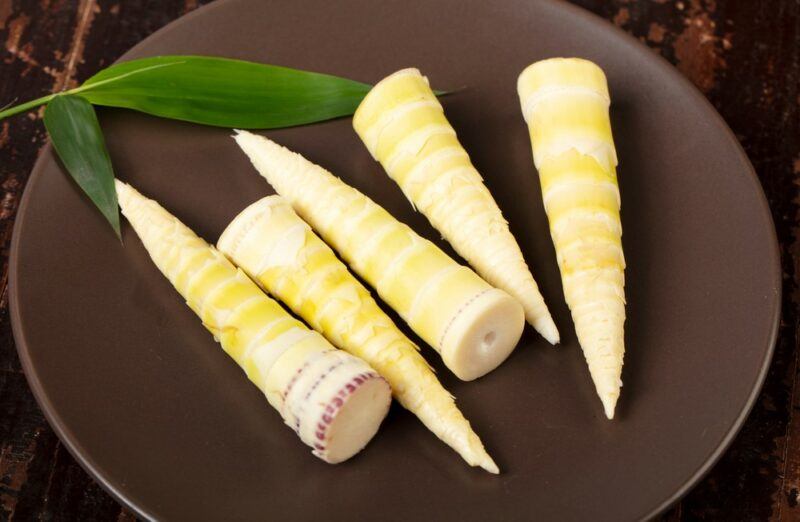 Bamboo shoots have a long history in Chinese medicine, with links to various benefits, like improving appetite and helping detox the body. The shoots are also interesting as an ingredient, as they stay crunchy after they've been cooked. Most other ingredients soften after cooking.
The shoots have an unexpected flavor as well, which includes sweetness and some earthy tones. That said, the flavors tend to be subtle and the shoots will take on the flavors of other ingredients in your meal.
If you're trying bamboo shoots for the first time, pay close attention to the product you choose. This is particularly true for canned bamboo shoots, as these are often low quality and can taste pretty bad. Fresh bamboo shoots are a much better choice.
Water Spinach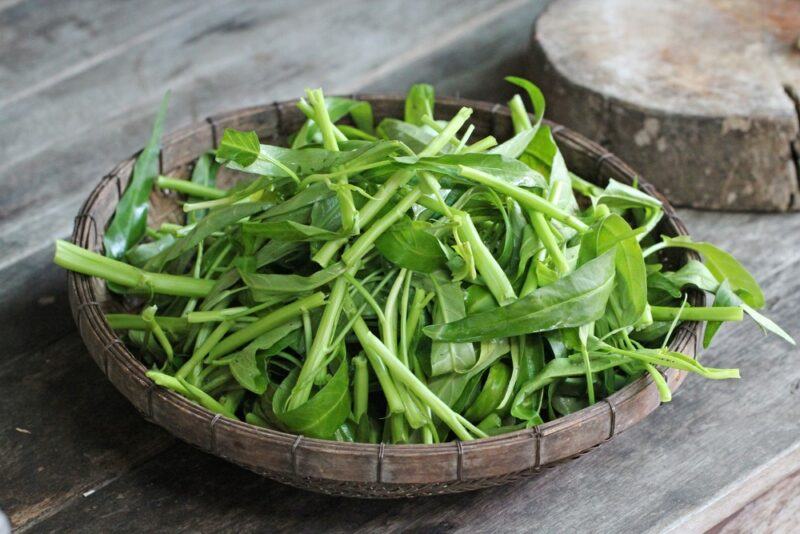 Now we come to water spinach. The name is apt here, as this leafy green water often grows in water or damp soil. The plant does taste a little like spinach and a little like watercress, which is interesting, as it isn't actually related to spinach.
While water spinach is mostly used as an ingredient in Asian cooking, it does sometimes grow in the United States. It's mostly considered a weed here, though, and not something to actively grow yourself. Growing it is even illegal in many states.
Luffa Gourd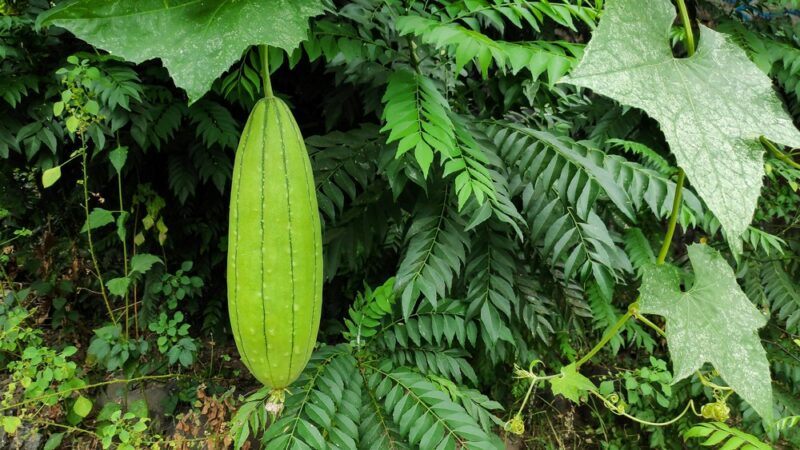 Luffa gourds are most well-known for their dried version, where the fiber acts as a surprisingly good sponge. However, the same gourds are also edible, as long as they are harvested when young.
The gourds are reminiscent of zucchini in terms of flavor and appearance. They can be eaten raw or sliced and treated as a vegetable instead. You can use them instead of zucchini in many recipes, although luffa gourds absorb more water than zucchini slices.
Chinese Mustard Greens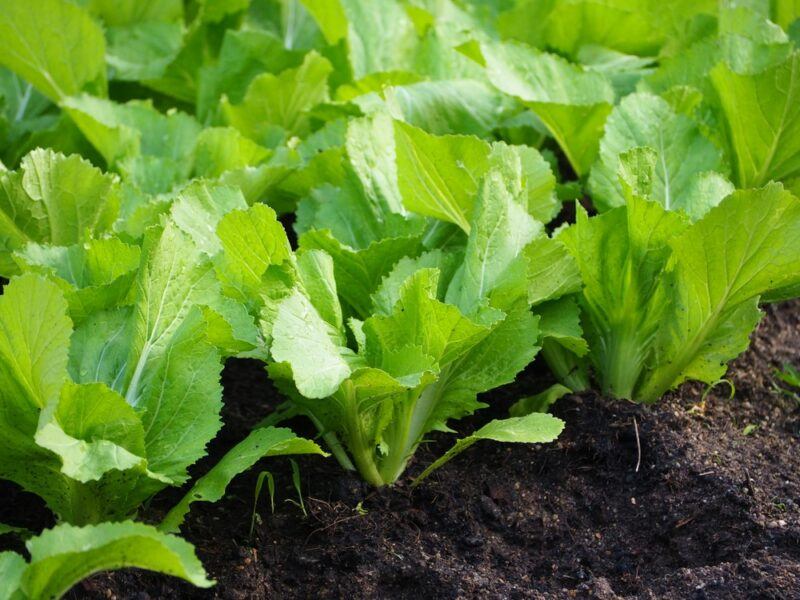 Chinese mustard greens also go by the name gai choy and they're another example of leafy green Chinese vegetables. These greens often have thick stems, which are helpful if you're planning to pickle them.
The leaves of Chinese mustard greens are also edible and are excellent as part of a stir fry. It's often best to blanch these greens before cooking them, as they are pretty bitter. Cooking with a bit of sugar or ginger helps to offset this bitterness.
Water Chestnuts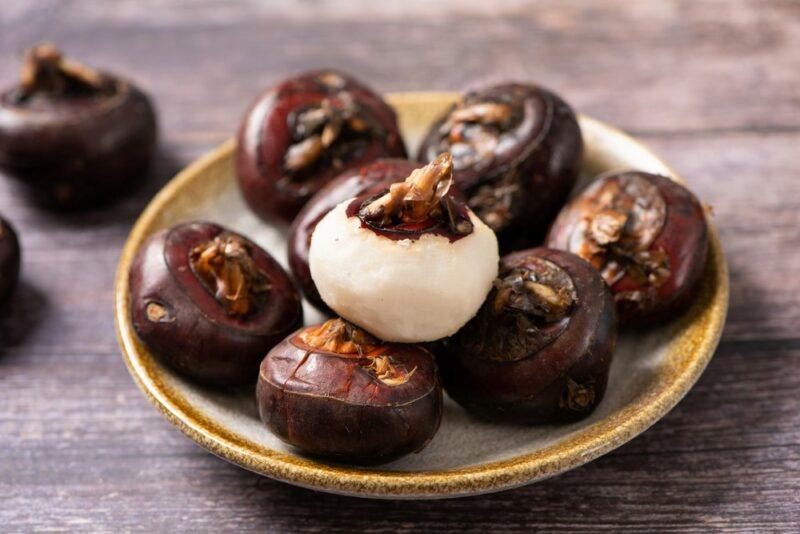 Finally, we have water chestnuts. These live up to the water part of their name, as they're more than 70% water.
However, despite their name and appearance, these aren't nuts at all. They're considered an aquatic vegetable instead, one that grows in marshes. Fresh water chestnuts are flavorful and often sweet.
Water chestnuts from a can are a different story. They often lack the flavor and crispness found in their fresh counterparts, making them a poor substitute.
Delicious Recipes That Use Chinese Vegetables
10 Minute Lemon Garlic Sauteed Bok Choy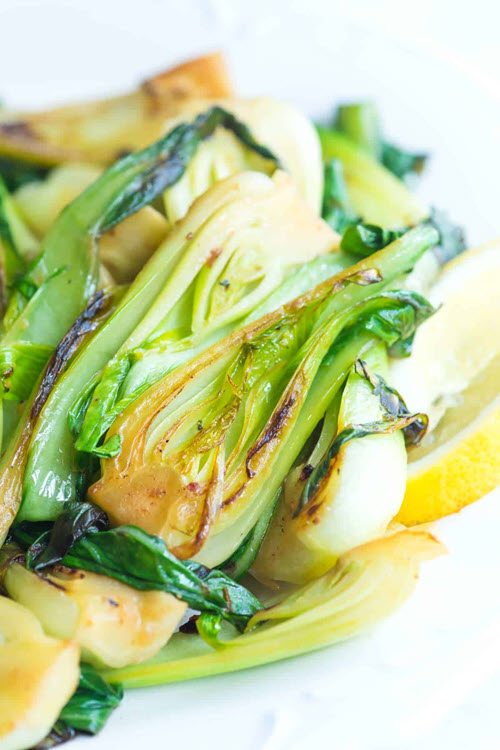 This recipe comes from inspiredtaste.net and shows you how to easily prepare bok choy at home. You're simply sautéing the vegetable with garlic and lemon, which creates a delicious and vibrant side dish.
The bok choy would also be great as the base for protein, such as baked salmon, chicken, or even something heavier. This way you get a full meal without too much effort.
Stir Fried Bitter Melon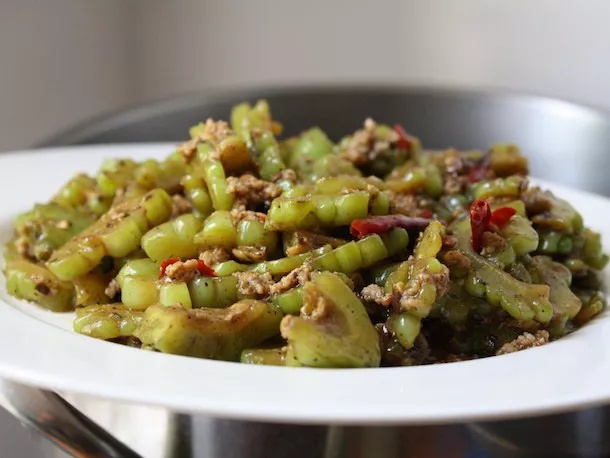 Bitter melon is a strange vegetable, so why not start with an easy recipe? This one comes from seriouseats.com and is a perfect introduction to making bitter melon for yourself.
The recipe also provides details about how to choose your bitter melon. This way, you can find one that is as mild as possible, as excessively bitter melons are much harder to use.
Braised Bamboo Shoots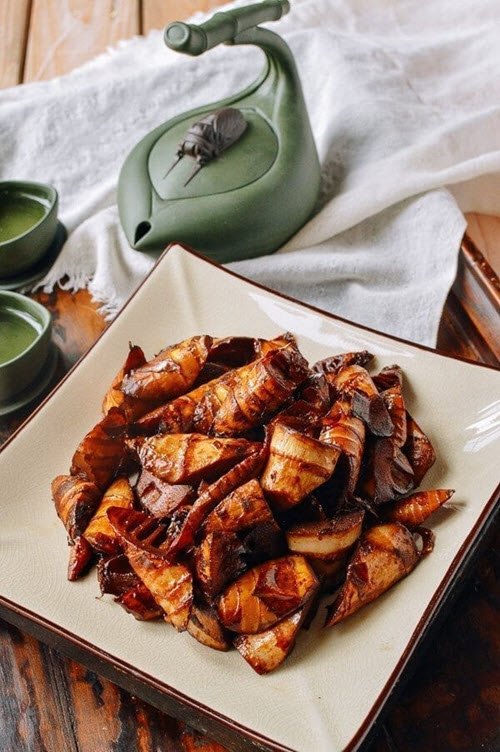 While there are plenty of ways to use bamboo shoots, this recipe from thewoksoflife.com is one of the best starting points. The style gives you a seriously delicious side dish, one that's entirely vegan friendly.
This is also a versatile dish, as you can make it with spring or winter bamboo. Even frozen bamboo shoots can act as the base for this meal. However, you'll need to skip the canned versions, as these won't work for this recipe.
Chinese Vegetables (Choy Sum)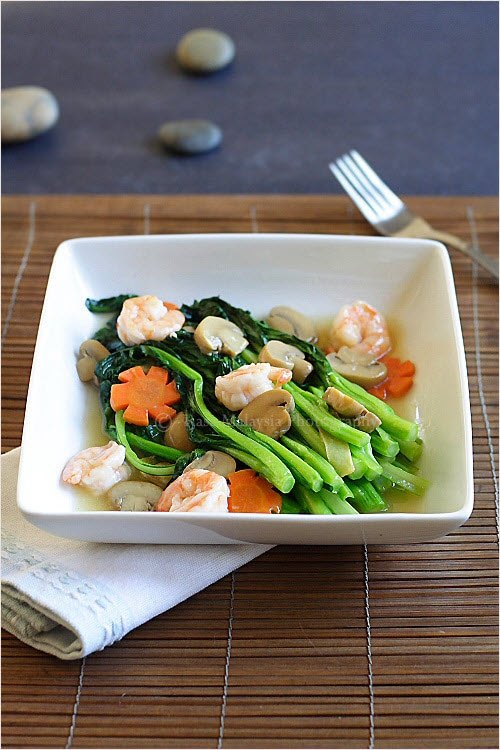 Finally, we have this choy sum recipe from rasamalaysia.com. It's the type of Chinese vegetable dish that you'll find in many Chinese restaurants – often served with either a white sauce or a brown one. The recipe is fairly simple and relies on just a few vegetables. If you want something more exciting, you could always add in a few of the vegetables from this list.