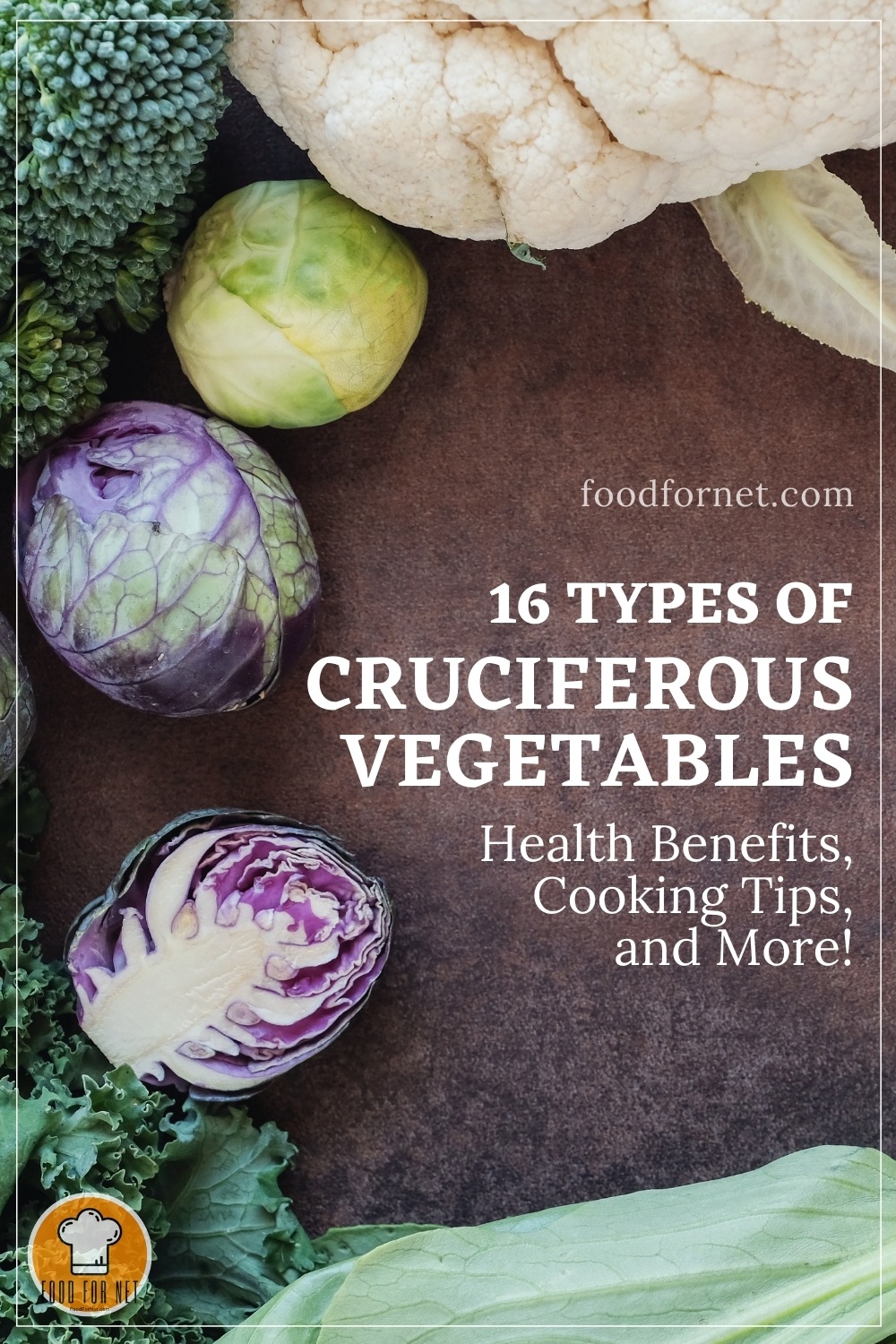 Vegetables are healthy in general, but could cruciferous vegetable reign supremacy over the others? Are they really the super veggies? Perhaps because it's nutrient-packed and its supposed role in preventing cancer, is what the buzz is all about. Well, it won't hurt to have more veggies on our plate so why not, right? Make sure to pick up some cruciferous vegetables the next time you go grocery shopping or when you order fresh veggies online.
Cruciferous vegetables are vegetables belonging to the family Brassicaceae also called Cruciferae. It belongs to the flowering plants commonly known as the mustards, the crucifers, or the cabbage family. The name apparently came from a Latin word that means 'cross bearing' given that the flower's four petals resemble a cross.
Generally, cruciferous vegetables contain beneficial compounds like carotenoids which are good for our eyes, folate that helps protect our DNA, and vitamin K for healthier bones. They are also high in fiber but low in calories so you feel full for a longer period of time and also prevent you from overeating.
Those with darker green colors are also a source of vitamin A, vitamin C, and phytonutrients – a plant-based compound that may help in lowering inflammation and reducing the risk of developing cancer. Studies have been made showing possible associations between intake of cruciferous vegetables and the risk of cancer – notably prostate cancer, colorectal cancer, lung cancer, and breast cancer.
There is no question that these vegetables are packed with good stuff so surely, they'll be a good addition to our daily meal plans. Here are 16 cruciferous vegetables that you may want to look at and start incorporating into your diet. See also recipe suggestions and a few quick facts about this family of vegetables.
Types of Cruciferous Vegetables
Arugula
Bok choy
Broccoli
Brussels sprouts
Cabbage
Cauliflower
Collard greens
Daikon
Horseradish
Kale
Kohlrabi
Radish
Rutabaga
Turnips
Wasabi
Watercress
Arugula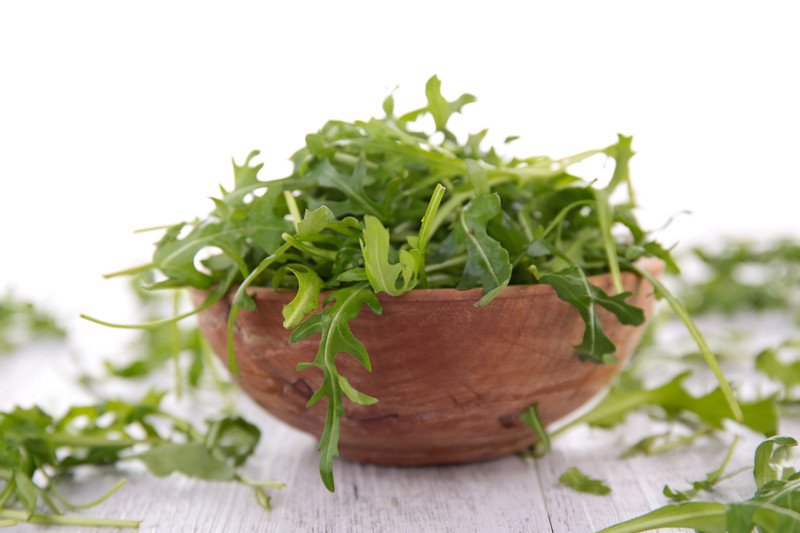 Arugula has green elongated leaves with ridges. It's also quite similar to baby leaf lettuce. It has a peppery and slightly spicy taste, sometimes bitter depending on its maturity.
Arugula is quite versatile that you can practically do anything with it. Use it in salads, pasta, soups, and sauces. It can also be an alternative to lettuce when making sandwiches. It's also a great addition to omelets and smoothies.
Try this: Serve as a side salad with halved cherry tomatoes and shaved parmesan cheese, simply drizzle with balsamic vinegar and olive oil dressing seasoned with salt and pepper.
Bok choy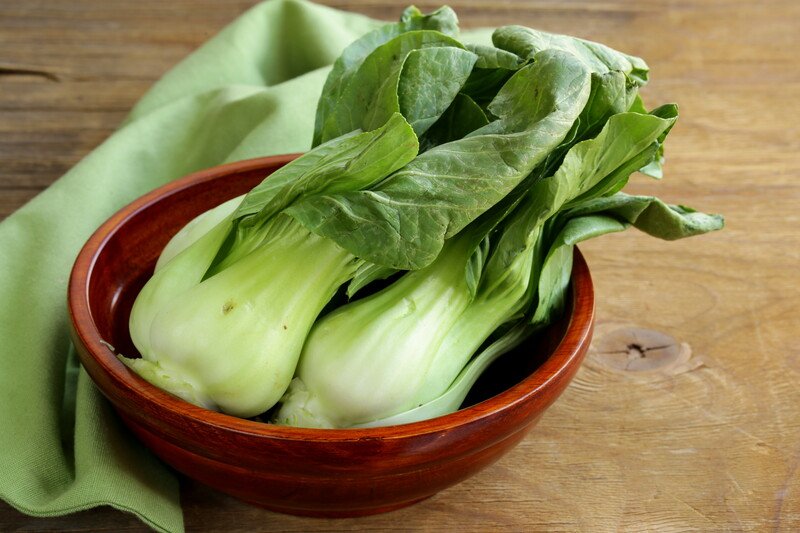 Bok choy is a type of Chinese cabbage, but unlike your regular cabbage, it looks more similar to celery. It has dark green leaves bundled together at its chunky stalks. The dark green leaves have a spinach-like taste with a slight bitterness to them. The stalks however are more neutral and give off a crunchy and juicy texture.
Bok choy can be stir-fried – just plain bok choy or with other veggies or meat like chicken or beef. It can also be added to soups like wonton soup, chicken soup, or good old ramen noodles. It can also add colors to your salad, or bok choy itself can be the salad!
Try this: Sautee finely chopped garlic in vegetable oil, (throw in some thinly sliced onions if you feel like it, let it caramelized). Add a mixture of about a tablespoon soy sauce, balsamic vinegar, and honey. Add your bok choy (cut in quarters) and give it a few minutes. Wrap the dish up with a pinch of ground pepper.
Broccoli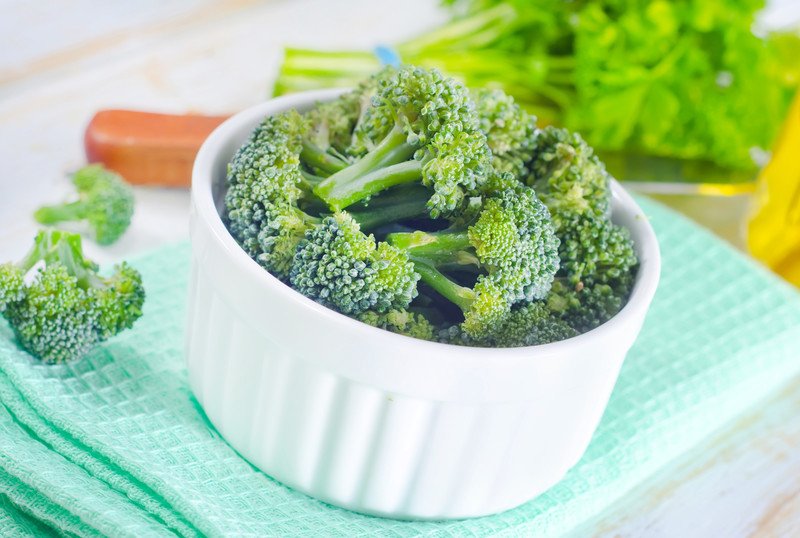 Broccoli has a large dark green flower head and a hard thick light green stalk. It basically looks like a tree – err, that's probably what you've been telling your little one. It has a grassy and earthy flavor with hints of bitterness. Its stalk can be eaten as well – you just have to peel off the outer hardy part, the inner bits are actually good and can easily be added into your dish.
Broccoli can be sauteed or stir-fried. You can also blanch it or steam it. Cooking it in the microwave is also an option if you don't feel like cleaning up pans. Roasting is also another way to cook it.
Try this: Blanch broccoli flowerets for about a minute or so – take it out of the boiling water as soon as the broccoli is in its 'greenest' (bright green, if it looks dull green then I'm sorry but you've overcooked it). Shock the flowerets in cold water and set them aside. Stir fry some thinly sliced beef, add oyster sauce, salt, and pepper, and then add your broccoli.
Brussels Sprouts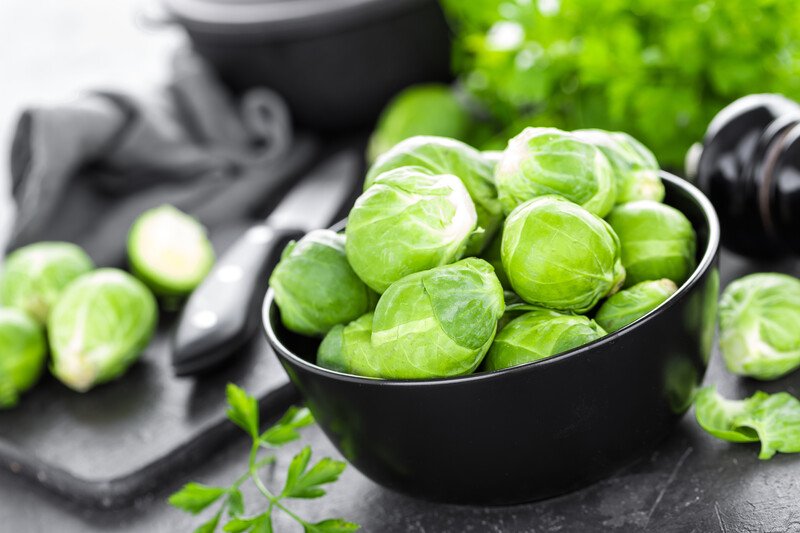 Brussels sprouts look like baby cabbages, it's usually about 1.5 to 4 cm with green dense-leaved heads – exactly like cabbages! They actually taste quite similar, too – brussels sprouts being a bit milder of course. It can taste somewhat sweet with a hint of nuttiness. It's fairly bitter as well but can be masked when cooked properly.
Brussels sprouts can be boiled, steamed, stir-fried, roasted, or grilled. It can also be cooked in the slow cooker! Trim the outer loose leaves before cooking though, and try to keep them quiet uniform in size – meaning leave the small ones alone but cut the larger ones in halves, this way they'll have the same cooking time.
Try this: Preheat your oven cranked it up to 400 degrees or higher. Get a baking sheet. Pour in your brussels sprouts. Add olive oil, rock salt, and ground pepper. Get your hands dirty and give them a good mix! Then in it goes into the oven for about 30-40 minutes.
Cabbage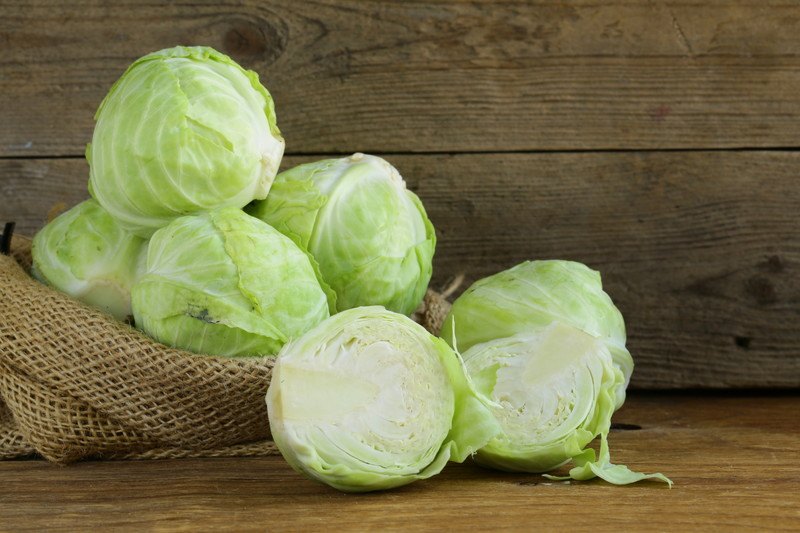 Now the bigger version of brussels sprouts! Copy-paste, they're basically the same – well the green ones at least. Because there are also other varieties like the red or purple ones and the white ones. Savoy cabbages are those with visibly curly leaves. Generally, these cabbages come in the shape of a ball or head with very dense leaves that are tightly wrapped alternately on top of each other.
Cabbages can be eaten raw in salads. Steaming, sauteeing, and pickling is also a great way of preparing cabbages. The outer loose leaves are usually discarded, play it by eye – if it doesn't look pretty then trim it off until you see a fresher layer of leaves underneath. You'll only likely do this if you've had the cabbage in your fridge for a few days, if it's freshly brought then it's probably all good.
Try this: Thinly slice a head of cabbage, sautee it in onion and garlic, add salt and pepper, and a spritz of apple cider vinegar. Cook it for about 2 minutes but then again you can simply watch out for the color, when it's in its brightest green, then that is pretty much a sign that it's perfectly cooked.
Cauliflower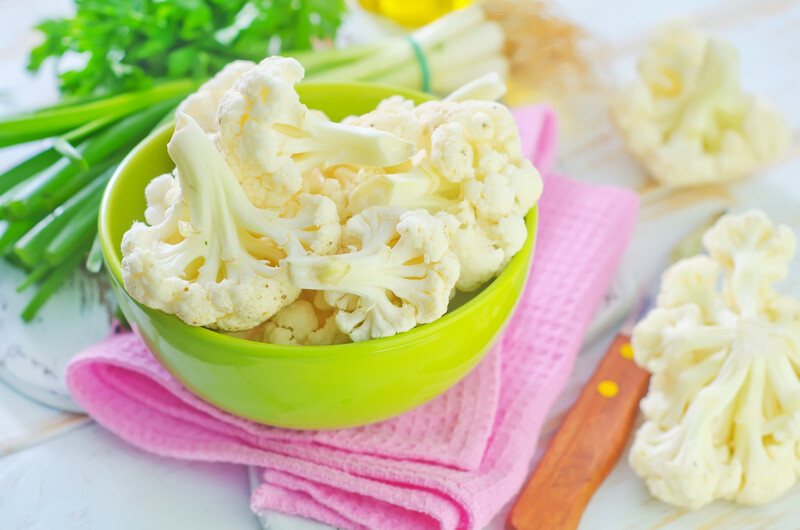 Cauliflower being a close cousin to broccoli looks pretty similar, with the former having more closely-packed florets. The cauliflower we're more familiar with are the white ones, but there are also some that come in purple, yellow, and orange. It tastes a little nutty and sweet but very mild which makes it a great ingredient for other dishes.
Cauliflower can be boiled, steamed, pickled, stir-fried, or roasted. It can also be eaten raw. Just like with broccoli, you break them down into florets before cooking. For other recipes, say like cauliflower bread recipes, the cauliflower will have to be either grated or blitz into small pieces using a food processor.
Try this: In a bowl mix olive oil, salt and pepper, and garlic and onion powder. Toss cauliflower florets in it and then spread them evenly over a baking sheet. Bake in the oven, 400 degrees or higher, for about 30 minutes. Then sprinkle liberally with grated parmesan cheese and brown it for about 5 minutes.
Collard Greens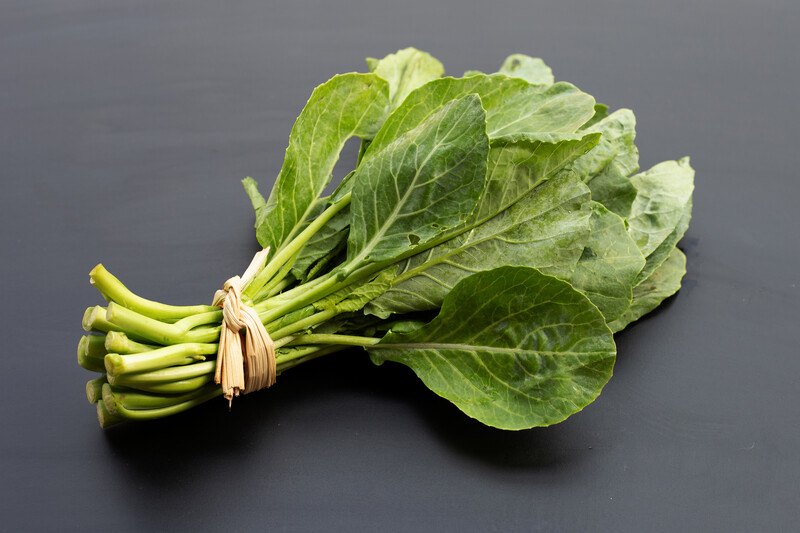 Collards have dark green leaves with tough stems and unlike its close family cabbage which is densely leafed, collard greens are more loose-leaf. When raw, it tends to be bitter but the flavor mellows down once it's cooked. The process of cooking even brings out a somewhat earthy taste to it.
Collard greens can be used raw in salads, sandwiches, or wraps. They can also be braised, boiled, or sauteed. It can also be pureed into pesto or fermented to make collard sauerkraut.
Try this: In a wok, brown finely chopped bacon, add thinly sliced red onions and then toss the shredded collard greens. Add salt and pepper, and chili flakes for some heat. You can use chicken breast instead of bacon – simply marinate the chicken strips in soy sauce, lemon juice, and salt and pepper before stir-frying.
Daikon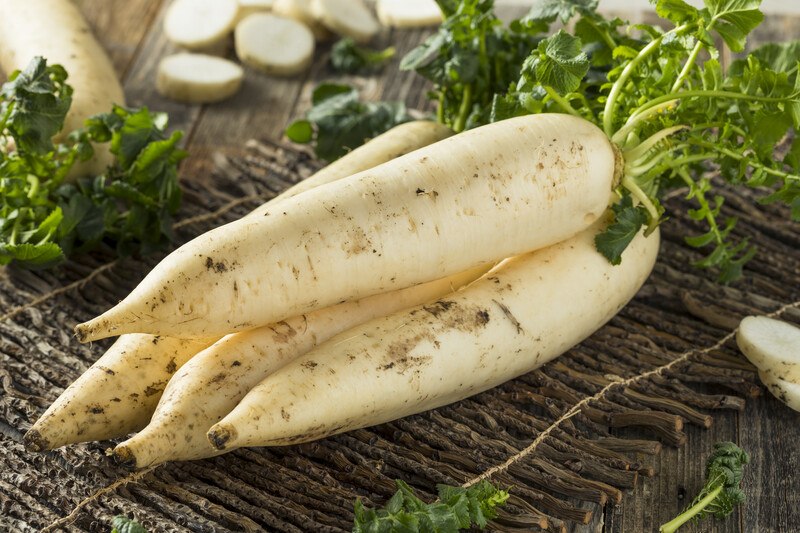 Daikon looks quite similar to a carrot. They both have that elongated root with green leaves. It tastes milder in flavor and less peppery when compared to the other radishes. It has that tangy, and crispy, and juicy texture when raw, and becomes mellow, sweet, and tender when cooked.
Daikon is quite versatile. You can serve it raw in salads or stir fry or bake it. It's also a great addition to soups or stew dishes. Pickling it is also an option. Its leaves, especially the young or soft ones, can be eaten as well and treated as a simple green vegetable.
Try this: In a pan, sautee onion and garlic, add thinly sliced chicken breast, and then your thinly sliced daikon. Add a spritz of soy sauce and apple cider vinegar, give it a few minutes. Then add salt and pepper to taste.
Horseradish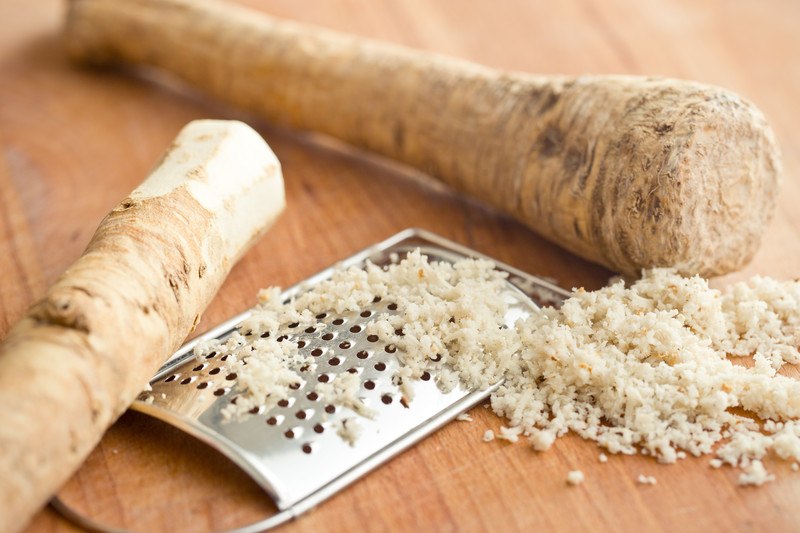 Okay, now side by side horseradish can be easily mistaken for daikon but the former has a very distinct and spicy taste. You'll have to cut into it to get that strong aroma and pungent taste because it's not readily discernible by merely smelling it. To be completely sure that you're getting horseradish (and not daikon), simply head to websites selling fresh horseradish online.
Horseradish is mostly used as condiments called horseradish or prepared horseradish. It is actually the mashed root mixed with vinegar. Different variations of course exist, some version contains mayonnaise or salad dressing, grated garlic, or sometimes a few tomatoes for color.
Try this: In a food processor blitz about a cup of horseradish root, add ½ cup of white vinegar, a couple of tablespoons of white sugar, and a pinch of salt. Blitz again. Now store in a jar in the fridge.
Kale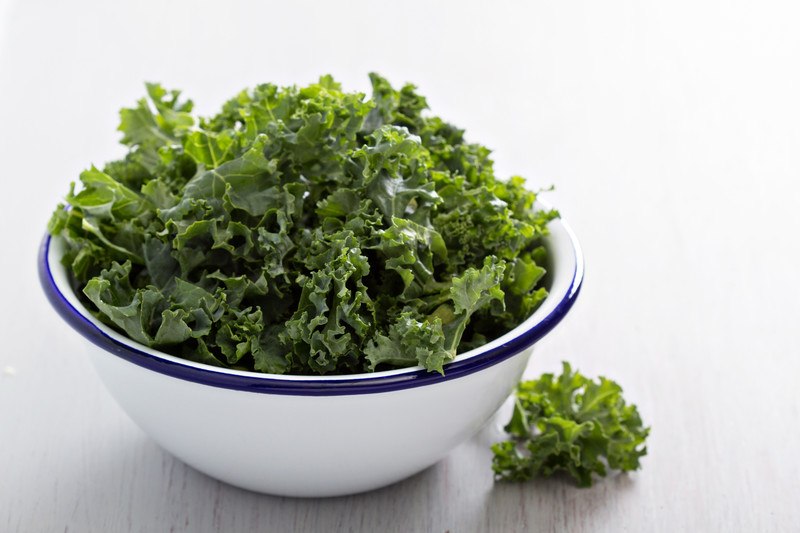 Kale has smooth or sometimes curly green leaves. It also comes in purple color. It has a hard and fibrous stem that is removed before cooking. Kale has a strong and earthy taste that can get milder if the kale is young. It has a slightly more bitter taste when compared to spinach.
Kale can be steamed, boiled, baked, or sauteed. But it's quite a favorite among dieters or health-conscious eaters for their salads and smoothies.
Try this: In a blender, throw in chopped kale, frozen banana, fresh milk, and a couple tablespoon of maple syrup. Enjoy!
Kohlrabi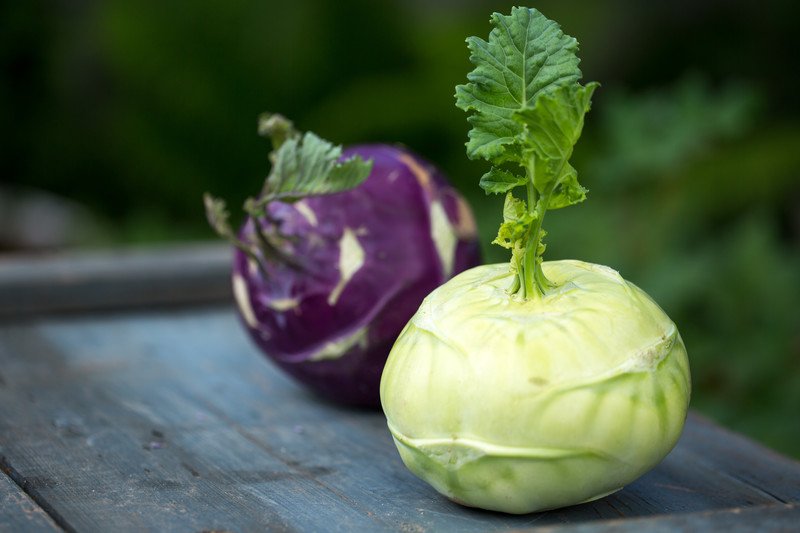 Kohlrabi at first glance may look like a root vegetable, it actually resembles a turnip. But the part we eat is actually the swollen stem of the plant and it grows above the ground so we know for sure it's not the root. The name comes from the German word Kohl (cabbage) plus Rabi (turnip). It tastes very similar to cabbage and the stem of broccoli – it has that slightly sweet and peppery flavor.
Kohlrabi can be eaten raw in slaw or salad. It's also great for stir-frying, roasting, boiling, or steaming. The leaves are also edible and can be eaten just like kale or collard greens.
Try this: In a bowl mix kohlrabi and apples (cut into matchsticks). Drizzle with a dressing made from olive oil, lemon juice, honey, and ground pepper. Sprinkle liberally with parmesan cheese (or just add salt to taste if you're not into cheese).
Radish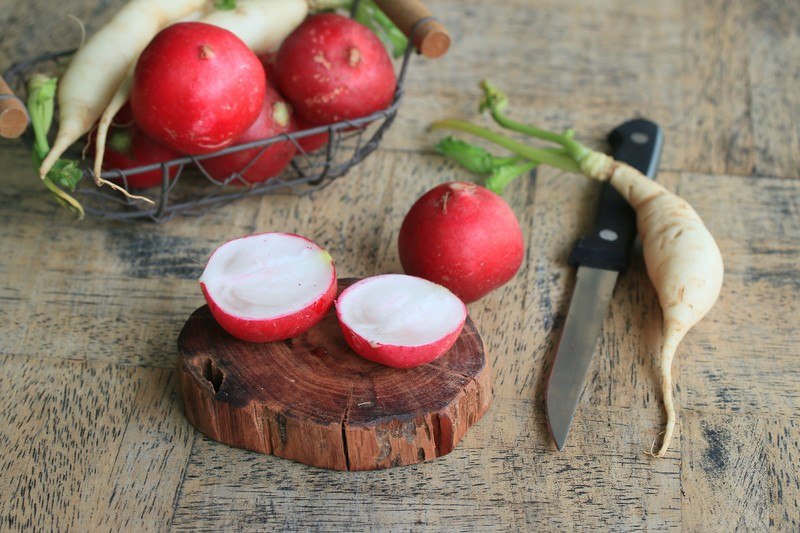 Radish is a root vegetable that comes in a variety of sizes and colors. It can appear quite similar to turnips. When raw, it is quite spicy with a crisp, peppery, and zesty flavor. But when it's cooked, the flavor and texture are quite similar to potatoes.
Radish can be pickled to make a great condiment. It can be served raw as well – in salads, sandwiches, or even with tacos. You can also sautee or use radish in soups.
Try this: Simply toss the radish (cut in halves or quarters depending on your radish' size) in a baking sheet with olive oil, garlic powder, salt, and pepper. Bake for about 30 minutes in the oven at 400 or higher degrees. Sprinkle with chopped parsley before serving.
Rutabaga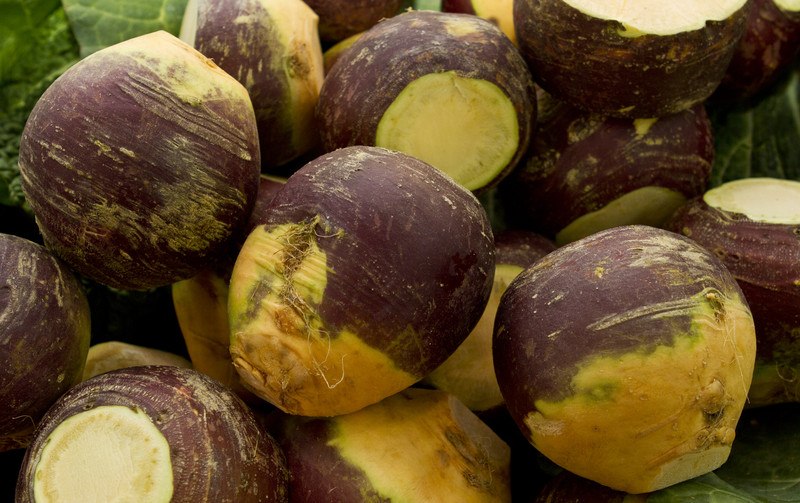 Rutabaga appears orb-shaped that is quite rounded but sometimes also comes in an elongated shape. They sometimes have this purple color that only comes about halfway covering the top part closer to its leaves leaving the rest of its skin looking yellowish white. It tastes like the sweeter and milder version of turnips.
Rutabaga is a great addition to casseroles, soups, and stews. They can be roasted as well. You can mash it, too – just rutabaga or mix with potatoes or whatever root vegetables you have in mind. Rutabaga can be served raw as well.
Try this: Boil your cube rutabaga. Then simply mash with butter, Greek yogurt, and salt and pepper to taste. Mix chopped dill before serving.
Turnips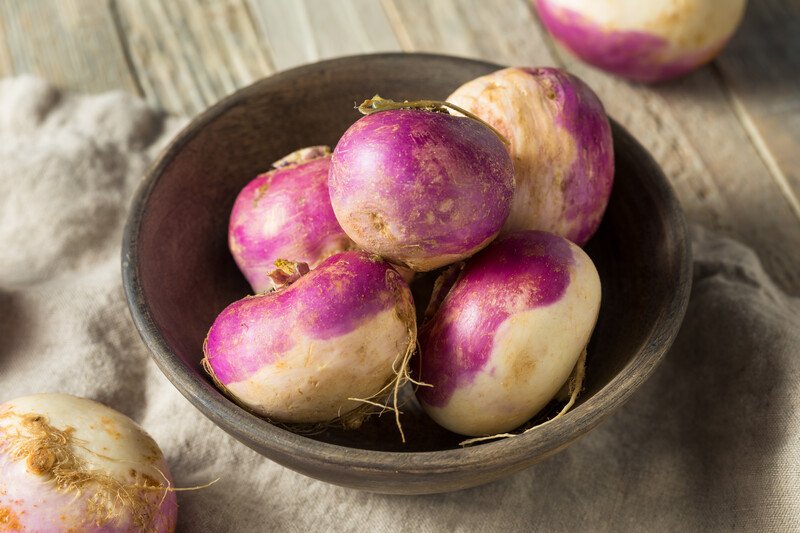 Turnip is a white and purple root vegetable that looks like rutabaga but the former is comparatively smaller. Turnips have a slightly bitter and spicy taste when raw but turn somewhat sweet, earthy, and nutty when cooked – it's actually quite similar to potatoes.
Turnips can be boiled, steamed, or baked. It can be stir-fried as well with other veggies or with a protein of your own choosing. You can serve it raw in salads – simply shred them, or cut them thinly to add crispiness and flavor to your usual greens.
Try this: The next time you're roasting chicken, add chunks of turnips (or just turnips will do!) to your bed of carrots and potatoes.
Wasabi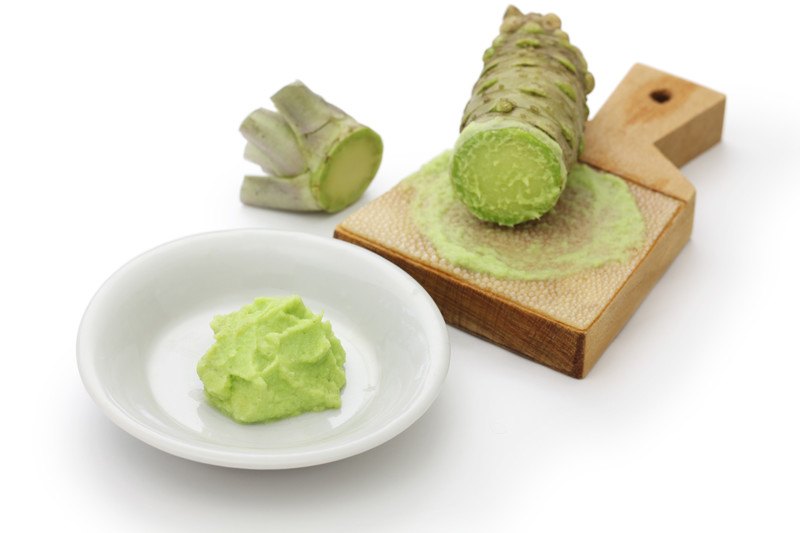 Wasabi is actually a plant with green root-like rhizomes from which the condiment we know as wasabi is made. It looks like the green version of horseradish root, even the flavor profile is quite similar, too. Fresh wasabi is rare and very expensive, about $250 per kilo.
Freshly grated wasabi has a spicy, hot, enlivening, and green taste which may slightly differ from store-bought or wasabi in most restaurants – those are usually a mixture of horseradish, green food coloring, and with little (or maybe none) of real wasabi.
Try this: If for some reason (perhaps, you've been blessed by the Gods of the kitchen!) you have a fresh wasabi rhizome lying around, try freshly-grated wasabi with your sushi or sashimi.
Watercress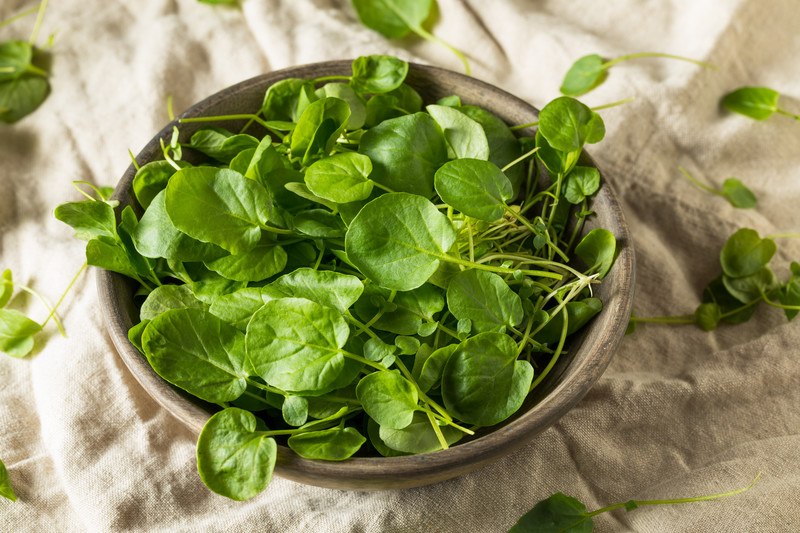 Watercress is a leafy aquatic vegetable that grows in shallow streams. It has oval-shaped green leaves with smooth edges. It has a crisp and slightly lighter green stem. Watercress has a peppery taste that is somewhat similar to mustard. It tastes bright and fresh but can come off a little bitter depending on its maturity.
It's best to eat watercress raw but you can of course stir fry, steam, or boil it. It will be a great addition to soups and stews – both in adding color and flavor.
Try this: In a blender mix together watercress, avocado, cucumber, lime, and coconut water. Simply blend for a few minutes. Now, enjoy your healthy and very green smoothie!
Cruciferous Vegetables Quick Facts
How much to eat?
Apparently, we don't need much, grownups need at least 2 ½ cups a day – so if you'll have about a cup of stir-fried broccoli (or what have you) at lunch and another one at dinner – you're all good. Take note though that a cup of raw leafy vegetables like kale and bok choy is only considered ½ a cup – unless you're going to really pack it in, which will likely not look pretty, which is not a smart idea anyway, so let's stick with '1 cup should be 2 cups of raw leafy veg,' shall we?
Which one is the best?
Well, in terms of vitamin A, vitamin C, and folic acid contents, its kale, broccoli, and brussels sprouts (and broccoli again, they're tied) respectively. But then again, they're all nutrient-packed so personal preference will play a big role in determining which really is the best. Agree?
How to store?
Get ready to make space for them in your fridge! Store cauliflower unwashed – simply mist the unwashed heads, wrap loosely in damp paper towels, or put in an open plastic bag. Put brussels sprouts in a container without a lid to keep for several weeks. Do not store broccoli in a sealed container or plastic bag because it requires air circulation. If you cut them in advance, to prevent drying out, put a damp paper towel on top and store them in an airtight container. You can also blanch them 1 to 2 days in advance – simply blanch, drain, dry, and store. Easy-peasy!
Cooked or Raw?
Preferably cooked, as the process helps release beneficial organic compounds. Even the process of pre-chopping about 40 minutes before cooking is apparently a good thing as well. If you like eating them raw, take them in moderation as eating too much raw cruciferous vegetables can lead to hypothyroidism – just to be safe consult your doctor if you already have a thyroid condition, otherwise, moderation is the key – besides, how much raw cruciferous vegetables can you possibly eat for real, right?