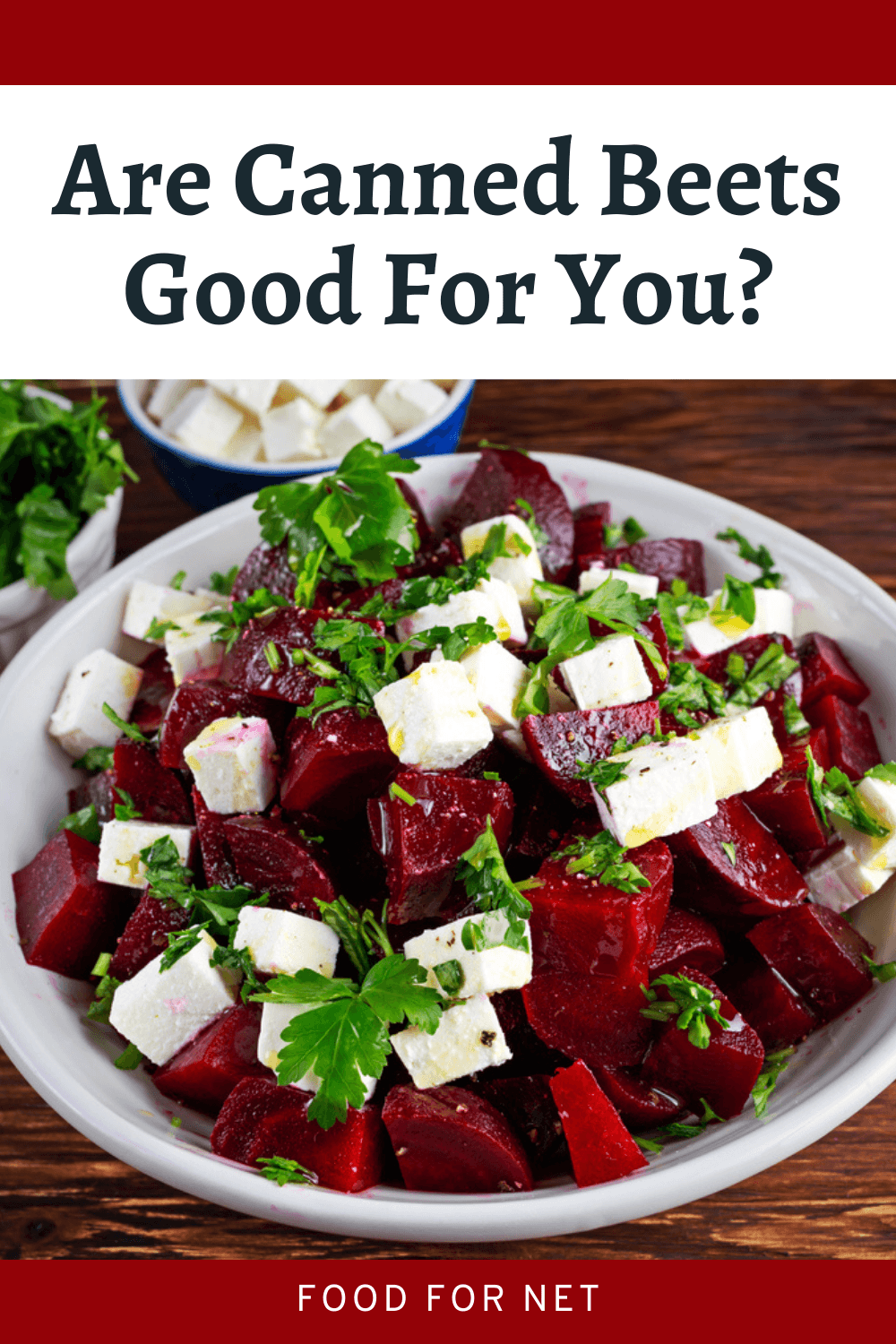 Beets don't disappoint. Their vibrant color means that they're packed with powerful plant-based compounds like betalains, while they also offer a rich and earthy flavor that goes well with so many meals. So are canned beets good for you an can you safely add them to any diet?
Most of those benefits of beets are associated with fresh beets or perhaps beet juice. Things are less clear cut with canned beets. There are plenty of things to wonder about, like whether chemicals from the can leach into your beets, whether they still taste good, and whether they give you the same nutrients as fresh beets.
So then, are canned beets good for you? The simple answer is that they can be. Canned beets do offer some interesting benefits. Besides, you don't need to focus on one type exclusively. You might use canned beets sometimes, then focus on fresh ones other times.
Are Canned Beets Good For You?
Benefits Of Canned Beets
How Canned Beets Could Be Harmful
Are Canned Beets Pickled?
Should You Eat Canned Or Fresh Beets?
Final Thoughts
Benefits Of Canned Beets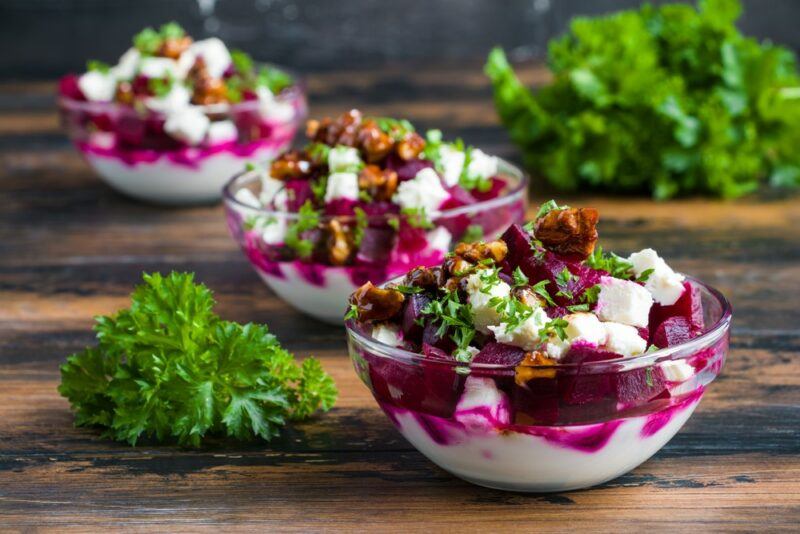 They Still Provide Antioxidants
Beets are a powerful source of antioxidants, including the pigment molecules betalains. Betalains don't just decrease oxidation either. They've also been linked to decreases in blood pressure, heart disease risk, and inflammation.
You might imagine that the canning process destroys the antioxidants, but this doesn't seem to be the case. Instead, canned beets still give you plenty of antioxidants.
This is a very important feature – not just because antioxidants help to keep us healthy, but also because they're generally found in fresh foods. Having some shelf-stable sources of them too is incredibly powerful.
They're A Good Source Of Nutrients
Whether they're fresh or canned, beets provide plenty of nutrients, including folate, potassium, iron, vitamin B6, and vitamin K.
There are some changes with the canning process, so you do end up with less folate, potassium, and phosphorous. However, you're still getting some of these nutrients and many others as well.
Remember that nutrients are incredibly important. They're needed throughout your body and it's surprisingly easy to be deficient in some of them. To avoid problems, you need to focus on nutrient rich foods regularly. Beets are a great place to begin, particularly as they're also low in calories.
An Easy Source Of Fiber
Then there's the fiber. Men need somewhere between 30 and 38 grams of this macronutrient each day, while women need 21 to 25 grams instead.
Getting enough water and fiber each day keeps your digestive system moving as it should. Doing so also lowers your risk of heart disease and diabetes, while making it easier to lose weight.
Most of us get some fiber from our diets, but it's still easy to end up consuming too little. Canned beets can help, as you get roughly 3 grams of fiber in a cup of sliced beets.
This isn't an incredible amount of fiber, but it's still helpful, as beets are so easy to add into your diet.
They Last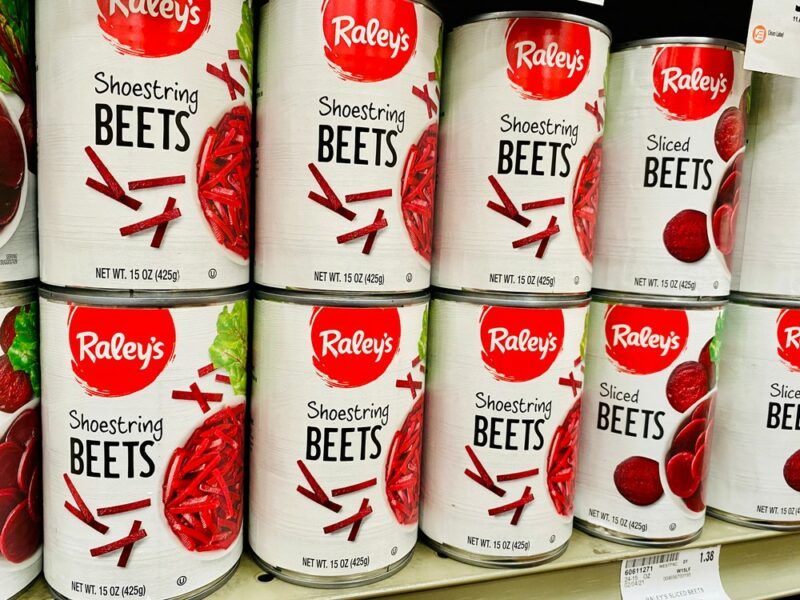 Canned beets have one huge advantage over fresh ones, how long they last.
If you're careful with them, fresh beets will last for roughly 14 days in the fridge, while cooked ones last between three and five days. That's not an incredibly long time. Plus, the quality of your beets decreases as you store them.
Contrast that with canned beets, which can last for around two years with no change in quality. This makes it easy to simply buy a can and keep them on hand for when you need them.
They're Practical
Canned beets have other practical benefits too. For starters, they're often less expensive than fresh beets. Sometimes they're even half the price.
This makes it easy to keep your pantry stocked with nutritious ingredients. You can also use the money you save on beets for other foods that help you to stay healthy.
Here's another cool thing – canned beets are already cooked. So, rather than having a large beet to work with that might stain everything, you have precooked slices that you can simply use in whatever dish you like.
Beets are also unusual in that the canned version doesn't lose much flavor at all. Canned beets are still just as delicious and vibrant as fresh ones.
They're Low In FODMAPs
FODMAPs are carbs that can ferment and cause gas, leading to a host of side effects for some people. Beets themselves are fairly high in FODMAPs, so anyone sensitive to FODMAPs may need to avoid them entirely.
Canned beats, however, end up being low in FODMAPs instead. You can eat half a cup of canned beets without a problem and even a full cup is only medium for FODMAPs.
How Canned Beets Could Be Harmful
They're Often High In Sodium
Canned food often contains a decent amount of sodium and beets are no exception.
Sodium has a pretty bad reputation these days, which might seem strange, as the mineral is an essential electrolyte and has plenty of important roles in our body.
As ever, the problem is dose. The right amount of sodium can be helpful. Too much causes harm instead – and many of us are consuming far too much.
Sometimes it's hard not to, given that we use salt for cooking and season our food with it. Plus, processed food is often laden with sodium, which makes matters even worse.
Washing canned beets before you use them will help. This won't remove all the sodium, but you might cut it down by about 50%.
You can also look for low sodium beets. Some brands even can their beets in water and don't add any sodium at all. With these, you're just getting natural sodium from the beets and there's hardly any of that.
May Be Contaminated From The Can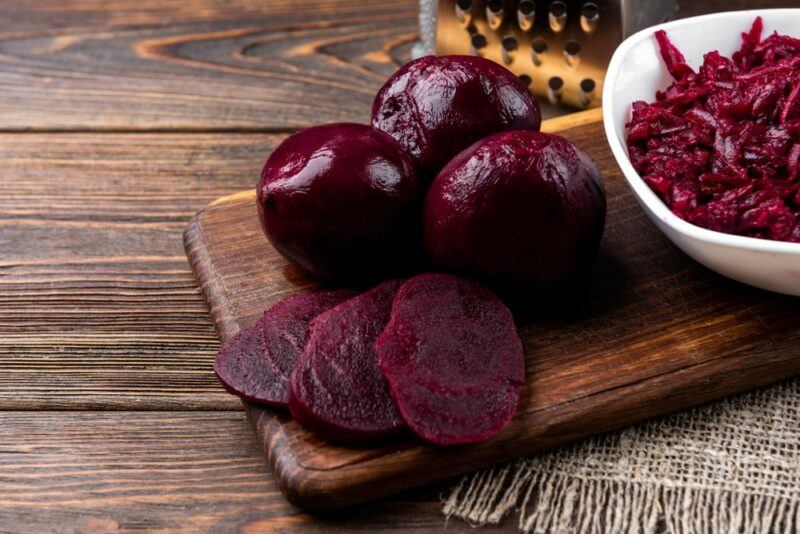 The can itself is another area of concern. There's always the risk that some of the chemicals used in the can lining leach into your food.
The biggest issue here is BPA. This chemical is still considered safe at the amounts we find in our food, yet there are plenty of reports of adverse effects. There are even concerns that low levels of BPA could cause more health issues than high levels of the chemical.
Because of the controversy, many food manufacturers are avoiding BPA and using different materials for their cans instead. However, the shift isn't complete and some companies do still use BPA.
This isn't the end of the story, though. Companies still need to use some type of can lining and the new versions could be just as concerning as BPA. They're more problematic in some ways, as we simply don't know what to expect.
The issue doesn't mean you need to avoid canned food entirely, but it is a reason to be cautious. Perhaps it's best to think of canned food as something to use occasionally, like when you're really short on time or don't have much fresh food in the house.
Taking this approach, rather than using canned food every day, should reduce your consumption of potentially harmful compounds and help you to stay healthier.
High In Oxalates
Beets are a decent source of oxalates. These natural compounds are easy to ignore, as they don't have a large effect on most people.
However, for people who are sensitive, oxalates can increase the risk of kidney stones. This is particularly true if you're dehydrated or have had kidney stones in the past. Oxalates might cause other problems too, perhaps even affecting your risk of some diseases.
Even with the oxalates, most people won't need to avoid beets entirely. Instead, you may just need to be cautious with your serving size and focus on low oxalate foods as much as possible.
Are Canned Beets Pickled?
Beets are often pickled, which can make them a source of probiotics. Pickling beets is an easy way to make them last and is something you can easily do at home.
Some canned beets that you buy in the store may be pickled, but most won't be. As such, they won't provide you with probiotics. Instead, most of the benefits are the same as you'll see with fresh beets.
If you're specifically looking for pickled beets, it's best to make them yourself at home. You can also look out for artisan products, as these are more likely to be pickled.
Should You Eat Canned Or Fresh Beets?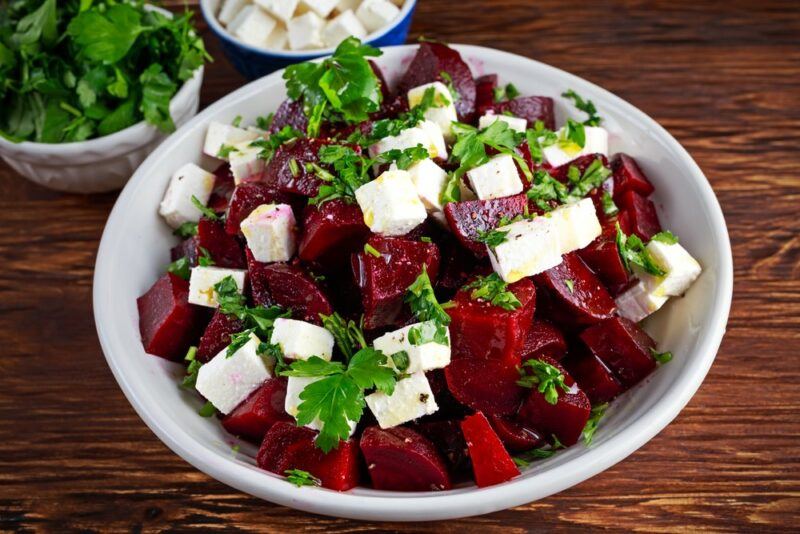 Most of the benefits of canned beets also apply to fresh ones. So, which type should you choose? Ultimately, that's up to you, as you'll get plenty of nutrients and antioxidants either way.
There are differences, though.
For one thing, canned beets are softer than fresh ones. Plus, while canned beets retain most of the rich flavor of regular beets, they do tend to be sweeter. These differences are useful in some situations and frustrating in others.
Canned beets are more convenient too. Not only do they last much longer than fresh beets, but they're also already cooked, so you don't have any prep work to worry about.
Of course, there's also the old adage that fresh food is always best. This is still true. Fresh beets have been through less processing and won't ever have additives, so they'll always be a bit better for you.
The answer may be to use fresh beets whenever you can and just turn to canned ones when fresh aren't an option. This way you take advantage of both types, while keeping your risk low.
Final Thoughts
Beets have plenty of benefits. Not only are they packed with nutrients, antioxidants, and fiber, but they're also low in calories, so you can easily add them to your diet.
Canned beets aren't quite as powerful as fresh ones, that's true. There's always the risk that some chemicals from the can leach into the beets or that some nutrients get lost in the canning process.
Still, these concerns are overshadowed by how convenient canned beets are. Companies are also focusing on decreasing their reliance on controversial chemicals like BPA, which decreases the risk.
In the end, canned vegetables are a convenient way to increase your nutrient intake, especially at times where fresh vegetables aren't an option (frozen vegetables are helpful for this same reason). The best approach may be to use canned beets when you need to, but focus on fresh beets whenever possible.
Frequently Asked Questions
Can You Drink The Juice From Canned Beets?
Yes. The juice from canned beets is completely safe. You can drink it directly or use it as part of a recipe.
Are Canned Beets Good For Diabetics?
Whether they're canned or not, beets can be helpful for diabetics, as they provide plenty of fiber, antioxidants, and nutrients. However, they are somewhat high in carbs and can increase your blood sugar levels. Because of this, you'll need to keep an eye on your portions.
Are Canned Beets Good For Your Liver?
Some of the compounds in beets could be highly relevant to your liver health, perhaps even making it more efficient. This effect is true for fresh beets, canned beets, and beet juice.
What Do Canned Beets Taste Like?
Canned beets have an earthy and sweet flavor that's a little similar to spinach. Unusually, this flavor profile is roughly the same for fresh beets and for canned ones.
Can You Juice Canned Beets?
Canned beets can't be juiced in the traditional sense, as they're far too soft. However, you can throw the beets in a blender and strain the resulting liquid, which will give you some juice. You can also drink the juice from the can itself.