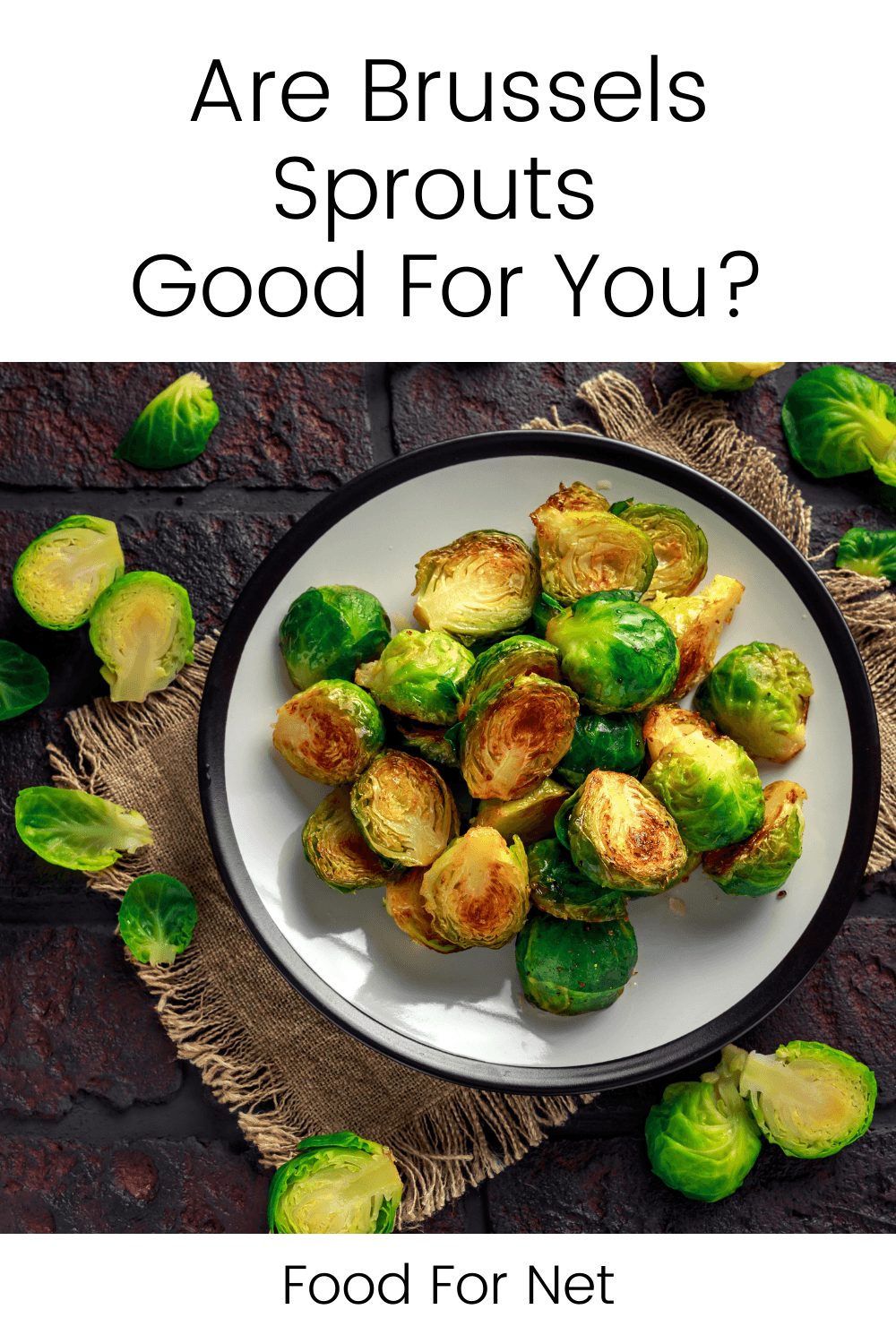 Brussels sprouts don't have a stellar reputation. They've long been the vegetable that everyone seems to hate, one that can be bitter and smells simply awful. But are Brussels sprouts good for you, and should you eat them even if you don't like them? Their reputation has been shifting in recent years, to the point that high-class restaurants are even serving Brussels sprouts regularly.
What's going on with that? Well, first, we're getting better at cooking Brussels sprouts. Much of the vegetable's poor reputation comes from the fact Brussels sprouts were often incredibly overcooked, making them a nightmare to eat. In contrast, when Brussels sprouts are cooked well, they're much tastier, to the extent that kids may even enjoy them.
There's another thing too. Like most vegetables, Brussels sprouts go through selective breeding over time. Some of this process has focused on decreasing the glucosinolates in Brussels sprouts, which are the compounds that give the sprouts their bitter flavor.
Fewer glucosinolates mean less bitterness in Brussels sprouts, which then makes them easier to eat. So, even if you hated Brussels sprouts as a kid, there's a good chance that you'll enjoy them now – especially if you cook them well and use the right spices.
This brings us to the important question of the day – are Brussels sprouts good for you? They seem like they should be, yet there's a surprising amount of controversy surrounding this question.
Some sites go as far as to say that Brussels sprouts are dangerous and toxic. Are they though or are Brussels sprouts simply a vegetable that's destined to be misunderstood?
Are Brussels Sprouts Good For You?
Brussels Sprouts Nutrition
Benefits Of Brussels Sprouts
How Brussels Sprouts Could Be Harmful
How Do You Make Brussels Sprouts Taste Good?
Can You Eat Raw Brussels Sprouts?
Final Thoughts
Brussels Sprouts Nutrition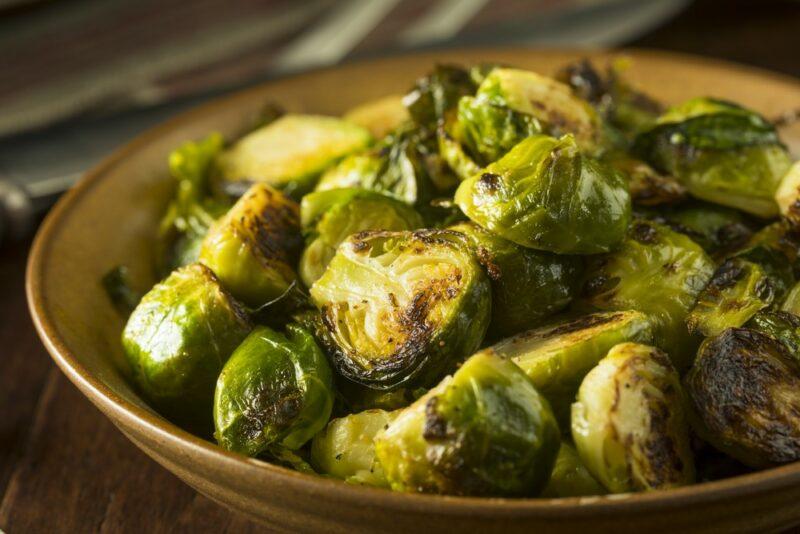 Brussels sprouts have an interesting nutrient profile, one that shines in some areas and less so in others. For a half cup serving of cooked Brussels sprouts, the profile looks like this:
Calories: 28.1
Carbs: 5.5 grams
Fiber: 2.0 grams
Sugars: 1.4 grams
Vitamin K: 137% of your daily needs
Vitamin C: 81% of your daily needs
Folate: 12% of your daily needs
Vitamin A: 12% of your daily needs
You get other nutrients too, including some potassium, iron, magnesium, zinc, and vitamin B6. I don't need to tell you how important these all are. After all, nutrients are what keep our bodies functioning well, making sure that we remain healthy and fit.
With Brussels sprouts, the vitamin K and vitamin C are the most important nutrients. The benefits of vitamin C are already well-known, including how it helps with your immune system. Vitamin K is less famous, but no less important, as it helps with blood clotting and your bones.
Benefits Of Brussels Sprouts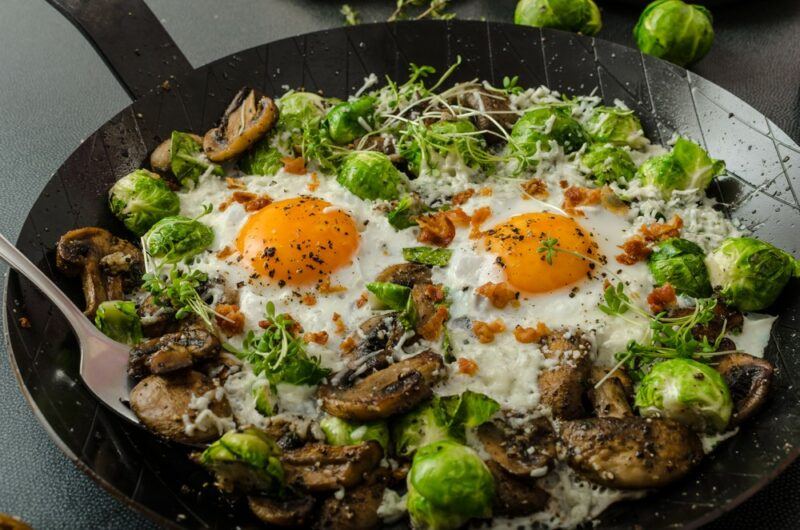 They're Low GI
Brussels sprouts have a low glycemic index (GI), which means they release sugar slowly into your bloodstream and don't cause blood sugar spikes.
Low GI foods are useful for multiple reasons. First, keeping your blood sugar levels stable may help with your health, perhaps even decreasing your heart disease risk and making it easier to lose weight.
Such foods are also very relevant for people with diabetes, as diabetics need to pay close attention to their blood sugar levels.
They Can Be Keto Friendly
Brussels sprouts contain more carbs than some other types of vegetables, but the carb content is low enough to work on a keto diet. After all, that half cup serving size we talked about earlier only contained around 3.5 net grams of carbs. Most keto dieters could easily fit those carbs into their diet plan.
There are also plenty of keto brussels sprouts recipes to choose from, including creamy Brussels sprouts from Gimme Delicious and a Brussels sprouts and bacon recipe from Cast Iron Keto. Just be cautious with your serving size, as it'd be easy to overdo it if you find a recipe that tastes amazing.
An Excellent Source Of ALA
Brussels sprouts are surprisingly powerful as a source of alpha-linolenic acid (ALA). ALA is a type of omega 3 fatty acid, which makes it incredibly important for keeping you healthy.
You can find high amounts of ALA in chia seeds, hemp seeds, and walnuts as well, but it's unusual to find so much ALA in a vegetable. This ALA could lead to a variety of benefits, like decreasing your inflammation and protecting your heart.
It's important to note, however, that ALA isn't nearly as powerful as the omega 3 fatty acids found in fish. For our bodies to use ALA, it first needs to be converted to EPA and DHA and this isn't an efficient conversion at all. Because of this, you'll always see more benefits from fish than from plant-based sources of omega 3.
Still, if you're following a vegetarian or vegan diet, the ALA in Brussels sprouts is incredibly important and could be a big reason for eating the vegetable more often.
Can Help With Your Digestion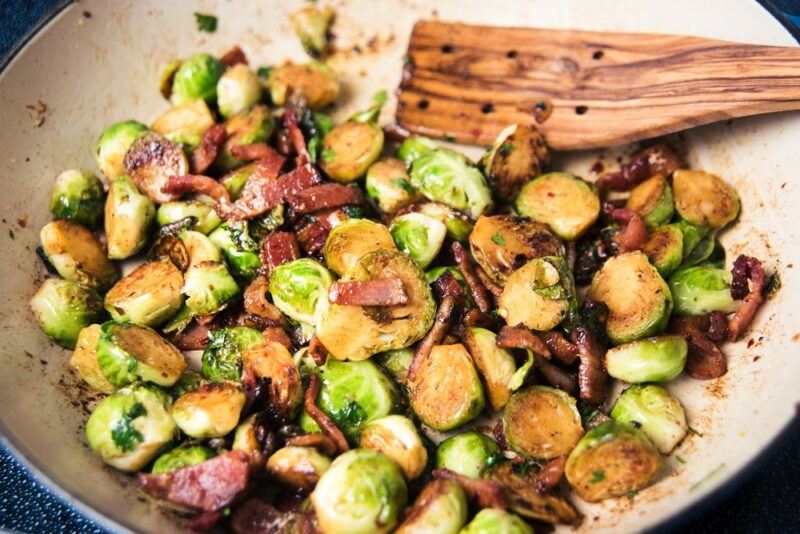 Brussels sprouts are also highly relevant for your digestion, mostly because they're a good source of fiber. While our bodies don't digest fiber, the macronutrient helps to bulk out our stools and keep us regular.
Fiber also acts as food for the bacteria in our gut. Doing so could lead to many more health benefits, as the microbes in our gut function a little like a virtual organ and influence our health in more ways than we can count.
Provide Antioxidants, Including Kaempferol
Then there are the antioxidants. These compounds help to lower oxidative stress and, by doing so, they decrease the risk of chronic disease.
This happens because oxidation can damage our cells, our DNA, and other parts of our bodies, leading to serious issues. Modern diets and lifestyles may lead to more oxidation than ever before, making antioxidant rich foods essential for bringing your body back into balance.
A particularly interesting antioxidant is kaempferol. This one has been studied extensively and linked to a decreased risk of various diseases, including cancer. While similar effects should be true for most antioxidants, it's always good to find ones that have been researched in-depth.
Could Reduce Cancer Risk
Early research suggests that compounds in cruciferous vegetables may help to reduce the risk of cancer. They do this through compounds called glucosinolates. The glucosinolates break down once you consume them, giving you compounds that are linked to decreased inflammation and a host of other benefits.
Glucosinolates may also help to promote a weaker form of estrogen, one that is less of a problem for hormone-linked cancers.
Population-level studies regularly show an association between consuming cruciferous vegetables and a decreased risk of cancer. There's still much that we don't know, of course, but the outcomes of research look promising, so why not enjoy Brussels sprouts and other cruciferous vegetables regularly?
Can Decrease Inflammation
Inflammation is a fascinating process. On one hand, it's essential for how our bodies respond to illness and injury. We need inflammation or we'd be in for some serious problems.
On the other hand, chronic inflammation causes a variety of issues in our bodies, contributing to many different diseases, including arthritis, cancer, and diabetes. Some theories even suggest that modern diets and lifestyles lead to high levels of chronic inflammation, which then contributes to most of the health conditions that we're faced with today.
Finding natural ways to decrease inflammation could help to protect us and keep us healthy for longer. Brussels sprouts are one way to help.
They're A Type Of Cruciferous Vegetable
As we mentioned earlier, Brussels sprouts fall into the cruciferous vegetables family, along with broccoli, cauliflower, cabbage, and bok choy. These vegetables all contain the glucosinolates that we've been talking about, compounds that might offer many health benefits.
Even more importantly – cruciferous vegetables have been studied extensively. Research consistently finds that eating cruciferous vegetables regularly protects your health and can decrease disease risk.
With such a long history of research, we can be confident about the health impacts of cruciferous vegetables. Few other types of fruits or vegetables have been studied to this much depth.
How Brussels Sprouts Could Be Harmful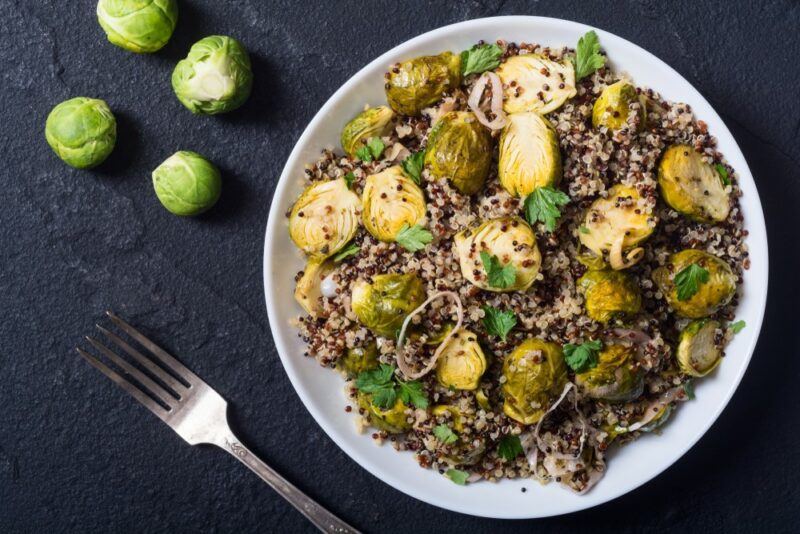 They Can Interact With Medication
Earlier on we talked about the vitamin K in Brussels sprouts, which is generally a good thing. But, while vitamin K is essential, it influences the way our bodies treat blood thinning medications like warfarin.
In particular, having high amounts of vitamin K can make your blood thinner much less effective and increase your risk of a blood clot. You don't need to avoid Brussels sprouts entirely though. The trick is generally just to keep your vitamin K levels consistent and make sure your medication dose accounts for the vitamin K.
This isn't the only medication-related effect either. Compounds in Brussels sprouts can also influence a variety of medications that are changed by the liver, by altering the rate of breakdown.
This effect can be harmful as well, meaning that your body gets rid of some medication too quickly and you don't get all the desired effects.
The list of impacted medications is long, so it's important that you talk to your doctor before eating Brussels sprouts regularly.
The Glucosinolates May Contribute To Thyroid Problems
The glucosinolates in Brussels sprouts might offer a variety of health benefits, but they have a dark side as well. The problem is that they act like antinutrients and reduce the absorption of iodine.
This effect is concerning, as low levels of iodine can interfere with your thyroid and the production of thyroid hormones, potentially leading to significant problems.
Thankfully, these issues mostly occur if your iodine intake is low. Avoiding problems is as simple as including a few more iodine rich foods in your diet.
If you do have a thyroid condition, avoiding cruciferous vegetables might be wise. However, you should talk to your doctor first, as there are mixed opinions on this topic. If your thyroid is healthy, then Brussels sprouts come with minimal risks and plenty of benefits.
Can Cause Gas And Bloating
Brussels sprouts are well-known for causing gas, an effect that's never desirable. Some of that effect comes from the fiber in Brussels sprouts and becomes more pronounced if you eat too many Brussels sprouts in a sitting. Indeed, despite the benefits of fiber, consuming too much of the macronutrient always leads to side effects.
Fiber isn't the only culprit though. There are other gas-causing chemicals present too, including raffinose. Indeed, cruciferous vegetables like Brussels sprouts and cabbage do give you more gas than many other vegetables.
For most of us, the gas caused by Brussels sprouts may be a little uncomfortable and perhaps embarrassing, but nothing more than that. However, if the gas starts to cause pain and distress, it might be time to cut back on cruciferous vegetables for a while.
How Do You Make Brussels Sprouts Taste Good?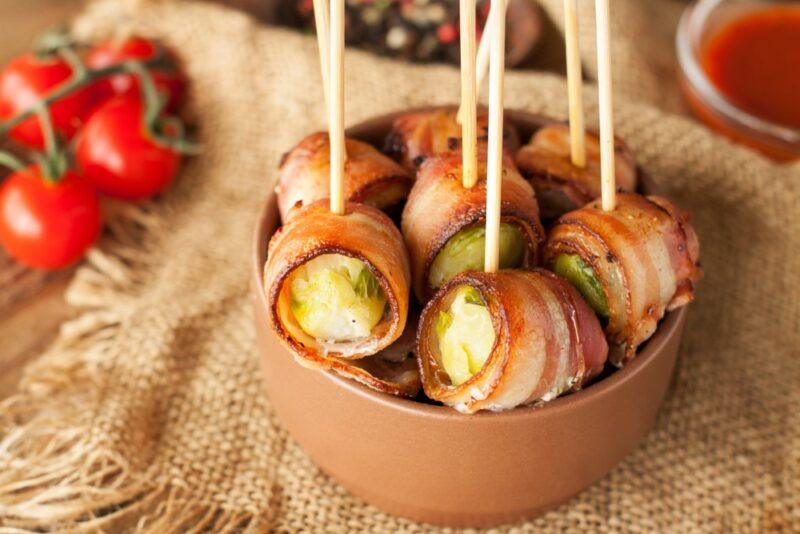 Most people who avoid Brussels sprouts don't do so because of health concerns. Instead, many of us have awful experiences with the vegetable, as parents tended to overcook Brussels sprouts, to the point that they were bland, mushy, and quite bitter.
That combination of features wouldn't make anyone a fan of the sprouts. Thankfully, there are ways around these problems.
First, it's important to treat large and small Brussels sprouts differently. The larger ones have a stronger flavor and looser leaves. Cutting these in half before cooking helps to reduce the bitterness and makes sure that the sprouts cook evenly.
Trimming the stem a little helps too, as it is tough and chewy once cooked, and won't do your dish any favors at all.
It's best to steer away from moist heat as well, including boiling and steaming. Those approaches are what give us the mushy Brussels sprouts that many of us hate. Roasting them is a much better approach and is hard to get wrong.
Don't forget that you can add other tasty ingredients to the mix as well. Combining Brussels sprouts and bacon is a particularly popular idea, making it much easier to say yes to a dish of Brussels sprouts.
If you don't know where to start, try looking for recipes that use Brussels sprouts. The creators of these recipes should have figured out the best cooking times and temperatures to make their dish taste truly amazing.
You Might Still Hate Brussels Sprouts
While there are plenty of ways to make Brussels sprouts taste better (and these are worth trying at least once), there's no guarantee that you'll love the vegetable. Many people still can't stand the sprouts, regardless of how they're cooked.
One reason is that the bitter flavor comes from a chemical in the sprouts. Being careful with how you cook the sprouts can decrease this bitterness somewhat, but not entirely.
Whether this matters to you may depend on your genetics. The compound that provides the bitterness, phenylthiocarbamide, doesn't actually taste bitter to everyone. You might be lucky and not taste most of the bitterness that other people complain about.
However, if you do experience this bitterness, it might be enough to prevent you from ever enjoy Brussels sprouts.
Can You Eat Raw Brussels Sprouts?
Brussels sprouts are normally cooked, largely because they taste better this way. The bitterness is much more pronounced if you're eating Brussels sprouts raw instead, making the little vegetables pretty difficult to eat.
To make the vegetable more palatable, you could try including thin slices in a salad. Even seasoning the Brussels sprouts with a little olive oil and salt might help.
Healthwise, raw Brussels sprouts are a mixed bag. On one hand, you do get more beneficial compounds by eating the Brussels sprouts raw, as cooking always changes the chemical composition of your food.
However, raw Brussels sprouts are also harder to digest. They're more likely to give you side effects like bloating and nausea. You might even absorb fewer nutrients from them. Raw Brussels sprouts are higher in glucosinolates than cooked ones too, making them more likely to cause thyroid issues.
All-in-all, while you can eat Brussels sprouts raw, there isn't much point to doing so. You'll get many more benefits by cooking them first – and they'll taste much better once they're cooked anyway.
Final Thoughts
Regardless of your previous experiences with Brussels sprouts, the vegetable is one to be embraced, rather than avoided. There are plenty of benefits on offer, particularly as Brussels sprouts contain a decent amount of fiber and are an excellent source of ALA.
Besides selective breeding has decreased the bitterness of Brussels sprouts, making them easier to enjoy than ever before. If you cook them well, rather than simply boiling them to death, you might even find that you enjoy Brussels sprouts.
With all their benefits, it's worth at least giving Brussels sprouts a second chance, right?
Frequently Asked Questions
How Do You Cook Brussels Sprouts?
There are plenty of ways to cook Brussels sprouts, including boiling them, roasting them, and steaming them. There's no right or wrong way. It all depends on your preferences.
One way is to add your sprouts to a pan with half an inch or so of water, plus a little salt. Cover the pan and heat it until the water starts to boil. Once it has, you can drop down the temperature so that the water simmers. Then, you just need to let the sprouts simmer for between three and five minutes.
Roasting them is easy too. This can be as simple as prepping the Brussels sprouts, tossing them in oil, adding some spices, then roasting them for roughly 20 minutes.
This high heat cooking technique is fantastic, as it cuts down the bitterness, while giving the sprouts a crisp exterior.
How Do You Grow Brussels Sprouts?
If Brussels sprouts are too expensive or too difficult to buy locally, you can easily grow your own. Seeds are best started indoors around February or March, while seedlings can be planted in April or May instead.
When planting, you're looking for a site with rich soil and plenty of sunlight. Seeds are best planted between three and four inches apart, while seedlings should have gaps of around 18 to 24 inches.
Timing is crucial, as if you plant your Brussels sprouts too late, they may not mature before the fall frosts have started.
The area matters too. If the soil quality isn't good enough or the plants aren't getting enough sunlight then the Brussels sprouts aren't likely to thrive.
What Do Brussels Sprouts Taste Like?
The answer to this depends on your perspective. Some people say that Brussels sprouts have a smoky, nutty, and sweet, especially when they are cooked well.
The flavor can also be described as being similar to either broccoli or green cabbage. There is a slight bitterness, but this isn't too overwhelming.
Other people are less appreciative, saying that Brussels sprouts are far too bitter and are often a bit slimy. Thankfully, cooking your Brussels sprouts well makes all the difference in the world.
So, if you're not keen, it's worth trying well-cooked Brussels sprouts at least once. You might be surprised at how much better they taste.
How Do You Store Brussels Sprouts?
The best way to store Brussels sprouts is to keep them in a plastic bag in the crisper drawer of your fridge. The sprouts will last the longest if they are unwashed and untrimmed.
Make sure to remove any wilted or yellowed sprouts or leaves before you store the Brussels sprouts. Otherwise, these will compromise the quality of the rest of your sprouts.
How Do You Tell If Brussels Sprouts Are Bad?
Bad Brussels sprouts are easy to spot. They have an awful smell, similar to cabbage that has been around far too long. They're often slimy or soft to the touch too and may even be moldy.
Pay attention to the color too, as bad Brussels sprouts tend to be brown around the edges.