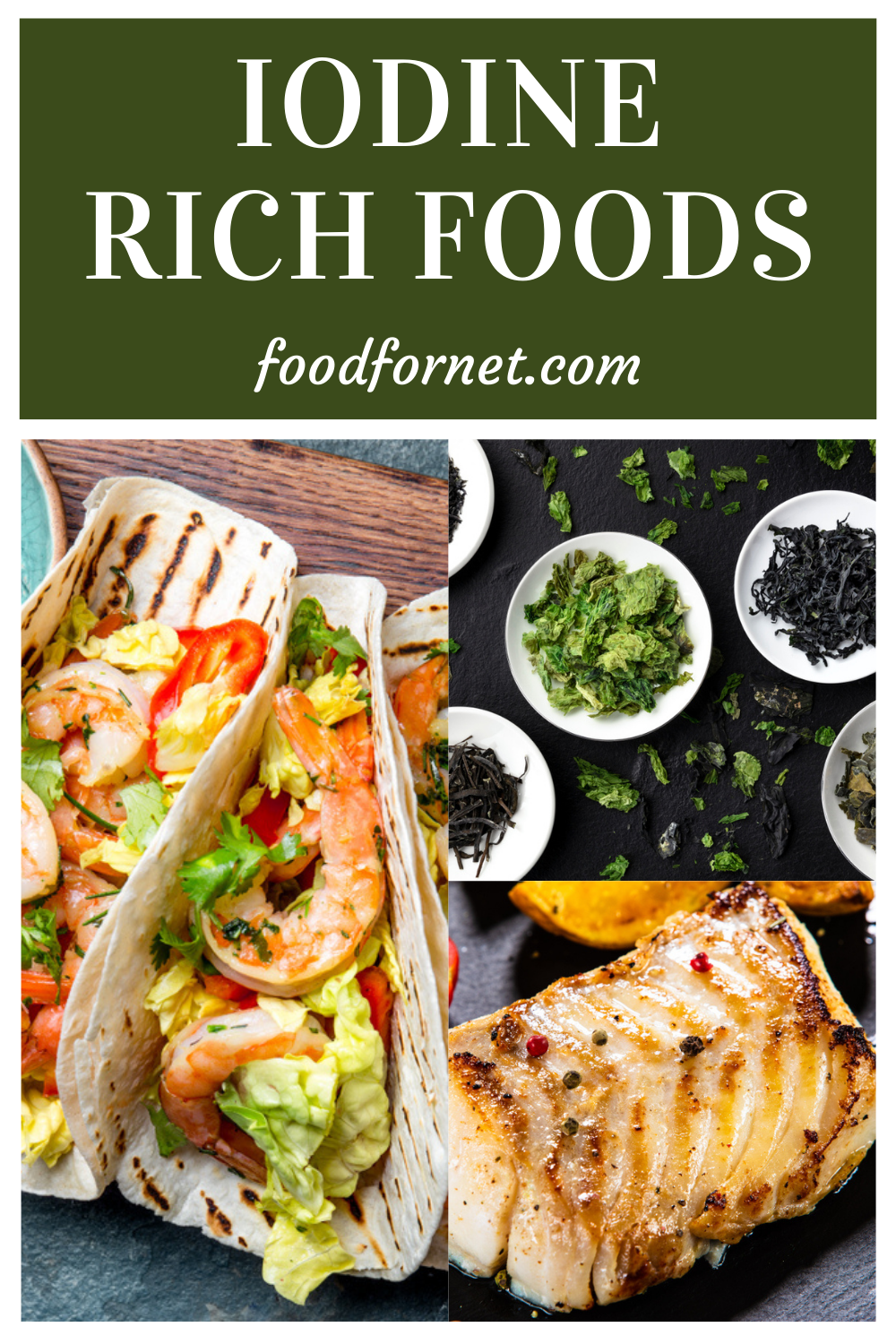 To stay healthy, we need a good balance of vitamins, minerals, and other compounds in our diet. Some of these, like vitamin C, calcium, fiber, and antioxidants are obvious, and many of us already work on consuming enough every day. Compounds like iodine, on the other hand, can be easily missed. Thankfully, you can turn to iodine rich foods to increase your iodine intake and improve your health at the same time.
First, let's talk about iodine. The mineral plays a key role in the conversion of food to energy. It's also notable for thyroid health. Iodine deficiency can even lead to hypothyroidism, in some cases, which is where your thyroid isn't producing the hormones that it should.
Iodine deficiency is rare these days. You only need around 150 mcg of the mineral each day and many of us get a decent amount of iodine from table salt, which is generally iodized. Then there are the various food sources of iodine that help as well.
Even so, if you have problems with your thyroid, increasing iodine intake is often recommended. There may be other situations where you need more iodine too, especially if you're on a low sodium diet where you are avoiding table salt and other sodium rich foods.
Iodine Rich Foods
Seaweed
Cod
Other Types Of Fish
Shrimp
Oysters
Milk
Yogurt
Cheese
Iodized Salt
Baked Potato
Eggs
Some Beans
Turkey Breast
Prunes
Seaweed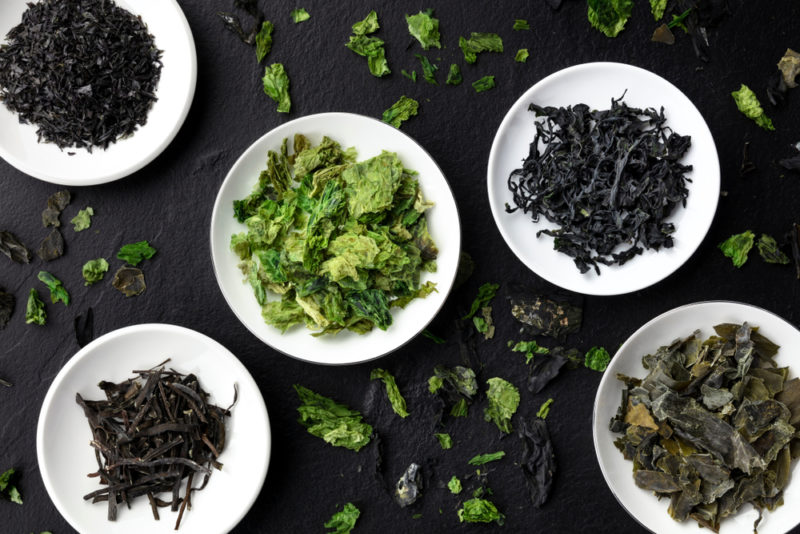 Iodine is a very common mineral. It can be found in almost every type of plant or animal, but you'll generally find more in foods from the sea than in other sources.
Seaweed is one of the most well-known options for iodine. It's a good choice too, as seaweed provides various important compounds, including antioxidants. There are various types to choose from, including nori and wakame.
There are plenty of different seafood products too. For example, you can find dried pieces of seafood that can be easily eaten much like you would eat chips or buy seaweed to include in a recipe or wrap around sushi.
But, the amount of iodine can vary dramatically. It is influenced by how the seaweed is prepared, where it is grown, and the type of seaweed. Nori (a red seaweed) tends to contain less iodine than brown seaweeds like wakame. However, the amount of variation means that some particular seaweed products might be surprisingly low in iodine.
Because you can't fully predict the iodine levels in any particular food, it's best to make sure you include a variety of iodine rich foods in your diet. This way you can be certain that you'll get enough of the mineral.
Cod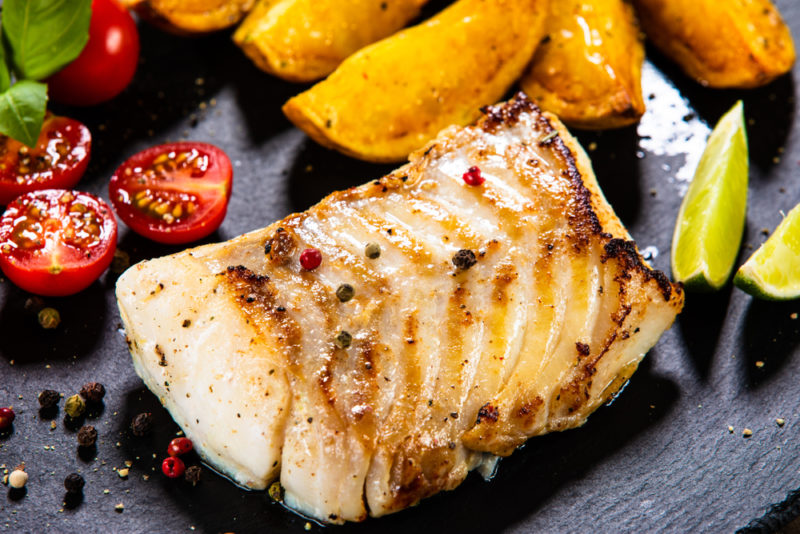 Many types of fish will offer you iodine and cod is an especially good choice. It's a popular white fish that is delicate and easy to find. Like similar types of fish, cod tends to be low in fat and calories, while still offering a decent amount of protein. This makes it ideal for dieters.
Because cod is on the lean side, it contains less omega 3 fatty acids than fish like salmon. This can be a limitation, as omega 3 is critical for your health. However, iodine levels tend to be higher in fish with less fat and lower in fatty fish.
Such differences between fish show that it's best not to rely on a single type of fish for your health. A varied diet will always be better for your health than one that relies on relatively few foods.
Other Types Of Fish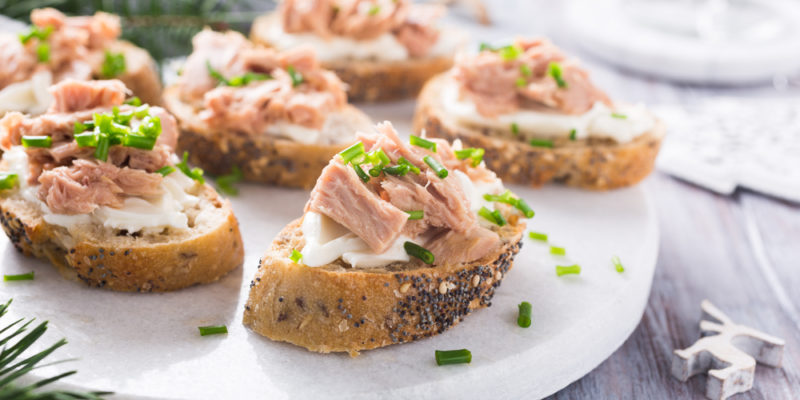 Because iodine is common in fish, you can focus on whatever type of fish you enjoy the most. Tuna is often recommended, partly because it is easy to find and canned tuna is cheap. Still, if you're going to focus on tuna, keep an eye on your intake. Tuna is relatively high in mercury compared to other types of fish and too much mercury certainly isn't good for you.
The main thing to remember is that iodine levels tend to be lower for fatty fish, so popular choices like salmon won't have as much iodine as cod. Still, even with fatty fish, you'll be getting enough iodine to make the fish worth it. After all, you'll be consuming multiple sources of iodine each day.
This also makes foods like fish sticks and fish cakes viable options for iodine too. Just be sure to make them yourself or to buy products that aren't too heavily processed.
Shrimp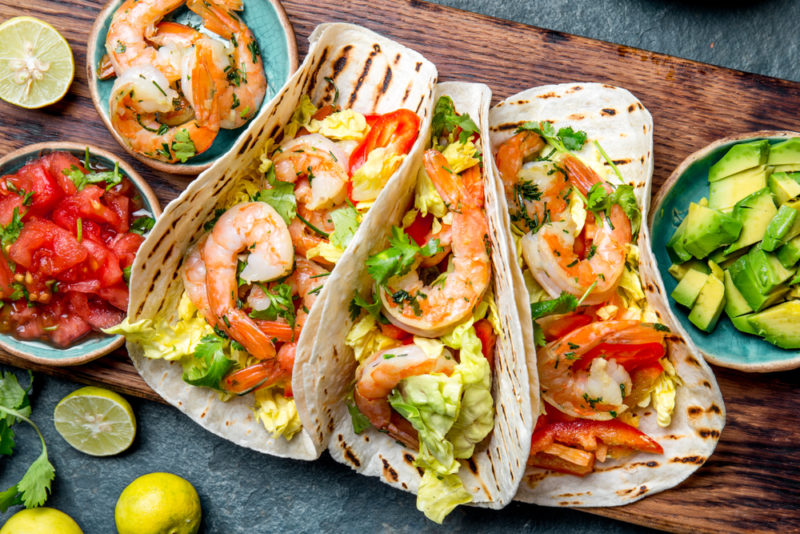 Shrimp is another marine source of iodine. This time, it's a type of shellfish rather than a white fish, so you get a different balance of nutrients. Among other things, shrimp provides you with selenium, lysine, and arginine – all important compounds for your health.
Shrimp also happens to be delicious. Countless recipes take advantage of the flavor and texture of shrimp, giving you mouth-watering treats that happen to be healthy too.
A 3-ounce serving may provide you with around a third of your daily intake for iodine. If you enjoy shrimp, that's not a bad deal at all.
Oysters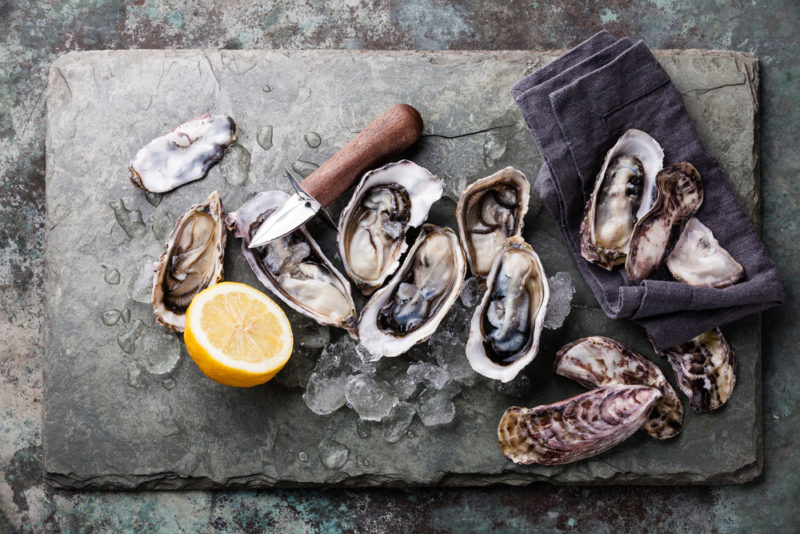 You can look to oysters as well, as these may even provide more iodine than you get with shrimp. Of course, oysters are seen as a type of delicacy, so the nutrients in oysters might be a bonus, rather than the reason that you're eating them.
Regardless, oysters are very good for you. They also contain zinc, which could help to increase testosterone levels in some men.
Milk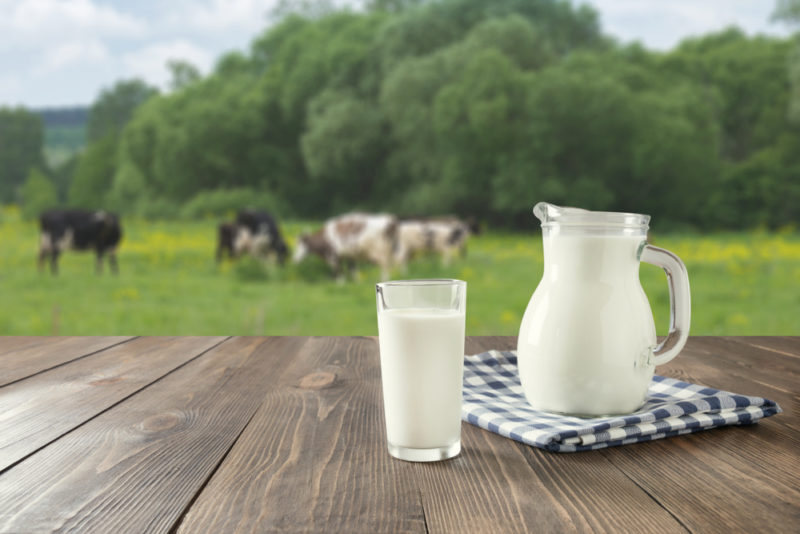 Milk can be a great source of iodine, especially if you live in the United States. Some estimates suggest that you're getting somewhere from 59% to 112% of your daily iodine intake from a single cup. Plus, it's easy to get milk in your diet. Countless recipes rely on it, including smoothies, baking, and many meals.
Those estimates of iodine content come from a study that focused on milk sold in Boston, so iodine levels could vary even more if you live somewhere else. Still, even 50% of your daily iodine content in a single glass of milk is pretty good.
Yogurt

Milk contains iodine, so it shouldn't be too surprising that yogurt is a source of the mineral too. This time, you might get around half of your daily iodine intake from a cup serving.
Although, once again, the amount of iodine won't be consistent. After all, there is plenty of variation in where yogurt manufacturers get their milk from. There are different production processes too, along with changes in the ingredients that are added to the yogurt. These patterns can all contribute to iodine differences.
Iodine isn't listed on the ingredients label for most products, so there's no easy way to compare iodine levels from one product to the next. Instead, it's best to focus on buying the healthiest yogurt possible. Look for products that have few added ingredients, particularly those that don't contain too much sugar.
Plain yogurt tends to be best. Don't worry if this sounds boring. You can always add ingredients like berries or cacao powder to flavor the yogurt yourself.
Cheese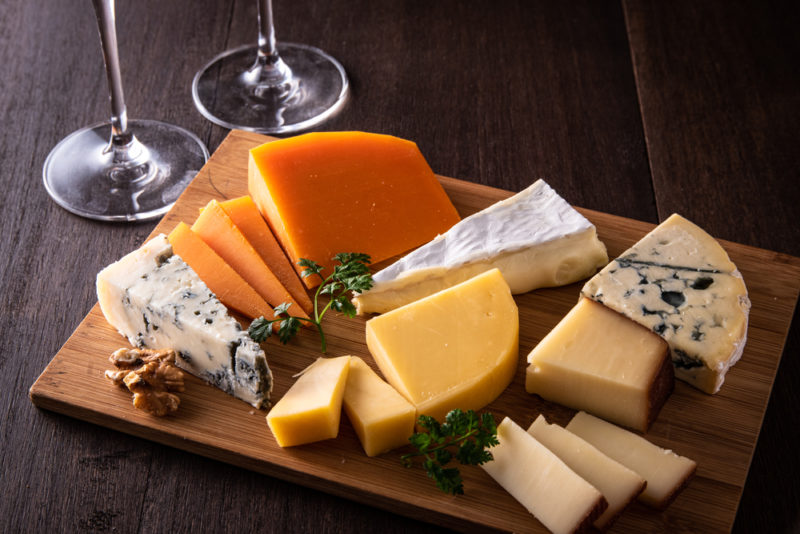 Cheese can be useful for iodine too, but the amount of iodine varies even more dramatically. This isn't surprising, as there are so many types of cheese out there. These can end up with very different nutrient balances from one another.
If you want to maximize iodine intake, then cottage cheese is one of your best choices. This fresh cheese is a common choice for dieters. It's often used to make appetizers too.
Other types of cheese will often contain less iodine. Still, you're likely to get some iodine regardless of the type of cheese that you choose – so feel free to enjoy your favorites.
And, of course, other foods that heavily rely on dairy or milk will offer you iodine too. Ice cream is a good example here, even though it is more of a treat than something healthy.
Iodized Salt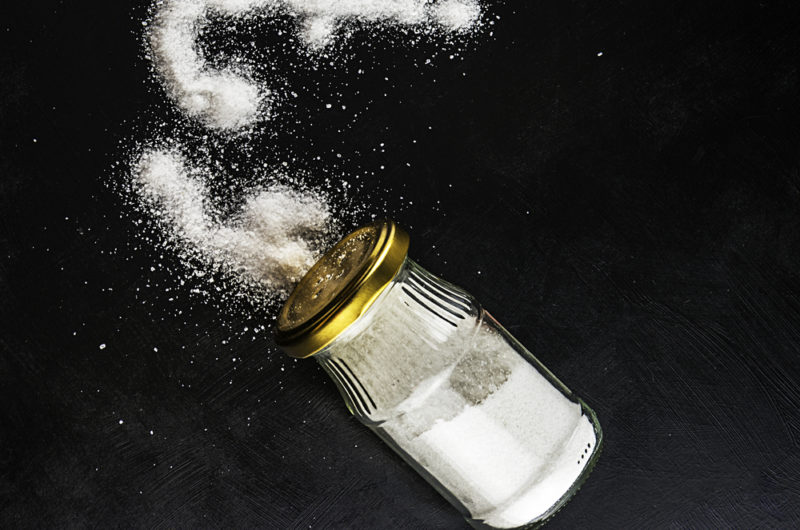 Iodized salt is different from the other foods on this list, as it is fortified with the mineral, rather than containing it naturally. Still, fortification isn't all bad, as it makes the level of iodine more predictable.
You end up with around half of your iodine intake from a single gram of salt, so it's easy to see why relatively few people are iodine deficient.
Still, salt is one of the first things that you'll cut out on a low sodium diet and many of us consume too much salt anyway. As such, the other foods on this list are a healthier choice for iodine, even if you do need to work a little harder to hit your daily targets.
Baked Potato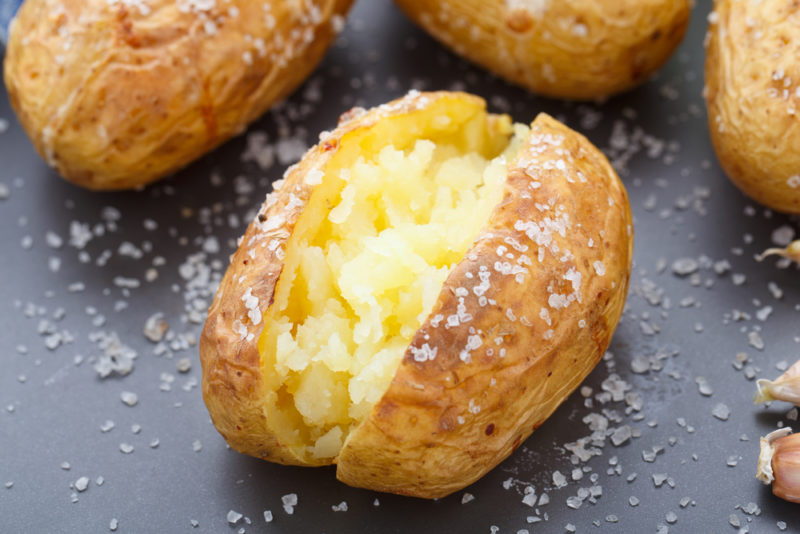 Iodine is most common in seafood and dairy, but some plants do contain iodine too. A roast potato can be a good choice, as you end up with close to 40% of your daily iodine intake from a single potato, as long as you're eating the peel too.
A potato might seem like a strange recommendation, as they're often seen as unhealthy. But, while potatoes are fairly high in carbs, they do offer important nutrients too, including potassium and vitamin B6.
You're not limited to baking your potato either. You can cook it in other ways too and should end up with similar nutrients. After all, potatoes are versatile. They're a common side dish for meals and are an ingredient in numerous recipes.
Eggs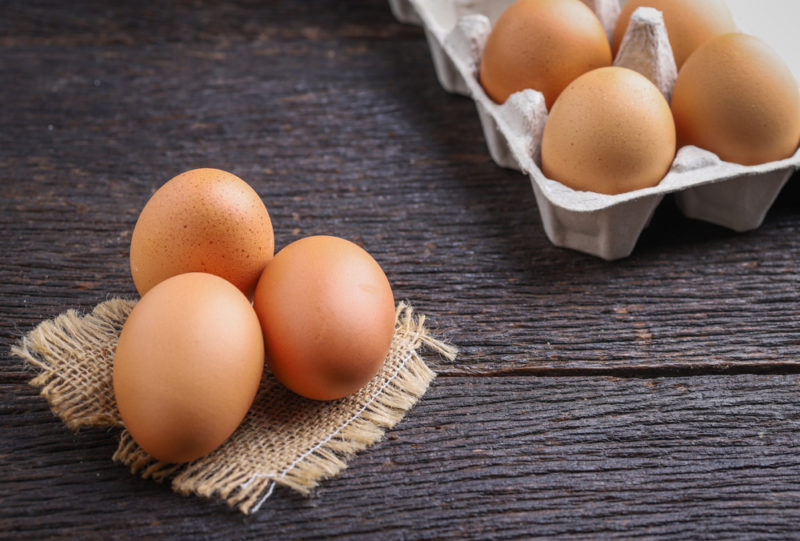 Eggs contain less iodine than some of the other entries on this list, but you should still get more than 15% of your daily iodine intake from a single egg. The iodine mostly comes from the yolk of the egg, so you can't just focus on egg white.
Of course, eating the whole egg isn't a bad thing anyway. The nutritional power of eggs is well-known. You're getting so many different important nutrients in a single type of food – one that also happens to be very fast to prepare.
The iodine content of eggs originally comes from chicken feed, so you can expect to see some variation in the iodine content of eggs. This may mean that the eggs from organic or free range chickens might contain less iodine than eggs from farmed chickens, as the choice for chicken feed will be different.
However, there isn't much information about how the different types of eggs compare, so it's often best to simply choose the eggs that you want, rather than focusing on iodine levels. Organic eggs have other advantages anyway.
Some Beans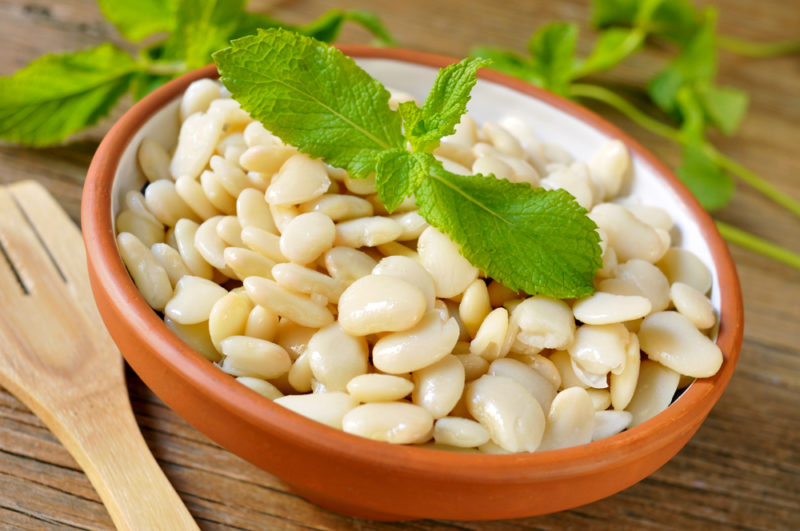 Beans are a popular vegan food, providing you with plenty of plant-based protein. Plus, it's often less expensive and healthier to use beans in some meals rather than meat. However, you can't simply choose any type of bean. Some have higher nutrient levels than others.
Navy beans are one good choice, providing you with around 20% of your daily iodine intake in a half cup serving of the beans. Some authors say that lima beans contain iodine too, while others say that they don't. This difference may be due to growing conditions or the way that iodine was measured.
Because there isn't a ton of research into iodine levels for all the types of beans, it's best to consider beans as a potential iodine rich food. Thankfully, you're getting plenty of important nutrients regardless, so beans are still worth eating.
Turkey Breast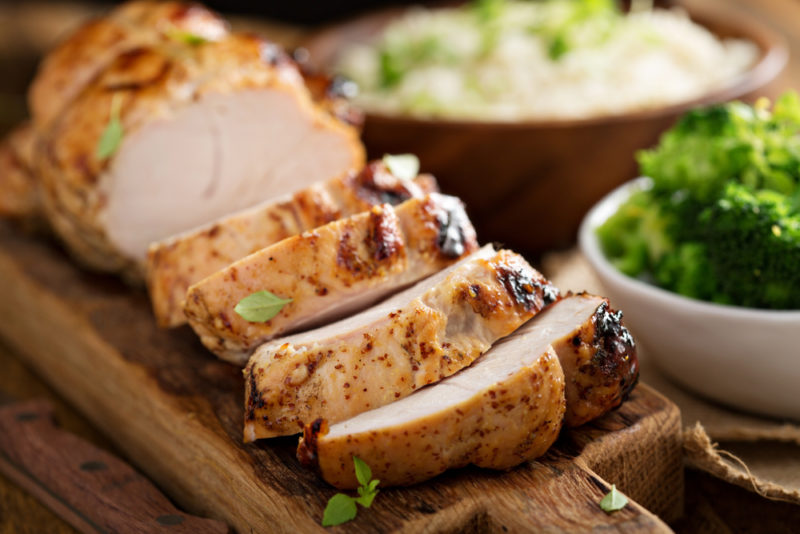 The amount of iodine in meat and poultry isn't especially high, but you do still get some. Turkey breast is the most powerful choice, giving you a little over 20% of your daily iodine intake for a 3-ounce serving.
Turkey breast has other advantages too, as it is relatively low in calories and contains plenty of nutrients. Besides, plenty of recipes rely on turkey breast, so you can be sure that you'll get an enjoyable meal.
You can also turn to dark turkey meat or any cut of chicken. However, the iodine levels are lower for these options than for turkey. The same is true for beef, pork, lamb, and other meats. You end up with some iodine per serving, but the amounts are never very impressive.
Prunes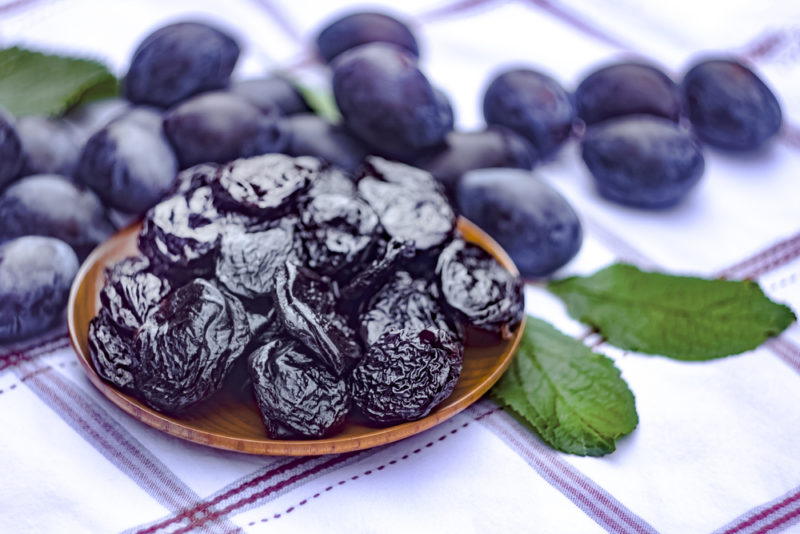 Prunes are dried plums and they're one of the few fruits that offer a notable amount of iodine (you get some iodine from bananas and apple juice too, but the iodine content is much lower). You do get less than 10% of your daily iodine intake from prunes, so they're not the most amazing choice. Still, prunes are easy to eat and are well-known for their fiber content too.
The main limitation is the sugar content.
While dried fruits end up being a concentrated source of nutrients, they're also a concentrated source of sugar. This can be a problem if you eat many prunes in a serving (not that you'd want to anyway, as prunes can have a laxative effect).
As such, you'll need to keep an eye on your portion sizes to make sure you get the benefits of prunes and not their disadvantages.