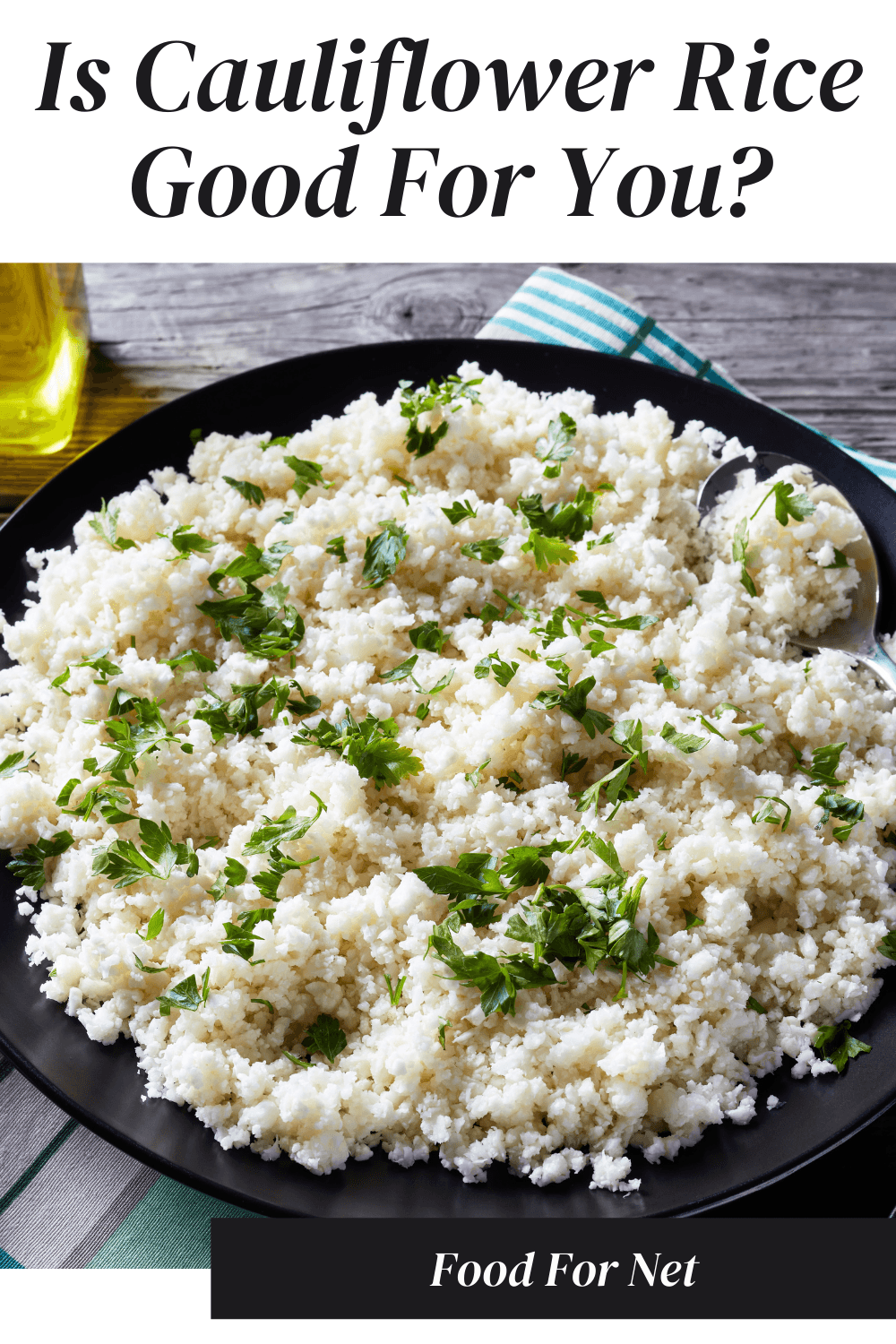 Cauliflower has gone from being a boring vegetable without much flavor, to one that is shockingly popular, almost overnight. It now turns up in many different forms, including cauliflower 'chicken' wings, cauliflower pizza crusts, cauliflower bread, and cauliflower rice. Today, we're looking at the "riced" form of cauliflower, and asking, "Is cauliflower rice good for you?"
The popularity comes from two main ideas. First, cauliflower is versatile. The mild flavor makes the vegetable easy to use in countless ways. Second, and most importantly, cauliflower is low in carbs. This makes it perfect for anyone who needs to cut down their carb intake.
We must ask though, is cauliflower rice good for you? After all, carbs aren't the be-all and end-all for health. They're simply one macronutrient. To truly look at the health impacts of cauliflower rice, we need to go beyond carbs and see what else the rice has to offer.
Is Cauliflower Rice Good For You?
Benefits Of Cauliflower
Risks Of Cauliflower
Cauliflower Rice Versus White Rice
Does Cauliflower Rice Taste Good?
Is Store Bought Cauliflower Rice Healthy?
Final Thoughts
Benefits Of Cauliflower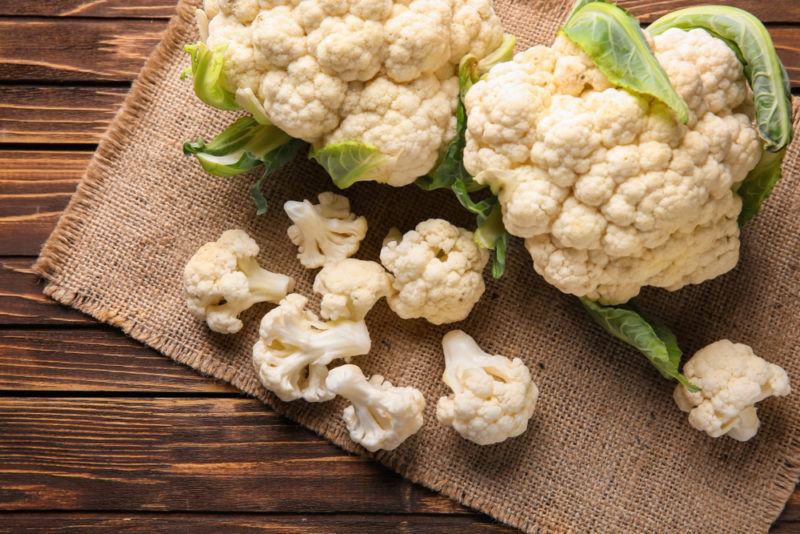 Cauliflower rice just has one ingredient – cauliflower. So, to look at the benefits and risks, we first need to talk about cauliflower itself. As you're probably aware, the vegetable does have some stand out features.
Nutritious And Low In Calories
Cauliflower might not seem like much, but it's surprisingly nutritious. It's even a powerful source of vitamin C, giving you more than 75% of your daily requirements in a single cup.
Other nutrients include vitamin K, folate, vitamin B6, magnesium, and phosphorous. The amounts of these aren't exceptionally high, but a serving of cauliflower does just contain 25 calories.
The combination of low calories and plenty of nutrients makes cauliflower a nutrient-dense vegetable. As such, it's an easy way to increase your nutrient intake.
Contains Barely Any Carbs
Carbohydrates are interesting macronutrients. On one hand, they're a key source of energy and diets rich in complex carbs have been linked to many benefits. But, carbs may also increase inflammation and could even decrease the risk of some diseases.
Part of the problem is the type of food that you're eating. If it's rich in fiber and nutrients, then the carbs tend to be released slowly and the effects on your body are relatively low. If this isn't the case, then you get a stronger blood sugar increase from the carbs and more potential negative effects.
Most of us are eating far too many processed foods, including those high in simple carbs and added sugars. Ingredients like cauliflower are a fantastic way out of this pattern, as you're getting fiber, nutrients, and not too many carbs.
You Get Some Fiber Too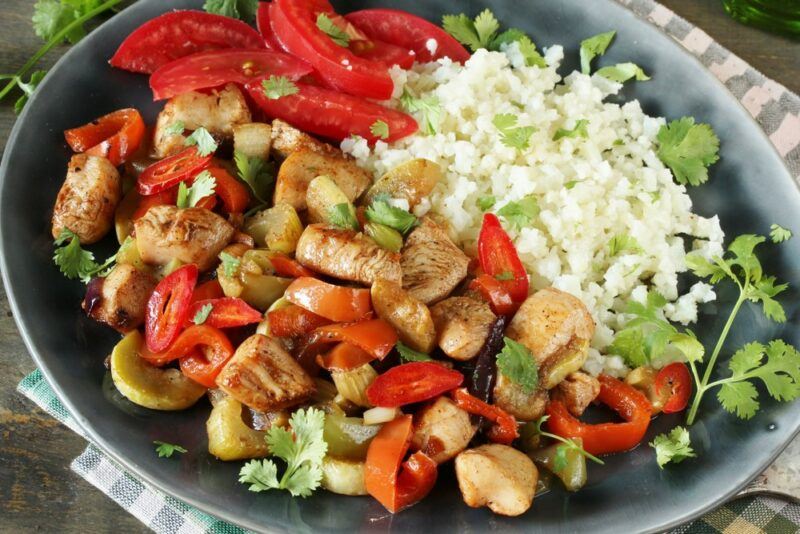 Cauliflower rice also provides some fiber, which is important for your digestive health. Fiber isn't digested, of course. Instead it helps to bulk out your stools, keep you regular, and act as food for your gut bacteria.
Cauliflower isn't the most fiber rich vegetable out there, but every little bit counts for fiber, as most of us need much more fiber than we're actually getting.
It's A Healthy Cruciferous Vegetable
Cauliflower falls into the cruciferous vegetable family. Such vegetables have been linked to many positive outcomes, including decreased risk of health problems like cancer and heart disease.
These benefits don't just come from the nutrients in these vegetables. They're also linked to a variety of sulfur-containing compounds. Such compounds may improve health in ways that go above and beyond what you find in other types of food.
Risks Of Cauliflower
Could Lead To Thyroid Problems
While cruciferous vegetables are often seen to be amazingly healthy, there are some debates surrounding them. In particular, some of the compounds they contain could interfere with your thyroid, reducing its ability to use iodine.
This issue isn't hugely significant for most people, as a slight reduction in iodine use isn't enough to influence health or thyroid function. However, for people with very low iodine intake or an underactive thyroid, this effect could easily cause problems.
Indeed, people with an underactive thyroid are sometimes told to avoid cruciferous vegetables entirely or significantly decrease their intake.
Thankfully, cooking cruciferous vegetables notably decreases their thyroid effect, so doing this and trying not to go overboard should remove most of the risk. Getting more iodine in your diet may help as well.
Can Cause Gas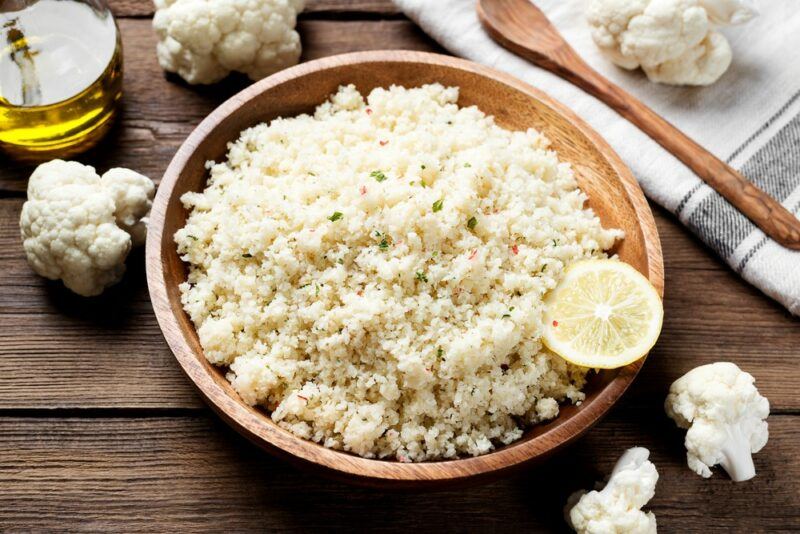 You've probably noticed this one already – cauliflower often causes gas and bloating. This is partly because of the raffinose found in the vegetables. We can't digest this carb well and the undigested part ends up fermenting in our large intestines.
Indeed, cauliflower is considered a high FODMAP food for this reason. Such foods often increase symptoms for people with irritable bowel syndrome (IBS) and similar disorders.
Cooking cauliflower first can make it easier to digest. Even then, you might still experience side effects with cauliflower.
If you have IBS or a sensitive digestive system, you might need to cut cauliflower out entirely, which includes avoiding cauliflower rice. Or, you might need to closely watch your portion sizes. If this is the case, you might be able to use small servings of cauliflower in recipes with plenty of other ingredients.
You may need to experiment to find the right amounts of cauliflower for you and how to best use it, as food sensitivities vary. Even among IBS sufferers, some individuals may have few problems with cauliflower, while others may not be able to eat it at all.
Cauliflower Rice Versus White Rice
Cauliflower itself comes with plenty of benefits and few risks. Let's be honest though, most of us aren't eating cauliflower rice for its nutrients. Instead, we're using cauliflower rice instead of regular rice.
The swap is a logical one. Rice, particularly white rice, is high in carbs and relatively low in nutrients. It can easily spike your blood sugar levels and perhaps lead to problems like inflammation.
In fact, a cup of cauliflower rice contains just 20 calories, 4 grams carbs, 2 grams fiber, and 2 grams protein. The same serving of white rice instead contains 210 calories and a whopping 46 grams of carbs, along with a gram of fiber and 4 grams of protein. Cauliflower rice also contains considerably more potassium and calcium than white rice.
Nutritionally then, cauliflower rice wins out in most cases. Using it instead of white rice is an easy way to significantly decrease your calorie and carb intake – an effect that could even improve your health.
While brown rice contains more nutrients and fiber than white rice, it is still higher in carbs and calories than cauliflower rice.
Good For Weight Loss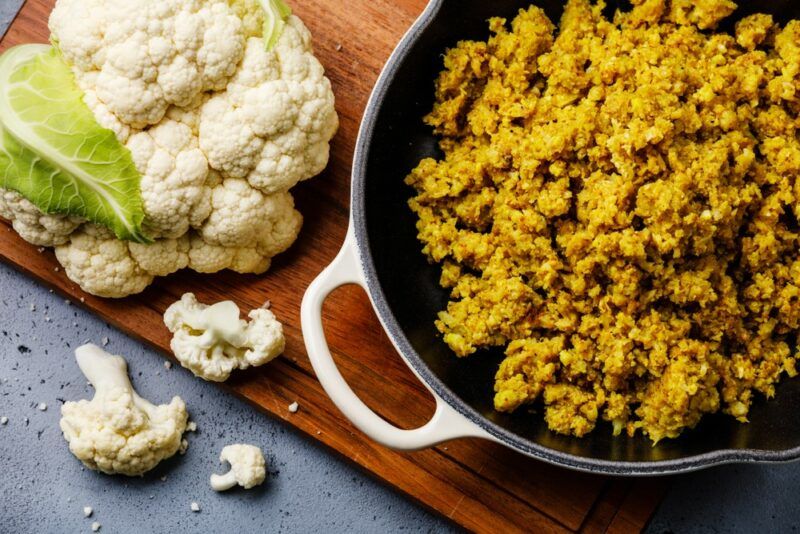 The combination of low calories and low carbs makes cauliflower rice a fantastic weight loss ingredient. This is particularly true if you swap regular rice for cauliflower rice, as you're immediately decreasing your calorie intake, while leaving the rest of your meal much the same.
Cauliflower rice is also very keto friendly, making it an excellent ingredient for anyone who wants to lose weight by following a keto diet.
What's not to love?
Is Rice Ever A Better Choice?
Most people will see more benefits from cauliflower rice than regular rice, but there are exceptions.
Anyone with a sensitive digestive system might need to stick to white rice, as this ingredient is very easy to digest, while cauliflower isn't. You might end up with a host of side effects from cauliflower and none at all from rice.
There are also times when you may need the carbs in rice to refuel. This is particularly true for athletes, who burn through their carbohydrate stores. High carb foods that are quickly digested can help replenish these energy stores.
Does Cauliflower Rice Taste Good?
Cauliflower rice doesn't taste like white rice. It doesn't have the same texture either. Not surprisingly, it tastes just like cauliflower, which means it has a mild and slightly sweet flavor.
The mildness isn't bad though, as this means that cauliflower rice works well with plenty of different sauces and ingredients. You can easily bury the slight cauliflower flavor too, so even people who hate cauliflower can enjoy cauliflower rice if they prepare it well.
That said, you need to choose the right cooking methods and recipes to make your cauliflower rice taste good. Browning it in a skillet with herbs, spices, and butter is a good technique, especially if your final recipe uses other flavor rich ingredients as well.
It also helps to think about cauliflower rice as an ingredient in its own right, rather than an alternative to rice. This way you're not constantly comparing the texture and flavor of the cauliflower to real rice.
Is Store Bought Cauliflower Rice Healthy?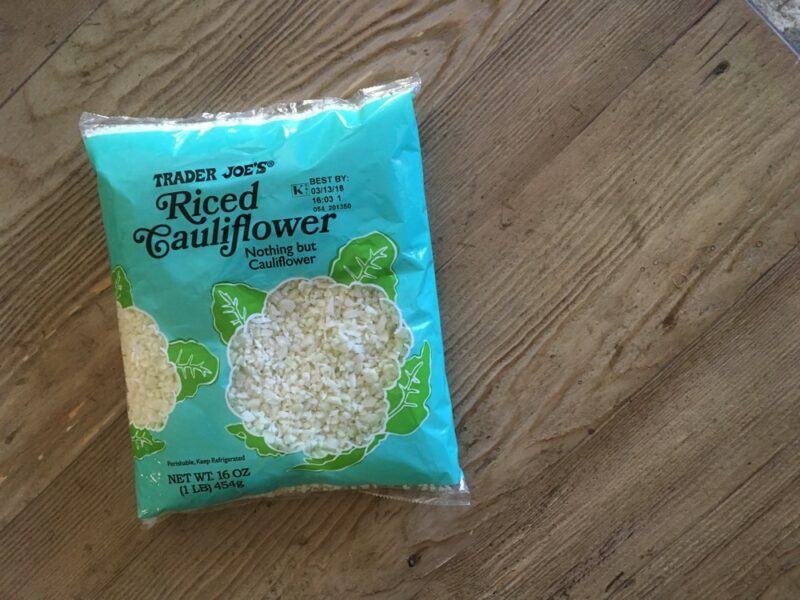 While cauliflower rice is easy enough to make at home, sometimes you mightn't have the time or energy to do so well. Many stores now offer an easy solution to this challenge by selling pre-packaged cauliflower rice. You just need to take it home and cook it.
Some of these products are fantastic, as they contain diced cauliflower and nothing else.
It's important to check the ingredients labels though. Some companies add extra ingredients, like rice flour. These ingredients might make the cauliflower rice taste better, but they can increase the carb content of your meal and often aren't needed.
Final Thoughts
Cauliflower rice can be fantastic. It provides plenty of nutrients, including vitamin C, along with fiber and some interesting sulfur-based compounds, while being low in carbs. Plus, cruciferous vegetables have already been linked to many health benefits.
The main issue is the FODMAPs in cauliflower, which can cause uncomfortable side effects for some people. If you are sensitive to FODMAPs, then you might need to avoid cauliflower or stick to small portion sizes.
Frequently Asked Questions
Where Can I Buy Cauliflower Rice?
Many grocery stores and health food stores now stock pre-riced cauliflower. Costco, Whole Foods, Target, and Trader Joe's are just a few places where you can find cauliflower rice.
Sometimes this is sold in the freezer section, while other times it's fresh instead. The frozen version should be just as healthy as the fresh one, but it's always important to check the ingredients label. Some products won't just contain cauliflower, but will also have unwanted additives or extra ingredients.
How Many Carbs In Cauliflower Rice?
Cauliflower itself contains three net grams of carbs per 100 grams and the same is true for cauliflower rice. This serving is roughly the size of a cup, so you're getting plenty of cauliflower rice and not many carbs.
How Do You Make Cauliflower Rice Taste Like Rice?
You can make cauliflower rice taste better by cooking it well and using spices. However, it's a vegetable and not a grain, so you can't make it taste like real rice.
In fact, it's often better to think of cauliflower rice as its own distinct ingredient, rather than a rice substitute. Doing this means you're not constantly expecting cauliflower rice to live up to real rice (because, seriously, it's never going to).
Is Cauliflower Rice Low FODMAP?
No. Cauliflower and cauliflower rice are high FODMAP ingredients that can cause notable side effects for anyone with IBS.
Regular rice is actually a better choice, as this is low in FODMAPs and is much easier to digest.
How Much Cauliflower Rice In A Head?
An average sized head of cauliflower should provide you around 6 cups of cauliflower rice, which is easily enough to feed a family of four, particularly if the rice is being used a side dish.