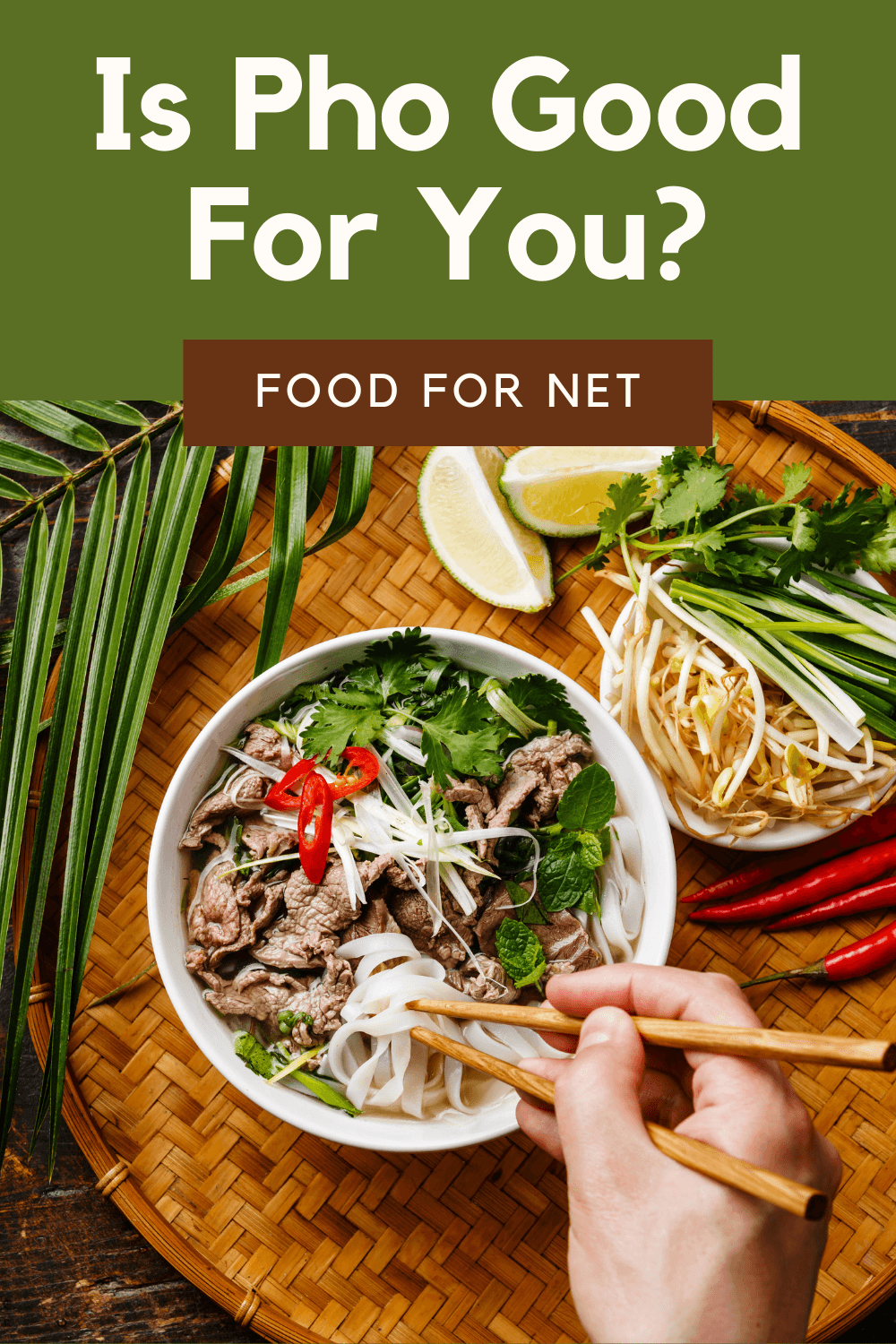 Pho is a delicious Vietnamese dish, one that we can now find in many American restaurants or even prepare at home. It's a famous soup, partly because it has a rich flavor that's difficult to beat. Plus, there are so many options for ingredients and garnishes, making it incredibly versatile. Is pho good for you, though?
It's easy to see how it might be, given that pho relies on a large variety of herbs, spices, and vegetables. It's an excellent source of protein as well and can keep you satisfied for hours.
There are problems too, ones that we need to talk about. For example, pho is often rich in protein and is sometimes served in incredibly large portions. Let's take a look, then, to see how the benefits and risks of pho balance out, to take a close look at whether pho is healthy or not.
Is Pho Good For You?
What Is Pho?
The Nutrients In Pho
The Benefits Of Pho
How Pho Could Be Harmful
Are Rice Noodles Healthy?
Can You Make Vegan Pho?
How To Make Pho Even Healthier
Final Thoughts
What Is Pho?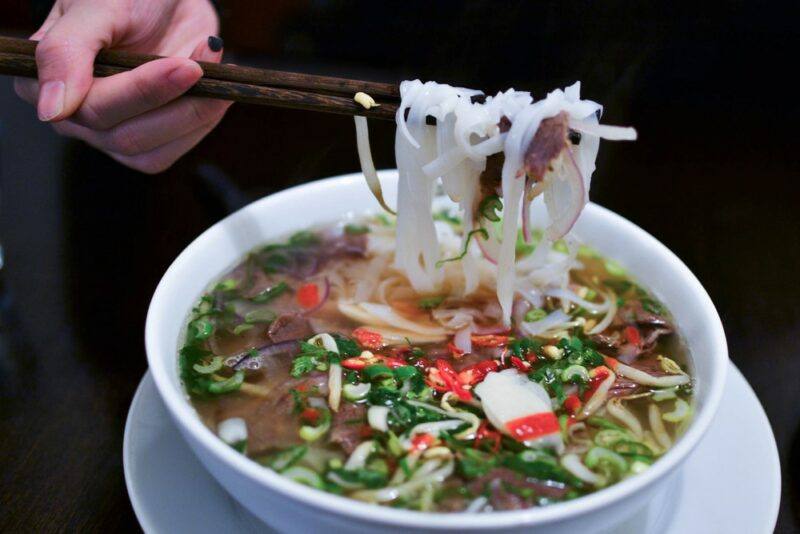 Pho is a traditional Vietnamese soup. It's named for the rice noodles that it contains, but the soup is most famous for its broth, which impacts a rich and distinct flavor.
Along with the broth and noodles, pho often contains thinly sliced meat. Beef is the most popular option, although other types of meat may be used instead. Finally, pho is normally served with a selection of toppings and condiments.
The sky really is the limit here. There's no end to different ways that pho can be made and each variation has its own benefits. Regardless, though, you end up with a hearty and wholesome meal, one that is perfect on cold days, when it will warm you from the inside out.
Not surprisingly, each of the ingredients in pho provides its own collection of benefits. You're getting protein from the meat, fiber from many of the toppings, along with antioxidants from the spices.
The Nutrients In Pho
Pho can use a wide variety of ingredients, giving you plenty of nutritional variations. In general, though, you're looking at around 350 to 500 calories for a bowl of pho, with a decent amount of protein, fat, and carbs.
The nutrient composition varies depending on the ingredients used, but there are always plenty of nutrients to go around, including B vitamins, potassium, selenium, zinc, iron, and many more.
There are also many plant-based compounds present, including antioxidants. These compounds can help to lower oxidation and inflammation throughout your body. They may also improve your immune function, decrease the risk of heart disease, and have many other positive effects on your health.
The Benefits Of Pho
Provides The Benefits Of Bone Broth
Traditional pho recipes rely on bone broth. This means that bones are simmered for a long time and the resulting broth forms the base of the soup.
Doing so gives pho the rich flavor that so many of us love. The process also extracts valuable nutrients from the bones, including amino acids, minerals, and fatty acids.
As a result, bone broth could improve your health in plenty of ways, leading to decreased inflammation, improvements to your joints, and stronger bones. Other types of soup are often less potent, as they don't get all the same nutrients from bones.
Contains Powerful Ingredients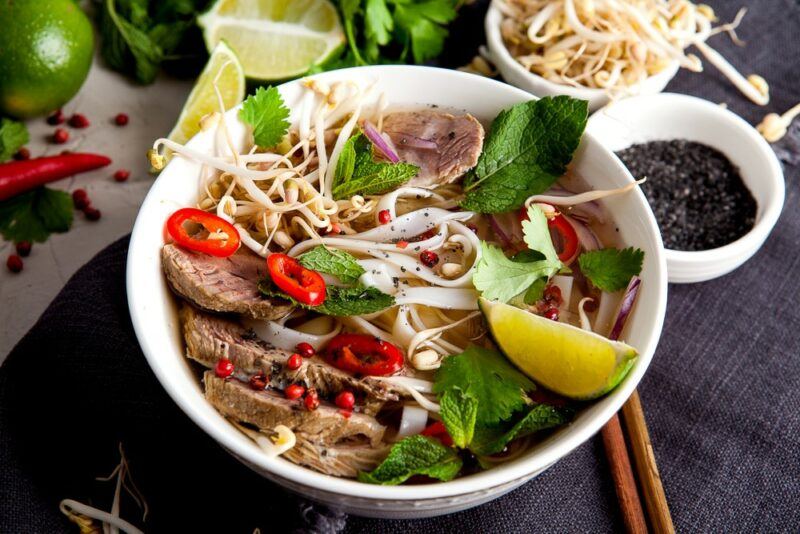 Pho also relies on many herbs, spices, and toppings. Ginger is a particularly common addition, although you'll often see ingredients like chilis, onions, coriander, basil, scallions, sprouts, and more.
These ingredients are all relevant for your health too. Take ginger, as an example. This little spice acts as a potent antioxidant. It can also decrease inflammation and help to balance blood sugar levels.
Chilis have been linked to benefits as well, partly because of the compound capsaicin. Capsaicin is responsible for the spiciness of peppers and may also boost your metabolism, support your immune system, and lower heart disease risk.
Even the humble onion comes with its share of benefits.
That's just a few of the ingredients. Every type of herb, spice, or plant included in pho provides nutrients and plant-based compounds that help your body function well.
Can Be A Decent Source Of Protein
Pho generally includes protein, often from meat, but sometimes from tofu or another plant-based ingredient. The protein is what helps to create a satisfying meal and is also important for your health.
After all, protein is crucial throughout our body, providing structure and performing countless functions. For our bodies to perform well, we need to be getting sufficient protein from our diet. Protein rich meals like pho are an easy way to do so.
You're Getting Some Fiber Too
The vegetables in pho provide you with some fiber, which is another very important feature. Fiber is essential in our digestive system. It is what keeps us regular. Fiber also feeds our gut bacteria, can help balance blood sugar, and lowers the risk of heart disease.
Yet, modern diets aren't fiber rich. Our focus on processed foods often means that we're simply not getting enough fiber. Sometimes we're far under the recommended amounts.
Pho isn't going to solve your fiber needs overnight. It can certainly help though, especially if you load it up with vegetables.
It's Minimally Processed
Pho isn't a highly processed food. It's not generally prepared ahead of time and packed with additives to keep it flavorful. Instead, you're normally preparing pho fresh, taking advantage of whole food ingredients.
This is a critical approach. After all, our diets are already packed with too many processed foods and additives. The more whole foods we can eat, the better.
Could Help You To Lose Weight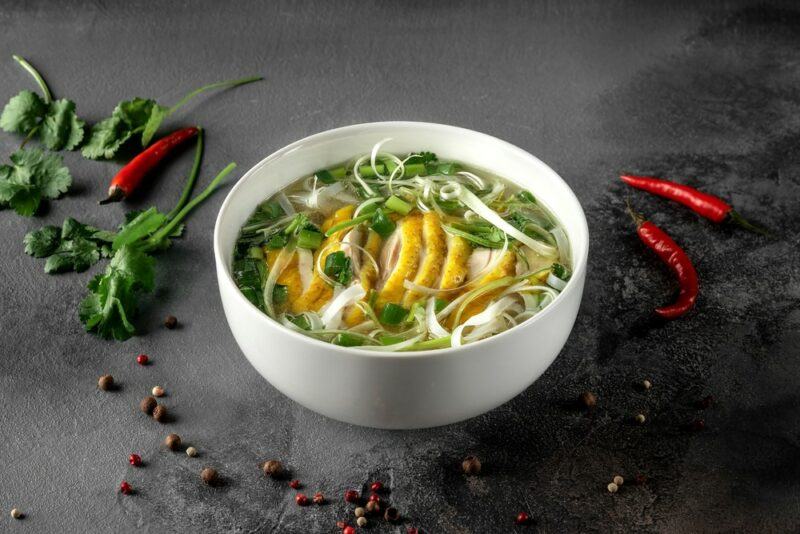 Pho could be helpful for weight loss too, as it is a satisfying meal that contains plenty of nutrients and is relatively low in calories. It isn't the lowest calorie food, that's true, but weight loss isn't just about minimizing your calories.
You still need plenty of nutrients, along with food that will satisfy you. Pho does all of this. A hearty bowl of pho should be enough to keep you going for hours, which is perfect. After all, diets that leave you feeling hungry all the time simply aren't sustainable, so they don't lead to long-term weight loss.
You can maximize the weight loss benefits by carefully choosing the meat used in your pho. Lean cuts of meat will provide you with plenty of protein, while keeping the amount of fat low.
Often Gluten Free
Pho is traditionally made with rice noodles, which are naturally gluten free. This is fantastic news for anyone who with celiac disease or a gluten sensitivity.
However, you'll need to check the ingredients, as there's always the chance that another type of noodle has been used instead.
How Pho Could Be Harmful
It's Very High In Sodium
Pho has one serious issue, the high sodium content. Seriously, you're often getting more than 1,000 mg of sodium in a single serving of pho – and shouldn't be having more than 1,500 mg of sodium per day.
Excess sodium is something to take seriously, as it can increase your blood pressure. This effect then raises your risk of heart disease.
Making things worse is the fact that most of us are already consuming too much sodium. After all, sodium is everywhere these days, particularly in processed foods. It takes no effort at all to overdo it with sodium, while keeping your levels low is much harder.
The Carb Content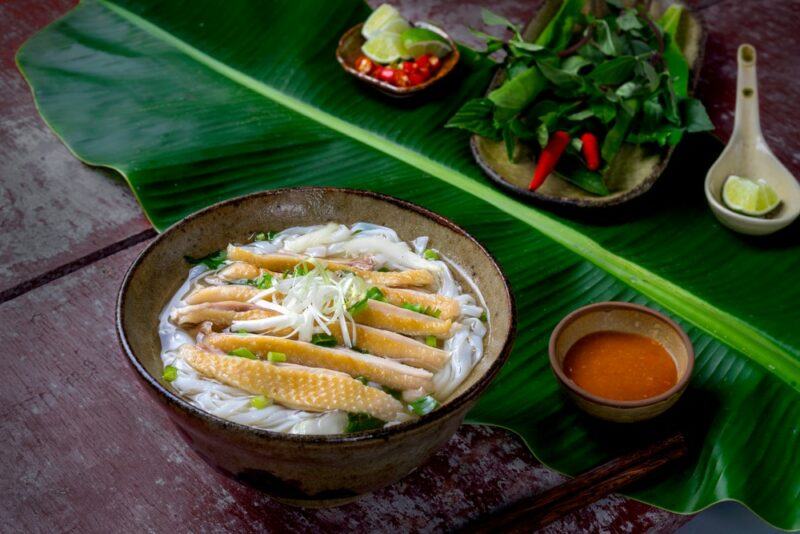 Because pho relies on rice noodles, it ends up being relatively high in carbs. You could easily get more than 20 grams of net carbs per serving, depending on how the pho is made.
This would be far too many carbs for anyone following a keto diet. You might even be blowing most of your daily allowance on a single meal. Similarly, anyone with diabetes or prediabetes may need to be careful with their consumption of rice noodles.
And, honestly, even if you're not focusing on low carb eating, the carb content per meal could easily be too much.
Carbs are concerning, as they're often linked to increased inflammation and may increase the risk of some health issues, including heart disease. High carb intake may even raise your risk of death, particularly if the carbs come from processed foods.
The source of carbs influences the health effects, with complex carbs offering you more benefits. Unfortunately, rice noodles are often made from white rice and tend to be low in fiber, making them a less-than-ideal source of carbs.
Can Be High In FODMAPs
FODMAPs are a group of compounds that sometimes ferment in our bodies. They're not a big deal for most of us, but people with irritable bowel syndrome (IBD) or similar conditions often get uncomfortable side effects from them.
Reducing FODMAP intake can often help to improve your digestive symptoms, making you feel much better.
If you are sensitive to FODMAPs, then traditional pho isn't a great choice. It contains many ingredients that could be an issue, including onions and garlic.
Thankfully, you can make low FODMAP versions by choosing the ingredients carefully. IBS Game Changer offers a recipe that cuts out most problematic ingredients. There are other low FODMAP pho recipes out there too.
Are Rice Noodles Healthy?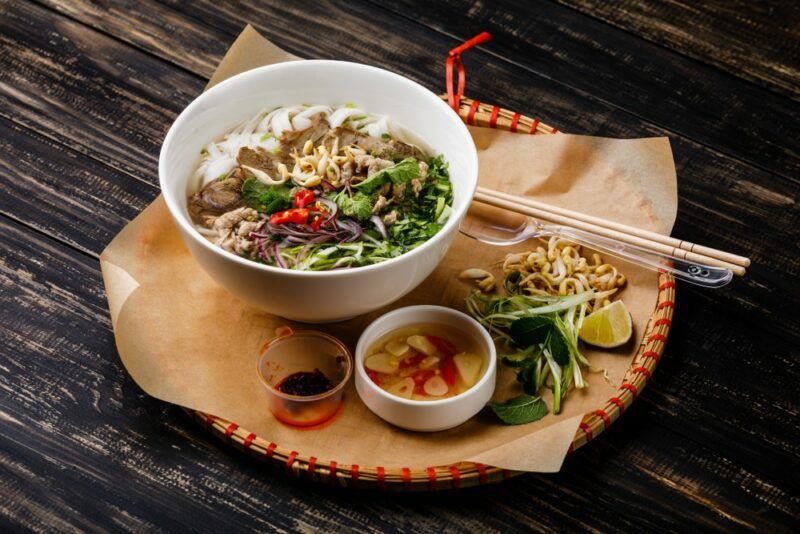 Pho relies on rice noodles, rather than wheat-based noodles. As the name suggests, these noodles are made from rice flour. They may be a healthier choice than wheat noodles, as they're naturally gluten free and are slightly lower in carbs.
Does this make them healthy though?
Well, noodles are never the best ingredients for you. Like other types of pasta, they're relatively low in nutrients and high in carbs – never an ideal combination. Rice noodles also have a higher GI than pasta, increasing their blood sugar impact.
Still, rice noodles aren't such a problem when you're eating them as part of a hearty meal, like pho. The other ingredients in pho help to balance out the carbs, reducing any spikes to your blood sugar levels.
Whether you see rice noodles as being healthy or not really comes down to what you think about carbs.
If you think that carbs are always a bad thing, then you might want to avoid the noodles. You could try making pho with shirataki noodles or zoodles instead. This would keep the carb content low, while still giving you the rest of the benefits of pho.
Can You Make Vegan Pho?
Pho often uses lean meat and is traditionally made using bone broth, features that make it unsuitable for vegans. However, you can make vegan pho by using vegetable stock and skipping the meat.
You might also include a plant-based source of protein to make up for the lack of meat, like fried tofu, snow peas, or tempeh. Many people include mushrooms as well, as these provide a rich meat-like flavor.
While vegan pho doesn't have the same features as meat-based versions, you still get many of the same benefits. There are some additional benefits too, as plant-based foods are powerful for health.
How To Make Pho Even Healthier
There are a few tricks you can take to make pho even better for you.
Try changing the noodles for a lower carb option, like shirataki noodles. This should lower the blood sugar impact of the soup, without decreasing any benefits.
Skip any ingredients you're sensitive to, such as onions or garlic.
Increase the amount of vegetables that you use and decrease the amount of noodles. This can make a huge difference, as the noodles provide relatively little nutrition and are high in carbs, while the vegetables offer valuable nutrients and antioxidants.
Focus on leaner cuts of meat, rather than fatty ones. Or, skip the meat entirely and use a vegan alternative.
Look for ways to cut the sodium content. Making your own stock can help here. If you're buying stock instead, look for a low sodium brand
Check the ingredients label of any pre-packaged pho carefully. Look for versions that use few additives and keep the sodium content as low as possible.
Watch your serving size as well, especially if you're eating out. Restaurants often give you excessively large servings. It's easy to eat the whole thing when it's right in front of you, which can mean you overdo it with sodium and calories.
If you're eating out, try resisting the temptation to eat all that's on your plate. Eat slowly instead and pay close attention to the sensations in your body. Stop eating once you start to feel satisfied or even a little before that point.
Final Thoughts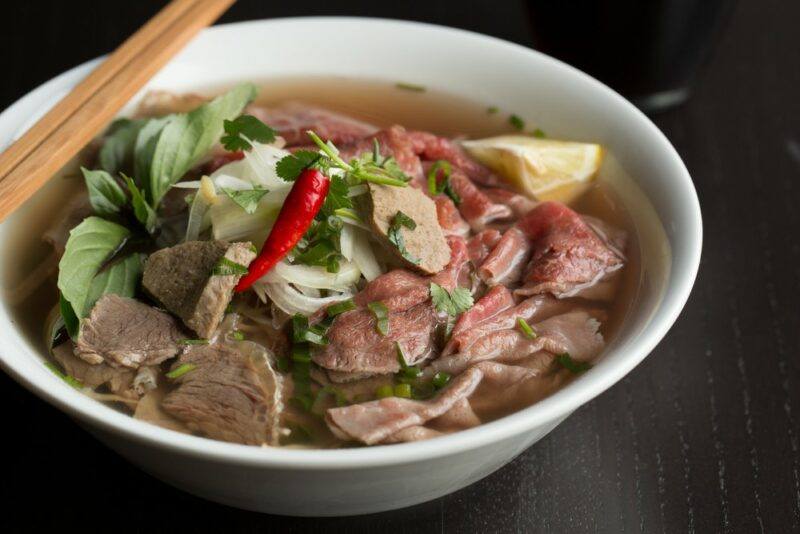 The carbs and sodium in pho may make the dish sound like a poor choice for health, but this isn't entirely accurate. Pho still has some powerful features, including how it relies on bone broth, the balance of macronutrients, and the focus on spices.
You're also getting a hearty meal that relies on whole food ingredients. In fact, pho will keep you satisfied for quite some time. That's a helpful feature that can help you stay on track with your eating and promote weight loss.
Besides, you can tweak the ingredients of pho to maximize the benefits, while keeping your risks low. For example, some pho recipes intentionally decrease the sodium content, while others cut out the high FODMAP ingredients. Don't worry about compromising the dish. Even if you change some ingredients, you'll still end up with a delicious and nutritious meal.
Frequently Asked Questions
Is Pho Gluten Free?
Pho relies on rice noodles, which should be gluten free. However, some ingredients can contain gluten, including beef stock or a soup base.
This means that any pho you order from a local restaurant might be gluten free or might not. Thankfully, you can easily make gluten free pho at home. You can also ask restaurants whether their version is gluten free.
How Many Calories Are In A Bowl Of Pho?
Pho varies a lot in calorie content. Some versions end up at around 210 or 215 calories per serving, while others get up to 350 to 450 calories or even beyond. The calorie content is strongly influenced by the ingredient used and the portion size.
Not surprisingly, pho served in restaurants tends to be high in calories (and sodium!), partly because the servings are always big. You can cut the calorie content down by making pho at home and choosing a decent recipe.
However, the high calorie content doesn't necessarily make pho bad. You're getting a lot of nutrition for those calories. The meal is pretty filling too.
Is Pho Keto Friendly?
The biggest problem with pho is the noodles, which are too high in carbs to fit onto keto. Some versions also add sugar into the broth, which you don't want.
You can make a non-traditional keto version of pho by changing some ingredients. This might include skipping the noodles entirely or using low carb alternatives, like shirataki noodles.
Is Pho Vietnamese?
Pho is famous as a Vietnamese soup and remains popular in the country today. Current theories suggest that the soup was invented in north Vietnam in the 19th or 20th century.
While there's a lot we don't know about the pho's history and the meals that inspired it, the noodle soup has become a point of pride for people in Vietnam and will be forever associated with the country.
Is Pho Good For An Upset Stomach?
Pho could indeed help with an upset stomach. This is partly because it's a warming and soothing dish, which is often just what you need. There's often ginger in it too. Ginger has a stellar reputation for settling your stomach.