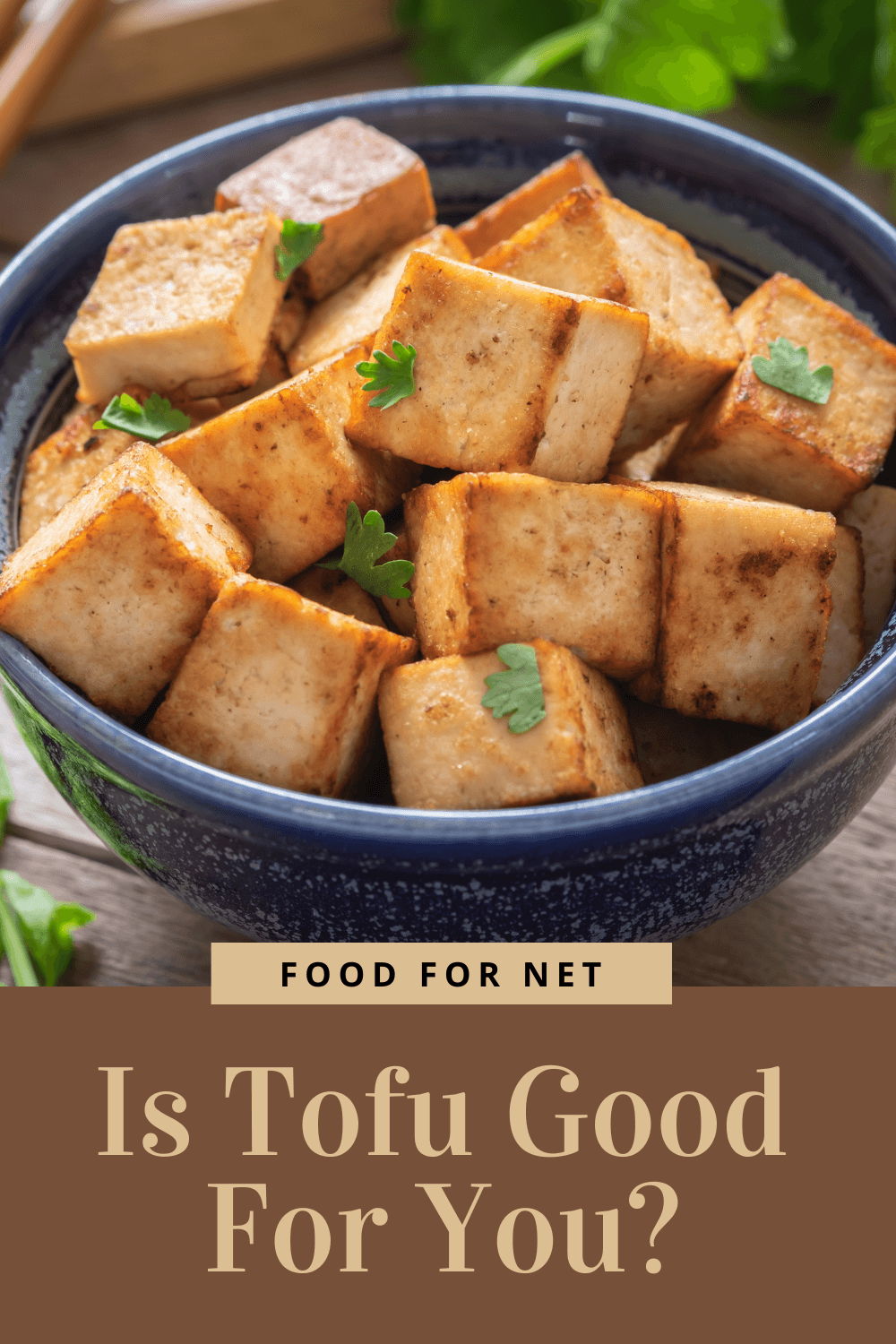 Some foods are clearly healthy, offering many nutrients and plenty of other benefits. Other foods, like tofu, are more debatable. While many people rely on tofu regularly and love it, others claim that it isn't a good choice – and might even be dangerous. So, which is true? Is tofu good for you or not?
Much of the debate is related to soy. Soybeans, and all the products made from them, are highly controversial. There are concerns about the presence of estrogen-like compounds, along with antinutrients and potential GMO modification.
On the other hand, tofu could be a healthy alternative to meat, one that helps you get the protein you need, without much cholesterol or saturated fat. Tofu is also versatile and can be used in many ways. So, let's take a close look at whether the good features or the bad ones win out.
Is Tofu Good For You?
The Benefits Of Tofu
The Potential Problems With Tofu
Types Of Tofu
How Do You Make Tofu Taste Good?
Is Tofu Safe?
Final Thoughts
The Benefits Of Tofu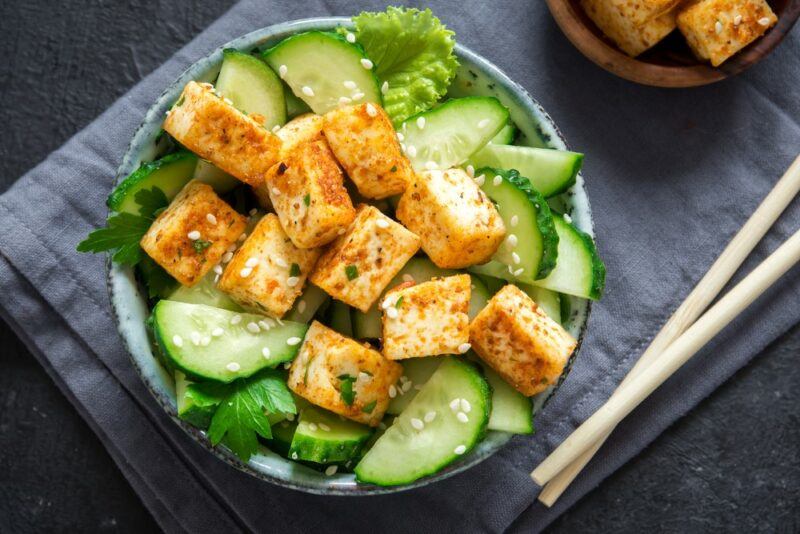 It's A Low Calorie Source Of Protein
Protein is essential for health. Without it, your body couldn't grow or maintain its tissues. Protein also helps you to stay full, which then reduces cravings for sugar and snacks, and helps to promote weight loss.
While you can get protein in plenty of places, tofu stands out as being an easy-to-access plant-based option. It's also lower in calories than many other proteins.
These features make tofu ideal for people who want to increase their protein intake without relying on animal-based protein. The low calorie content also means that tofu easily fits into most diets.
It's Low In Carbs
Tofu is made from a legume, so you wouldn't expect it to be a low carb choice. Yet – it is. This happens because the soybeans are first used to create soy milk, which is the base of your tofu. These processing steps lead to a different nutrient composition.
While the carb content varies somewhat, you're often getting around 1.5 net grams of carbs in a serving. This is low enough that even keto dieters can theoretically eat tofu.
That being said, there's some debate surrounding tofu on a keto diet. While many keto dieters do use tofu, others argue that it should be avoided because it is a legume.
Inexpensive And Versatile
Tofu is one of those perfect cooking ingredients, as it's much less expensive than meat and is more versatile too. The versatility comes from the fact that tofu is bland. More than that, it has no flavor.
This is a good thing, as tofu easily takes up other flavors. So, you can include it in any type of dish that you can imagine.
That's not an exaggeration either. Tofu is used in so many different meals that it all seems a little absurd at times. You'll even see tofu included in smoothies, not to mention Asian-style dishes like Orange Teriyaki Tofu and Chili-Garlic Tofu.
It's A Complete Protein Source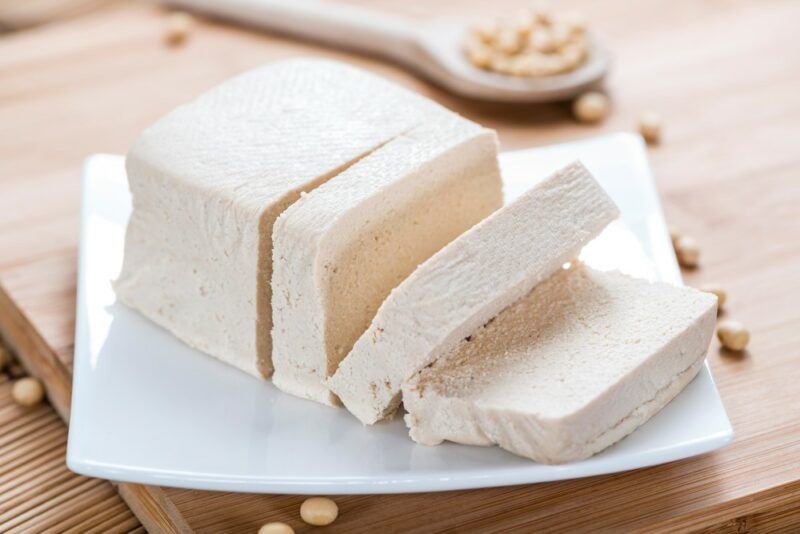 Tofu is a soy product and soy isn't just a source of protein, it's also a complete protein. This means that it contains all of the essential amino acids that our bodies need and cannot produce themselves.
Animal-based proteins, like meat, chicken, eggs, dairy, and fish are complete proteins too. However, most plant-based foods don't contain complete proteins. Soy and quinoa are the main exceptions to that rule.
As such, soy is one of the easiest ways to make sure you're getting all the amino acids that you need.
Can Promote Health
Soy products have been linked to a variety of benefits, including decreasing the risk of breast cancer and lowering heart disease risk. This is particularly true if you're heaving soy instead of less heart healthy options.
Plus, there's plenty of evidence that diets rich in plant-based foods are beneficial, decreasing your risk of disease and perhaps even helping you to live longer. Soy and tofu may not be any more powerful than other plant-based options, but they're still helpful.
Can Be A Healthy Replacement
Tofu and other soy products are most powerful when you're using them instead of less healthy foods. For example, having tofu instead of red meat could help to decrease your risk of cancer, heart disease, and obesity, especially if your red intake was previously high.
This effect isn't surprising, as there are concerns surrounding red meat and it does contain more saturated fat and cholesterol than soy products.
You don't need to go on a full vegetarian diet to see benefits either. It may be enough to simply have plant-based foods like tofu a little more often and red meat a little less often.
The Potential Problems With Tofu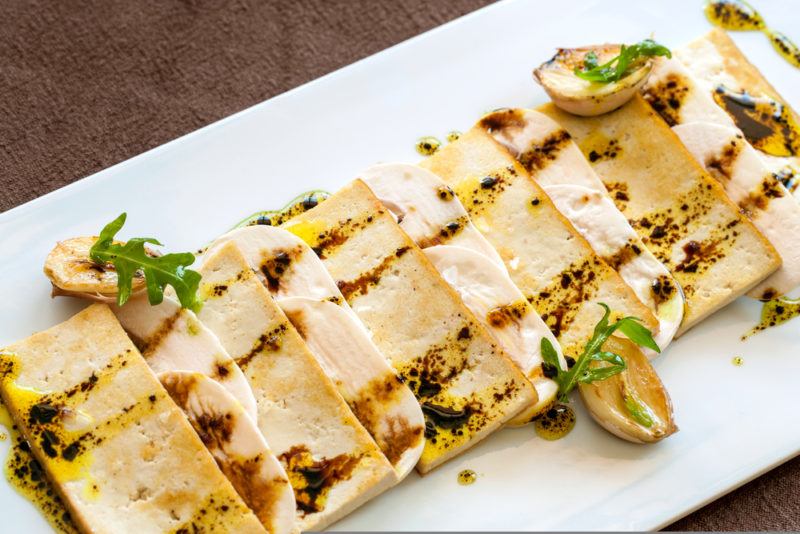 It Is Made From Soy
We can't talk about tofu without mentioning the elephant in the room – soy.
Soy is one of those complicated foods, like coconut oil and butter, where it's hard to know what to think. There's plenty of evidence for benefits of soy and many populations rely eat soy regularly without any apparent problems.
Yet, there are plenty of potential issues too.
Some of these comes from the isoflavones in soy, which have some estrogen-like effects in the body. These effects vary depending on the context, but there is the potential for harm.
Soy also contains antinutrients. These may influence your nutrient absorption, meaning that you get fewer benefits from the food you eat. Some companies sprout the soybeans before producing tofu, which decreases the antinutrient content. However, not all companies do this.
Plus, soy is often genetically modified, which is another controversial area.
What these areas mean for health is impossible to say. Most studies have found plenty of benefits from soy and little evidence for negative effects. Still, research has its limits and sometimes misses effects, especially if they only apply to parts of the population.
There are also countless soy-based foods, including tofu, tempeh, soy milk, soy flour, and soy protein powder – not to mention all the products that use these ingredients (like many vegan meat alternatives).
It's easy to consume a lot of soy without thinking about it, especially if you're on a vegetarian and vegan diet.
Eating large amounts of any type of food isn't a great plan. Varied diets are much more powerful. The controversies surrounding soy reinforce the importance of mixing things up.
It's Processed
Tofu is made from condensed soy milk that is then coagulated and pressed to create large white blocks. And, of course, soy milk needs to be made from soybeans before that.
These steps make tofu fairly processed. Some companies use additives as well to improve the texture or flavor. Diets high in processed foods and additives are never a great option for your health.
Choosing organic, non-GMO tofu that doesn't rely on additives is your best option. Even then, you might get more benefits from a less processed soy product, like tempeh.
It Isn't A Superfood
At one point, soy products were seen as powerful ways to decrease cholesterol, promote weight loss, lower hot flashes, decrease osteoporosis, and much more. These days, claims around soy are much less dramatic. Even the American Heart Association has stopped promoting soy as part of a heart healthy diet.
Eating soy instead of less healthy foods is still beneficial. There's no denying that.
As for soy on its own, well, most of the claims have been overblown. There may be some effects on cholesterol levels, weight loss, and the rest, but these effects will be small. At the same time, the nutrients and protein in soy are far from unique. You can get the same benefits from plenty of other ingredients.
This doesn't make soy unhealthy, not at all. It simply means that products like tofu are just one option. There are many nutritious foods out there. You'll get the most benefits by eating a variety of these, rather than just focusing on your favorites.
Types Of Tofu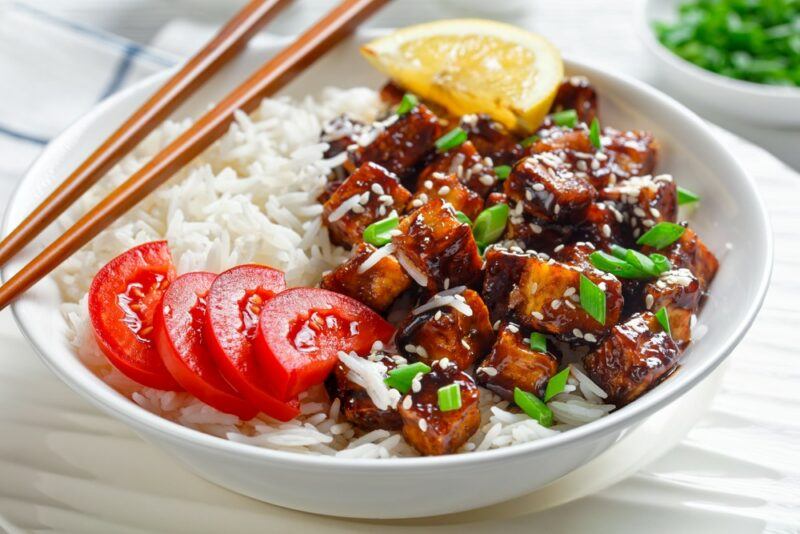 There are multiple types of tofu, which can be confusing if you've never bought tofu before. Plus, the different types are used in their own ways, so you can't simply swap one for the other.
The main difference between the types is how much they have been pressed, which influences how much moisture is left in the tofu. The more your tofu is pressed, the firmer it becomes. This also increases the amount of protein and fat per serving.
From least firm to most firm, some of the most common types of tofu include silken, soft, medium, firm, and extra firm. You may see super firm from time to time as well.
Silken tofu is a category of its own, as it is unpressed and undrained. It ends up with an almost custard-like texture, which is why you often see it in desserts and sauces. There are different types of firmness here too.
Recipes will often tell you the type of tofu that works best with the dish. You can easily play around too. You might prefer a different firmness than the recipe suggests.
Indeed, the firmness of your tofu is partly a matter of personal preference. Most people prefer some types levels of firmness over others, but it often takes experimentation to find the right fit for you.
How Do You Make Tofu Taste Good?
Tofu can be a little tricky. Because it doesn't have much flavor of its own, it will readily take on the flavors of your other ingredients. This makes it fantastic for cooking with.
It's also easy to end up with tofu that tastes simply awful. Thankfully, there are some easy ways to make sure your meal turns out perfectly every time.
Use a decent recipe. The quality of your recipe influences everything else. If you're new to using tofu, look for a recipe that isn't overly complicated. Make sure that it gets good reviews too.
Choose the right type of tofu. You can't just use any type of tofu with any recipe. Most of the time, the type specified in the recipe will give you the best results. If you know the type of tofu you enjoy the most, try looking for recipes that use this type.
Press your tofu. Unless you're using silken or extra firm tofu, pressing your tofu will improve the texture and make it cook faster too.
Marinate your tofu. Marinating is one of the best ways to infuse your tofu with flavor. The trick is to do so for long enough. Don't just marinate for a few minutes before cooking. 30 minutes is the bare minimum while marinating for four hours or even overnight is much better.
Use some sauce too. Marinating tofu notably increases the flavor, but it isn't always enough. Using some type of sauce with your dish can make a huge difference, making your meal and tofu taste so much better. You often do the same thing with meat, so why should tofu be any different?
Try blending it. Blending tofu is an easy way to hide it in your dish. Doing so often gives you a very smooth texture, while the flavor of the tofu itself is almost unnoticeable.
Get creative. The most basic option is to use cubes of tofu in a dish, along with ingredients like rice or stir-fried vegetables. However, that's far from your only option. There are many other ways to use tofu too. Tofu can even be an ingredient in smoothies, mac and cheese, cold pasta salads, and many more recipes. Don't be afraid to experiment with ingredients and approaches. It shouldn't be long before you find some meals that you'll love.
Is Tofu Safe?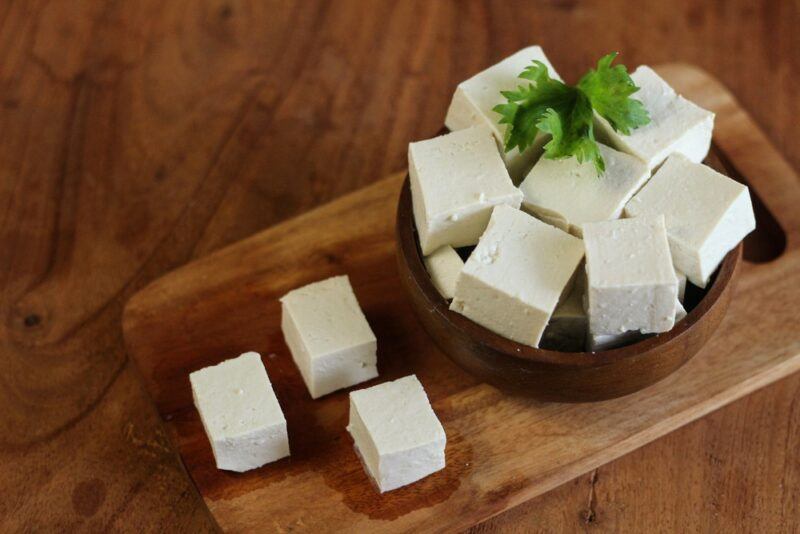 Despite all the concerns about soy, current research suggests that soy products should be safe and even beneficial for most of the population. Even so, it's important to pay close attention to your own body, including any responses that might be hormonal.
Keeping a food diary can help, especially if you track the way you're feeling and any symptoms at the same time. This way you can identify any problems early on.
And, if you think soy might be an issue, you can easily cut your tofu intake down or give it up altogether. After all, tofu isn't that exciting. You can get protein and nutrients from plenty of other places, including legumes (which are also less processed).
Final Thoughts
Despite the controversies surrounding soy, tofu does have many benefits. It's a useful vegan meat alternative, one that's low in calories and offers a decent amount of protein. It's also a versatile ingredient that you can use in many ways and in countless different recipes.
Plus, there's little scientific evidence for any of the concerns surrounding soy. Instead, studies generally find that diets rich in plant-based foods, including legumes, tend to promote health in a myriad of ways.
If you are at all concerned, the trick may be to cut down your soy intake, rather than get rid of soy entirely. This might involve using tofu as a meat alternative some of the time and picking a different product for other meals.
Frequently Asked Questions
Can You Eat Tofu Raw?
Silken tofu is designed to be eaten raw and is a fantastic ingredient in desserts. However, other types of tofu can be eaten raw as well. All you need to do is drain the liquid from the packaging.
You'll need to be cautious about food hygiene too. Ensure all utensils and surfaces have been thoroughly cleaned so there are no bacteria to contaminate your tofu.
Does Tofu Have Carbs?
Tofu is a low carb ingredient and even fits onto a low carb diet. There are some carbs, though. For silken tofu, you're looking at 1.4 grams of carbs per 100 grams. Soft tofu is a little higher at 2 grams per 100 grams, while firm tofu has 2.3 grams and extra firm tofu has 2.6 grams instead.
These levels of carbs aren't anything to worry about. After all, you don't need to cut all carbs out of your diet. Even on a keto diet, carbs still have their place.
Is Tofu Gluten Free?
Tofu itself is gluten free. Despite this, many tofu products contain gluten. Some of this gluten comes from cross contamination. Other times, it is the result of flavoring ingredients, like soy sauce (which often contains gluten).
Companies that focus on gluten free products should use a gluten free label. If you're sensitive to gluten, look for this label and avoid other types of tofu.
Does Tofu Go Bad?
Yes, tofu does go bad. And eating expired tofu isn't a good idea at all. Thankfully, bad tofu is easy to spot. It tends to be darker than fresh tofu and often has a sour smell as well.
Most of the time, you have two or three months to use your tofu, as long as you store it well. If in doubt, follow the expiration date on the pack.
Once the tofu has been opened, it needs to be stored in the fridge and will only last three to five days. Cooking the tofu adds a few days to the shelf life, but that's it. You shouldn't ever be eating opened tofu after a week has passed.
Is Tofu Keto Friendly?
Tofu is a fantastic keto choice, as you're getting hardly any carbs in a 100 gram serving. Once you exclude the fiber, a half cup serving of tofu gives you less than 2 net grams of carbs.
That's pretty impressive, especially for a high protein and versatile ingredient.