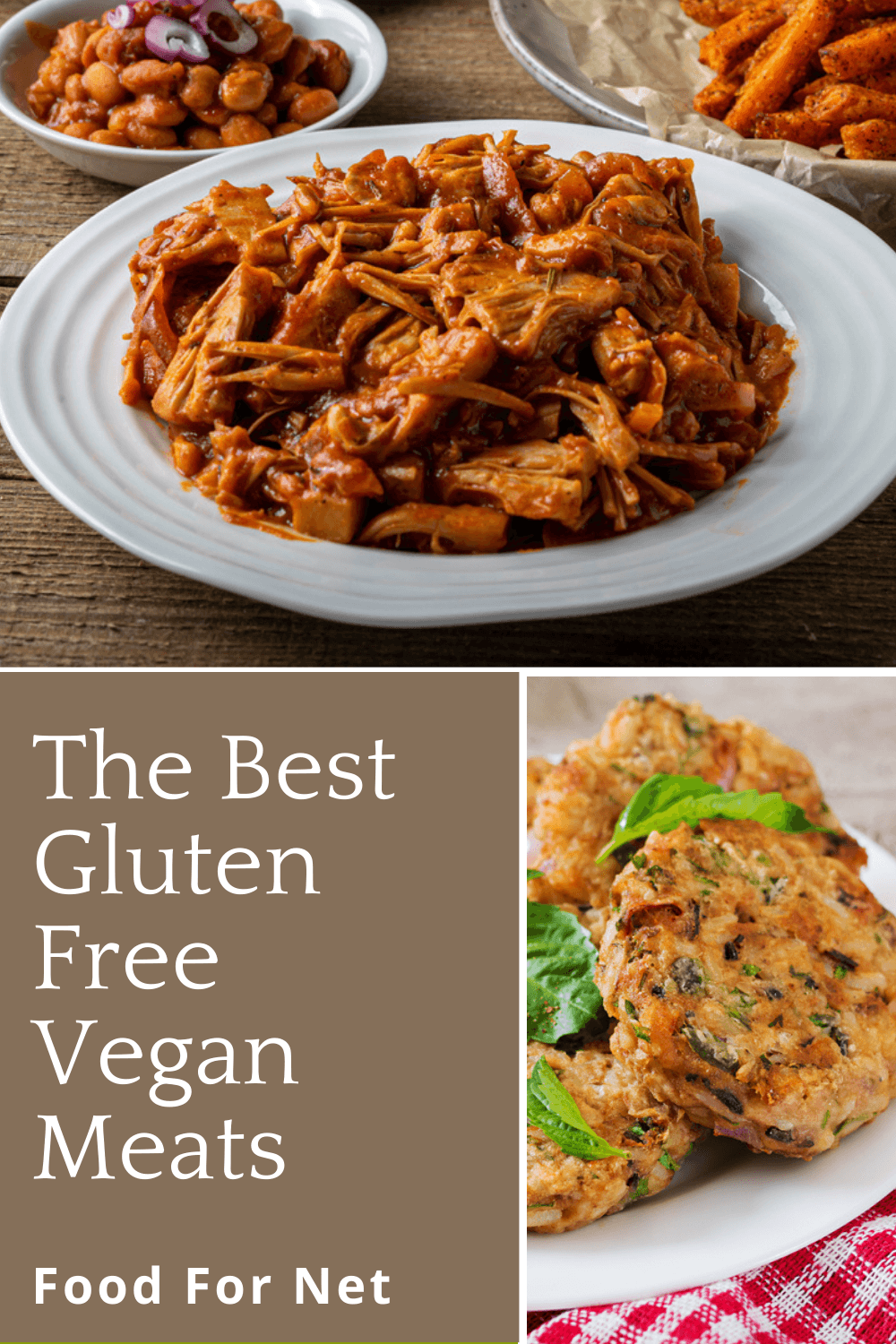 Following a vegan diet means that you're avoiding meat entirely, along with any other animal products. Doing so becomes easy with a little practice, but what if you need to avoid other ingredients too, like gluten? Avoiding gluten on a vegan diet becomes complicated when you're buying prepared foods, like vegan meat alternatives. To keep yourself healthy, you'll need to choose carefully and look for gluten free vegan meat products.
After all, many vegan meat alternatives aren't gluten free at all. Some, like seitan, heavily rely on wheat, so they're packed with gluten. Others might use wheat or another gluten-based ingredient as a filler.
So, in this list, we're taking a close look at meat alternatives that are entirely free from gluten. Some of these are processed and can be purchased from the store. Others are unprocessed. The unprocessed products are often healthier, but they have disadvantages too, as their taste and texture might be quite different than meat.
The best product for you will depend on your needs. Thankfully, there are plenty to choose from, so you're certain to find a few good options.
For more ideas about vegan eating, check out our lists of vegan party foods and vegan sources of protein.
The Best Gluten Free Vegan Meats
Soy Products
Gardein
Beyond Meat
Amy's Organic Sonoma Veggie Burger
Sunshine Plant-Based Foods
Atlantic Natural Foods
Noble Plate
Hilary's
Uncut
Lightlife
Textured Vegetable Protein
Yves Patties
Mushrooms
Jackfruit
Homemade Products
Soy Products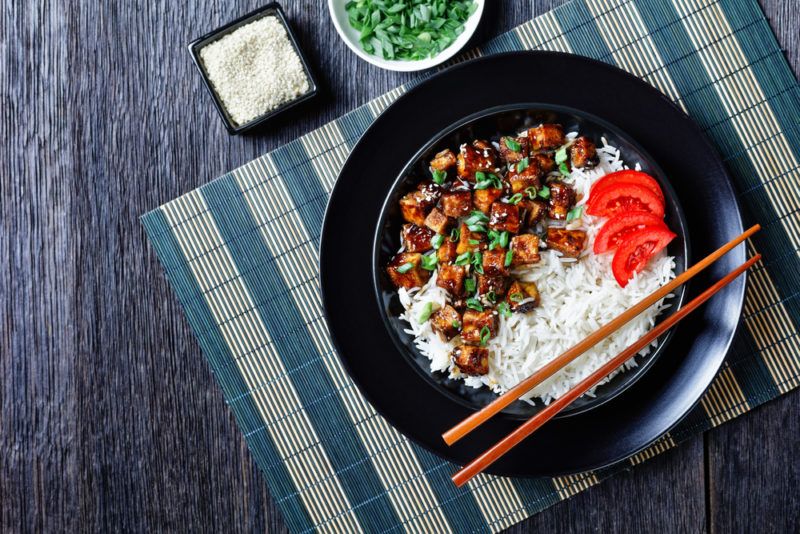 Soybeans are a legume, so they don't contain any gluten. They're also a natural choice on a vegan diet, partly because there are so many of soy products to choose from.
Tofu is one of the most well-known choices. It might not look or taste like meat, but you can cut tofu into pieces and use it just like chicken or pork in countless meals. This feature alone makes tofu a powerful addition to your diet.
Plus, tofu takes on the flavor of your other ingredients, which makes it an easy choice for many recipes.
There's also tempeh. This is a fermented soybean product. It's less processed than tofu and has a slightly nutty flavor.
There's another advantage too. Tempeh can be molded into different shapes, so you can use it as an alternative to meatballs, in tacos, or in many other ways. Few other meat alternatives can be molded like this.
We can't forget about all the processed soy-based processed meat options either. Many of these are gluten free, but you'll need to check the ingredients label carefully. Some products use wheat ingredients as fillers or additives, so some soy-based may contain gluten.
Gardein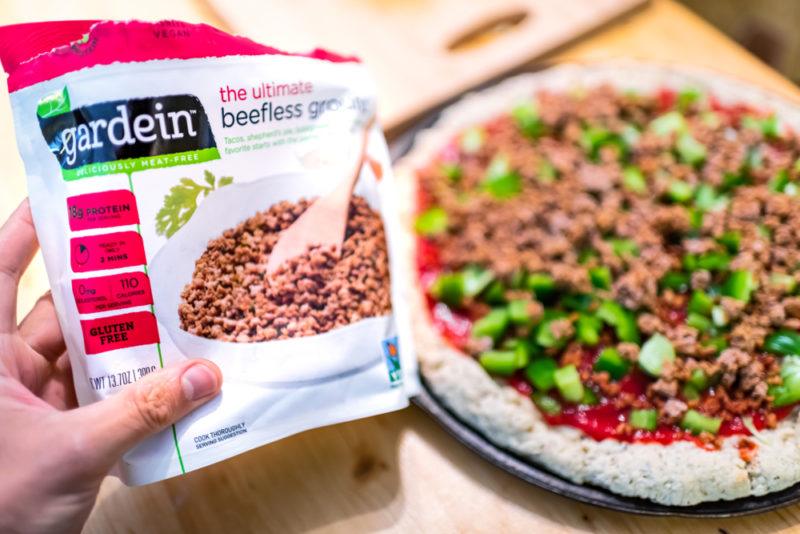 Gardein is a big player in the vegan meat world. They offer many different products, including ones designed to mimic chicken and turkey, beef and pork, and fish. They even have full meals, soups, and jerky.
One of their most popular products is their Chick'n Scallopini, which also happens to be gluten free. Reviewers often talk about how similar the product is to chicken and how it can be used just like the real thing.
There are also some gluten free beef-like products, including their Garden Veggie Burger, Chipotle Black Bean Burger, and Beefless Ground.
Let's be clear though, Gardein's products taste similar to the real deal because they are heavily processed. Many of them use soy too, so they won't be a great choice for anyone who is avoiding that legume.
The pattern is a common one – products that look and feel like real meat will often be heavily processed and may rely on additives or unappealing ingredients. After all, it takes a bit of work to make plant-based ingredients resemble meat.
Beyond Meat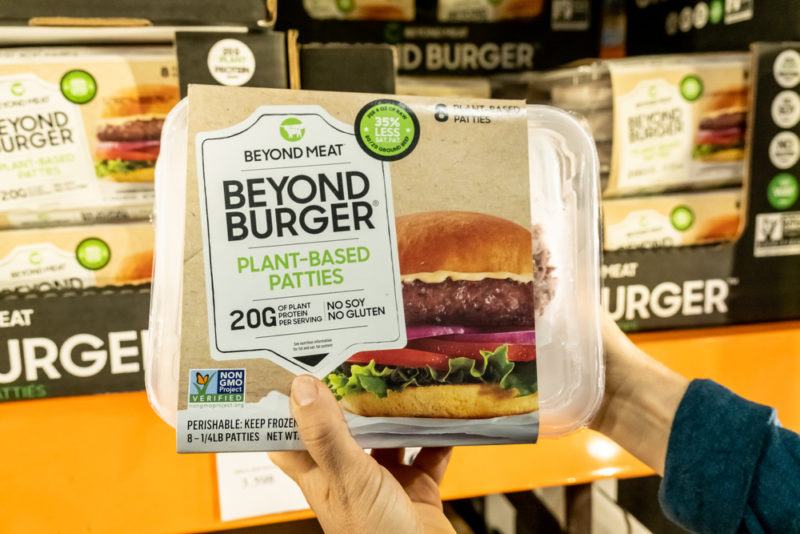 Beyond Meat has a simple goal – to create meat from GMO-free plants. Their products rely on protein from peas, mung beans, faba beans, and brown rice, while they use coconut oil, cocoa butter, and canola oil as their main sources of fat (the canola oil is not chemically processed).
While the products are still highly processed, the focus on whole food ingredients makes them healthier than many other options on the market.
Another cool thing is that Beyond Meat avoids both soy and gluten. This is seriously impressive, as soy is such a common ingredient in vegan meat products.
Beyond Meat's products tend to get good reviews and even feature in many 'best of' lists. Some people don't like them, but that's to be expected. After all, we all have flavors and textures that we like and others that we don't. No product is going to please everyone.
Amy's Organic Sonoma Veggie Burger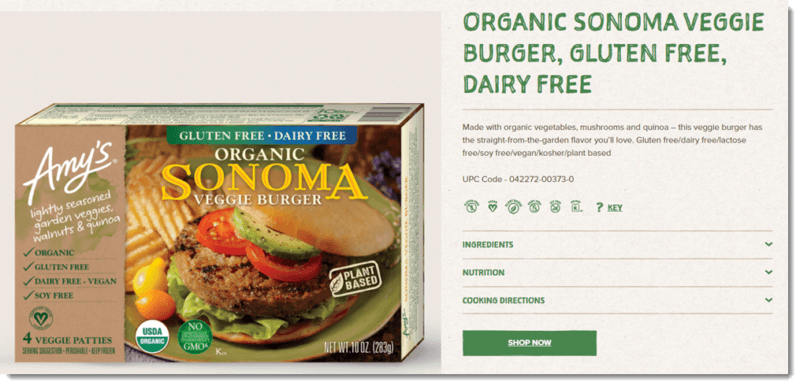 Amy's offers a variety of vegan products, including meals and some meat alternatives. However, you'll need to choose carefully if you want a gluten free product.
Their Sonoma Veggie Burger is one of the best choices. It relies on quinoa, walnuts, beans, mushrooms, oats, and potatoes as the main ingredients, along with other ingredients for flavor. It's completely free from gluten and soy, although the use of walnuts makes it a poor choice for anyone with a nut allergy.
The same company offers an Organic Summer Harvest Veggie Burger too. This one focuses more heavily on veggies, but it isn't being produced much currently, due to social distancing and COVID-19.
Sunshine Plant-Based Foods


Sunshine isn't a great brand for versatility. They only offer four products, which are all burger patties. There's the original flavor, along with South West, Shiitake, and Garden Herb.
Still, if you're looking for burger patties, these can be a good choice. For one thing, the patties are frozen and individually wrapped, which makes them convenient. You could easily just thaw one patty at a time, as you need them.
The products are all non-GMO verified, free from gluten, and free from soy. The Garden Herb flavor is also USDA certified organic, although the other three flavors aren't.
Brown rice and sunflower seeds are the main ingredients for each burger, while other ingredients vary from one type to the next. For example, the South West burgers use black beans and jalapenos, while the Shiitake ones use shiitake mushrooms and quinoa.
Of course, the nutritional profile isn't the same as meat. The Shiitake burger, for example, contains 20 grams of carbs (9 net grams of carbs) and just 7 grams of protein per patty.
Atlantic Natural Foods


Atlantic Natural Foods offers an interesting variety of products, including meat replacements and meals. Some of these come in cans, while others are served in pouches instead and just need to be microwaved.
Gluten free eaters will need to focus on the products that come in pouches, including Loma Linda Sloppy Joe and the Neat Meat Replacement Mix. These ones tend to be gluten free and are vegan-friendly. In contrast, many of the canned products aren't gluten free and some are only suitable for vegetarians, not vegans.
The Neat Meat Replacement Mix is particularly interesting. This comes in a shelf-stable package and can be cooked just like ground beef. The ingredients list is relatively short, with pecans, garbanzo beans, and whole grain oats as the main ingredients.
Noble Plate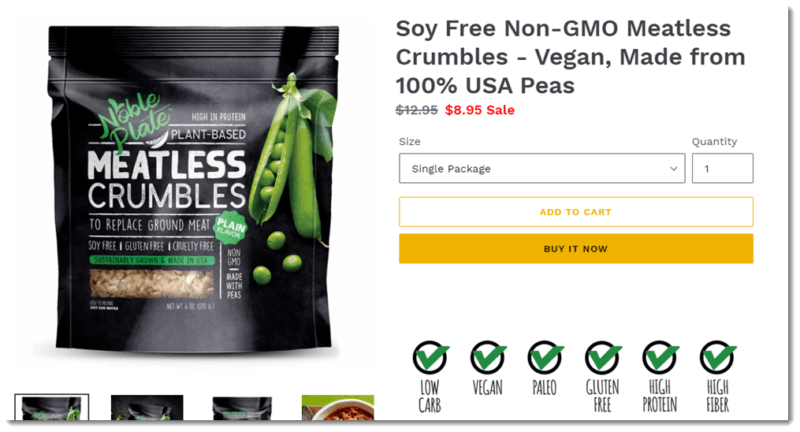 This company appears to have just one product – their Meatless Crumbles. The crumbles are designed to act as a ground meat replacement and do the job surprisingly well.
The product is unusual, as it relies on a single ingredient – non-GMO pea protein. As a result, the Meatless Crumbles are naturally shelf-stable, soy free, and gluten free. Plus, there are no additives to worry about.
The protein has a neutral flavor and easily takes on the flavors from other parts of your meal – just like tofu. The feature makes it perfect as a meat replacement.
We need to talk about the protein content too. Vegan meat products often contain less protein and more carbs than meat. This is why some vegans inadvertently end up eating a high carb diet. The crumbles from Noble Plate are an exception to that trend, as a 1.5 cup serving contains no net carbs and 45 grams of protein.
Hilary's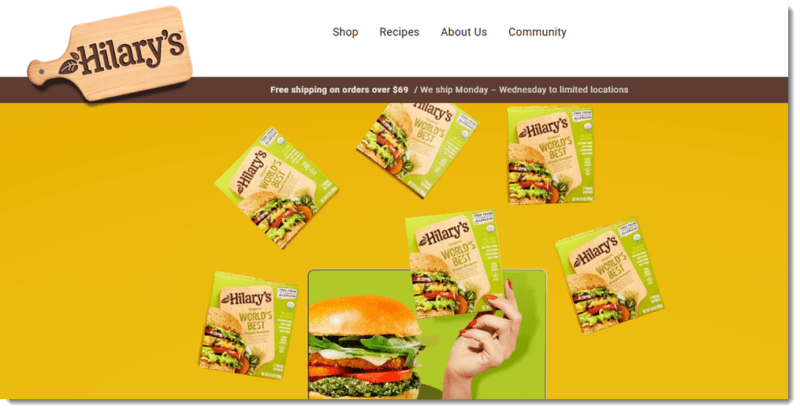 Hilary's sells eight types of veggie burger, including flavors like Spicy Thai, Hemp & Greens, Root Veggie, and Adzuki Bean, along with two types of veggie breakfast sausage.
All of the foods from Hilary's are free from 12 common food allergens, including gluten, dairy, egg, soy, nuts, and shellfish. The company avoids using artificial ingredients and additives too. So, you know that all the products are nutritious.
The ingredients vary across products, but common examples are beans, millet, sweet potatoes, red pepper, kale, and onions.
Uncut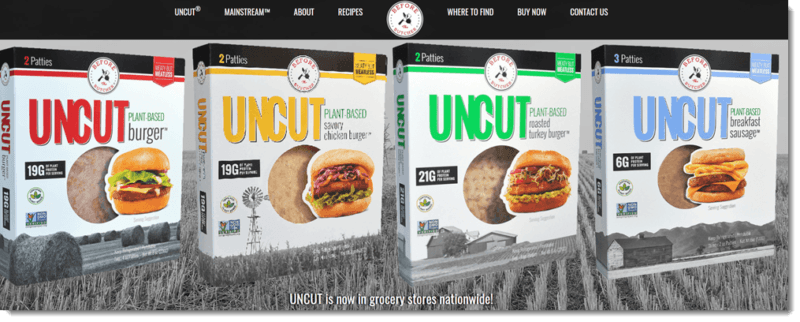 While Uncut is a relatively new entry to the field, you can find their products at some local grocery stores. They have two main lines. The first is plant-based burger patties, designed to mimic different types of meat, like chicken, turkey, red meat, and breakfast sausage.
Then you have 14 oz packets of ground plant-based protein. These products can be used in the same way as ground meat.
All of the products are high in protein, non-GMO, and gluten free. However, there are some additives used and the meat is soy-based. So, once again, you'll need to decide whether the benefits of the 'meat' outweigh the disadvantages.
Lightlife

It's hard to go past Lightlife if you want a broad selection of products. Their range includes options like burgers, ground 'meat', sausages, breakfast links, hot dogs, Mexican crumbles, tempeh, and even some lunch meat alternatives.
The products hit into some controversy in the past, as Lightlife once used egg to help improve texture – making some of the products vegetarian friendly but not vegan friendly. Thankfully, the brand has now transitioned to a vegan model, so you won't find egg in any of their products.
Lightlife also avoids soy entirely and rely heavily on pea protein instead. This makes the products a decent source of protein. For example, you get 20 grams of protein in one of their plant-based burger patties. That's an impressive amount for a plant-based product.
Textured Vegetable Protein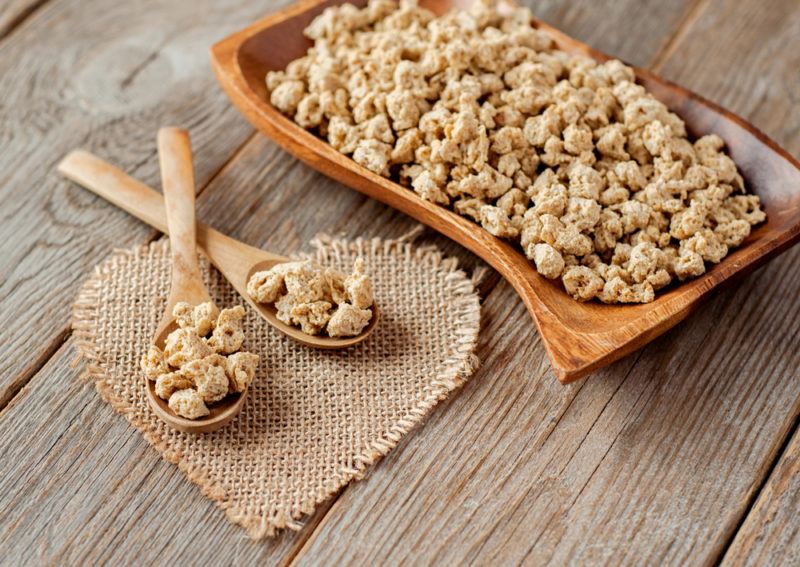 Textured vegetable protein, or TVP for short, is a classic meat alternative that is still used today. It's promoted as a complete source of protein that's low in fat.
TVP is made from soy flour that has been defatted, cooked under pressure, and finally dried. This makes it naturally gluten free. Some companies, like Bob's Red Mill, prepare the flour in gluten free facilities and test it regularly to ensure there's no contamination.
How you use TVP depends on the type that you buy. For example, small flakes can be easily mixed into meals, while larger chunks can be used directly as an alternative to ground meat.
The protein is an easy choice for cooking too, as it absorbs the flavors of your other ingredients, much like tofu does.
Of course, TVP is a soy-based product, so it's only helpful if you're happy to have soy in your diet.
Yves Patties


Yves has a decent range of plant-based meat options, including burger patties, hot dogs, and more. However, you'll need to check the ingredients label carefully, as only some of the products are gluten free.
Keep an eye on whether there are any animal products used too. While Yves focuses on plant-based products, these aren't all vegan-friendly as well.
One stand-out choice is the Gluten Free Veggie Burger. This is a veggie patty that uses textured soy protein concentrate as the main ingredient. Soy protein isolate features too, along with a variety of other ingredients for flavor and texture.
There's also Kale and Root Vegetable Patties. These aren't marketed as vegan-friendly, but they don't appear to contain any animal products.
Unlike the Gluten Free Veggie Burger, these patties are entirely free from soy. Chickpea flour and brown rice are the main protein-containing ingredients. Interestingly, both types of burger patty contain 12 grams of protein.
Reviews for Yves are generally positive. Although, as is always the case, some people like the products more than others. You'll need to experiment to find out whether the brand is right for you.
Mushrooms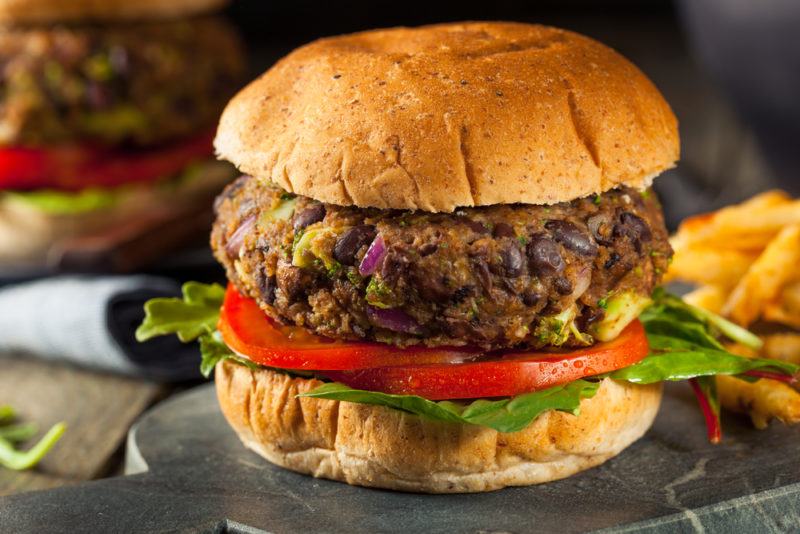 We've mostly been talking about vegan meat that tries to look and taste like the real thing. While those products can be useful, they're not your only options.
Mushrooms are a fantastic alternative. After all, they have an umami flavor and a meaty texture. They're halfway there to being meat – without even trying.
The biggest limitation is that mushrooms don't offer much protein (although their ratio of protein to calories is surprisingly good). To get around this, you could use mushrooms along with other ingredients in your recipes.
For example, you can make homemade mushroom burger patties using beans for protein and some type of gluten free flour to help with the texture. This recipe on the site From My Bowl is one example of the style.
Jackfruit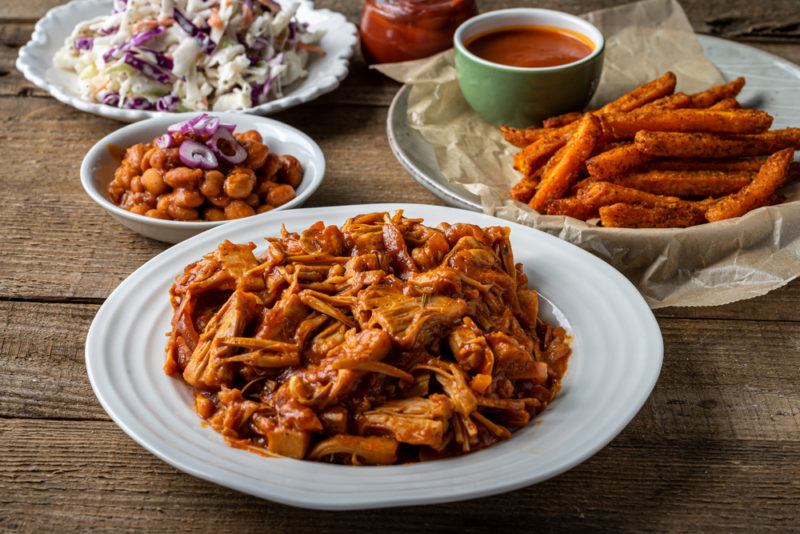 If you're looking for something that isn't processed, jackfruit is the way to go. The flesh of this tropical fruit is unusually similar to pulled pork. If you prepare jackfruit well and choose the right other ingredients, then you can use it exactly like pulled pork.
Preparing jackfruit takes a decent amount of work. The fruit has a thick shell and you need to separate out the flesh from the core of your fruit.
If you want to skip out on the work, why not look for jackfruit products? Some companies sell jackfruit flesh or meat alternatives made from jackfruit. The trick is to find products that aren't too heavily processed.
Because jackfruit is a type of fruit, it's naturally gluten free.
Of course, it's also low in protein. So, if you're using jackfruit as a replacement for meat, you'll need to get your protein elsewhere in your diet.
Homemade Products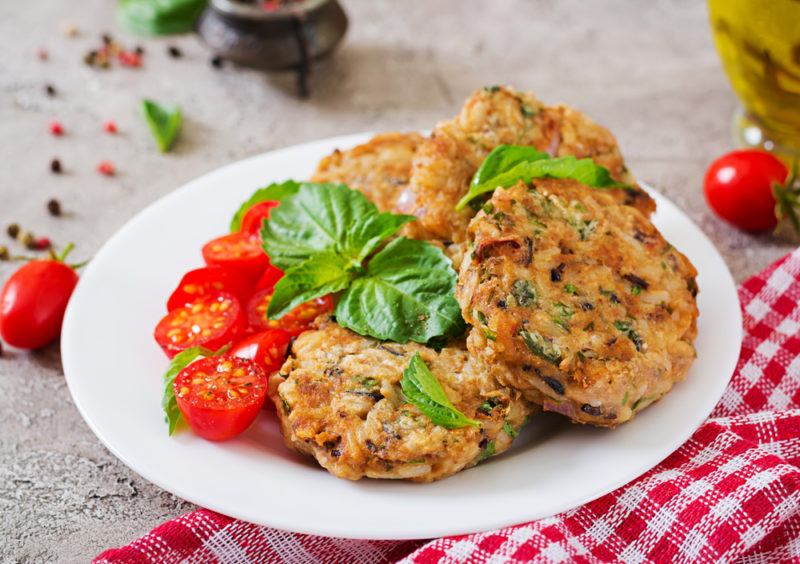 If you have the time and patience, making your own gluten free vegan meats is the best option. You get to pick and choose the recipe that you follow, so you can find one that perfectly matches your needs.
Do you want a gluten free vegan patty that behaves like meat and has a similar texture? There are many such recipes out there. Some will rely on legumes. Some may focus on nuts instead or use different ingredients again.
Similarly, how much protein do you want? Are you looking for a meat alternative that's as protein-packed as real meat or something with less protein?
The quality of the 'meat' will vary, of course. You'll probably find that you like some recipes better than others. But, the fun thing about recipes is that they're flexible. You can tweak the seasonings and other ingredients to create a version that you enjoy. You can't do that with a product from the store.