The food you serve at a party always influences how well the event goes. People simply enjoy themselves more when there is good food at hand. While there are many delicious options out there, finding vegan party food can be more difficult. After all, finger foods and appetizers often rely on meat or cheese.
Thankfully, vegans don't need to miss out. There are many delicious party foods that you can serve, including the ideas we're featuring on this list. And, of course, these are just a starting point. You can modify the ideas we're talking about to create your own dishes.
Regardless of whether you're serving just vegan food at a party or are focusing on a wide range of food instead, there are some general rules to consider.
First, be sure to provide variety. Different flavors and textures can help to keep your table interesting. You'll often be focusing on light foods, especially if your party isn't near a meal time. However, it's best to have some more filling foods as well, that way even your hungriest guests can be satisfied.
Think about dietary restrictions too. Some guests might be limiting carb intake, while others could be allergic to ingredients like nuts. It's worth making sure that some of the dishes can work well with multiple dietary restrictions.
For some more inspiration, why not check out our lists of birthday party finger foods and keto finger foods? Those lists don't focus on a vegan diet, but you could easily make vegan versions of many of them.
Vegan Food For A Party
Breaded Zucchini Chips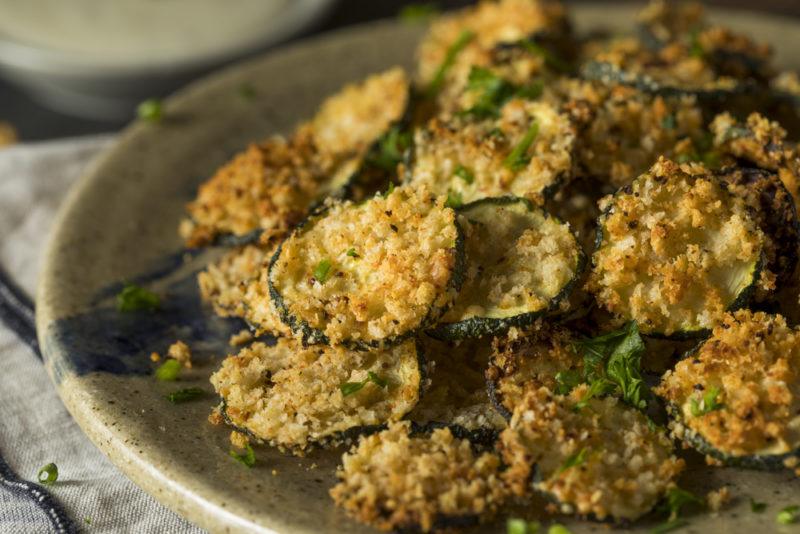 These zucchini chips are a great alternative to fries, as they're less processed and are much healthier. Plus, it's easy to make them vegan-friendly.
To do so, you just need to think about the coating. Some recipes use egg and parmesan to coat the rounds. To keep it vegan, you can substitute the egg for a flax egg and leave out the parmesan entirely. If you want some cheesiness, you could add a little nutritional yeast, but this isn't essential. The chips will taste delicious either way.
You can try other variations too. For example, mixing some herbs with the breadcrumbs gives the chips a stronger flavor. You don't need to stick to zucchini either. You can make a similar treat using slices of eggplant instead.
Vegan Pizza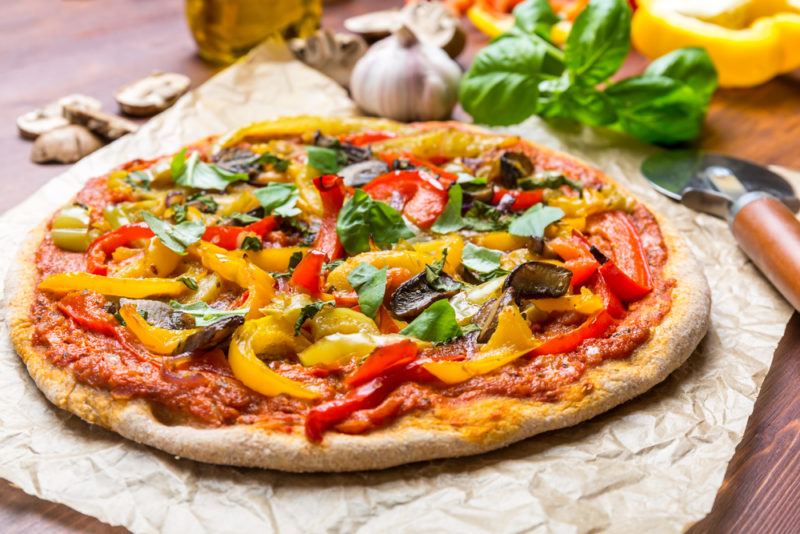 What's a party without pizza? Thankfully, vegan pizzas aren't difficult to make or find. You'll even be able to order them at some mainstream pizza joints.
If you really want to impress, try making your own instead. Start with a vegan pizza base and then add whatever toppings you like. If you want a healthy option, you could focus mostly on vegetables. Don't worry about the lack of cheese. Pizza tastes surprisingly good without any cheese at all.
Or, you could try and mimic a traditional pizza by using vegan cheese and meat substitutes. This approach isn't as healthy as a pizza that focuses on vegetables, but it can be tasty. Besides, being vegan doesn't mean that you need to eat healthy food all of the time.
You don't need to rely on a traditional pizza base either. Flatbread is a fantastic alternative. You can just throw the toppings on the flatbread without worrying about dough at all. Getting creative is an option too. There are plenty of alternative pizza base ideas to play around with, including slices of zucchini, a cauliflower pizza base, or even just burger buns.
Buffalo Cauliflower Wings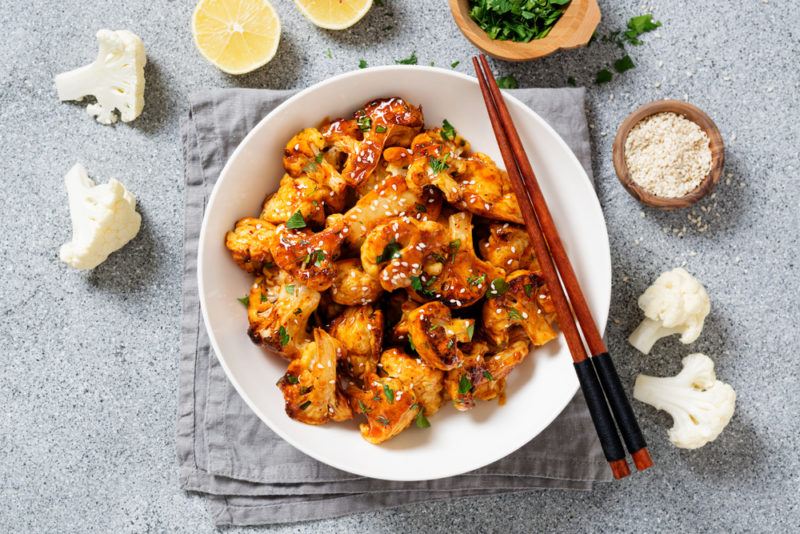 You won't even miss chicken wings if you serve snacks like these baked buffalo cauliflower wings at your event. While they don't have the same texture or flavor as chicken wings, they're a pretty good alternative.
Of course, the main feature is the buffalo batter. This is what makes the wings stand out. Some recipes will use milk as part of this batter. To make the dish vegan, just switch the milk out for a plant-based milk instead.
Vegetable and Dip Snacks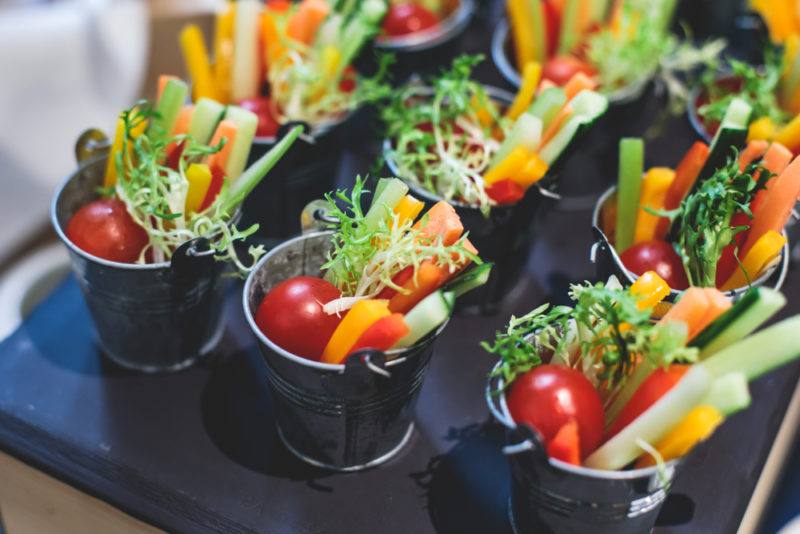 You can easily serve a large platter of sliced vegetables and dip, but that idea has been done time and time again. Why not try for something a little different, like these little snack cups? You're basically creating single servings of vegetables and dip, then putting them in a fun container.
This approach is perfect at a party, as you're getting everyone away from the table.
For this to work well, you'll need to think carefully about the dip. This doesn't just need to be vegan-friendly. You also need to make something that's popular. Hummus often works well, especially if you choose a flavored version.
In fact, hummus is a fantastic go-to dip and spread for any vegan event. The basic ingredients are chickpeas, tahini, olive oil, and garlic, so it's rare to find a version of hummus that isn't vegan-friendly. Hummus is also inexpensive, healthy, easy to make, and can be changed up in plenty of ways.
Fruit and Vegetable Kebabs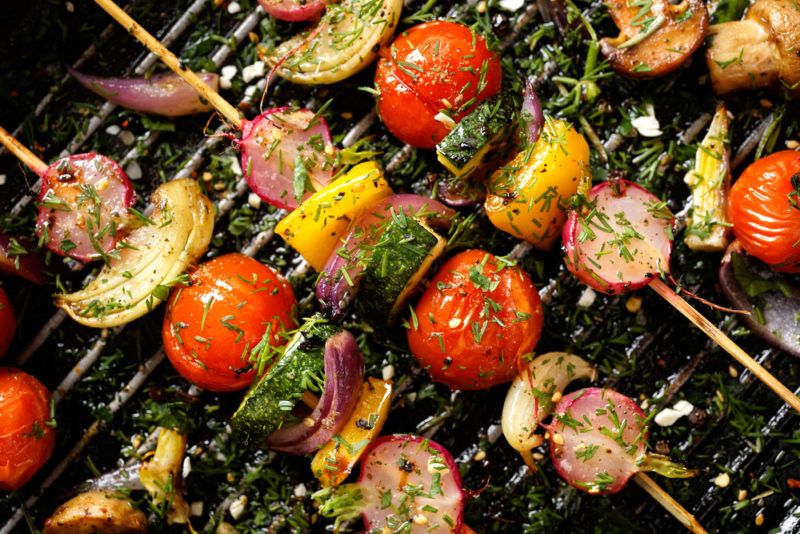 Skewers like these are a classic party food and it's easy to see why. Threading ingredients on a skewer gives guests a snack that's easy to pick up and carry. This is much better than many individual ingredients on a plate.
Focusing on a variety of shapes and colors gives you the chance to make party food that looks stunning too.
You can take the approach in the image, where you're using some type of seasoning and cooking the skewer on the grill. This is a fantastic choice at a barbecue, as grilled vegetable skewers appeal to a wider audience than vegan meat alternatives.
Or, you can skip the cooking and focus on raw fruit and vegetables. You've doubtless seen this style many times as well. Try including some unusual ingredients to make the skewers stand out. I've even seen a version that used pasta, strawberries, and asparagus tips.
Don't be afraid to get creative. Even if your ingredient combination sounds odd, most guests will be willing to try it at least once.
Bruschetta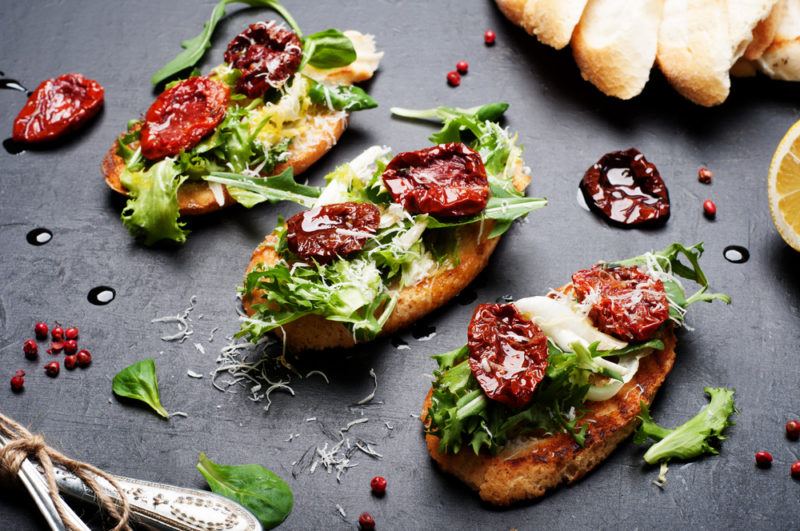 Bruschetta is a classic party food and it's just as good for a vegan event as any other. You're basically serving toasted bread that's been brushed with olive oil and then topped with whatever you like.
As for the toppings, you're only limited by your imagination. Possible toppings include marinated tofu, sundried tomatoes, parsley, chopped tomatoes, and many more.
Fat Bombs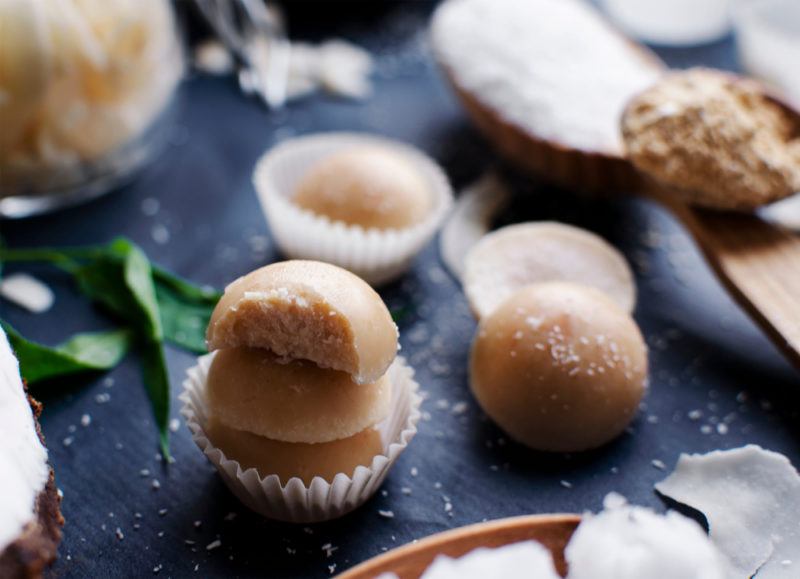 Fat bombs tend to be high in fat and low in carbs. Some contain a decent amount of protein, while others keep the protein content low.
While fat bombs are normally used to help keto dieters balance their macros, the treats can also be served at a party. High fat content or not, fat bombs are certainly healthier than heavily processed sugar-laden food.
Fat bombs aren't always vegan-friendly, but many of them are. They'll often rely on ingredients like coconut oil, almond butter, nuts, and seeds. You don't need to stick to a recipe either. Once you get familiar with the general principles, you can easily create your own fat bombs.
Vegan Baking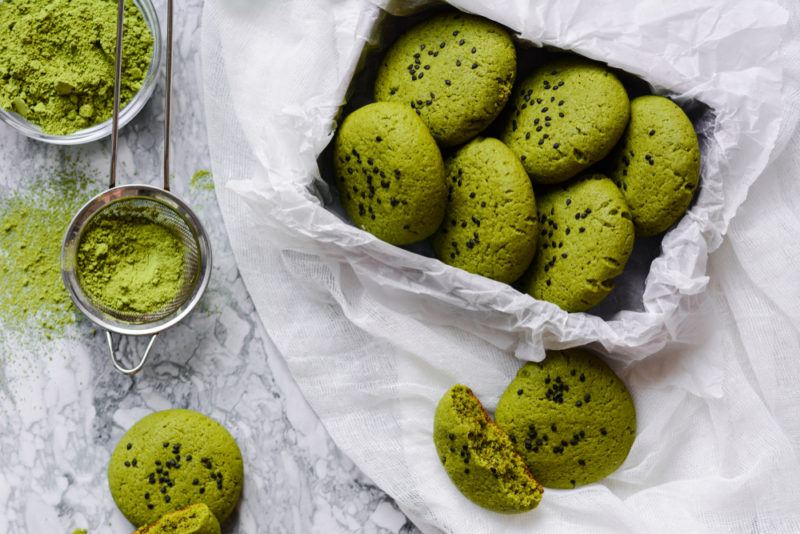 Whether it be a cake, some cookies, brownies, or something else, baking is always a fantastic party addition. You could even make something savory, like a delicious loaf of freshly baked bread.
The need to make vegan food shouldn't hold you back at all. There are many vegan recipes for any type of food that you can imagine – including baked food. Vegan cookbooks are a fantastic place to begin. Many of these include dessert and snack sections. Those sections won't just teach you how to make vegan food. They may also inspire you.
Potato Cakes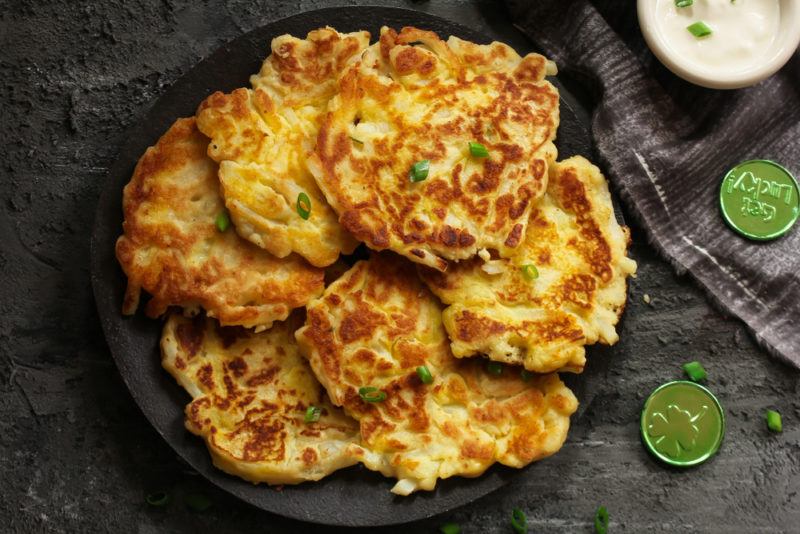 Potato cakes are easy and delicious. They're a fantastic way to fill guests up and are also healthy, especially if you throw in some grated vegetables.
There are many different ways to make this type of party food. Some recipes rely on mashed potatoes, vegan cheese, and some type of seasoning. Once the ingredients have been mixed together and the patties formed, you can fry them to create crisp and delicious treats.
Other versions add in extra ingredients, like white rice or grated zucchini. Don't forget about a dip or some type of topping to serve the potato cakes with. This can easily take them to the next level.
Small Burgers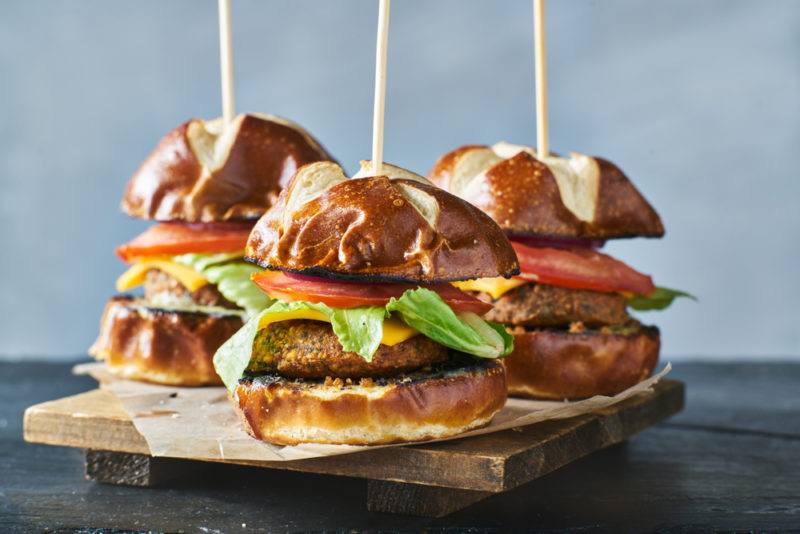 Sliders or even smaller burgers can be fun at a party. They're substantial enough to keep people full but aren't overwhelming either.
There are plenty of styles to try. You could take the classic approach and use a vegan meat substitute. You can even buy vegan products that are designed to be used as a hamburger patty.
Or, why not get more creative? One fun style is to use jackfruit to make an alternative to pulled pork. The taste and texture aren't quite the same as pulled pork, but the similarities are surprising.
Broccoli Balls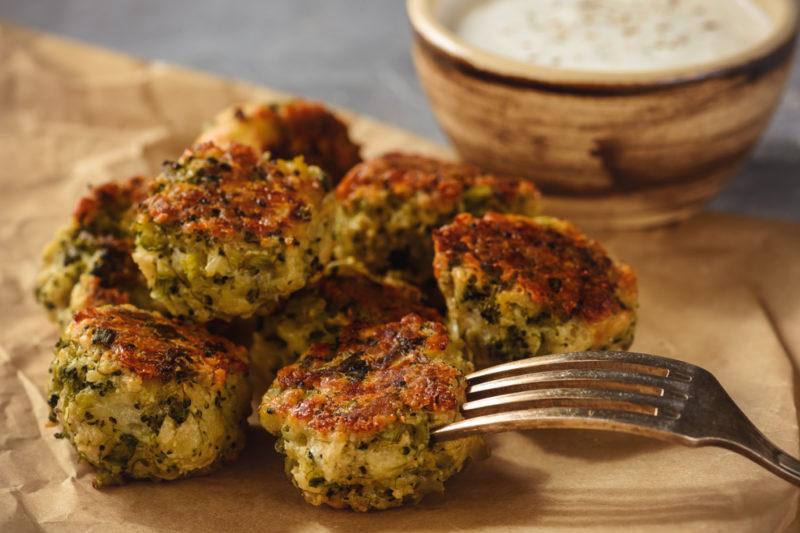 You can't serve meatballs at a vegan event, so how about broccoli balls instead? These might not sound like the best food in the world, but they can be shockingly delicious. After all, the balls aren't just made up of broccoli.
They have other interesting ingredients too, including plenty of herbs and spices. You can also include almond meal or something similar to give the balls a fantastic texture.
Vegan Meatballs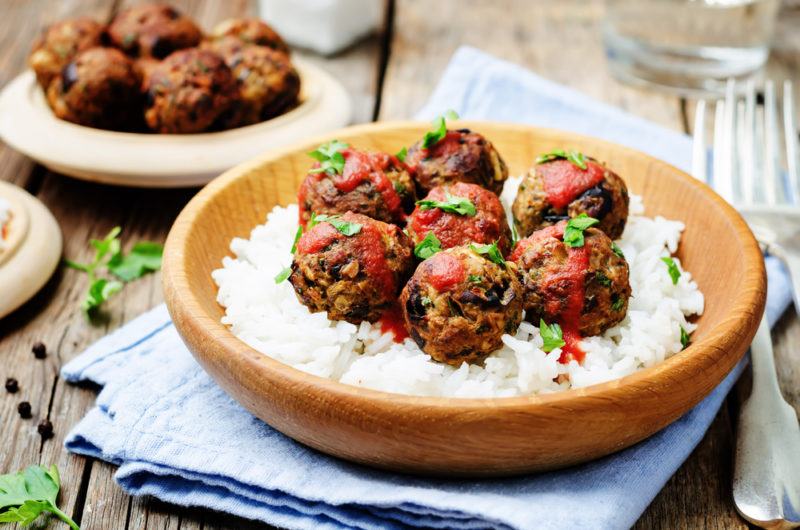 Of course, broccoli balls aren't your only option. Using a meat substitute is often the easiest approach, but that's only one way to do it. Lentils are another popular choice.
You could get more creative too. For example, the pictured vegan meatballs use eggplant and white beans, The eggplant provides some moisture, while the beans ensure that there is plenty of protein.
Cashew Mozzarella Sticks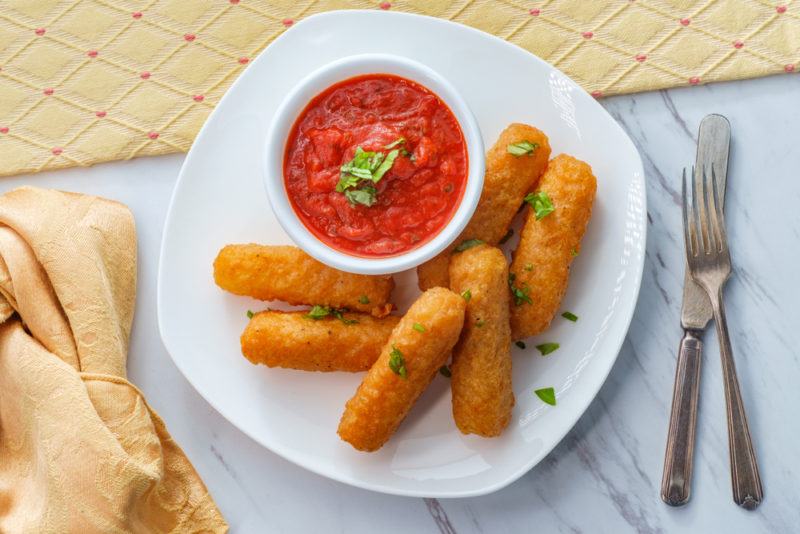 Mozzarella sticks are a non-starter for a vegan event. That simply means that you need to get a bit creative. One trick is to make them using vegan mozzarella cheese. This is already quite similar to regular mozzarella cheese, so you end up with similar characteristics to regular mozzarella sticks.
If you'd rather do the work yourself, Vegan Richa has an interesting recipe that relies on cashews and almond milk as the main ingredients. There's a fair amount of work involved, but the finished snack could easily be worth it. Besides, when you're making vegan products like this yourself, you get complete control over the ingredients.
Sweet Potato Fries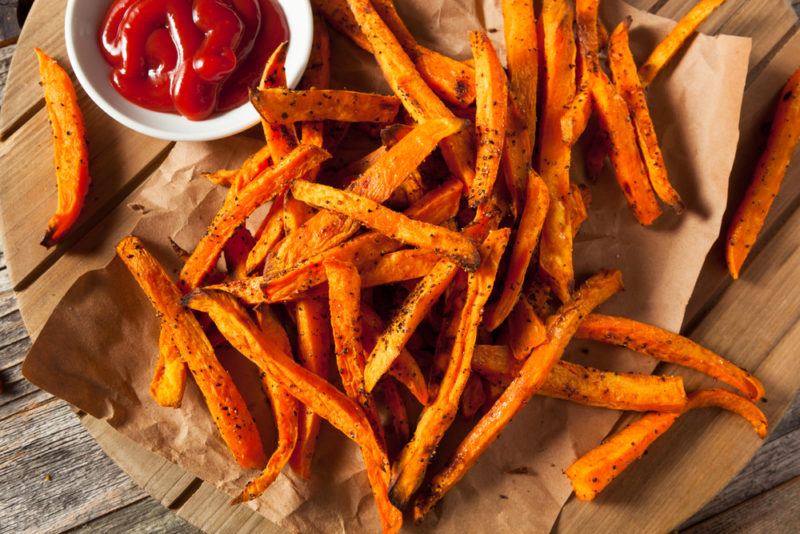 Fries are often vegan friendly, including regular potato fries (just be sure to check first to make sure there are no unexpected additives). This means you can easily serve fries at a party.
Why not make them more interesting and focus on sweet potato fries? These have the crispiness of regular fries, along with the familiar flavor of sweet potatoes. Sweet potatoes are also a healthy choice, due to their beta-carotene content.
You don't need to deep fry them either, unless you particularly want to. Why not use an air fryer or even bake them instead? Those approaches cut down the amount of fat you're using, giving you a much healthier snack.
Salads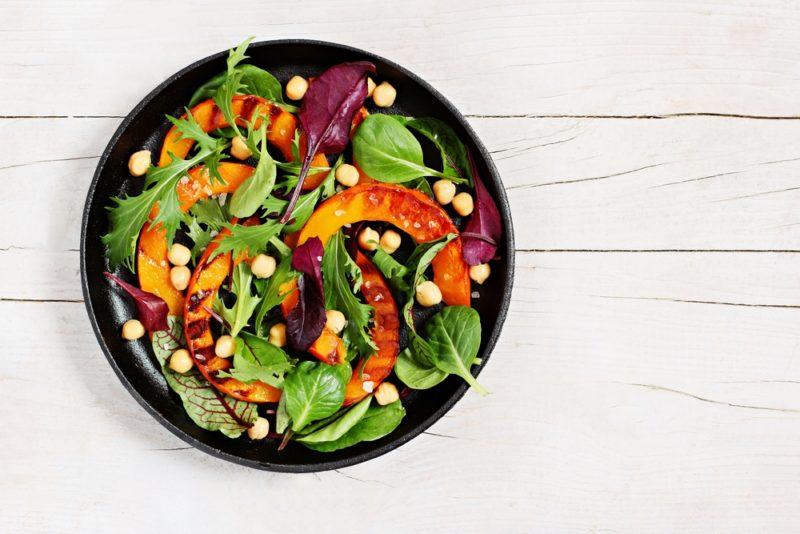 Salads are an easy choice, as most of the common ingredients are already vegan-friendly. Besides, you can easily omit unsuitable ingredients without worrying too much about substitutions.
Be sure to pay attention to the salad dressing. Some dressings are perfect for vegans, while others won't be suitable at all. You can get around this by making the dressing yourself. Look for recipes in vegan cookbooks or on vegan food blogs.
Being creative is important too. Salads are an incredibly common choice. They can be delicious and packed full of nutrients. They can also get boring fast. Why not play around with flavor and texture combinations to find salads that everyone will love?
We're not just talking about salads based on lettuce or leafy greens either. You can make plenty of other salads too, including fruit salad, bean salad, couscous salad, and quinoa salad. You can even add tofu or beans into a regular salad to give it a bit more protein.
Cheese Balls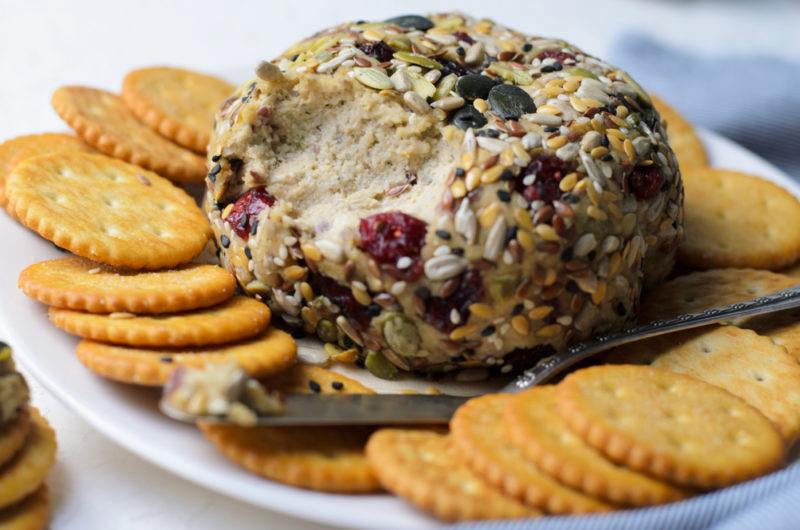 A large cheese ball can be delicious as a type of party food. Guests can easily smear some onto a knife or cracker, or simply dip something straight into the ball itself.
Making a vegan cheeseball isn't as difficult as it sounds. Many recipes simply swap regular ream cheese for vegan cream cheese, then use herbs rather than shredded cheese. You could try using nutritional yeast too, which would give you a cheese-like flavor.
There are other approaches too. For example, Sam from It Doesn't Taste Like Chicken created a cheese ball that relies on cashews, white miso paste, and a small selection of other ingredients.
Spring Appetizer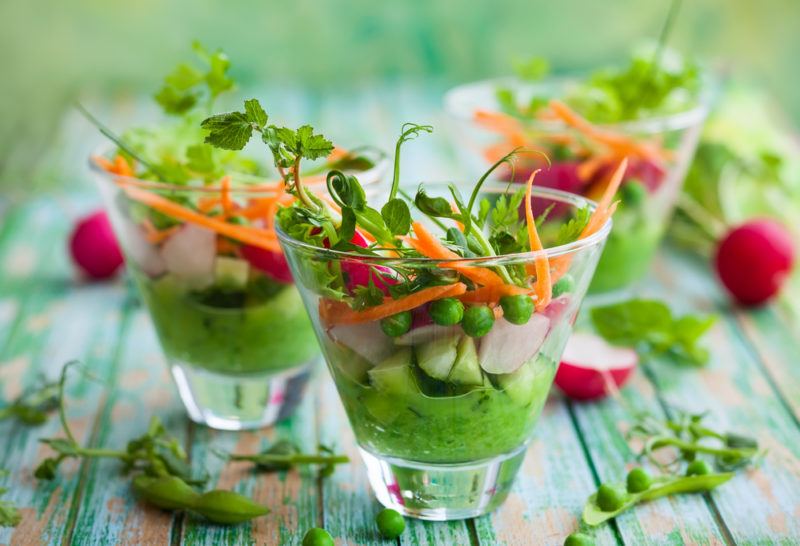 I love these little party treats, as they look amazing in the cups. They're also much more interesting than the classic combination of vegetables and dip (even though that's really all they are).
The green sauce in the bottom of each glass is green pea hummus. Above this you have a collection of vegetables that have been cut into small pieces. The trick is to find vegetables that stand out. They might be vibrantly colored or an unusual choice (like peas).
Serving the appetizer in small glasses completes the look, giving you party food that stands out, but isn't difficult to prepare.
Sushi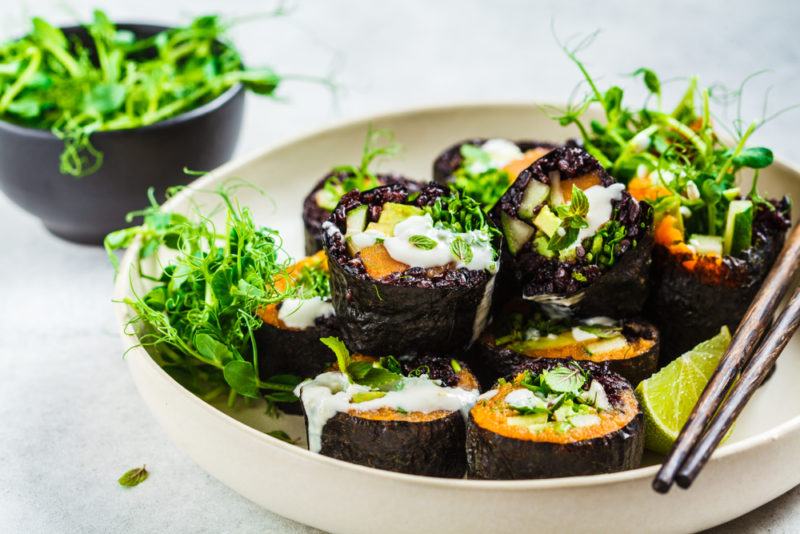 While sushi often relies on raw fish or some type of meat, this isn't always the case. You can easily find vegan sushi too. Or, if that fails, why not make your own?
The pictured sushi shows that you can easily change up the dish too and use some exciting ingredients. Key ingredients here include avocado, sweet potato, and black rice. You end up with sushi rolls that are delicious and stand out.
Cucumber Bites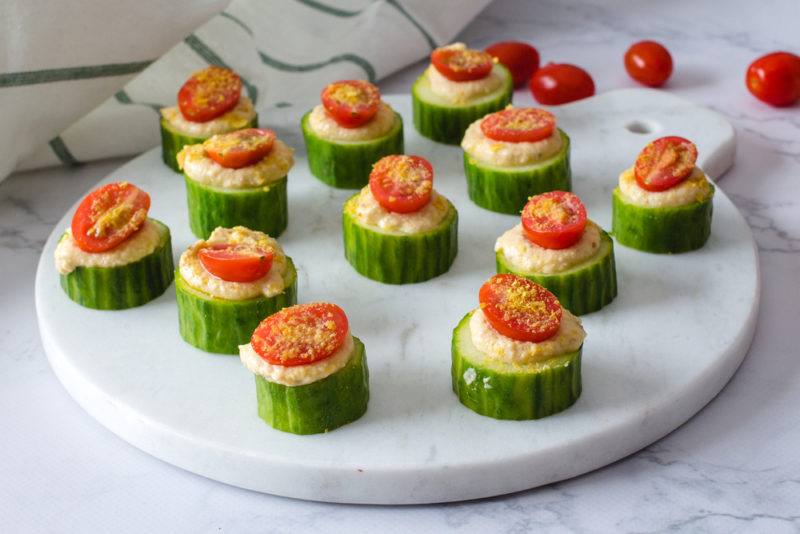 Small snacks that can be picked up and eaten are always a hit at parties. This way guests don't need to linger around tables. They can simply choose a few choice treats and then mingle.
Cucumber features in many such snacks, as it's light and refreshing. The simplest option is to use a slice of cucumber as the base of the snack and pile toppings on it. The pictured version is one example, which uses cucumbers, hummus, cherry tomatoes, and a little nutritional yeast.
The cucumbers are thicker than they need to be here. You can slice them much thinner if you'd like. Just make sure there's enough thickness to withstand the weight of the topping.
You can play around with cucumbers in other ways too. For example, some appetizers use a long piece of cucumber that has been hollowed out and stuffed with ingredients. Others slice the cucumber to create long thin strips and use these to create cucumber wraps.
The options are endless and you have plenty of vegan toppings and fillings to play around with.
Pinwheels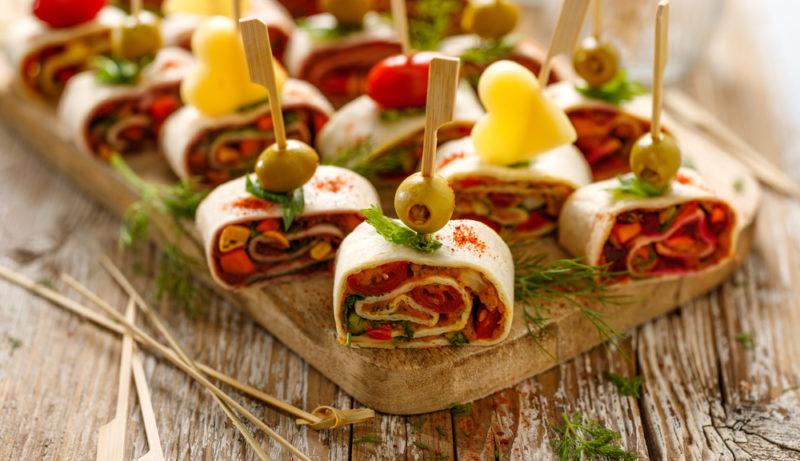 Pinwheels are a little like a sandwich and a little like a wrap. They're a fun party choice, as the fillings are visible. If you use interesting colors and textures, the snack can really stand out on the plate.
This is another case where there are more variations than you can count. The pictured pinwheels could be a fun place to start. These rely on classic taco flavors and are kept together using a cocktail stick. You could even serve these warm to make them more interesting, and of course there are plenty of vegan lunch meats to choose from as well.
Stuffed Mushrooms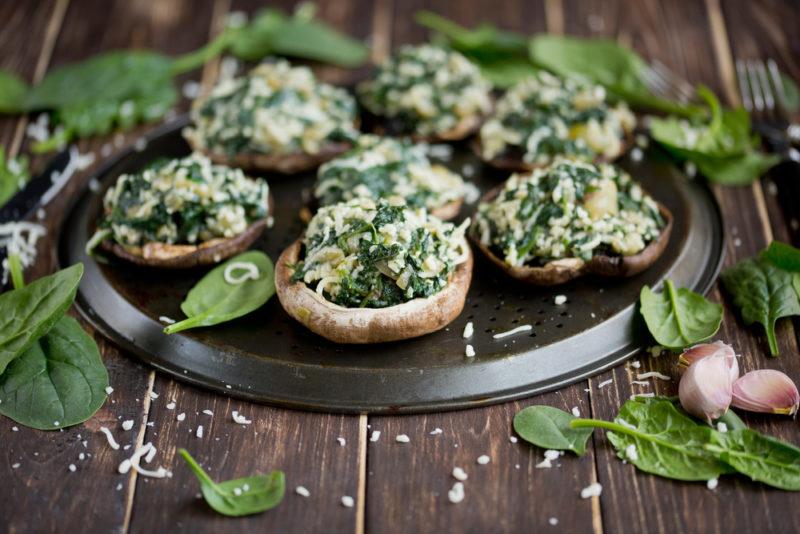 Stuffed mushrooms are a reminder that food can be healthy and delicious at the same time. The idea here is simple. You're hollowing out the middle of a mushroom, then adding whatever filling you like. Most recipes then have you bake the finished snack, which gives you a fantastic combination of texture and flavor.
While stuffed mushrooms often use cheese as a topping, it's not difficult to make a vegan version too. You can even add vegan sausage. Using couscous or quinoa as an ingredient is a great option. Or, you can chop up vegetables and create a salad-like filling.
The version in the image uses spinach, onion, garlic, and mozzarella cheese. You could easily make this vegan friendly by swapping out the mozzarella cheese for vegan mozzarella instead.
Fresh Spring Rolls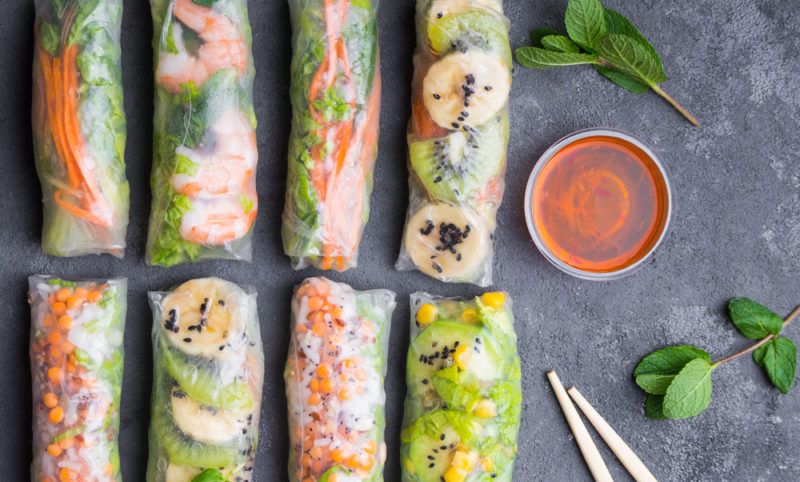 Spring rolls come in two forms. You can get the deep fried ones that have a satisfying crunch, but aren't all that good for you. Or, you can focus on ones wrapped in rice paper instead. The rice paper ones are, of course, much healthier.
They can also look stunning.
The trick is to look for vibrant ingredients. After all, your guests can see the ingredients through the rice paper. Thankfully, there are many great combinations to try out.
As the image suggests, you don't need to stick to vegetables either. You can make a similar type of wrap using fresh fruit or a combination of fruit and vegetables, or even plant-based shrimp. To make sure that they're vegan-friendly, simply avoid any non-vegan ingredients.
Bliss Balls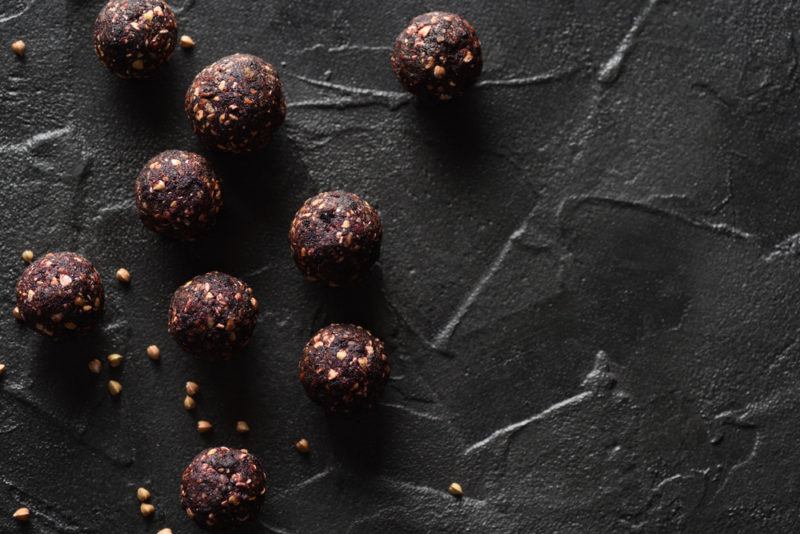 Bliss balls also go by the name protein balls or energy balls. Whatever you call them, they can be delicious. The idea is that you're combining multiple natural ingredients into a single ball that can be eaten in a few bites.
Most bliss balls taste like dessert, but they rely on whole food ingredients. Plus, the balls are often filled with protein, fiber, and healthy fat – exactly what you need.
Bliss ball recipes are often naturally vegan friendly. They rely on ingredients like cocoa powder, chia seeds, coconut oil, dates, and almond butter. You don't even need to stick with the ball format either. Why not make bliss bars or bites instead?
Edamame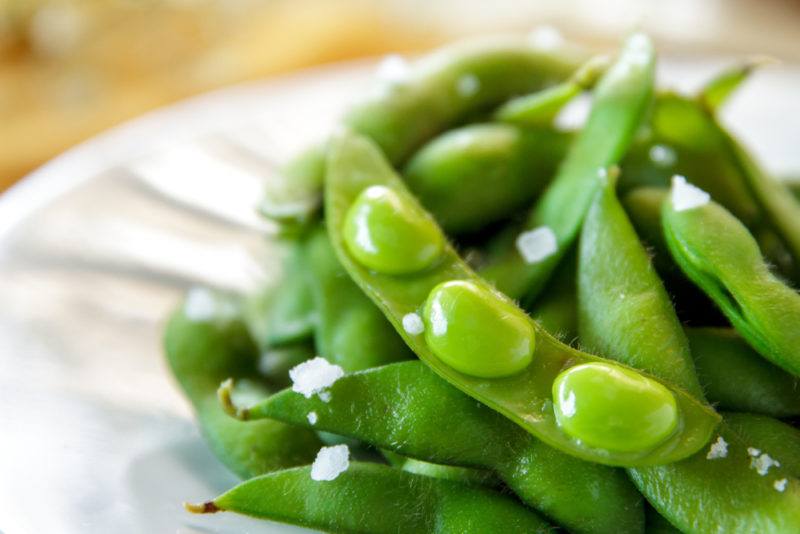 Here's a nice and simple one. Edamame refers to immature soybeans, still in their pod. These are often served as part of East Asian cuisine, perhaps boiled or steamed. You might eat them as-is or add in some seasoning, like salt, to provide an extra kick.
Edamame can be enjoyed warm or cold, making them an easy party choice.
Interestingly, edamame pods are difficult to eat, so most people pop the beans out and eat them, then discard the pod. This process might seem a little frustrating at a party, although it could be fun for your guests. Just make sure that there is somewhere for them to put the pods once they've eaten the beans.
Nuts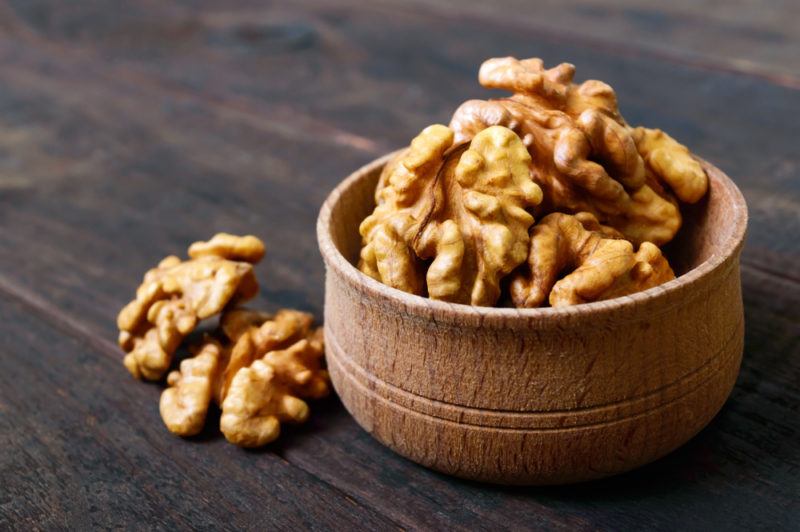 Don't forget to bring some nuts to your party. Seriously, nuts are almost the perfect snack. They offer a decent amount of protein, a fantastic selection of nutrients, and provide you with healthy fats too.
At a party, nuts are an easy way to make sure that your guests don't get hungry.
You could serve nuts as-is, but why not go to a little extra effort and season them? Roasting and seasoning nuts yourself is surprisingly easy. The process also allows you to find your own combination of flavors.
You don't need to stick with savory flavors either. Candied nuts can be a hit at a party too and can be a nice change.
Dips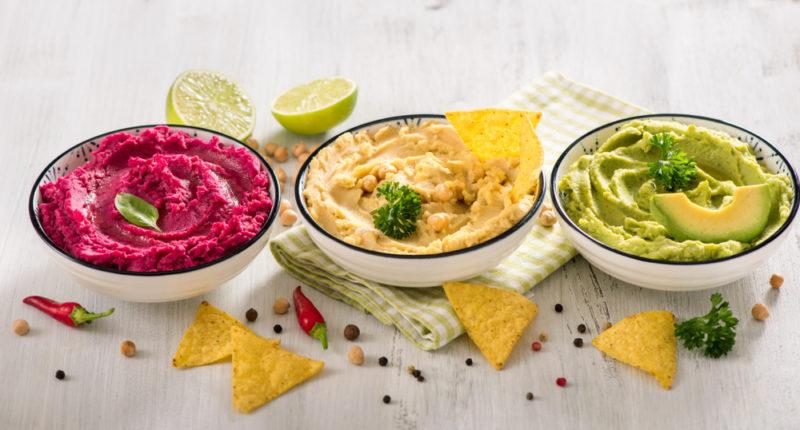 You'll probably need at least a few different dips to serve. Hummus is one of the obvious choices, as it's almost always vegan friendly. You'll be able to find a vegan version in the store without too much hassle. Or, why not make your own and play around with the flavor profile?
You don't need to stop with the classic options. Vegan sites and cookbooks list plenty of other dips for you to try. Some of these might be familiar, like a vegan version of spinach artichoke dip, while others might follow their own styles, such as buffalo cauliflower dip or sweet potato dip.