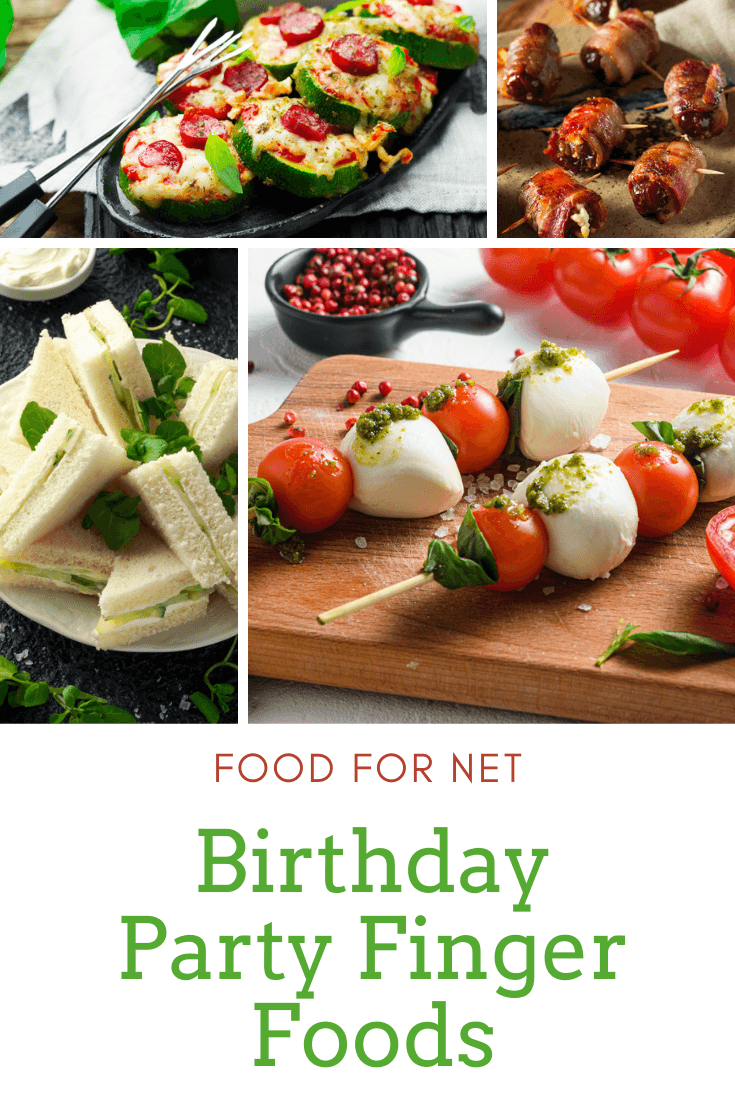 Birthday parties aren't just about presents, guests, and games. The food plays a crucial role in how much people enjoy the event as well. It's worth having a decent spread of finger foods for birthday parties on hand. That way your guests are well-fed and are able to enjoy themselves.
But, what do you choose?
There are countless types of finger food out there – from the simple to the complex. While you can serve basically anything at your event, some types of finger foods will work much better than others.
For a birthday party, you normally want food that's fun and is easy to eat. You'll need a balance of sweet and savory too, along with some light foods and others that are more filling.
In this post, we're focusing on food for adult birthday parties, as we've covered children's party foods elsewhere. However, it would be easy to modify adult food to make it child friendly. You often just need to simplify the flavors a little, then make sure the meal is easy to eat.
You could even turn to other types of finger food, including finger food for picnics. Why not? There are plenty of delicious treats to choose from.
Finger Foods For Birthday Parties
Cake or Cake Alternatives
Cucumber Rolls
Pizza
Pizza Bites
A Charcuterie Board
Individual 7 Layer Dips
Meatballs and Sauce
Sandwiches
Pull Apart Bread
Sushi
Fried Chicken
Crescent Roll Ups
Kabobs
Chocolate Eclairs
Chicken Wings
Mozzarella Bites
Bacon Wrapped Dates
Stuffed Mushrooms
Homemade Cheese Straws
Mini Quiches
Cucumber Bites
No Bake Mini Cheesecakes
Zucchini Fries
Mac and Cheese Balls
Mini Burgers
Fried Onion Rings
Puff Pastry Rolls
Cake Pops
Cupcakes
Fresh Fruit
Bruschetta
Cake or Cake Alternatives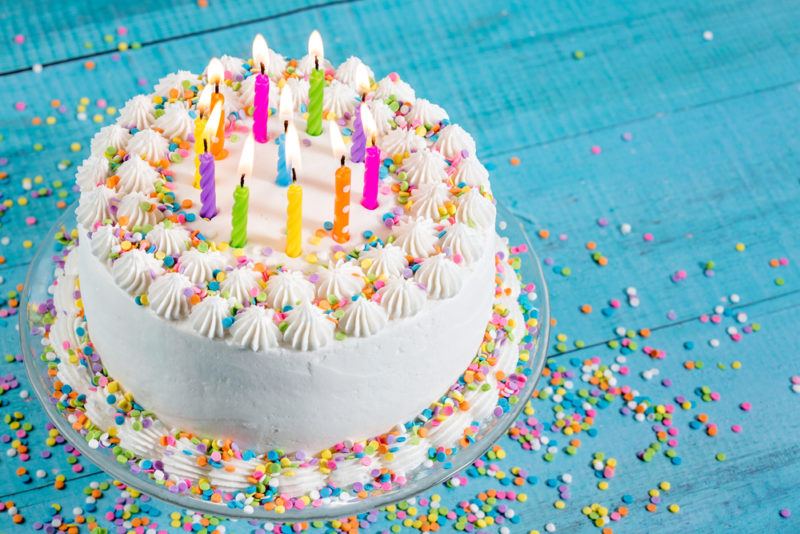 This one is obvious. Cake is an expected birthday party addition. Blowing out the candles and cutting the cake has become a tradition,
Thankfully, you don't need to go overboard when creating a cake. You can just use a simple recipe, add some pretty icing and garnishes, then you're good to go.
You could play around with alternative desserts too. For example, I've seen a stack of brownies served as a birthday cake before. Pile them up high, add some candles and pretty garnishes, then you get something that looks just as good as a cake (if not better). It's also much easier for guests to grab and eat individual brownies than a piece of crumbly birthday cake.
You can take this approach with other foods too, like a stack of cupcakes, cookies, or even wrapped candies.
Cucumber Rolls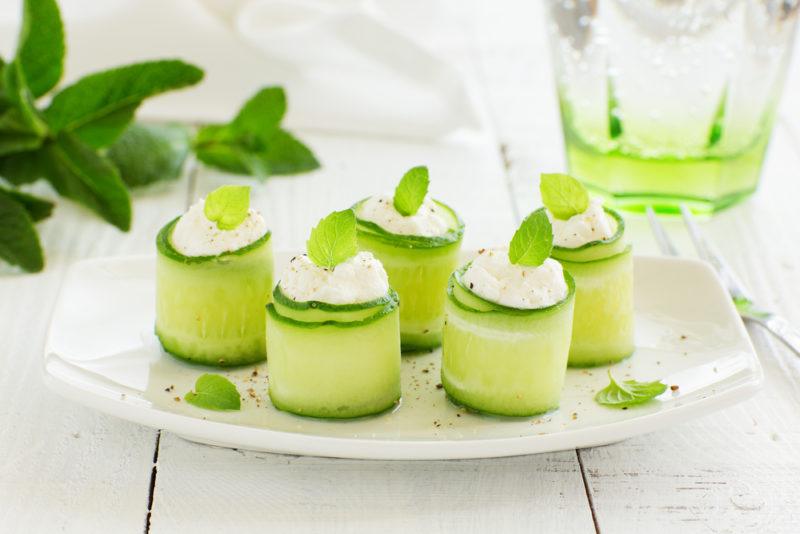 Cucumber features in many finger foods. It's easy to see why, as the vegetable is refreshing and doesn't have a strong flavor of its own. These features allow the other ingredients to shine.
Cucumber rolls are a popular choice for any party. Making these is easy. You simply need to cut a large, flat, and thin sheets of cucumber and then roll your desired fillings up in these.
Cream cheese and cottage cheese both work well in this type of appetizer. You could leave it at that or add some other ingredients too, like ham, salmon, or even shrimp.
While this finger food isn't difficult to make, it can be a little fiddly. Because of this, it's worth experimenting before the big event so that you can get your technique just right.
Pizza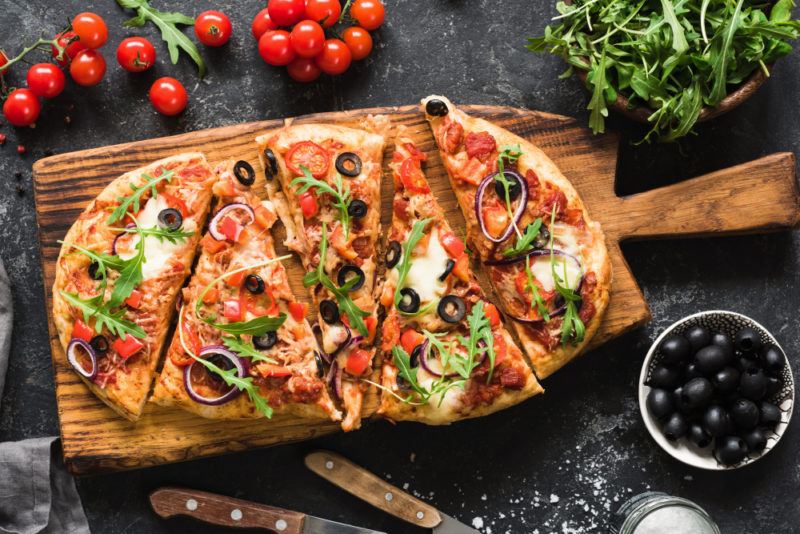 Pizza might seem boring, but it remains one of the most popular foods to serve at a party. Seriously. If you skip out on the pizza, you might have some upset guests.
Of course, there is a myriad of pizza types that you can choose from.
The simplest option is to order pizza from fast food chain, like Domino's or Pizza Hut. This gives you hot and fresh pizza, where everyone knows exactly what to expect. While getting the timing right can be a little tricky, many places do allow you to schedule delivery times or guarantee delivery within a certain window.
Making your own pizza is a much better option.
This gives you full control over the ingredients and flavors. There's no shortage of amazing flavor combinations to try. Possible ingredients include goat cheese, brie, shrimp, tomatoes, garlic greens, salami, walnuts, and honestly whatever else you can think of.
The final option is frozen pizzas from your grocery store. We don't recommend this one, as the pizza rarely turns out good. Even the best quality products taste a little like cardboard and most party guests will be fed up with this style of pizza.
Pizza Bites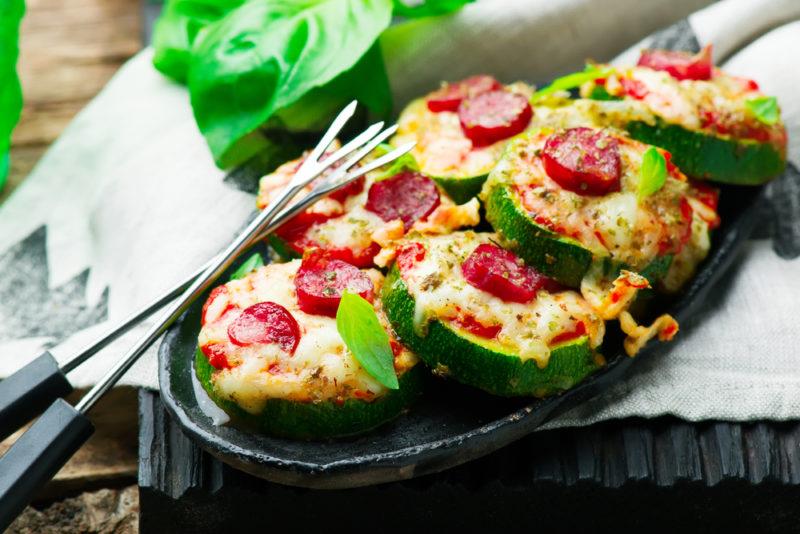 If you don't want to serve full pizzas at your party, then mini pizzas or pizza bites can be a fun alternative. You're basically making small pizzas, often on a different type of base.
One of the simplest options is to use some pizza sauce, salami, and cheese on a round slice of zucchini. Bake these in the oven for a little and they're delicious.
That's just one option. You could use almost anything as the base for a mini pizza or a pizza bite, like a small piece of bread, a mini pancake, or some type of homemade dough.
Some recipes take a different approach, where you're putting the bread on the outside and the pizza filling in the middle. Regardless of how you make these treats, the underlying idea is the same – pizza flavors in an easy-to-eat form.
A Charcuterie Board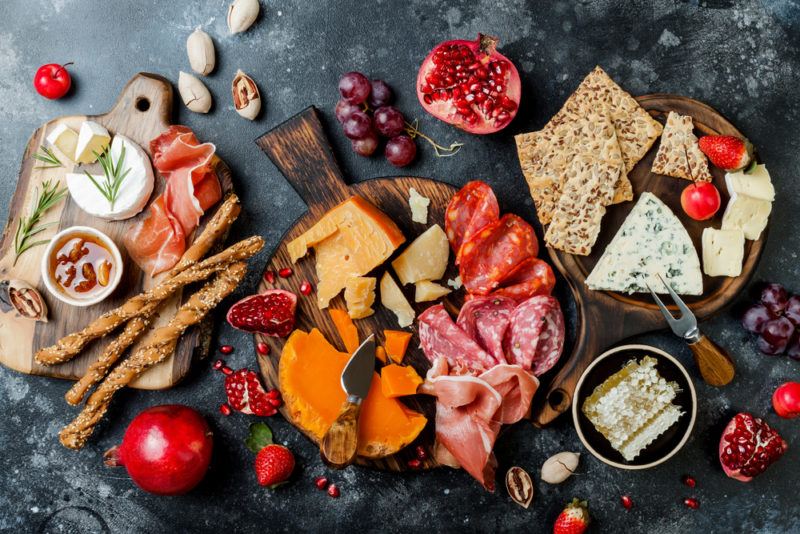 These boards are a fantastic way to serve a large amount of finger food all at once. Most versions focus on cheese, meat, crackers, and perhaps some fruit, but the options for ingredients are almost endless.
Some other choices include sun dried tomatoes, crostini, sliced bell peppers, pickles, flatbread, olives, pâté, zucchini fries, and pickles. Having some homemade dips or spreads helps to make the board even more special.
It's often best to include a few ingredients for each 'type', including meat, cheeses, vegetables, and dippable foods. This gives your guests plenty of variety.
Pay attention to colors too. You need to have some bright colors on your board or the whole thing may end up looking bland. Fruits and bell peppers are fantastic examples.
Putting a charcuterie board together isn't difficult. Still, there are some general rules. Focus on variety whenever possible. Avoid putting the same colors and textures next to one another.
Individual 7 Layer Dips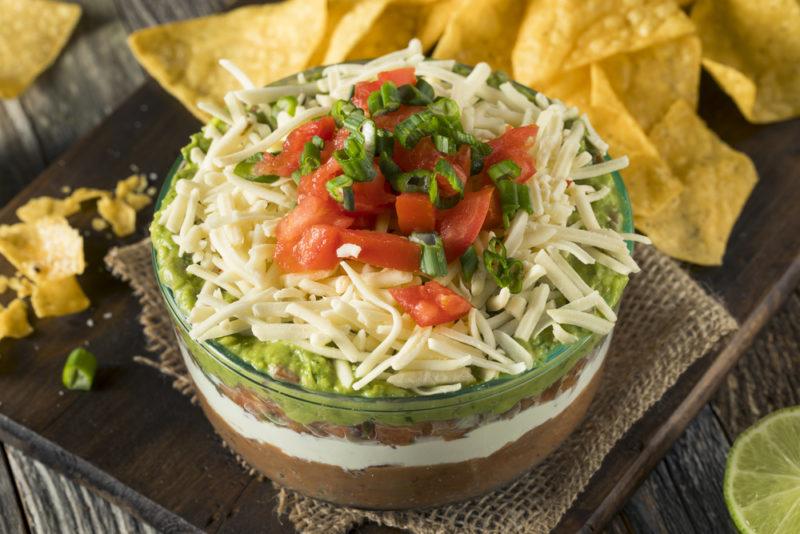 A 7 layer dip is normally served in a large bowl. This style looks fantastic, but the large bowl can be impractical. Why not make individual 7 layer dips instead?
The idea is simple. You're just using clear plastic cups (or glasses) and layering the dip in these. You can even stick some nacho chips in the top so your guests have something to scoop the dip out with.
Besides, having individual dips isn't that much extra work. They end up looking amazing and the idea is healthier than having everyone eating out of the same bowl.
Meatballs and Sauce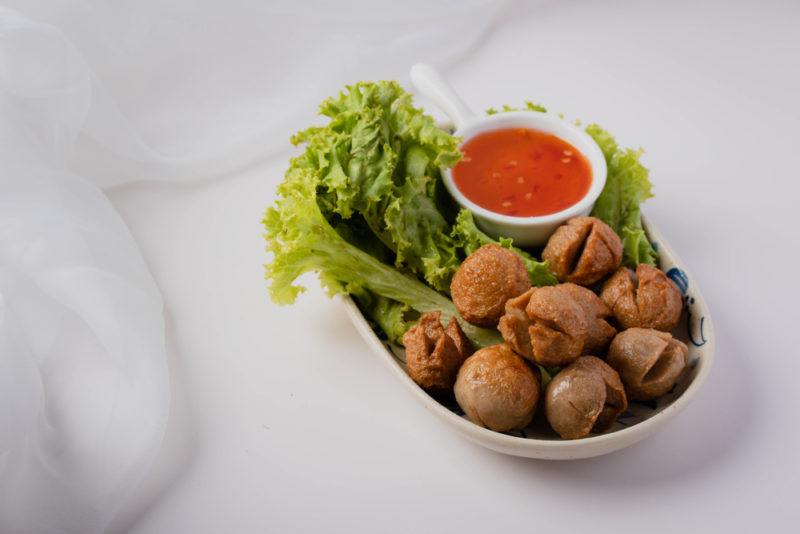 Small meatballs are another classic birthday finger food, one that works well for all age groups. These are best served on toothpicks or with a set of toothpicks nearby, as they're going to be too messy to pick up by hand.
Minced beef is the most common approach here, but you can use other types of meat as well. Using chicken or turkey would create a lighter flavor, which could be augmented by various herbs and spices.
Offer a couple of dips along with the meatballs. This helps to stop them from drying out and makes them even more delicious.
Sandwiches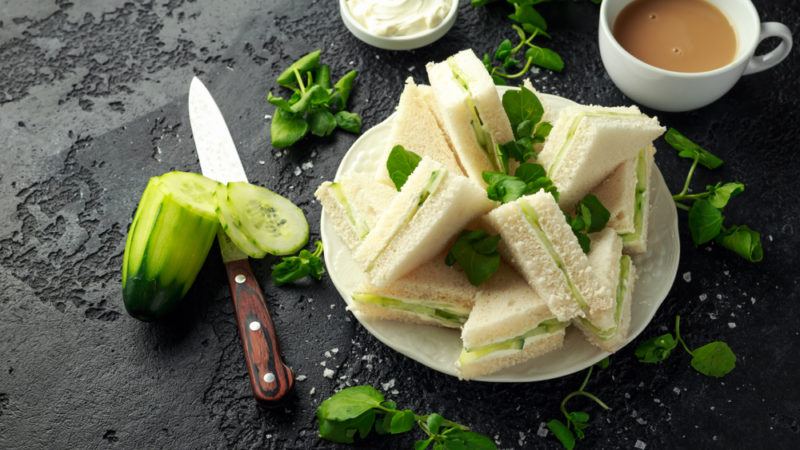 Sandwiches might sound boring, but they're a logical finger food to offer at a party. You can make small sandwiches or cut large ones into small pieces. It's even possible to serve small sandwiches threaded onto skewers.
The great thing about sandwiches is that they're so flexible. You can use whatever bread you like, along with countless types of fillings. The sandwiches you make can be complicated or simple. The trick is to find fillings that look good and aren't going to go soggy too fast.
Some possible fillings include:
Egg salad
Smoked salmon and cream cheese
Chicken, brie, and cranberry
Cucumber with cream cheese
Chicken salad
Tuna mayonnaise
Salami, lettuce, and dill cream cheese
You don't need to focus on regular sandwiches either. You could make wraps or pita pockets using some of the same ingredients.
Pay attention to how you serve the sandwiches too. Sandwiches that look good on the platter are going to be popular, while ones that look boring simply won't be.
Pull Apart Bread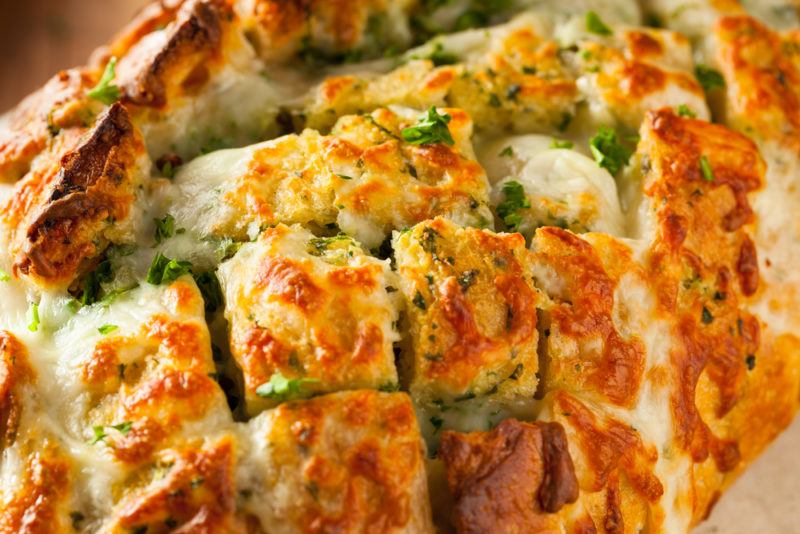 Pull apart bread is fun and tasty. What could be better for a party?
It isn't that difficult to make either, even if you choose to make the dough yourself. Cheese, garlic, and herbs are all common ingredients in pull apart bread, but these aren't your only options.
You could make sweet pull apart bread too. Monkey bread follows that style.
Using buffalo sauce with pull apart bread is another (somewhat surprising) option. What about bread that uses cranberry and brie? Those are just a few styles. There's no counting how many others are out there.
There are shortcuts too. For example, crack bread behaves much like regular pull apart bread, but you're simply slicing open bread that's been already made and adding ingredients like cheese and garlic.
Sushi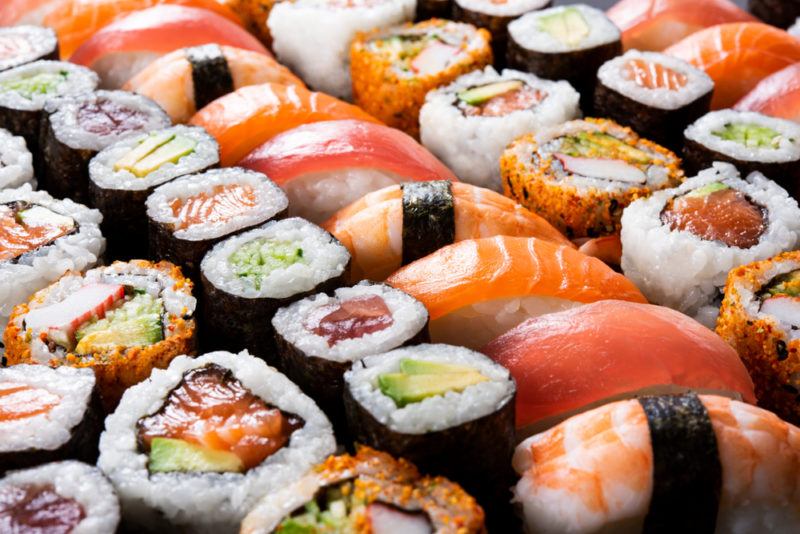 It's hard to go past sushi when you're looking for something healthy and delicious. So, why not serve sushi at a party? You're certain to get people coming back for more.
The first decision to make is whether you want to buy sushi or make your own. Buying sushi is the easiest option, especially if you've never made sushi before. The biggest problem is price. Sushi from the store can get expensive, even if you buy it in bulk.
Making sushi at home isn't as difficult as you might expect. You can even buy kits that give you all the things you need, along with plenty of instructions. There are also plenty of types of sushi that you can make. So, if your guests aren't that fond of raw fish, you could make vegetarian sushi with avocado and cucumber, or use chicken instead of fish in the sushi.
Fried Chicken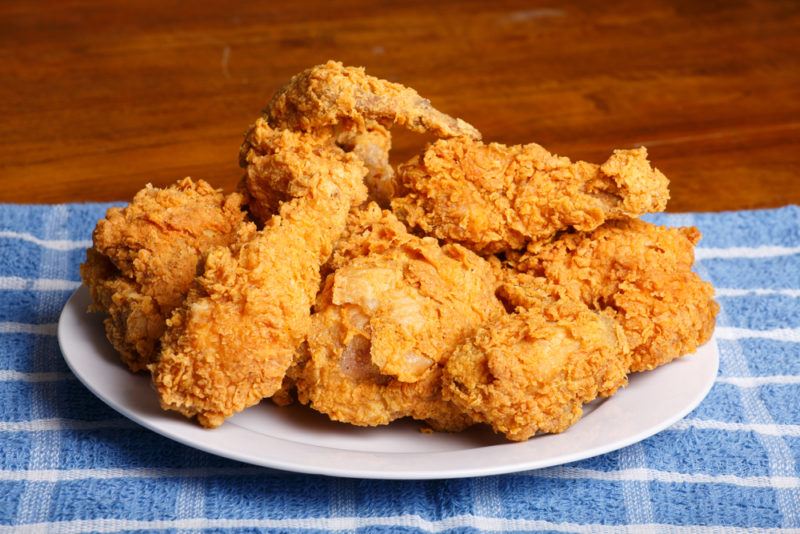 Who doesn't love fried chicken? It's crispy on the outside, but moist and tender on the inside. Chicken drumsticks even have a ready-made handle, so they're easy to eat.
As with sushi, you can buy fried chicken or make your own. Homemade fried chicken is much better, partly because you can serve it hot and fresh, straight out of the fryer.
If you want a healthier option, you could prepare the fried chicken in the air fryer or even by baking it instead. Neither approach is quite the same as fried chicken, but you end up with delicious finger food either way.
Crescent Roll Ups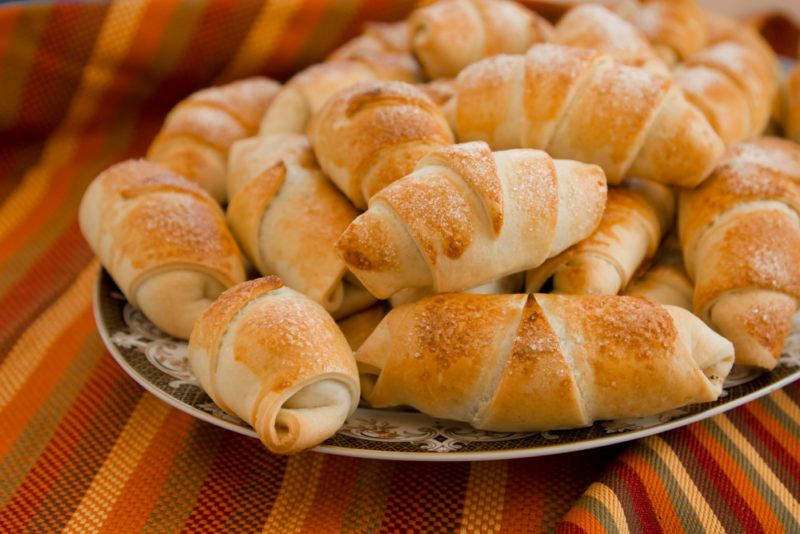 Crescent dough is easy to work with and you can make many delicious treats without much effort at all. One trick is to wrap ham and cheese up in the dough, then bake it. You end up with a cheesy and delicious treat.
You can change this up too. Try using a different type of meat or a stronger cheese. For example, turkey and pepper jack give you a completely different combination of flavors.
Kabobs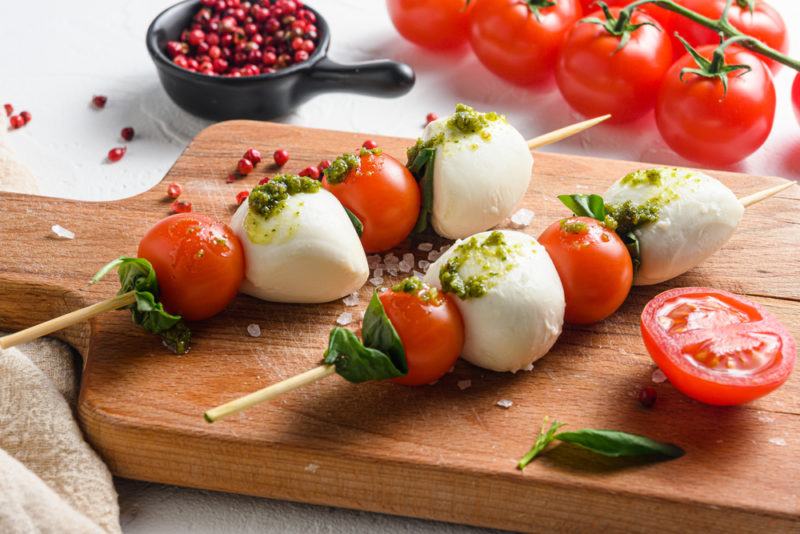 Fruit kabobs are the classic approach here, where you're threading various types of fruit onto a skewer. Try sticking the kebobs into half an orange to show them off, while making it easy for guests to grab one.
Fruit isn't your only option at all. Many people include cheese and fruit on the same kebob, or even cheese, meat, and fruit.
There are some more creative options too.
For example, why not build a salad on a kabob instead. Caprese salad skewers are the simplest example, where you're using a small stick with a ball of mozzarella, a basil leaf, and a cherry tomato. Or, you could use a larger stick and make a much more complex salad.
Why not get creative with the idea? I've seen people basically build sandwiches or even hamburgers on a skewer. Doing so is a fun alternative to regular party food.
Besides, why not? There are no rules about what you can and cannot serve on a skewer.
Variety is key for kabobs. Try not to place ingredients of the same color and shape next to one another. Similarly, you want to be using at least a few different colors and shapes as part of your kebob. The more variety you can include, the more interesting the treat looks.
Chocolate Eclairs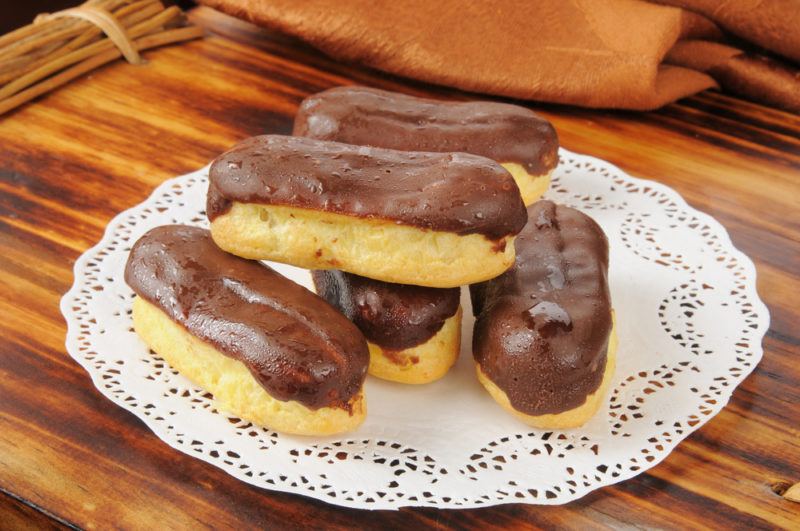 If you want something sweet and rich, chocolate eclairs are tough to beat. They're also a dessert that everyone is familiar with, so you're not trying to get gusts to eat something new.
Eclairs can be on the large side. If you're looking for something simpler, try cutting the eclairs up into pieces and serving these on toothpicks.
You could also make cream puffs (with or without chocolate). The flavor and texture is similar to an eclair, but you're serving smaller portions.
Chicken Wings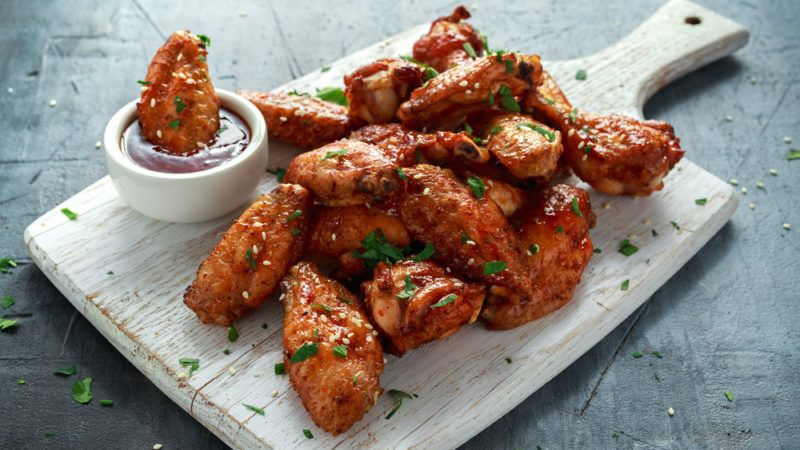 Can you go wrong with chicken wings? They're always a fun snack, partly because they're messy to eat. You'll need to have plenty of napkins or wet wipes on hand.
Don't be afraid to play around with flavors and dips as well. There are some popular examples, like buffalo, teriyaki, or honey garlic chicken wings, along with plenty of unusual flavor combinations.
Chicken wings are often fried, which helps to give them a crisp outside, while keeping the inside tender. Still, that's not the only option. Baking chicken wings works well too. There's little risk that you'll dry them out, as chicken wings contain so much fat.
Mozzarella Bites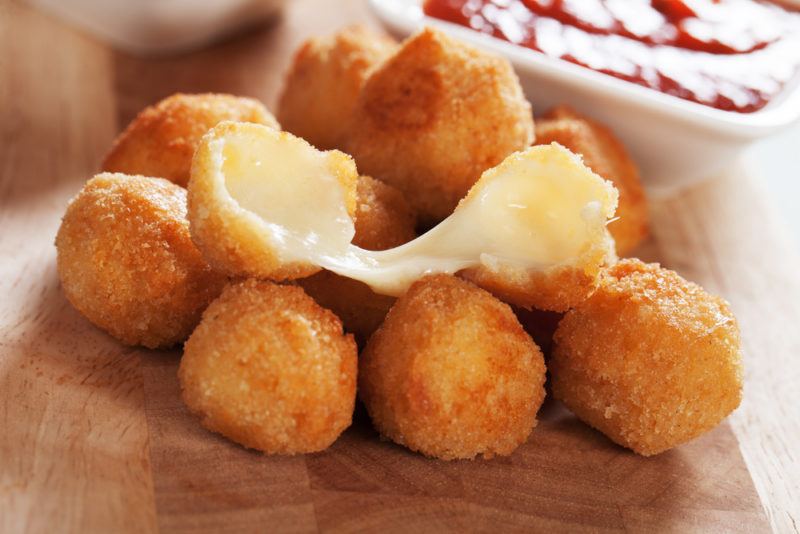 These little treats take mozzarella up to the next level. You're normally relying on the string cheese version of mozzarella. This is then cut into small pieces, rolled in bread crumbs, and deep fried.
You end up with a delicious gooey and melty interior, plus a crisp outside. What's not to love? The bites can be served on their own or with some dip. Be sure to offer toothpicks so they're easy to pick up.
Bacon Wrapped Dates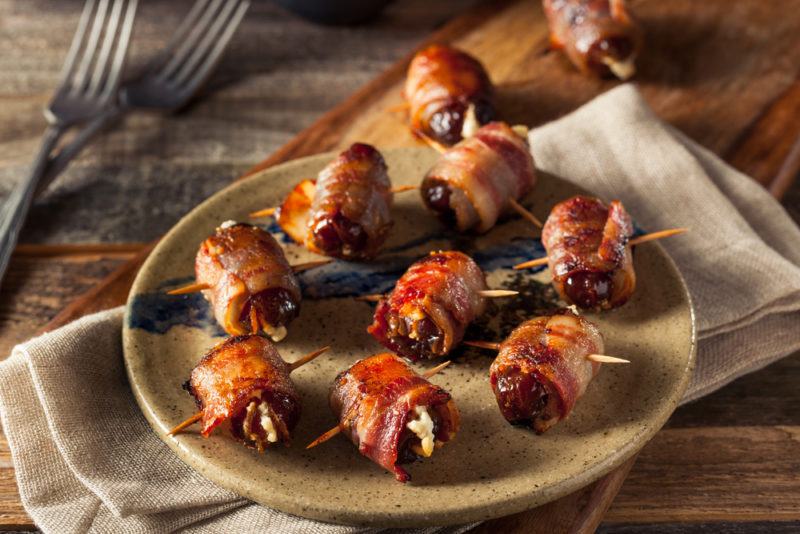 This is one finger food that you shouldn't dismiss until you've tried it at least once. The idea is simple. Stuff dates with almonds and then wrap each date with a slice of uncooked bacon. Once they've been baked in the oven, you can serve the bacon wrapped dates at room temperature or while they're still warm.
You end up with an interesting taste and texture combination, with sweetness from the dates and saltiness from the bacon. The almonds add a nutty flavor, along with a fun variation in texture.
Stuffed Mushrooms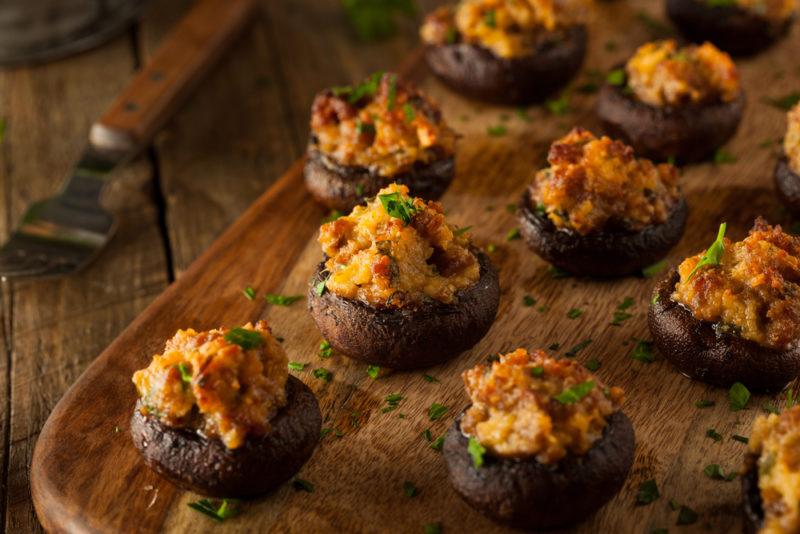 Mushrooms make a surprisingly good base for finger foods. You're generally removing the mushroom stem, perhaps scooping out some of the interior, stuffing the mushrooms, and then baking them.
Fillings are often meat-based, such as one that relies on cheese, cream cheese, and spiced sausage. But, this is another area where you can be creative. You could make a simple vegetarian version using bread crumbs, herbs, and cheese, or a vegan one that relies on seasoned breadcrumbs.
The size of your mushroom will influence the amount of stuffing that you need to use, so keep this in mind when you're planning.
Homemade Cheese Straws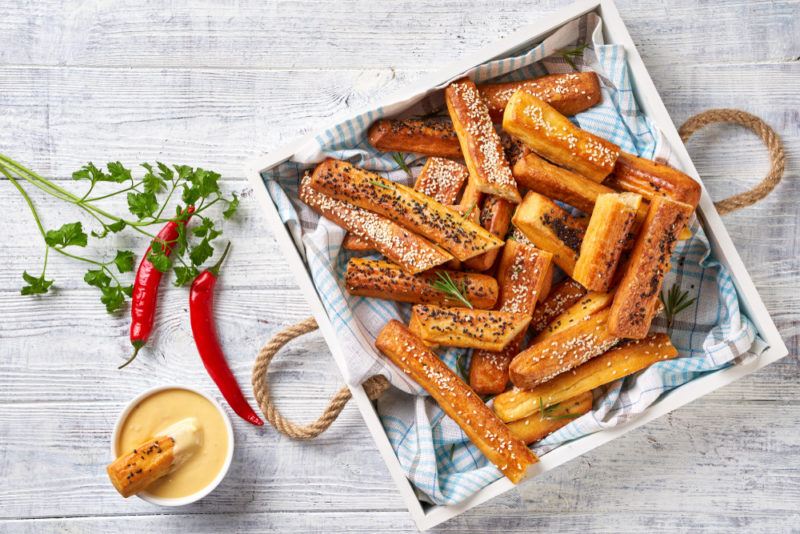 Cheese straws work perfectly at any party where you have at least one type of dip. While it's tempting to buy cheese straws from the store, ones that you make at home are always going to taste much better.
The straws don't need to be difficult to make either. You can use frozen puff pastry as the starting point for the straws. Then all you need is some cheese, seasonings, and a few other ingredients.
Mini Quiches

Mini quiches give you all the flavors of a full quiche in a smaller size. The style works perfectly for parties, as the little quiches stay together well, while pieces of a large quiche often get crumbly.
Even more importantely, you can easily play around with the flavors of your quiche. Try ingredients like bacon, sundried tomatoes, olives, or mushrooms to create a snack that stands out. Using aged cheese or smoked cheese is another way to tweak the flavors of your quiche.
Why not get even more creative? For example, you could use spaghetti pasta, cream. And seasoning ingredients to create cabonara mini quiches. That's just one option. Feel free to experiment and find your own versions.
Cucumber Bites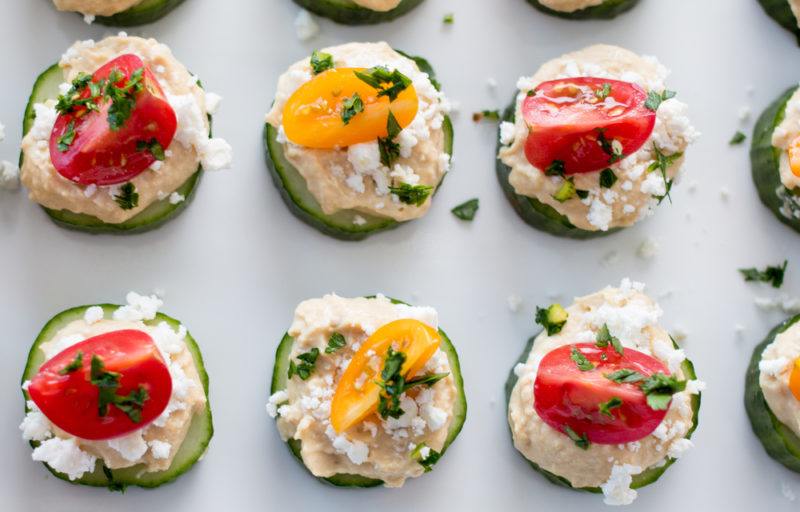 It's always important to have some healthy and refreshing snacks on offer. Cucumber bites are an easy way to do this.
The snack is a flexible one. You're simply using a slice of cucumber as the base of your appetizer and then adding whatever toppings you like. Cream cheese and salmon cucumber bites is a common approach, but that's just one style. Try other combinations of toppings too.
If your birthday party has a particular theme, you could choose the toppings to reflect that theme. For example, blue cheese and walnuts might be a good choice for a somewhat elegant birthday party, while you could make an everything bagel version for a more casual event.
When you're making these snacks, pay attention to the thickness of your cucumber slices. These need to be thick enough to hold their shape, even with heavy toppings.
No Bake Mini Cheesecakes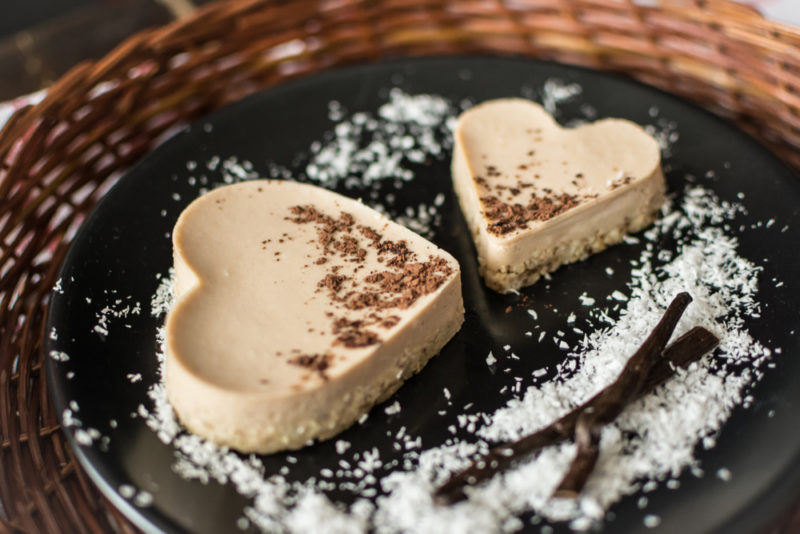 No bake cheesecakes aren't really cheesecakes at all, but they do still look like cheesecakes. More importantely, the little treats taste amazing. Try making them in a mini muffin tray to get a good size for your event.
Most such cheesecakes don't use dairy at all. Instead, they rely on pantry ingredients, including nuts, shredded coconut, coconut milk, and cocoa powder. They can easily be made vegan-friendly and gluten free, so these are easy treats for people with allergies.
Zucchini Fries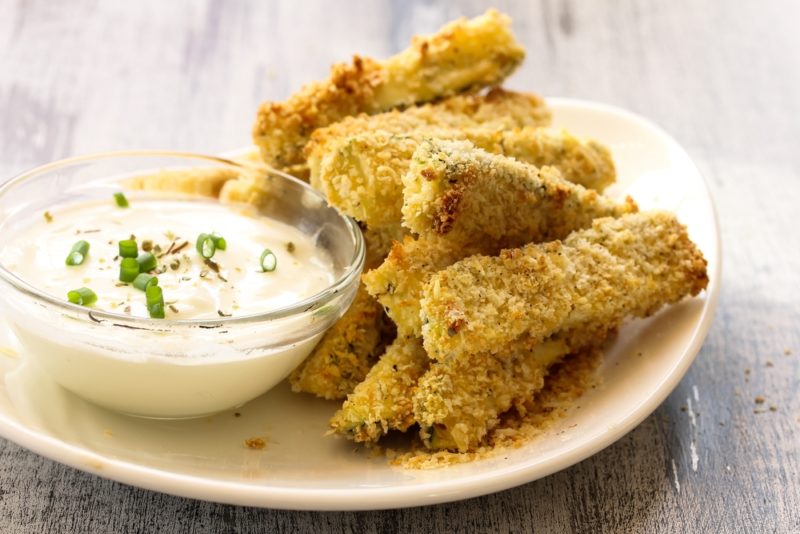 Looking for something healthier than regular French fries? Zucchini fries are the way to go. As the name suggests, these rely on pieces of zucchini rather than potato.
To make them, you often start by rolling the zucchini pieces in flour, dipping them in egg, and then coating them in a mixture of breadcrumbs, herbs and spices, and parmesan cheese. Once cooked, the fries often end up being crisp and delicious.
This party food is best served fresh, so you'll need to be cooking the fries once the event is already underway.
There are variations on the recipe too, including vegan zucchini fries and ones that are keto-friendly. These versions have a slightly different flavor or texture, but they can be just as delicious.
Mac and Cheese Balls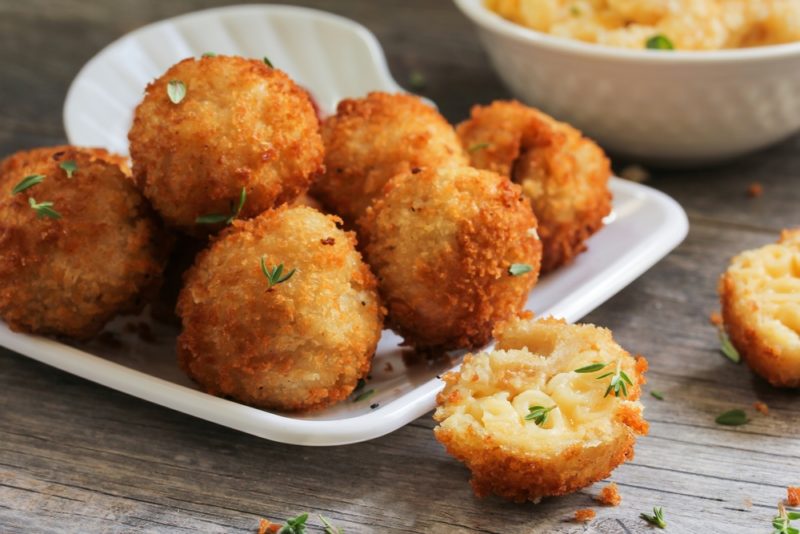 These little balls don't need much explanation. They're simply macaroni cheese that has been rolled into a ball-like shape, crumbed, and then deep fried.
Needless to say, this finger food isn't healthy – at all. Still, it's a delicious snack, as you're getting a crispy outside and the soft macaroni cheese on the inside.
Try serving these balls with toothpicks and dip. The toothpicks would make them easier to handle, while the sauce adds an extra layer of flavor.
Mini Burgers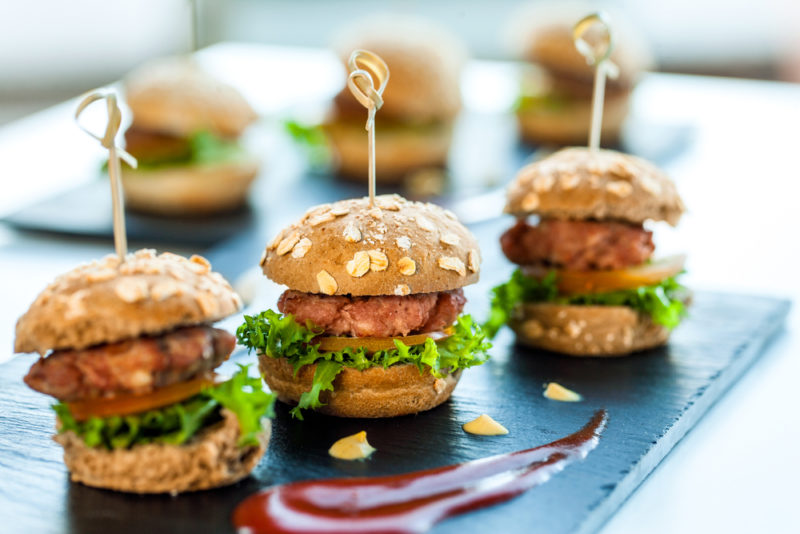 Mini burgers are so much more interesting than serving sandwiches at your party for the umpteenth time. The small size of the burgers makes them easier for guests to pick up and eat. Try sticking them on cocktail skewers to make the whole experience less messy.
Of course, you don't need to stick to conventional burgers. You could play around with the burger buns and the ingredients to create more noteworthy treats, like chicken burgers or ones that use shredded beef.
Fried Onion Rings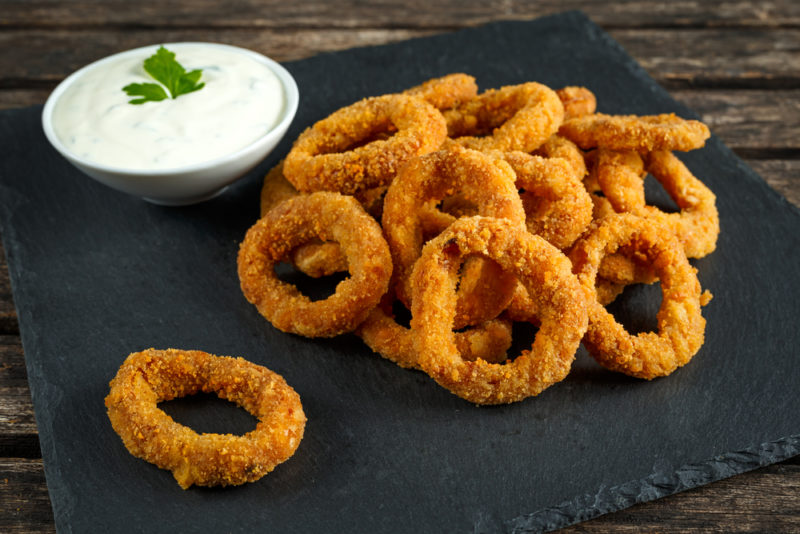 If you're going to serve mini burgers, what about offering some fried onion rings too? They're a classic greasy food that everyone seems to love.
And, if you have a deep frier, they're effortless to make. The trick is to serve the onion rings soon after they've been cooked. Give them a little time to cool down, but not too long, as onion rings are best when they're fresh.
Puff Pastry Rolls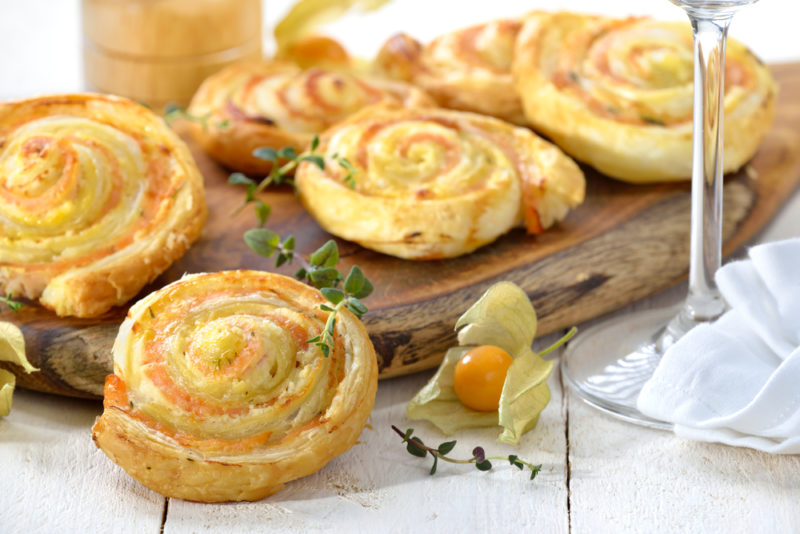 Scrolls like these are one of the best ways to use puff pastry. You end up with delicious flaky layers of pastry that have some type of filling sandwiched between them.
These scrolls classically use ham and cheese as the filling. Of course, that's far from the only option. The version pictured, for example, uses cream cheese and smoked salmon instead. I've seen onion marmalade or pesto used in such scrolls too.
Why not play around and find an entirely new combination of ingredients?
Cake Pops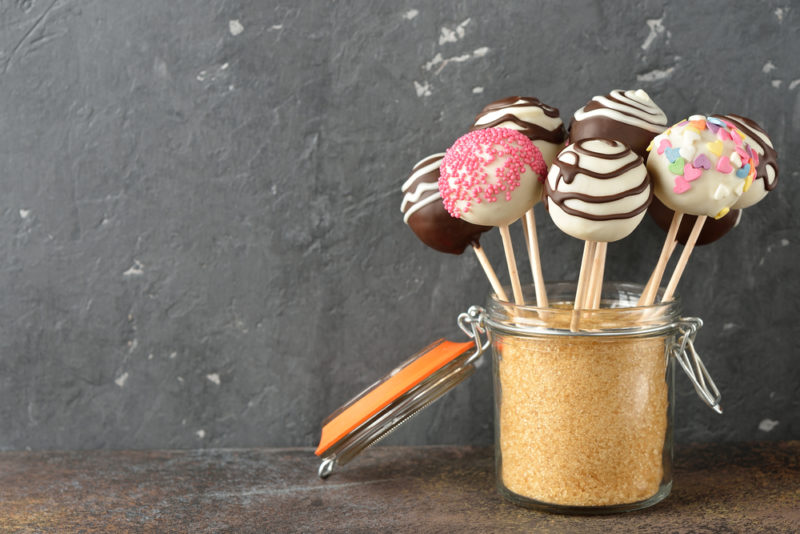 Cake pops are such a fun idea. They're made of little balls of cake that have been dipped in chocolate and then decorated. There's plenty of flexibility, as you can choose the type of cake that you make, along with the chocolate you use.
You can even get colored chocolate (which is just white chocolate with coloring). Why not try some white chocolate cake pops and some pink chocolate ones for a girl's birthday party?
Cake pops are a little fiddly to prepare, so try to get some practice in before the big day.
One trick is to make the cake as normal, then crumble it and mix together with cake frosting. This still gives you the flavor of cake, but in a malleable form. You then need to dip the cake pops. Doing this once, letting the pop cool, and then dipping them a second time is the best way to get the sides evened out.
Cupcakes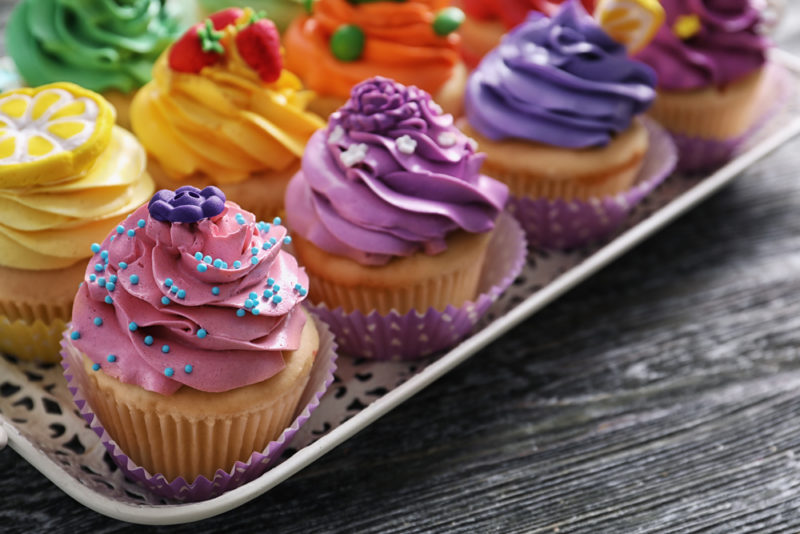 Cupcakes are a birthday party institution. They show up at countless events, partly because it's so easy to make them match your theme. After all, you can create almost any icing flavor under the sun and decorate the cupcakes in other ways too.
But, if you're going to serve cupcakes, make sure that they're good ones. Most party-goers are sick of dry and stale cupcakes that taste boring. Try finding a delicious cupcake recipe online and going from there.
If you're not convinced about your own baking skills, why not outsource? Many local stores produce amazing cupcakes. Some places even specialize in cupcakes and will ship them across the country.
Fresh Fruit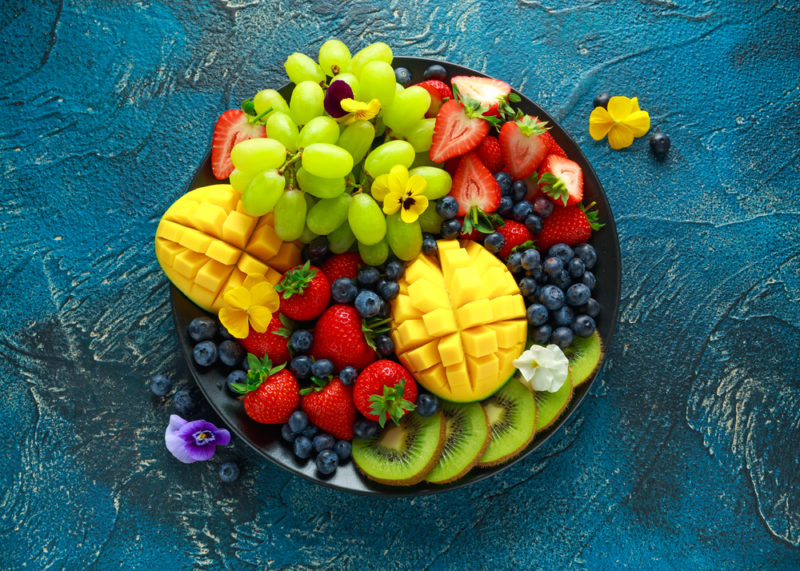 We've mentioned plenty of party finger foods already, but sometimes simple is best. What could be easier than fresh fruit? You can choose whatever's in season, then find a good way to serve it.
Slicing the fruit up to create a vibrant display is one of the best options. This lets you take advantage of the different colors, shapes, and textures. Or, why not make the fruit into chunks and thread it onto skewers?
Fruit salad is an option too. This isn't a type of finger food on its own, but you could make small containers of fruit salad that people can pick up and walk around with. Try giving your guests a toothpick too, in case they don't want to eat the fruit salad with their fingers.
Bruschetta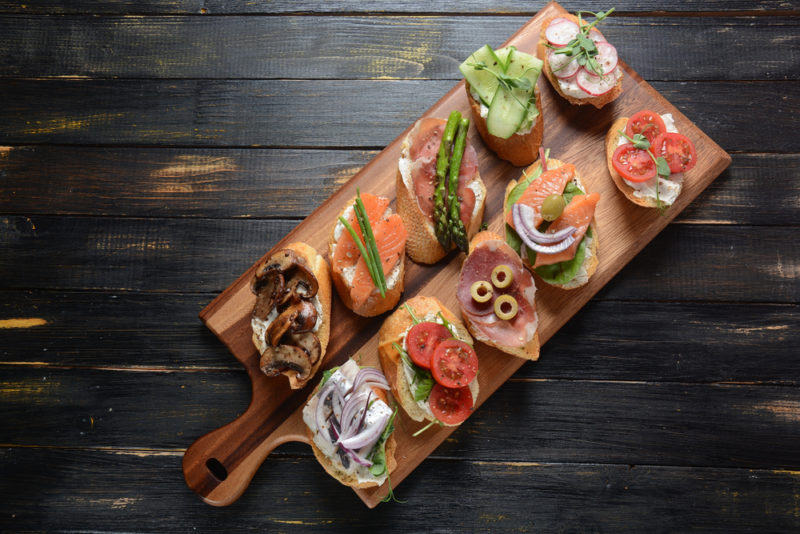 Bruschetta is one of the typical party foods that you'll see time and time again. The term traditionally refers to garlic bread that is topped with olive oil and salt. Chopped tomatoes, garlic, and balsamic vinegar are a classic topping, but there are plenty of other toppings that you can try too.
You can really let your imagination go wild here.
Look for combinations of flavors that go well together, like chicken, cranberry sauce, and brie. You could even make bruschetta melts, where you are putting the bruschetta and toppings in the oven for a little bit – just enough to make the snack melty.