Weddings can quickly become expensive and complicated affairs. Sometimes the stress, cost, and decisions end up overshadowing what you're meant to be celebrating. Wedding reception finger foods are a fantastic way to make things simpler.
There are many advantages to taking this approach. For one thing, finger food is cheaper than full meals. You can even prepare much of the food yourself or get family and friends to help out. In fact, using finger food is one of the easiest ways to keep your wedding costs down.
The timing becomes more straightforward too, as most finger foods can be prepared before the big event. Some can even be served at room temperature, so there's no need to worry about keeping them hot or cold. Finger foods also pair surprisingly well with wine.
Finger food makes it easy to keep everyone happy too. You can serve a selection of flavors and styles, then guests can pick the things they like the most. This is so much simpler than trying to match everyone's preferences with full meals.
Regardless of your event's theme or your personal preferences, it's important to offer some variety. Try to include some classic foods and some more exotic ones. Likewise, some of the foods should be light and healthy, while others can easily be heavier and more satisfying. This type of variety helps make sure that your guests enjoy themselves.        
Finger Foods For A Wedding Reception
Mini Lobster Rolls
Cheese Balls
Cupcakes
Sushi
Zephyr Marshmallows
Macaron Tower
Desserts in Glasses
Chocolate Tower
Shrimp Spoon Snacks
Canapes in Glasses
Donuts
Mini Cheesecakes
Blinis
Hummus Dip Cups
Lemon Tarts
Beef Packages
Barbeque Potato Skewers
Cocktail Stick Kebabs
Melon and Ham Appetizers
Bruschetta
Chocolate Dipped Tangerine
Salmon Cream Cheese Rolls
Mini Burgers
Steamed Buns and Dumplings
Spinach and Avocado Deviled Eggs
Tartlets
Fruit and Vegetable Skewers
Pigs in a Blanket
Tea Sandwiches
Mini Lobster Rolls

Finger food is used at countless events, so you'll want your wedding selections to stand out a little. These mini lobster rolls are perfect, as they look elegant and they're not your typical birthday party finger food.
They're also a well-balanced little snack that should be very filling. Both features are essential, as you don't want hungry guests.
Don't worry if lobster is outside of your budget or you don't want to serve it. You could easily make similar small rolls with whatever fillings you like. Don't be afraid to get creative. The rolls are much be more interesting than sandwiches, so you're onto an easy winner.
Cheese Balls

Cheese balls are always popular. They're also simple. The basic recipe relies on cream cheese and shredded cheese mixed together and formed into a ball. You could use other cheese products too, like sour cream (which adds creaminess) or cottage cheese (which is lower in calories).
Some type of topping is used too. The balls in the image have been rolled in breadcrumbs and pistachios. You could also try chopped nuts or a gluten-free alternative to breadcrumbs.
Why not mix another ingredient or two in with the cheese? Smoked salmon works well. You could even use some herbs or spices to create a more complex flavor. You can use unusual types of cheese in the ball too, like smoked cheddar for extra flavor.
Cupcakes

It's hard to imagine an event where cupcakes aren't suitable. They seem to be perfect almost every time, partly because you get to control how they look.
Take the cupcakes in the image as an example. The use of fondant makes these look elegant – perfect for a wedding reception. Making cupcakes that look this pretty does take skill, but there are many expect cake makers out there who could prepare some for you with ease.
You could also take a similar approach by using regular icing and adding some pre-made cupcake toppers onto the cupcakes.
As always, the trick is to make sure your cupcakes taste good to begin with. It's far too easy to rely on a boxed baking mix and end up with cupcakes that are dry and bland. If you're not confident in your own abilities, why not pay a friend to make the cupcakes instead? You probably have at least one fantastic baker in your social circle.
Sushi

There are many reasons to serve sushi as a finger food for your reception. For starters, sushi is popular. There are also plenty of types, so it's easy to offer a wide variety for people to choose from.
Consider providing some sushi that relies on raw fish, some that uses chicken or another type of protein instead, and some that is vegetarian-friendly. This way there's an option for everyone.
Plus, sushi is healthy and isn't too heavy. Both features are important, as you don't want all of your foods to be rich or sweet.
The main disadvantage is that preparing sushi by hand takes a bit of effort. Then again, if you're serving finger food at a wedding, some of the food is probably catered. Sushi is an ideal choice for catered finger food. Plenty of places sell sushi. Many will even provide it on large platters, ready for you to serve. 
Zephyr Marshmallows

These marshmallows are a little different. They're Russian in origin and are a little like large gourmet marshmallows. You can make them at home and can even rely on natural ingredients for the colors. There's a fun recipe to try out here or you could find a different recipe online.
The texture and flavor of these marshmallows are reason enough to serve them at a wedding reception. Your guests will love having something that's a little bit different.
The zephyr marshmallows also look like little roses, which makes them perfect for a romance-themed wedding.
Macaron Tower

A macaron tower like this could be used as a wedding cake alternative or simply as an easy way to serve the treats. You simply need a multi-tier stand of some type. These are surprisingly easy to find online, including stands that are specifically designed for macarons.
You could make a vibrant display that features many macron colors, perhaps layered like a rainbow. Or, you could focus on colors that match the theme of your event instead. Either style would be exceptional.
Other cookies could be used in a similar stand. Honestly though, there's something special about macarons. They're delicious, light, and not too sweet. They're also a treat that most guests won't eat regularly.
Desserts in Glasses

Do these little treats count as finger foods? That depends on how you define the term, I suppose. Still, there's no denying that desserts look stunning when they're served in glasses like this.
The glasses have the same advantages as regular finger food anyway, as guests can carry them around and eat them while they mingle. There's a ton of flexibility too. You could make whatever type of dessert you like in these glasses, including chocolate mousse, cheesecake, and parfait.
In fact, glasses and tiny bowls are easy ways to make finger food out of almost anything. Even if you need to provide a tiny spoon or a toothpick, the style is much easier than serving full desserts.
Chocolate Tower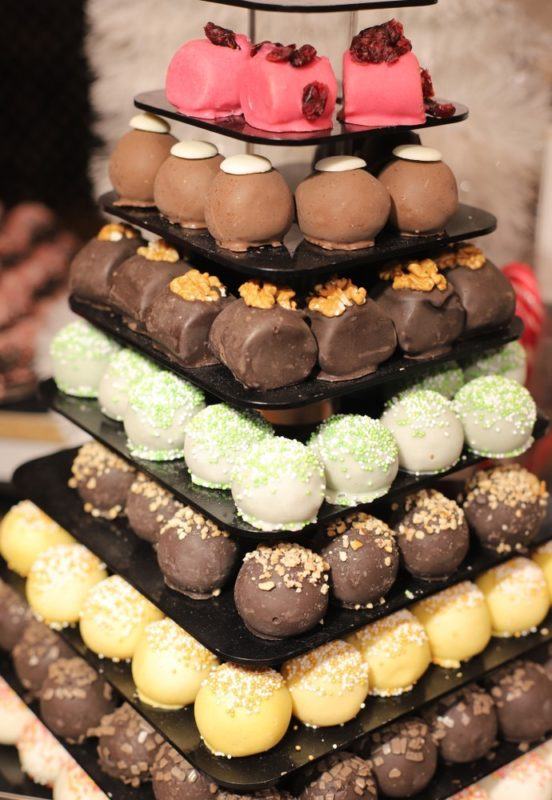 While we're on the topic, how about making a tower of other desserts, like the chocolates in this image? This is a much more elegant way of serving treats than having them on small plates.
Truffles are an easy option here, but you can also use small pieces of other types of dessert like cheesecake or brownies. You just need to make sure that the desserts you choose can easily be picked up.
The height of the tower also makes it easier for guests to grab the treats. This could be perfect if there are many people crowded around the table. In fact, having towers like this is almost essential during a wedding reception. The style makes the table look much better and helps guests to get the food they want.
Shrimp Spoon Snacks

Some treats can be easily turned into finger food with a little creativity – like these shrimp appetizers. They're served on little white spoons. Guests can use the spoons like a little plate and eat with their fingers, or simply eat the whole thing off the spoon in one go.
Either way, the style is less messy than guests picking up the snacks in their hands.
The style gives you more flexibility too. It doesn't matter if the snack is a little delicate, as it is resting on the spoon until it is eaten.
Canapes in Glasses

Little spoons aren't the only way to get creative with snacks. You can also serve them in shot glasses instead. This approach doesn't just make things easier. The small glasses also make the appetizers look much more stunning.
The photo above shows a simple appetizer on a skewer, where you have some lettuce, shrimp, and an olive, along with a little sauce in the bottom of the glass.
Of course, this is just one option. You could easily make and serve other types of canapes in glasses as well. Anything on a skewer is a fantastic place to start, but don't be afraid to try your own ideas too.
Donuts

Donuts might seem like a birthday party food, but they've been showing up at weddings as well. The most common idea is a donut wall, where round pegs are used to hang the donuts. This helps to show off the different colors and toppings.
You could also serve donuts on a tiered stand, much like with the macarons we mentioned earlier. This style might be perfect if some of the donuts are filled or if you're serving donut holes as well as donuts.
If donuts seem like too much, why not try mini donuts instead? These won't hang on a wall as well. Still, they can be just as delicious as full-sized ones.
Mini Cheesecakes

You'd normally sit down to eat a full cheesecake. But, a mini one? These are often small enough for guests to pick them up and eat them as-is.
An easy trick is to make the cheesecakes in mini muffin tins to begin with. This guarantees that they'll be the perfect size for your event. You can have fun with decorating them too.
Looking for something low-carb, gluten-free, or vegan-friendly? Don't worry. There are cheesecake recipes in any style that you can imagine these days, including raw cheesecakes and recipes that rely on nuts as a main ingredient.
Blinis

Blinis are basically baby pancakes, although they're Russian in origin and tend to use buckwheat flour. Of course, many people make them with regular flour instead.
Regardless of the recipe, blinis make a fantastic base for appetizers. The ones in the image use a creamy beetroot spread and then either a piece of smoked salmon or some goat cheese.
That's just one combination of ingredients. Smoked salmon and cream cheese is a popular combination. You could even serve some caviar, if you're feeling adventurous. 
Hummus Dip Cups

Serving a board of cut up vegetables and dips works well at most events. You can do it at a wedding too, but the style can get frustrating, as your guests end up clustered around the table.
Little pots of cut up veggies and dips, like these ones, tend to work much better. Guests can grab one, take it with them, then eat the food slowly.
You can play around with the type of dip and the vegetable sticks that you include. Why not get creative and try some purple carrots for extra color?
The catch is that you'll need to stick to vegetables with this type of cup. Breadsticks and crackers won't work well, as they'll end up soggy.
Lemon Tarts

If you're looking for another dessert idea, what about small lemon tarts? They have a vibrant sweet-sour balance that is much more interesting than most of the classic wedding reception treats.
You could even make these yourself, especially if you used pre-made tartlet shells. Then all you'd need to do is make the filling and the cream topping, which are both easy to do.
Beef Packages

These little treats are a bit of fun, partly because your guests won't know what is inside. The version in the image uses a chopped rocket salad with parmesan cheese and pine nuts, which is then wrapped up in the meat and tied with a chive.
While none of the ingredients are unusual, the presentation of this finger food makes it stand out. You could try different fillings as well.
Just leave yourself enough time to figure out how to tie the little packages well. That process could get quite fiddly.
Barbeque Potato Skewers

I love these treats as a way to make potato and sausage look much more interesting. The snacks even end up looking elegant. That's pretty good given the ingredients that you're using.
These skewers are be perfect if you want to make wedding finger food on a budget. They're also a fantastic choice if you're serving finger food instead of a full meal. If this is the case, you'll need some filling items on the menu – there's no doubt that a combination of meat and potatoes is exactly what's needed.
Cocktail Stick Kebabs

Threading food onto a stick is another very easy way to make finger food. With a little planning, you can end up with something that looks stunning and has a delicious combination of flavors.
The snacks in the image are a perfect example of the style. They all rely on a combination of meat, fruit, and cheese, but they're not all the same. Some of the treats only rely on fruit, while others might skip the meat.
Preparing kebabs like this is a fun way to provide something for everyone. Guests can look for their favorites without needing to pick any pieces off.
Mixing the kebabs like this makes them easier to prepare too. You don't need to have the same amount of each ingredient or worry about getting the order right. Simply follow your instincts and have some fun as you're preparing the finger food. 
Melon and Ham Appetizers

Combining sweet and salty in the same snack often works well. That's precisely what these little treats do. There are only two ingredients to worry about – a wedge of melon, and a piece of rolled up meat. Salty cured meat, like prosciutto, will be the best choice here.
While you could use a regular toothpick, a cocktail pick is a better finishing touch for the appetizer – adding a little class. 
Bruschetta

Regardless of the type of event you're hosting, bruschetta tends to feature somewhere. One reason is that the finger food is such a classic.
Another is that it's flexible. The base of bruschetta is just toasted bread that's been rubbed with garlic. You can then add whatever toppings you like.
Most events serve a few different types of bruschetta toppings. Doing so gives the guests plenty to choose from and makes the bruschetta look fantastic on the plate too.
You can also change up the size of the bruschetta. Try using smaller pieces of bread, for example. Small bruschetta might be perfect if you're focusing on light finger food for your weeding and don't want anything too intense.
Chocolate Dipped Tangerine

For something beyond simple, how about these chocolate dipped treats? You're just covering tangerine pieces in chocolate and sprinkling a little coconut on top.
Doing so gives you a delicious treat – one that's much more interesting than chocolate dipped strawberries. The tangerine pieces are fun to eat, as guests get a burst of juice in their mouth when they first take a bite.
Salmon Cream Cheese Rolls

These salmon rolls are a fantastic wedding reception choice, as they're so simple. You're just serving a splice of smoked salmon that's wrapped around some cream cheese and sprinkled with sesame seeds.
The rolls end up looking elegant, despite how easy they are to prepare. What could be better?
Mini Burgers

This type of burger takes some work to prepare, especially as you need to make the buns. Still, the burgers work well for weddings, as they help to keep your guests satisfied and happen to look good too.
You don't need to stick to the black burger bun idea either. You could easily make a different type of burger bun. Why not play around with the fillings at the same time? Anything that would work in a regular burger will go well in a small burger too.
Steamed Buns and Dumplings

Sushi isn't the only international delicacy that you can feature at your wedding reception. Other foods can be just as appealing – like steamed buns or dumplings.
In fact, anything you find on a Chinese dim sum menu could be a surprisingly good choice at a wedding reception. After all, the foods tend to be small and can easily be eaten with your fingers. Many are also fresh and delicious, offering flavors that your guests are certain to love.
Besides, it gets pretty dull when events all offer the same types of foods. Experimenting can make your occasion much more enjoyable and vibrant.
Spinach and Avocado Deviled Eggs

This snack is perfect if you want to move away from boring deviled eggs and serve something more interesting instead. The main difference is that your egg filling focuses mostly on avocado and spinach, rather than egg yolk. You might use some egg yolk in the mixture, but not as much as with other types of deviled eggs.
You can play around with this idea too. For example, I've seen guacamole deviled eggs, which look simply delicious.
Tartlets

These little desserts are the perfect size for a wedding reception. Your guests end up with a sweet treat, without getting too much sugar in one serving.
The desserts are easy to make, especially if you use pre-prepared pastry shells. Then you're looking at some type of creamy filling, like custard, meringue, or chocolate mousse, and some fruit for the top.
Of course, that's just one style to try. You could easily use other ingredients and create completely different desserts. Why not? Serving multiple versions of the same dessert looks fantastic on the plate and gives your guests much more variety.
Fruit and Vegetable Skewers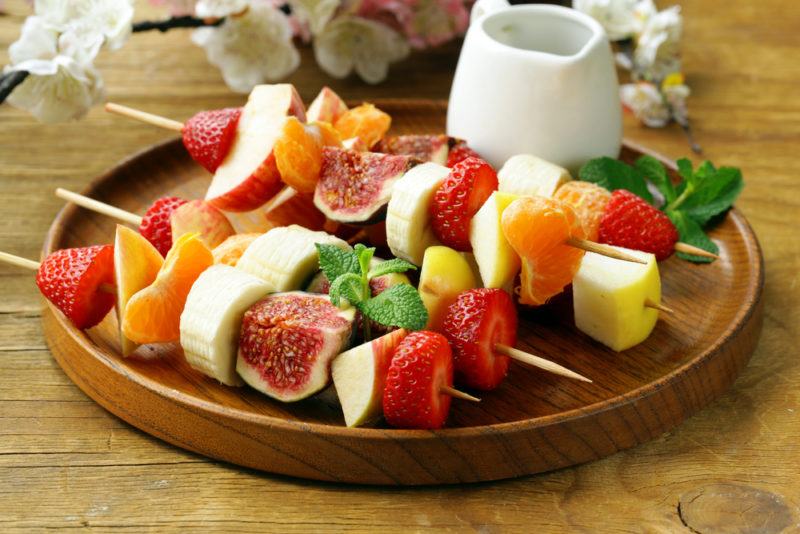 There's no doubt about it. Serving food on a stick almost always makes it look more elegant. That's certainly the case with fruit and vegetable skewers. Plus, you're making the food much more portable.
This is an area to let your imagination go wild in. There are countless combinations of fruit and vegetables to try. You can add other ingredients too, like cubes of cheese or some meat. With the right balance of ingredients, you might even be able to fry the skewer.
When preparing these, aim for variety. You're looking for contrasting colors and textures. This is what makes the skewer look interesting.
Pigs in a Blanket

Pigs in a blanket might seem old hat, but this classic party food is still popular at weddings. In fact, it's often worth offering a few familiar foods like pigs in a blanket. This way your guests all have some favorites they can fall back on.
Besides, pigs in a blanket are easy and inexpensive. This makes them perfect when you're on a tight budget or need to stretch out your food.
Tea Sandwiches

Sandwiches are another classic that's too good to ignore. For a wedding, it's often best to cut these into small quarters and serve them without crusts. Put some thought into the fillings too. What are your guests going to enjoy?
Some people stick with simple and elegant options, like cucumber, while others look for more creative combinations of ingredients.