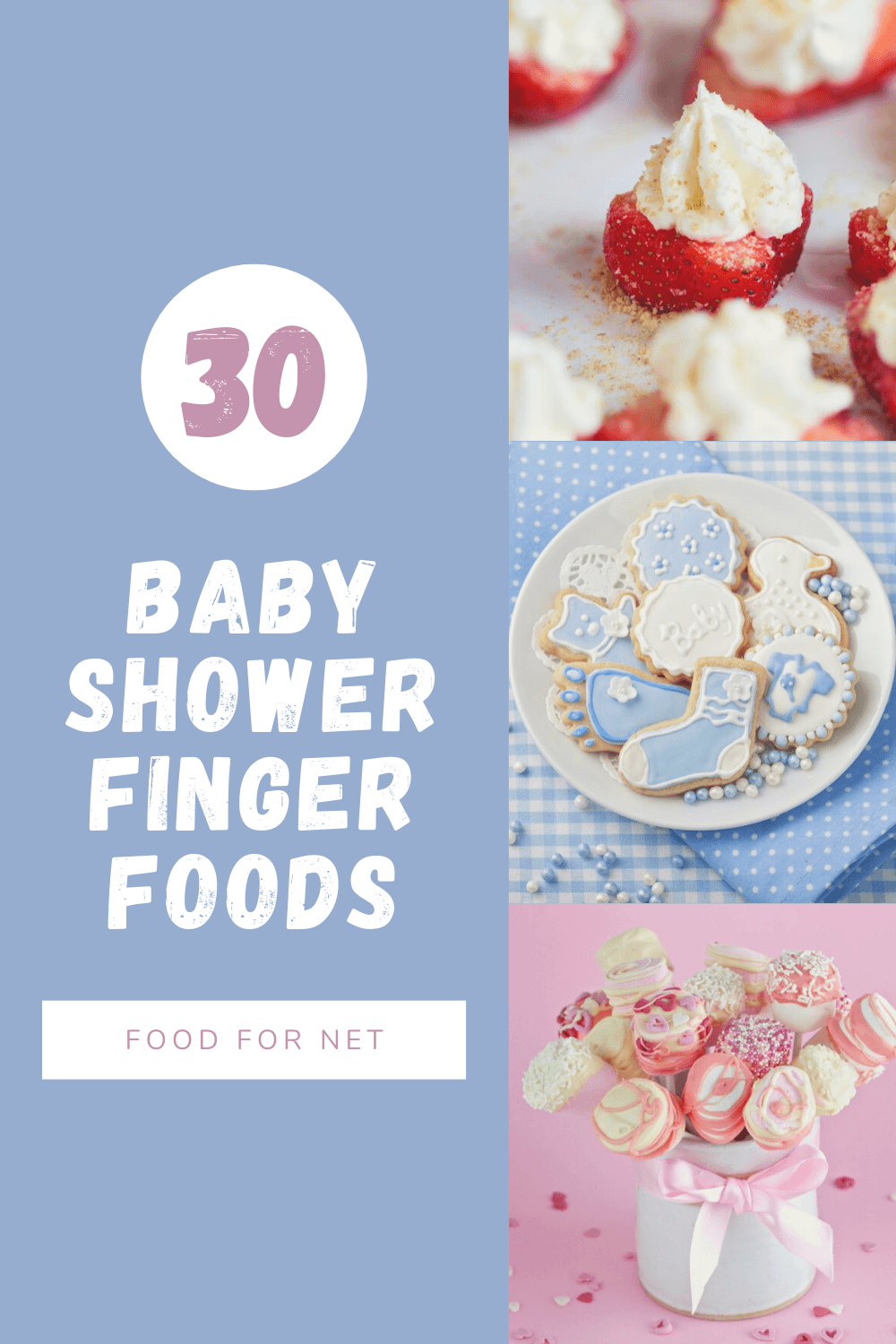 Food seems to make or break any event. This is even true for baby showers and bridal showers, where everyone is focused on the occasion. Don't worry though, baby shower finger foods don't need to be stressful. They're often easy, fun, and casual.
Most of these finger foods can easily be prepared at home before the event begins.
When you're looking at these finger foods, think about when the event is going to take place. If you're having a baby shower in the early afternoon, like 2pm or so, you'll want to focus on light foods. After all, it's too early for dinner and many guests will have had lunch. The same is true for mid-morning baby showers.
On the other hand, if your event falls close to a meal time, you'll need to offer some heartier finger foods. Sticking to light foods here won't work well, as hungry guests don't enjoy themselves nearly as much.
Think about your color theme too. While having a color theme isn't essential, it can be a fantastic way to tie the event together. You don't need to stick with the classic pink for girls and blue for boys either, many people choose colors that aren't related to gender at all instead, like black and orange, a light purple, or simply a collection of pastel colors.
Having a color theme doesn't mean that all your food needs to match it. Still, many of the finger foods on this list can be made in various colors, making them perfect for themed events.
Fun Finger Foods For A Baby Shower
Charcuterie Board
Gender Reveal Cake
Baby Shower Sugar Cookies
Macarons
Cupcakes
Marshmallow Pops
Themed Eclairs
Mini Burgers
Carrot Halwa Laddu
Keto Fat Bombs
Homemade Pizza
Tomatokeftedes
Cake Pops
Mini Grilled Cheese Sandwiches
Cherry Tomato Toffee Apples
Stuffed Mini Peppers
Mini Fruit Pizzas
Tortilla Pinwheels
Brownie Bites
Sushi
Melon and Prosciutto Bites
Get Creative With Bruschetta
Blinis
Cheesecake Stuffed Strawberries
Chocolate Dipped Tangerine Pieces
Dumplings and Steamed Buns
Cucumber Rolls
Watermelon Stroller Fruit Salad
Candy Jars
Whatever You Like
Charcuterie Board

A charcuterie board is perfect for almost any event. After all, this type of board is completely customizable. You get to choose the ingredients that are included and the way the board looks.
Some classic ingredients include fresh fruit, cheese, nuts, cold cut meat, and some types of spread or dip. Of course, there are plenty of other possible additions, like olives, pickles, chocolate, and even meatballs.
The most important thing is variation.
You want a selection of different colors, textures, and flavors on your board. This is what makes it stand out. For example, you might focus on some soft cheeses and some hard ones. Perhaps look for some spicy types of meat and some mild ones.
Play around with the presentation too. Serve some things in slices and others in chunks. Small bowls can be a fantastic way to break up the platter. And finally, avoid placing similar items next to each other on the board. The board looks much better if there are plenty of color contrasts.
Don't forget to provide some small plates either. Otherwise, your guests will end up hanging around the board.
Gender Reveal Cake

Why not do a gender reveal during the baby shower? This can be a fun way to break the ice. The idea is popular anyway. Some people even have entire gender reveal parties.
A cake like the one in the image allows you to reveal the baby's gender and offer some finger food at the same time. The outside of the cake should look the same either way, but it's filled with blue candy for a boy or pink candy for a girl.
Once the big reveal's been completed, you can cut up the plate and serve it as finger food. Guests can have some of the candy too.
Baby Shower Sugar Cookies

Cookies are always a delicious snack, but sugar cookies also give you the chance to play around with shapes and colors. The cookies can be iced in many ways to match the theme you're going for.
The ones in the image, for example, all follow a blue and white theme, making them perfect for when the baby is a boy. Making pink and white cookies would be just as easy. You'd only need to change the food coloring used in the icing.
Getting the icing this precise does take skill and patience. Still, you could make simpler cookies. Don't stress yourself trying to get this perfect.
You could always buy already iced baby shower cookies too. Look for a place that specializes in parties or events. Sellers on Etsy are a good option too, as some of them focus on food for special events.
Macarons

Macarons are another appealing option. These are meringue-based cookies that rely on almond flour and egg whites. They're more expensive than most other types of cookies, largely because of the ingredients that are used.
Of course, many would say that macrons are worth the price. They're light, delicious, and are less sweet than other types of cookies. This combination of features is perfect for a baby shower, as many guests won't want something too heavy.
Macarons also come in many colors and flavors. This makes it easy to match the macrons to any color theme you have going.
Cupcakes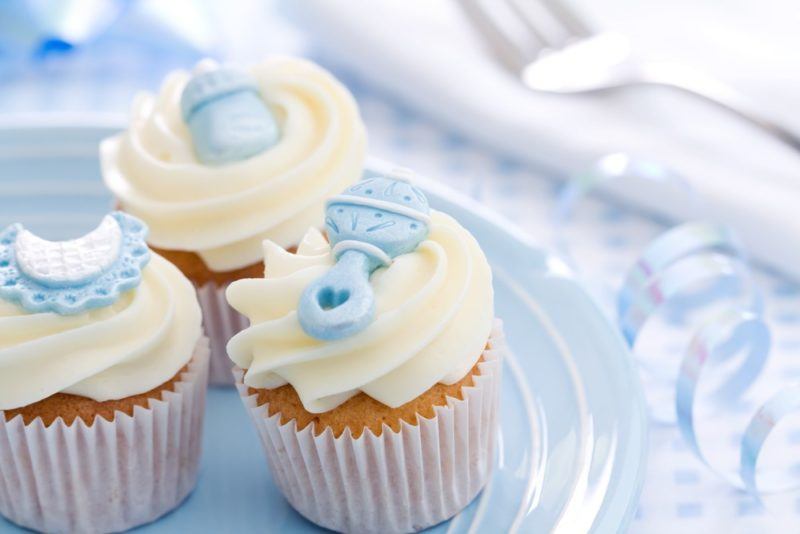 Just like sugar cookies, cupcakes seem to do the rounds at countless events. It's easy to see why too. Cupcakes are just the right size for people to easily hold and eat. Plus, they can be delicious.
Let's not forget that cupcakes are easy to make. Even the non-bakers among us can normally pull off some half-decent cupcakes.
You also get to play around with their appearance. The right icing and cupcake wrapper will let you match the cupcake to whatever theme you have in mind. You could also follow the style in the image and add decorations onto the top of the cupcake.
There's one crucial thing to remember with cupcakes – make sure they taste good. It's far too easy to create cupcakes that are dry or boring, ones that guests take a bite or two of and never finish.
Marshmallow Pops

These little treats aren't just delicious. They're also very easy to make. The idea is simply that you're dipping marshmallows in chocolate or some type of candy coating and then decorating them.
Chocolate and cake sprinkles is one of the simplest combinations, but honestly, let your imagination go nuts. There's no shortage of variations to try.
Themed Eclairs

I love these little eclairs. The combination of white icing and a little pink heart makes them look much more interesting than a regular chocolate eclair. Plus, they play into the pink and white theme that is common at many baby showers.
I've seen other versions too, like eclairs that use bright pink icing and a white flower on the end.
Mini Burgers

These burgers mightn't be as elegant as many of the other featured finger foods, but this doesn't make them any less appealing. They could be perfect for a baby shower where you need more substantial food – like one that's close to dinner time.
The small size of these burgers makes them fun too. Each one would just take a few bites to finish. You can also play around with the ingredients. Make the burgers as simple or as complicated as you like. They're certain to be a hit either way.
Carrot Halwa Laddu

These little treats are called carrot halwa laddu. They have an interesting flavor, as they rely on carrots, sugar, milk powder, cardamom, and a few other ingredients.
These are a fantastic option if you're looking for something sweet that's a little out of the ordinary. Besides, let's face it, guests get a little sick of seeing the same food at event after event. Why not make life more interesting and offer some unusual treats?
Keto Fat Bombs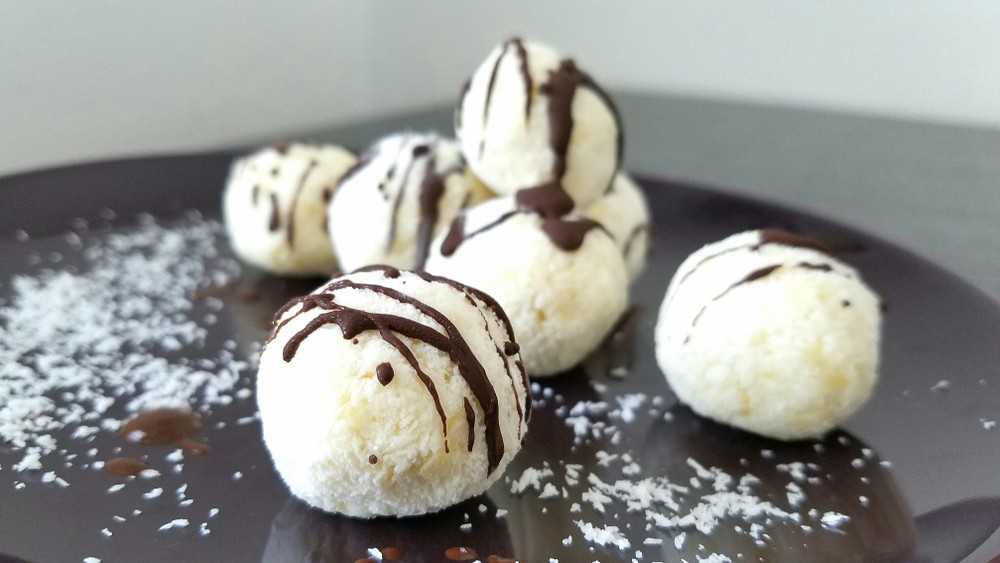 While we're talking about uncommon treats, what about serving keto fat bombs? These are a type of keto finger food that's been getting more popular as the diet gains traction. The name really says it all. These snacks are high in fat and very low in carbs. Some have a decent amount of protein too, while others focus almost entirely on fat.
There are plenty of styles to try for yourself too, including chocolate almond fat bombs, matcha fat bombs, and even savory ones.
Homemade Pizza

Fast food pizza tends to be greasy and loaded with calories, but homemade pizza can be a completely different story. One of the best things is that you can make the pizza however you like. This gives you complete flexibility with the toppings and also the base.
For example, some people use flatbread as the base for their pizza. You could even focus on a keto-friendly pizza base rather than a regular wheat one.
Some pizzas, like the one in this image, don't look like traditional pizza at all. They use a completely different combination of flavors and textures. Don't worry though, whatever you choose is going to taste delicious.
Tomatokeftedes

Tomatokeftedes are a delicious Greek appetizer that you can easily offer at your baby shower. They're often called fried tomato balls or tomato fritters, so it's not surprising that tomatoes are one of the main ingredients.
Recipes vary, but you'll often be using some feta cheese, flour, and red onion, along with various herbs and spices. The combination of tomatoes and feta alone is sure to make these a popular choice at any event.
Cake Pops

Cake pops are a fun way to give people the flavor of cake while keeping the portions small. They're also fantastic for themed events, as you can easily decorate them to match your theme.
Don't worry though, the cake pops don't need to look as complex as the ones in this image. You can easily make simpler versions. Try just chocolate dipping each cake pop and rolling it in sprinkles.
Some cakes pops are simply made by creating round cakes that are then dipped. Most, however, use a combination of cake and frosting to create a malleable mixture. This can be rolled into a ball and is easy to dip.
You can even use a boxed cake mix to create these little treats. But, they'll taste much better if you focus on baking a homemade cake to begin with.
Mini Grilled Cheese Sandwiches

Getting a little sick of serving mini sandwiches at events? Why not offer grilled cheese triangles instead?
The ingredients are mostly the same as with regular sandwiches, but there's always something a little decadent about grilled cheese. And, of course, you can play around with the ingredients. Look for combinations that will stand out and appeal to your guests.
Cherry Tomato Toffee Apples

Here's a simple finger food that also looks stunning. You're basically making cherry tomatoes look like miniature toffee apples. To do so, you're using some type of sauce and then coating the tomatoes with sesame seeds.
The tomatoes don't taste like toffee apples, of course, but they're still delicious. They're also much healthier than apples that have been dipped in caramel.
Stuffed Mini Peppers

These peppers are fresh and delicious. They're stuffed with a creamy cheese-based filling.
The ones in the image are served as-is, so you're getting the crispness of the fresh peppers. You can also bake the peppers for a little while. This changes the flavor and texture, creating richer flavors.
Or, why not turn to jalapenos instead of regular peppers? This type of stuffing can be perfect in jalapenos, as the creaminess offsets some of the heat. Just be sure to scrape out as much of the seeds and internal structure of the jalapenos as you can. This way, there isn't too much heat.
Mini Fruit Pizzas

Here's a sweet treat that tastes as good as it looks. The 'pizzas' can be built on sugar cookies, using a layer of cream cheese to provide the white contrast and stick everything down. Then, you can add whatever fruit you like.
While the pizzas could all be the same, it's even more fun to vary them up. Try having many different combinations, like in the image. This type of variety always looks best on the plate.
Tortilla Pinwheels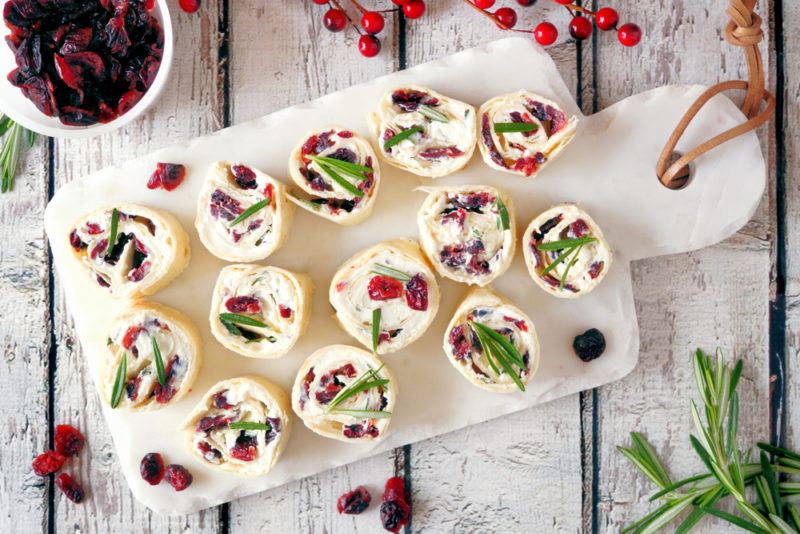 Making pinwheels with a tortilla is a delicious and straightforward idea. You just need to lay the tortilla flat, layer the ingredients that you want, roll it up, and then slice it into small pieces. Don't forget to use a cocktail stick or something similar to keep everything in place.
This style is fantastic, as you can use whatever ingredients you want. The pinwheels in the image, for example, are vegetarian ones that rely on ingredients like tomato and red pepper.
You could also make pinwheels using ham and cheese, or perhaps cream cheese and cranberries. Those are just a few ideas. Why not play around with different ingredients?
Regular tortillas aren't your only option either. There are other types of wraps out there, including green spinach wraps and red sundried tomato ones. Using a different color would make the pinwheels stand out even more.
Brownie Bites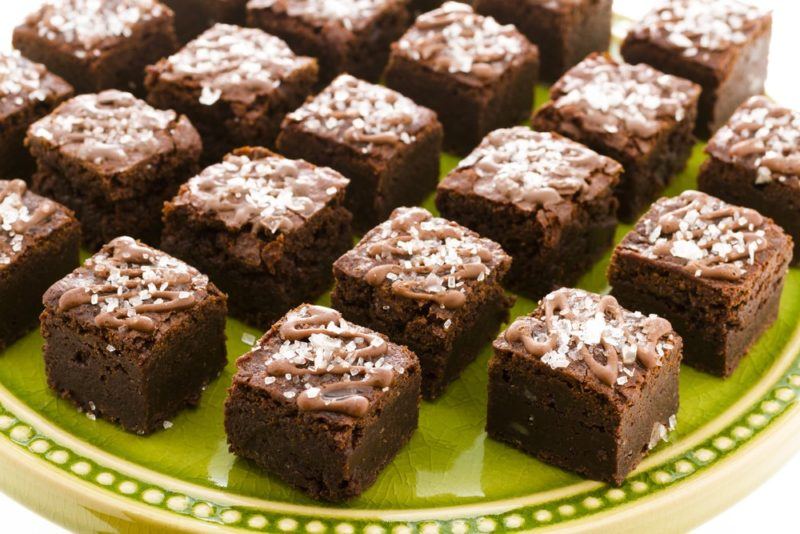 Brownie bites are a fantastic way to give people the taste of chocolate without going overboard. They're also a fun go-to because your guests will already know what to expect.
You can play around with these a little too. Why not add some icing or some sprinkles to help the treats match the theme of your event?
Sushi

Sushi checks all the boxes for a baby shower. It's a delicious snack, can be filling, and is very healthy. There is also plenty of room for variation.
Because this is a baby shower, you might want to skip any sushi that contains raw fish. Focus on other options instead, including chicken sushi and vegetarian sushi. Avocado sushi can be especially popular. You can even make versions that use avocado, rice, and little else.
Melon and Prosciutto Bites

What event wouldn't be made better by these little bites? The sweet juiciness of the melon is perfectly offset by the saltiness of the prosciutto.
And, with only two ingredients, the finger food is a breeze to create. You just need to cut the melon into wedges, roll the prosciutto up, and skewer the two together using a cocktail stick.
Get Creative With Bruschetta

You'll see bruschetta pop up at countless events, mostly because this is such a versatile finger food. The basic idea is that you're using grilled bread, rubbing it with garlic and then topping it with whatever you like.
The garlic is essential, as this provides the bread with extra flavor. To make classic bruschetta, try topping the bread with chopped marinated tomatoes and some olive oil.
Of course, that's just one option. You can get as creative with bruschetta as you feel like. Why not treat the bread like you're making an open-faced sandwich and pile on whatever toppings you like?
It's often best to have at least a few topping combinations, including some meat-based ones and others that are vegetarian-friendly. This way there have some options for every preference.
Blinis

If bruschetta snacks feel like too much, what about blinis instead? Blinis are basically little pancakes. You can add toppings to them, just like you would with bruschetta.
However, blinis tend to be much smaller than bruschetta. They give you a bite-sized snack that guests are certain to love.
Smoked salmon and cream cheese is one of the most popular combinations. That's far from your only option though. You can easily play around and find your own toppings.
Cheesecake Stuffed Strawberries

Getting bored of chocolate dipped strawberries? Why not try a treat like these cheesecake stuffed strawberries instead? The cheesecake filling is simple – it just relies on whipped cream and cream cheese.
You can even sprinkle the treats with graham cracker crumbs, like in the image. This adds a little extra flavor and makes them look even more stunning. Of course, some of those crumbs are going to get on the floor, but what's a party without a little mess?
Chocolate Dipped Tangerine Pieces

Here's another play on the idea of chocolate dipped strawberries. This time, you're dropping the strawberries entirely and using tangerine pieces. The approach gives you a fun color contrast between the chocolate and the citrus fruit.
The flavors work well together too.
Of course, tangerines are juicier than strawberries, so biting into one of these isn't the same as biting into a chocolate dipped strawberry. You'll often get a mouthful of juice when you take that first bite, which isn't a bad thing at all.
You could try dipping other types of fruit too. Or, make things even easier for yourself by providing the fruit and some chocolate fondue. This way guests can have fun with their own fruit and chocolate combinations.
Dumplings and Steamed Buns

Dumplings and steamed buns are both traditional Chinese foods that are easy to pick up and eat. They're also great for events, as these treats aren't everyday foods for most of your guests. This gives you the chance to impress people and serve some delicious food at the same time.
The dishes might seem difficult at first glance, but they don't need to be. There are cookbooks and online recipes that will step you through the process of making these foods.
If you get stuck, you can probably find a local restaurant or two that will make them for you.
Cucumber Rolls

Cucumbers can be used in countless finger foods. You'll often see cucumber sliced into small rounds and then piled with toppings. But, cucumber can be used to create cucumber rolls instead.
To do so, you'll need to create thin cucumber sheets. You can do this by carefully using a sharp knife. Just be careful not to angle the blade too much. If you do, the sheet will vary in size as you go along.
A vegetable peeler can also help you create the strips, although this might take more trial and error.
Once you have the sheets, you just need to smear cream cheese along them, add whatever fillings you like, and roll them up. The pictured version uses a shrimp poking out the top, but other ingredients can work well too, like sliced bell peppers.
Watermelon Stroller Fruit Salad

If you need a centerpiece for your table, carving a watermelon to look like a stroller could be the perfect idea. This treat can be found at many baby showers, partly because it's so easy to pull off. You can fill it with fresh fruit, particularly round fruit like grapes and melon balls.
Some people even take this a step further and create a baby out of fruit to go in the stroller. Doing so makes the whole thing look even more memorable. Honestly though, just going with the basic stroller will be more than enough for most events.
Candy Jars

Candy dishes can be fun additions to finger food at a baby shower. You don't need to go to much work. Simply find a pretty glass bowl or jar and fill it with the appropriate candy.
Many stores cater for color-themed parties, so it should be easy to find candies in the colors that you're looking for. The jars in this image largely follow a pink theme, but finding blue or another pastel color would be just as easy.
Whatever You Like

You've probably noticed that we've featured many different types of finger food. Some of them might match the theme of your baby shower, such as finger foods that have pastel colors or have a special shape. Other foods might be suitable at any other event.
There's a reason for this. Baby showers can be very different from each other. There are no hard and fast rules about what to do at the event or what food to serve. You can choose whatever you like.
Most of the time, you'll want to focus on healthy foods and steer away from greasy foods. After all, you're mostly catering for women and the event would be annoying if guests had greasy fingers. Still, even that's just a rule of thumb. If you have a preference for greasy food like fried chicken, you can certainly still serve it.