Matcha has become a popular ingredient in many circles. Not only does it offer a unique flavor, but the tea has also been linked to various health benefits.
Including matcha in fat bombs is one of the best ways to take advantage of the ingredient. You're able to get all of the benefits in the form of a portable snack. You might also find the fat bombs more enjoyable than matcha in a hot drink.
These keto matcha tea fat bombs recipes are all ways to regularly get matcha in your diet. The recipes offer different combinations of flavors, giving you plenty of options.
Keto Matcha Tea Fat Bomb Recipes
Matcha Almond Fat Bombs
Mint Matcha Coconut Candy
Matcha Cheesecake Fat Bombs
Matcha Coconut Fat Bombs
Matcha Fudge Fat Bombs
Matcha Coconut Fat Bombs
Mint Matcha Fat Bombs
Matcha Fat Bombs
Vegan Matcha Fat Bomb Holiday Cookies
Matcha Chocolate Fudge
Matcha Latte Fat Bombs
MCT Matcha Fat Bombs
PS. Matcha smoothies are another way to increase your matcha intake.
PPS. If you want something a little different, what about savory fat bombs?
Matcha Almond Fat Bombs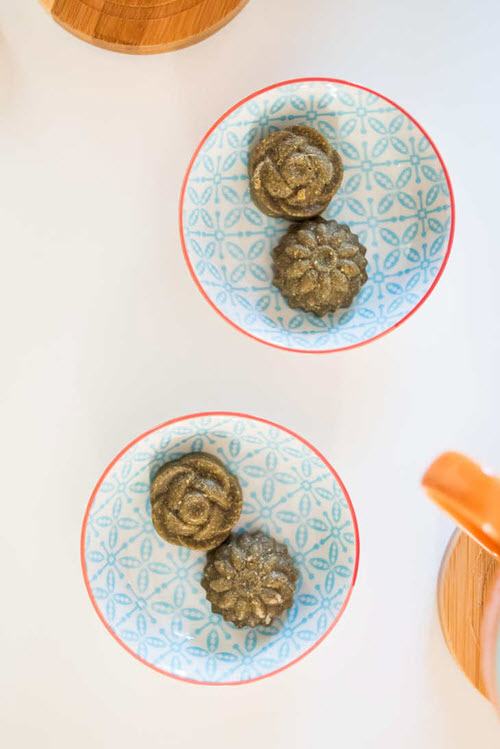 These fat bombs simply look amazing. They use a variety of different ingredients to give an interesting texture and flavor profile. The post on ketosummit.com also provides details about the benefits that matcha offers and why it is worth trying for yourself.
The flower shape comes from the molds that Louise is using. This type of mold is easy to find and is a common idea for candy making. You can use your own molds or simply roll the mixture into balls instead.
Mint Matcha Coconut Candy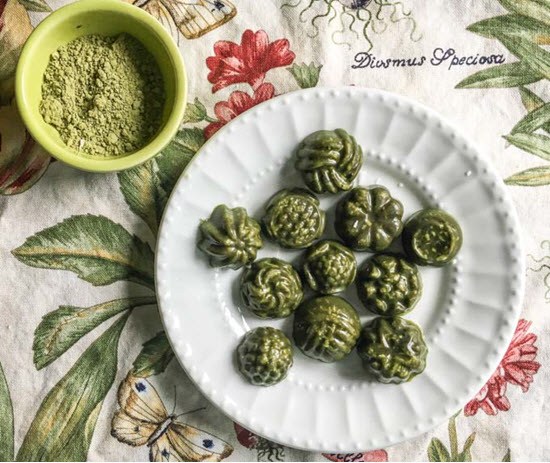 Isn't this a cool recipe? It comes from the site mylifecookbook.com. The candies are exceptionally low in carbs. You're only consuming 0.3 grams of net carbs per serving – and there are three candies in each serving. Combining mint and matcha is a pretty cool idea too. The flavors should complement one another nicely.
As you can see from the shapes, this is another recipe that uses candy molds. You can easily choose different molds, just pay attention to their size. If your mold is a different size, the macros would be different in each serving.
Matcha Cheesecake Fat Bombs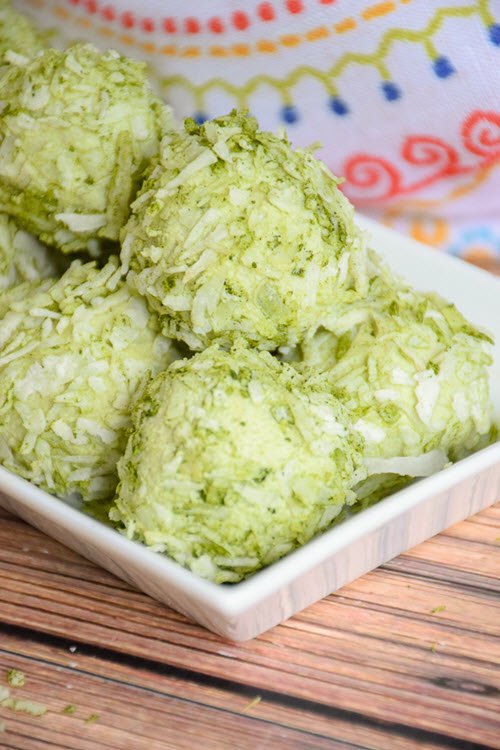 These fat bombs work well for anyone who loves the flavor of cheesecake. The style creates a creamy treat, with added texture from the coconut flakes.
Another cool thing is the macros. These fat bombs contain 22 grams of fat per serving, along with three grams of net carbs. That's an exceptional balance – perfect for any keto dieter. The recipe is easy to create too and only uses five ingredients. You can find all the details at grumpyshoneybunch.com.
Matcha Coconut Fat Bombs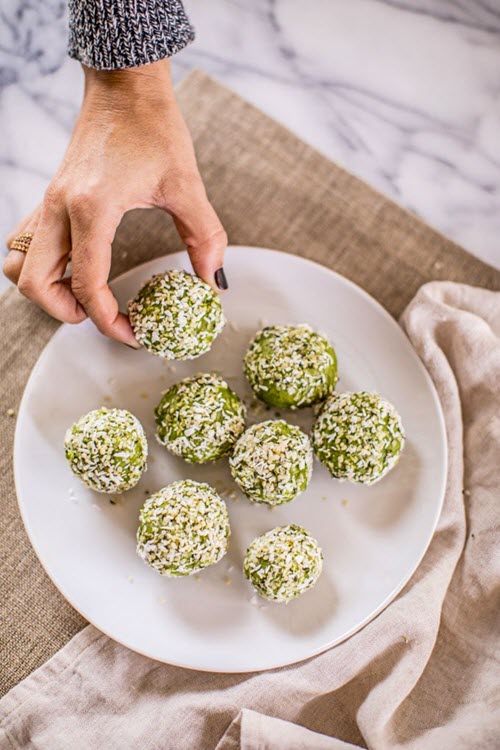 Here's a fat bomb recipe that simply looks stunning. It comes from Kate at rootandrevel.com. The fat bombs use collagen and hemp seed as ingredients. Both additions provide extra health benefits. The hemp seeds also create a fantastic contrast between the outside of the fat bombs and the bright green center.
Honestly, that color difference is reason enough to try out the fat bombs. Many other recipes look similar to one another, so anything that stands out is particularly appealing.
Matcha Fudge Fat Bombs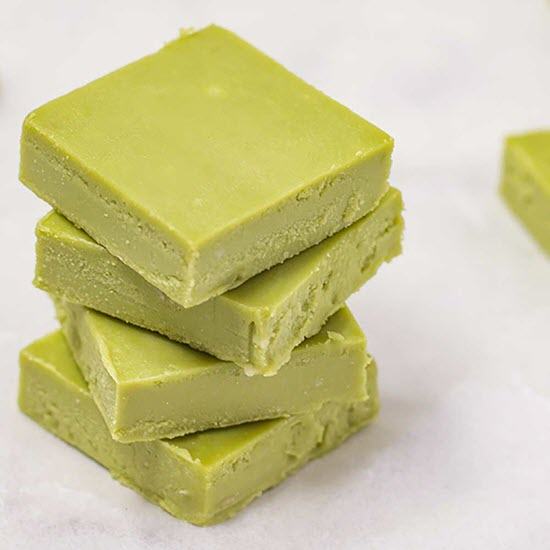 This recipe follows an unusual style, with the finished fat bombs looking like large squares of fudge. Gerri, from my keto kitchen.com, also takes advantage of MCT oil powder as an ingredient. Because of this addition, the fat bombs provide some of the benefits that you find in Bulletproof coffee.
Another cool thing is how much you're making. This recipe provides you with 24 fairly large fat bombs. You end up with lots of fat bombs to share or to store. You could even make smaller ones, which would give you even more servings from the recipe.
Matcha Coconut Fat Bombs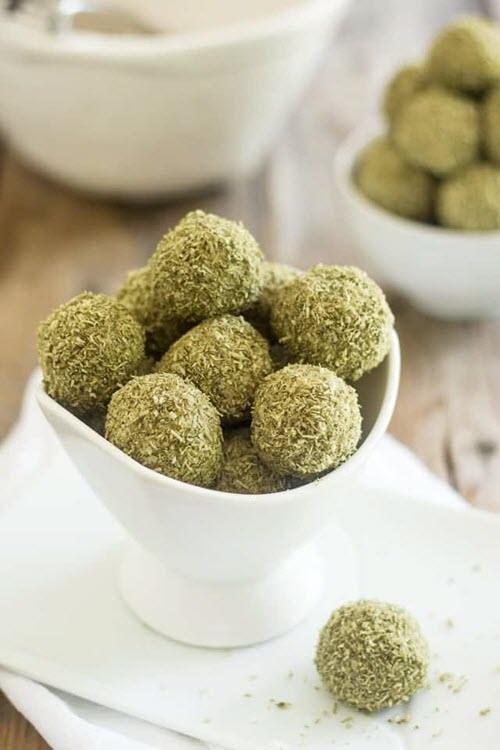 These fat bombs come from thehealthyfoodie.com. They're a very creamy and delicious choice. As Sonia mentions, the fat bombs aren't especially sweet, but this is a good thing. The lack of sweetness makes the other flavors more obvious. This helps you to appreciate the matcha more.
I also love the coating on the fat bombs. This creates a fantastic contrast between the outside and inside of the snacks. Finally, the recipe is an impressive one – it creates 32 fat bombs!
Mint Matcha Fat Bombs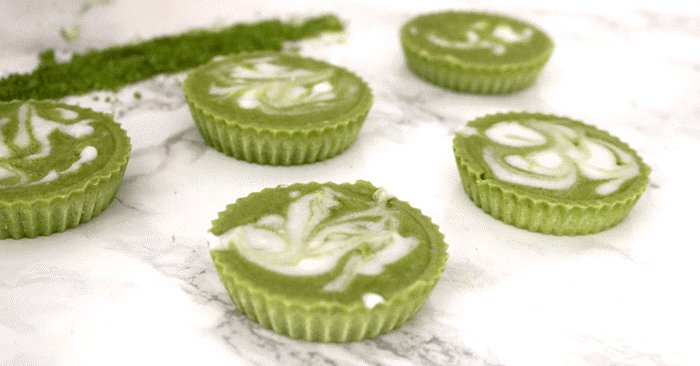 Here's an interesting flavor combination, matcha and mint. The recipe is from Liz at meatfreeketo.com. The fat bombs look like so much fun, especially with the white and green color contrast. Liz also mentions that you can skip the white swirl if you want a fat bomb that is a little faster to prepare.
The recipe details about alternative flavors too. For example, you could cut out the mint entirely and make these matcha-only fat bombs. You could also skip the matcha entirely if you wanted to.
Matcha Fat Bombs
These straightforward fat bombs give you everything that you need. I'm not kidding with the term straightforward either. The fat bombs just contain four ingredients – and one of those is optional. This makes the recipe a great place to get started. You can find it at littlediy.com. There's even a video to show you the steps.
Vegan Matcha Fat Bomb Holiday Cookies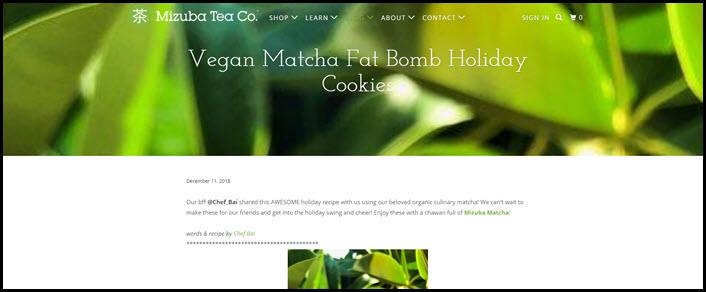 Here's a different fat bomb style to consider. The recipe is for matcha cookies and comes from mizubatea.com. I know that these are promoted as holiday cookies, but you could actually have them at any time of the year.
The cookie style is one of the best things about this recipe. Most fat bombs are relatively similar to one another, just with slightly different flavors and textures. These ones are much more distinct.
Matcha Chocolate Fudge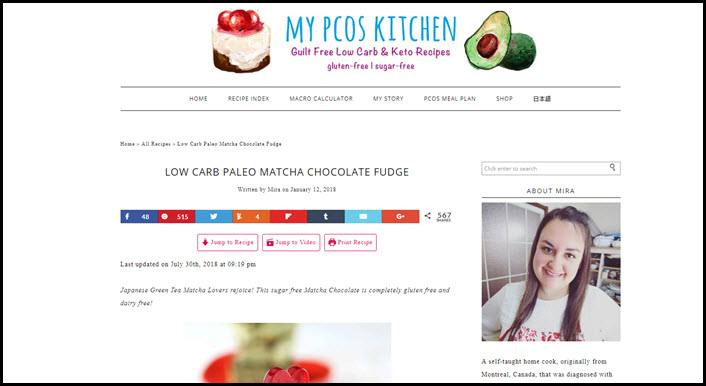 This fudge is another fat bomb option to consider. The flavor combination is based on matcha flavored nama chocolate, which is an interesting Japanese treat that uses white chocolate. Even if you've never heard of nama chocolate before, this fat bomb is a great one to try out.
You can find the full details at mypcoskitchen.com. The fat bombs end up looking stunning too. They would make an ideal gift for Valentine's day or some other romantic occasion.
Matcha Latte Fat Bombs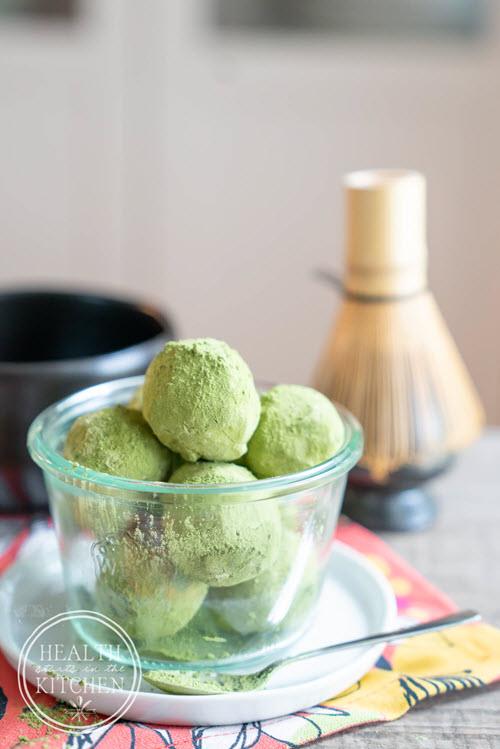 The bright green of matcha really stands out in these fat bombs. They end up looking a little like truffles, which is always fun. Another key ingredient is avocados. This adds to the green color and means that you're getting plenty of healthy fats.
As always, the full recipe can be found on the author's blog. That's healthstartsinthekitchen.com, in this case. There are plenty of other great recipes on the site too.
MCT Matcha Fat Bombs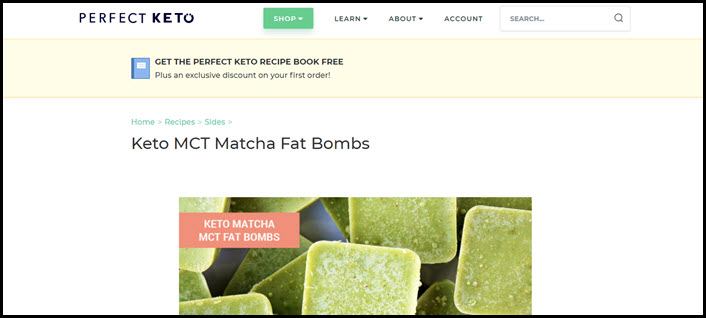 The inclusion of MCT oil powder in these fat bombs makes them even more suitable for keto. After all, MCT is a powerful keto choice, helping people get into ketosis faster. The fat bombs also use cream cheese. This helps to give them extra creaminess and a cheesecake-like flavor. You can find all of the details that you need at perfectketo.com.