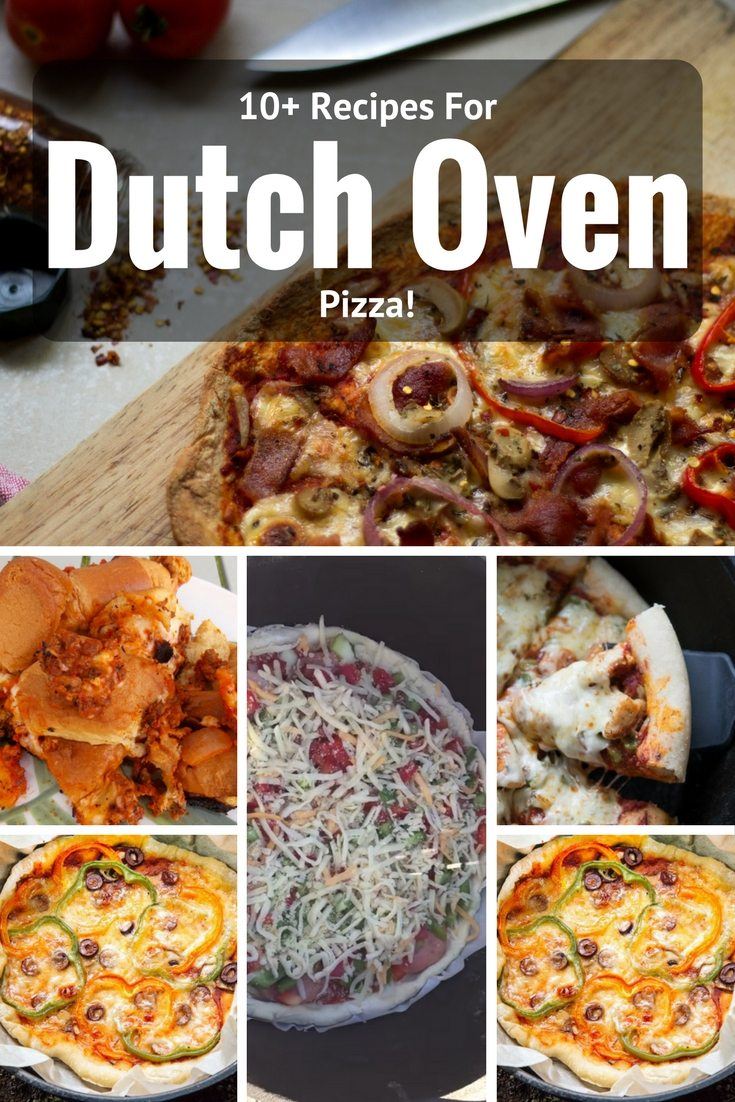 Dutch ovens are fantastic tools for camping, giving you the chance to eat hearty and wholesome foods while you are enjoying the great outdoors. In fact, Dutch ovens are much more versatile than most people assume and they are well worth relying on.
For example, Dutch ovens are often used for dishes like soups and stews – ones that don't have a large amount of structure. But, you can also bake in a Dutch oven, which includes making sweet treats and bread. In this post, we're interested in one such idea, which is using the Dutch oven to make pizza.
And, why not? There are many different Dutch oven pizza recipes to choose from, most of which are extremely suitable for camping. Now granted, you won't get the same amazing pizza that you might create through wood fire cooking. But, that doesn't make the approach redundant. Instead, Dutch oven pizza does have an appeal of its own.
Besides, wood fire pizza normally isn't an option while you are camping. But if you plan to bring along the charcoal grill, check out how KettlePizza makes pizza portable.
P.S. Don't forget to think about what you'll serve with your pizza.
Dutch Oven Pizza Recipes
Campfire Pizza
Dutch Oven Calzones
The Best Dutch Oven Pizza
Basic Dutch Oven Pizza
Honest Campfire Pizza Pie
SRoasted Garlic Chicken Pizza
Dutch Oven Pizza
Dutch Oven Breakfast Pizza
Making Dutch Oven Pizza
Deep Dish Dutch Oven Pizza
Campfire Pizza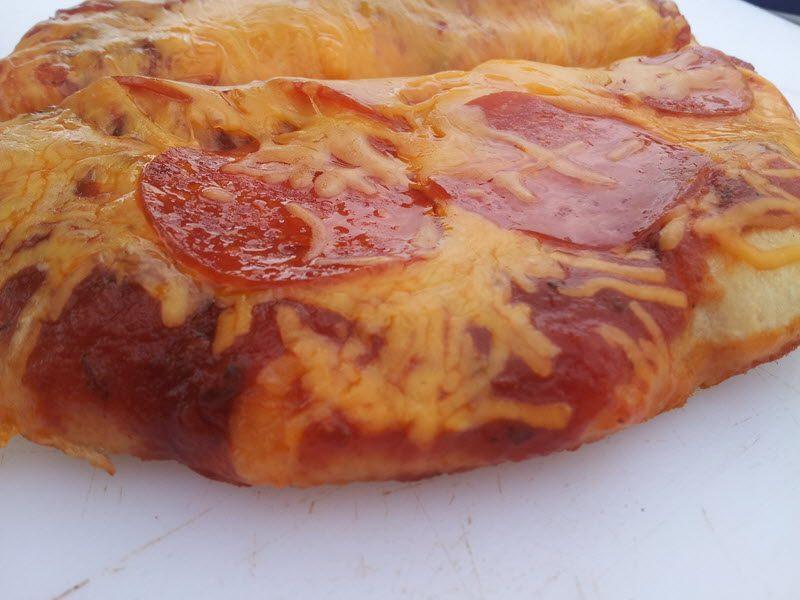 This particular recipe comes from imalazymom.com and it is perfect if you're looking for an easy way to make pizza while you are camping. The ingredients chosen are basic, so there is no hassle involved at all. In fact, this one is simple enough that you could have the kids do it, if you wanted to.
It would also be easy to add to this recipe, such as by varying the toppings that you use. Doing so would let you make more complicated pizzas for the adults and simpler ones for the kids.
Dutch Oven Calzones
If you're going to make pizza in your Dutch oven, why not take the process one step further and create calzones? This recipe from backyardlifeblog.com provides one way to do just that. Calzones make for a great meal and they are often much more convenient and practical to eat than a typical pizza. This aspect alone makes calzones especially powerful when camping.
The recipe here uses dough that was made with a bread maker at home. But, you could also do the same thing with another type of dough if you wanted to. Either way, you end up with tasty calzones that are surprisingly easy to make.
The Best Dutch Oven Pizza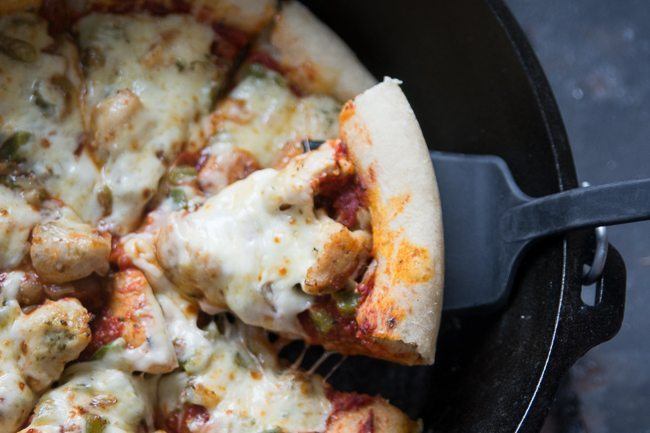 I found this recipe at clarkscondensed.com and I love the way that the finished pizza ends up looking like something that came from a conventional oven. In fact, it isn't even obvious that this was made with a Dutch oven at all. The recipe itself is a little different than most, as the site provides considerable information about how to make perfect pizza with a Dutch oven, in addition to the recipe for doing so.
This type of information is great if you want the perfect pizza each time. And, I don't know about you, but I want pizza to turn out amazing, even if I'm cooking it while camping.
Basic Dutch Oven Pizza
This recipe comes from 50campfires.com and it is a relatively simple option for a Dutch oven pizza. The biggest advantage is that you end up with something that looks like a regular pizza, without having to go through the work of making your own dough first.
However, this recipe does assume a certain amount of knowledge with Dutch oven cooking. As a result, it may not be the best choice if you are still fairly new to using your Dutch oven. If that is the case, then I suggest turning to one of the other recipes on this list, as many offer more detailed instructions.
Honest Campfire Pizza Pie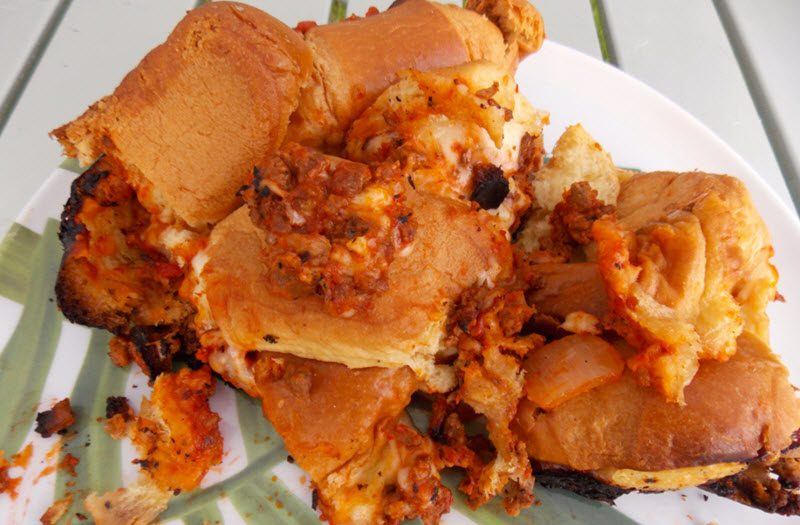 This pizza pie recipe comes from getoutwiththekids.co.uk and it is certainly written with family food in mind. As a result, the recipe is great for easy and fun camp food and would easily please kids. However, it may not be the right recipe for adults who are looking for actual pizza – especially as the finished dish isn't really pizza, not in the traditional sense.
Still, the idea is well worth trying out, especially if you want something a little different or unusual. Plus, the overall style means that you don't have to worry about pizza dough, which is an advantage for anybody who isn't organized.
Roasted Garlic Chicken Pizza
Most of the recipes on this list emphasize Dutch oven pizza cooking in general. But, this particular one is for a single topping style, which serves to make things a little more interesting. The dish itself comes from dutchovenmadness.blogspot.com. While the blog is a little old, it is actually a good source of inspiration and offers a range of recipes for a Dutch oven.
In this particular case, the recipe includes information about making the pizza dough initially, as well as roasting the garlic, making garlic butter and building the pizza. As a result, this pizza is more complicated than many other options. However, putting extra work into a recipe isn't a bad thing. Instead, you'll often find that some of your best meals come from doing just that.
Dutch Oven Pizza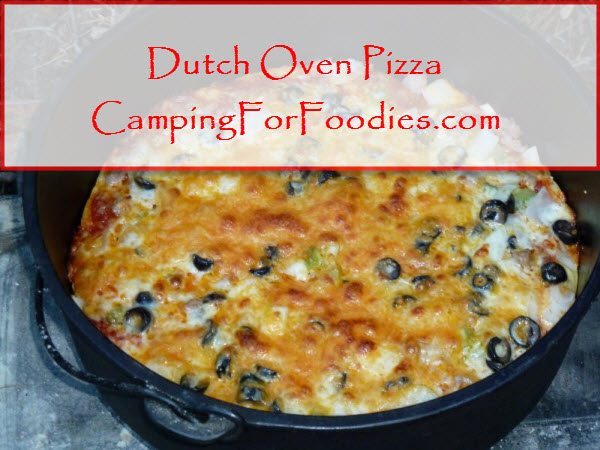 This recipe from campingforfoodies.com is another fun approach to try while you are camping. Visually, this pizza looks a lot like a traditional recipe but there are some interesting variations as well. In fact, the overall design works exceptionally well in a Dutch oven, regardless of whether you are in your own backyard or out camping.
The recipe is also practical enough that you could try it even if you haven't used your Dutch oven much in the past. So, there's no reason why you shouldn't go and check it out, especially if you're a fan of pizza.
Dutch Oven Breakfast Pizza
It surprises me just how many different ways there are to make Dutch oven pizza and this recipe from whitswilderness.com is one example of a variation. As with the pizza pie recipe from earlier, the end result isn't quite a traditional pizza, partly because you're not using a pizza base as such.
But, the difference in style isn't a bad thing. Instead, the recipe could work well in many situations and I can imagine many people wanting to try it out for themselves. If nothing else, the recipe would make for a hearty and satisfying meal, which you could easily have for breakfast, lunch or dinner.
Making Dutch Oven Pizza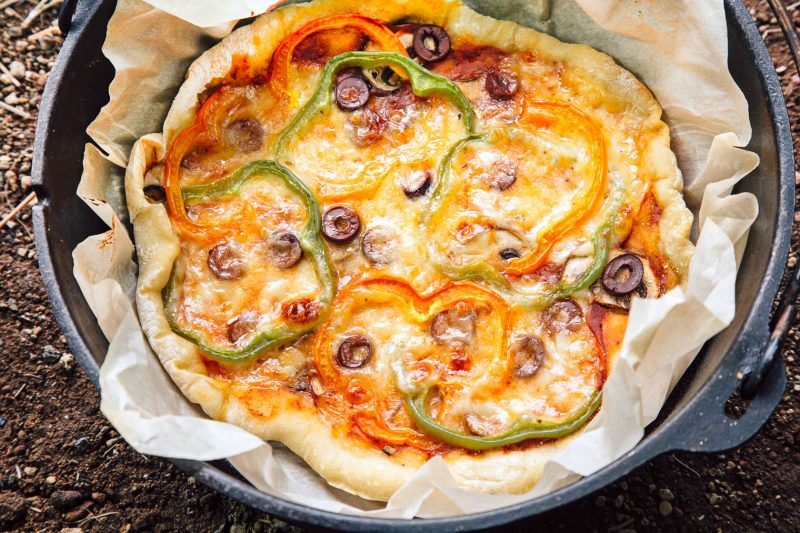 This recipe from freshoffthegrid.com is another choice that goes beyond just being a Dutch oven pizza recipe. Instead, the link offers all of the information that you need to make this type of pizza, including what equipment you may need along the way. There is even a video to show you the various steps if you are a visual learner.
I particularly love the fact that the authors included a range of ideas for pizza toppings. Realistically, you can use pretty much any combination that you would use on a regular pizza. Still, the additional inspiration can be great, especially if you are trying this idea out for the first time.
Deep Dish Dutch Oven Pizza
Most of the recipes on this list have been traditional pizzas or a type of pizza pie. But, this recipe from cookinandcraftin.com is different again and it is a legitimate deep dish pizza. The idea is a great one. After all, you already have a fairly large container to cook the pizza in, so why not go all the way and make it a deep dish pizza?
The recipe is also easy to follow and complete, regardless of your experience with a Dutch oven. There is no shortage of images in the post, which tends to make the dish that much simpler to create.
Need a dutch oven for camping? Lodge makes an excellent one perfect for pizzas.
Want some pizza recipes? Check out our extensive list of creative pizza recipes and experiment with our delicious toppings and some of the weird doughs we tried.
VIDEO: Making Pizza In A Dutch Oven (Van Life)
VIDEO: Dutch Oven Pizza (Bit White Fish)