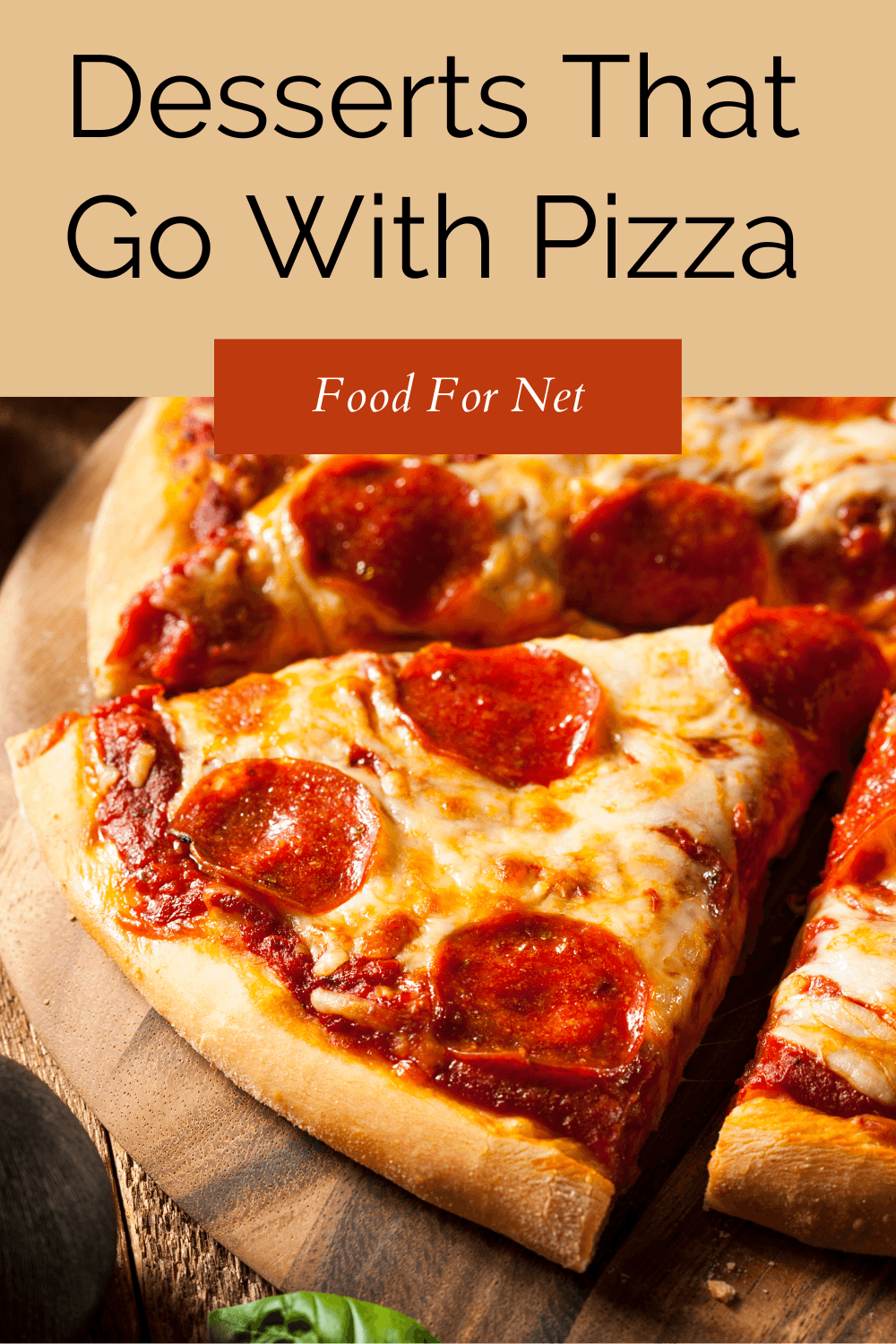 Whether you order pizza from a chain store or make it at home, there's always the question of what comes next. If you're having dessert, what will it be? There are many types to choose from, but the best trick is to find desserts that go with pizza.
Most of the time, this means serving desserts with a similar feel. So, if you ordered Papa John's, you're not going to offer an elegant creme brûlée as dessert. But, if you cooked an artisan pizza at home, you might put more effort into the dessert. A similar pattern is true for pizza sides.
You can also think about the flavors and textures. Do you want a rich and creamy dessert or would something vibrant and refreshing be better? The desserts on this list cover a variety of styles. So, whatever your preference, there's something here for you.
P.S. If you don't feel like making dessert yourself, how about signing up for a dessert of the month club? These are precisely what the name suggests, ongoing subscriptions that ship desserts out to you every month.
Some of them send out a collection of desserts, while others give you a single full size dessert per month (perfect for a family!). The clubs are also a fantastic way to try out new treats, without needing to make anything yourself.
P.P.S. Here's another idea, why not make desserts using sous vide? Doing so is surprisingly easy and gives you even more delicious options.
Desserts That Go With Pizza (With Pictures!)
Sorbet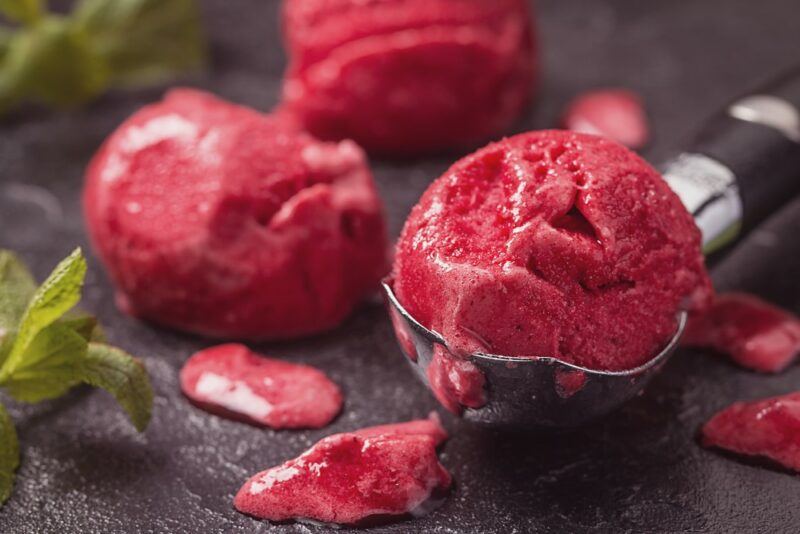 Sorbet is a light and vibrant dessert, especially if you choose a citrus flavored option, like lemon or orange. In fact, lemon might be the perfect option, as the bright taste will cut through the greasiness of your pizza.
The tartness is an excellent way to balance out the saltiness and fattiness of your pizza. Even tart sorbet has plenty of sweetness, so it's still going to feel like dessert.
Sorbet is also a nice alternative to ice cream. Both are cool and sweet, but ice cream is creamy and rich, while sorbet is refreshing instead.
Granita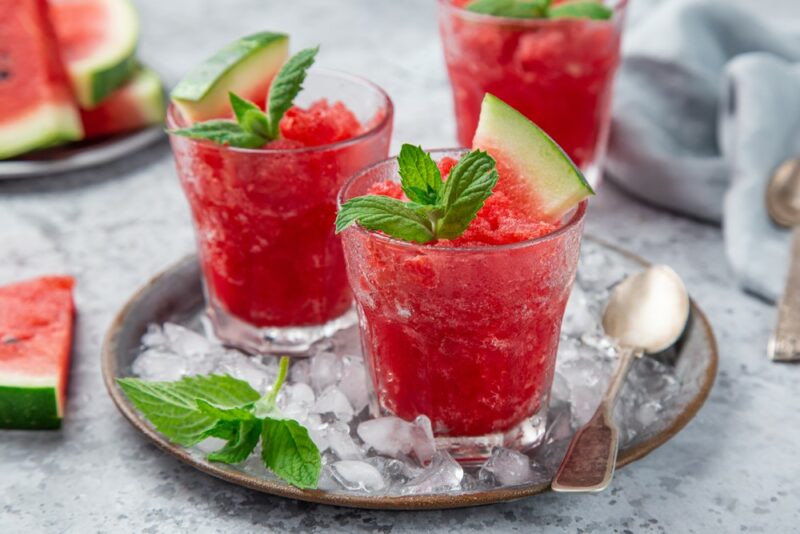 Granita is similar to sorbet, so much so that we could almost put them in the same category. The two use related ingredients, but sorbet is churned until it's smooth, while granita is frozen in a way that gives you coarse ice flakes.
Both desserts are delicious and come in plenty of flavors, so which you choose really comes down to personal preference. You don't just need to stick with standard dessert flavors either. There are plenty of unusual and exciting ones to experiment with, like prosecco, lemon, and ginger granita.
Dessert Pizza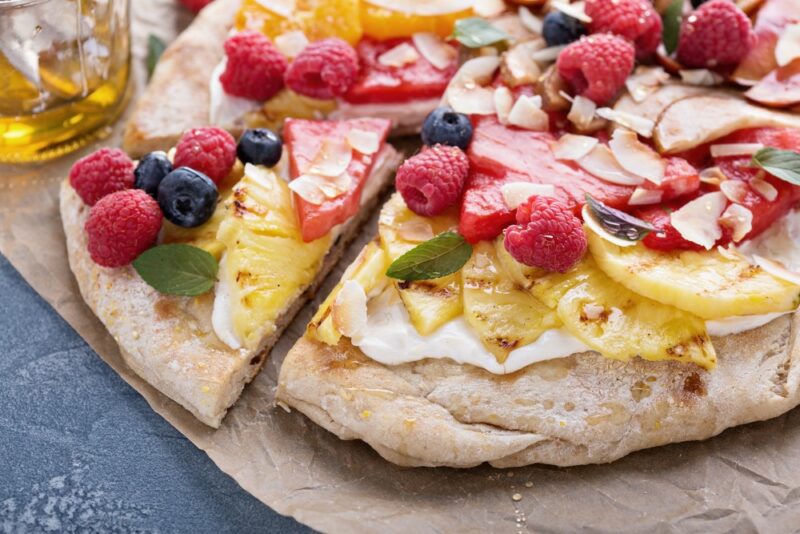 What's a better pairing than pizza with more pizza? Dessert pizzas focus on sweet flavors rather than savory ones and come in plenty of styles.
Many of them use a sweet crust rather than a savory one, then top the pizza with chocolate, caramel, fruit, or other sweet extras. Some are surprisingly complex. For example, Hell Pizza in New Zealand has a dessert pizza that features white chocolate, custard, blueberries, and banana.
Others are much simpler, like dessert pizzas that are made on sugar cookies. These often have a cream cheese based layer and sliced fresh fruit for the topping (this is just one type of tasty cream cheese based dessert).
Tiramisu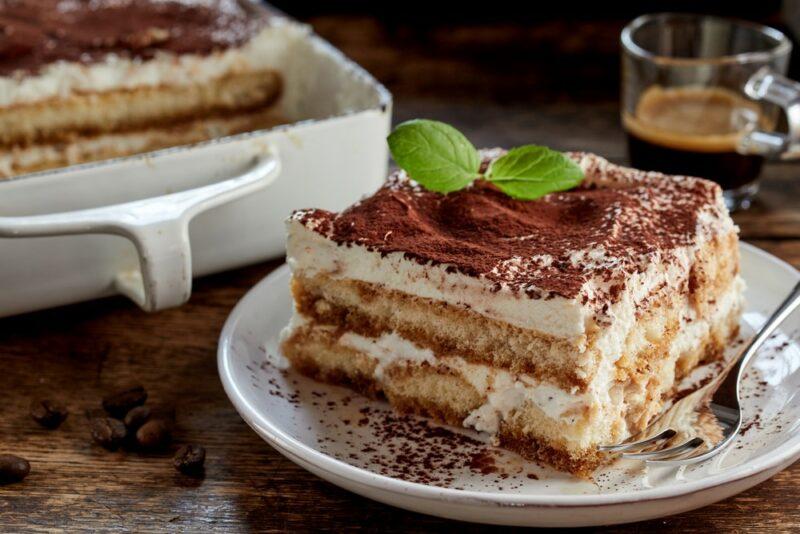 Tiramisu is rich, creamy, and incredibly popular. It's hardly surprising that it works well as a dessert to follow pizza.
So, where do you get it from? Some restaurants do sell tiramisu for takeout and you can even sometimes find the dessert at local grocery stores. But, if you have the patience, it's best to make tiramisu yourself. Homemade tiramisu is almost always fresher and tastier than anything you can buy.
The dessert isn't too difficult to prepare either. The trick is choosing the right recipe. Serious Eats has one they say is the best tiramisu recipe. The truth of that claim is debatable, but it's still a great recipe that's worth trying. You could also experiment with it and tweak some ingredients if you're not completely satisfied.
If you don't want to make a full-blown tiramisu, you could try a mini mason jar version instead. This style is much easier to make and still gives you all the flavors you're looking for.
Chocolate Mousse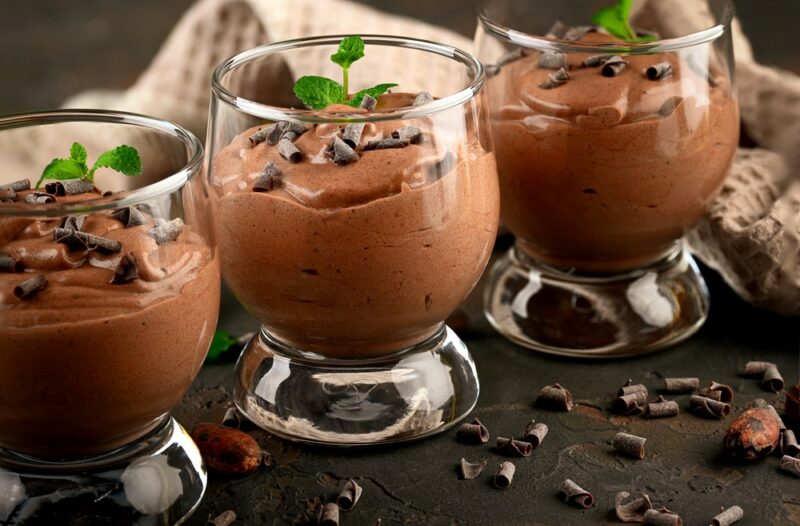 Most of my local pizza stores sell some type of chocolate mousse as a dessert, so it must be a good follow up to pizza.
Salted caramel chocolate mousse is one of the best choices, as the salt stops it from being overwhelmingly sweet. Versions that include rich salted caramel sauce also give you a fantastic texture contrast within the dessert.
Regular chocolate mousse is also an easy dessert to make yourself at home. That's another thing in its favor. You could also experiment with avocado chocolate mousse, which is a healthier version of the treat.
Cheesecake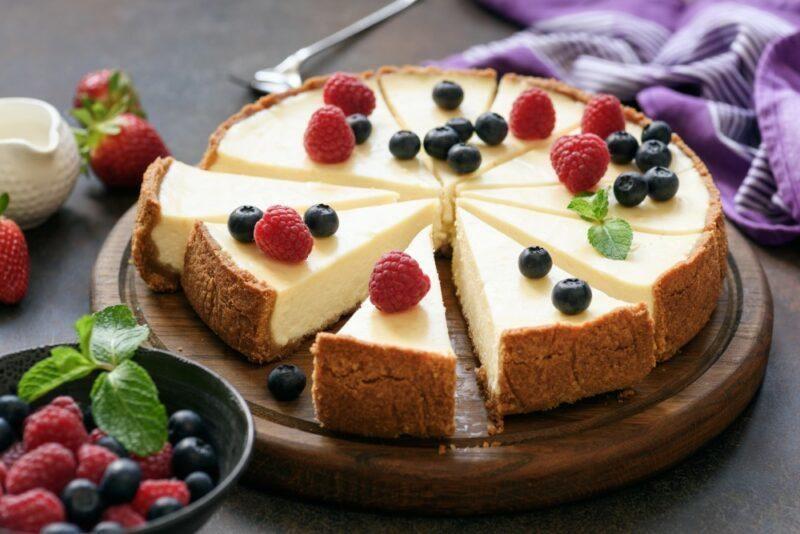 Here's another classic. Rich and creamy, it's easy to see how cheesecake pairs well with pizza. If you choose a well-made cheesecake, then every bite could easily taste like heaven.
Chocolate cheesecake is an easy go-to here, but it's not the best option. White chocolate or fruit cheesecakes are often better, as these provide much more contrast. Why not experiment with a berry cheesecake? This way you get a refreshing hit of fruit with each bite.
You could stick to traditional cheesecake or experiment with other types, like no bake cheesecakes and vegan cheesecakes. Such recipes use a different combination of ingredients, but they're all delicious.
Chocolate Mug Cake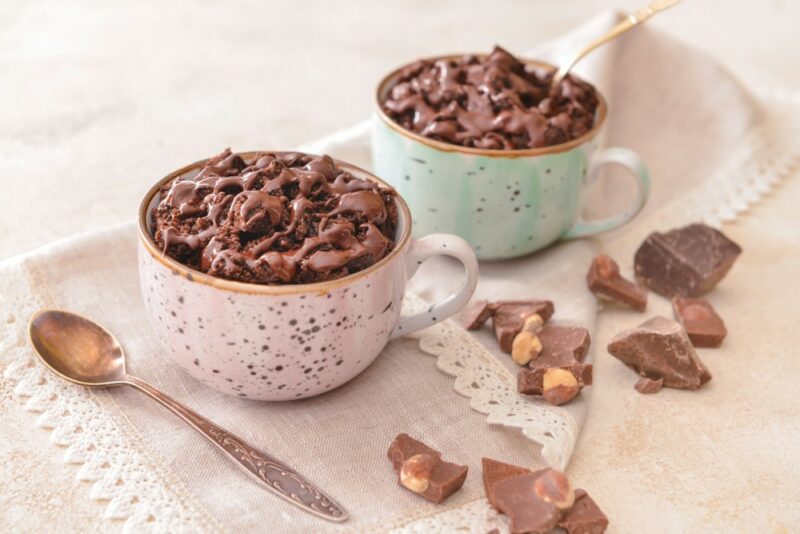 There's something about the creaminess of chocolate that works incredibly well after pizza. A chocolate mug cake is one of the easiest ways to get this flavor at home.
Most mug cakes use a handful of ingredients and can be prepared in the microwave. There's plenty of ways to vary them too, like making a 3-ingredient version, a keto cake, an eggless cake, or a vegan one.
Or, if you don't want chocolate, what about a lemon mug cake? The brightness of the lemon is a great palate cleanser after pizza.
Ice Cream And Gelato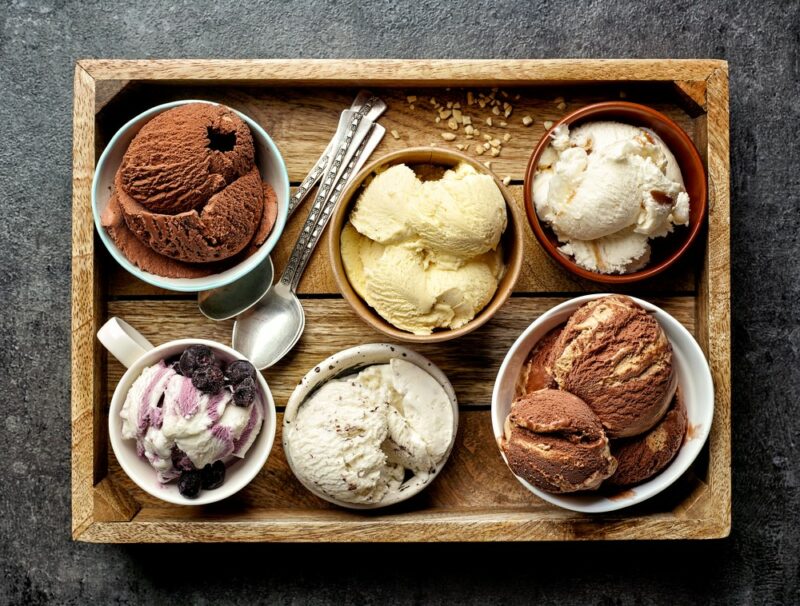 Ice cream and gelato aren't quite the same, as gelato is lower in fat, contains less air, and tends to be richer. However, they're interchangeable in this context, as they are both cool and creamy, with plenty of flavors to choose from.
The cool creaminess of ice cream really is amazing after pizza. It's a fantastic contrast against the texture of your meal and nicely cleanses your palate.
The flavor makes a difference too. You might lean towards vanilla or a berry version if you want something refreshing. Or, if you want to carry on the decadence, perhaps chocolate is the way to go. Some pizza stores even sell brands like Ben & Jerry's, giving you plenty of flavors to choose from.
Don't forget about ice cream alternative either, including vegan ice cream that relies on plant-based milk. While these don't always have the same creaminess as regular ice cream, they're often lower in calories and can be just as tasty.
If you're not sure where to begin, why not sign up for an ice cream of the month club? These clubs send pints of ice cream out to you every month, giving you plenty of different flavors to try.
Fresh Fruit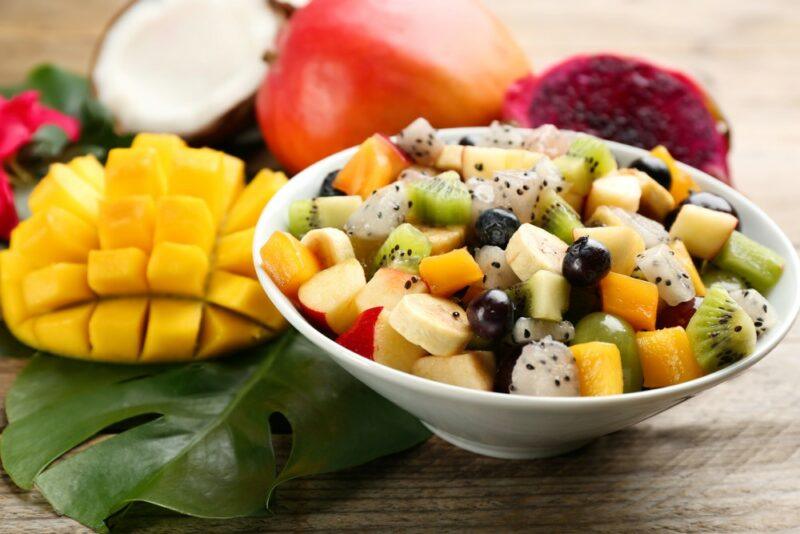 What about something simple after pizza, like a piece of fresh fruit? Fruit is much healthier than the other desserts we've featured and it's ready to go.
Fruit is also refreshing. That's helpful, as you won't always want yet another rich dish (especially if you overdid it on pizza).
You could also try a fruit salad with a light syrup or perhaps just a bowl of berries with a little powdered sugar. These options are a little more interesting than plain fruit, but still give you the same qualities.
Italian Cannoli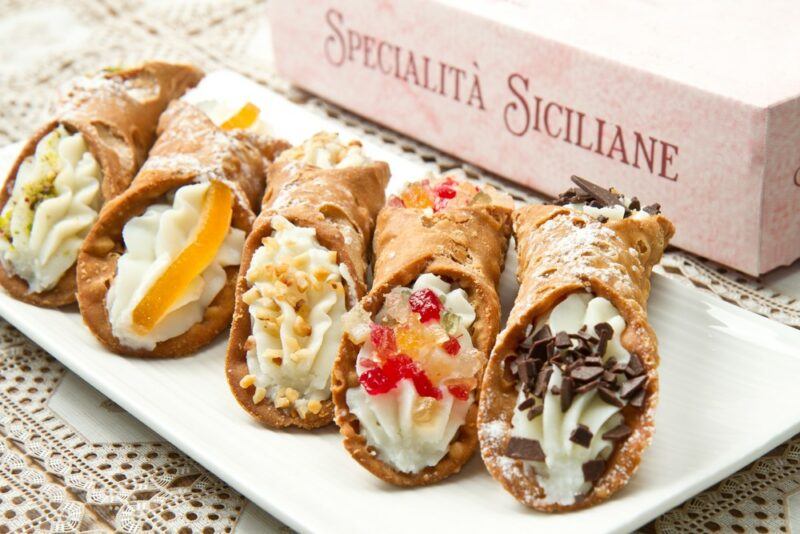 If you didn't get enough dough with your dinner, you could have even more for dessert with Italian cannoli. The traditional filling relies on ricotta cheese and sugar, but there are endless twists, such as using chocolate chips or nuts in the filling.
Some recipes even call for mascarpone or a mixture of half mascarpone and half ricotta. The mascarpone adds richness and a touch of tanginess to the filling, making it taste even better.
Chocolate Lava Cake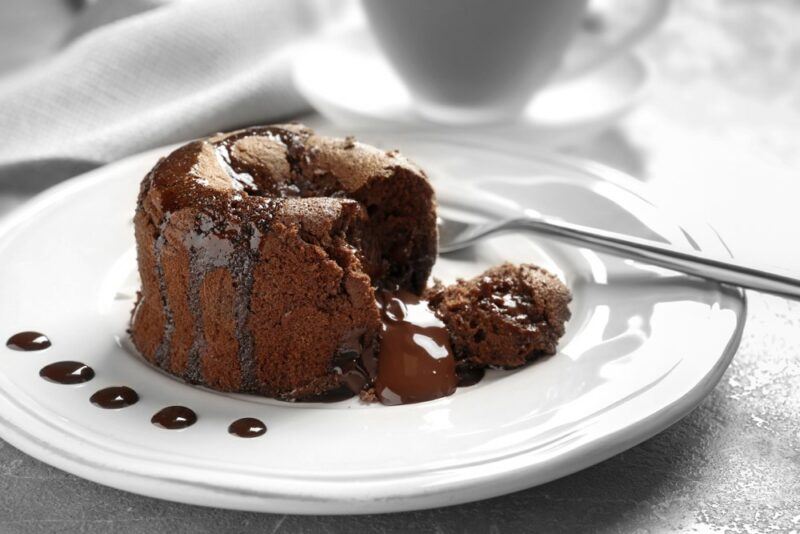 Single serving chocolate lava cakes always go down a treat. There's something amazing about breaking open the shell and releasing the gooey chocolate interior.
Dominos often sells these, although their versions can be hit and miss. Sometimes you get one that's been overcooked and isn't that good at all. If this happens, you could always try making a molten chocolate mug cake. These are almost as tasty and are much more consistent.
Mini Dutch Pancakes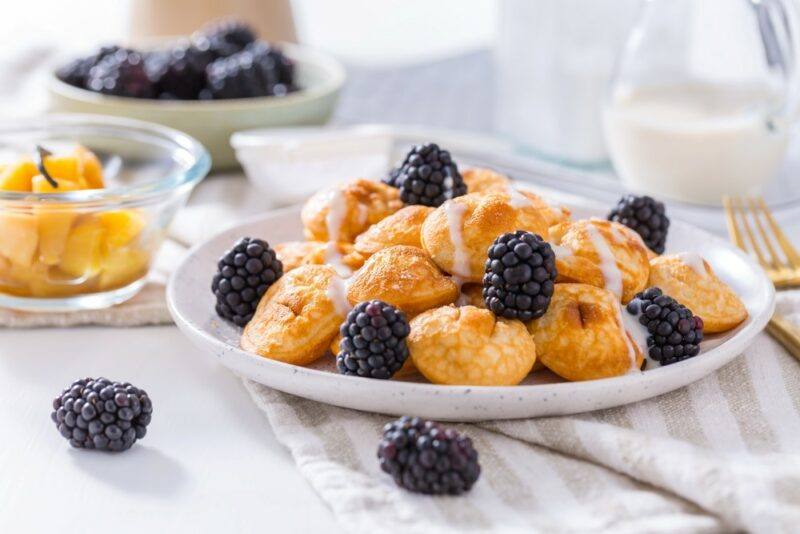 These little pancakes can be made by hand or in a specialized tray and are delicious either way. They're often served with powdered sugar, for a touch of extra sweetness. You might have some berries with them as well.
These treats work well because they're so simple. They're not rich or creamy as the chocolate- and cream-based desserts we've been talking about. This can be perfect, as sometimes you just need something plainer to round off your meal.
Churros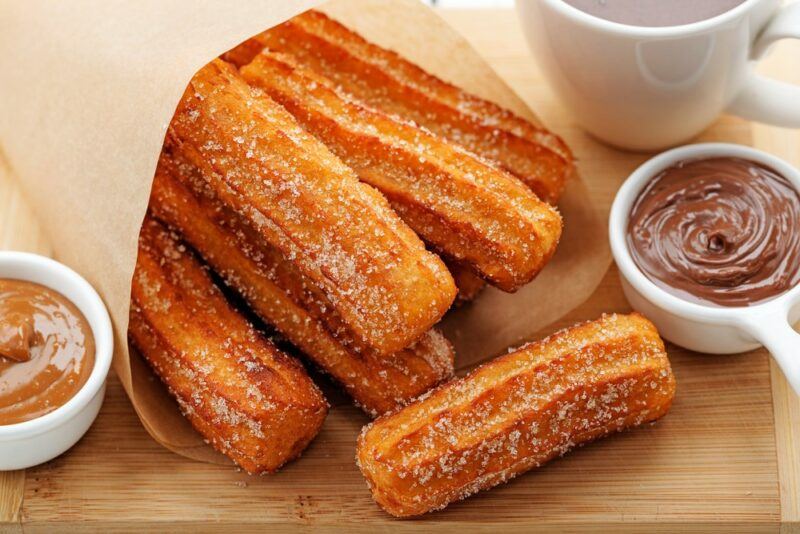 Churros work well after pizza too. They're more decadent than baby Dutch pancakes, partly because they're normally deep fried and then coated with sugar.
You'll often want a dipping sauce with them too. Warm chocolate sauce is the go-to style, but caramel sauce is fantastic as well.
Donuts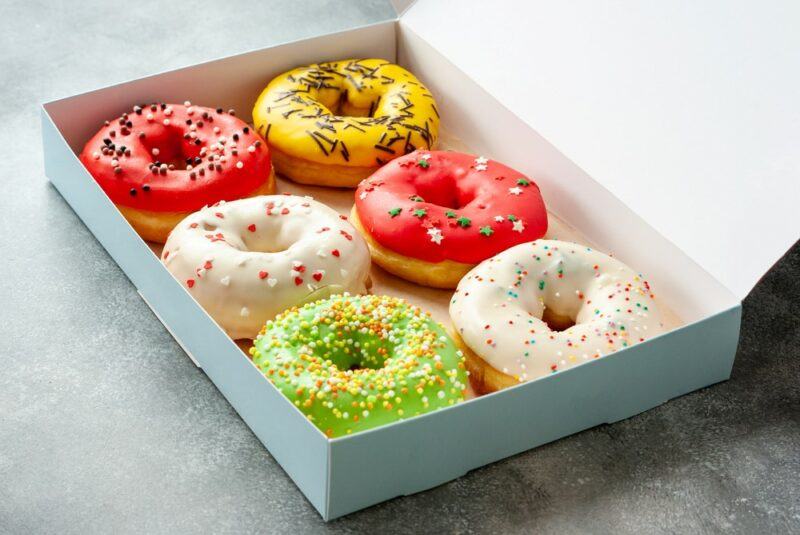 While we're following a kind of theme, what about donuts? They have similar features to churros, especially if you're serving them hot. But, there are also many more styles.
I've even seen some pizza stores serving hot chocolate or jelly filled donuts. These can be amazingly decadent, especially after a rich pizza. Why not though? Sometimes a bit of decadence is exactly what you need.
Homemade Fruit Popsicles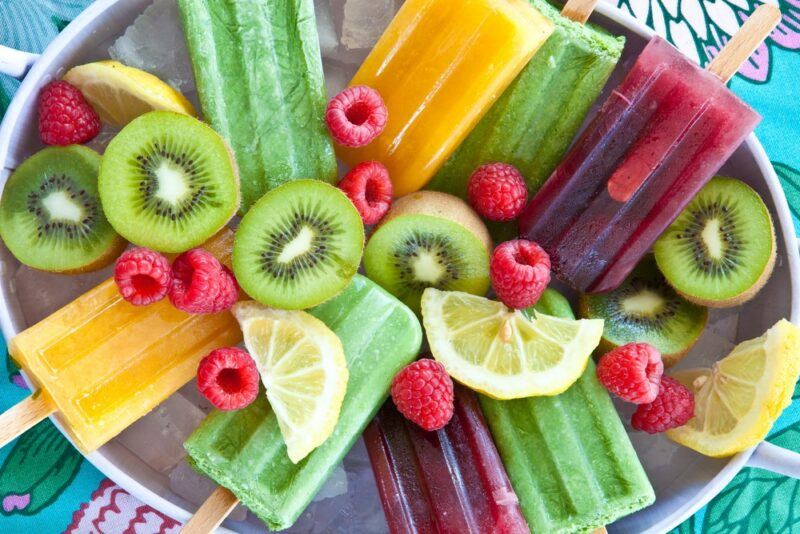 We've mostly been focusing on rich desserts, particularly those that pizza chains often sell. But, honestly, do you need something decadent after a pizza? Many people lean the other way instead, looking for something refreshing and light to clear their palate.
Popsicles are perfect for this goal. You could buy them from the store, but store-bought ones tend to be very sugary and full of additives. Why not make your own instead?
Some recipes are creamy and use ingredients like coconut milk to give a rich flavor without too much heaviness. Others focus mostly on fruit and water instead (or sometimes coconut water). Doing so makes them very refreshing and keeps the calorie content low. There's an endless selection of recipes out there, so why not experiment?
Lemon Cake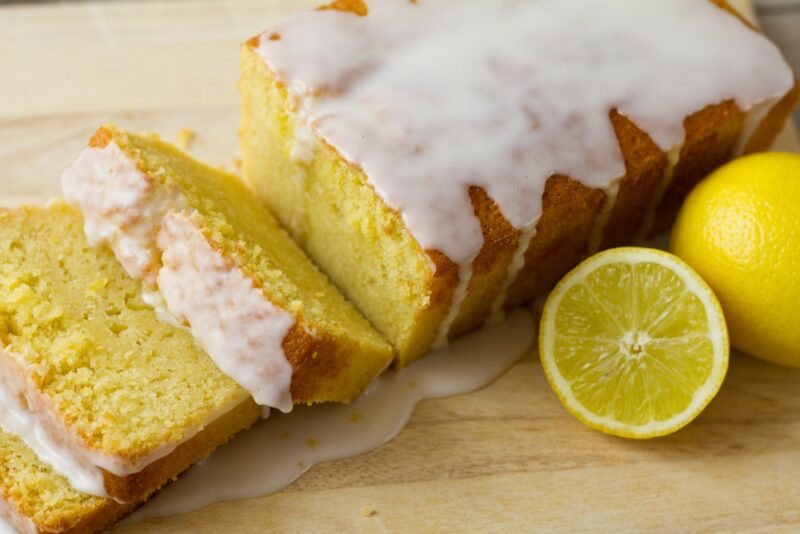 Lemon cake is another fun homemade treat to try for yourself with. You could actually serve any type of cake after pizza, but lemon cake gives you a bright contrast that most other cakes don't have.
There are plenty of styles too, including decadent cakes with multiple layers, as well as simple loaf cakes that just have a little lemon drizzle over the top. You can pick whichever style matches the occasion best.
Cheesecake Trifles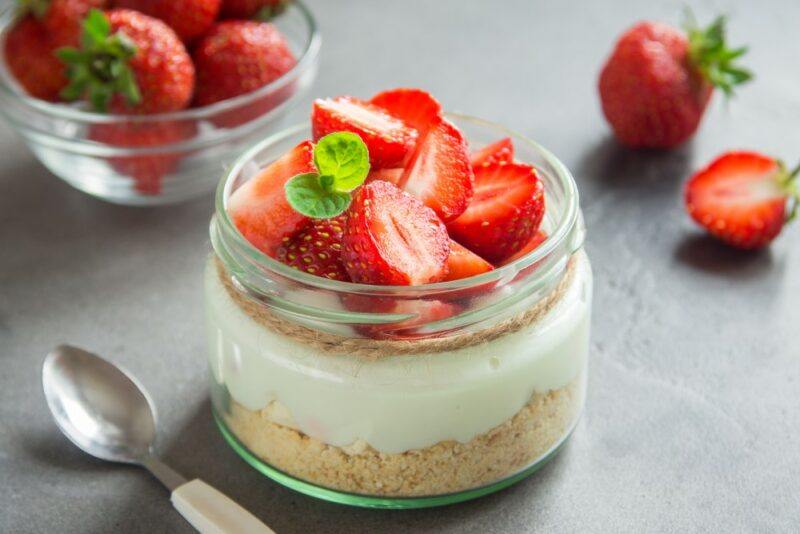 Cheesecake itself is delicious, but it gets a bit boring after a while. Cheesecake trifles are a fun alternative. They're also much easier to make and are perfect if you only want a serving or two – rather than a whole cheesecake.
This Baileys Chocolate Cheesecake Trifle is particularly tempting. It has layers of Oreo crumbles, whipped cream, and cheesecake filling, plus it uses Baileys as an ingredient. How can you go wrong?
Of course, that's just one option. You could also turn to a berry cheesecake trifle. Such trifles use more traditional flavors and can be quite refreshing as well. Or, why not take a cheesecake trifle recipe and just play with the flavors yourself? You might end up with an entirely new combination that perfectly matches your preferences.
Fruit Tart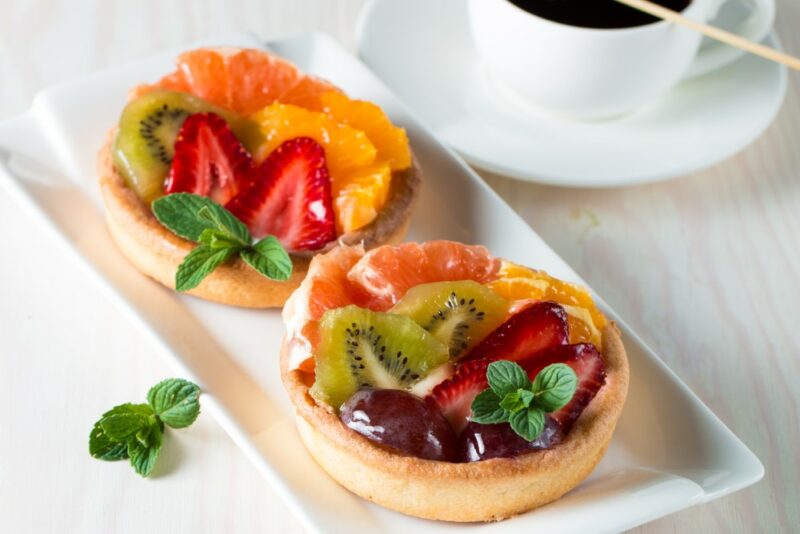 Fruit tarts are a feast for the eyes and for the taste buds. They're often laden with many types of fruit and beautifully arranged so that they almost look like a piece of art.
You could make a large fruit tart and slice it into pieces after your pizza. Or, you might focus on small tarts instead, each big enough for one person.
You can also tweak the fruit and the rest of the recipe to suit the fruit that's in season and whatever ingredients you have on hand.
Ice Cream Bites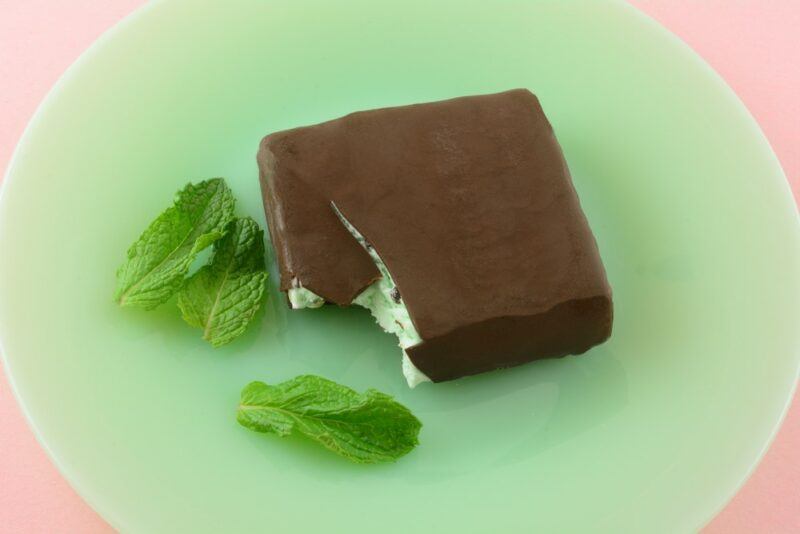 You know what's even better than ice cream? Ice cream bites.
These little treats are often just small pieces of ice cream that have been dipped in chocolate. Some major brands sell them now or you can easily make your own.
These bites give you all the flavor of ice cream, but they get around one major issue – portion size. It's too easy to overdo it with ice cream, which is a serious issue after you've just had your fill of pizza.
So, rather than a couple of scoops of ice cream, why not just have two ice cream bites instead or possibly three? You'll still get the delicious flavor and texture of ice cream without overdoing it.
Of course, the number you have will depend on the size. If the ice cream bite is fairly large, like the pictured example, you might want to stick with just one.
Fruit Pies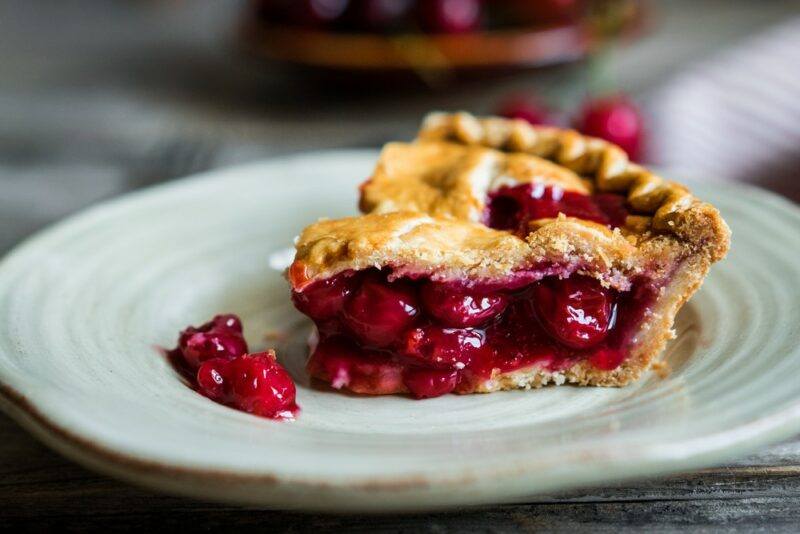 Apple pie is the classic here, but honestly, any type of fruit pie is likely to be a hit after pizza. You could easily go with your family's favorite here or perhaps look up recipes online.
Honestly, the number of different types of fruit pies is stunning. We're not just talking about the basics like apple, peach, or key lime pie either. There are also plenty that combine multiple types of fruit or that use spices for extra depth of flavor.
Mochi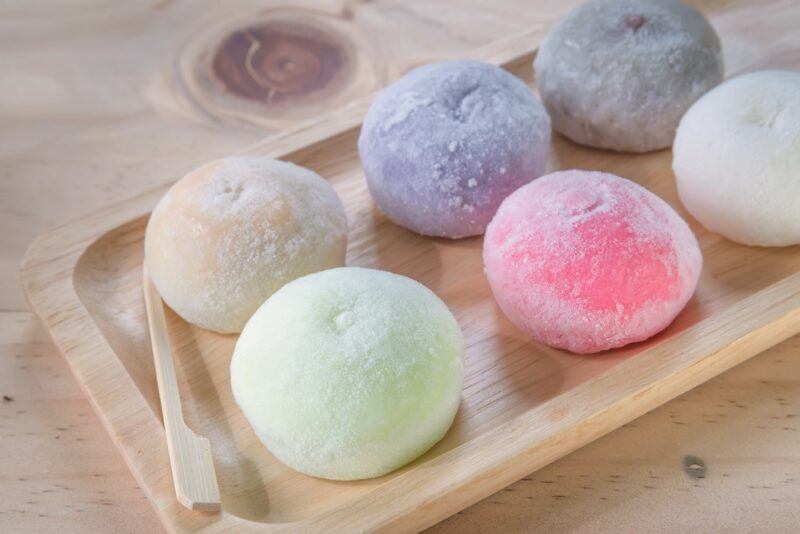 Mochi is another option worth trying. This is a Japanese treat that often involves a layer of glutinous rice surrounding delicious ice cream. You get the same portion size benefit as with ice cream bites, along with a fascinating texture and flavor contrast.
Yasso is an excellent brand here, as they offer plenty of portion-sized ice cream treats, including mochi. You can even order their products online and have them shipped straight to you. What could be easier?
Greek Yogurt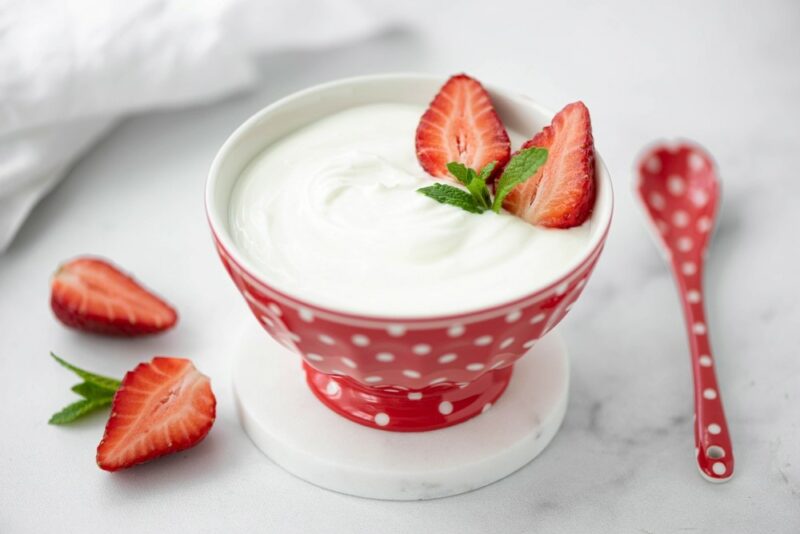 How about using Greek yogurt as a dessert to go with your pizza? It's tarter than a classic dessert, but that's not a bad thing. After all, do you really need something overwhelmingly sweet after a fatty pizza?
There are also plenty of options for Greek yogurt. You could turn to a flavored version, like berry Greek yogurt or Greek yogurt with honey. Or you might look for a product that contains Greek yogurt and mix-ins, like the flips, which have yogurt in one compartment and mix-ins in the other.
You could also just buy plain Greek yogurt and use your own mix-ins. This way the yogurt is as minimally processed as possible and you have full control of the sugar content. Fresh berries are a fantastic mix in to try, especially after pizza. You could also other types of fruit or perhaps dark chocolate chips.
Frozen Grapes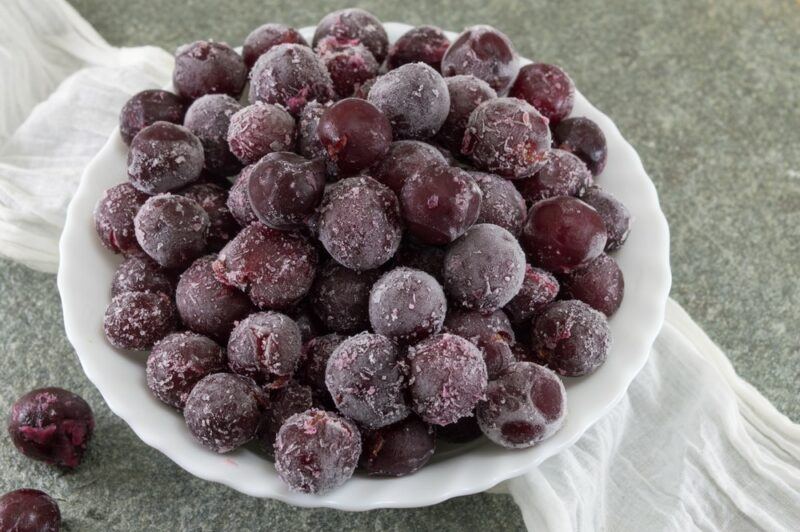 Have you tried freezing grapes? They contain too much sugar to freeze properly, resulting in a sorbet-like texture. You can even eat them straight from the freezer.
Frozen grapes are sweet enough to be dessert, but they're also icy and refreshing. That combination is exactly what you need after a rich meal.
Affogato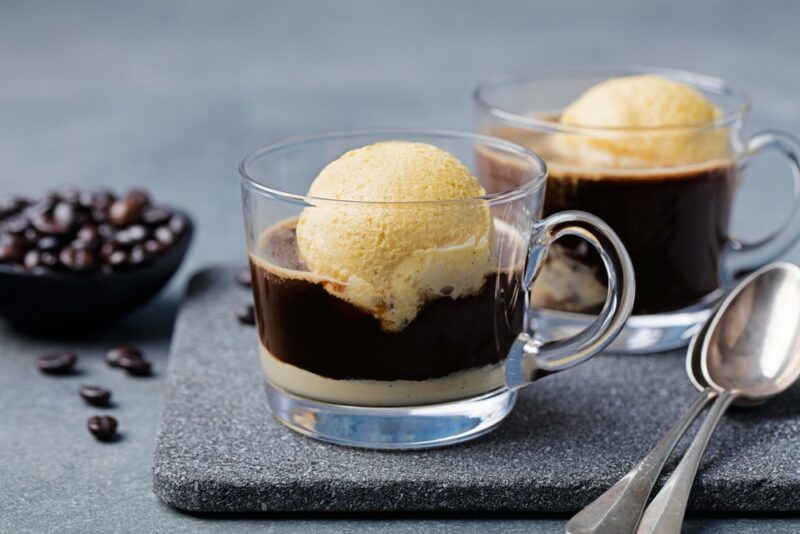 If you're not eating late at night, affogato is a fantastic treat. At its simplest, this Italian dessert combines a scoop of ice cream that is smothered with a shot of espresso coffee. The contrast between the sweet creamy ice cream and the strong coffee works wonders, giving you a delicious dessert.
Plus, affogato normally only includes a single fairly small scoop of ice cream. This means there's little risk of overdoing it.
Cookies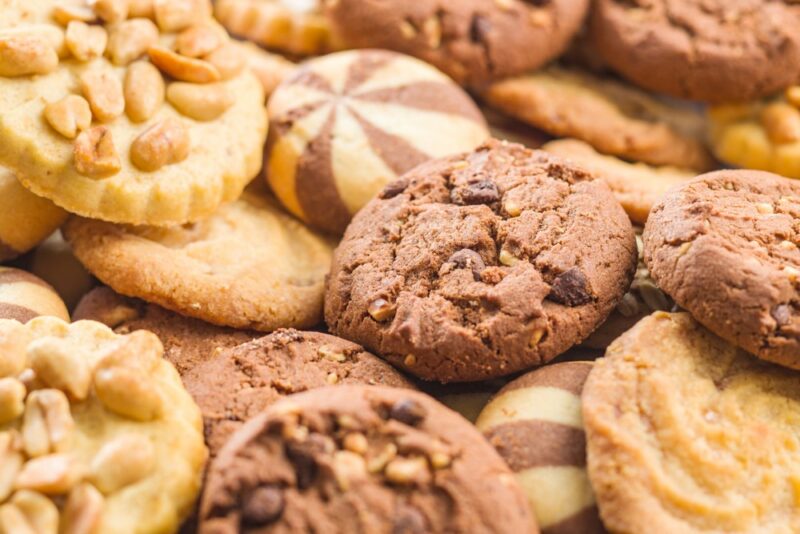 What could be easier than serving cookies after pizza? These could be ones you make at home, buy from a store, or even get through a cookie of the month club.
Cookies have a lot going for them. After all, they're easy to eat and can be made ahead of time. There's also an endless variety to choose from, including double chocolate, shortbread, lemon, strawberry, white chocolate, mint chocolate chip, and many many others.
Banana Splits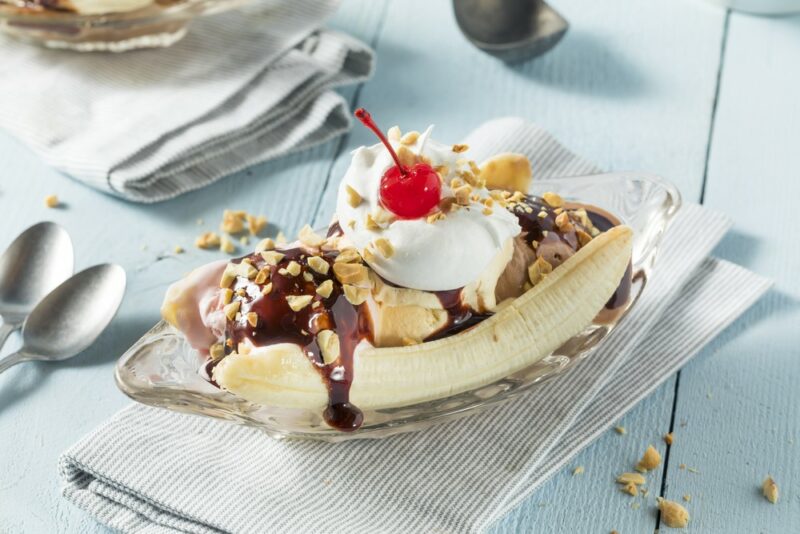 Banana splits allow you to combine fresh fruit with ice cream and plenty of toppings. They're a fun choice at parties too, as you can create a type of 'banana split bar' where people choose the toppings that appeal to them the most.
Brownies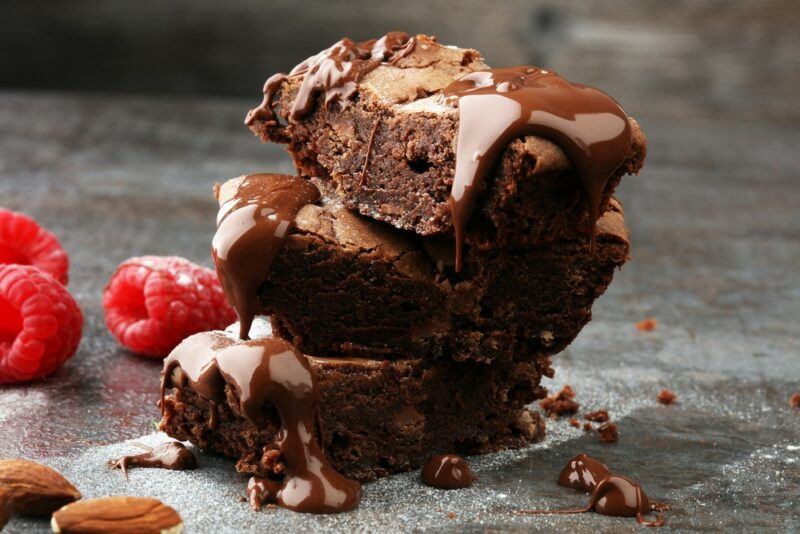 Brownies are a classic dessert for chocolate lovers, so why not throw them in the mix too? They're always popular and aren't that difficult to make either.
The best ones are rich in flavor and are still moist (there's little worse than brownies that are burnt on the outside and dry in the middle). Thankfully, there are plenty of easy recipes that consistently turn out well.
And again, there are plenty of types of brownies to try. Some amp up the chocolate content still further or add other amazing ingredients like caramel or salt. Others change the flavor profile entirely, like by making peanut butter brownies or white chocolate raspberry brownies.
Dessert Cocktails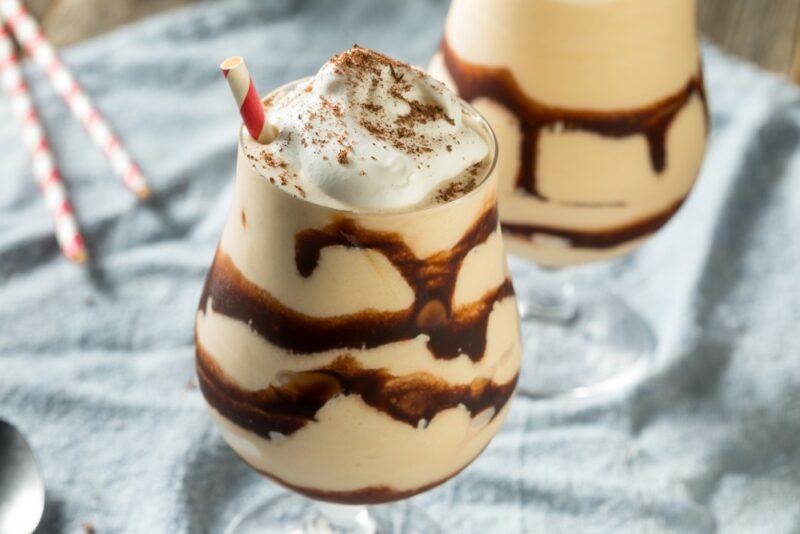 Finally, why have dessert at all when you can turn to a dessert cocktail instead? These give you plenty of dessert flavors in drink form.
Some are simple, like the famous white Russian, which relies on Kahlua, vodka, and cream. Others are much more complicated, like the chocolate mudslide, which is often garnished in extreme ways. You might play around with other types too, like a tiramisu martini or perhaps a white chocolate grasshopper.
There's also room for experimentation. You could easily mix and match ingredients to create your own dessert cocktail.