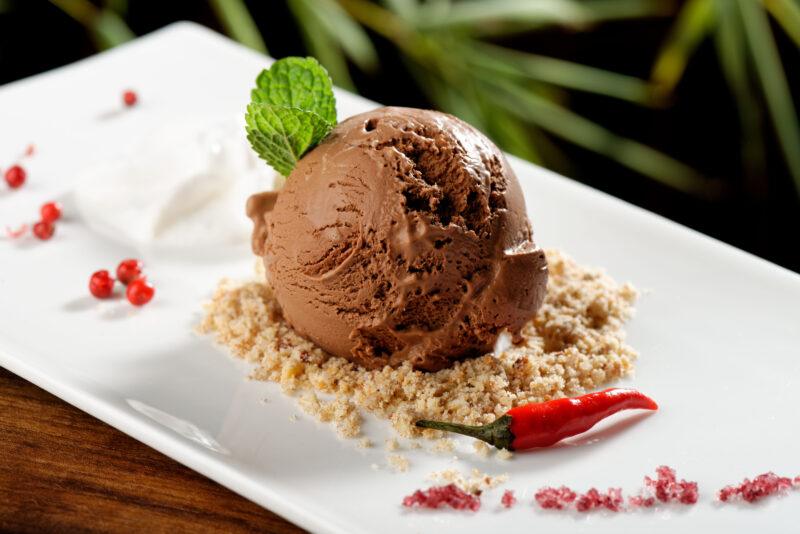 Okay, so you've just finished a meal with chili or even a big dish of chili con carne. What's the next step? Some type of dessert, right? But which one? There's an almost endless number of different desserts out there, including every flavor and style you can imagine. How do you find desserts that go with chili?
The first question is simple. What are you looking for?
Some desserts complement chili well because you're incorporating chili and other spices in them as an ingredient. The chili here provides a kick of flavor, while also tying your dinner and dessert to each other. You could even find a drink that works well with both your dinner and dessert.
You might also want something different, like a soothing dessert, one with no chili in it at all. This could be perfect if your meal has a little too much spice and you need something to calm things down again. That's where this list comes into play. We show you an array of different options, helping you to find the best dessert for you.
P.S. If you're struggling to decide, why not try a dessert of the month club? These send out a variety of different desserts, all ready to eat. They're the perfect way to experiment with new flavors and often taste amazing.
You could also experiment with desserts from another country like those from South America. Or, for even more ideas, check out our list of desserts to make at home. You know what else, you can even make desserts in the sous vide at home.
Desserts That Go With Chili (With Pictures!)
Ice Cream

Ice cream is a fantastic go-to dessert for any chili-based meal. Well, let's be honest. It's really a go-to dessert for every situation. Sweet, creamy, and cooling, what's not to love?
Then there are all the flavors. You have the straightforward ones, like chocolate, strawberry, vanilla, chocolate chip, and salted caramel. Then there are the more complex and exciting ones. Just look at all the flavors that Ben & Jerry's offers, like chocolate chip cookie dough, cherry garcia, chocolate peanut butter split, and chocolate chip brownie, most of which contain a variety of textures and flavors.
Which ice cream goes best with chili? That purely depends on your preferences. Perhaps you want something simple and creamy to offset the heat, like vanilla. Or, maybe you want something with much more going on.
If you are stuck for ideas, you could try an ice cream of the month club. These ship out ice cream regularly, giving you a variety of flavors. Some even include flavors you won't get elsewhere.
Peach Upside Down Cake

Plenty of cakes will work well with chili. While peach upside down cake isn't necessarily the best of these, it is delicious and vibrant. The sliced peaches also make it look fantastic.
The cake is easy to make too, especially if you choose a good recipe.
If peaches don't do it for you, what about a different type of fruit? Pineapple upside down cake is the most famous. There's no end of others to experiment with, including blueberry, cranberry, and even cinnamon spice upside down cake. Honestly, you could make an upside down cake with almost any type of fruit.
Banana Split

Banana splits aren't just a desert to enjoy as a kid. They're great for adults too. After all, you can load them up with plenty of different toppings. Your imagination is the only limit.
You can play around with the ice cream flavors too. Chocolate, vanilla, and strawberry are the most common choices, but you could choose any flavor under the sun.
Don't forget about plant-based ice cream either. This would work just as well as dairy ice cream. The right brand might even taste better.
Mug Cakes

Mug cakes are an excellent dessert for almost any meal. A huge benefit is just how easy they are to prepare. You just need a mug, a microwave, some simple ingredients, and ten minutes. Few other desserts are this fast.
You're only making a single serving at a time, but this isn't a bad thing. After all, it only takes a little dessert to satisfy a sweet tooth. You might even share a mug cake between two people.
You could also incorporate chili into your mug cake, like making dark chocolate chili mug cakes. These keep the chili theme going without being overwhelming.
Apple Pie

Apple pie remains an American staple and with good reason. It's a tasty, sweet, and familiar dessert, especially when served with cream or ice cream.
The flavors are excellent after most chili-based dishes, including a hearty dish of chili itself.
If you want to follow the chili theme further, you could try angry apple pie. This is a regular apple pie that uses a little chili as well. The chili really kicks the flavors up a notch, making the dessert much more exciting.
If you're not convinced, you could try a half-and-half pie. This way guests can choose whether they want to brave the heat or not.
Caramel Flan

Flans are a popular Mexican dessert, giving you plenty of delicious creaminess. They're particularly good as a dessert after tacos, but are just as tasty after any chili-based meal.
While flans look a little like cheesecakes, they have their own texture and flavor balance. They're quite distinctive and worth trying for yourself.
Flans are surprisingly easy to prepare too. They just rely on simple ingredients and a water bath.
Gourmet Cookies

Cookies are tried and true, right? Most of us have at least a few go-to cookie recipes or brands that we trust.
But, why stick with regular cookies when there are so many exciting types out there? Gourmet cookies now come in countless styles and flavors. Some companies, like Fat & Weird, even take stuffed cookies to the extreme, filling them with many add-ins and flavors.
Such cookies could be an amazing dessert after chili. You might even be able to share one cookie between two people.
Cherry Panna Cotta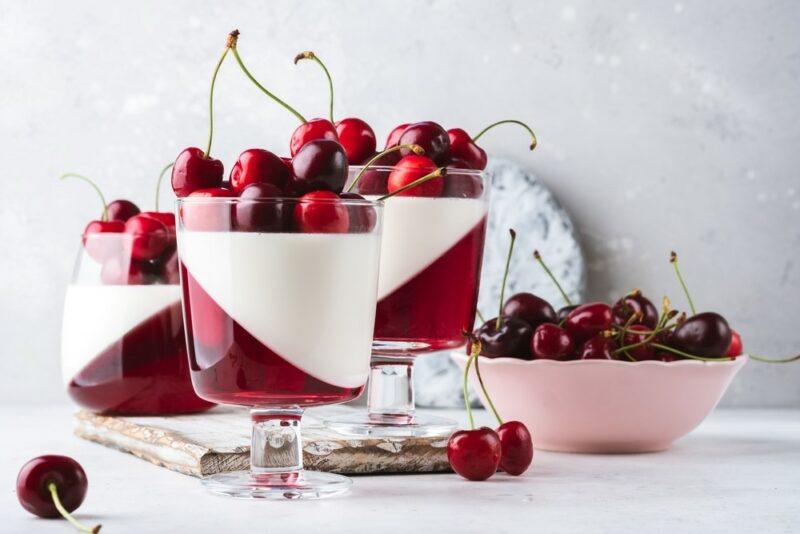 Sometimes you want a dessert that's simply going to impress. This cherry panna cotta easily meets that goal due to the two-tone effect.
To achieve this, you need two parts – one of gelatin and another that uses a traditional panna cotta recipe. Both parts are easy to prepare and don't use many ingredients.
It's easy to see why this recipe works for chili, as the creamy panna cotta helps to calm the palate, while the cherry gelatin provides a flavor boost. Top this with plenty of fresh cherries, and you're onto a winner.
Cinnamon Rolls

Here's another familiar dessert. The cinnamon gives the rolls a slight warmth and makes them taste amazing.
These are also an easy type of dessert, as you can buy them already prepared from plenty of places. You can also just pick up some Pillsbury Cinnamon Rolls to make your own with hardly any effort. This is perfect, as sometimes making a complete dessert from scratch is simply too much work.
Cheesecake

Cheesecake is a fantastic go-to. It's decadent, creamy, and comes in many different flavors.
You could go with a plain cheesecake or perhaps a chocolate one. This would work well enough. But, what about one that includes some chili as well?
A chocolate chili cheesecake is an excellent starting point, as the chocolate stops the chili from getting too overwhelming. There's also a chili lime cheesecake. Combining chili and lime isn't as common, but the two ingredients complement each other perfectly. I've even seen a raspberry lime chili cheesecake.
There may be other unusual combinations out there too. For that matter, you could add a little chili into almost any cheesecake recipe.
Greek Yogurt Parfait

Sometimes you need a healthier option for dessert. Greek yogurt is a perfect starting point, as it provides plenty of protein and nutrients. It's often low in sugar too.
You could have the yogurt on its own or perhaps with some fruit on top, but why not make a full parfait instead? This treat often just relies on granola and fresh fruit pieces.
You could use granola on the bottom of the glass, then yogurt, and then fruit. Or you might alternate the layers instead and create a more complex dessert.
Fondue

Fondue isn't a trending idea these days, but it still makes for a decadent dessert. You get to dip different treats into melted chocolate, which is pretty amazing.
Perhaps the best thing is that it's such an interactive dessert. Guests get to essentially make their own treats, choosing what they're dipping into the chocolate. You could even offer more than one fondue, like having a milk chocolate fondue and a white chocolate one.
Cupcakes

Cupcakes aren't just the simple treats often served at children's birthday parties. They're now exciting and often gourmet creations that can be found in local bakeries or even ordered online.
Cupcakes can be surprisingly complex too, including those that have a molten chocolate filling, use mix-ins, or have an unusual flavor combo. Some will even use chili as an ingredient.
With so many flavors and styles to choose from, cupcakes work well with almost any meal. They're also individually portioned, which helps you to keep your calories in check.
Baked Pears With Ricotta

This treat is much more interesting than just serving pears on their own. Baking them makes the flavors even more amazing, while the ricotta gives you a creamy savory contrast to the sweetness of the pears.
The ricotta should also help to calm your mouth down after the heat of your meal.
Chocolate Lava Cake

Chocolate lava cakes are classic as a dessert after pizza, but why stop there? They're just as tasty after chili – perhaps even more so. This is true whether you're using chili as an ingredient in your meal or cooking up a big dish of chili con carne.
Not surprisingly, you can easily include chili in your cake itself. Some recipes like this are called Mexican chocolate lava cakes and they can be pretty amazing.
Of course, whether you use chili depends on whether you want a spicy dessert or something soothing instead.
Salted Caramel Chocolate Mousse

Regular chocolate mousse is delicious and makes for a decent dessert. It also gets a little boring.
Why not mix things up with a salted caramel chocolate mousse instead? This treat often includes a layer of decadent salted caramel that contrasts the chocolate tones of the mousse itself.
Once you've tried this version, you might never go back to regular chocolate mousse.
Arroz Con Leche

Arroz con leche is essentially Mexican rice pudding. It often relies on sweetened condensed milk, evaporated milk, regular milk, and cinnamon. The cinnamon adds warmth and depth, while the milk ingredients make this a cooling dessert.
The cooling feature is exactly right after any chili-based meal. Plus, rice pudding is always a familiar and comforting dessert.
Brownies

How can you go past brownies? They're such a classic dessert and they're very easy to make at home.
They're also one of those desserts that can be varied in countless ways. Perhaps you make the traditional chocolate version or experiment with other ingredients. Adding chili is a fantastic way to make your brownies more exciting.
You could go in the other direction too, like making white chocolate raspberry brownies. There are blondies as well, which are basically brownies without the cocoa powder. These often have a distinct vanilla flavor, but can be made in plenty of other ways too.
Tartufo

This Italian dessert is something to aspire to. It's traditionally created as a ball that contains at least two types of gelato, sometimes more. Many versions include melted chocolate or another filling in the center, which makes the whole thing even more decadent.
Then there's some type of shell, with chocolate being one of the most popular choices. Not surprisingly, these are decadent treats from start to finish.
Tartufo comes in plenty of different forms too. For example, frozen fruit or fruit syrup can be used in the center and nuts as the coating rather than chocolate.
Making the treat at home takes some patience, but you could certainly do so. Finding the right recipe could help you do so, like this chocolate-vanilla tartufo recipe from The Kitchn.
Lemon Bars

Lemon is often paired with seafood, but did you know that it's excellent after chili as well? The fruit helps to tone down the spiciness of your chili, giving you a dessert that's delicious and easy to enjoy.
Lemon bars are pretty simple too. You might have even made them yourself in the past.
Key Lime Pie

A key lime pie is another way to play on citrus flavors. The pie also has a decadent creamy filling, which is always soothing.
You can make the dessert easier by skipping fresh limes entirely. It tastes almost as good if you use lime juice from the grocery store. You don't even need key limes. The pie is still amazing when made with regular lime juice.
Pumpkin Bars

Chili is a hearty fall dish, so why not serve a fall dessert at the same time? Pumpkin bars work well for this goal, as they're tasty, familiar, and easy to make.
To make them, you're often relying on cream cheese, pumpkin pie spice, pumpkin puree, and a few other ingredients. They'll keep for at least a few days too, so you can easily have them with other meals.