Desserts are amazing, aren't they? They're decadent, delicious, and packed with flavor. They also come in an endless range of styles and flavors. It doesn't matter what you're serving for dinner or what your tastes are, there will always be a perfect dessert. You just need to find it. While there are plenty of places to buy desserts from, why not try fun desserts to make at home instead?
There are plenty of reasons for doing this. After all, if you buy a dessert from the store, you get what you get. You can't tweak the flavors or the ingredients at all – it's already done. This is frustrating if you want to avoid allergens or if you're looking for something a little unusual.
Things are completely different when you make your own dessert. You could create a sugary treat or one that's entirely sugar free. You could make a gluten free and nut free treat, perhaps one that's paleo-friendly too. You could even completely change the flavor profile of your dessert or exclude common ingredients, like eggs.
For something even cooler, why not start pairing your desserts with tea or other types of drink? Some pairings will complement the flavors of your dessert, while others contrast the dessert instead. There are even plenty of strange and unusual desserts you can make at home.
Desserts You Can Make At Home
Homemade Caramel Corn

Popcorn is a great dessert, especially when you want something informal that you can eat with your hands. Plus, there are many delicious popcorn flavors, including sweet, spicy, and herbal variations.
Homemade caramel corn is a fantastic one to start with, as it's decadent enough to truly feel like a dessert. It's also surprisingly easy to make at home. You can do so with brown sugar, corn syrup, and a few other ingredients.
Caramel corn is also perfect as the base for more complex popcorn flavors. For example, you can drizzle milk chocolate on top or perhaps chili chocolate. Why not experiment with mix-ins as well? Some white chocolate pieces could work or perhaps crushed Oreos?
Oreo Dirt Cake

Dirt cake is a fun dessert. It simply relies on layers of custard and layers of crushed Oreo cookies, often served with gummy worms on top. The flavor and texture make it a little like a giant Oreo, one that's much softer and can be eaten with a spoon.
The only tricky part is working out how to crush the Oreos. You need to get them very fine so that they're almost like a powder.
Doing this isn't as tough as you might expect. Try freezing the Oreos first, then pulse them in a food processor. Frozen Oreos can also be crushed with a rolling pin. This takes more effort and the resulting powder mightn't be as fine, but the approach works well enough.
Banana Ice Cream

Banana ice cream is sometimes called nice cream, as it's meant to be much healthier than regular ice cream. This is also an incredibly easy dessert, as you're just freezing bananas, then gently blending them. This works because frozen bananas have a natural ice cream like texture.
You can make this dessert with just frozen bananas and nothing else. However, there are ways to tweak it. Some people add a little fruit juice, milk, or plant based milk to make blending easier.
You can play around with flavors too. For example, adding chocolate chips and peppermint extract gives you mint chocolate chip ice cream. Or, you can mix in some frozen berries and perhaps some vanilla extract for a berry version.
Cake Mix Cookie Bars

Cake made from cake mix isn't that great. You're likely to get a mediocre cake, even if you follow the directions precisely.
However, cake mix can be used as the starting point for plenty of delicious recipes, including cake mix cookie bars. The recipe from buildyourbite.com is one example of the style. It only uses a handful of ingredients yet gives you a truly decadent dessert.
Relying on cake mix also makes everything faster and easier. This can be powerful, as you won't always have the time and energy to cook a full dessert from scratch. We all need shortcuts from time to time, right?
Avocado Chocolate Mousse

Avocado isn't a traditional dessert ingredient, perhaps because it isn't particularly sweet. However, avocado is a rich source of healthy fats, so it lends a fantastic creaminess to the right dessert.
Avocado chocolate mousse is an excellent starting point. The intensity of the chocolate drowns out the avocado's flavor, while the avocado creates an amazing texture. It's easy to create vegan or keto versions of this recipe by choosing the ingredients well.
5 Minute Fudge

Fudge doesn't need to be complicated. There are plenty of five minute recipes that rely on sweetened condensed milk or evaporated milk, chocolate, and a few other ingredients.
These recipes aren't just fast; they're also pretty foolproof. You can experiment with the ingredients too, like mixing in pieces of dried fruit and nuts for extra texture.
Why not play around with the flavors while you're at it? For example, white chocolate fudge and salted caramel fudge are both surprisingly easy to make.
Chocolate Fudgesicles

Why buy fudgesicles when you can easily make them at home instead? The simplest way to do so is using instant pudding. You just prepare the prepare the pudding and freeze it in popsicle molds. That's it.
You can make healthier and less processed fudgesicles with a little more work. The main ingredients are cocoa powder, chocolate chips, vanilla extract, and milk. Dairy milk is perfect or you can go with a plant-based option like almond milk or coconut milk.
Chocolate Bacon Brownies

In some ways, adding bacon to brownies sounds completely insane. Yet, it's also a predictable idea. After all, America seems a little obsessed with bacon and the combination of sweet and salty always works well for desserts.
If you want to take things even further, why not try these bacon caramel brownies from bakerita.com? They're chocolate brownies with a cinnamon swirl that have been topped with brown sugar bacon. Honestly, it would be tough to go back to regular brownies after these beauties.
Keto Chocolate Truffles

Keto dieters don't need to miss out on dessert. They often just need to tweak a few ingredients.
Keto chocolate truffles are a straightforward option. Some recipes rely on cocoa powder, heavy cream, butter, vanilla extract, and some type of keto sweetener. Others add real chocolate in and perhaps some coconut oil.
You could even add espresso powder into the mixture to create mocha truffles.
Mug Cake

Mug cakes are the ultimate dessert. Why? Because they're simple to prepare, infinitely customizable, and still give you all the flavor you love from regular cake.
Besides, full cakes can be seriously frustrating. They take ages to make and there's every chance that you end up with something dry or bland. You're also making a lot of cake, some of which might get thrown out eventually.
For a mug cake, you just need a mug, a microwave, a handful of basic ingredients, and a few minutes. This gives you a cake that's perfectly sized for one person and can be easily customized. Those features are hard to beat.
Truffle Stuffed Chocolate Chip Cookies

We can't get over these truffle stuffed chocolate chip cookies. The truffle filling makes them so much more exciting than regular cookies.
The truffle filling is exciting too, as this is literally just a Lindt truffle – one per cookie. Danelle developed the recipe using dark and milk Lindt truffles, but you're not limited to those. You could try the cookies with some of the filled Lindt truffles or more unusual flavors, like strawberries and cream truffles.
Honestly, any type of truffle is going to taste amazing in these cookies.
Salted Caramel Apple Crisp

An apple crisp gives you all the delicious flavors of an apple pie, but with much less work. A salted caramel apple crisp (like this one from bakerbynature.com) is even better, as the salted caramel perfectly complements the flavors of your sliced apples.
It's a very easy recipe to prepare too, as the base is just sliced apples. A topping is then added and the whole thing is baked in the oven. The apple crisp is particularly good if you prepare the caramel sauce yourself. However, salted caramel sauce from the store will still work well.
Cream Puffs

Cream puffs seem like they should be incredibly difficult, as you have an unfamiliar batter and filling to work with. That's not the case though. Instead, the puffs are surprisingly easy to prepare. You just need to use an unusual technique.
You're not stuck with plain vanilla filling either. There are plenty of other fillings to experiment with, including making double chocolate cream puffs, pumpkin cream puffs, or even matcha cream puffs. Exciting, right?
Cookie Dough Bars

Who doesn't love eating cookie dough? Sometimes the dough even tastes better than the cookies themselves.
Cookie dough itself shouldn't be used as a dessert because of the raw eggs. So, why not make cookie dough bars instead? These skip the raw egg, making them completely safe to eat. Styles vary, although many recipes use sweetened condensed milk to give them a familiar flavor and texture.
There's plenty of room for adjustment, like including chocolate chips or even M&Ms in the cookie dough or perhaps mixing in some peanut butter. You can even make no bake vegan cookie dough bars and keto versions.
Matcha Dipped Strawberries

Chocolate dipped strawberries are a classic treat. They also get boring fast. Why not experiment with the idea?
Matcha dipped strawberries are a perfect alternative. They're surprisingly easy to make too. You simply melt white chocolate and stir in matcha powder. Once the matcha is dissolved, you can simply dip the strawberries and let the chocolate harden.
The approach is exceptional, as the flavors of white chocolate, strawberries, and matcha all perfectly complement each other.
You might even serve these and regular chocolate dipped strawberries at the same event. Or, experiment with other ingredients to give you a collection of colors.
Baked Apples With Oat Filling

Why go to all the work of peeling, slicing, and seasoning apples, when you can simply bake whole apples in the oven? The treat is even better if you first core the apples out and spoon in a sugar, cinnamon, and oatmeal filling.
The apple becomes soft and juicy once baked, which is a perfect contrast to the crunch of the oatmeal filling. You can even top the dessert with ice cream or Greek yogurt for the perfect contrast.
Cookie Sandwiches

Cookie sandwiches are a way to kick your cookies up to the next level. They're as simple as taking two cookies and squishing them together with some type of filling.
The fun part is how you pair the cookies with their filling. For example, you might use basic sugar cookies with a funfetti filling or serve chocolate chip cookies with a vanilla filling. Or, how about red velvet cookies with a light colored filling?
Some people even use chocolate cookies with chocolate filling, which ramps up the chocolate flavor. You could even use chocolate ganache for the ultimate decadence, giving you a treat that's perfect for true chocolate lovers.
Frozen Raspberry Lemonade Pie

This dessert is a fun chance to step outside the box. Once made, the pie is truly stored in the freezer, so you can easily prep ahead of time. You need to let it thaw slightly before serving it, but only for half an hour or so.
Most of the ingredients are familiar, except that the recipe does include lemon instant pudding. While this is a little unusual for a homemade dessert, the instant pudding mix does bring the whole dessert together and makes it easy to prepare.
Cheesecake Jars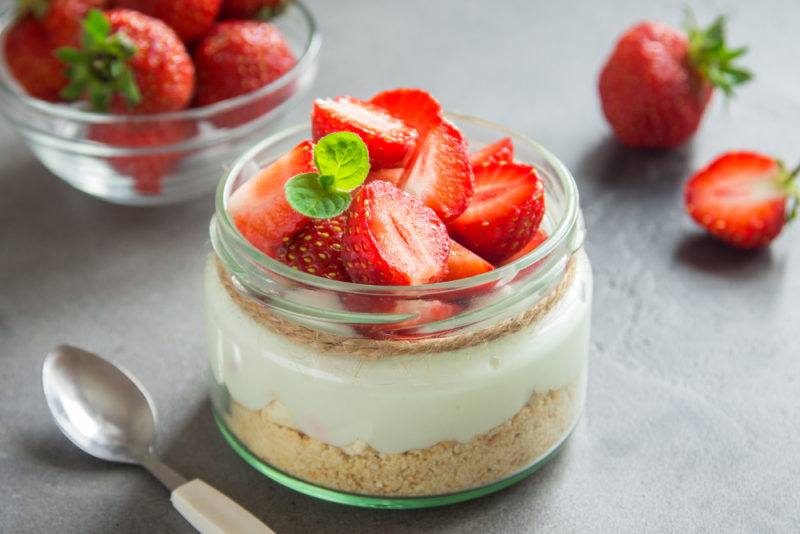 We can't talk about desserts without mentioning cheesecakes, can we? These desserts are always a crowd favorite, giving you a sweet and creamy treat that's easy to customize.
They can be finicky though. It takes time and effort to get a cheesecake right, especially if you're making a classic one that needs to be baked. No bake cheesecakes are easier, but they still take a lot of time and you end up with this huge cheesecake.
Sometimes it's better to take a simpler approach – like cheesecake jars. These really are baby cheesecakes built in a jar. Most recipes don't need baking at all. You're simply layering a graham cracker crust, cheesecake mixture, and topping into a jar.
This style creates many opportunities for flexibility. You can use whatever topping you like, such as berries and sauce, salted caramel, whipped cream, or even chocolate ganache. You can also add ingredients into the cheesecake mix itself for extra flavor, like cocoa powder, raspberry preserves, or peanut butter.
Mason Jar Baked Apple Parfait

Here's another single serving dessert to consider. It's an apple parfait that's been served in a mason jar.
To prepare it, you'd first need to bake the apples in a mixture of brown sugar and cinnamon. Then, once they've cooled a little, you can start to build your jars. A crumbed graham cracker mix works well at the bottom of the jar, followed by the apples and a vanilla yogurt layer.
You could even add some caramel sauce on the apple layer to give it even more oomph. This isn't strictly necessary though. The parfait is going to taste delicious either way.
Butterscotch Chocolate Chip Blondies

Why make regular brownies when you can make something as exciting as butterscotch chocolate chip blondies? While the name is a mouthful, the recipe from sixsistersstuff.com isn't difficult to make at all,
The blondies have some pretty amazing features too, including butterscotch and regular chocolate chips, plus mini marshmallows. There's no doubt that these will be a hit. You might even find they all disappear within a day or two of making them.
Blackberry Sour Cream Pie

This pie is a little unusual. It's also simple, delicious, and well worth trying for yourself. The filling only uses a handful of ingredients, including sugar, sour cream, flour, and blackberries. You can even make it using frozen blackberries.
Then there's the crust. You can keep things simple by using a store-bought crust or make your own. Either approach will be delicious.
The full recipe can be found at letsdishrecipes.com. You could also experiment with the fruit, like using a different type of berry or dropping the berries entirely in favor of peaches or apples.
Hot Fudge Lava Cake

Lava cakes are truly special. They give you all the flavor and texture of cake, but with a gooey chocolate center that's hard to beat.
Plus, the best lava cakes are small enough for one person. This means there's no excess cake hanging around and tempting you.
There are two main styles. One is the type you might find in restaurants and from Domino's, where the cake is pretty firm and can be served on a plate. Once you dig into it, the molten interior oozes out.
The other style is moister and is often made in a mug. This version is much easier to prepare and there's less risk of drying it out.
Jell-O Fluff Salad

This final dessert is delicious and simple, partly because it relies on Cool-Whip, Jell-O, and vanilla pudding mix. Using processed ingredients like this isn't ideal, but sometimes you need a simple, fast, and tasty treat.
The recipe calls for strawberries and bananas. However, you can easily experiment with the fruit. Most types of fruit will taste delicious as part of the salad, including exotic ones. Just make sure that you use fresh fruit, as frozen fruit gets mushy as it thaws.
Related Content