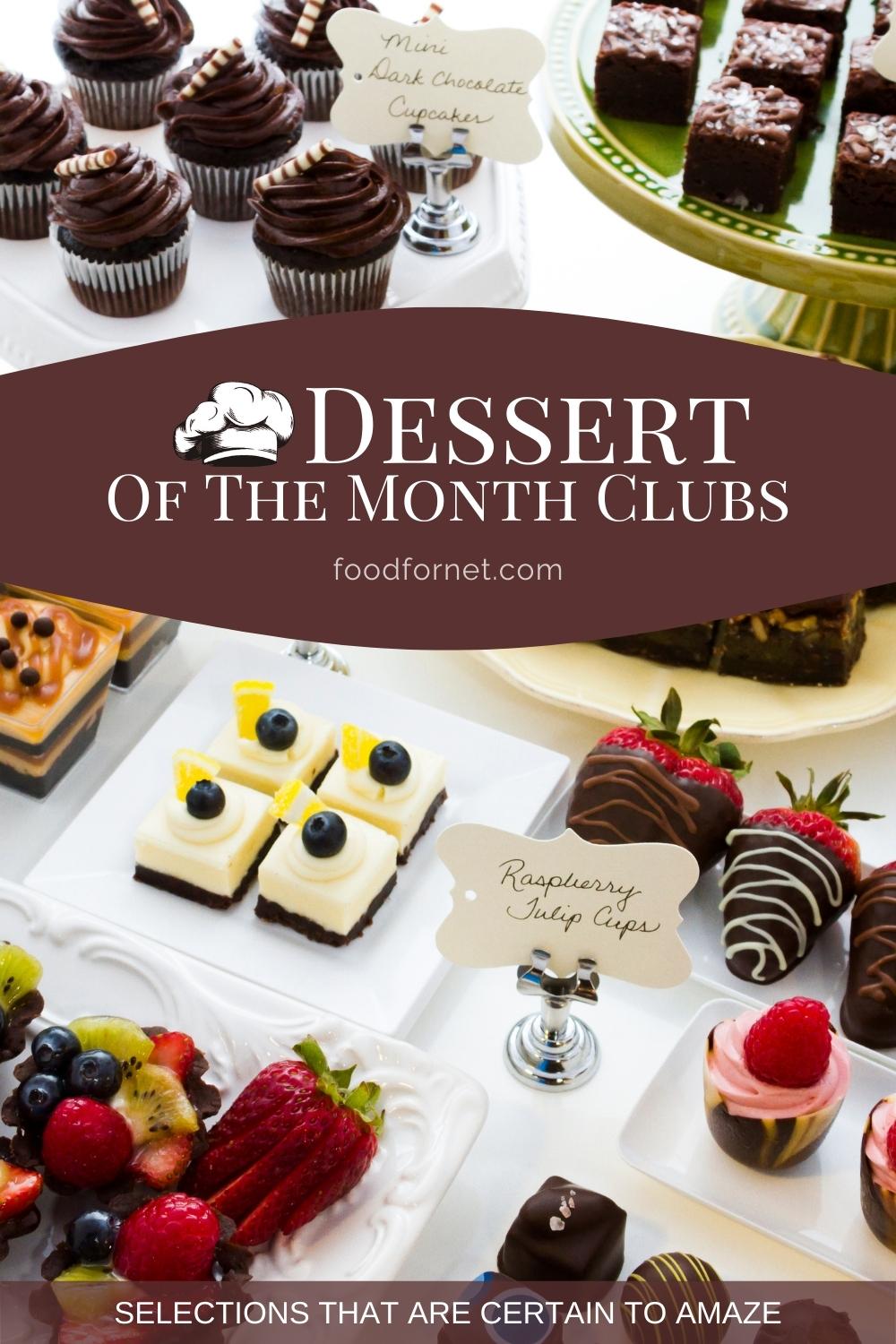 Dessert of the month clubs are seriously the most amazing inventions ever. They literally provide you with a collection of desserts every month (or sometimes a single full-sized dessert). These aren't just any desserts either. Companies often go out of their way to produce amazing treats, ones that you would probably never make yourself.
Why not give one of these clubs a go? Sure, you could make desserts at home yourself, but there's something even better about having them delivered to your door – ready to eat.
The #1 pick in my opinion is Amazing Clubs Dessert of the Month Club. It's high-quality desserts, and a wide variety of them are delivered to your doorstep. Past selections include cheesecake, caramel chocolates, carrot cake, blueberry pie, and cream cheese brownies. What a variety!
This list highlights the various clubs that are out there to get your sweet tooth on, and what you get for your money.
Dessert Of The Month Clubs
Amazing Clubs Dessert of the Month Club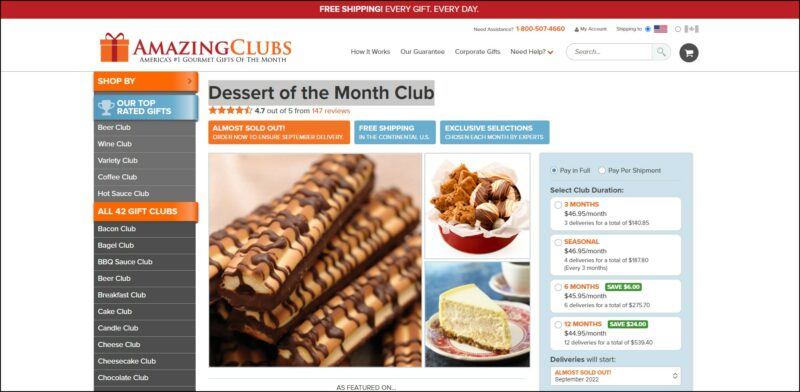 Amazing Clubs is well-known for providing good subscriptions. The company manages this by curating the best items from producers across the United States. This means you're getting more variation between each month and the chance to experience desserts from many new bakeries.
The club provides you with 6 to 10 servings of dessert each month. Many styles are included, such as cakes, pies, pastries, and cookies. There is also a monthly newsletter and details on the site about previous selections.
Unlike other clubs, you're not told what is going to be shipped out ahead of time. This makes your membership more surprising. The price is reasonable, averaging around $44.95 per month, regardless of whether you pre-pay or pay for shipments individually.

Harry & David 12-Month Dessert of the Month Club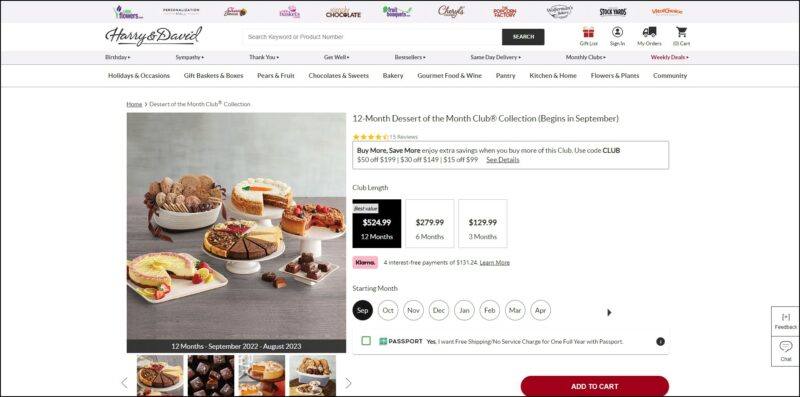 The many types of subscriptions from Harry & David are always impressive. This is certainly true for their Dessert of the Month Club. The club costs from $129.99 (for 3 months) to $524.99 (for 12 months).
Each month provides you with a single type of dessert. The desserts vary considerably. Examples include popcorn, chocolate-covered strawberries, carrot cake, cheesecake, and much more. While there aren't any details about how large the desserts are, the images do suggest that you're getting full cakes and other full-sized desserts some of the time.
This club is more predictable than most. Harry & David provide a monthly list on their site that tells you exactly what to expect each month. There are even images of all the desserts.
A Bite Of Heaven Bakery Dessert of the Month Club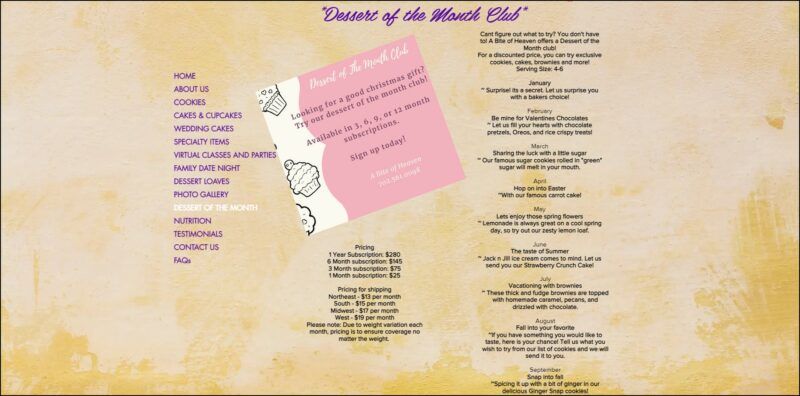 A Bite of Heaven Bakery offers a chance to try out some of their popular baked goods cookies, brownies, and other items on a monthly basis. Their club ships the treats out to you each month. You're even getting them at a discount compared to the regular pricing.
The desserts are pre-chosen for each month. You can see these listed on the club page, along with a short description of each one. For example, February offers Heart-Shaped Valentine's cookies, while November has Cupcake Push Pops. They offer a lot of variety, including pies, cake pops, and cookies!
The club costs $15/month and a 12-month subscription gets two months for free!
David's Dessert Of The Month Club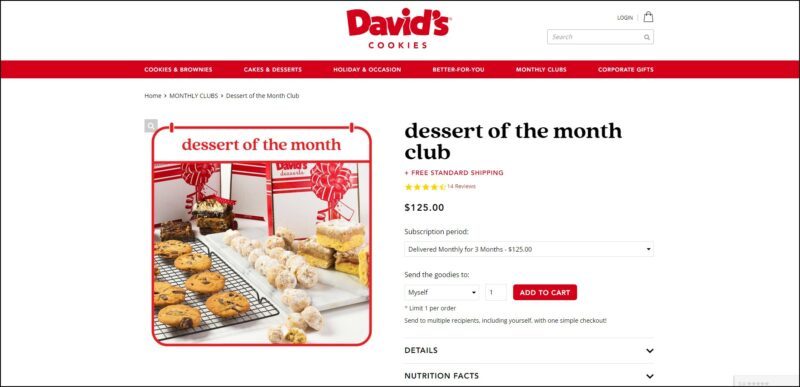 David's Dessert of the Month Club is a fantastic choice, especially if you want to know what you're getting beforehand. The club page provides a fantastic image of the dessert for each month. There is plenty of variation too, like a Chocolate Satin Cake for February and 12 Assorted Brownies for June.
Love dark chocolate? Pair it with a lovely red wine with one of these red wine of the month clubs.
Some of the desserts come in tins from the company and would make good gifts.
Your goodies ship out on the second Tuesday of each month, so you'll always know when to expect them. This time you're paying $125 for 3 months, $240 for 6 months, $360 for 9 months, and $450 for 12 months.
Flying Noodle Dessert of the Month Club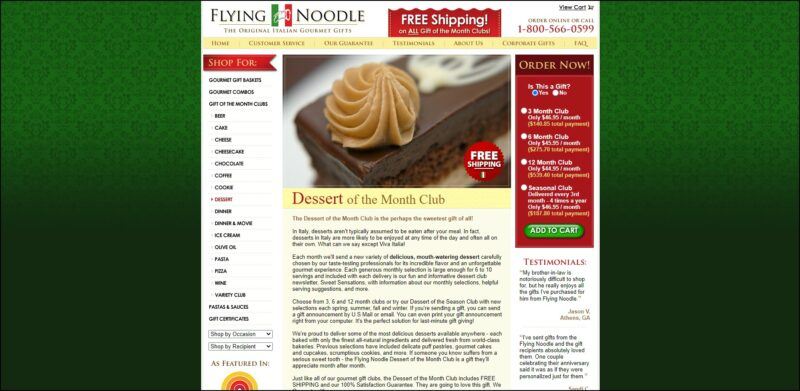 Flying Noodle is another choice if you want desserts from many different bakeries. The company is distinct from Amazing Clubs, but there are many similarities in their styles. For example, you're receiving 6 to 10 servings per shipment. You're even getting a monthly newsletter, which is called Sweet Sensations.
This time, the club costs $140.85 for a 3-month version, $275.70 for a 6-month version, $539.40 for a 12-month version, and $187.80 for a quarterly version (4 times per year). The monthly price averages out to $46.95 for the 3-month and quarterly options, $45.95 for the 6-month, and $44.95 for the 12-month.
There is no month-to-month ordering option this time. The site doesn't provide specifics about previous selections or what they will be shipping out in the future.
Deb's Delights Dessert of the Month Club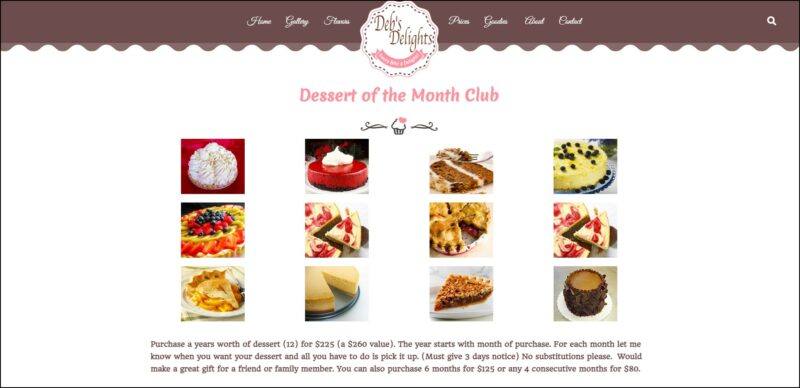 To put it simply, this Deb's Delights Dessert of the Month Club looks amazing. There are plenty of different desserts included, such as Raspberry White Chocolate Cheesecake, Peach Pie, and Fresh Fruit Tart. You can get a 4-month membership for $80, a 6-month version for $125, or a 12-month version for $225.
There is one significant limitation – you need to pick up the desserts yourself. This is done at the Deb's Delights store in Chelan, Washington. The club is seriously worth the effort if you're in the local area. If you're not, you'll need to choose a different company.
Grateful Bites Dessert of the Month Club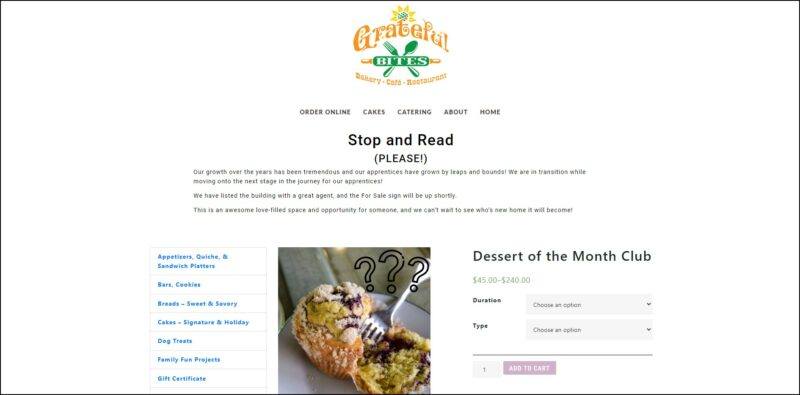 This is another local option that provides plenty of dessert styles.
Grateful Bites is a bakery, café, and restaurant that is located in Flemington, New Jersey. They don't offer to ship, so you'll need to pick up your desserts in person. Even with this limitation, the subscription program is worth trying out. There are some interesting desserts included, such as Petite Seasonal Tarts, Death by Chocolate Cake, and Seasonal French Macrons.
There are also variations for people with allergies. You can choose a regular, gluten-free, or nut-free subscription. Possible subscription lengths are 3 months, 6 months, and 1 year. The price ranges from $45 to $240, depending on your selection.
Phivi Artisanal Desserts Box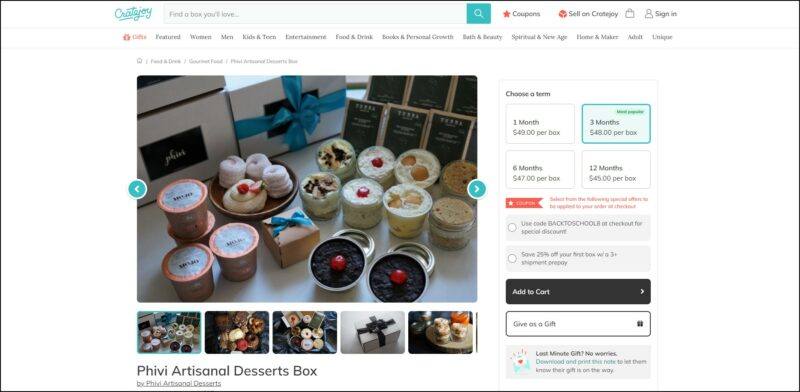 Due to the pandemic, what started off as an online events marketplace, Phivi Box became a full-fledged artisanal dessert subscription box. The demand for home delivery is undeniably high given that everybody's movement is restricted and most are bound to their homes. Phivi Box saw the opportunity to share their freshly baked desserts to connect with families and loved ones.
Phivi Box's dessert not only satisfies their customers' craving for something sweet but did facilitate the much-needed connection between families and loved ones as well. They have every imaginable dessert like brownies, cakes, cookies, cupcakes, macarons, pastries, and more.
Phivi Artisanal Desserts Box offers 4 different terms to choose from, 1, 3, 6, and 12 months options. The price ranges from $45 to $49. The box includes an assortment of eight full-sized freshly baked treats. They also have a theme every month to represent seasonal flavors.
Chatila's Bakery Sugar-Free or Gluten-Free Dessert of the Month Clubs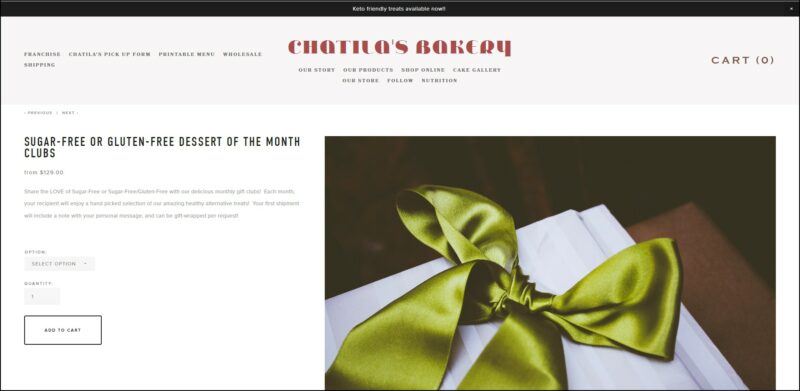 Chatila's Sugar-Free Bakery was founded by Dr. Mohamad Chatila in 1988. One of the core principles is to provide quality products at an affordable price. Fast forward to today, they now sell their gourmet healthy baked goods via their website, their own retail selection, and through other retailers in the US.
Chatila's specializes in desserts that are sugar-free, gluten-free, dairy-free, low sodium, high-fiber, and keto friendly. They want to prove that desserts can be delicious and healthy at the same time – letting you indulge happily without an ounce of guilt.
Their Sugar-Free or Gluten-Free Dessert of the Month Clubs offer a 3-month, 6-month, and 12-month subscription plan with an option for not just sugar-free but gluten-free desserts as well. Pricing starts at $129 up to $469. Each month, members will enjoy a hand-picked selection of their healthy alternative dessert treats.
Morika's Southern Delights Dessert of the Month Club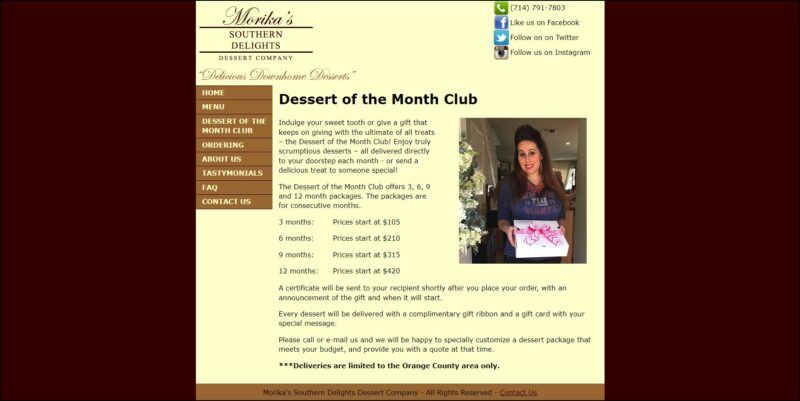 Morika's Southern Delights is all about Southern baking. Located in Orange County, California, the company was founded by Norma Stewart (she named the business after her daughter, Morika). Her passion for baking is inspired by her late grandmother Mamma Ruth.
They specialized in baking delicious Southern pies, cakes, cobblers, candies, and more. According to their website, they do not have a storefront and identify as a Dessert Catering company that caters to any occasion. All of their desserts are handmade from scratch in small batches using only the finest ingredients.
The Dessert of the Month Club offers a 3, 6, 9, and 12 months subscription option with prices ranging from $105 up to $420. Unfortunately, to date, deliveries are limited to the Orange County area only.
PickNic's Catering and Fine Foods Dessert of the Month Club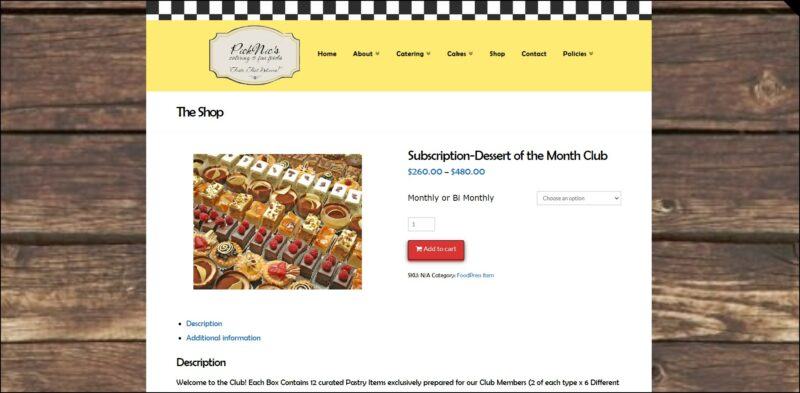 PickNic's Catering and Fine Foods is owned and managed by Nicola Lawson, Red-Seal Journeyman Pastry Chef. They offer affordable and delectable foods for occasions like breakfast or luncheon, staff parties, conventions, or even weddings. They also provide a range of beautiful and delicious desserts and wedding cakes.
PickNic's desserts are made from scratch with quality ingredients, incredible creativity, and delectable flavor. They have their gourmet signature cakes, cupcakes, cheesecakes, trifle bowls, and a variety of house-made dainties.
You can choose Monthly or Bi-Monthly for their Dessert of the Month Club. Subscription cost somewhere between $260.00 – $480.00. The box that you'll receive monthly or every other month (up to you, of course) will include 12 curated pastry items (two of each of the six types) that are exclusively prepared by PickNic's for club members only.
Signature Dessert of the Month Club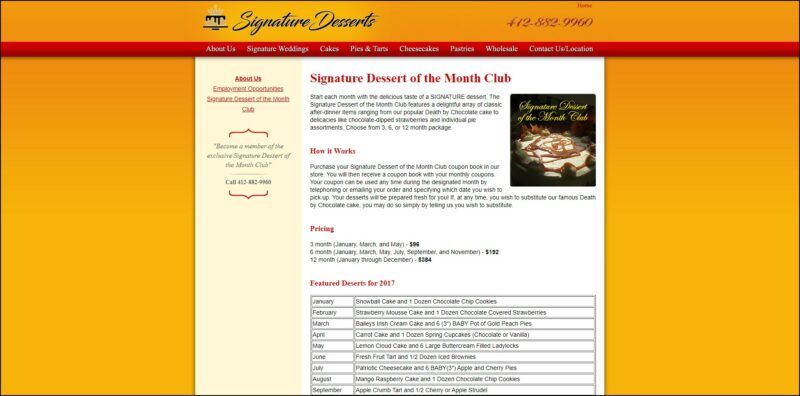 Signature Desserts is owned by Steve and Linda Mueser and what originally started as a one-man bakery has turned into a shop with over 10 employees and a fleet of mini-mans delivering baked goods to more than 100 restaurants, country clubs, and caterers in the Greater Pittsburgh area.
Their menu consisted of their famous Death by Chocolate cake, Pear Almond Torte, Pumpkin Cheesecake, homemade pies, tarts, and many more. Everything is still handmade and aside from using the finest and freshest ingredients they also make sure that there are no preservatives added.
The Signature Dessert of the Month Club offers 3 different packages – 3-month, 6-month, and 12-month costing between $96-$384. According to the website, the offer is for pick-ups – even purchasing the membership via their store, I reckon calling their numbers will work, too.
It says there that you are to call or email them for your order and specified the date of picking up the desserts. However, delivery is available within Allegheny County for an additional charge. I think it's still worth checking, especially when you live around the area.
DIY Dessert Of The Month Subscription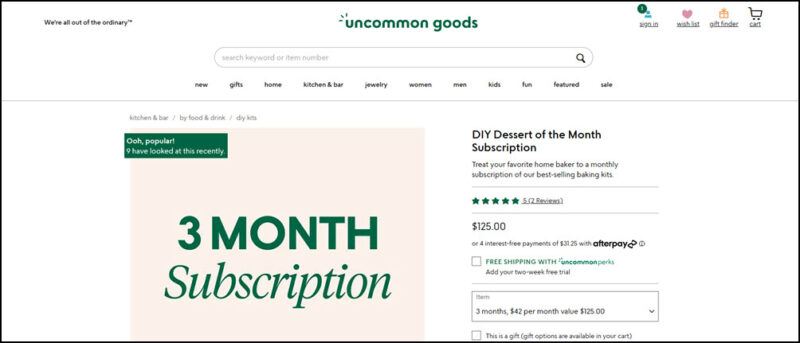 The DIY Dessert of the Month Subscription breaks the mold, as it's actually a baking subscription kit. Instead of giving you the desserts themselves, the subscription simply sends you the ingredients and instructions needed to make them.
Some of the treats on offer include bubble waffles, mochi ice cream, and heart-shaped shortbread linzer sandwich cookies. So, you're not just making desserts, you're also making unusual desserts, ones that are certain to impress. This is much better than yet another cookie or cake baking kit.
Bakery Favorites Club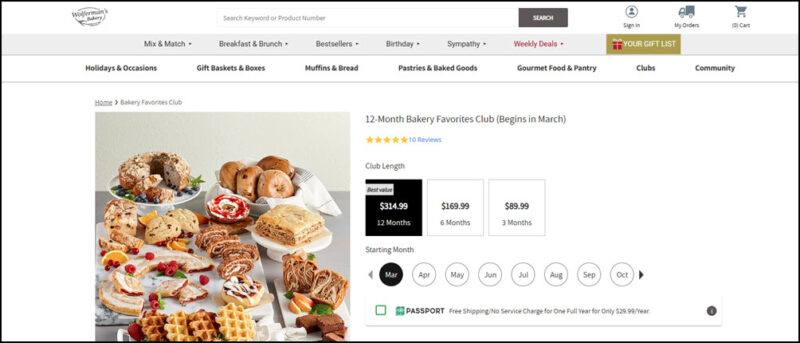 The Bakery Favorites Club takes an interesting approach. The subscription still provides a variety of sweet treats, but these aren't your classic desserts. Instead, most shipments provide sweet bakery treats that can be enjoyed at any time of the day.
The 3-month version of this club costs $89.99, while the 6-month version costs $169.99 instead and the 12-month one is $314.99. In each case, you get to choose the starting month for your subscription.
Each month this club sends out a different type of treat. For example, March ships out classic cinnamon rolls, while April offers a loaf cake sampler instead. This approach gives you a decent amount of each dessert type to try.
Cake Tasting Club


The Cake Tasting Club is a UK-based club that, you guessed it, focuses on cake. We're highlighting it on this list as some of the subscription boxes include other treats as well, like brownies.
The Classic Box is a great example. It starts at £16.50 and contains 6 dessert portions. The box typically includes a buttercream cake, a loaf cake, two portions of a flapjack or bar, and two portions of a brownie.
There's also The Sharing Box, priced from £27.99. This time it features a traybake cake, a buttercream cake, brownie portions, and bar or flapjack portions. The big difference is that you're getting 12 portions in total, rather than 6.
Getting small portions of different desserts is a fantastic idea. It should mean that there are always some treats you enjoy each month.
Ridiculously Rich By Alana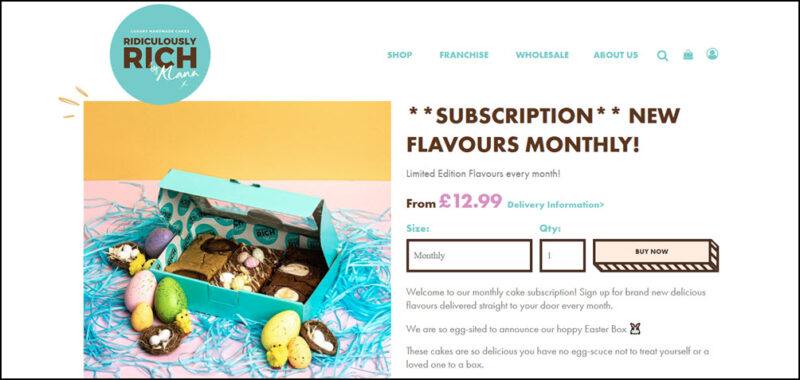 The Ridiculously Rich subscription follows the same style as the previous entry. It offers 9 servings per box, including desserts like brownies, blondies, and some specialty treats.
The box is often themed based on the current season – like an Easter themed box that includes a caramel egg blondie and a cream egg brownie. The subscription costs just £12.99 per month, which is reasonable for the treats it contains.
Of course, this and the previous entry are located in the UK, so American audiences are out of luck.
Mrs. Fields Treat Of The Month Club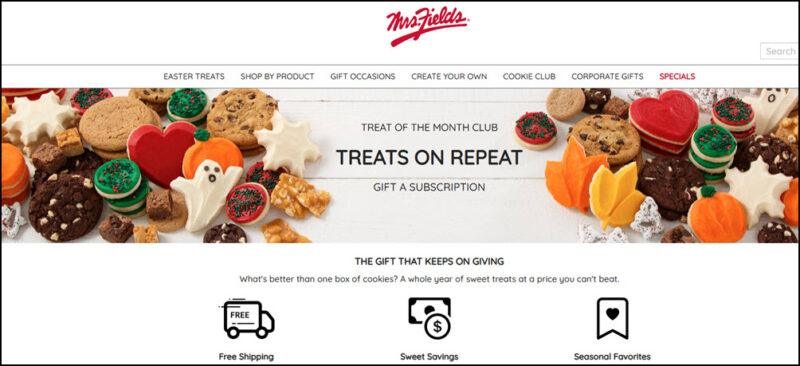 The Mrs. Fields Treat of the Month Club combines cookies with other desserts to give you an interesting and delicious selection. The 3-month version averages $33.33 per month, while the 6-month comes to $29.99 per month. The 12-month is the best value, averaging at $27.49.
However, this dessert club is best for cookie lovers, as it's still very cookie heavy. Some months just give you a few types of cookies and don't feature any other desserts at all.
Jarva Cakes Lava Cake Club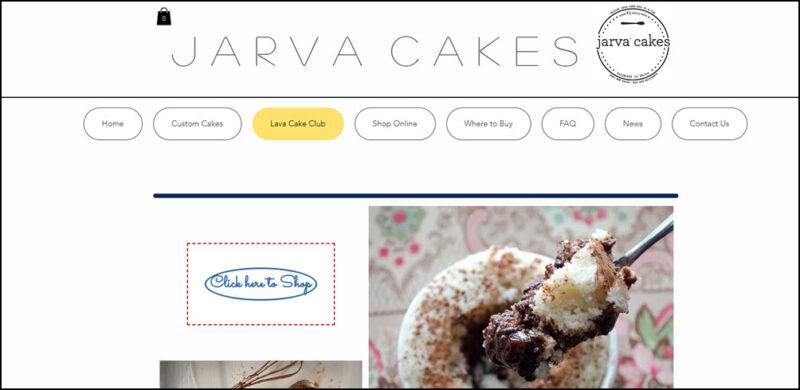 The Jarva Cakes Cake Club makes this list because it is such a unique club. It basically ships you out individually portioned lava cakes in different flavors.
The 6-month version of this subscription costs you $119.94, while the 3-month version costs $69.95 instead. If you're unsure about the style, why not try one of the individual cakes from the Jarva Cakes site instead? The club can even include seasonal flavors before they're sold in the Jarva Cakes store. This is exciting if you love trying new desserts or are looking for single serving cakes.