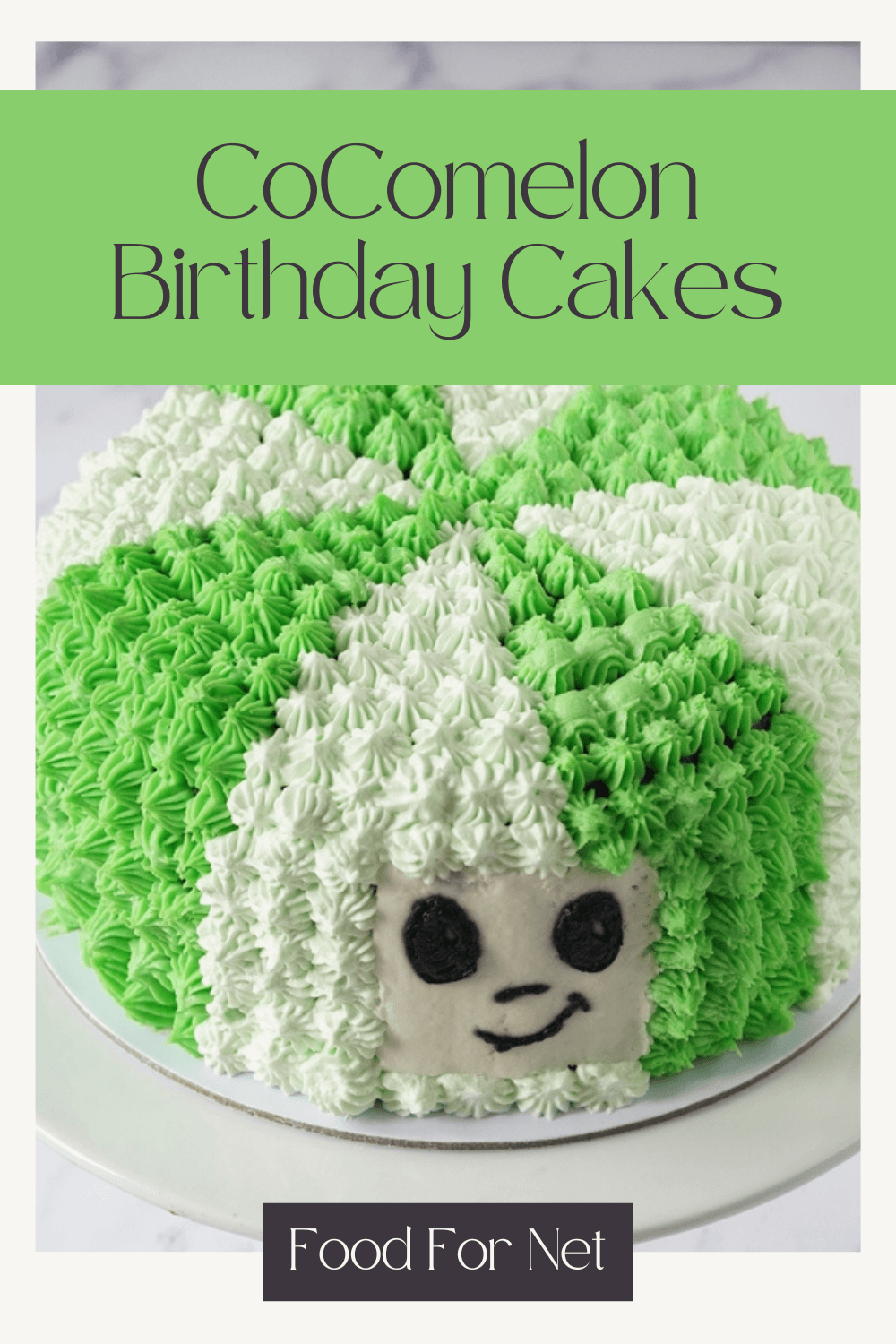 CoComelon has skyrocketed into popularity since first being developed in 2006, with the YouTube channel boasting more than 140 billion views. There's an associated show too that's just as popular. Both the show and the channel offer bright visuals and plenty of songs. It's no wonder that kids love them so much. So, if your kid is one of the many global CoComelon fans, why not make them one of these fun CoComelon birthday cakes?
There are plenty of styles to choose from, suitable for any age level. You'll see plenty of options in the list below.
Many of these cakes look amazing and they're not extraordinarily difficult to make either. Most of the time, it's simply a matter of looking for instructions and following them carefully. You might also try making a practice cake well before the main event, to give yourself time to practice. Otherwise, there's just too much pressure.
That said, there are some simple cakes in the mix. This includes ones that still look amazing and only require basic cake decorating skills.
If all of this seems like too much, you could consider a cake from a birthday cake delivery company instead. While these don't usually offer themed cakes, you can order regular cakes through them, then use CoComelon cake toppers. You can even buy already made edible and non-edible cake toppers for the various characters. These make your job incredibly easy.
Cake of the month clubs work well too. Plus, there's a ton of these to choose from.
P.S. There are plenty of other fun cake styles too, including McDonald's cakes and even cakes made entirely out of fruit.
CoComelon Birthday Cakes (With Pictures!)
A Small Cake With All The Animals
This pink cake makes full use of the CoComelon animal characters, featuring JJ as the only human, plus the CoComelon logo (of course). You'll see this logo time and time again in many different forms.
There are plenty of stunning features here, including the pastel pink color of the cake, the white drips, the clouds, and the rainbow. Remember these themes, as you'll see them repeated across many CoComelon cakes.
All Aboard!
This cake reminds me a little of The Magic School Bus, although it's based on the bus that sometimes features on CoComelon instead. This time the figures are peeking out from inside the bus, with the CoComelon logo on top.
The style is quite fun. After all, traditional round cakes do get a bit boring, even when they have plenty of decorations and toppings.
Why Not Add Some Balloons?
This cake has a light blue theme, probably because it's a birthday cake for a boy rather than a girl. There's the familiar rainbow, baby, and CoComelon logo, plus plenty of balloons.
I love the little duckling on the name Matthias. While this is just a small feature, it helps to make the cake unique.
Also, if you're making a cake like this at home, you don't need to make the CoComelon toppers yourself. This type of cake is incredibly popular, so plenty of online sellers offer edible CoComelon figurines and other types of cake toppers. You can even find some at Walmart.
Rainbow And Clouds
This style should look familiar before long. It's light blue again with clouds and a rainbow. The design of the clouds is fun, though, as they're much more 3D than normal.
There's also just a single figure on the cake, plus the golden '3'. What could be simpler?
The CoComelon Logo
This cake takes a different approach, one that you'll see time and time again. It's basically the CoComelon logo made into a cake.
To be honest, we could have made a list of just CoComelon logo cakes. There isn't much point though, as there aren't that many ways to vary the logo. Instead, CoComelon logo cakes tend to follow the same general design as each other.
The sizing is difficult to tell from the image, but I suspect it's a fairly small cake. After all, a large cake isn't needed when children are very young.
Two Tiers With Cupcakes
This entry doesn't just offer an impressive two-tier cake, but there are also a dozen themed cupcakes as well. It's cool how the cake has a green and a blue tier, while the cupcakes include green and blue as well.
The actual CoComelon toppers are fairly simple too, just one of the logo and another of JJ. All the other features look like they have been carefully handmade.
Toppers With The CoComelon Logo
Here's another cake that's centered around the CoComelon logo. This one's a bit different than the previous example, as the logo has been complemented with various CoComelon figures.
These ones actually look like they've been handmade, although it's difficult to be certain. Either way, it's a fun cake that any kid is certain to love.
Another Version Of The Logo
Speaking of the CoComelon logo, here's another riff on that same theme. The colors are a bit further from the show here, but that doesn't actually matter. The cake still looks fantastic and is easily recognizable.
A Rainbow Tiered Creation
This is an impressive creation. It starts with the same CoComelon logo, but then adds a second tier on top – featuring the light blue sky, rainbow, and clouds that we've seen elsewhere.
If all of that wasn't enough, there's a JJ topper, another rainbow, and the kid's name and age, plus extra bits scattered around the bottom. Altogether, it's a stunning cake for a one-year-old.
All The Gang Together
This cake takes a simpler approach than many others, using cutouts of the various characters, the CoComelon title, and the logo, rather than edible figures. These cutouts probably aren't edible either.
However, the cake still does the trick visually. It's for a two-year-old anyway, so there's no need to break the bank for an over-the-top cake.
Three Tiers This Time
We showed an exceptional two-tier cake before, so here's one that takes things even further – with three tiers of deliciousness.
The style is a bit unusual for a CoComelon cake, as the bottom two layers don't have much to do with the show at all. The first is basically a watermelon with a face, while the second features various pieces of fruit. It's just the top layer that highlights the CoComelon theme, as this is another version of the logo.
If nothing else, the cake is a nice change of pace. Besides, CoComelon cakes are partly made to impress adults. A one- or two-year-old kid isn't going to fully appreciate the cake, no matter how well made it is.
More Pink
This pink cake appears to have been made for a one-year-old girl. It's a pretty small cake, with a large rainbow and tiny stars and hearts to make it stand out.
The main feature isn't the cake itself, but all the CoComelon characters. There are seven this time, including JJ, the logo, and various animals.
Using a small cake and plenty of characters is a great approach. After all, if the focus is on a one-year-old, is a large cake really necessary?
Combining The Logo And A Bus
We've seen the CoComelon logo a few times and this bus should look familiar too. Combining them on a single cake works well, especially with the three ladybugs.
It's interesting to see a version that just includes the logo and the bus, without any characters at all. Still, this approach might be easier to prepare at home, as the characters are often the trickiest part.
Two Tiers With The Human Characters
Many of the cakes we've seen have featured JJ on his own or with various animal characters. This two-tier cake takes a different approach by using four kids instead (plus a dog and the logo).
I'm not sure why the kids aren't used more often on cakes, as they're adorable and make it look so much better. Using a different color for each of the two tiers works well too. The heart shaped balloons on top are also a nice touch. They make the whole thing even more attractive.
A Regular Cake With The Right Toppings
We've been mostly focusing on carefully crafted cakes, often ones using rainbows, clouds, and even balloons to make them look amazing. While those cakes are certainly special, they can also be tough for the average home baker.
This cake is an excellent compromise. It's a regular cake with white icing, with funfetti to make it interesting, and then a small collection of CoComelon toppers.
The toppers are enough create the desired CoComelon theme, without costing you an arm and a leg in the process. Besides, is a one-year-old really going to know the difference between this and an extravagant cake? They'll probably just focus in on the characters and ignore the rest.
More Than Just The Logo
This cake takes us back to the well-crafted style – and doesn't it do it well? Here's the logo again, plus JJ and various creatures. Adding the kid's name, Alexandro, in rainbow letters is a fantastic touch.
I particularly love this version of JJ. He looks happy and very accurate. That's impressive, as it's easy for 3D toppers to be 'off' in some way.
A Cake Of Cakes
If you're feeding a crowd, why not turn to a collection of cakes instead of one large one? That's what's happening here.
It looks like there are two cakes, one featuring the CoComelon logo and the other featuring JJ, plus a bus, a rainbow, and a cloud. Then there's the collection of cupcakes and the watermelon base.
As with many of these cakes, it's almost impossible to tell which parts are edible and which aren't. That doesn't really matter, though, as the whole thing looks stunning (which really is the critical part).
Fun, Bright, And Not Too Complicated
Here's another version that looks fantastic without being too complicated. We're basically looking at a carefully frosted white cake with stars and some grass at the base.
The rest of it looks like simply CoComelon cutouts, which probably aren't even edible. They could easily be removed before cutting the cake.
This Bus Even Has A Driver
The elements of this cake should all be familiar. We've seen them plenty of other times. The style is a little different though.
I particularly love this version of the bus. Rather than having a large bus, there's a small one, with little JJ as the driver. I assume he doesn't ever drive the bus in CoComelon itself, but he looks right at home here.
This One Is More Topper Than Cake
This cake has more toppings than any other. Seriously. Would it even be possible to jam anything else on there?
Still, it's hard to call the toppings excessive, as they make the cake look stunning. The whole thing really is a piece of art. The appearance might even make it difficult to cut into, as who would want to wreck such a masterpiece?
Why Not Follow A Watermelon Theme?
Rather than just using a white cake with sprinkles and a CoComelon topper, the creator of this cake went for a watermelon theme instead.
It's a clever idea, as the CoComelon logo is basically a watermelon with a face anyway. Plus, a watermelon-style cake is easier to make than many of the others featured on this list.
A Fun Style For Vivaan
This cake takes many of the themes we've been seeing, including pastel colors, clouds, a rainbow, JJ, the CoComelon logo, and animal figures. It's still a little unusual, though.
For one thing, this is a taller cake than normal. That gives you more actual cake to serve, which is useful if you have a lot of guests.
Most of the figures are what you'd expect, but the JJ one stands out. The style is different than most. I think he looks slightly menacing. Still, that's just me. Someone else might find him incredibly cute.
Bright Colors With Lollipops
I love how this cake has featured a boldly colored rainbow, rather than a pastel one. Adding rainbow lollipops is a nice touch, as these highlight the rainbow and are great treats in their own right.
We can't forget the CoComelon label at the base. While this is a common style, it works well and does make the cake stand out.
Adding The Name In
This cake is simply fun from start to finish. The bright colors of the CoComelon logo perfectly complement the kid's name and the 'happy birthday' at the base of the cake.
Best yet, the entire cake looks handmade. It doesn't seem like the creator relied on any purchased CoComelon toppers or decals.
A Number-Based Cake
Rather than going with a regular cake, you could try a number-based version – like this one. Such cakes are easy to make. You don't need to worry too much about complex layers or illustrations on the side, as the cake is viewed from the top.
Using CoComelon images on the top like this is fun. They're all flat, so they work perfectly with the top-down style of the cake.
Plenty Of Characters
It's hard to know what's best about this cake. One part is certainly the sheer number of characters. JJ looks pretty cool too, as does the bus.
Then there are the grass and trees. These aren't featured on many CoComelon cakes and they change the entire dynamic.
It's also quite cool that this cake doesn't look much like a cake at all. With all the greenery, it's easy to completely miss the small sky blue cake that can only just be seen behind the bus.
Pretty In Pink
JJ really is the key feature of this cake. He is almost large enough to be a toy and looks fantastic standing there in the center. The animals on the outside of the cake are great too, as they add to the whole theme.
The little rolled up streamers deserve a special note too, as these aren't commonly used on cakes. They're a great choice here, as they really highlight the idea of a party.
Rainbows And Clouds
The cake itself looks amazing, with white clouds, small white balls, and a colorful rainbow. There are also meringues and lollipops as toppers, which complement the rest perfectly.
The only issue is the CoComelon cake topper, as this isn't as bright as the rest. Still, this could be easily fixed by getting an edible CoComelon cake figurine or even just a brighter cut out for the top.
Great Day For A Bus Ride
While this cake uses the same concepts as many others, it has a distinctly different theme, largely because of the figures. I particularly like the bus on the side of the cake, with the animal faces sticking out of it.
That said, the entire thing is fantastic. The creator even used a combination of green and blue icing to create the appearance of ground and sky.
Plenty Of Bright Colors
The CoComelon logo works well as a cake in its own right, but is even better as the base for a two-tier cake. Here, it's topped with a white cake, complete with a cloud, a rainbow, and the kid's name.
Using a white cake up top is interesting. While the choice does create a fantastic contrast of colors, I can't help thinking that sky blue would have made more sense.
A Different Take On The CoCoMelon Logo
This is a fluffier version of the CoComelon logo, with a similar smaller cake for good measure. The fluffy style makes the logo harder to recognize and the center being red rather than pink doesn't help either.
Still, most kids won't care about those differences. They'd still think that it's an amazing cake.
Watermelon CoComelon!
I love the design of the cake. The creator built it to resemble watermelon, but has done so using pastel colors, rather than the brightness of a regular watermelon.
The pastel coloring is a clever trick because this is the coloring used in the logo. Relying on it creates a much better match between the logo and the cake. Plus, as you can see, the creator has just used premade CoComelon images to make this into a CoComelon cake.
Featuring A Blue Rainbow
While this cake uses some of the themes we've seen before, it's also very different. The big change is how this cake focuses on blue and green everywhere. Even the rainbow uses tones of blue and green, rather than the traditional colors.
The various balls aren't necessarily in the CoComelon theme, but they add interest to the cake, making it stand out.
Another Numbered Design
Here's another version of a number-based cake. This is simpler than the previous one, as there isn't any icing on the sides of the cake.
The toppers are different too. They look cool standing up like this, but they could also be laid flat on the cake.
This treat shows that the cake itself doesn't need to be CoComelon-themed. Sometimes it's enough to use the right coloring and then just add a few toppers.
Could It Get Any Brighter?
Then we have this set of cakes. The creator has gone all out with the CoComelon theme, featuring plenty of rainbows, another topper of JJ, and a busload of kids.
Interestingly, the toppers aren't essential for creating the CoComelon theme. It would still be easily recognizable as a CoComelon cake even without these.
In Case You Want Large Characters
The characters lead the way with this cake. The angle makes it difficult to see exactly how large these are, but they're clearly bigger than normal.
It's also nice how JJ, the mouse, and the CoComelon logo all look slightly unusual. They're more cartoon-like than the versions on the show. That's probably because they're handmade rather than being mass produced.
But, seriously, the other CoComelon cakes all look somewhat 'same old same old' because they use similar toppers. Why not do something a little different?
Variation is a good thing, right?
Lots And Lots Of Layers
This must be one of the largest CoComelon cakes out there. There are five different layers, most of which follow the CoComelon theme to some degree or another.
What's your favorite layer? I like the middle one, with pink and green stripes. That one stands out because the style isn't normally used on CoComelon cakes. That said, the layers all look stunning.
Gifts, A Bus, And A Balloon
This is a cool one. There are two tiers this time, with a focus on the sky and clouds. The cake is secondary though, as the design focuses much more on the characters.
I love the hot air balloon on top, plus five of the CoComelon characters. The characters they've chosen are a little different than on most other cakes. I'm guessing these were the birthday girl's favorites.
Another Hot Air Balloon Design
This cake uses a hot air balloon too, although the style is quite different. This time, the emphasis is much more on the pastel rainbow, plus all the designs at the top and bottom of it.
The butterflies are a nice touch too. I haven't seen them on any other CoComelon cake, yet they work well with the colors of this one.
A Simple Cake With Balloons
I love how this CoComelon cake is simpler than most, yet it still looks impressive. Just look at it. The cake itself is just a basic single-tier cake with a rainbow on front, a few clouds, and the child's name.
Then you have one CoComelon topper, plus a golden '2' and real balloons. This is much cheaper than using dozens of CoComelon toppers. The figure doesn't even need to be edible. It could be a simple printed image.
Just One Topper
This cake follows the simple idea even more strongly. It's just a white cake with plenty of funfetti and white icing peaks.
Then there's a single CoComelon topper that ties in with the colors of the funfetti. This style of topper should be quite easy to find as well.