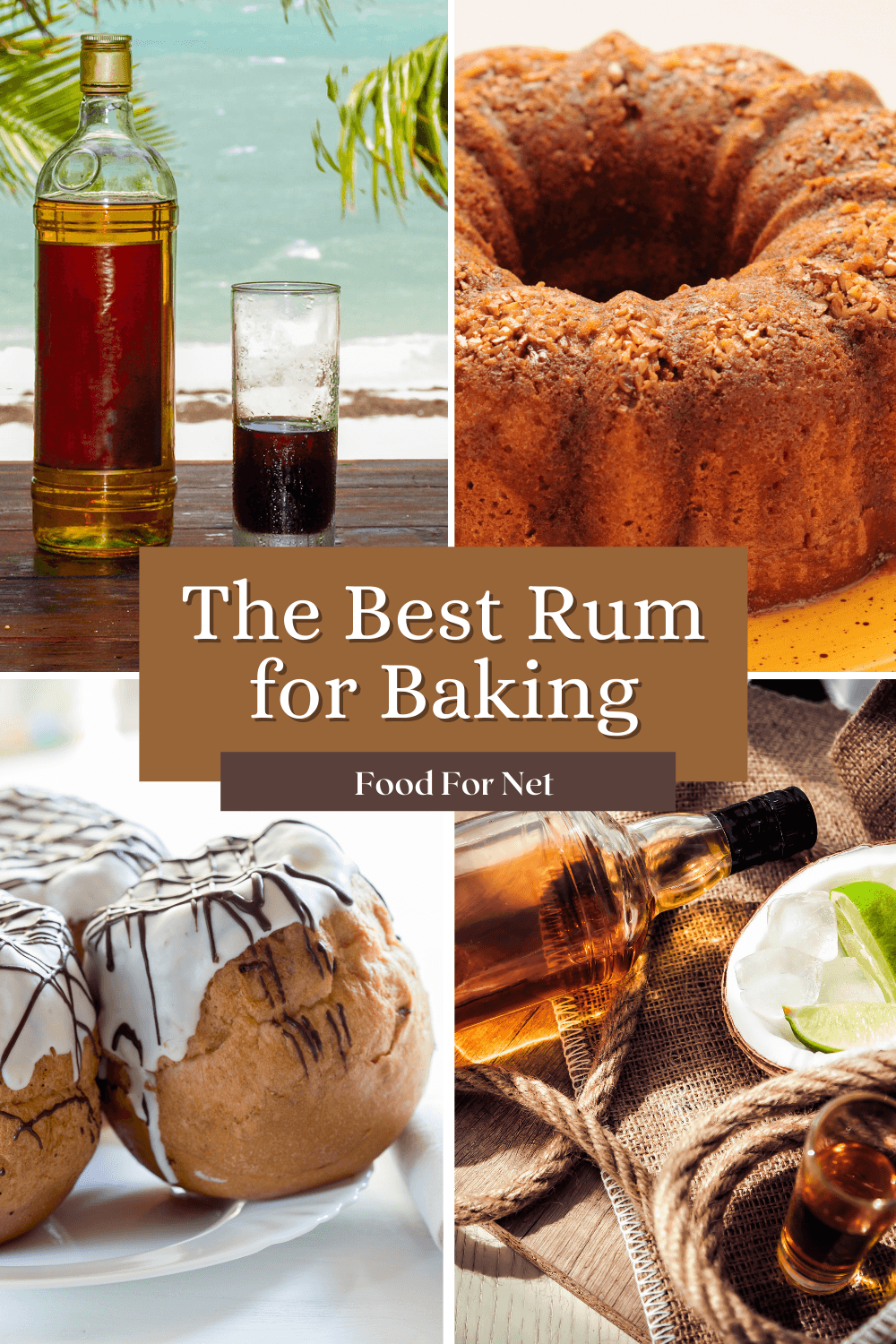 Rum is an intricate, diverse spirit with all kinds of amazing flavors to discover. This is often done by sipping it neat or making cocktails, but this isn't all you can do with rum. It's featured in several desserts, you can make a nice sauce with it or add it to your baked goods! Perhaps the most notable method here is rum cake.
Despite its worldwide popularity, rum cake is actually a traditional holiday dessert in the Caribbean, descended from holiday puddings. In the original recipe, dried fruit would be soaked in rum for several months. Only after much time had passed would the dried fruit be added to dough that's been prepared with sugar and caramelized. Of course, there are several different ways to make it now, but the common denominator is always rum.
The best rum for baking is without a doubt dark rum. Dark rum is aged and has many aromas, flavors, and nuances to offer. In addition, you don't want anything that's too sweet. Look for warm flavors notes like vanilla, oak, and caramel, balanced by spices like cinnamon, nutmeg, or cloves. Whether it's rum cake you're after or something else, a warm, mildly spicy dark rum is the way to go.
Best Rum For Baking
1. Brugal Anejo Gold

Brugal is a popular brand of rum in the Dominican Republic, where they produce plenty of excellent rum. Brugal Anejo Gold is aged for about six years in American oak casks that used to hold bourbon. The distillation process is thorough and removes much of the heavy alcohol that many other rums leave behind.
It's been masterfully blended to create a deep, rich rum that does amazingly well in rum cocktails. It's most often used for mixing, but many enjoy taking a few sips as well.
The aroma is light and classic with notes of dark brown sugar, caramel, buttery toffee, vanilla, and a little peppery spice. While pretty traditional for a rum, it's well-balanced and delightful. The palate brings a clean, smooth mouthfeel that isn't too sweet. Buttery flavors greet you on the entry with a hint of caramel, spice, and oak in the background.
These spicy, oaky, buttery flavors are what makes it perfect for baking – it adds depth and flavor to your dish without getting carried away with sweetness.
2. Bacardi Gold

Well-known for their rum around the world, Bacardi has an expression for just about anything. Within their collection you can find rums to mix up any cocktail you can imagine and even some that are good for sipping. Bacardi Gold is a versatile bottle that also does well in the kitchen with its aged flavors and mellow character. Matured in toasted oak barrels, its unique profile comes from a secret blend of charcoals that Maestros de Ron Bacardi holds close.
In addition to impressive rum, the Bacardi family has an impressive story. They began producing rum in Cuba in 1862 and lived through a revolution as well as the American prohibition, which brought many wild nights to Cuba as travelers came in search of alcohol. After much political strife, they had to move and restart in Puerto Rico, where they rebuilt their business and eventually reached even higher heights than before.
The nose offers delicate notes of butter and nuts while the palate is rich with toasted vanilla, bananas, orange peel, and buttery caramel. The finish is dry with sweet notes of oak.
3. Sailor Jerry

Sailor Jerry Rum was created by the famous tattoo artist known as "Sailor Jerry" Collins. The recipe has undergone some changes over the years, but they've settled on a smooth, enticing, and moderately spicy profile. It's good for sipping if you like a little kick in your glass, but it does exceptionally well in many cocktails, with the spicy mojito being a prime example.
If you're not into the spicy profile, however, you can add some sweetness back in by dropping some sugar and vanilla essence into the bottle and shaking it up. The smooth, spicy profile is perfect for baking, though, as it adds complementary flavors and doesn't overwhelm the dish with sugary sweetness.
Oak, tobacco, and vanilla greet you on the nose, followed by vanilla, butter, cinnamon, oak, ground ginger, and nutmeg on the palate. The vanilla and oak add softness and warmth to the palate, ensuring the spice doesn't overwhelm without making it too sweet. It's well-balanced and ready for whatever you want to make with it!
4. Pusser's British Navy

Pusser's British Navy is the perfect choice for when you want to splurge. There's no denying that quality does matter even when you're cooking or baking with rum, and this one will never fail you. Aged for 15 years, it's known as a "navy rum" and the recipe is rooted in more than 300 years of history and tradition.
Around the time of 1655, it was common practice to give sailors a small, daily portion of rum. This gave them a little courage, comfort, and generally helped them deal with life on a ship. The one handing out this ration became known as the "pusser," hence the name of this authentic navy rum. Distilled in wooden stills and aged in charred bourbon barrels, the final result has many unique flavors. The nose is sweet and warm with notes of molasses, sugar, caramel, dried fruit, and an array of spices. The palate is full and well-rounded with notes of tobacco, leather, vanilla, and spices. The finish is warm, long, and smooth.
It may seem like an excessive purchase if you're plan is mostly to bake, but most recipes don't call for much rum, meaning the bottle will last and you will notice a difference with quality like this.
5. Myers Original Dark Rum

Founded in 1879 by Fred L. Myers, Myers Original Dark Rum is a Jamaican expression that represents more than 140 years of Caribbean pride, history, and heritage with its classic flavors and commitment to quality. It was the dedication of the original family members that drove this brand to its success, and the company still works hard to this day, honoring its roots with expert practices and only high-quality ingredients.
The rum is made from pure sugarcane juice that's been boiled into molasses and fermented. It's distilled using both pot and continuous methods before maturing for about four years in white oak barrels.
It has a rich, earthy profile with sweet and peppery spice on the palate with notes of butter, sugarcane, honey, leather, caramel, and dark chocolate, with raisins and figs on the background. Oak and smokiness arise on the finish.
Easy Rum Cake Recipe

While rum cake is not the only thing you can bake with rum, it's certainly the most common and most popular. Though the recipe dates back many decades, you don't have to soak the fruit for months before you enjoy your tasty treat. The following recipe is a great starter rum cake that uses some prepackaged ingredients. You can make the cake and pudding from scratch if you prefer a more customized, authentic feel!
Ingredients:
1 package of cake mix (18.25 ounces ideally)
½ cup dark rum
1 cup chopped walnuts or nuts of choice
4 eggs
½ cup of water
½ cup vegetable oil
1 package of instant vanilla pudding mix (3.5 ounces ideally)
For the glaze:
½ cup of butter
½ cup of water
½ cup of white sugar
¼ cup of rum
Instructions:
Preheat the oven to 325 degrees F.
Grease and flour a 10-inch bundt pan or tube.
Mix the cake mix, eggs, rum, half cup of water, oil, and vanilla pudding mix until well-combined.
Pour this batter over nuts into the pan.
Bake for one hour and let cool.
Invert the baked cake on a serving platter and prick the top of it.
To make the glaze: Melt the butter in a saucepan, add ⅛ cup of water, and your ½ cup of sugar. Boil this for five minutes, stirring constantly. Remove from heat and stir in the rum.
Drizzle glaze over the upturned cake, letting some run down the sides as well.
Make plenty of holes in the cake and ensure your rum glaze gets into every last one – this enhances the flavor so much! This recipe makes a full-sized cake that serves approximately 12 people, so scale down accordingly if you wish. If you're new to rum cake, make a few smaller batches with different rums to see how the rum changes the flavor! You could also use one rum in the cake batter and another in the glaze if you're feeling adventurous and want to mix some flavors!