Learning to cook is already an adventure in itself with a whole world of flavors to explore – adding rum and other spirits (like vodka) to the mix just means there's even more to pick from! The alcohol also adds a level of complexity, however! Many recipes require you to cook away all the alcohol, while some call for keeping it. You also need to balance quality with affordability – cheap, bitter rum won't do your dish any favors, but you don't want to break the bank just for dinner either!
Finding a good middle-ground is the best way to go, and there's plenty of good options. As a basic guide, aged rums are often good for meals with stronger flavors like pork or a heavy stew, while white rum is fantastic with lighter things like seafood.
Dark, aged rum is great for adding rich, often sweeter flavors like caramel or vanilla. If you want something a little different and more intense, this is where a spiced rum may do well with notes of oak, pepper, and various other spices.
Either way, cooking with rum comes with a huge learning curve, and finding the best rum for cooking depends on the dish you're making. Once you master this art, though, you're in for a fantastic array of depth, nuance, and flavor with each new dish you create.
The Best Rum For Cooking
1. Captain Morgan Original Spiced Rum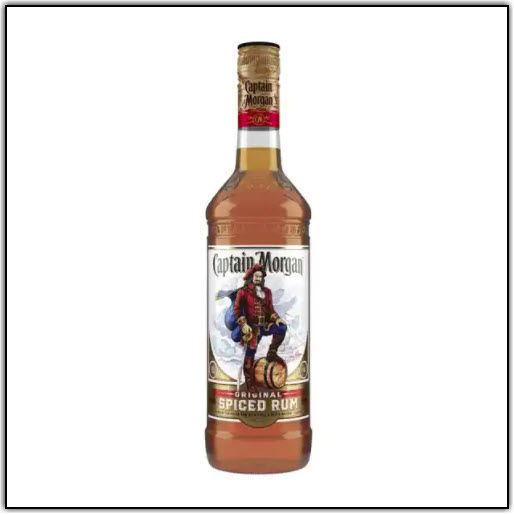 Captain Morgan is well-known for producing good-quality, versatile rum at a great price. Many enjoy sipping it and it's the start of seemingly endless cocktails. Another great use for these expressions is in your dinner recipes! Like cocktails, these recipes are often impacted by the quality of the rum used, but you also don't want to boil away your expensive sipping rum.
Captain Morgan Spiced Rum is a great middle-ground as the quality is good and it'll add many great flavors to a dish. This one in particular is good for stews or meat when you want to add a little extra kick. If you've never had Captain Morgan's spiced rum before, take a sip or two before throwing it in the pan, just so you know exactly what you're getting into. A spiced rum such as this one is also a popular choice in baked goods!
The nose is sweet and sugary with notes of vanilla. The palate is rich and sweet with a lovely medley of spices floating around to balance it out. The spice is present but not overwhelming, making this expression particularly versatile.
2. Captain Morgan White Rum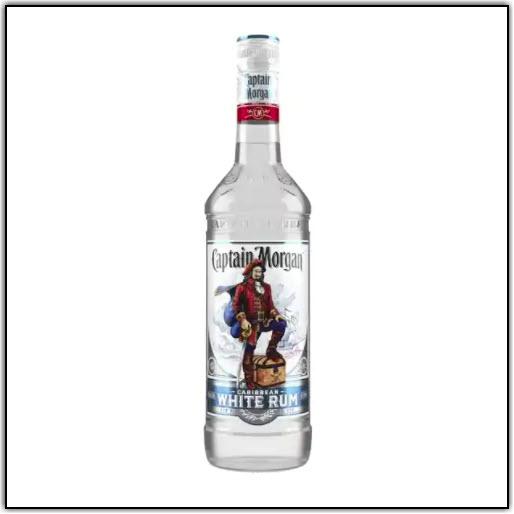 Another great option from the captain, this White Rum is perfect for ingredients like seafood or chicken! White rum is aged for much less time than dark rum and is often less smooth and refined. While you may not want to sip on something like this, they do a great job in cocktails as well as in the kitchen. Used properly, it can add a pleasant bitterness or a nice alcohol bite to a lighter dish.
Though not aged long, Captain Morgan's White Rum is still distilled five times to make it as smooth as possible with a pleasant flavor and finish. White rum cakes are another popular way to use white rum, and this rum is an ideal choice for that use.
The nose on this one offers bananas, mild caramel, sandalwood, and a peppery zest. The palate has a slight sweetness to it with notes of citrus and vanilla. This is followed by flavors of banana, menthol, and grassiness.
3. Gosling's Black Seal Rum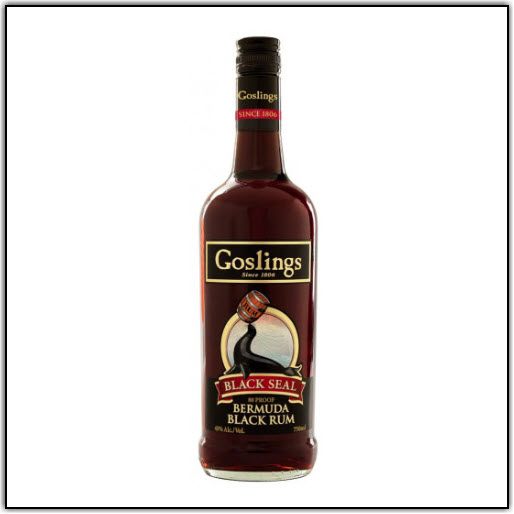 This highly complex rum is a combination of continuous still and pot-still rums aged in ex-bourbon casks. It's a rich expression that has won many awards and is ready to take on your most flavorful dishes and add its depth and complexity to them.
Gosling's as a company goes back as far as 1806 when James Gosling went out to sea at his father's request. He set out with many wines and spirits. He landed in Bermuda and decided to stay awhile after opening a wine and spirits shop on the island. He eventually returned to England where he was from and opened a shop with his brother, carrying with him plenty of knowledge and experience from his time in Bermuda. This is the shop that began Gosling's Rum and the company has remained in the family ever since.
Gosling's Black Seal Rum has a deep, rich nose with herbal notes, spicy undertones, and notes of fruitcake, vanilla, and banana. The palate is just as rich and perfectly balanced with notes of sweetness, spice, vanilla, and fruit. The finish is spicy and crisp.
4. Bacardi Gold Rum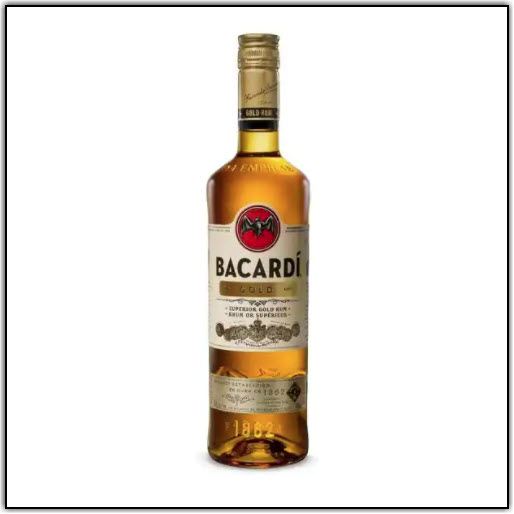 As a leader in the world of rum, it's no surprise that Bacardi has a place on this list. Their Gold Rum is well-aged and wonderfully mellow. It has the complex notes and proper depth to add excellent nuance to your dish, but it's not so bold and overwhelming that you can't manage it. Even its color is a mild, pleasant-looking golden amber. It's said that its unique mellow character comes from a secret blend of charcoals created by Ron Bacardi himself.
The nose here is a delicate one, with notes of butter and nuts. The palate offers toasted vanilla, almonds, buttery caramel, orange peel, and sweet bananas. The finish is subtly sweet, dry, and pleasantly oaky.
5. Plantation 3 Stars White Rum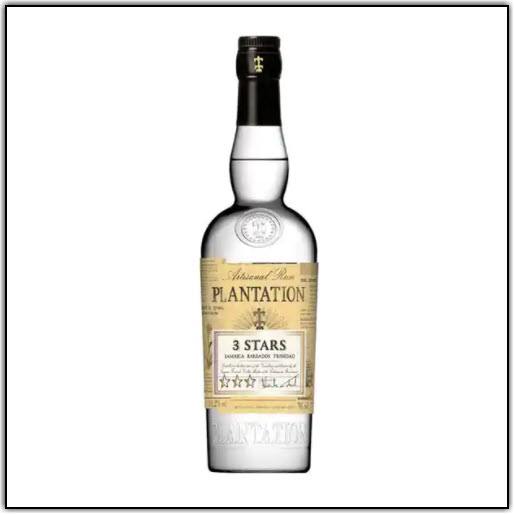 Created as a tribute to the historic Caribbean rums, Plantation 3 Stars is a blend of rums hailing from three different places: Jamaica, Barbados, and Trinidad. Each rum brings different flavors to the table – ones that work together beautifully to create a unique blend. It's lightly aged in French oak which gives it the perfect finishing touch.
The Jamaica rum brings notes of exotic fruit, the rum from Barbados adds a richness and balances the palate, while the stuff from Trinidad adds finesse. The finished product is extremely flavorful for a white rum, making it an excellent choice for both cocktails and the kitchen! It was even named "Best White Rum" at the Ultimate Spirits Challenge in 2021.
The nose offers notes of tropical fruit, ripe banana, subtle coffee notes, and brown sugar. The palate follows with notes of fruit, orange zest, vanilla, and a viscous mouthfeel. The finish is floral with notes of vanilla, sugarcane, and spice.
Easy Rum Recipes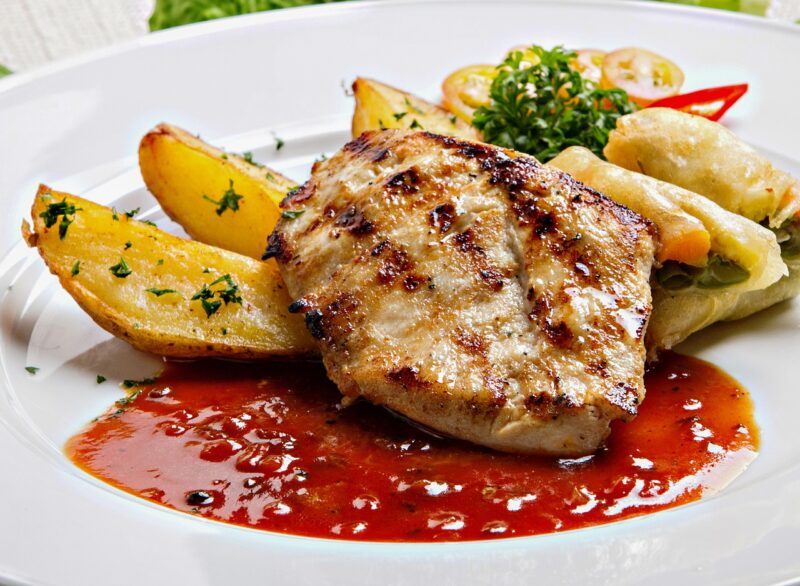 Cooking with rum may feel overwhelming if you've never done it before. It can get complicated, but it doesn't need to be. Below are a couple of super easy recipes to start with. Master these, build your confidence, and go from there!
Rum Chicken Marinade
This one is about as simple as they come but it sets you up for some of the best chicken you've ever tasted!
Ingredients:
¼ cup of lime juice
2 tbsp dark rum
2 tbsp olive oil
2 tbsp soy sauce
2 cloves of garlic, minced (more to taste if desired)
½ tsp ground cinnamon
½ tsp ground ginger
¼ tsp hot sauce
Once you've gathered the ingredients, all you need to do is whisk them all together in a bowl! Once well-combined, pour the marinade over your chicken and let it sit in the fridge for at least half an hour before you grill it.
Steak With Rum and Mushroom Sauce
A slight step up from the marinade but still far from complicated, this mushroom sauce will elevate your steak to a whole new level. The following recipe creates two servings, perfect for a nice date night in or great for making leftovers if you're cooking for one!
Ingredients:
2 5-ounce chuck eye or top sirloin steaks
4 ounces of mushroom stems and pieces (canned is ideal, set aside ¼ cup of the liquid)
¼ cup rum
¼ cup water
1 tbsp butter
1 tbsp flour
¼ tsp black pepper
¼ tsp salt
½ tbsp olive oil
Instructions:
Rub both sides of your steak with pepper, then olive oil
Sear the steak in a frying pan for about three and a half minutes, or until desired doneness is reached
Remove the meat, add butter and stir until it's melted and starts turning brown
Reduce heat, add flour, rum, and liquid from the mushroom can
Stir this until it thickens
If it's too thick for your liking, add some water at this point
Add salt to taste
Serve and enjoy!
This meal goes great with a baked potato, but you can choose any side you want. The mushrooms and rum go so well together here and they work to enhance the natural flavors of the meat itself. The alcohol adds depth and nuance, with different flavors coming through depending on the rum you choose.